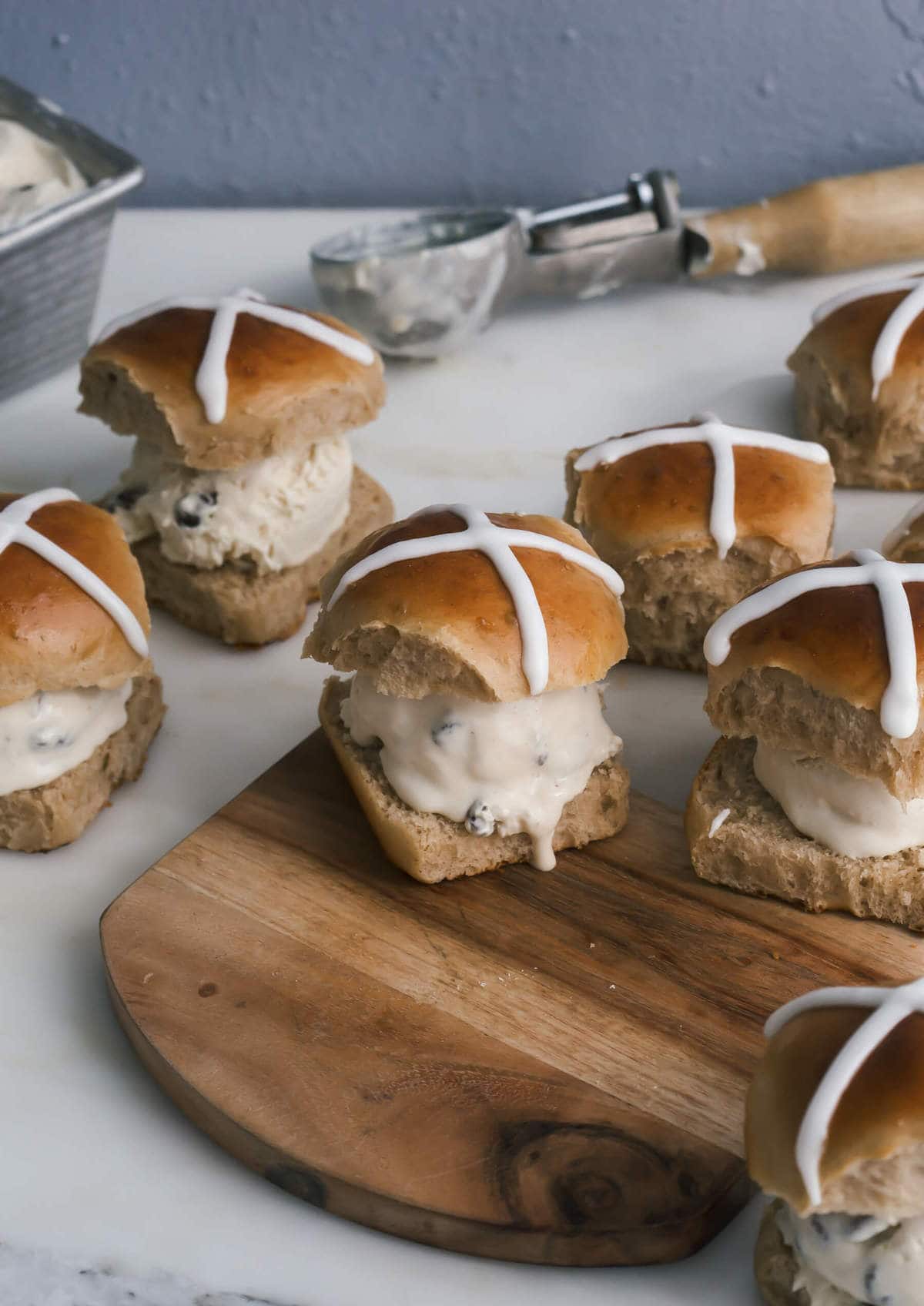 This weekend is the quiet before the storm. My April is a gigantic busy monster with fangs and I like to think that next week is the prep before I have this spring-like metamorphosis into a busy bee.
Speaking of bees…for the past few weeks there has been a nest behind my apartment growing and growing and growing. And it's sort of grown into a monstrous bee hive which is totally effing scary but also REALLY COOL.
Tomorrow a very nice stoner bee keeper dude is coming over, dressed in his E.T.-like costume to remove the honeycomb one by one and transport all 10,000 bees and the queen bee to South Pasadena.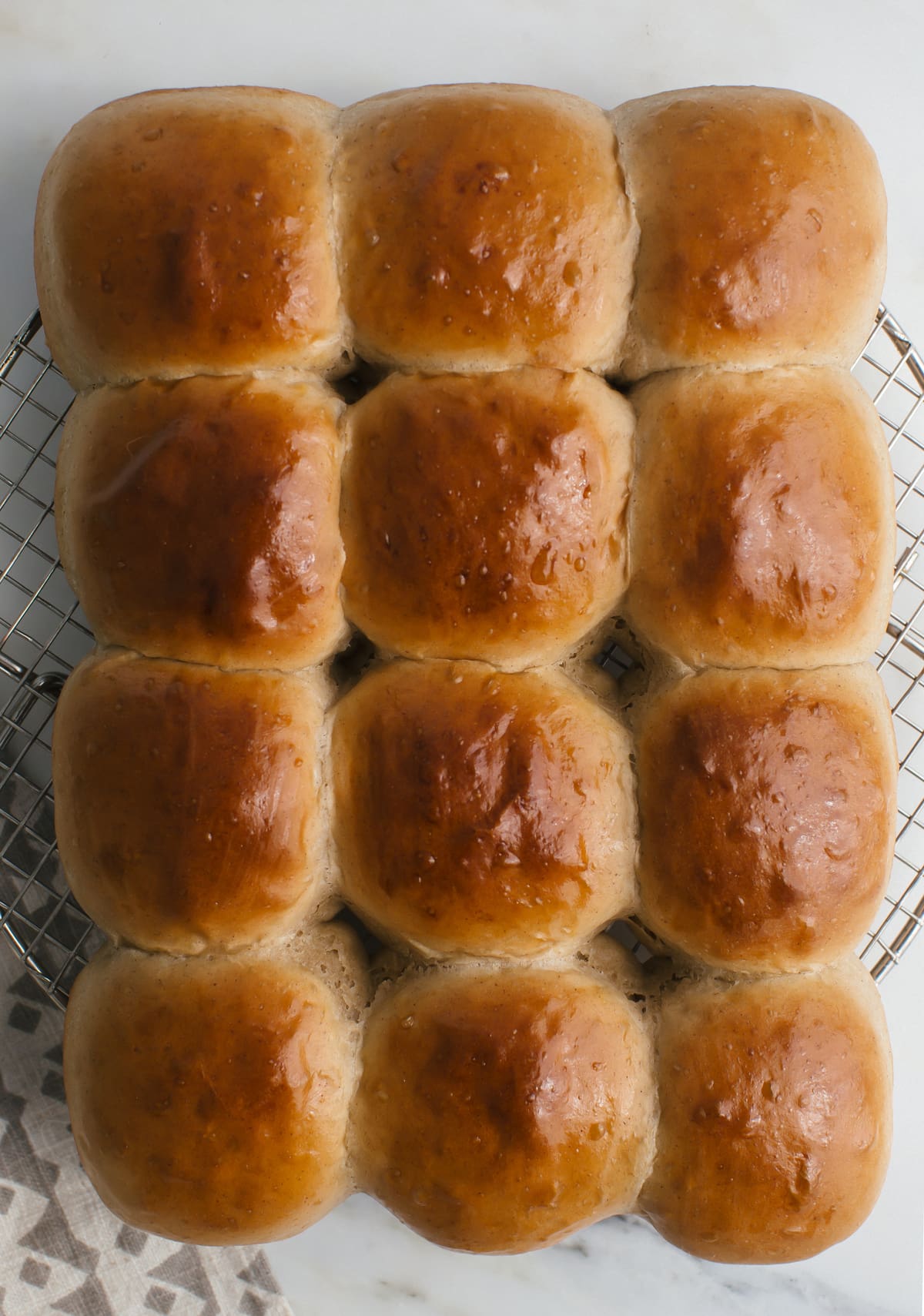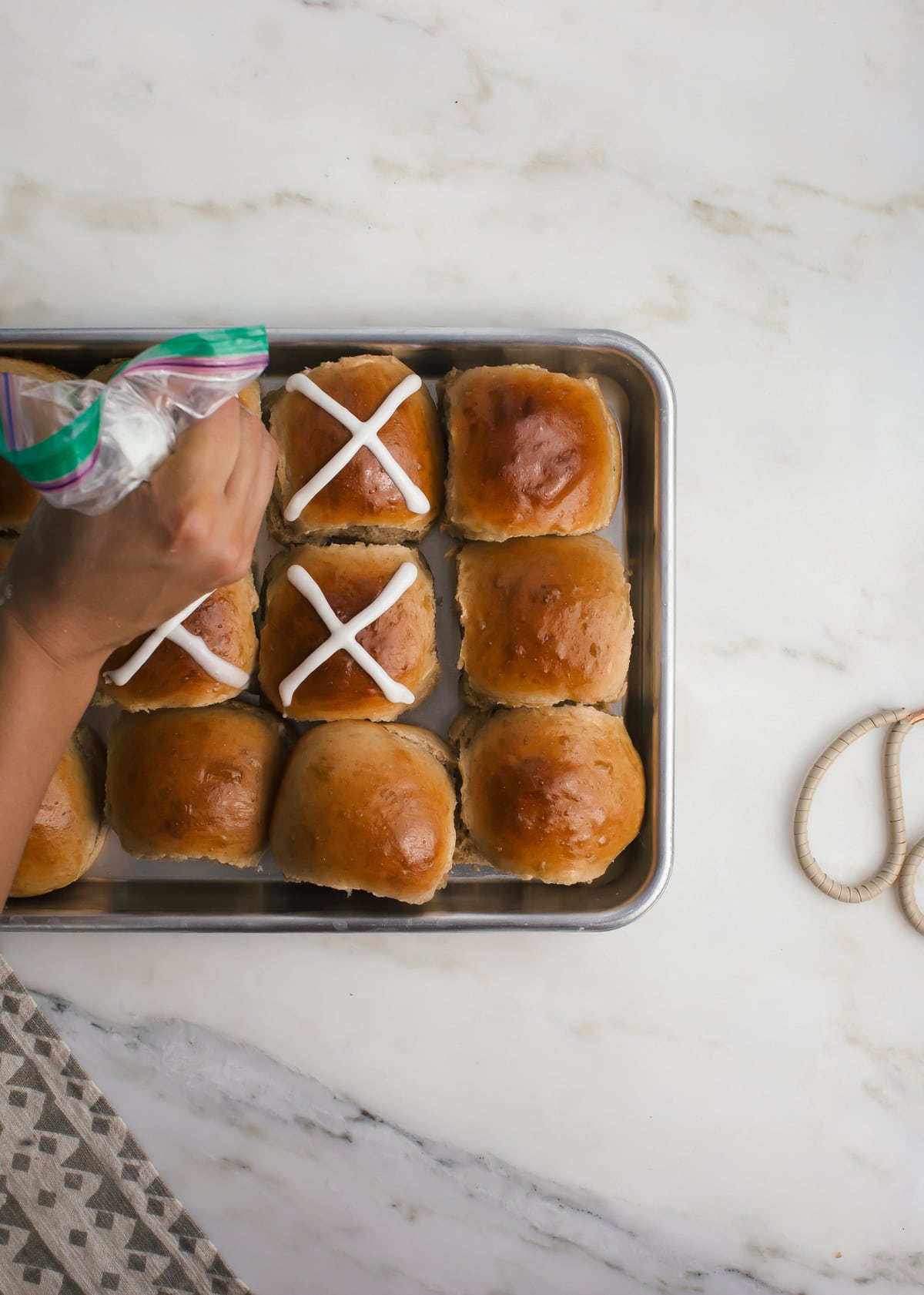 I'm really excited to watch through my glass back door, which will very much shield me from said 10k bees and my face. I, of course, asked if I could have some honey but he said everything has to go into the boxes, every drop of honey. Kind of a bummer but I'm excited about their new life.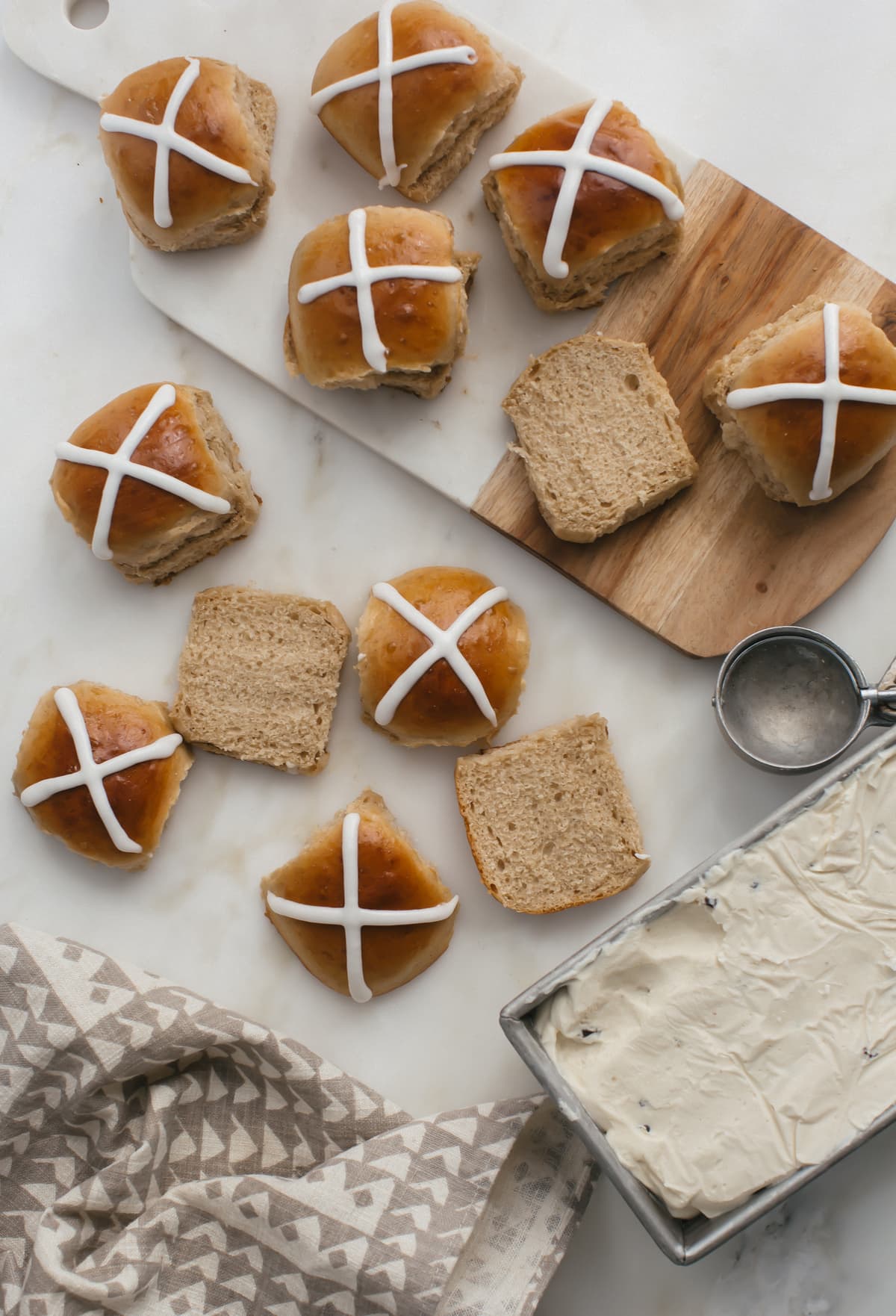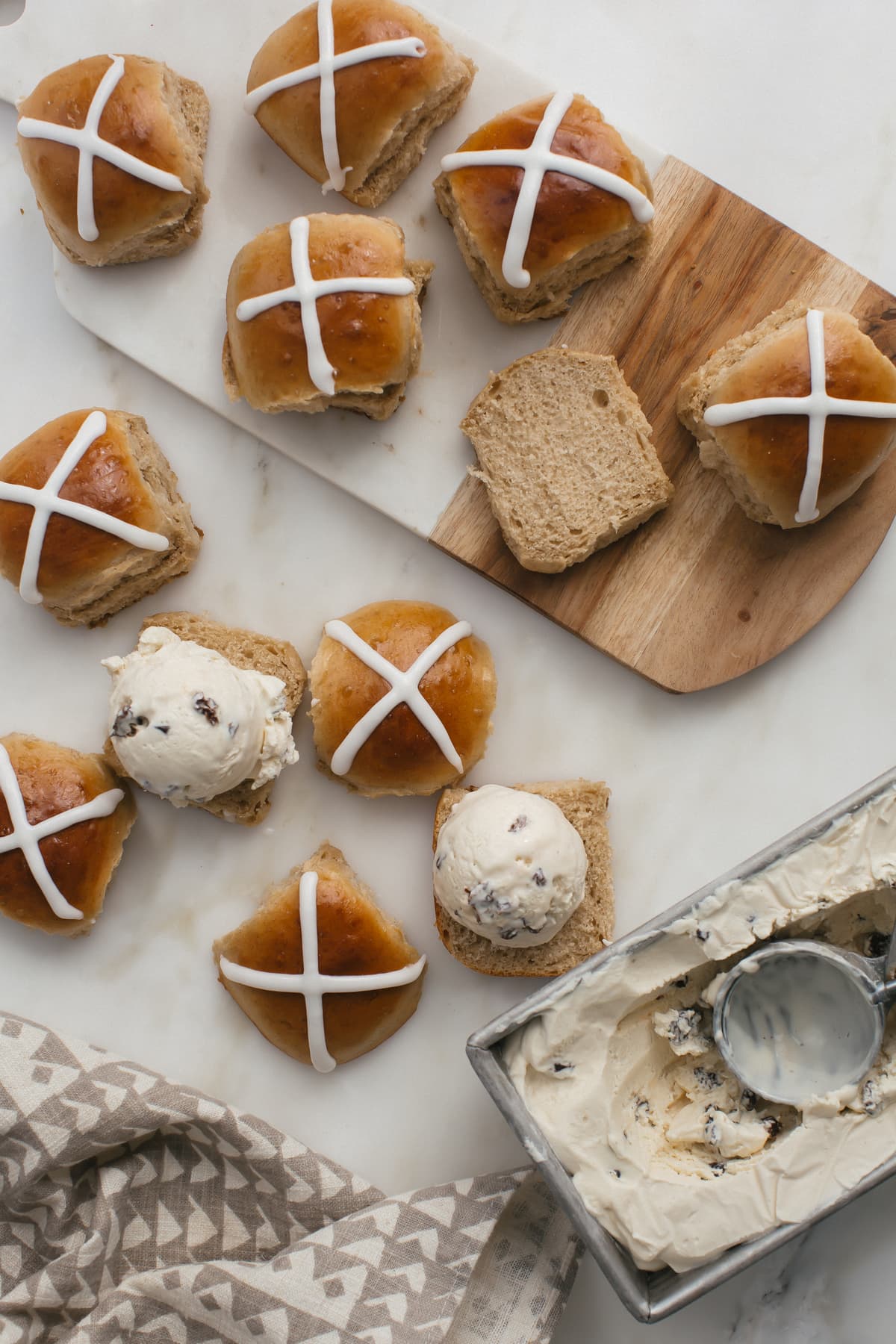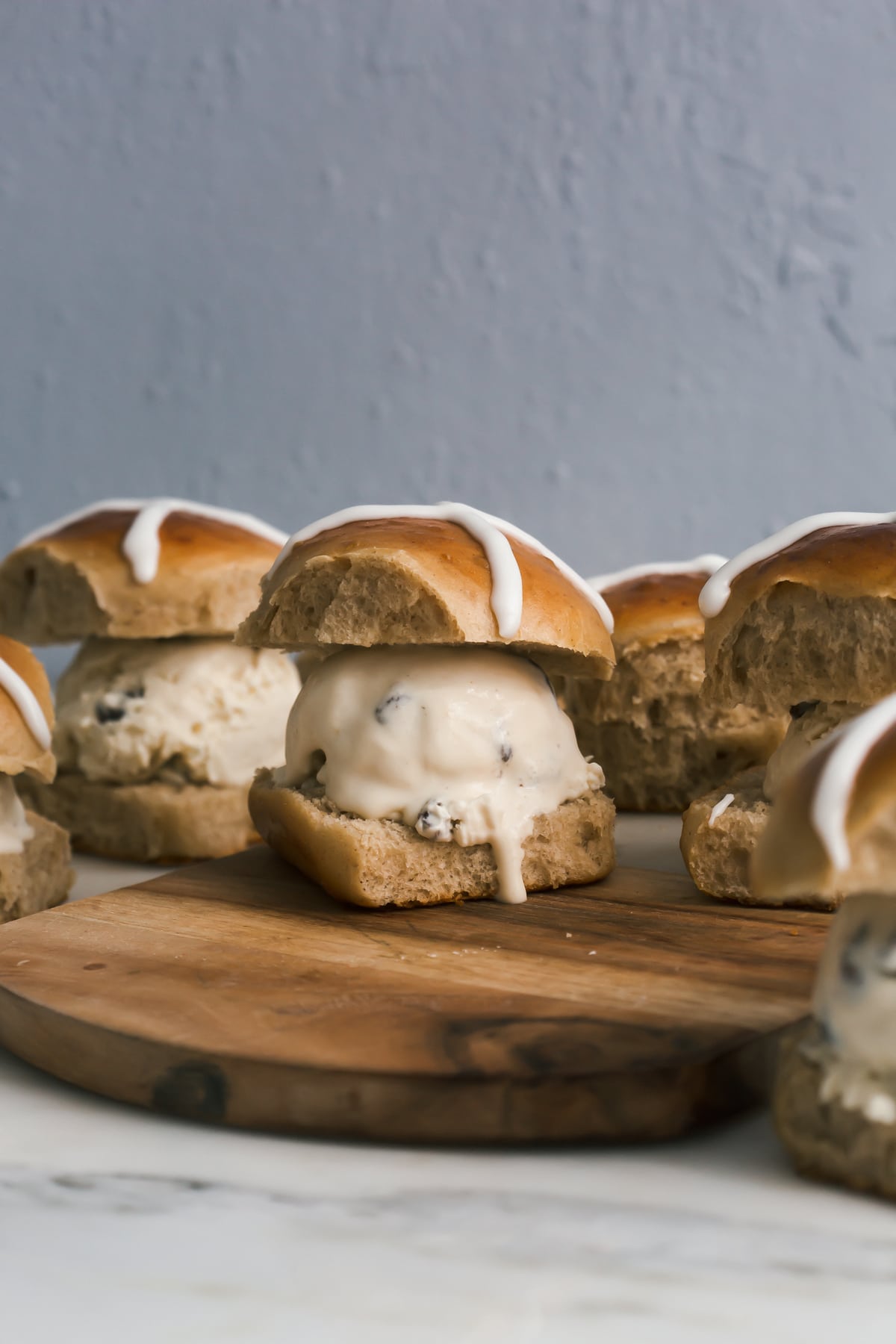 These hot cross bun sandwiches are like hot cross buns but a million times better because they're filled with no-churn rum raisin ice cream which is AMAZING. If you hate raisins, which is about half the population, simply leave them out.
The buns are fluffy and soft ice cream inside is so delicious.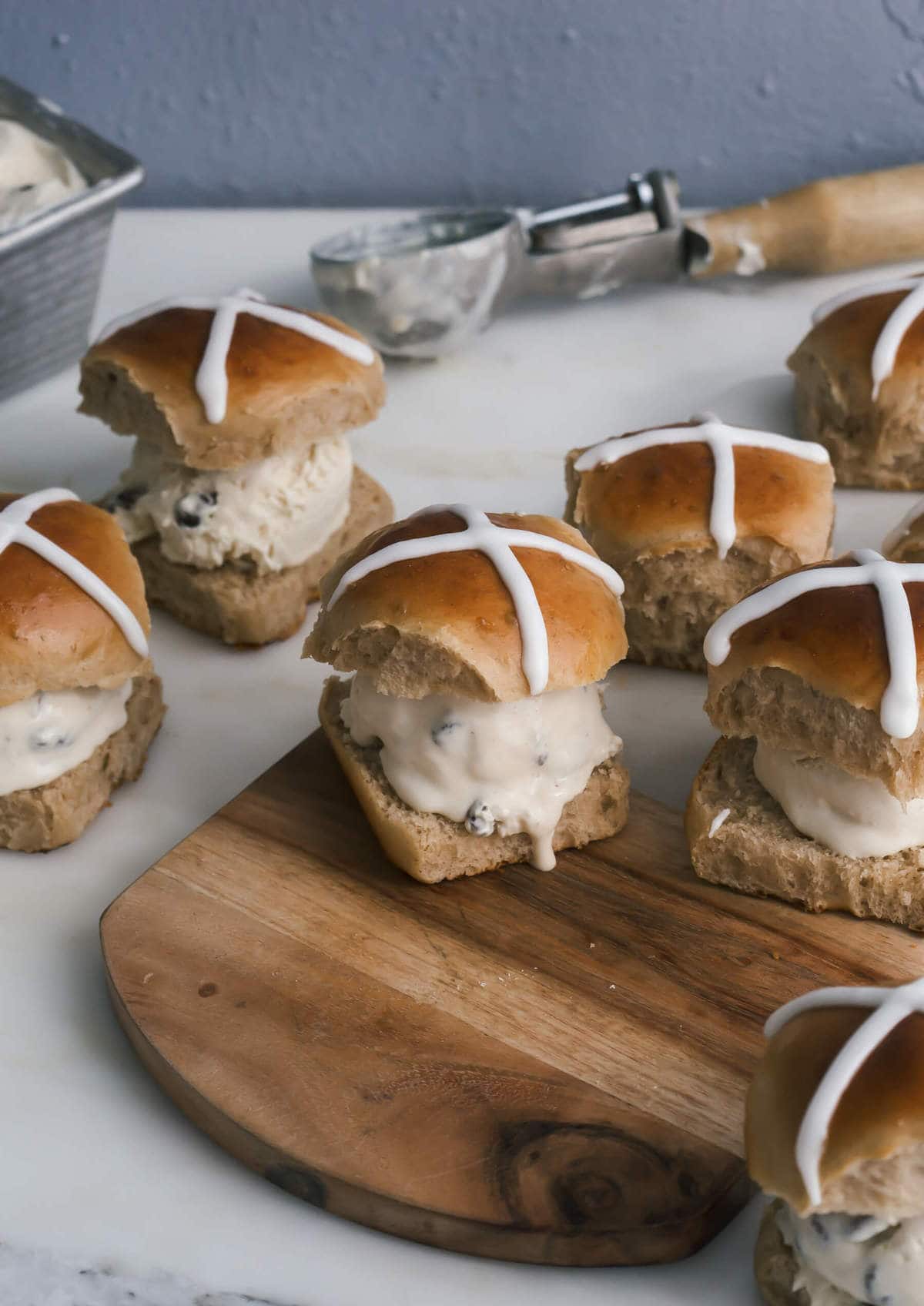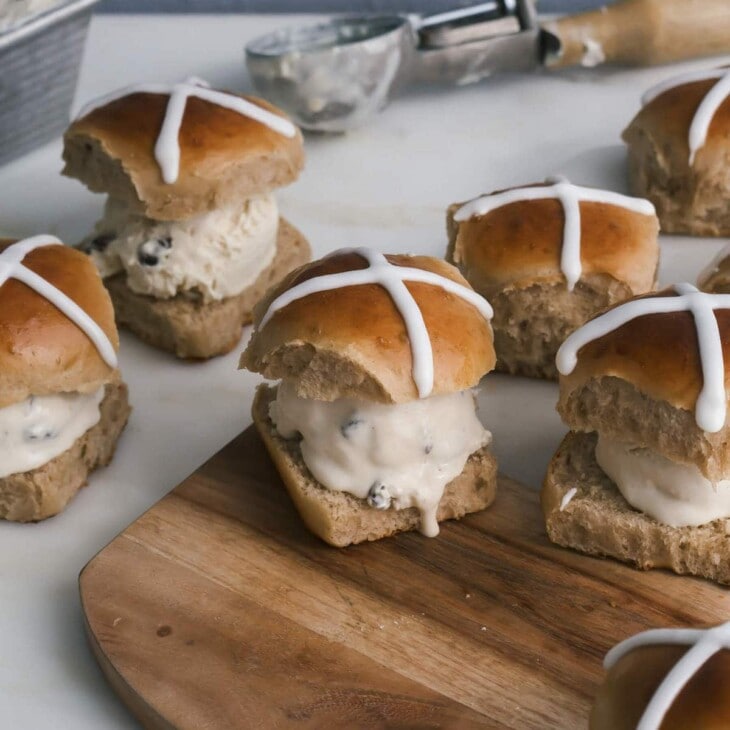 Print Recipe
Hot Cross Ice Cream Sandwiches with Rum Raisin No-Churn Ice Cream
Serving Size:
ice cream sandwiches
Ingredients
No-Churn Rum Raisin Ice Cream:
1/2

cup

raisins

1/2

cup

rum

1

14-ounce can of sweetened condensed milk

2

cups

heavy cream

Pinch

of salt
Dough:
3/4

cup

warm whole milk

1/4

cup

white granulated sugar

1

packet active dry yeast

1

large egg

1

large egg white

3

cups

all-purpose flour

1

teaspoon

ground cinnamon

1/2

teaspoon

salt

3

tablespoons

unsalted butter
Egg Wash for Buns:
1

egg yolk

whisked with 1 tablespoons of water
X Frosting:
2 1/2

cups

powdered sugar

sifted

1

teaspoon

vanilla extract

3

tablespoons

milk
Instructions
To make the ice cream: Combine raisins and rum in a small glass bowl. Heat in the microwave for 2 minutes and then allow to stand until room temperature, about 15 minutes.

Reserve 2 tablespoons of rum raisin liquid and drain the raisins and set them aside. In the bowl of a stand-up mixer with the whisk attachment, combine the sweetened condensed milk, heavy cream and pinch of salt. Beat for about 2 to 3 minutes, until soft peaks form. Do not walk away because it's so easy to over-beat this mixture. Fold in the rum and raisins. Transfer to a 8x4-inch loaf pan or any other 3-quart freezer-safe container. Cover with plastic wrap and place in the freezer until firm, about 8 hours.

To make the buns: In a medium bowl or 4-cup measuring cup, combine the milk, sugar and yeast. Allow to stand for 5 minutes, until foamy on top. This will let you know the yeast has been activated. Whisk in the egg and egg white.

Meanwhile, in the bowl of a stand-up mixer with the dough hook, add the flour, cinnamon and salt. Mix for a few seconds until flour mixture is combined. Pour in the egg and milk mixture and mix for about 30 seconds, until most of the liquid is absorbed into the flour mixture. Add the butter and turn the mixer to medium speed and allow the dough to knead for about 5 minutes. The dough will be soft and slightly sticky. Cover the bowl with a clean kitchen towel and place in a warm area of your home to rise for 1 hour.

Spray a 9 x 13-inch baking dish with a bit of cooking spray. Divide the dough into 12 pieces (that weight about 2.3 ounces each) and shape them into balls. Place them side by side in the baking dish and cover with a clean kitchen towel. Allow them to rise for about 30 to 45 minutes.

Meanwhile, preheat your oven to 375 degrees F. Brush the tops of the balls with the egg wash mixture and transfer to the oven to bake for 20 minutes. Allow to cool in the pan for 5 minutes and then transfer to a wire rack to cool.

To make the frosting: whisk the sifted powdered sugar with the milk and vanilla extract. Transfer to a piping bag or 1 gallon ziplock and snip the end with a pair of scissors.

To assemble the ice cream sandwiches: Slice the buns in half. Pipe the frosting onto the tops and place a scoop of ice cream onto the center of each bottom half. Place the top bun on top and eat away!