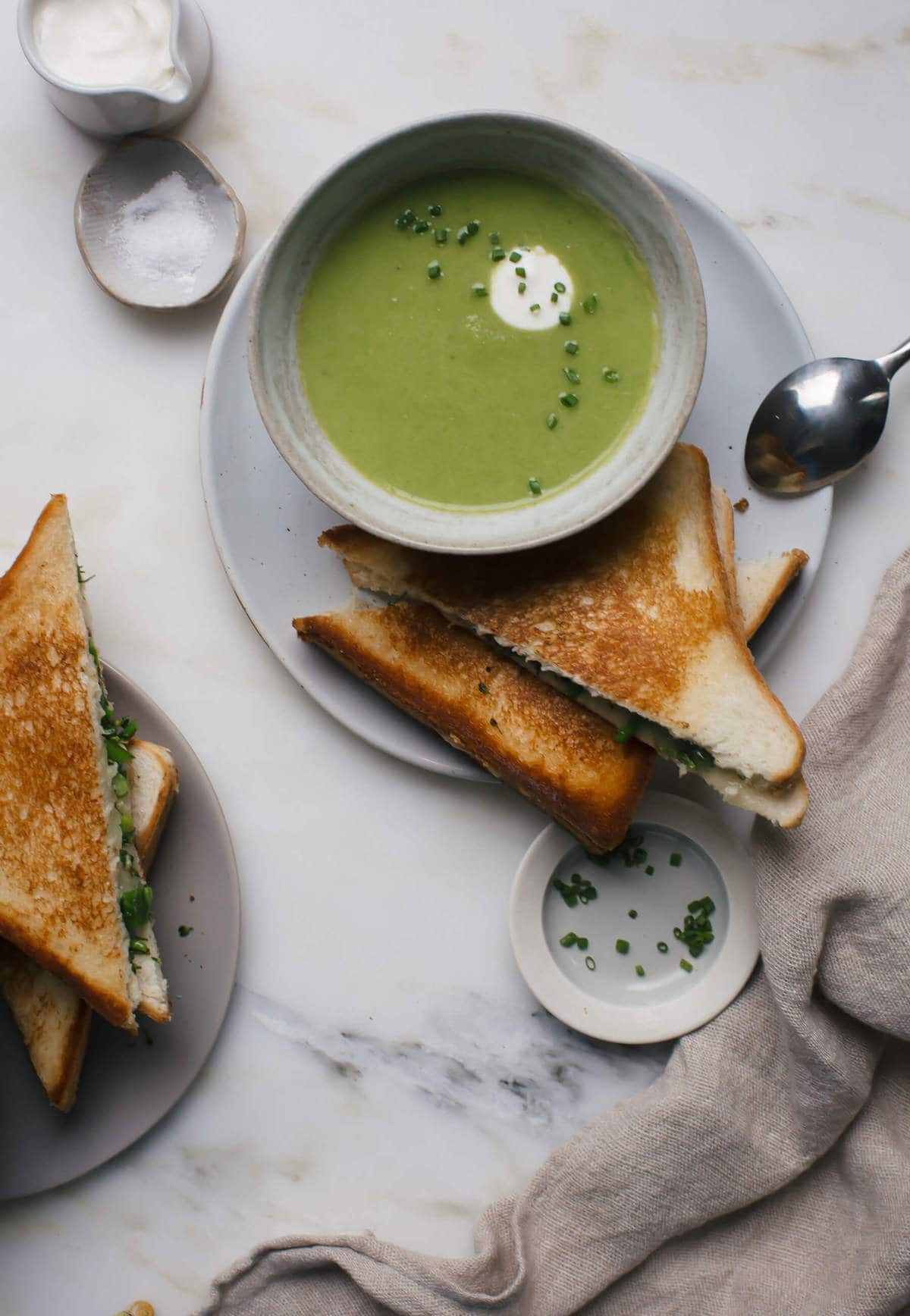 I woke up in a mood on Monday. It was gloomy. I had two new breakouts on my cheek and I had to take Amelia to the vet. Somehow her vet visit ended up being twice as much as it should have been (she's ok, just a normal check-up).
On my way home from the vet, lights on my car's dashboard started going off like crazy which forced me to pull over into a grocery store parking lot and call Josh for help. While I was in Josh's car, explaining what had happened to my car his car battery died. It was one of those days, one of those Mondays…
I've been trying to snap myself out of my annoyed, shade-faced of a mood for the past couple days. I feel like my face has been in a permanent state of this.
My cure is cheese. And a soup that is so simple, you'll wonder why you haven't made it before.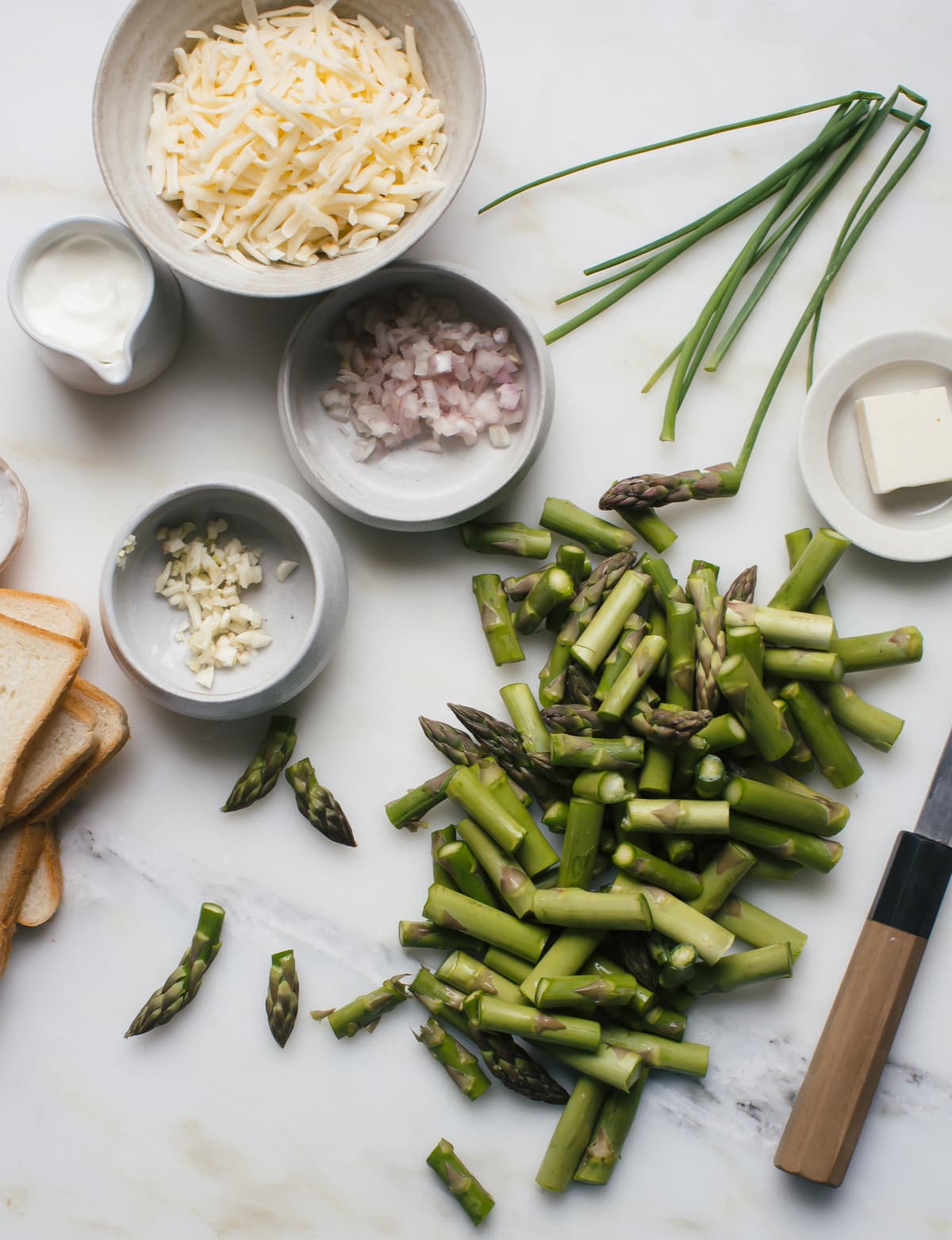 Asparagus is bursting at the super markets and farmer's markets. If you're lucky, you'll find some delicious super fresh asparagus for like $2.50 or $3 a bunch. If you do, buy two bunches and eat it with everything. Like all good things in life, it only lasts for so long.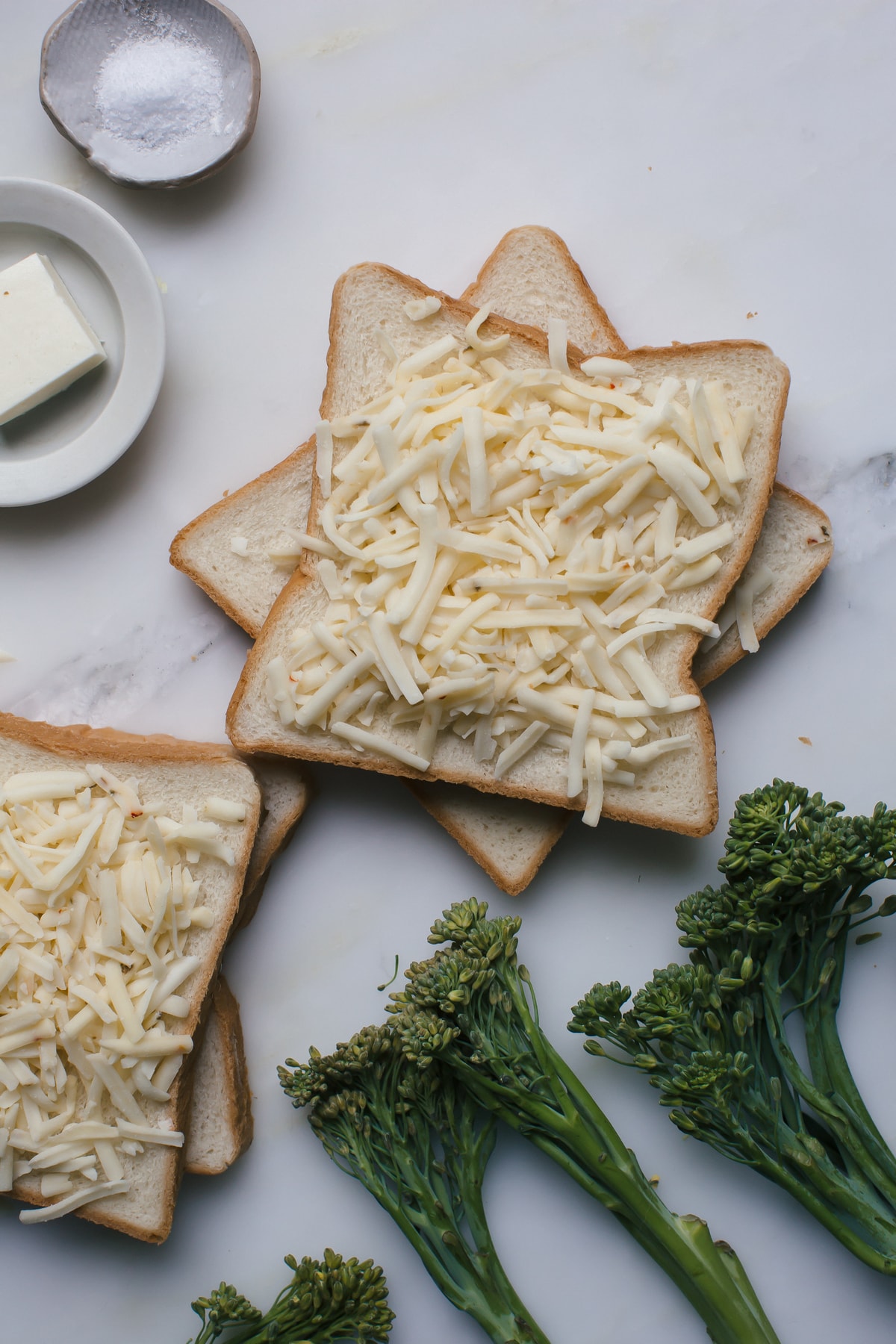 This soup is a treasure. It starts with asparagus being blanched in water with a pinch of baking soda and a lot of salt. The baking soda helps with asparagus keeping its bright green color. No olive, vom-ey looking soup!
The asparagus, along with chicken stock, sauteed shallot and garlic are all blended together. If you like, you can run it through a sieve, but I think a nice texture to dip your grilled cheese is a must.
The grilled cheese is extra cheesy because that's what you need on a shitty day. And the vegetables are in there because we all could use more green in our lives.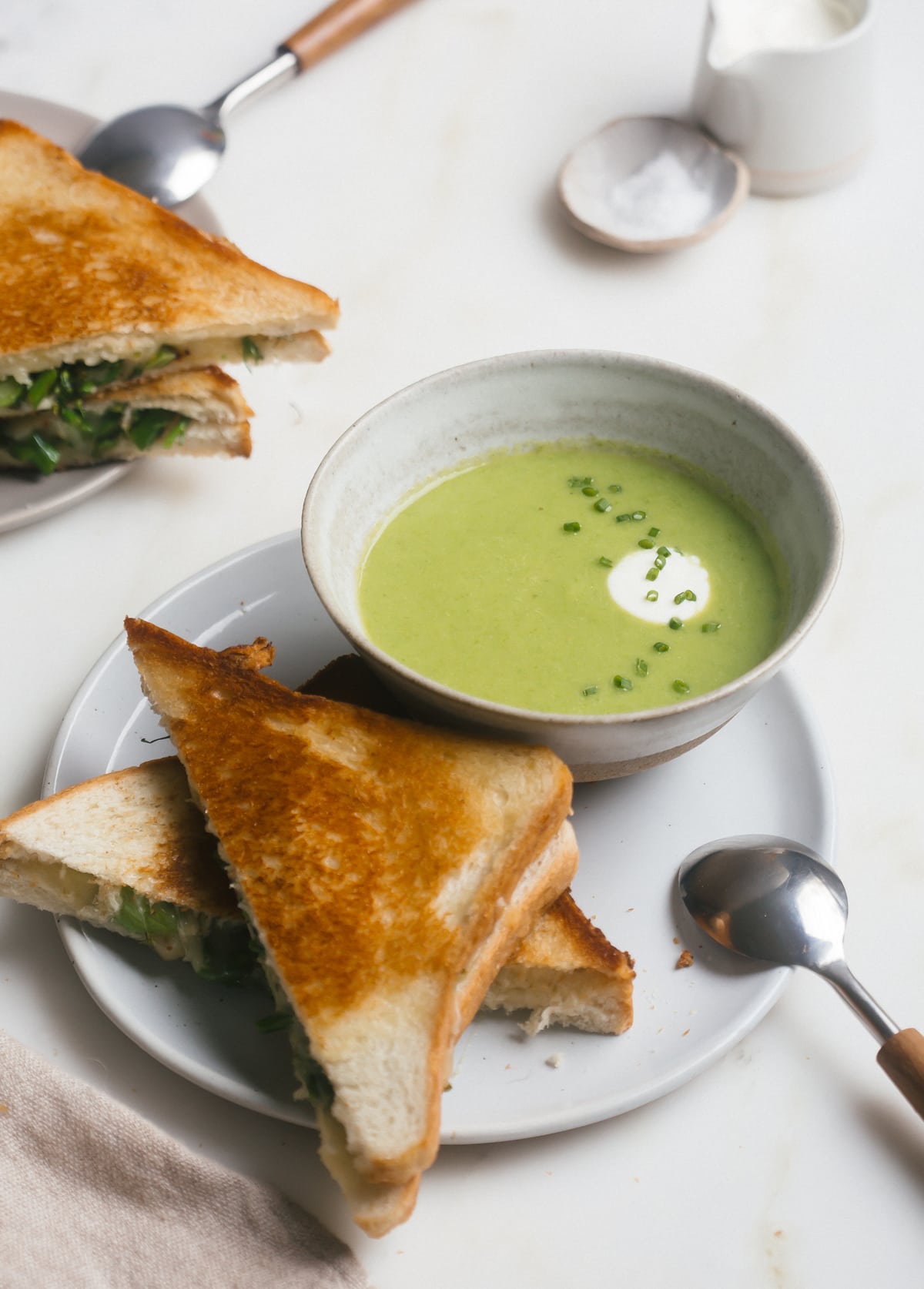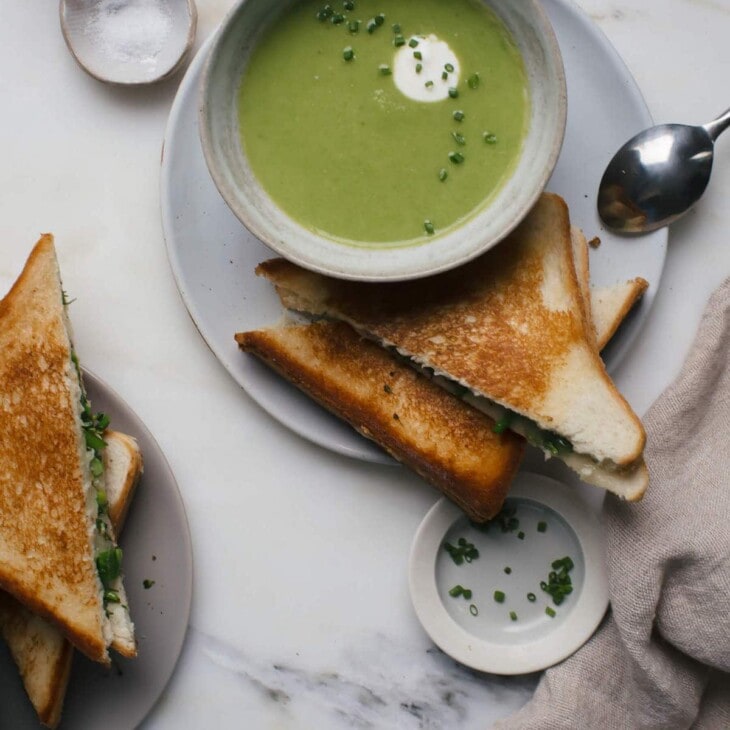 Print Recipe
Simple Asparagus Soup and an Extra Cheesy Grilled Cheese
Ingredients
Simple Asparagus Soup:
1

tablespoon

unsalted butter

1

shallot

peeled and minced

1

garlic clove

peeled and minced

Salt

1/4

teaspoon

baking soda

1

pound

asparagus

ends trimmed and cut into 2-inch pieces

1 1/2

cups

low-sodium chicken broth

1

tablespoon

creme fraiche

plus more for topping

2

fresh chives

minced
Extra Cheesey Broccoli Grilled Cheese:
3

stalks of broccolini

trimmed and chopped

Salt

Crushed red pepper flakes

1

cup

shredded Pepper Jack cheese

4

slices

bread of choice

1

tablespoon

unsalted butter
Instructions
To make the soup: In a medium sauté pan (it might seem too big right now but later we'll use it to cook the broccoli), set over medium heat, melt the butter. Add the shallot and garlic and cook for 1 to 2 minutes, until softened. Add it to the blender and set aside.

Prepare an ice bath for the asparagus and set aside. In a small saucepan filled with a few inches of water, set over medium heat, add a few pinches of salt and the baking soda. When the water reaches a simmer, drop the asparagus in the water and cook for 2 minutes, until tender. Drain and transfer to the ice bath. Drain again and press out any water in the asparagus. Transfer to the blender along with the chicken stock. Blend until very smooth, 1 to 2 minutes.

If you like, you can run it through a sieve. I liked it nice and thick. Add the creme fraiche and a teaspoon of salt. Give it one more mix and adjust the salt to taste. Transfer back to the saucepan and warm over low heat. Ladle into bowls and top with a dollop of creme fraiche and chives.

To make the grilled cheese: In the sauté pan you cooked the onions and garlic in, add a teaspoon of olive oil (if needed), and set over medium heat. Add the broccoli and sprinkle with salt and crushed red pepper. Cook for 1 to 2 minutes, until tender and bright green.

Assemble the grilled cheese by dividing the cheese amongst slices of bread and topping with the broccolini. Add the second slice of bread. Wipe out the skillet and place over medium heat. Melt a tablespoon of butter in the pan and cook the grilled cheeses on each side for 1 to 2 minutes, covering the pan as needed. Repeat with the second grilled cheese.

Slice the grilled cheeses at a diagonal. Serve grilled cheese with the asparagus soup.