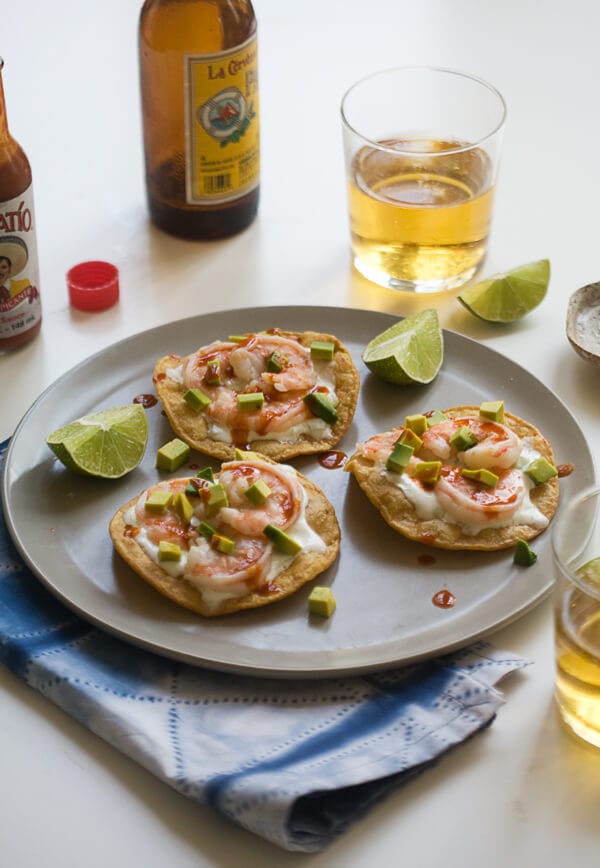 We're not really in the dog days of summer. When I think of that term I picture early August, humidity that humbles you and days that involve inner tubes, a river, a cooler full of beer and a janky waterproof radio. Those are some dreamy summer days; instead I'll be super busy making pie after pie recipe and wishing I had central air conditioning. I'm not complaining, in fact, I'm super excited about my summer.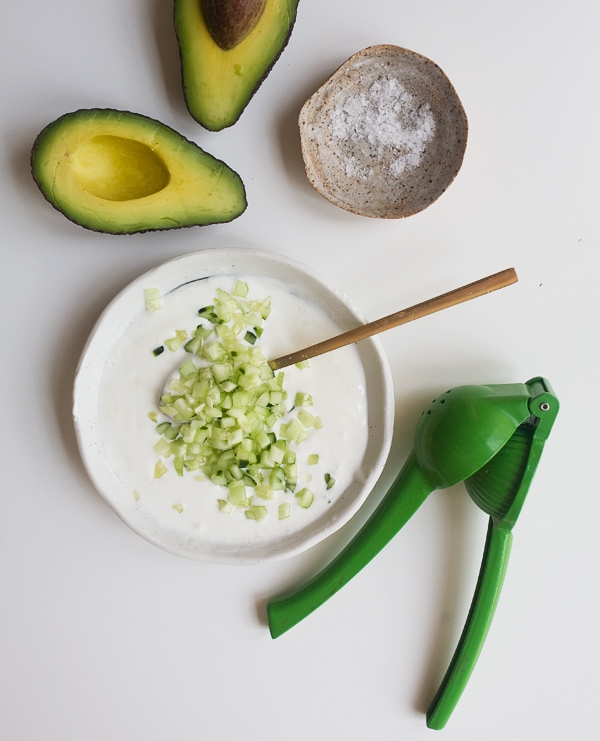 There's no vacation in sight but that's ok because instead I have these shrimp tostadas that have the ability to transport anyone to the beaches of Baja Ensenada. There's a truck a few minutes from my house that specializes in these types of tostadas.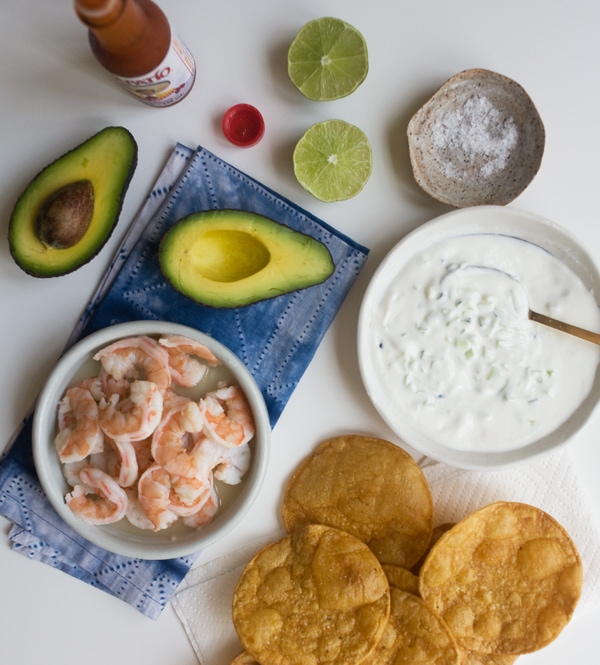 In a perfect world every summer meal would be like this: fresh, light, deliciously spicy with only sacrificing minutes to prepare.
I remember when Josh and I first started dating, we'd go to this truck, order a few tostadas and sit in the park and watch the families walk by. It's maybe one of top five favorite things to eat in Los Angeles. It's THAT good.
I'm sure my face was smiling from one ear to another. I like to think it was one part Josh's super cute face and one part life-changing tostada.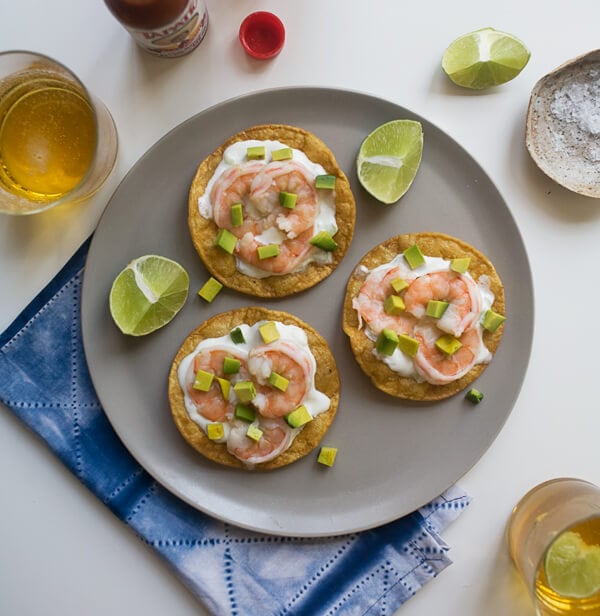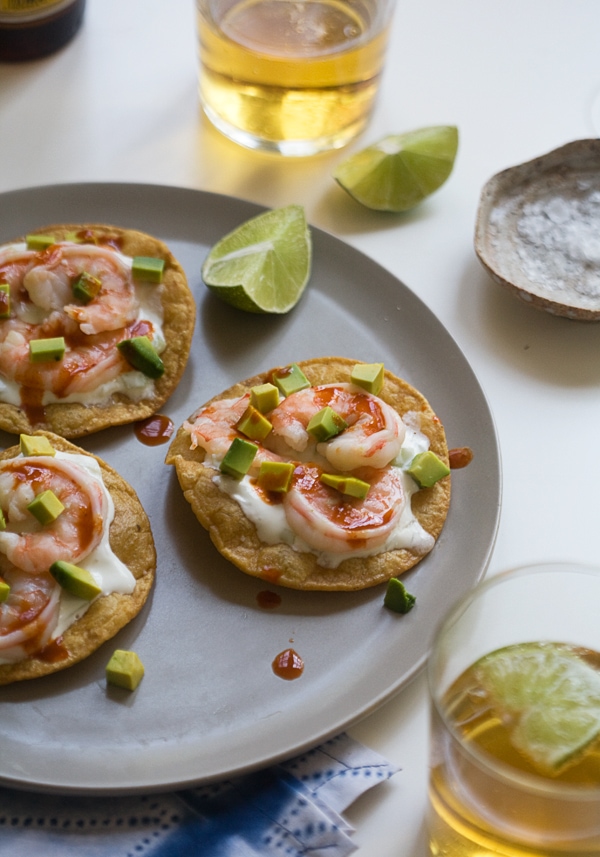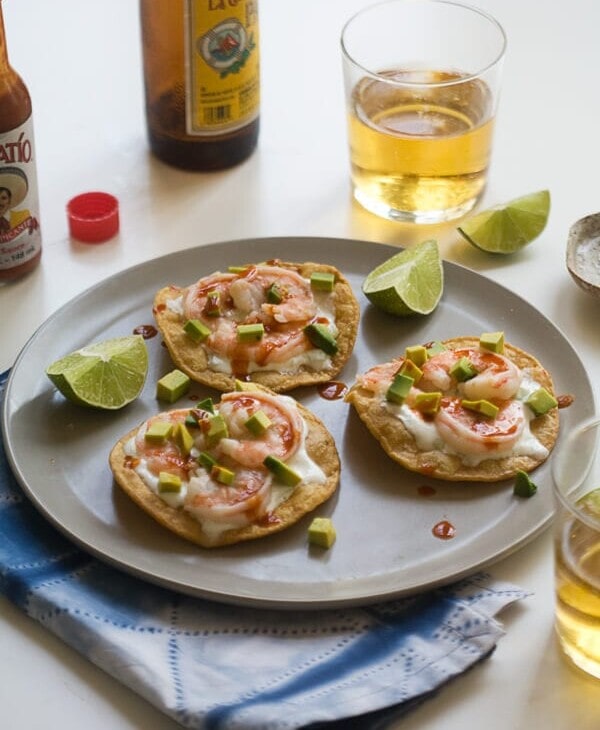 Print Recipe
Shrimp Tostadas
Serving Size:
to 8 tostadas
Ingredients
Crema Sauce:
1/2

cucumber

peeled and cut into a very small dice

Salt

Juice from 2 limes

1/2

cup

Mexican crema
Tostadas:
Vegetable oil

6 to 8

tortillas

1/2

pound

medium-sized shrimp

peeled and deveined

Juice from 2 limes

1/2

avocado

diced

Hot sauce
Instructions
In a small bowl, add the cucumber and sprinkle with a few pinches of salt. Allow to stand for 5 minutes to release some of its water. Squeeze in the lime juice and quickly mix in the crema. Salt to taste. Place in the refrigerator while you prepare the rest of the dish.

In a cast iron skillet (or a sauté pan), add about 1-inch of oil. Heat the oil over medium-high heat; when the oil is hot add the tortillas, in batches, and fry until crispy, flipping them at the 30-40 second mark. Transfer the tortillas to a bed of paper towels and sprinkle both sides with a bit of salt. Repeat frying step with the remaining tortillas.

In a saucepan, boil the shrimp for 30-40 seconds minute, until pink and a bit undercooked (we're going to toss them with lime juice, which will cook them a bit more). Transfer the shrimp to a cutting board and allow to sit until they're cool enough to handle. Slice the shrimp in half, horizontally. Add the shrimp to a bowl and toss with a few pinches of salt and the juice from the limes. Transfer to the fridge to chill for 10 to 15 minutes.

To assemble, add a few tablespoons of crema/avocado sauce to each tostada. Top with a few shrimp, a scoop of diced avocado and a couple dashes of hot sauce. Repeat with the remaining tostadas.