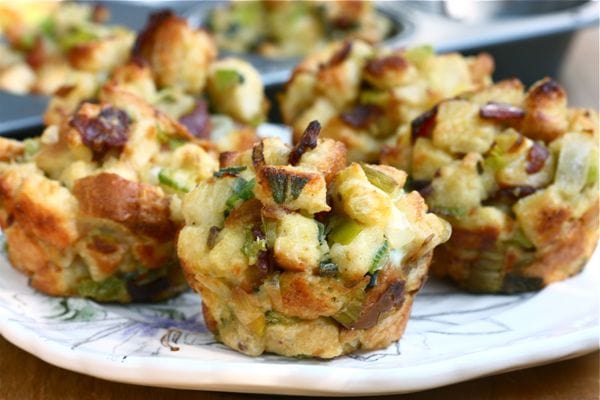 Hi. I'm baaaaack.
I actually never left, but sometimes the one day breaks between posts make me miss you a lot. I can say this because we've moved past the whole newness in our relationship. I don't care if I love you more at this point. It just is what is…you know?!
Wait, do you think it's weird I'm talking about our relationship in public like this? Whatever. DEAL!
I feel like you know me pretty well at this point. You understand who I am as a person. You know I have an affinity for glitter nail polish. You know I cry sometimes and make pancakes. You know I think fantasy football is stupid. You ALSO know that I loooove to try and make stuff cute.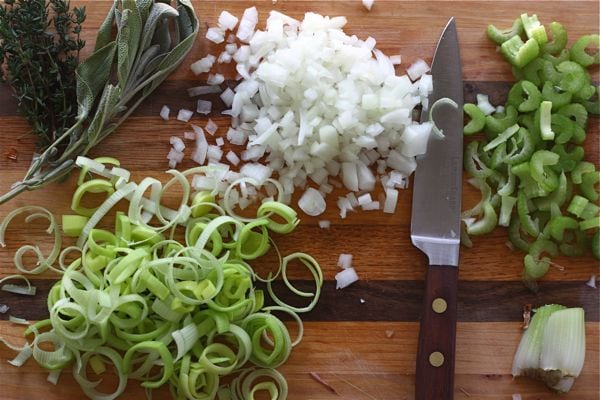 I made churros (that sometimes can look like…I don't have to say it. You know)…into Churro Tots! And complicated pretzels into Pretzel Tots. And sloppy, meat sandwiches into Sloppy Joe Sliders! I'm starting to think my life calling is to take normal dishes that are totally minding their own business and give them a "cute" makeover.
Almost like that scene in Clueless when D and Cher take Ty from rough and stoner-like to cute and dumb. Just like that…but with sandwiches and fried things…and now, stuffing.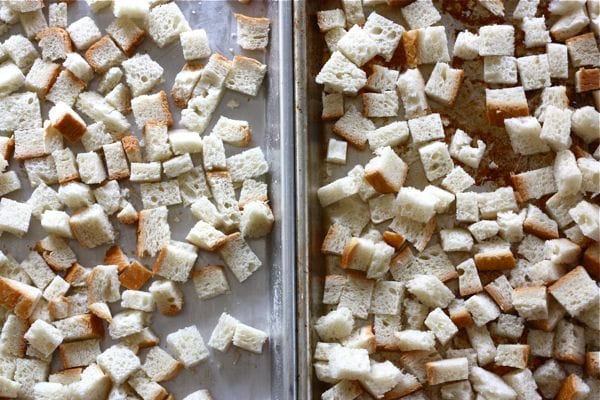 Despite its revamped, cute form, this stuffing is a winner all on its own.
If you decided against the whole muffin tin thing, then I urge you to simply make this as directed below and put it in a casserole dish and bake. DELICIOUS!
It's studded with onions, leeks, celery, fragrant sage…and pancetta.
I currently have a huge crush on pancetta…and I'm starting to think it has everything to do with how it looks like swirl bread on the inside. It makes me want to eat it raw. #notreally #butsorta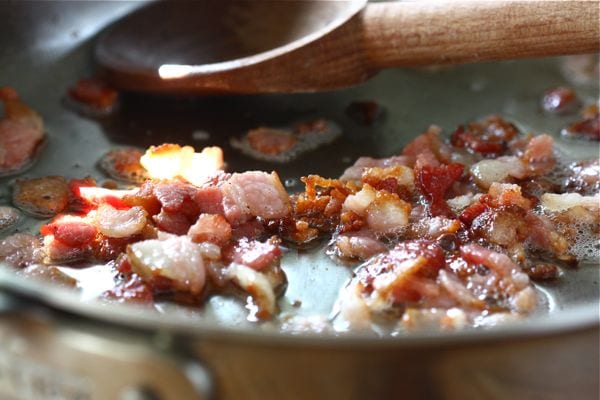 This stuffing is pretty straight forward. You start by toasting the cubes of bread.
Cook the pancetta. To its grease, you add the vegetables. Cook them until they're cooked.
Add the pancetta back. Pour in some chicken stock. Salt to taste. Stir some eggs in. And then pack the muffin tins with the stuffing.
Bake and then done.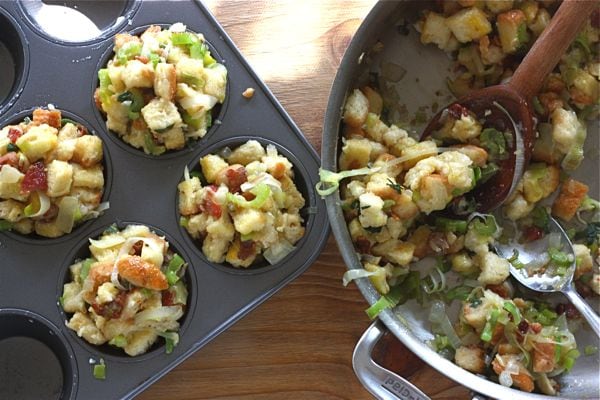 A few pro tips along the way?!
Make sure the stuffing is pretty moist. This will help with it keeping its shape as it cooks in the muffin tin. I didn't do this with two of them and they fell apart. Just pack the stuffing in those tins tightly. That's all.
And…the salt. It's tricky! Salt to taste…for sure! If you use pancetta…AND a salty chicken broth, the 1/2 teaspoon below will be WAY too much. So yeah, salt to taste.
That is all.
P.S. Do you see my chipped nail polish below?! I'm allowing you to judge me. It's been a looooong week..(and it's Wednesday). 🙂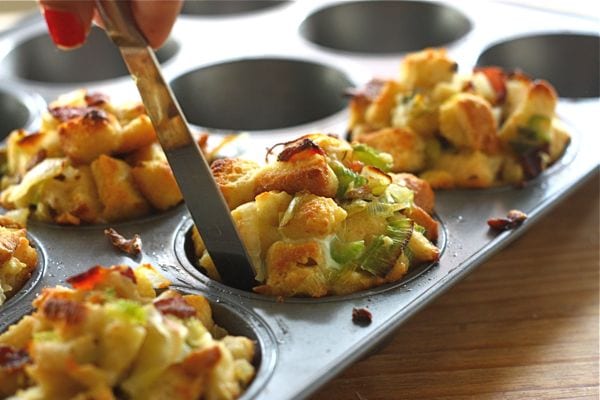 Pancetta Sage Stuffing Muffins
6 1/2 cups of white bread, cubed (about 1 loaf)
1/2 pound pancetta, diced
1 cup yellow onion, diced (about 1 medium yellow onion)
3 celery stalks, thinly sliced
1 leak, cleaned and thinly sliced
5 large fresh sage leaves, chopped
3 sprigs of fresh thyme
1/2 tablespoon salt* (See note below about salt)
1/2 teaspoon freshly ground pepper
1 cup low-sodium chicken stock
2 eggs, lightly beaten
Preheat the oven to 300 degrees F.
1. Thoroughly butter the muffin tin and set aside.
2. In a single layer, place the bread cubes on two sheet pans and bake for 10 minutes, or until barely toasted. Remove and set aside.
3. In a large saute pan, cook the pancetta over medium-high heat, being sure to stir regularly, for about 7 minutes, or until slightly browned and crispy. Transfer to paper towels to drain. The pancetta should release a few tablespoons of grease. This is good! We'll use this to cook the vegetables. If for some reason your pancetta is super lean, you might want to add a teaspoon of unsalted butter. Bring heat down to medium, and add the diced onion, sliced celery, sliced leek, salt and pepper, and cook until all is softened and translucent, about 10 minutes. Add the sage and thyme and cook just until fragrant.

*Note about salt: If your pancetta is super salty and you're not using low-sodium broth, I'd recommend halving the salt and doing a "salt to taste" BEFORE you put in the egg (which is the last step). These two variables will affect the salt measurement tremendously. 🙂
4. Turn off the heat and add pancetta, toasted bread crumbs and chicken broth to the vegetable mixture and toss. Do a taste test. Does it need a bit more salt? If you're all good then add the slightly beaten eggs and mix once more.
5. Using a tablespoon, transfer mounds of the stuffing mixture to each muffin tin. Be sure to tightly pack the stuffing in each of the muffin cups. This will make sure the mixture adheres to itself and the muffins don't fall apart.
6. Bake for 20-25 minutes, until top is browned. To remove, take a butter knife and go around each of the stuffing muffins' outer edge. Using your knife, gently lift it up out of the muffin tins. Serve warm.
Yields 12 Stuffing "Muffins"