Milk and Honey Baklava
26
Sep 14, 2017, Updated Jan 16, 2020
Disclosure: This post may contain affiliate links, which means I may earn a commission if you click on the link and make a purchase.
Milk and Honey Baklava is a delicious take on baklava. The milk mixed with honey is poured over the phyllo dough layered with crushed up nuts.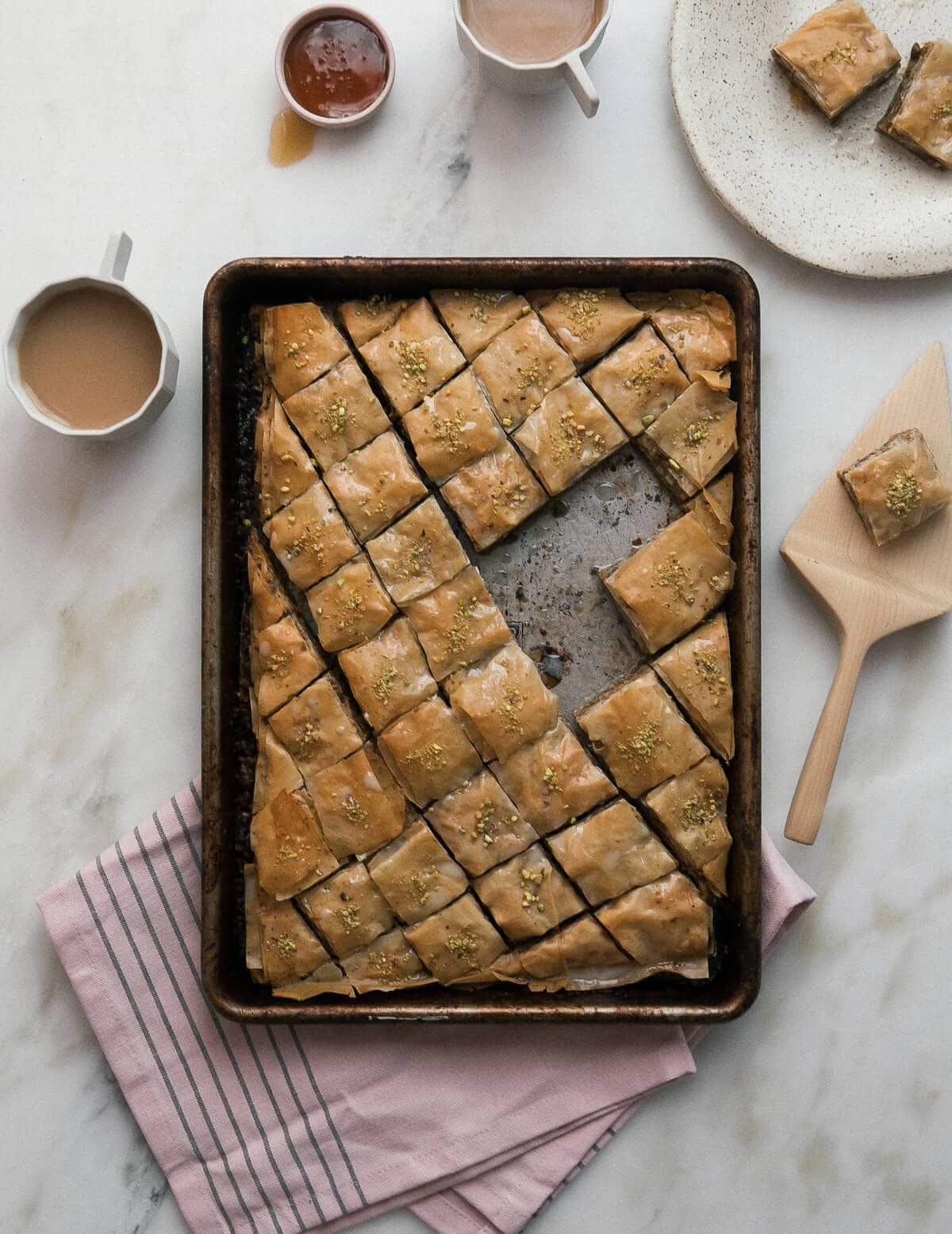 Milk and Honey Baklava is everything you want from a baklava! So many crushed up (hello walnuts and pistachios), crispy phyllo dough and then at the end, a mixture of warmed milk and honey poured over the top to make it extra sweet and delicious.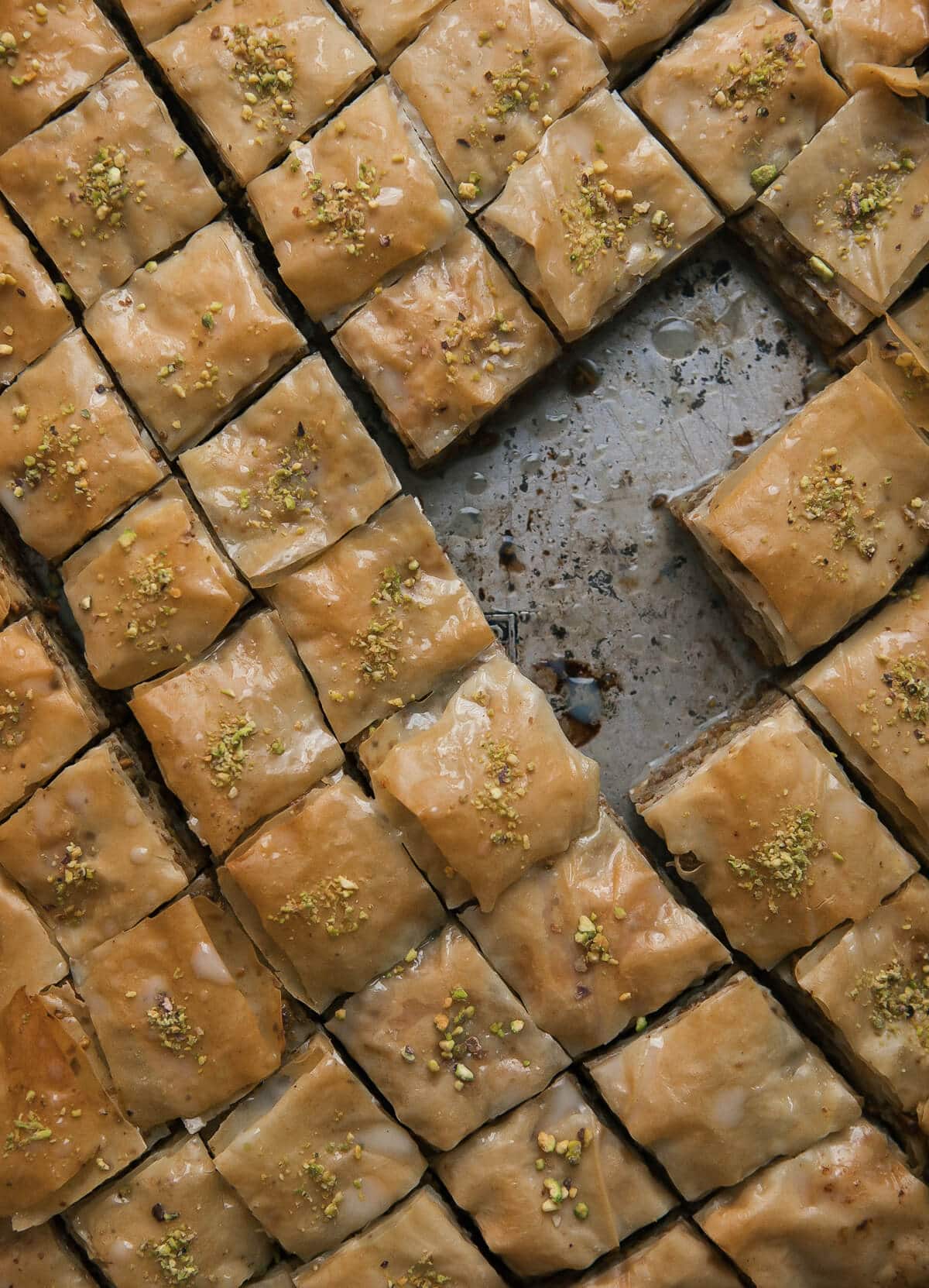 The Inspiration Behind this Baklava!
Let's talk about this baklava now because it's SO GOOD.
When I first moved to LA, my friend Setu took me to this place and she forced me to order her new obsession—this milk and honey milkshake. It was so long ago and yet I remember them vividly. I was thinking the other day, why aren't there more milk and honey things because the combo is so soothing and delicious.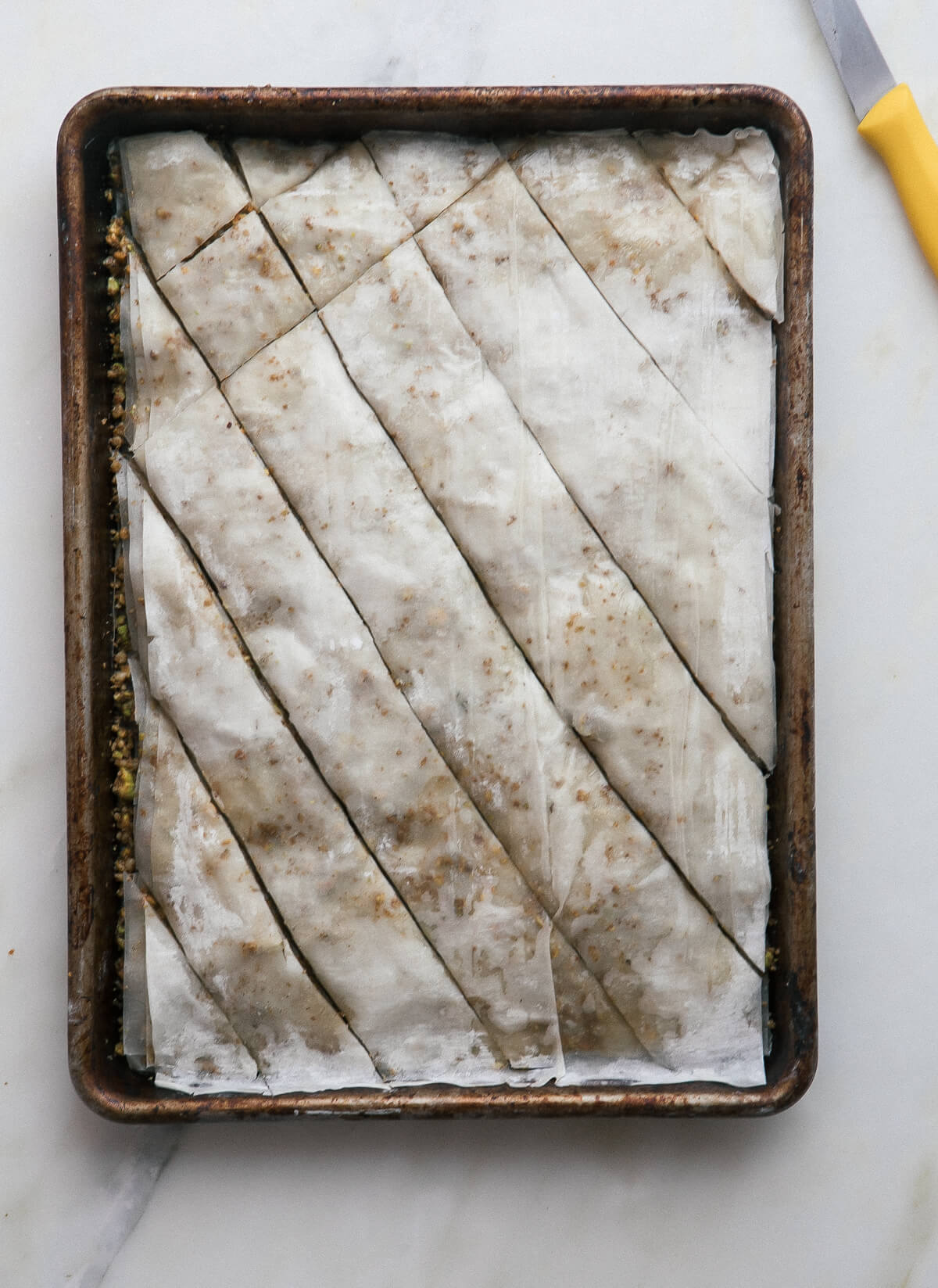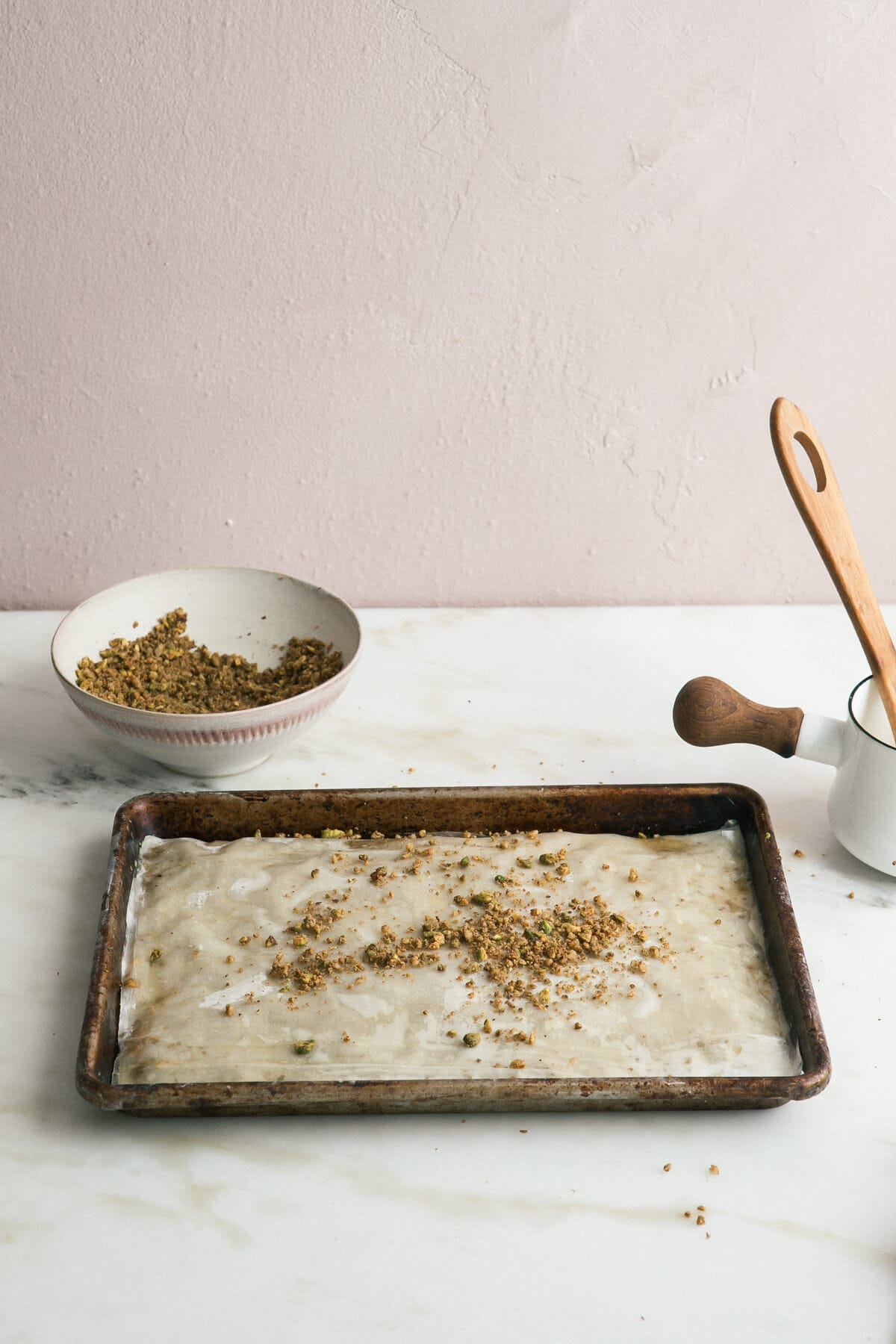 I thought pouring this combo over baklava and letting it soak in and do its thing would be super fall-like and delicious.
It took me a few times to get this baklava right because my first go around was a hot mess. I was shy about adding all of the syrup because it seemed like too much but I quickly found out that it definitely needs it. Just like a tres leches cake, it soaks it all up and if not added, it tastes try and too crispy.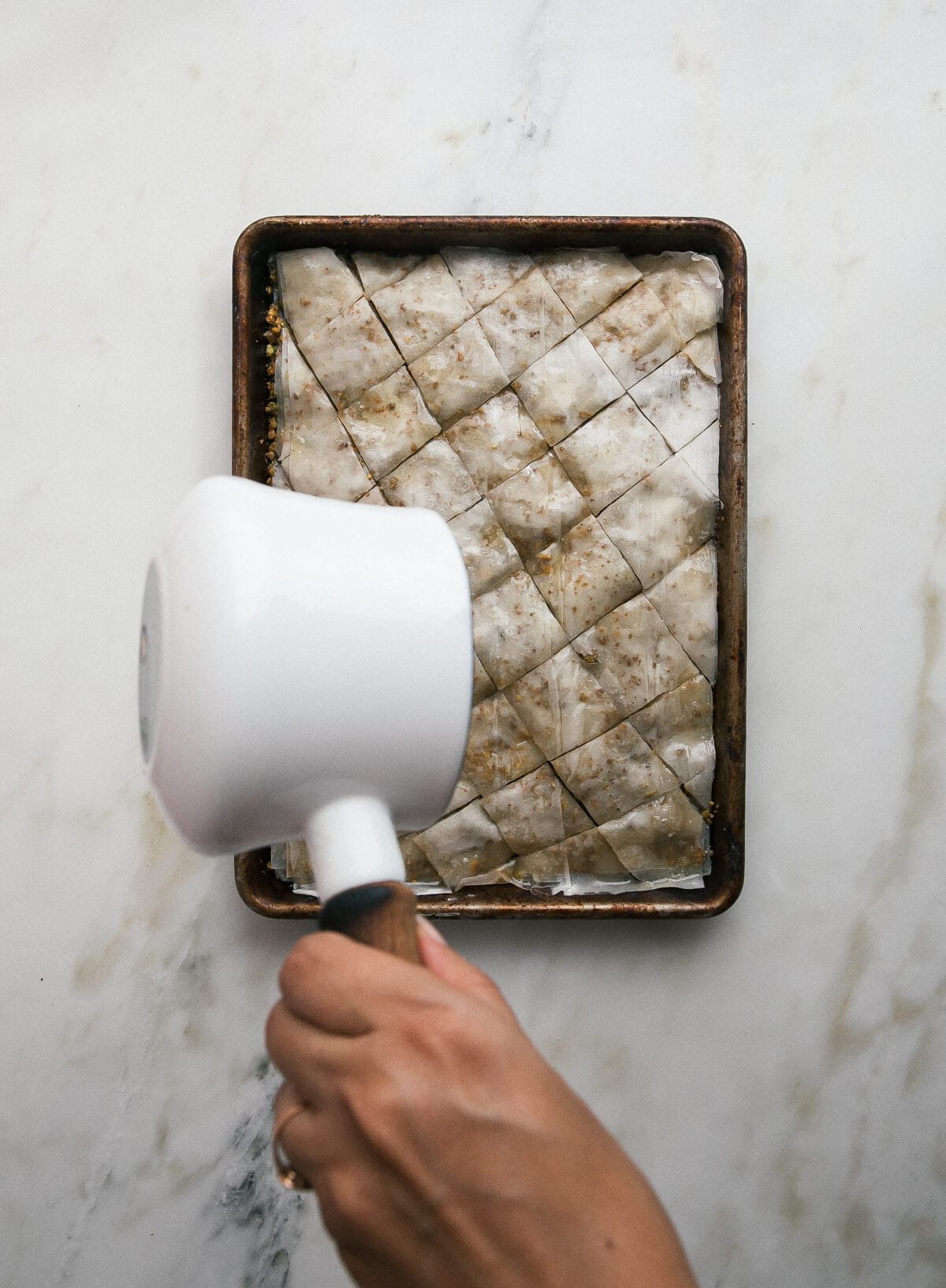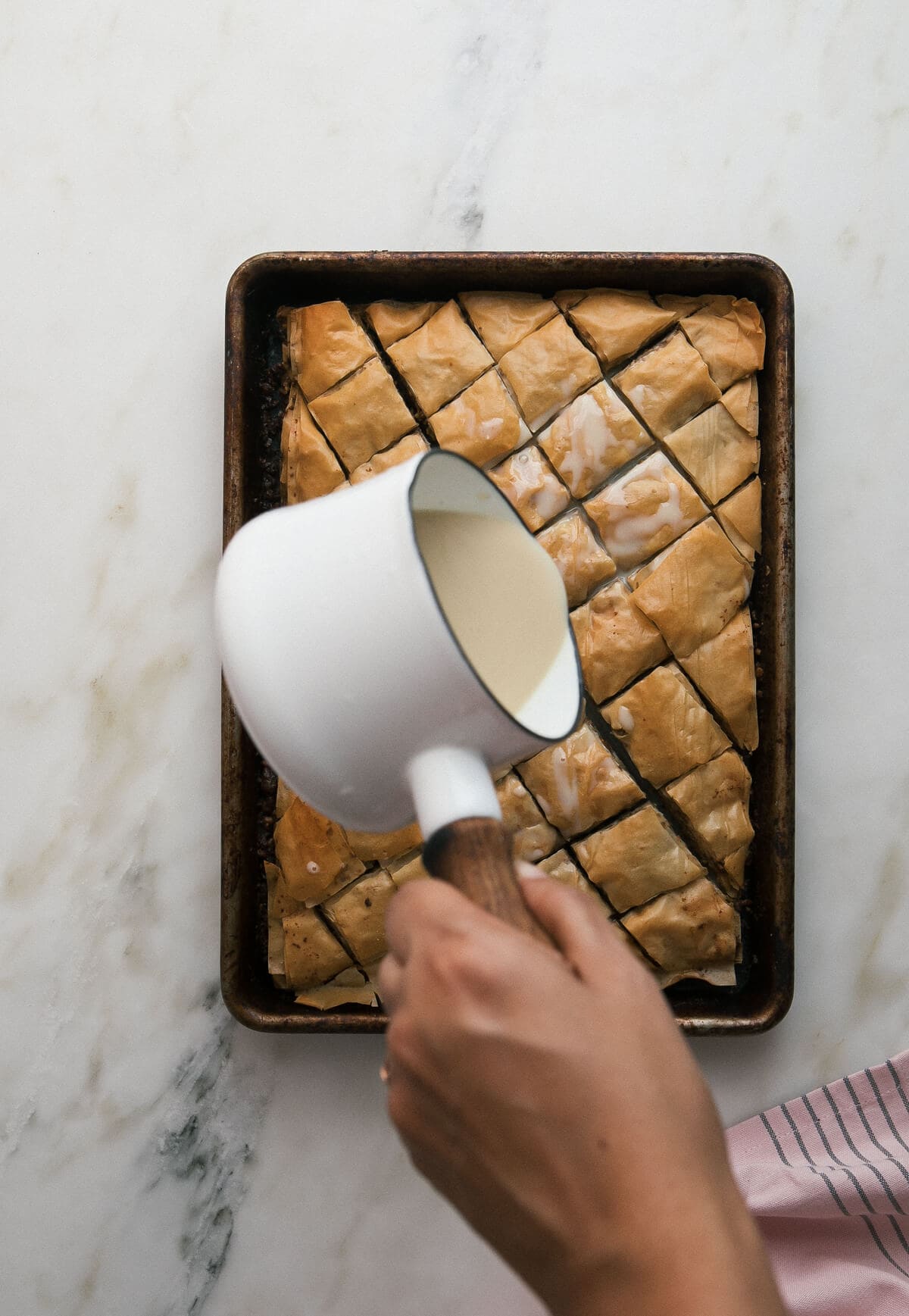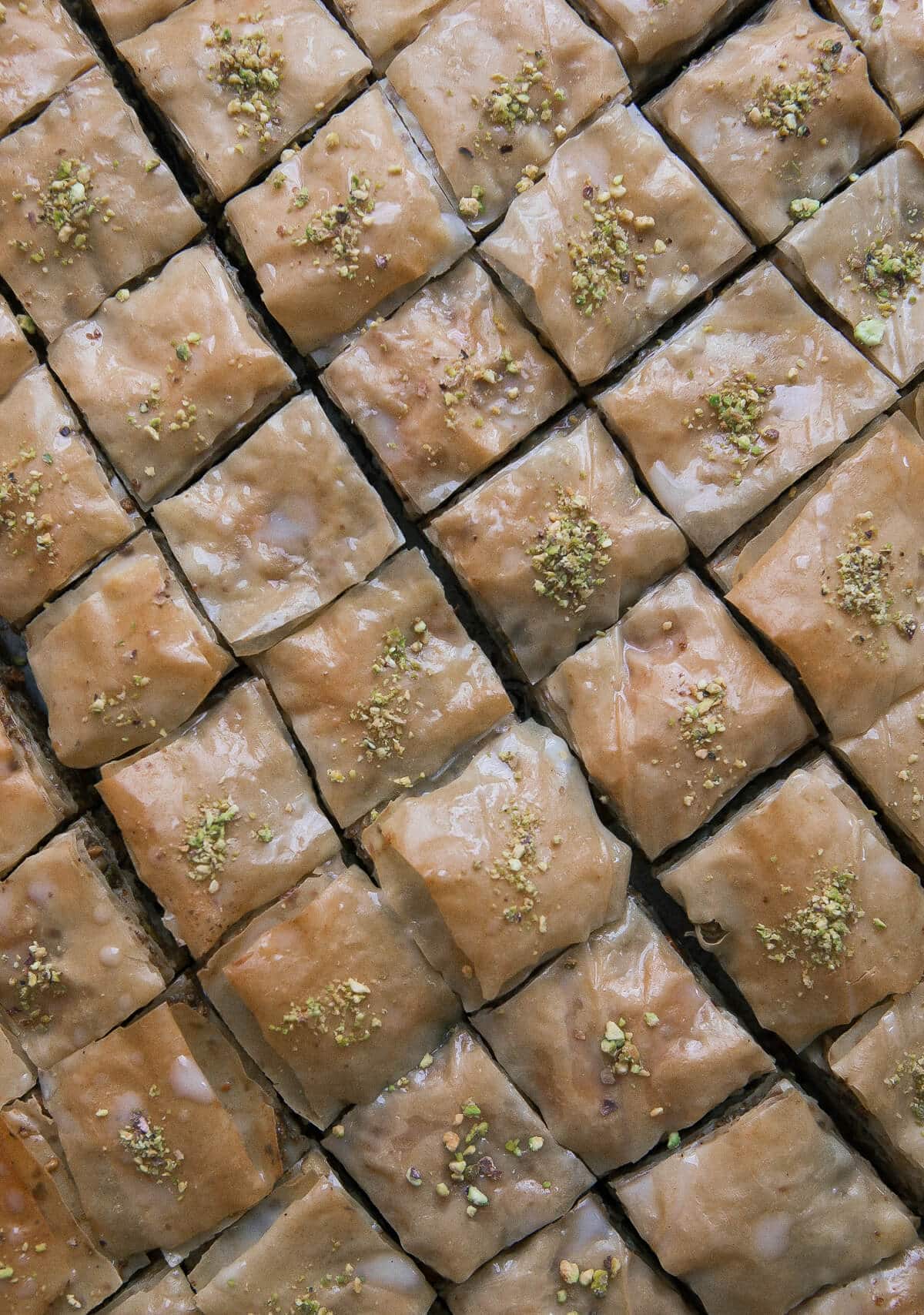 The filling combo of walnuts and pistachios is so good. I love the softness from the walnuts and the crunchiness from the pistachios.
How to Make Baklava
Well, I should probably correct that title and say how to make THIS baklava. This recipe is slightly different because we're incorporating sweetened condensed milk but I believe the frame work of this recipe is very traditional.
We have to make clarified butter. This may sound difficult but all clarified butter is is butter that has its milk cooked out. This way the butter doesn't burn in the oven. We're using this clarified butter to grease the baking sheet.
Next up we're making the filling which in this specific case consists of pistachios, walnuts, cinnamon and a touch of salt all ground up in a food processor.
Remove the phyllo dough from its box and make sure to cover it with a damp clean kitchen towel. Phyllo dough dries out very quickly so this helps avoid that from happening.
Brush a sheet of phyllo dough with the clarified butter and then lay it down onto the baking sheet. Add a thin layer of the filling and then top it with another sheet of buttered phyllo dough. Keep repeating this process until you've worked your way through all of the dough.
When you're all done with it, take your sharp paring knife, and cut diamonds into it. You go diagonally in one direction. And then diagonally again in the other direction. OR you could also just make horizontal and vertical slices.
Transfer to the oven to bake.
While it's baking, we make the honey and milk mixture! It consists of sweetened condensed milk, honey, water and vanilla extract.
When the baklava comes out of the oven, you pour this syrup mixture ALL over it! And let it soak.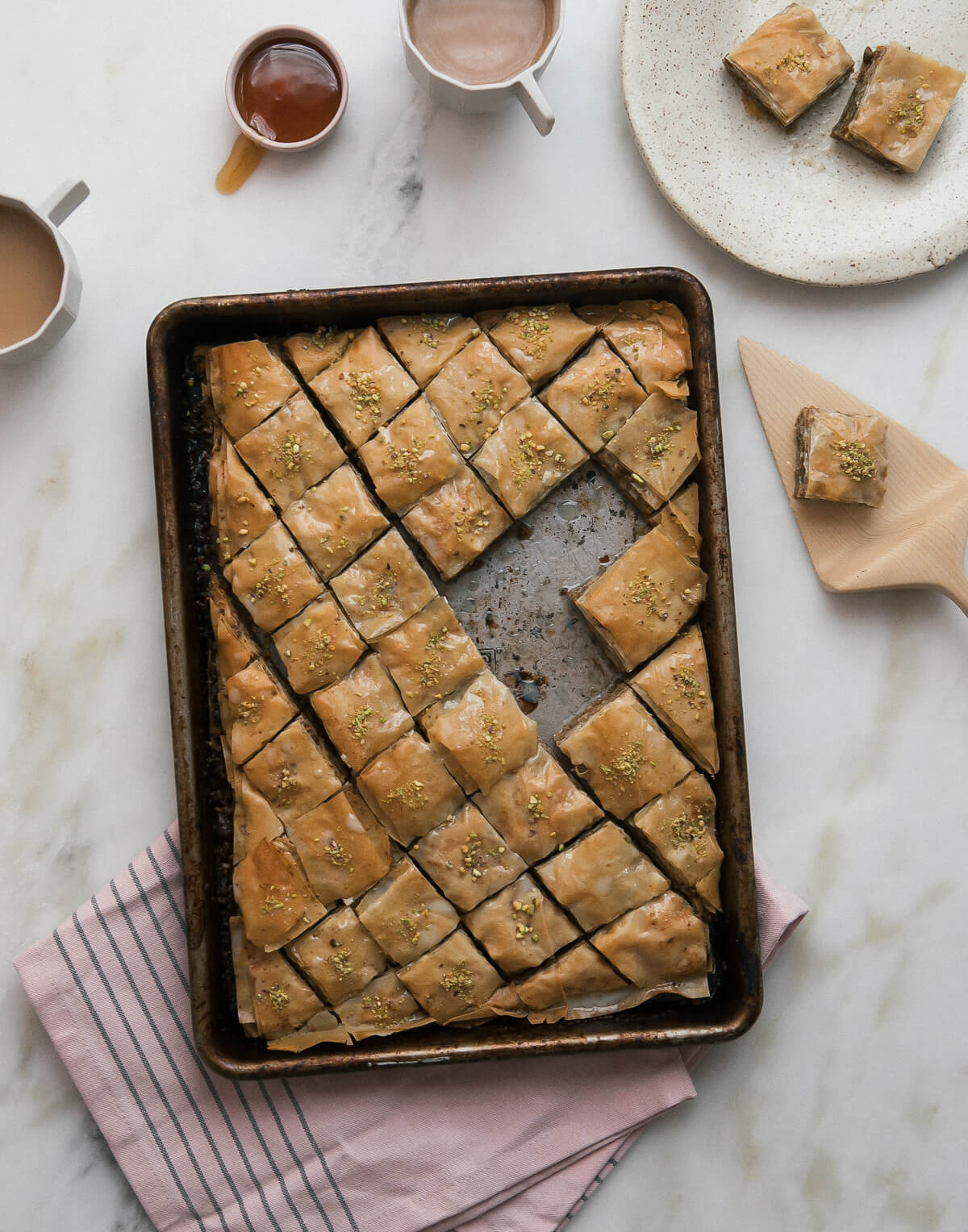 If you make this Milk and Honey Baklava, let me know on Instagram!
Milk and Honey Baklava Recipe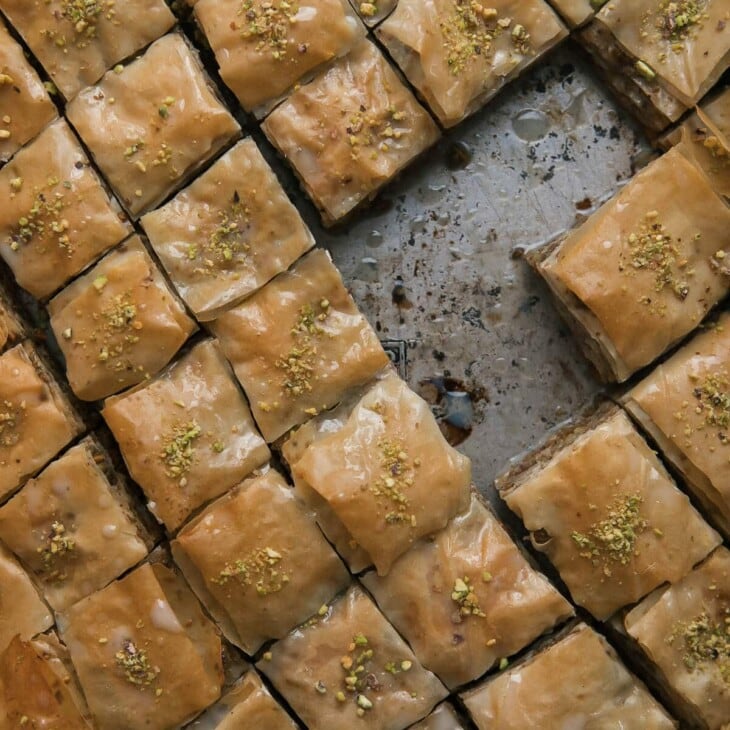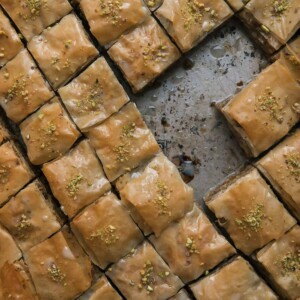 Milk and Honey Baklava is a delicious take on baklava. The milk mixed with honey is poured over the baklava that is phyllo dough layered with crushed up nuts.
Equipment
1 quarter sheet pan or equivalent baking dish
Ingredients
Clarified Butter:
1/2

cup

unsalted butter

,

cubed (this can be a rough cube, ain't got to be perfect)
Baklava:
1

cup

walnuts

1 1/2

cups

shelled pistachios

2

teaspoons

ground cinnamon

1/2

teaspoon

kosher salt

1/2

pound

phyllo
Syrup:
3/4

cup

sweetened condensed milk

1/4

cup

boiling water

2

tablespoons

honey

1/4

teaspoon

vanilla extract
Instructions
Clarified Butter:
In a small saucepan, set over medium-low heat, add the butter. When the butter has melted it will begin to bubble and the milk solids will rise to the top. Using a spoon, skim the top of the melted butter and discard the milk solids. Run the butter through a small sieve or a cheese cloth to remove any excess milk solids. We want to do this so the butter doesn't burn in the oven. Set the warm butter to the side.
To Make the Baklava:
My phyllo dough came in a 1 pound box. I used a pair of scissors and cut my phyllo dough in half (1/2 pound). (I saved the other half in the freezer for another time.)

Preheat the oven to 350 degrees F.

In a food processor, add the walnuts, pistachios, cinnamon and salt. Pulse until very ground, about 1 minute.

Next, grab a clean kitchen towel and dampen it, being sure to wring out any excess water. Place it over the thawed phyllo dough as you assemble the baklava. (Phyllo dough tends to dry out very quickly and assembling the baklava takes a bit of time. The damp kitchen towel will help with this.)

Brush the first sheet of phyllo dough with melted butter and transfer it, buttered-side down, into the baking dish. Add a teaspoon or two of the walnut mixture. Repeat by buttering a sheet of phyllo dough and then spreading a tablespoon or two of walnut mixture. Continue until you've worked through the phyllo dough/filling.

Using a sharp knife, slice the baklava into 1-inch diamonds or squares. Transfer to the oven to bake for 30 to 35 minutes, until the top is lightly golden brown and crisp.
To Make the Syrup:
While the baklava is baking, let's make the syrup! In a measuring cup, whisk together the sweetened condensed milk, hot water, honey and vanilla extract.

When the baklava comes out of the oven, drizzle the syrup on top. Allow it to sit for 1-3 hours so it has a chance to marinate! Serve.
Nutrition
Serving:
12
g
|
Calories:
243
kcal
|
Carbohydrates:
5
g
|
Protein:
6
g
|
Fat:
2
g
|
Saturated Fat:
7
g
|
Cholesterol:
32
mg
|
Sodium:
1
mg
|
Potassium:
13
mg
|
Fiber:
1
g
|
Sugar:
1
g
|
Vitamin A:
3
IU
|
Vitamin C:
7
mg
|
Calcium:
8
mg
|
Iron:
2
mg
Nutrition information is automatically calculated, so should only be used as an approximation.
If you like this recipe, here are other dessert recipes you may like: