Lemon Berry Meringue Trifle
25
Apr 12, 2019, Updated Sep 17, 2023
Disclosure: This post may contain affiliate links, which means I may earn a commission if you click on the link and make a purchase.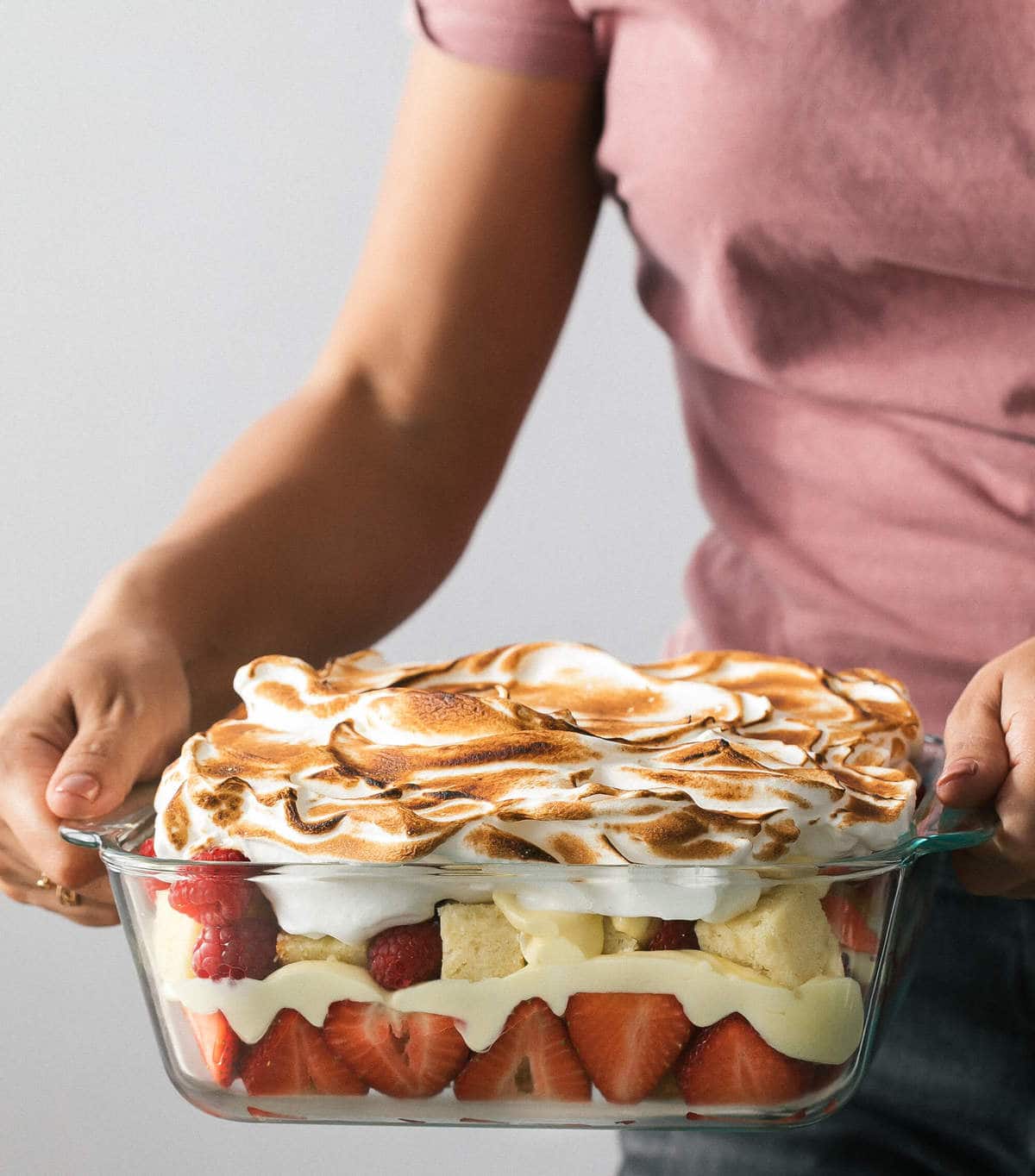 This is the first ever trifle I've ever made! Some of you will probably be shocked, appalled, stunned. And the other half of you probably don't know what a trifle is. Don't worry, I will explain everything there needs to be explained about this Lemon Berry Meringue Trifle.
In my extensive trifle internet research I read that trifles are very much English. And they do very much remind me of an eton's mess. But just on a grander, larger scale, which I am very into. Especially since we're in the thick of spring, which means Easter, brunches and gatherings.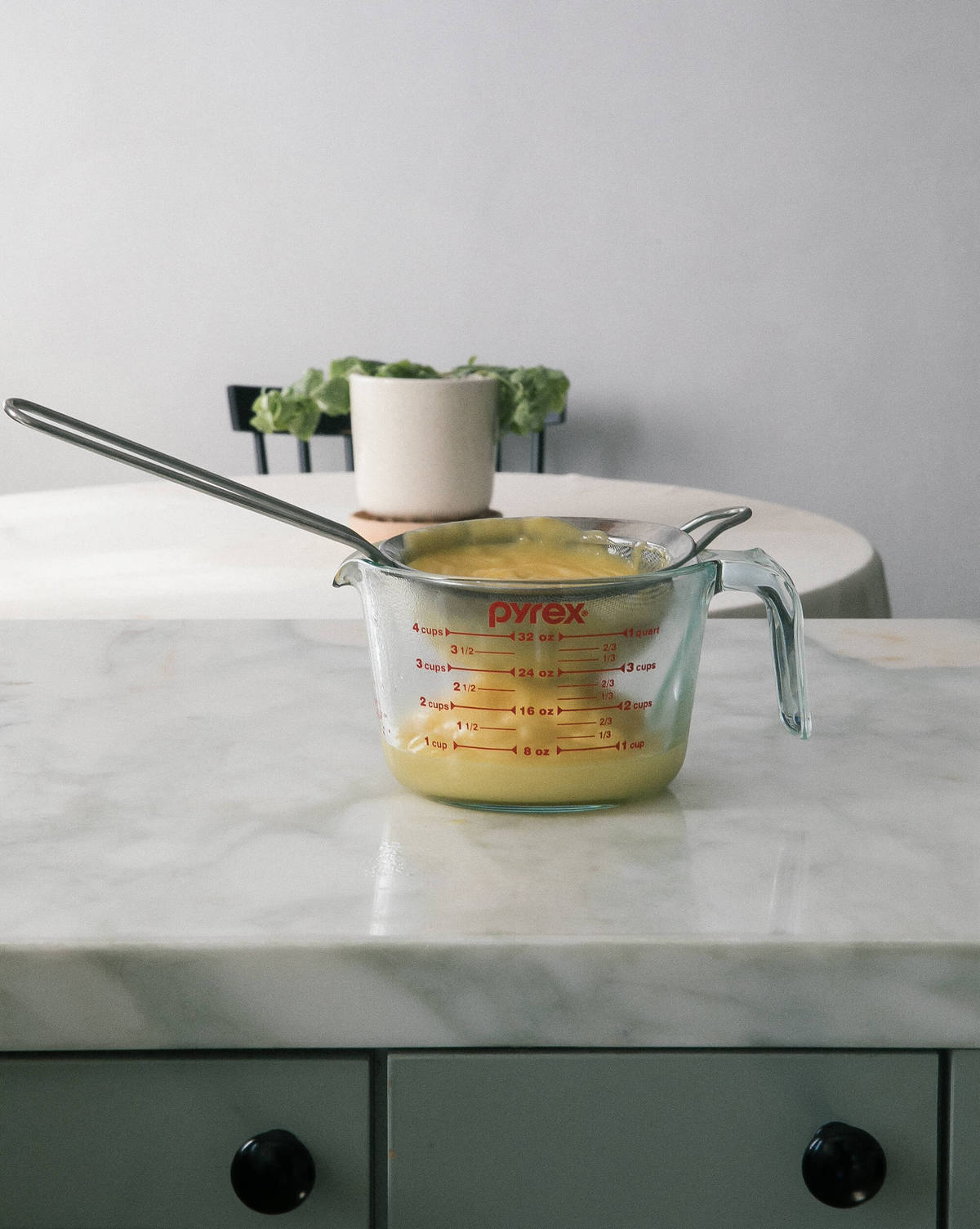 For this post, I teamed up with Pyrex and their new line of Pyrex Deep baking dishes. I love Pyrex so much and use their products daily. Their Deep line is extra special because it is up to 50% deeper – meaning you can fit even more pasta (for pasta bakes), a bigger roast (for Easter) and even more layers (for trifles).
I also love that they all come with super secure lids so you can take to your friends' and families' houses and you don't have to worry about spillage.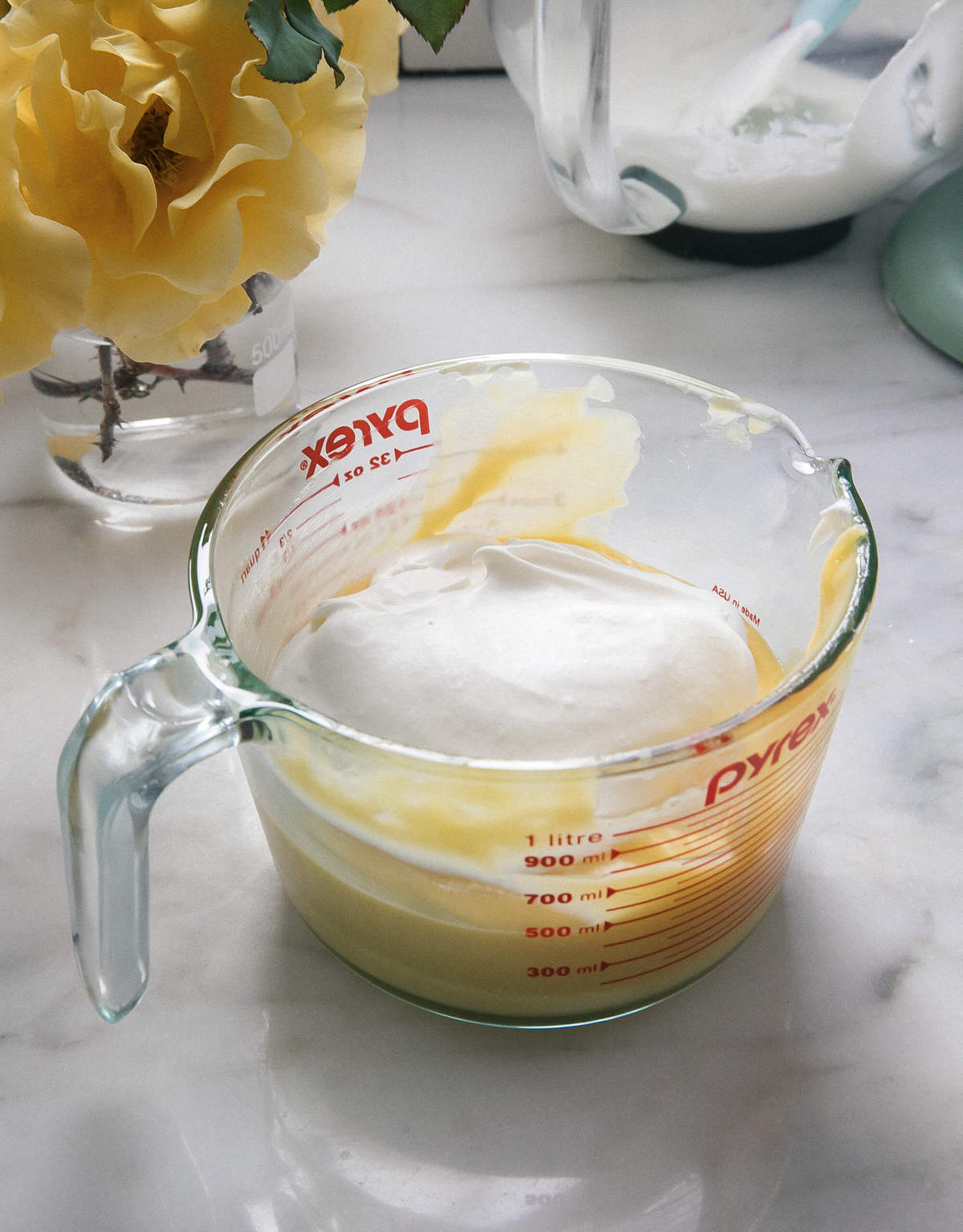 I love all of their products; everything from their glass dishes for storing leftovers to measuring cups—they're all amazing and affordable. These fit in well with the rest of my collection. 😃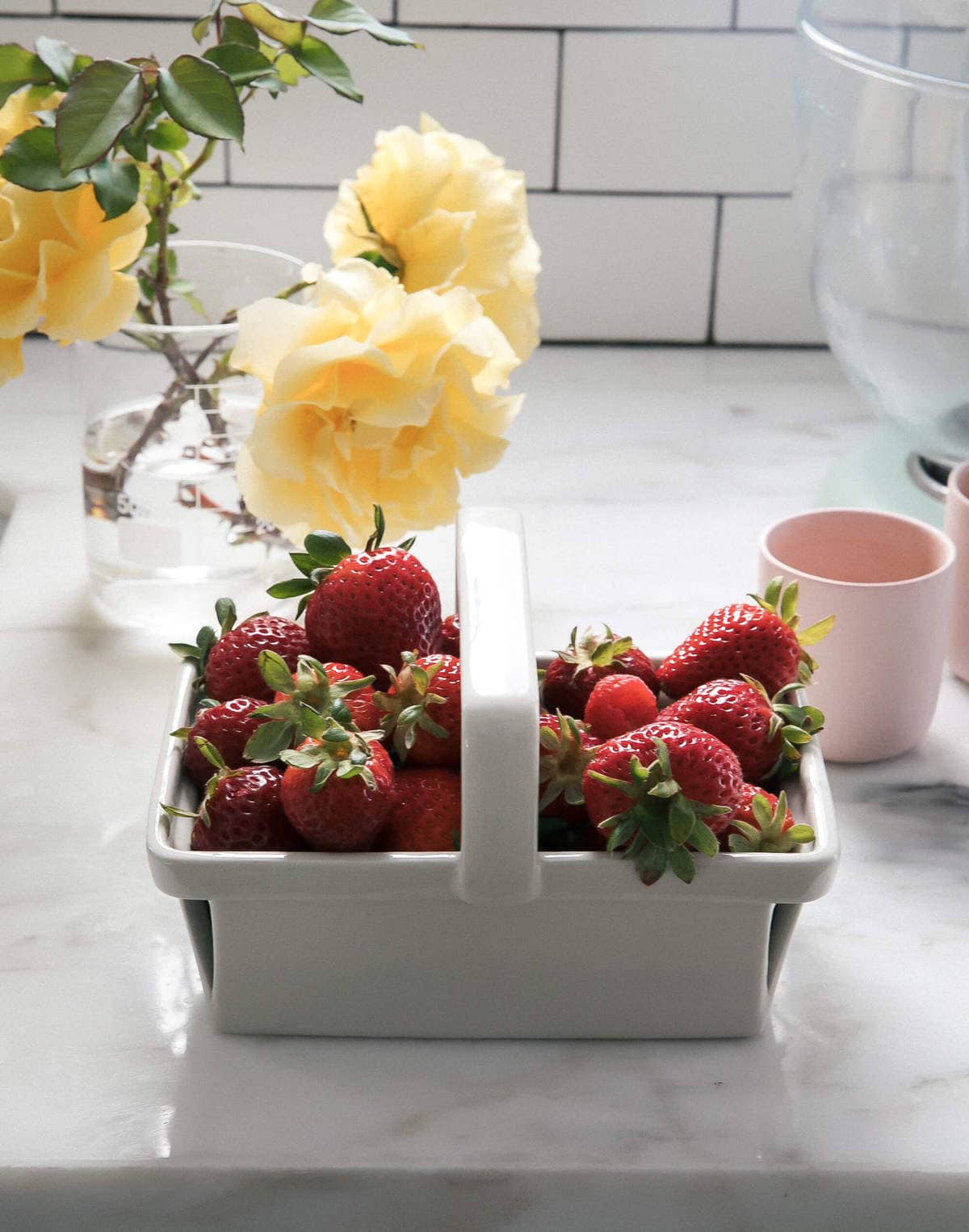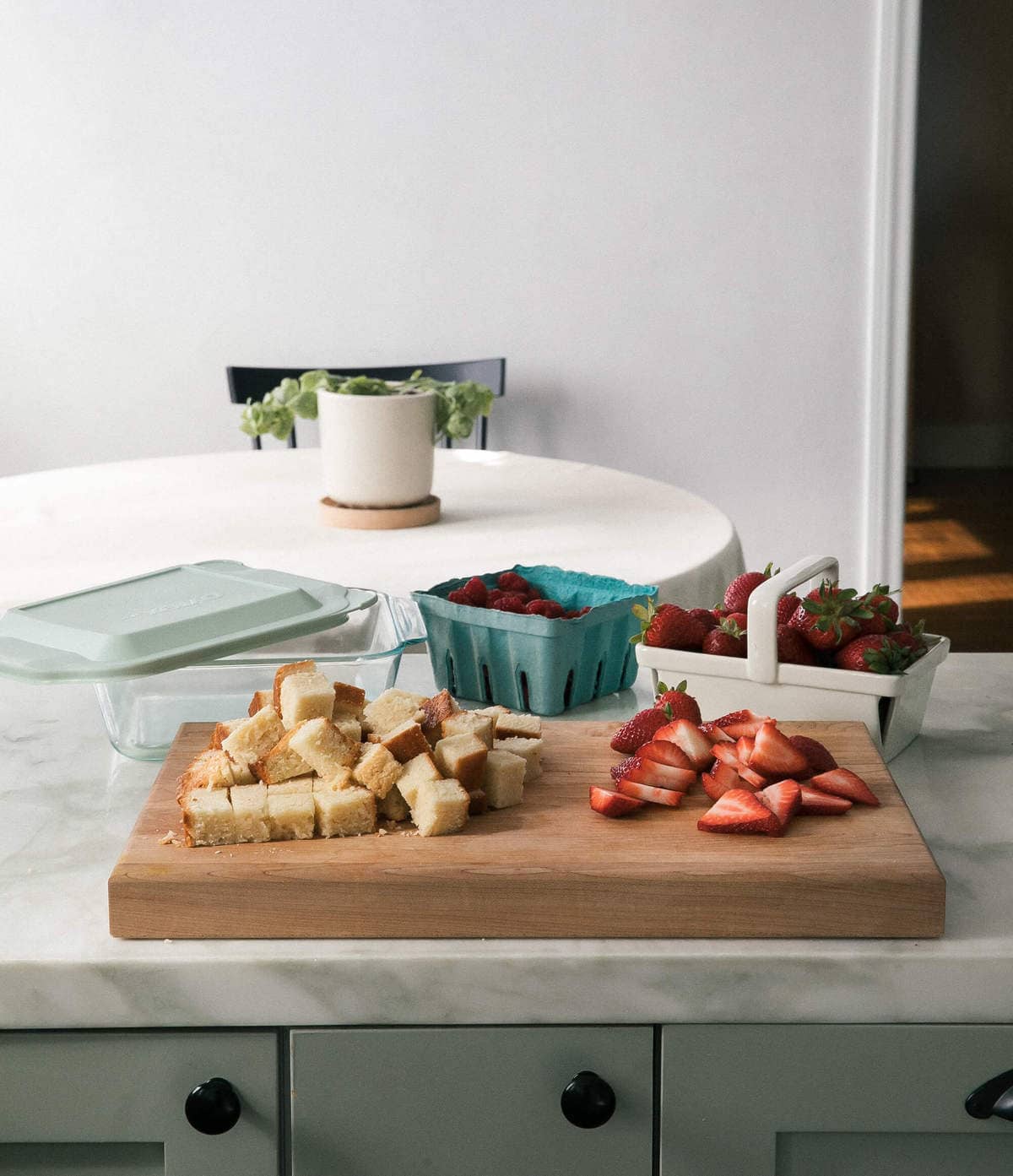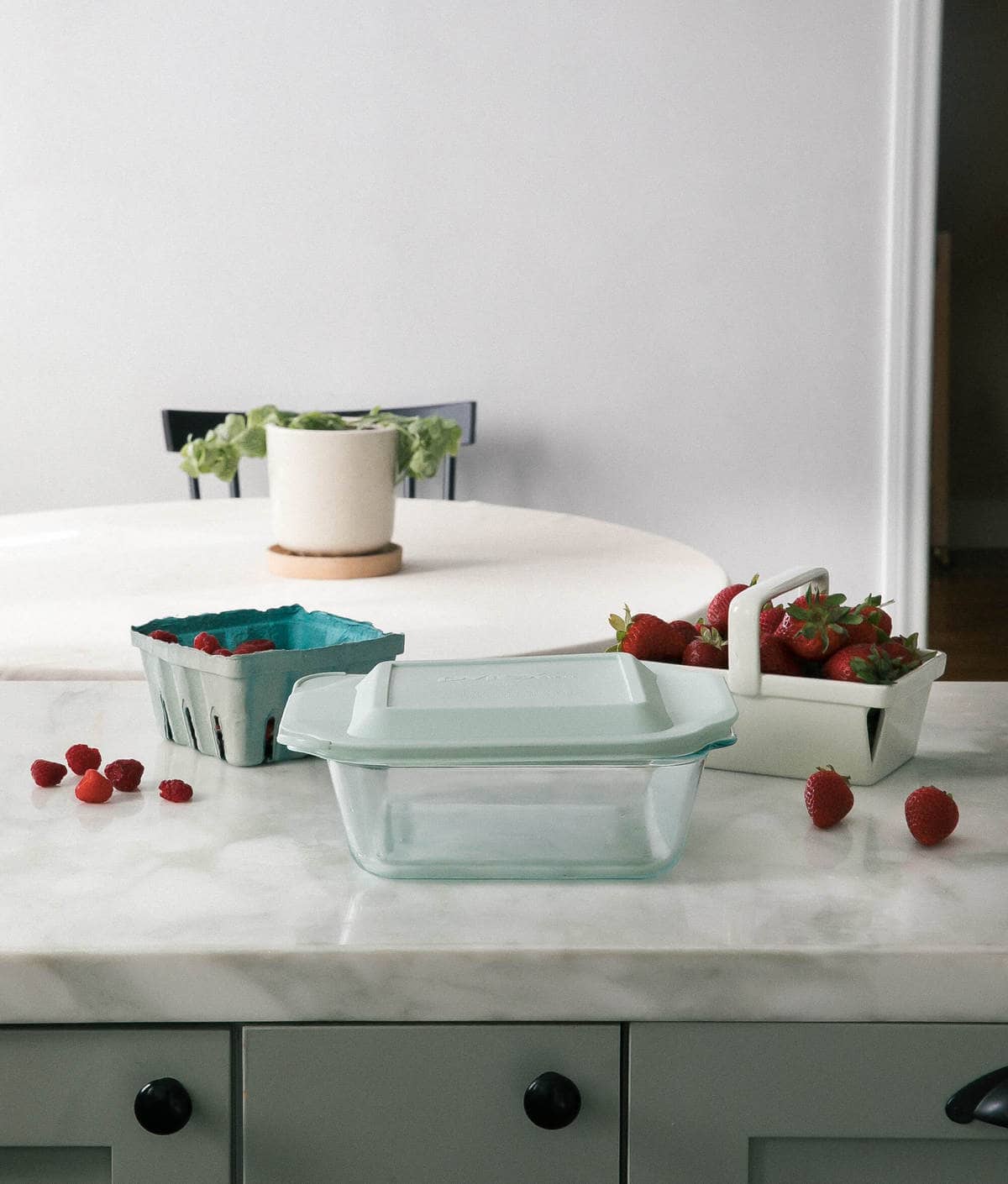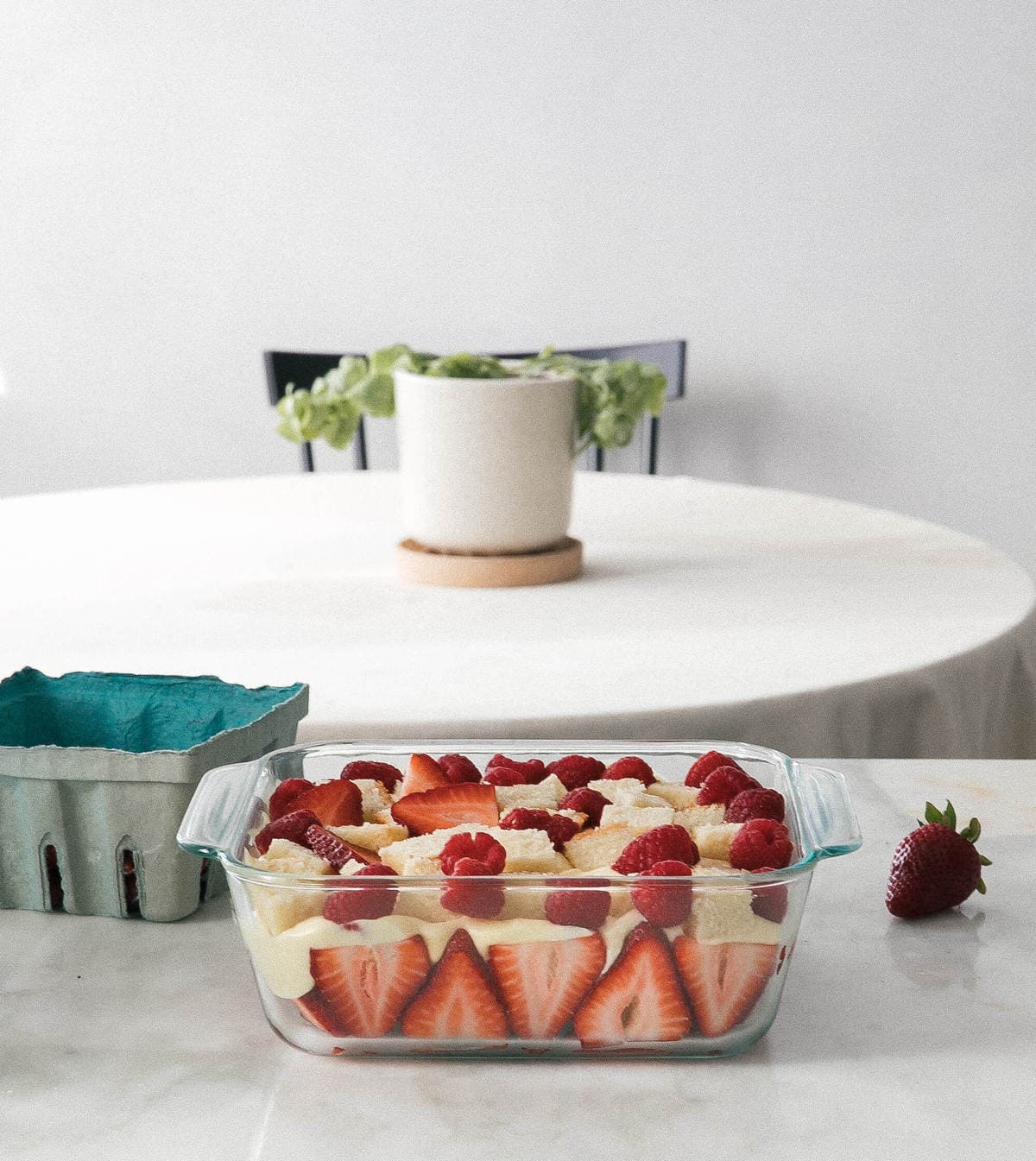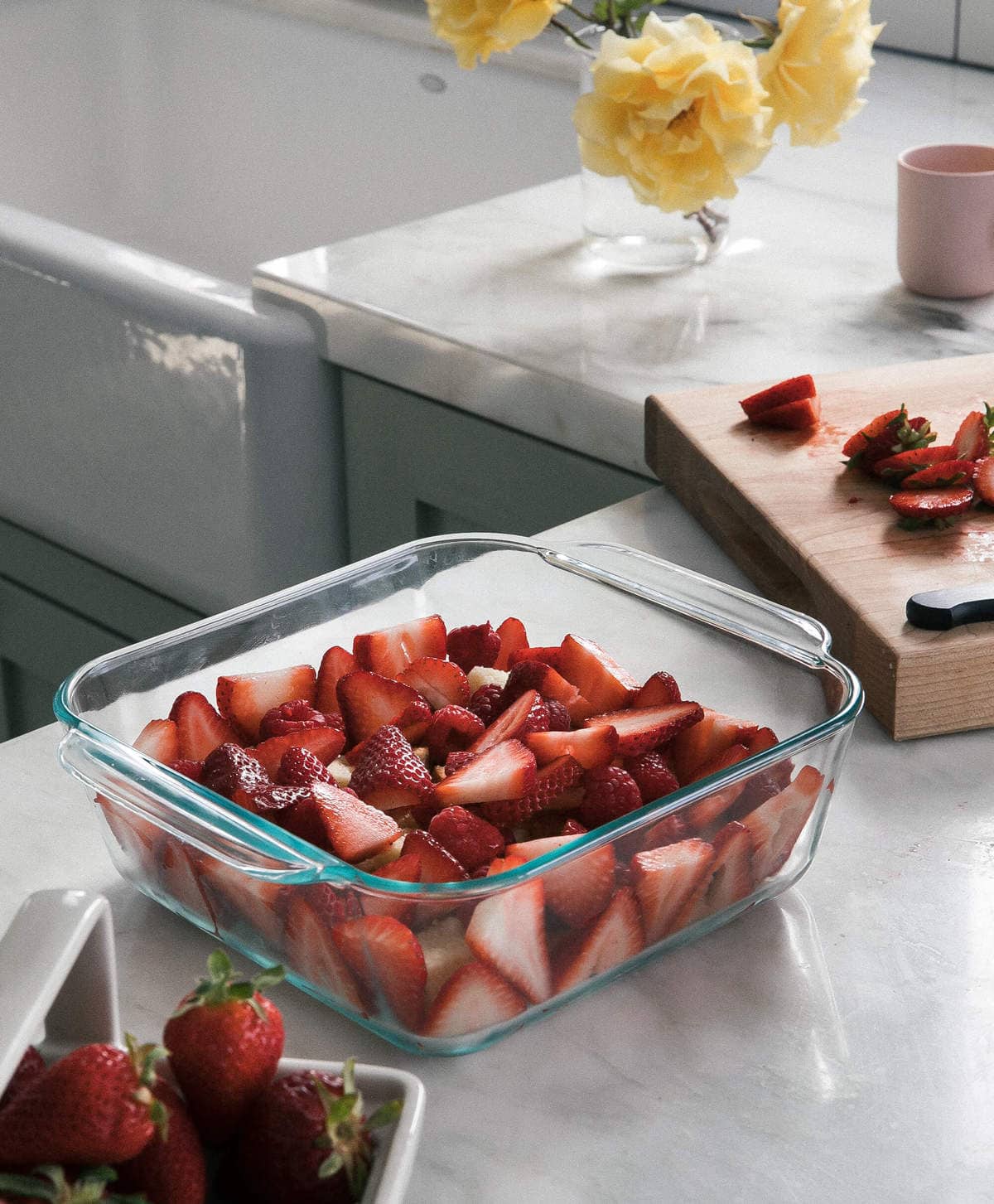 The Perfect Holiday Dessert
This trifle is a deliciously colorful choice for Easter, and the best part about it is that it can be assembled a few hours before. Or just before. It also can be super streamlined. Meaning, you can buy the pound cake. Or buy the lemon curd. Of course, I provided recipes for both but feel free to store-buy both or one. Or make both!
Options! They are the best. Let me know if you make this Lemon Berry Meringue Trifle!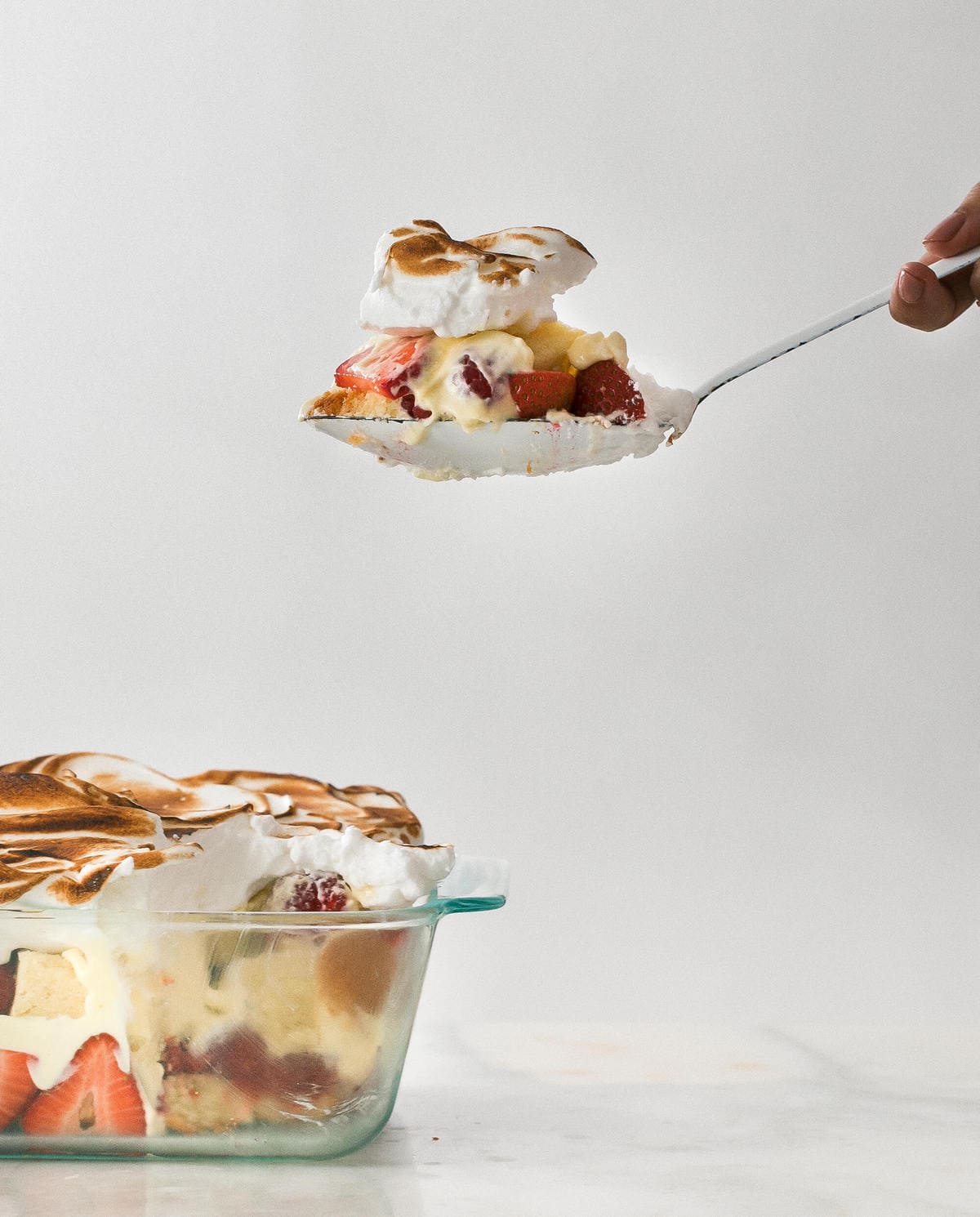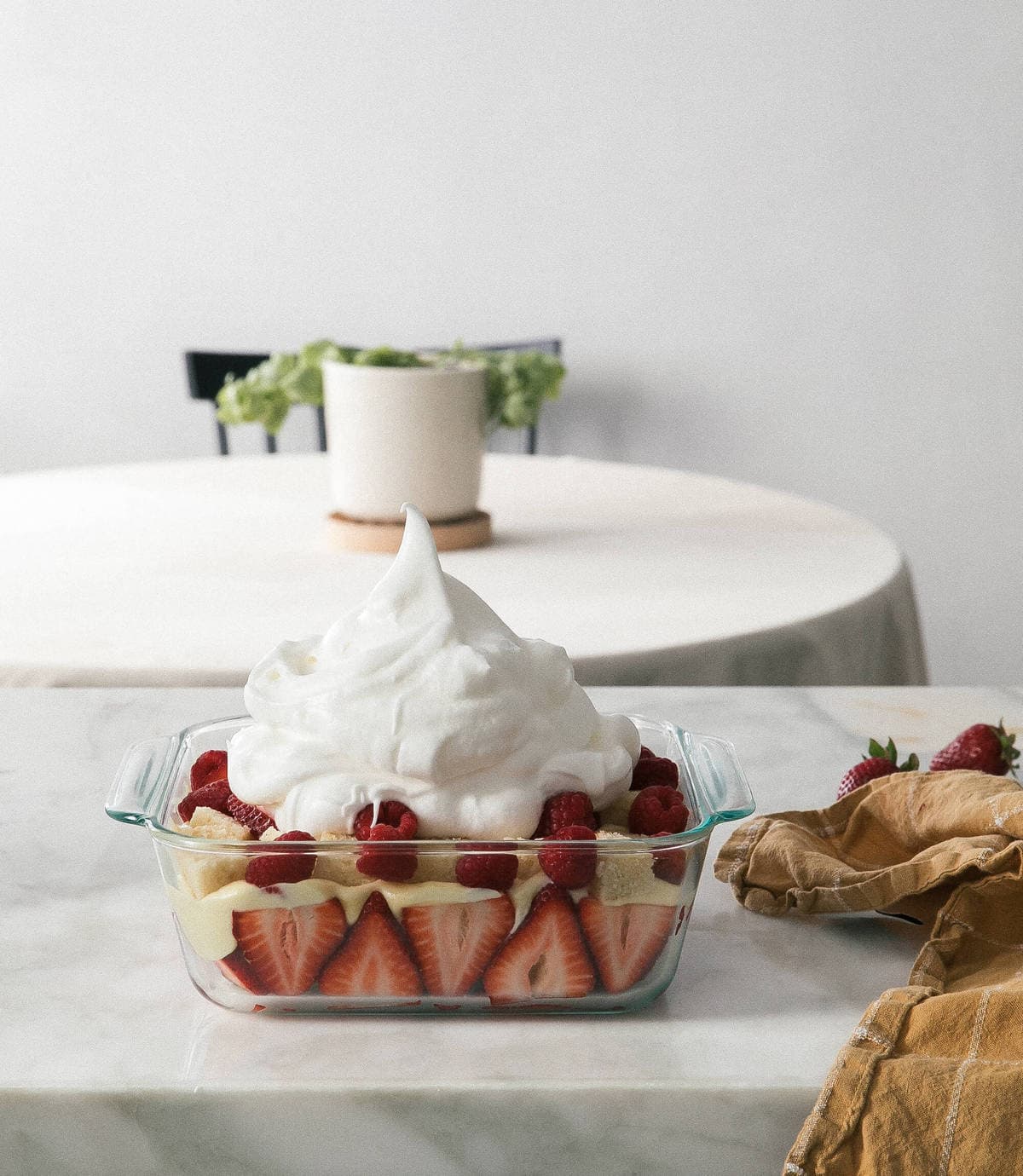 Lemon Berry Meringue Trifle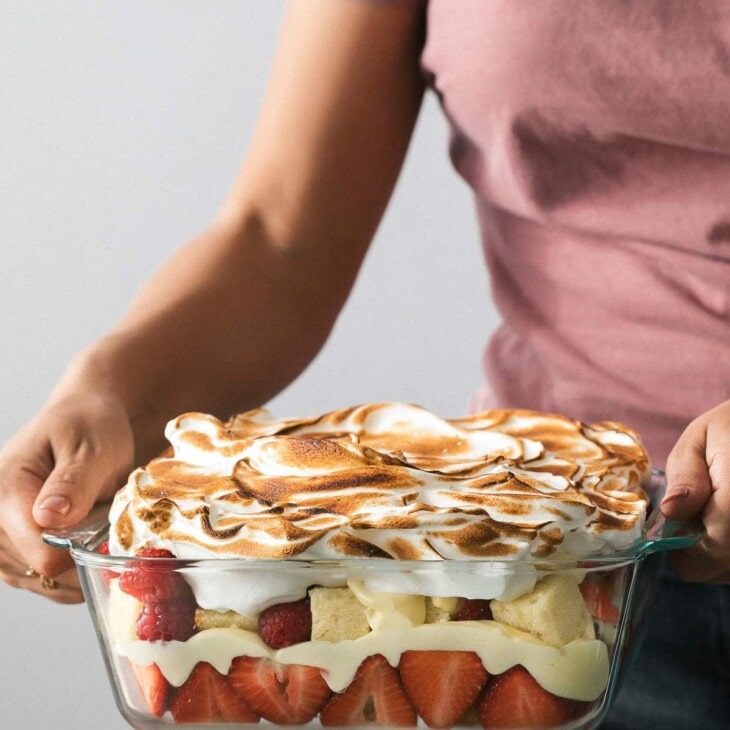 Berry trifle that consists of layers of delicious cubed pound cake, a fluffy lemon curd and topped with a meringue.
Ingredients
Pound Cake or Use Store-Bought:
2

cups

all-purpose flour

1

teaspoon

kosher salt

1/4

teaspoon

baking powder

1

cups

unsalted butter, at room temperature

1 1/4

cups

white granulated sugar

2

teaspoons

vanilla extract or 1/2 teaspoon pure vanilla paste

3

large

eggs

1/3

cup

whole milk

,

at room temperature
Whipped Lemon Curd:
4

tablespoons

unsalted butter, at room temperature

1/2

cup

white granulated sugar

1

teaspoon

pure vanilla extract

2

large

egg yolks (save the egg whites for the meringue topping, if using)

2

large

eggs

1/4

teaspoon

kosher salt

1/3

cup

fresh lemon juice

1

cup

heavy cream
Fruit:
6

ounces

strawberries, trimmed and sliced

6

ounces

raspberries
Meringue Topping (optional)
4

large

egg whites (2 egg whites used from above)

1/2

cup

white granulated sugar
Instructions
To Make the Pound Cake:
Preheat oven to 300 degrees F. Grease an 8x4-inch loaf pan with cooking spray. I also like to line the bottom with parchment, leaving some strips up the sides for easy removal. Set aside. In a medium bowl, mix together the all-purpose flour, salt and baking powder. Set aside.

To the bowl of a stand-up mixer with the paddle attachment (you can also do this in a medium bowl with an electric hand mixer), add the softened butter, sugar and vanilla extract; beat for about 3 minutes, until pale in color. Mix in the eggs one at a time, being sure each egg is incorporated before adding another. Turn mixer to high and beat for about 1 minute, until light and fluffy.

Fold flour mixture into butter mixture, alternating with the milk, beginning and ending with the flour. Pour the pound cake batter into the prepared loaf pan and transfer to the oven to bake for 45 to 50 minutes, until a skewer inserted into the center comes out clean. Allow the cake to cool for 5 minutes in the pan and then invert onto a cooling rack.
To Make the Curd: 
In the stainless steel bowl (note: you'll use this bowl as a makeshift double boiler later) of your stand up mixer, add the softened butter, sugar and vanilla extract and beat until light and fluffy, about 2 minutes.

Add the egg yolks, beat the mixture together, and then add the eggs, beating again until they're well incorporated. Stir in the salt, and then in a few batches, add the lemon juice. The mixture will look curdled and you might scratch your head and wonder if it's right, it will be!

Fill a medium size saucepan with a few inches of water. Bring the water to a simmer and place your stainless steel bowl of curd mixture on top. Stir constantly, and heat the curd slowly enough that the sugar has time to dissolve and the whole mess becomes cohesive; this step usually takes about 10 minutes. Pull the curd from the head when it is just thick enough to coat your spoon and until a thermometer reads 166 F. The curd will thicken as it cools.

I ran the curd through a sieve into a chilled bowl just to ensure it was silky smooth. I highly recommend this step! Transfer the curd to a container a keep in the fridge, in an airtight container, for up to a week.

When you're ready to use the curd, add the heavy cream to a bowl. Whisk aggressively until medium peaks form, about 5 minutes. You can also use an electric hand mixer or stand-up mixer. Gently fold the whipped cream into the lemon curd until completely cohesive. Set aside.
To Make the Meringue:
This topping is absolutely optional and the entire trifle will taste delicious without it, but if you want extra credit, make it! Add the egg whites to the bowl of a stand-up mixer with the whisk attachment. Beat on high until foamy, about 2 minutes. While the mixer is running, pour in the sugar and beat for an additional 3 minutes, until stiff peaks form.
To Assemble the Trifle:
Cube up the pound cake into 2x2-inch square pieces. Obviously this size can vary and you can totally eyeball it. I think this size for easy eating.

Add a few handfuls of the pound cake cubes to the bottom of your Pyrex 8"x 8"x 2.7" Deep Baking Dish. Add a few handfuls of sliced strawberries and raspberries. I also placed some very large sliced strawberries up against the sides of the dish for visual purposes only.

Add the curd on top of the fruit and pound cake, smoothing it into an even layer. Repeat the layering process once more, adding pound cake and fresh fruit. Add the whipped meringue to the top, smooth it out, creating swirls for effect. And then torch the top, making a nice toasted meringue. Serve to a crowd.
Notes
To Make this Ahead of Time: I made this a day before and it went like this: 
Make the pound cake the day before and wrap it tightly in plastic wrap. 
Make the curd the day before and have it in the fridge. On the day of, you can assemble it by slicing up the strawberries, the pound cake and whipping the heavy cream and folding it into the lemon curd. Layer everything, put on the meringue top (if using) and torch it. 
To Cook the Meringue: I know that raw egg whites are not for everyone. There is an easy solution! Place the egg whites and sugar in a heat-proof bowl (stainless steel of glass). And nestle the bowl over a saucepan filled with a few inches of simmering water. Cook the egg white mixture until the sugar has dissolved and the mixture reads 160 F on an instant read thermometer. 
Then transfer it to a stand-up mixer or use an electric mixer and beat the egg white mixture until stiff and glossy peaks form. 
Nutrition
Serving:
12
g
|
Calories:
350
kcal
|
Carbohydrates:
54
g
|
Protein:
5
g
|
Fat:
5
g
|
Saturated Fat:
4
g
|
Cholesterol:
112
mg
|
Sodium:
200
mg
|
Potassium:
400
mg
|
Fiber:
4
g
|
Sugar:
12
g
|
Vitamin A:
200
IU
Nutrition information is automatically calculated, so should only be used as an approximation.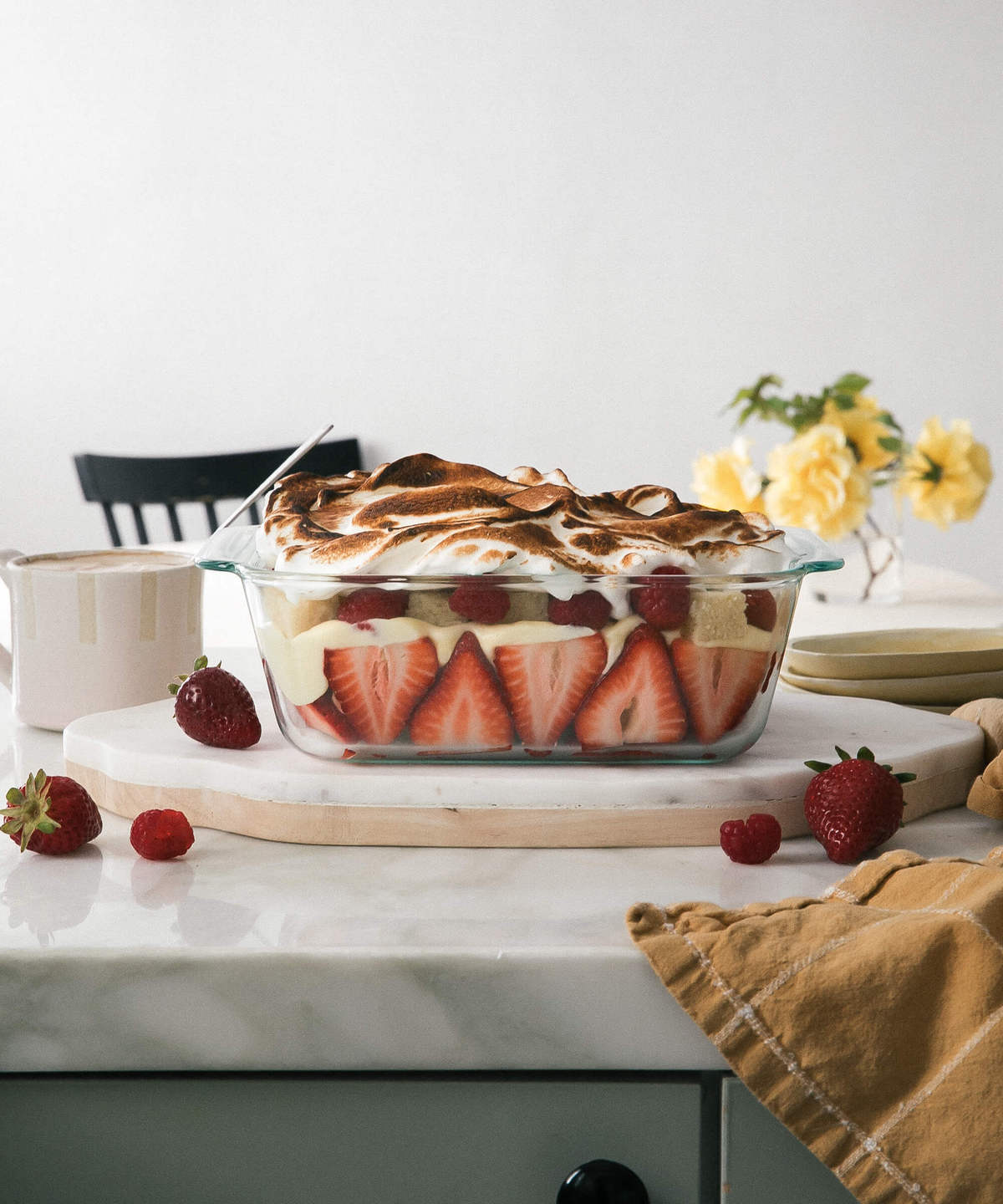 (This post is sponsored by Pyrex. Thanks for supporting the sponsors that keep A Cozy Kitchen cozy.)