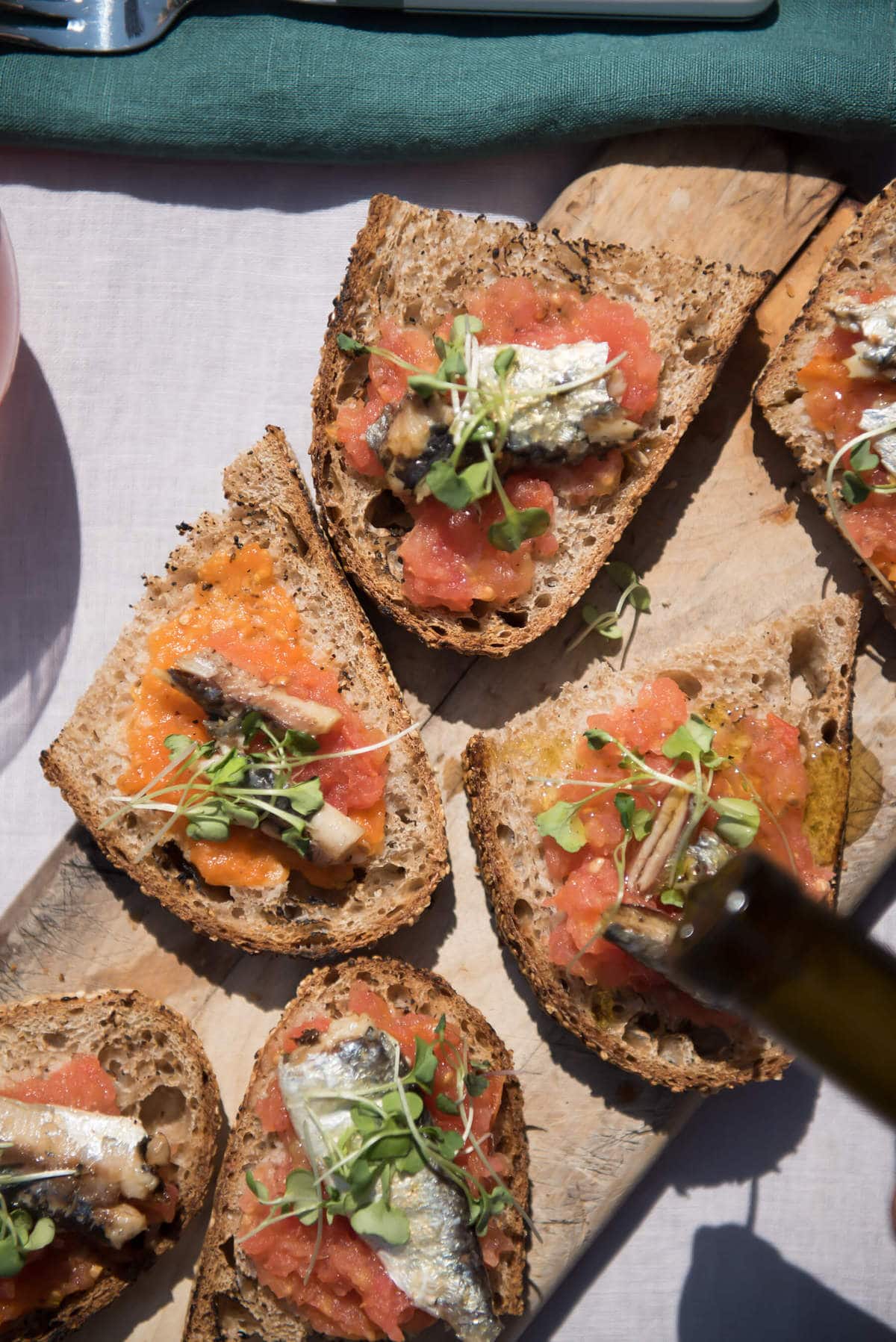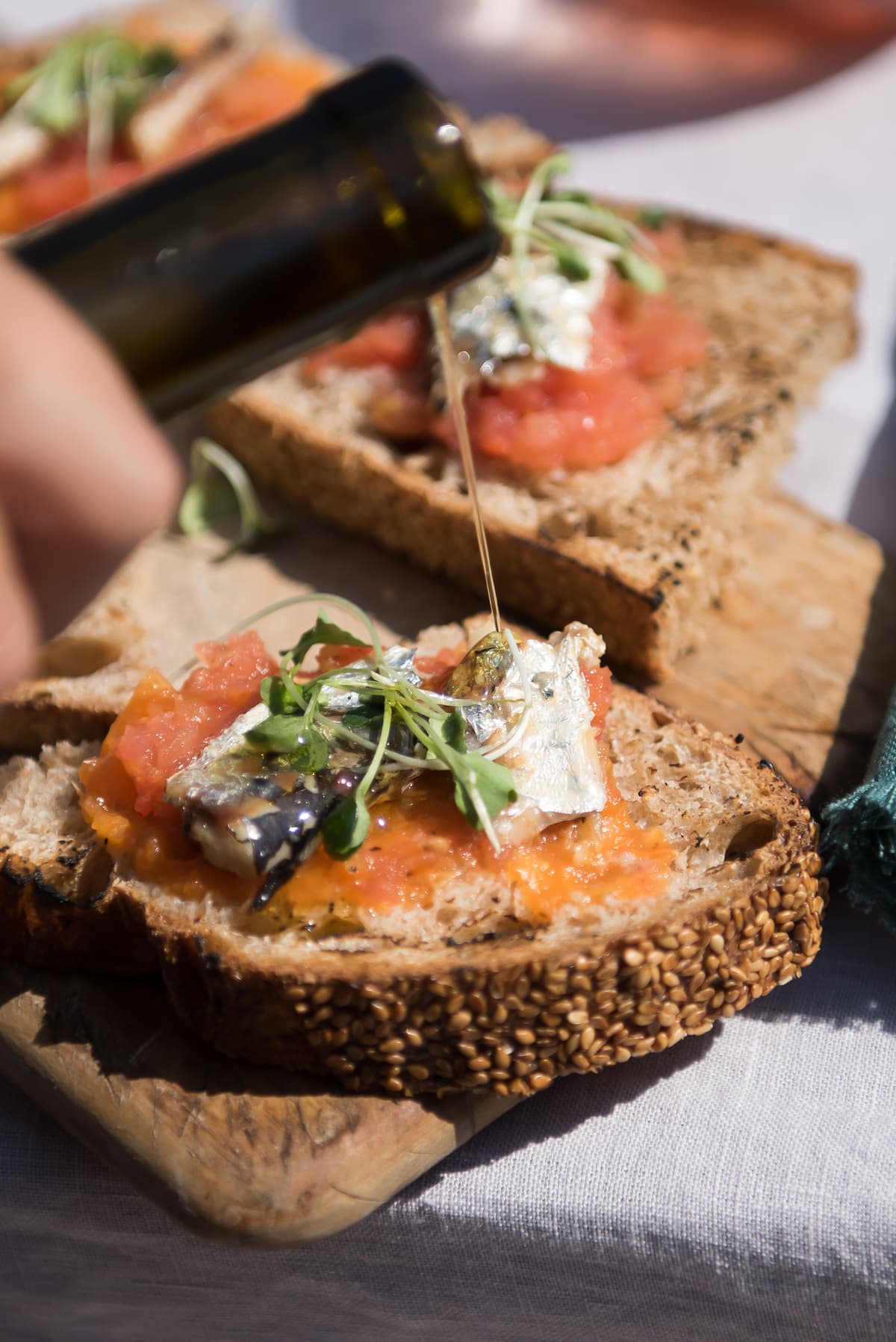 I JUST finished the first pass of A Cozy Coloring Cookbook. I added a few more recipes because I want it to feel full and worth it. I added an olive oil cake studded with apples and fall spices…that can all be thrown into one-bowl. It's maybe my favorite new cake in the entire world because it takes like 10 minutes to throw together. It just took me a million tries to get right and I'm still, like, is this tasty, is this good? I plan on making it one last time this week before I head to Copenhagen.
But right now, I'm not eating anything fall-like AT ALL. Right now is the time to eat all of the tomatoes. We wait all year long for this second, when heirloom tomatoes aren't a million dollars a pound. They also taste the best right now, too.
If you're unfamiliar with pan con tomate, it's the simplest and easiest appetizer you could ever eat. You grate tomatoes into a big bowl. You salt the F out of them…and add pepper. THAT'S IT!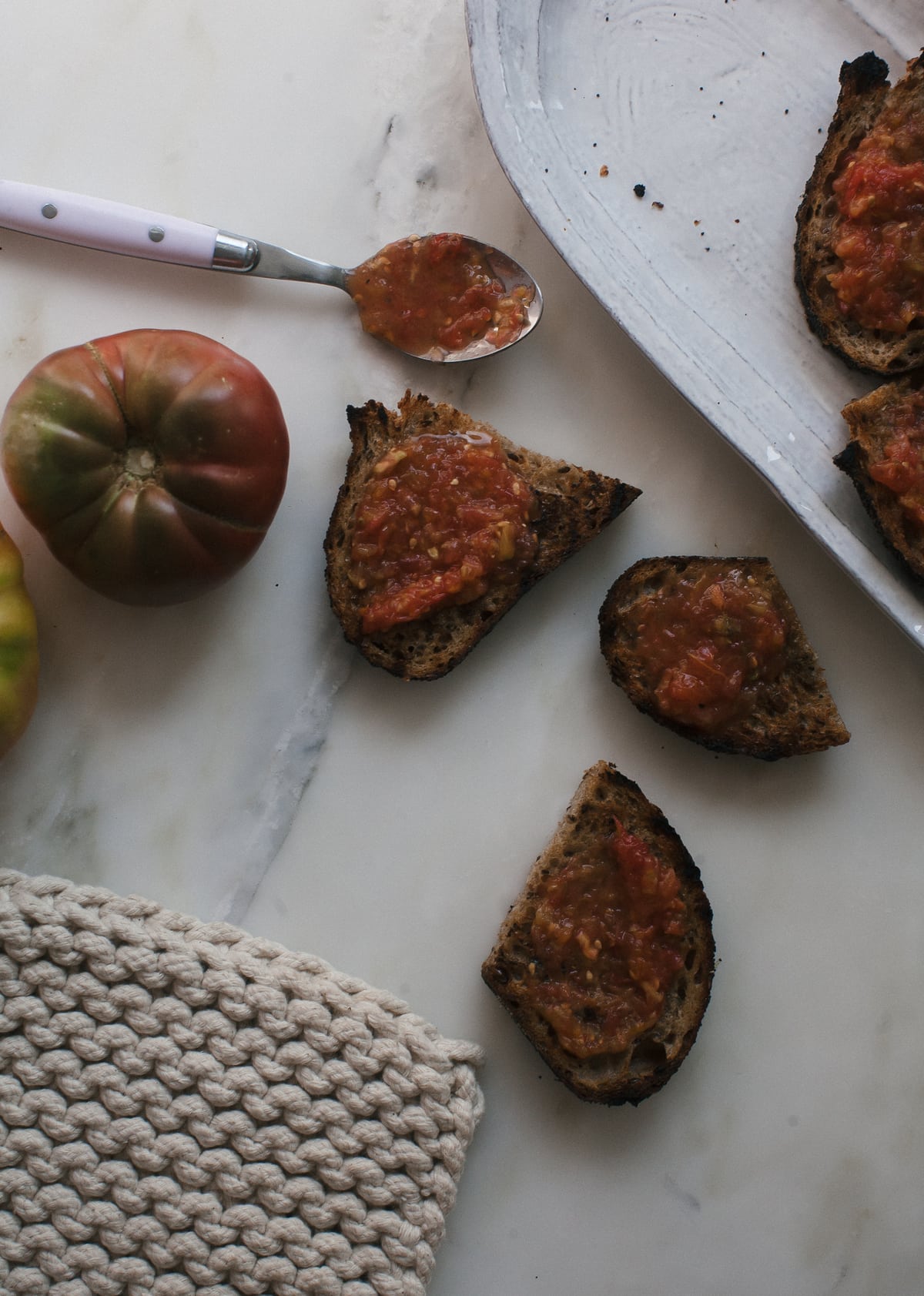 Since this is the simplest thing in the world, seek out good bread. Like, really really good bread.
I put this pan con tomate on my favorite bread around, Bub's and Grandma's. I grilled the bread and then rubbed the surface with a garlic clove. It gave it a nice kick. I spooned the tomato over it, added a fancy anchovy and drizzled some olive oil on top.
So simple, so perfect, so summer-like!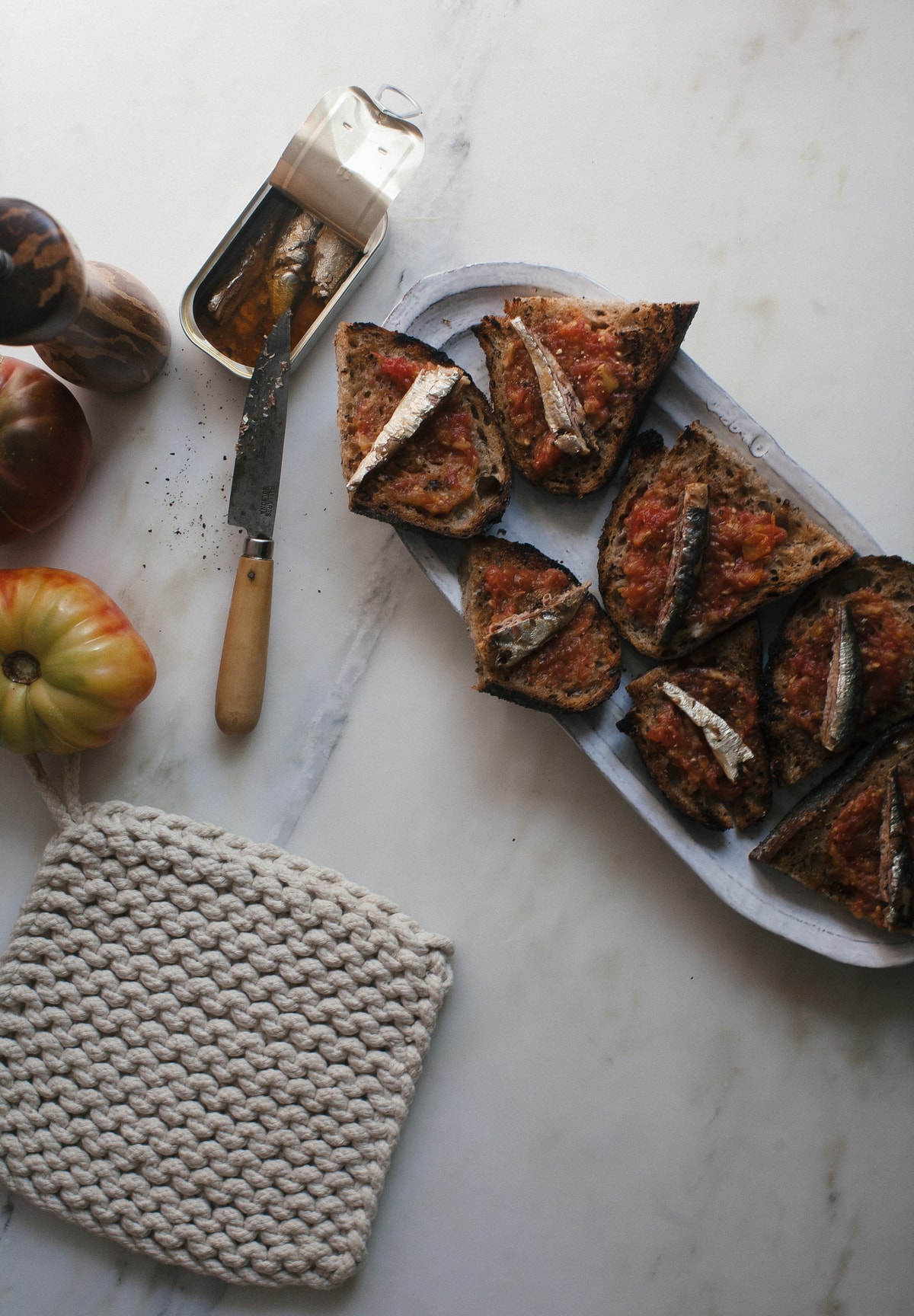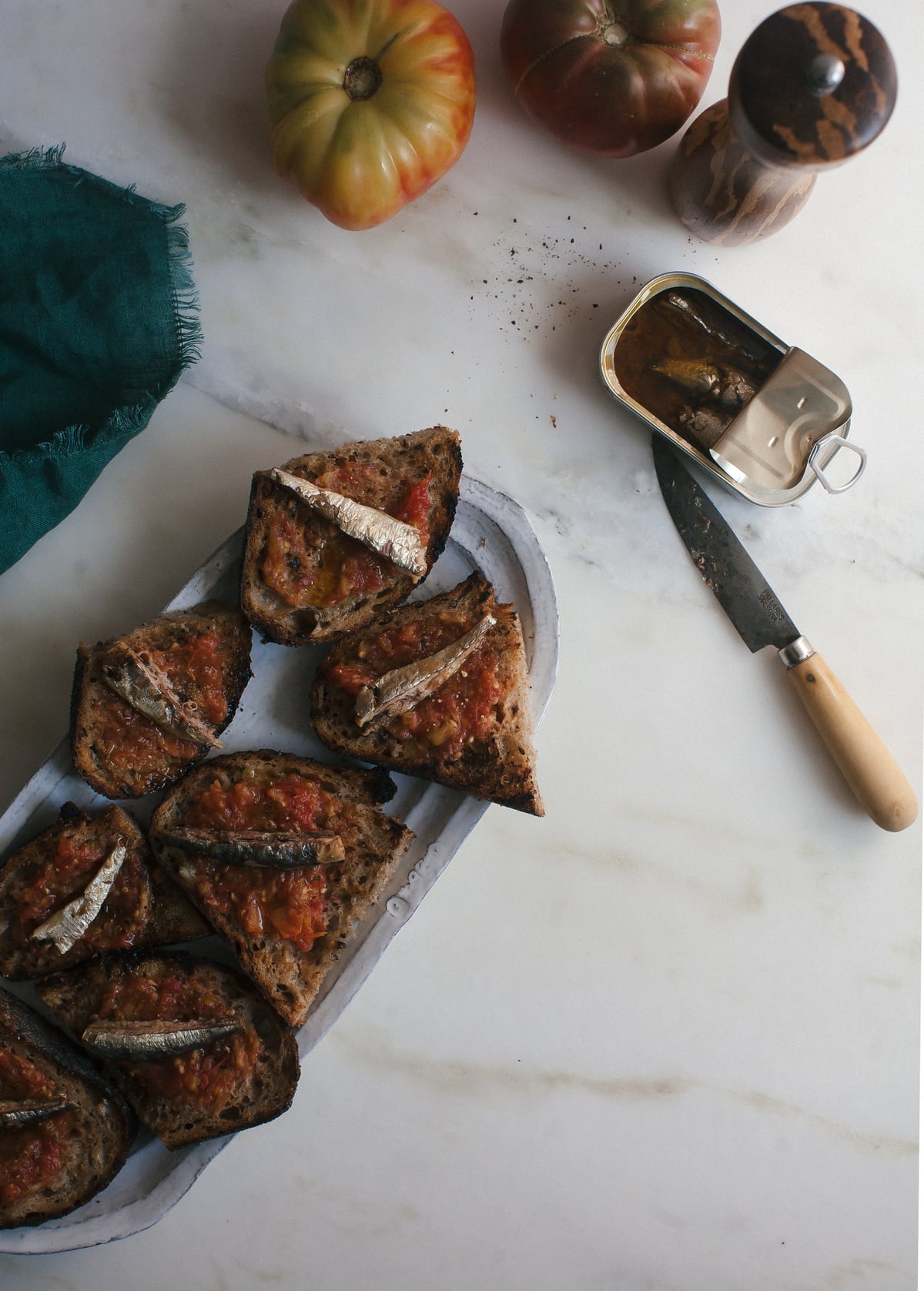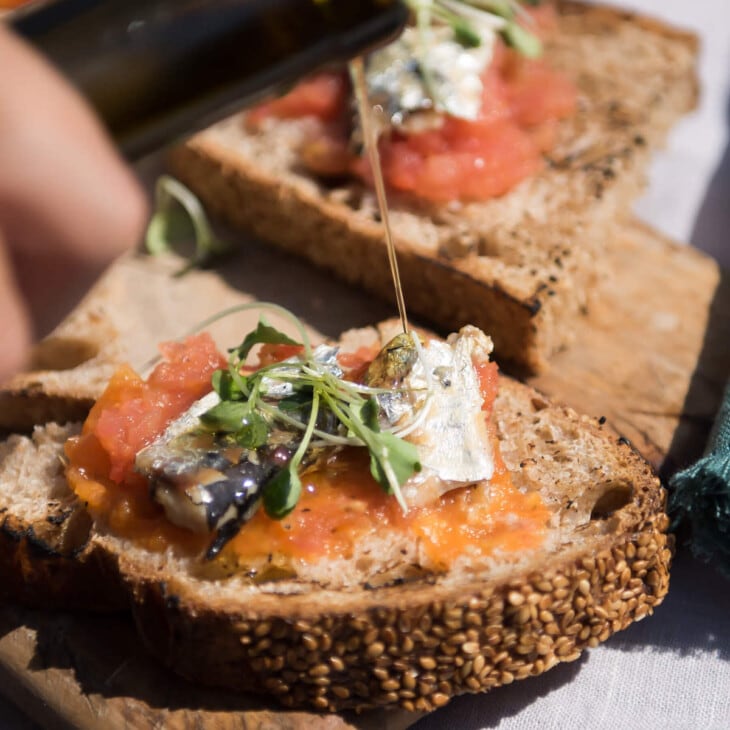 Print Recipe
Heirloom Pan Con Tomato
Ingredients
3

heirloom tomatoes

Sea salt

Freshly ground pepper

2

garlic cloves

Anchovies or sardines

fancy ones!

Sprouts

for topping

Good loaf of bread

I used a rye seeded loaf
Instructions
Using a box grater, grate the tomatoes into a medium bowl. Season with salt and pepper. I added about 1/2 teaspoon or salt, no need to be shy!

Grill the bread, charring the edges is a good idea—it adds some nice flavor. Rub the surface of the bread with the garlic cloves. Top the bread with a spoonful of tomato mixture (I let some of the liquid run off of the spoon first).

Garnish with half of an anchovy or sardine, a few sprouts and a drizzle of olive oil.
First two photos by Moriah Ziman