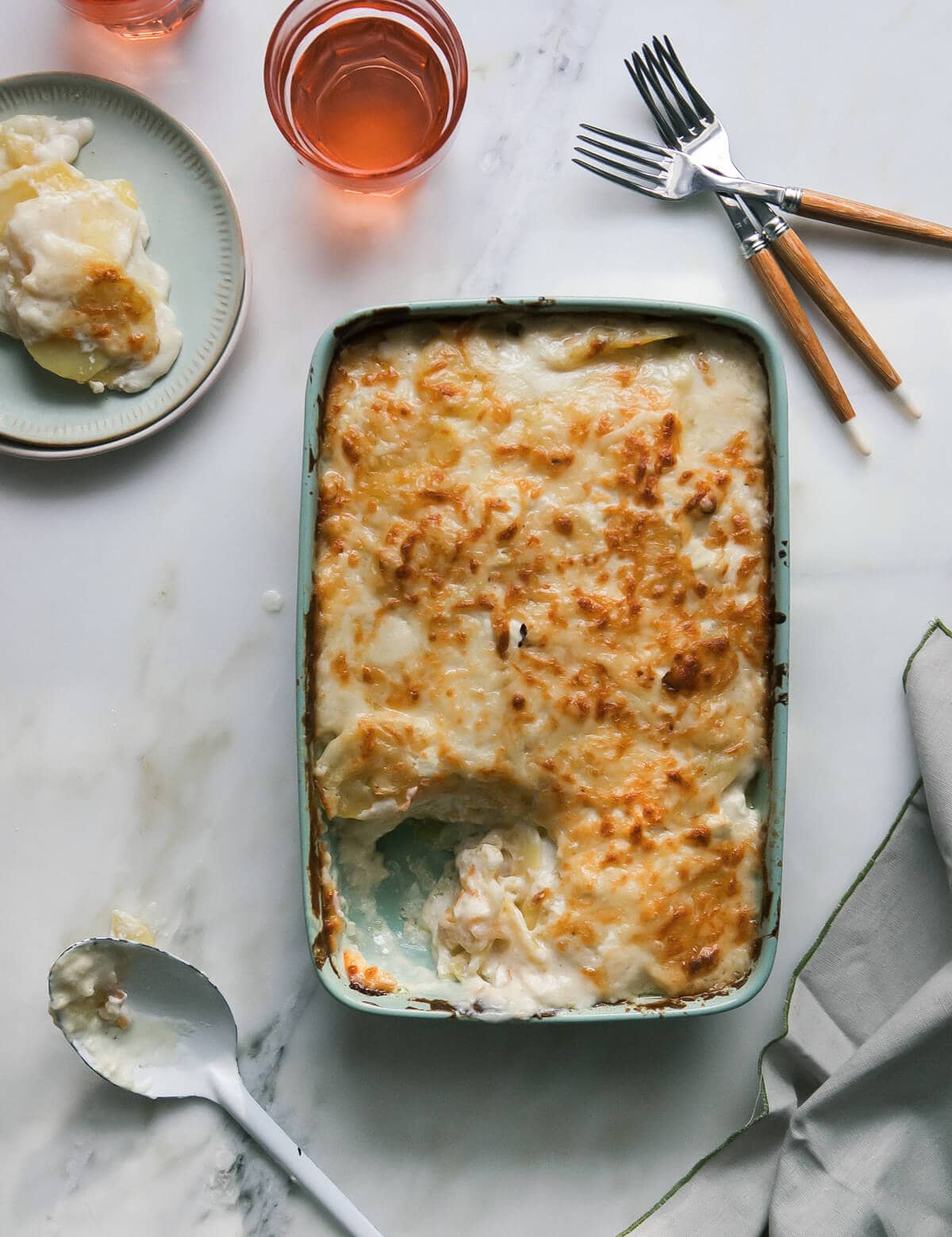 We are thick in holiday season and I couldn't be more excited for the upcoming break. I'm excited to chill and cook leisurely in fluffy socks.
This recipe is on my to-make-again list because it is so good and chill to make. In the world of gratins and scalloped potatoes there is a lot of controversy as to how you make them. A lot of recipes call for simply adding the potatoes to a casserole dish and then pouring cheese and heavy cream on top of the potatoes. I disagree with this method in an incredibly strong way. While it requires an extra step and admittedly isn't as easy, a roux (a.k.a. a cheese sauce) must be made. This way there is no coagulation, just a silky smooth and tasty cheesy experience.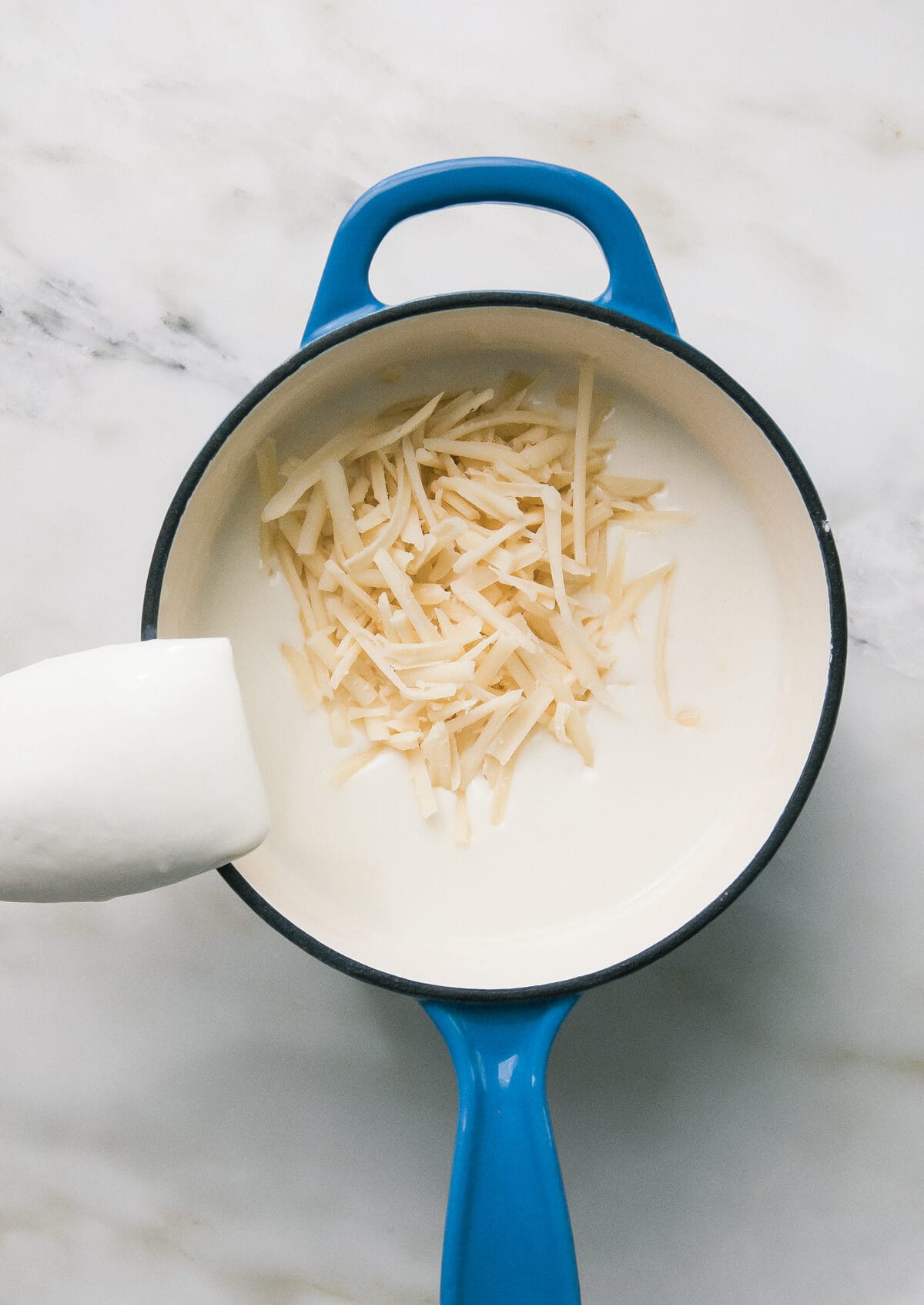 For this post, I teamed up with ALDI where I went to get all of these ingredients for this holiday deliciousness. Their Specially Selected Gruyère are super affordable, and has such great depth of flavor. And the Happy Farms Preferred Goat Cheese is super creamy and also affordable. ALDI is perfect for your holiday shopping because they have a super wide range of premium and gourmet items like cheeses and meats and other goodies!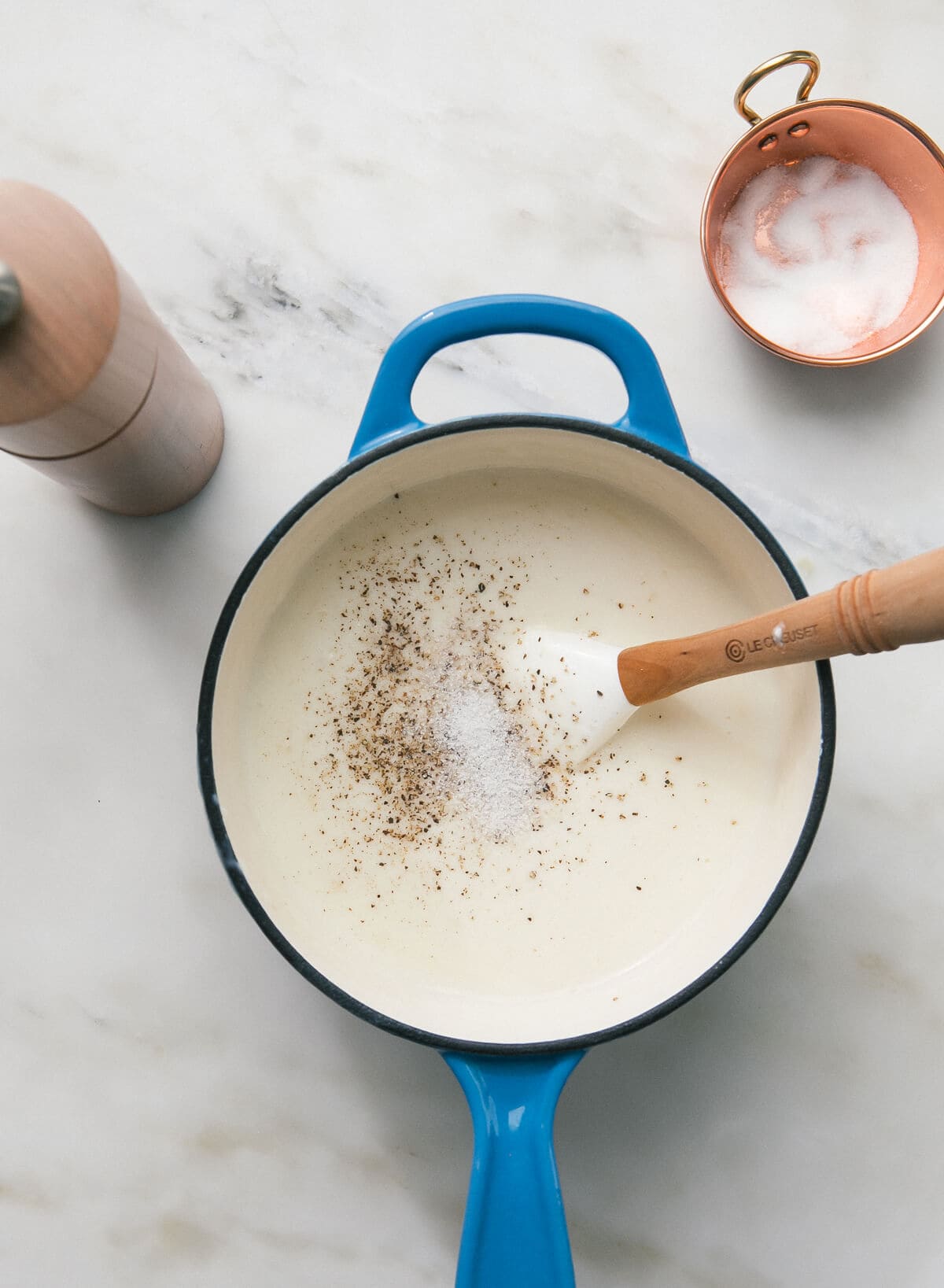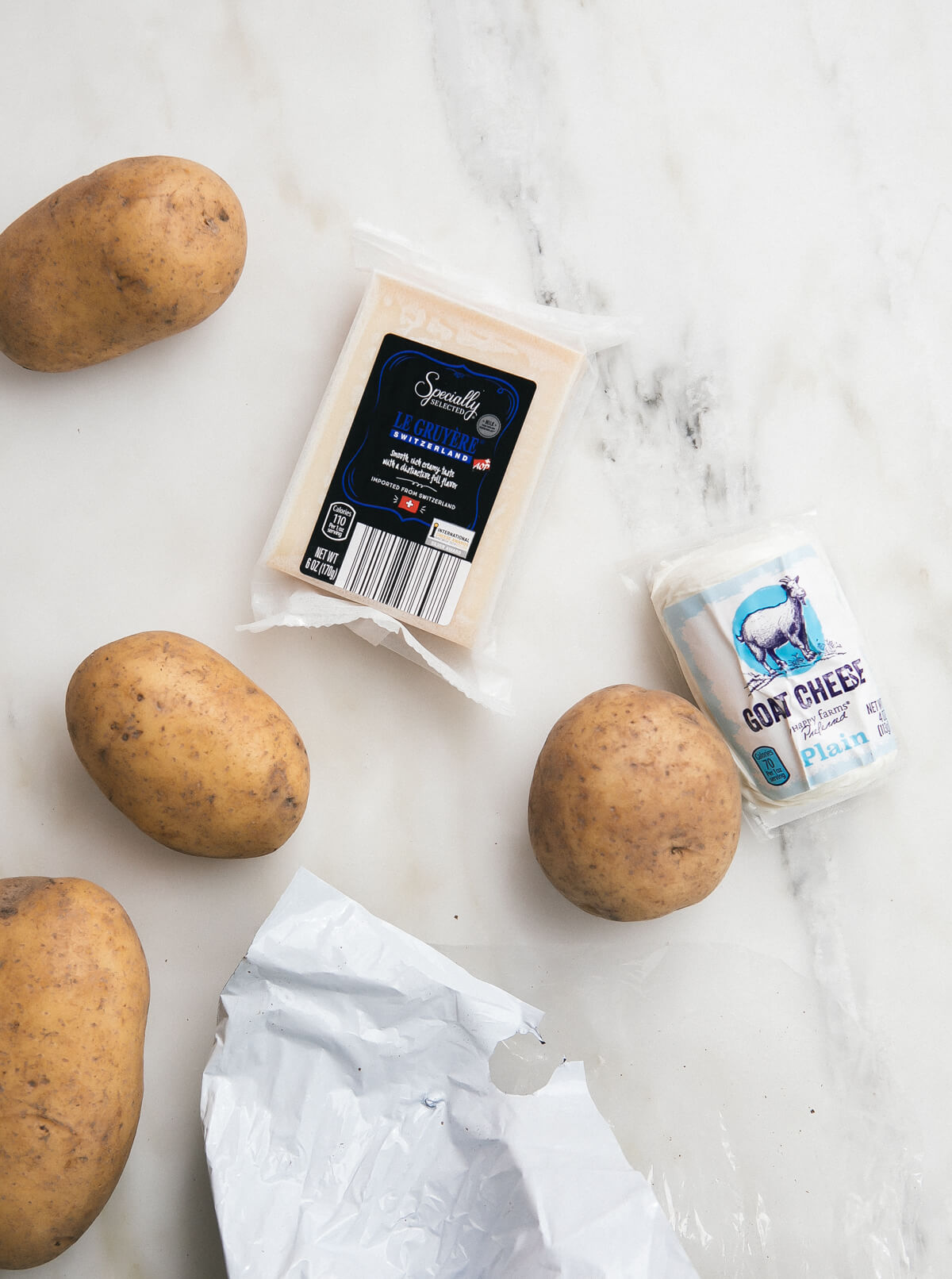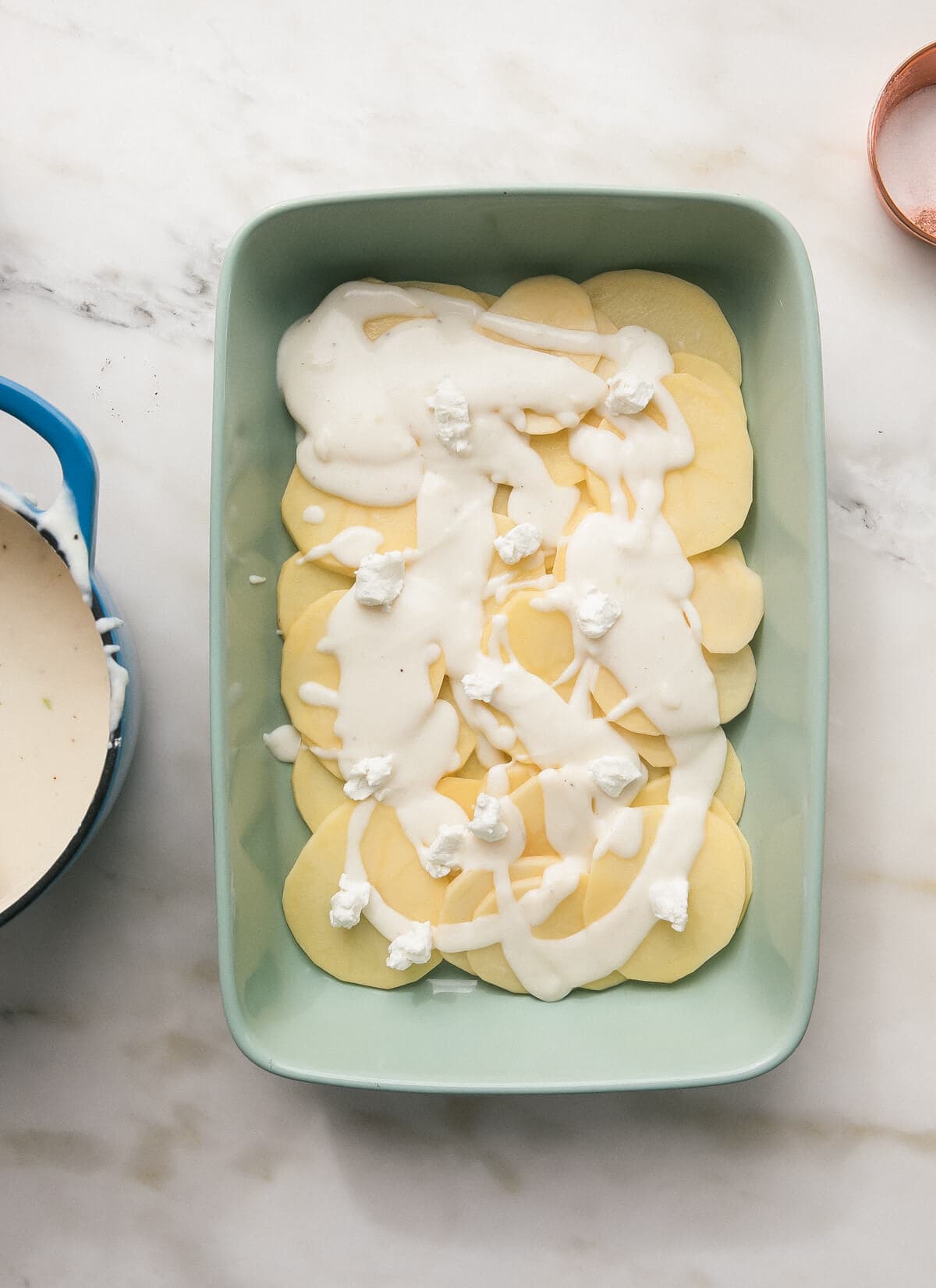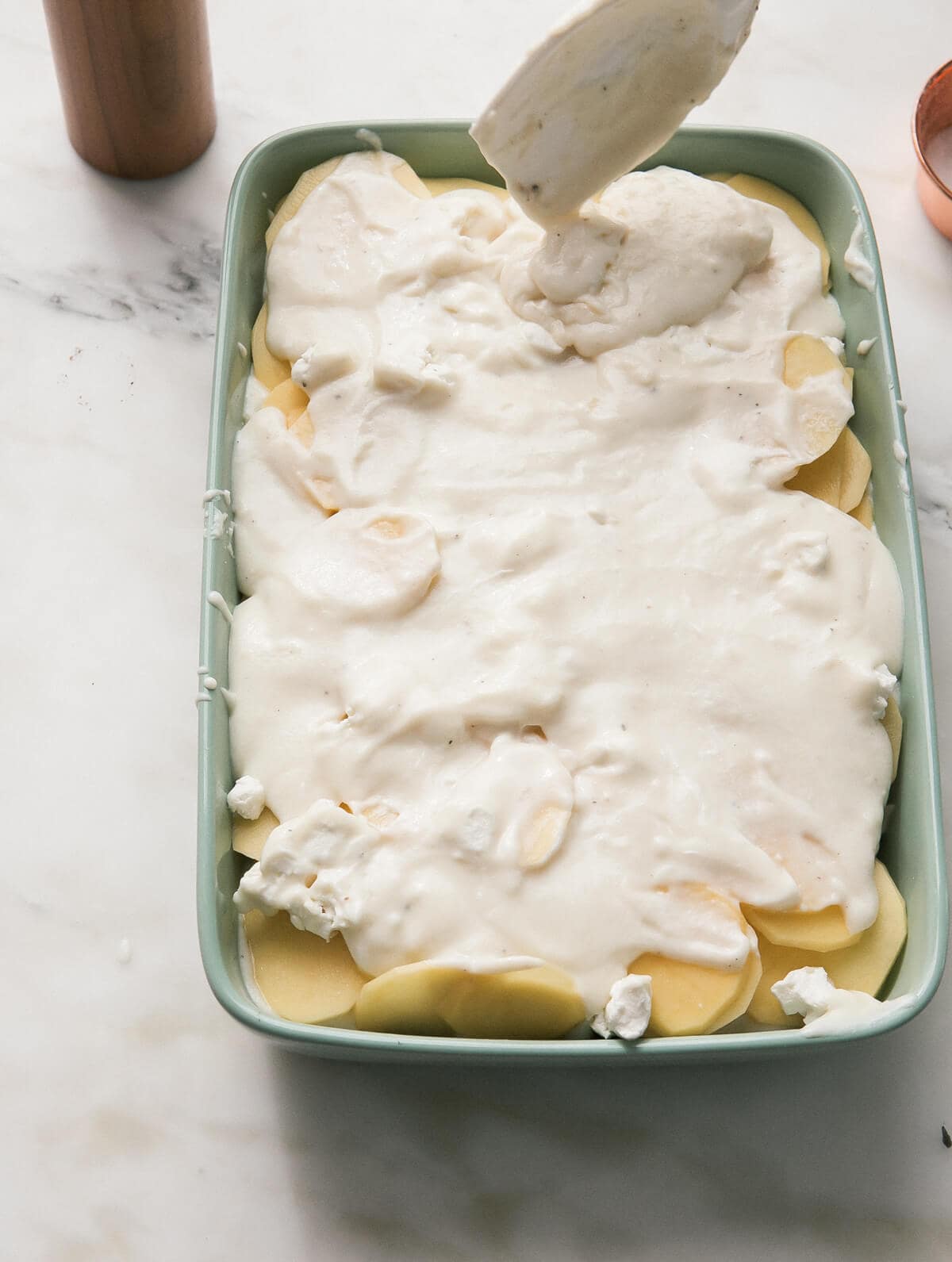 I used Yukon Gold potatoes in this recipe, but you're more than welcome to use good ol' russets too.
Even with the extra step of making the roux, this recipe is still super simple to make. It does require a good amount of baking time because you really want the potatoes to be fully cooked, but luckily it's all hands-off time, so you can still go about your business while not worrying about it.
Let me know if you try it!
xo,
Adrianna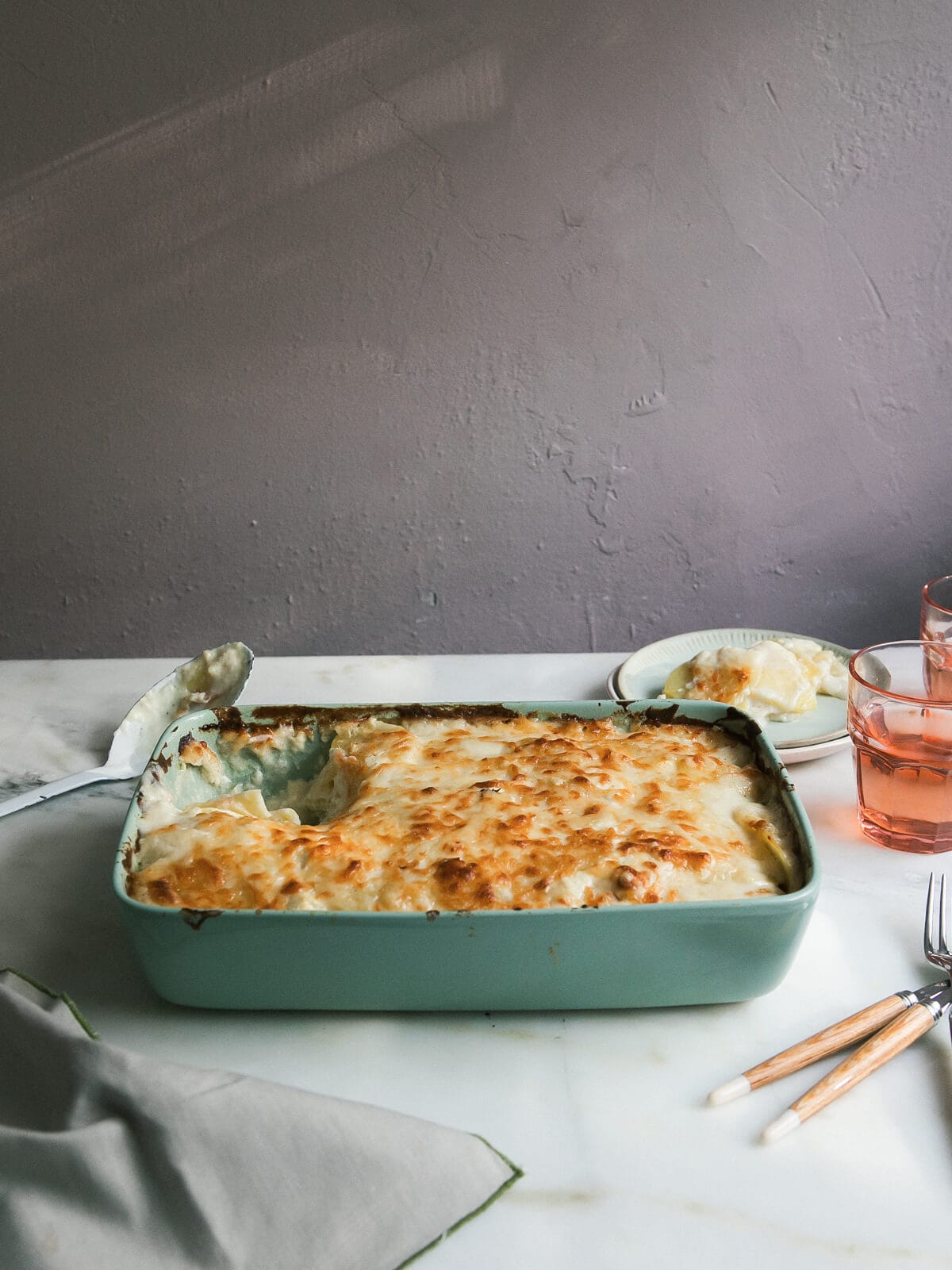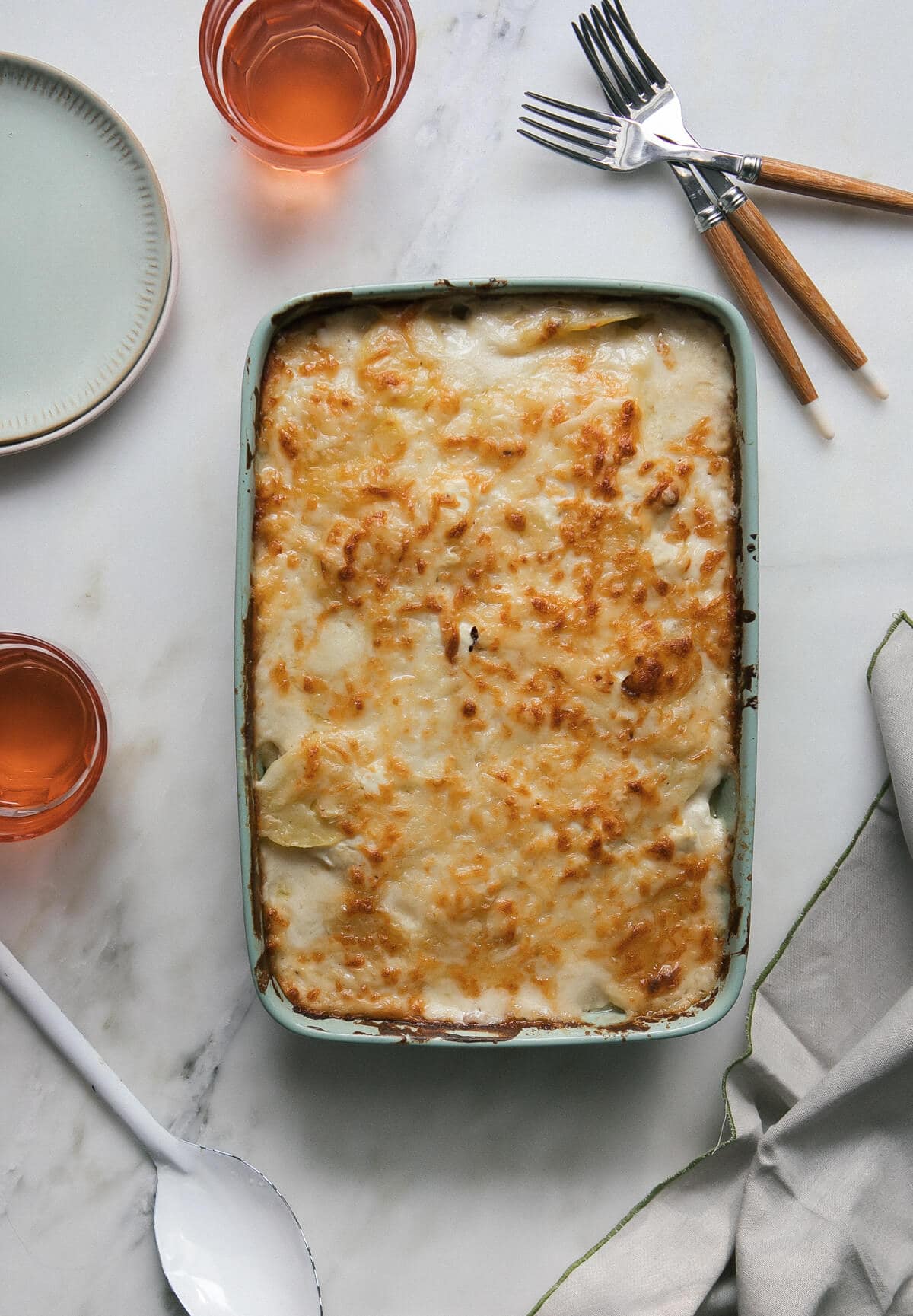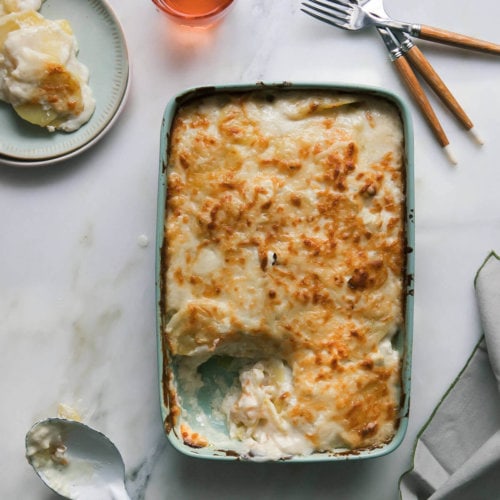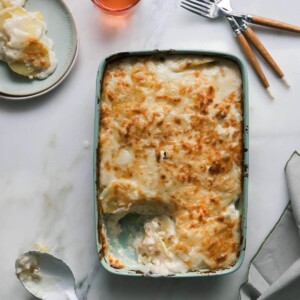 Cheesy Goat Cheese Potato Gratin
Ingredients
5

pounds

of Yukon Gold potatoes

,

peeled and thinly sliced with a mandolin or a knife

1/4

cup

Countryside Creamery Unsalted Butter

6

garlic cloves

,

peeled and minced 

1/4

cup

Baker's Corner All-Purpose Flour

3

cups

Friendly Farms Whole Milk

Stonemill Salt

Stonemill Pepper

6

ounces

Specially Selected Gruyère Cheese

,

, divided (1/4 cup of cheese set aside for the topping)

4

ounces

Happy Farms Preferred Goat Cheese
Directions
Preheat the oven to 350 degrees F. Get a 9x13-inch baking dish (or something equivalent) and set it aside.

To the medium saucepan, set over medium heat, add the butter. When melted, add the garlic and cook for about 1 minute, until fragrant.  Add the flour and stir until combined with the butter; cook for 1 minute. Pour in the milk and bring to a simmer, stirring frequently in order to prevent any lumps. Cook until mixture begins to bubble and thicken, about 5 minutes. Turn the heat off and mix in the Gruyère cheese, leaving 1/4 cup for the top. Stir until melted. Give it a taste and add salt and pepper to your liking. I added about 2 teaspoons of salt and a teaspoon of freshly ground pepper. 

To the baking dish, add an even layer of the potatoes. Add a few spoonfuls of the cheese sauce and top with a few dollops of goat cheese. Repeat until you've worked through all of the potatoes and cheese sauce. Cover with foil and transfer to the oven to bake for 1 hour and 15 minutes. 

Remove the foil and sprinkle the last bit of cheese on top. Return to the oven and bake for an additional 15 minutes, until golden brown. 
Nutrition Facts
Cheesy Goat Cheese Potato Gratin
Amount Per Serving (6 g)
Calories 0
* Percent Daily Values are based on a 2000 calorie diet.