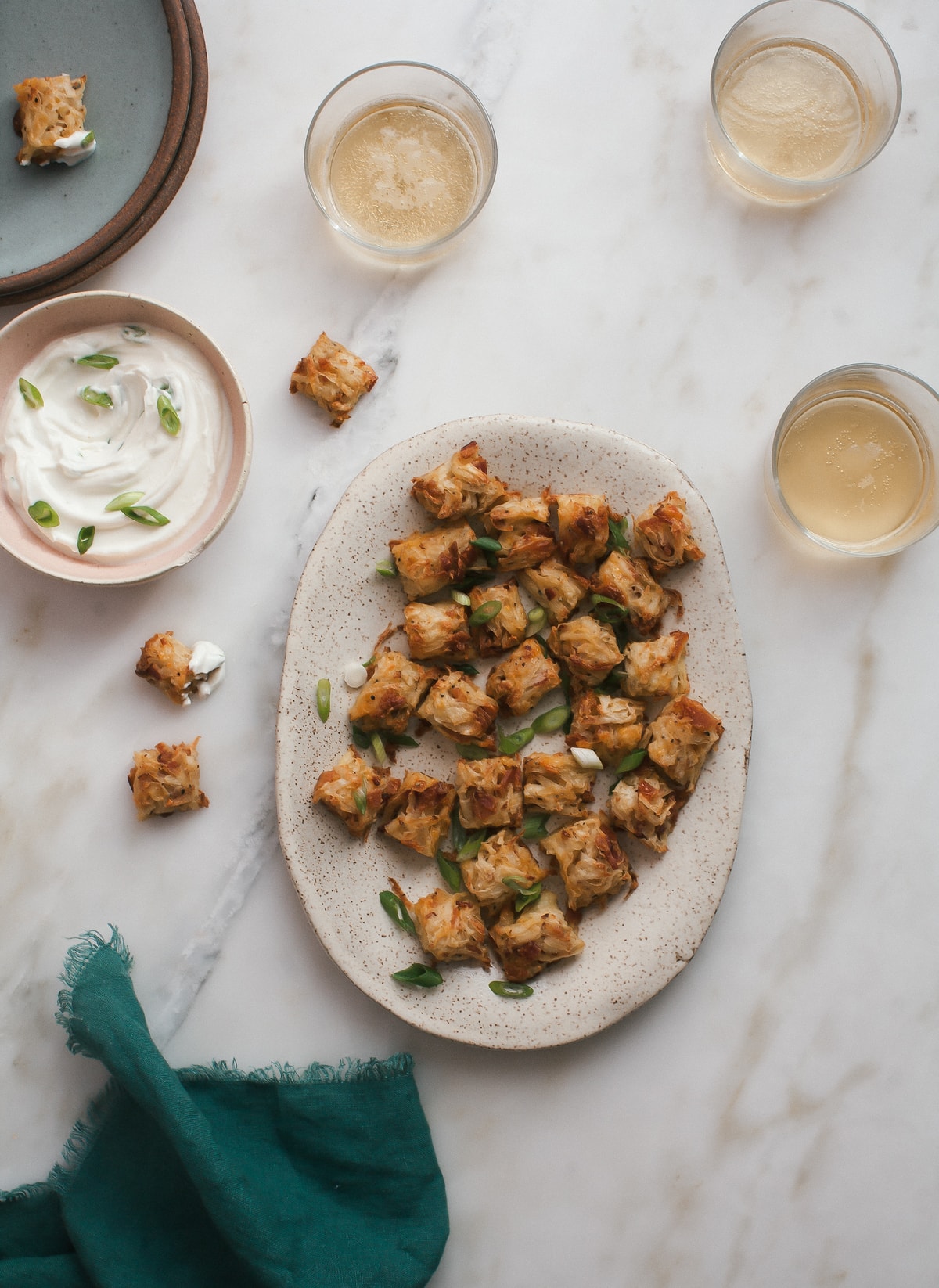 I'm currently in bed trying my very hardest to ward off sickness. Josh was like super sick last week so I've been spending all my free time popping Wellness Formula and drinking lots of water. My eyeballs burn a little bit so after I write this blog post and tell you about tater tots, I'm gonna lie in bed and watch Chyna & Rob. I find Chyna very very fascinating, let me tell you.
Tater tots are notoriously not the easiest thing to make at home. I'll go as far as to say that the frozen variety is straight up delicious and nearly perfect…minus all the junk they put in them, yada yada yada.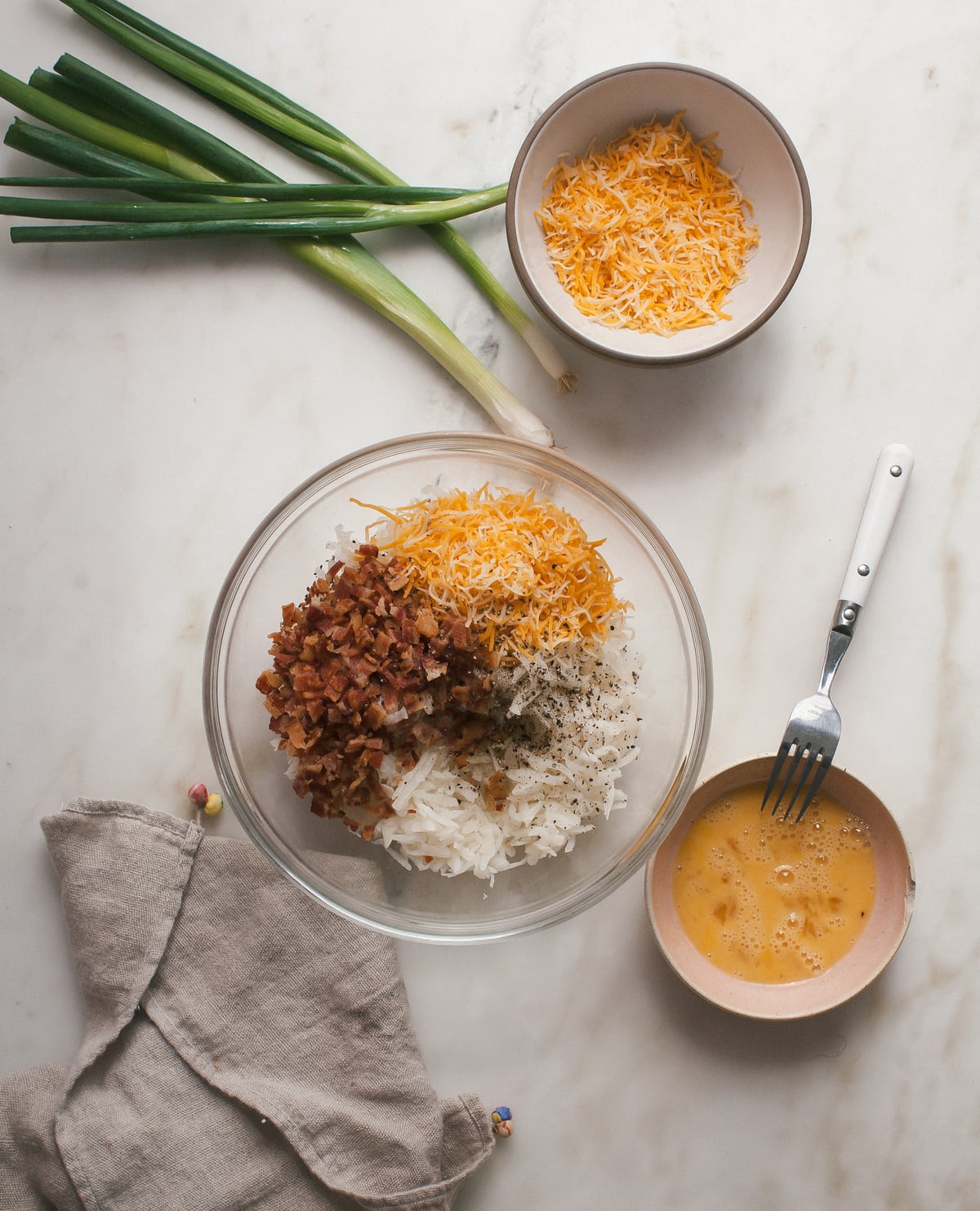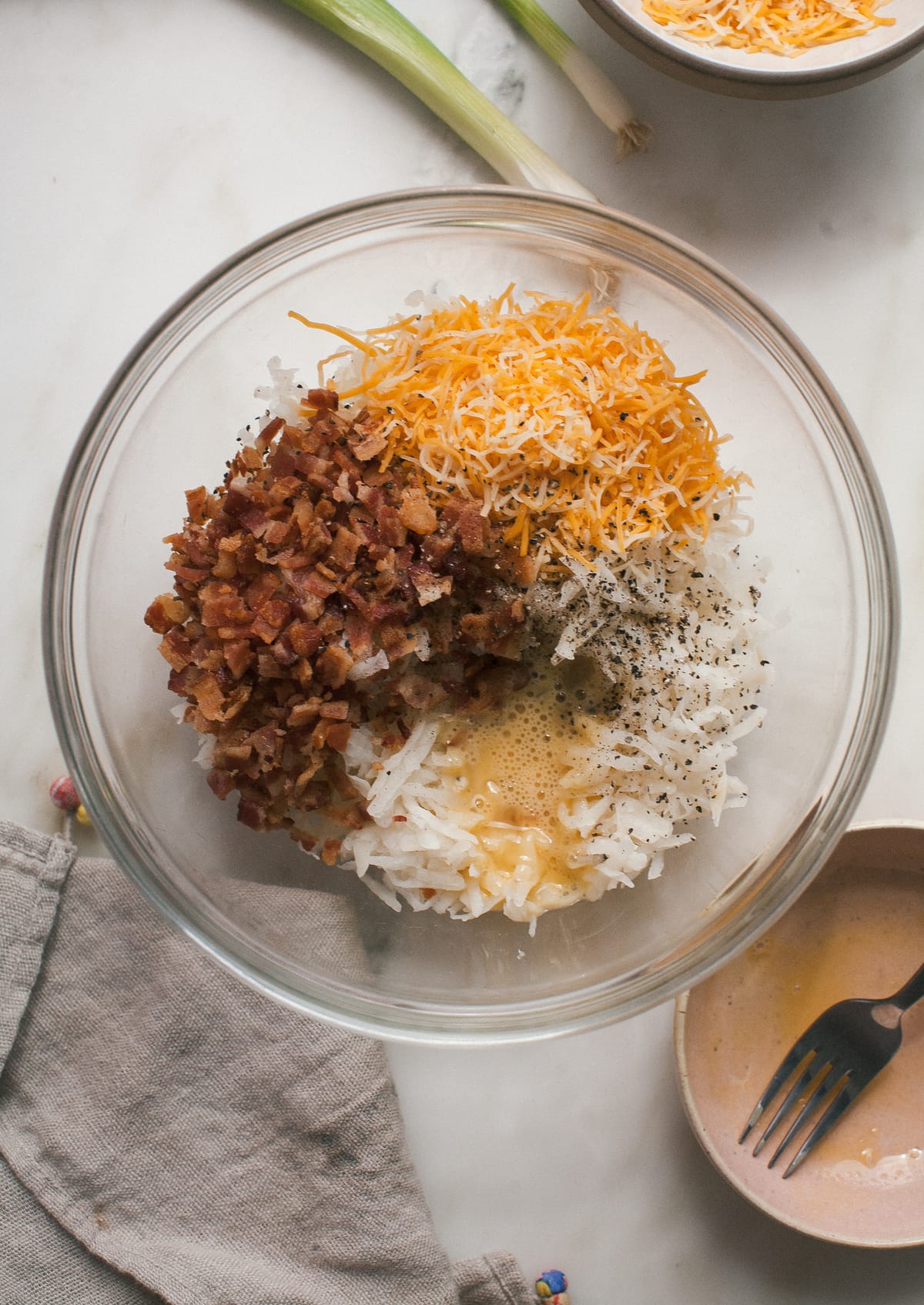 I like homemade versions of things anyway because you can customize them. Like, here! With these tater tots.
I was telling Billy I wanted to make a version of a tater tot and I wanted it to be awesome. He was like LOADED BAKED POTATO. And I was like, YES YES YES!
This tater tot situation is brought to you by the fancy technique of "torchon-ing." You do this to like pates and other stuff but this time we're using it to roll a log of shredded potatoes, bacon, salt, pepper and lots of shredded cheese. See, it's classy!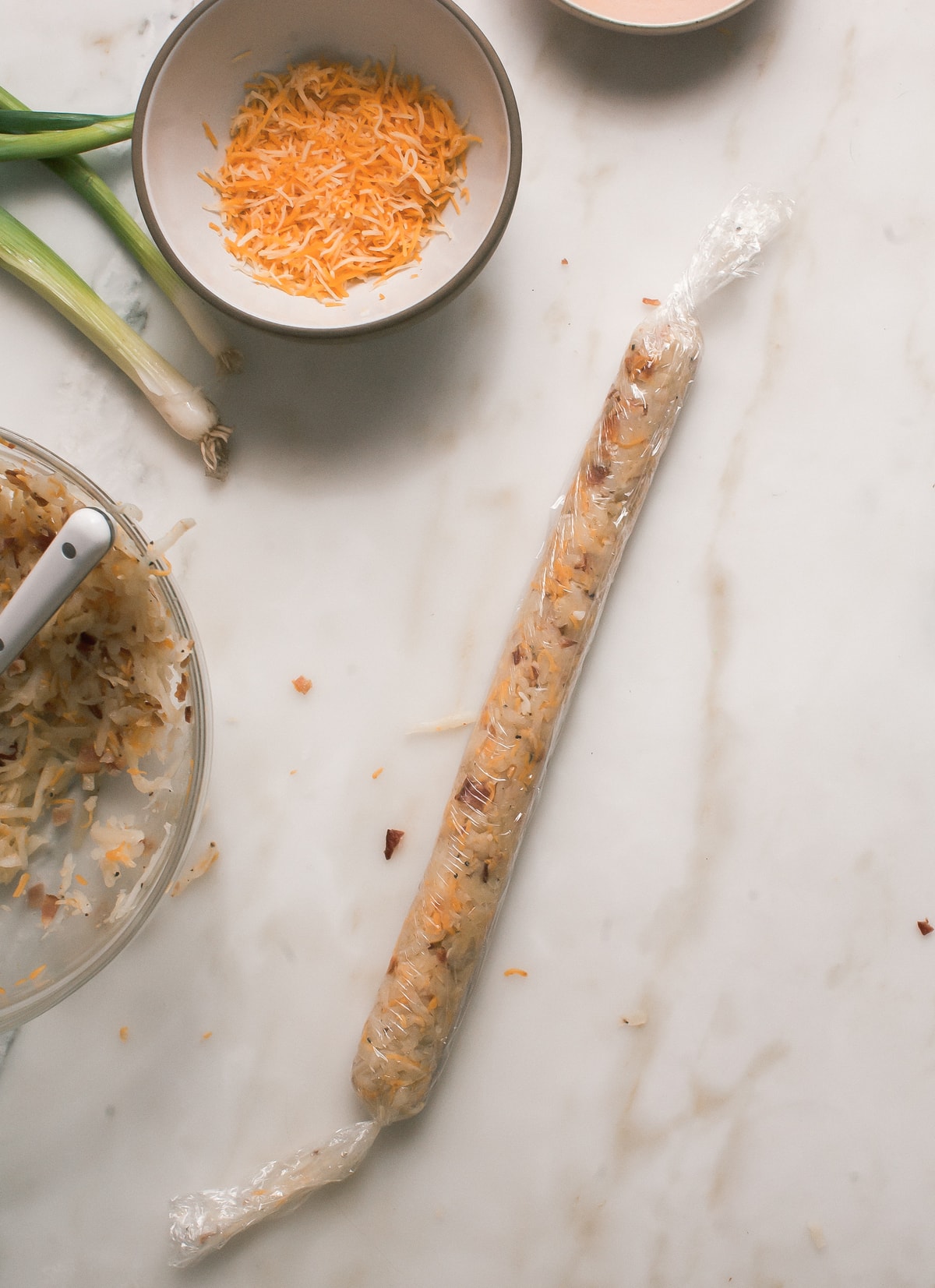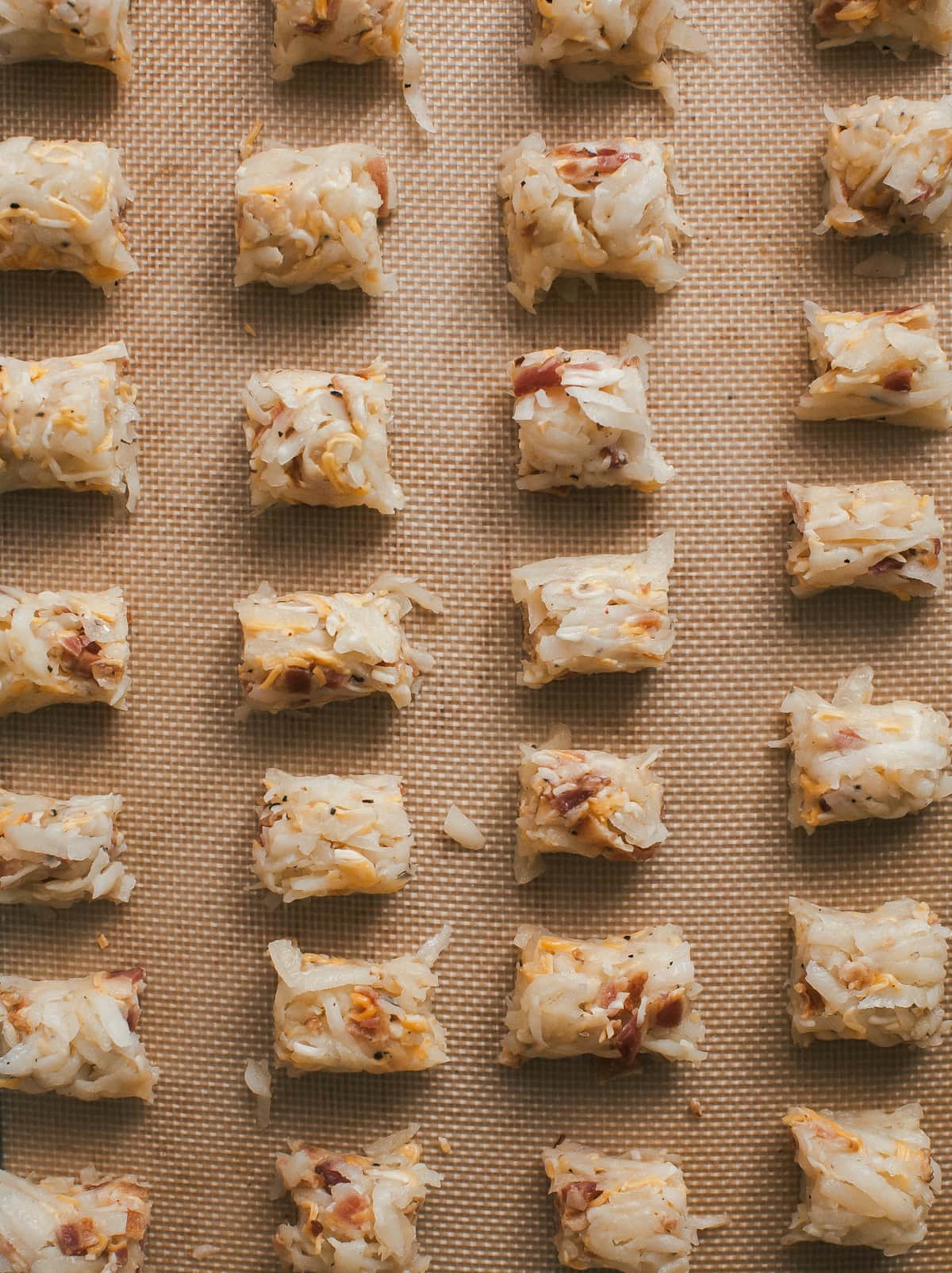 This log goes to the freezer to chill for 20 minutes. Then it's super easy to cut up into bite-sized tater tots. These tater tots are baked but if you were feeling crazy, you could fry 'em right up too. I just wanted to go the easier route since I know everyone at home hates frying.
To dip 'em in, I made a little creme fraiche + yogurt + green onion dip. It's so good. This recipe makes like 50 tater tots but really that's not enough.
AND THEY FREEZE WELL!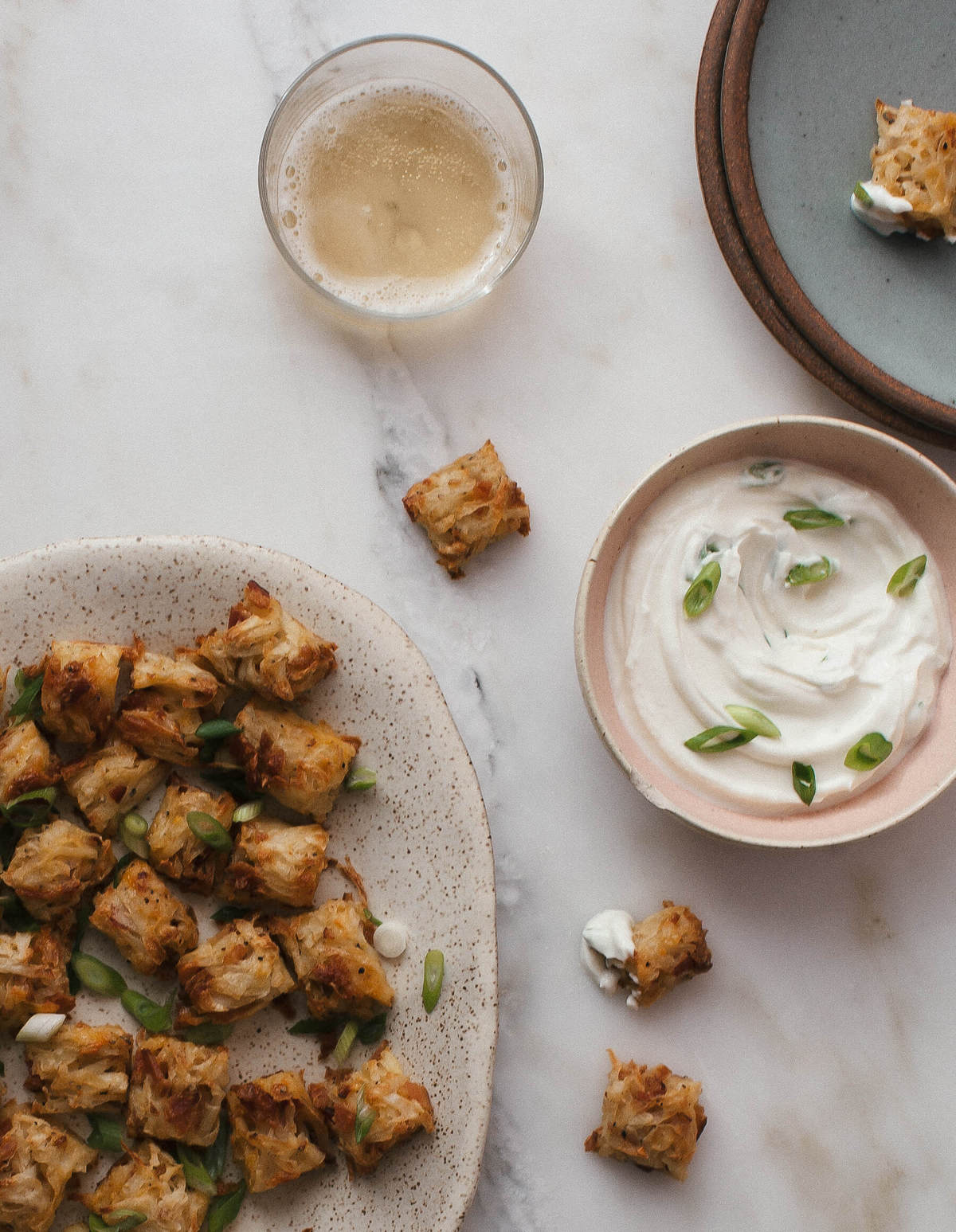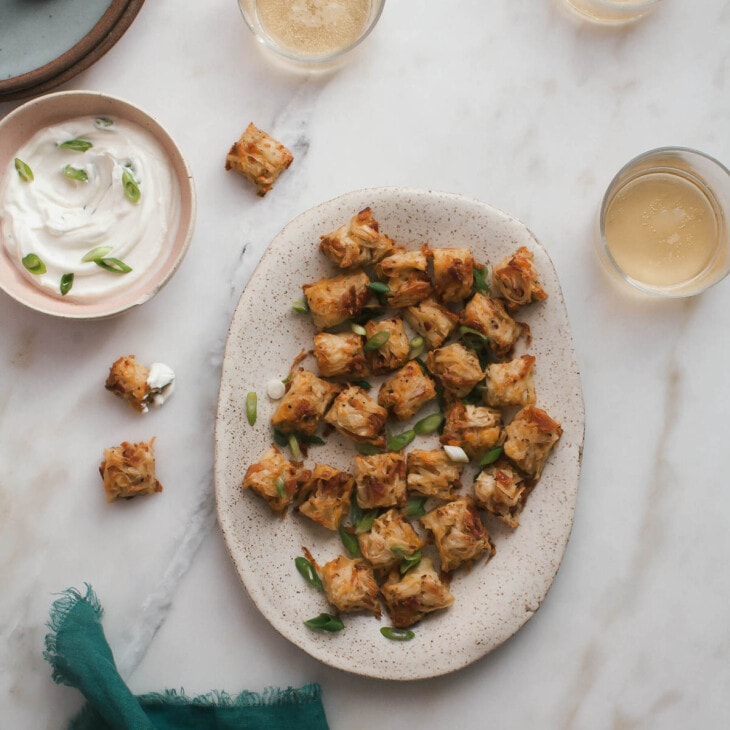 Print Recipe
Loaded Baked Potato Tater Tots
Ingredients
2

medium-sized russet potatoes

peeled

Salt

Pepper

1

large egg

beaten

3/4

cup

finely shredded cheese

4

slices

of cooked bacon

finely chopped

1/4

cup

Greek yogurt

1/4

cup

creme fraiche

2 to 3

green onions

thinly sliced
Instructions
In a medium bowl, shred the potatoes using a box grater. Cover with water and transfer to the fridge for 1 hour (this will release some of its starch).

Meanwhile, bring a medium pot of salted water to a boil. When the potatoes are done soaking, drain them and rinse until cold water. Drop them in the boiling water to blanch for about 2 to 3 minutes. Drain them in a colander and run cold water over them to stop the cooking process. Transfer the potatoes to the center of a few sheets of cheese cloth or a clean kitchen towel. Squeeze to rid the potatoes of all their water.

Transfer the potatoes to a bowl. Add salt and pepper to taste. Next, add the beaten egg, cheese and bacon; stir until combined. Transfer one-third of the mixture to a sheet of plastic wrap. Spread it out into a log that's about 1-inch wide and 1-inch high. Wrap the plastic wrap around it, almost like you would if you were rolling sushi and tightly roll it in the plastic wrap. Twist the ends like a tootsie roll and transfer it to a baking sheet. Repeat with the remaining tater tot mixture. Transfer the baking sheet to the freezer for 30 minutes, until chilled and firm.

Preheat the oven to 350 degrees F. Remove from the freezer and slice into 1 1/2-inch tots. Place on a parchment or silicon-lined baking sheet and bake for 30 minutes, or until lightly golden brown. While the tots are cooking, stir up the Greek yogurt, creme fraiche, a few pinches of salt and a handful of green onions. Taste and adjust the salt to your liking. Serve the tots hot with the dipping sauce.
Notes
These freeze really well! After they've chilled in the freezer, slice them up and transfer them to a freezer-safe plastic bag!
Recipe inspiration from i am a food blog