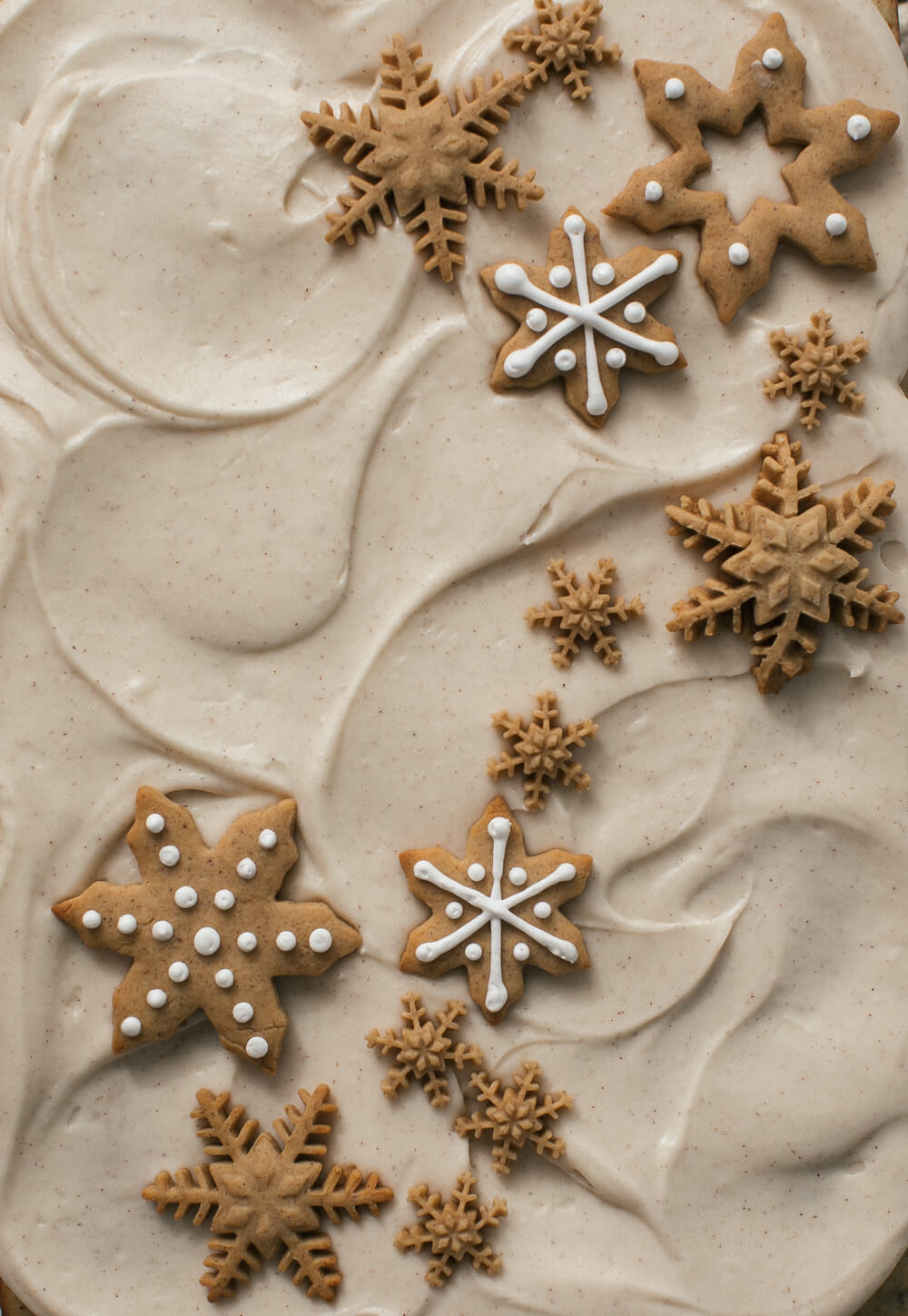 As of yesterday, I'm almost (not yet tho!) done with work for the year. I cannot even tell you how happy this makes me. I'm celebrating by creating more stuff for this blog and I know that's technically work but when it comes to holiday stuff, it feels more like fun. I really want to make a yule log with my friend Hourie. We made one years ago and it was SO fun and it ended up being beautiful.
I'm also obsessed with The Big Family Cooking Showdown on Netflix because it's like The Great British Baking Show but with family drama–how fun! I'm also super excited to sit in bed tomorrow and watch The Crown!!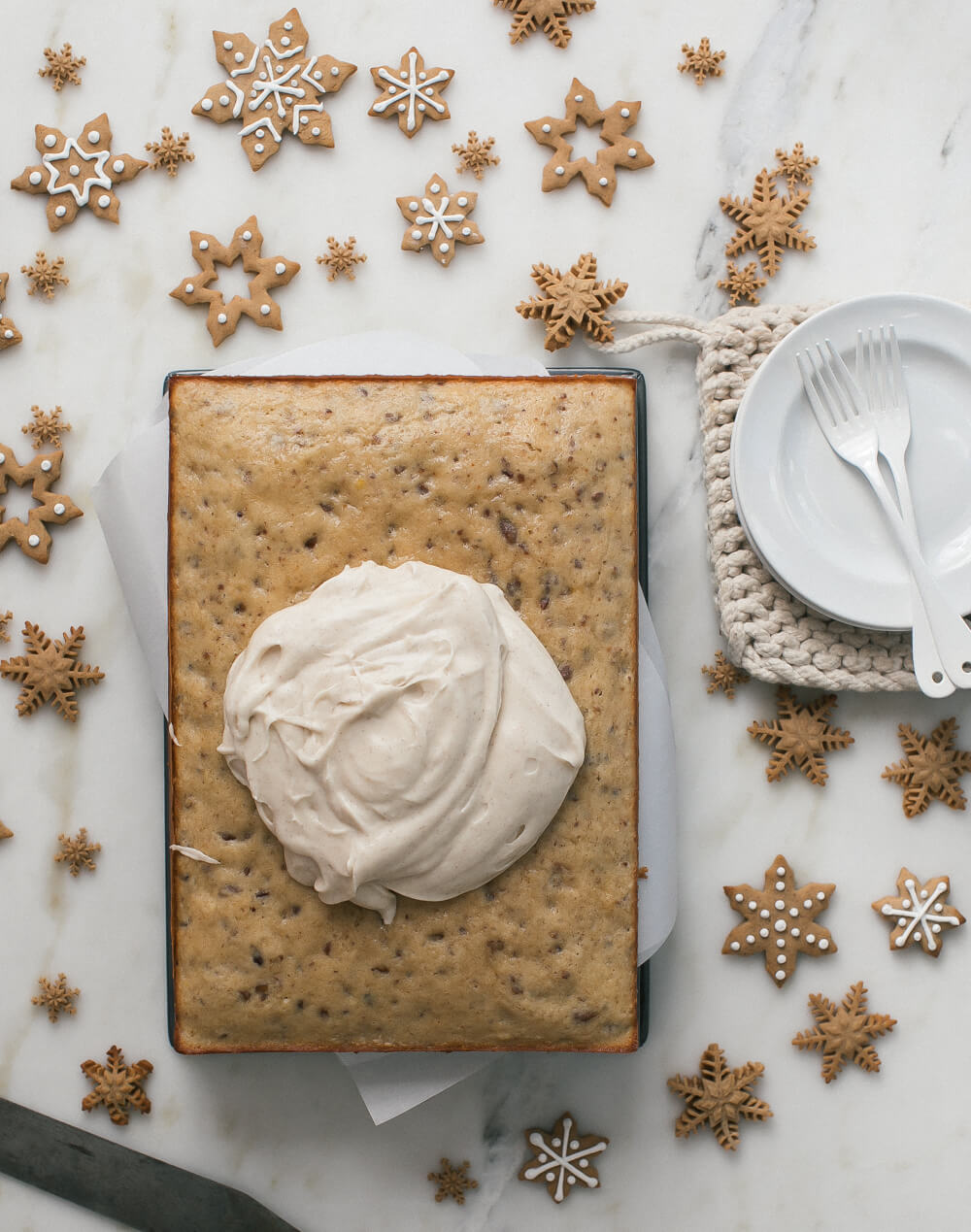 Okay let's talk about this cake. I think it's safe to say that 2017 was the year that I fell in love with the art of "the sheet cake."
I first made this strawberry-rhubarb version. Then I moved on to this chocolate one (which btw would be perfect for the holidays, too). And then, in October, there was a pumpkin sheet cake with brown butter frosting. It immediately became the most popular recipe this year!! Crazy!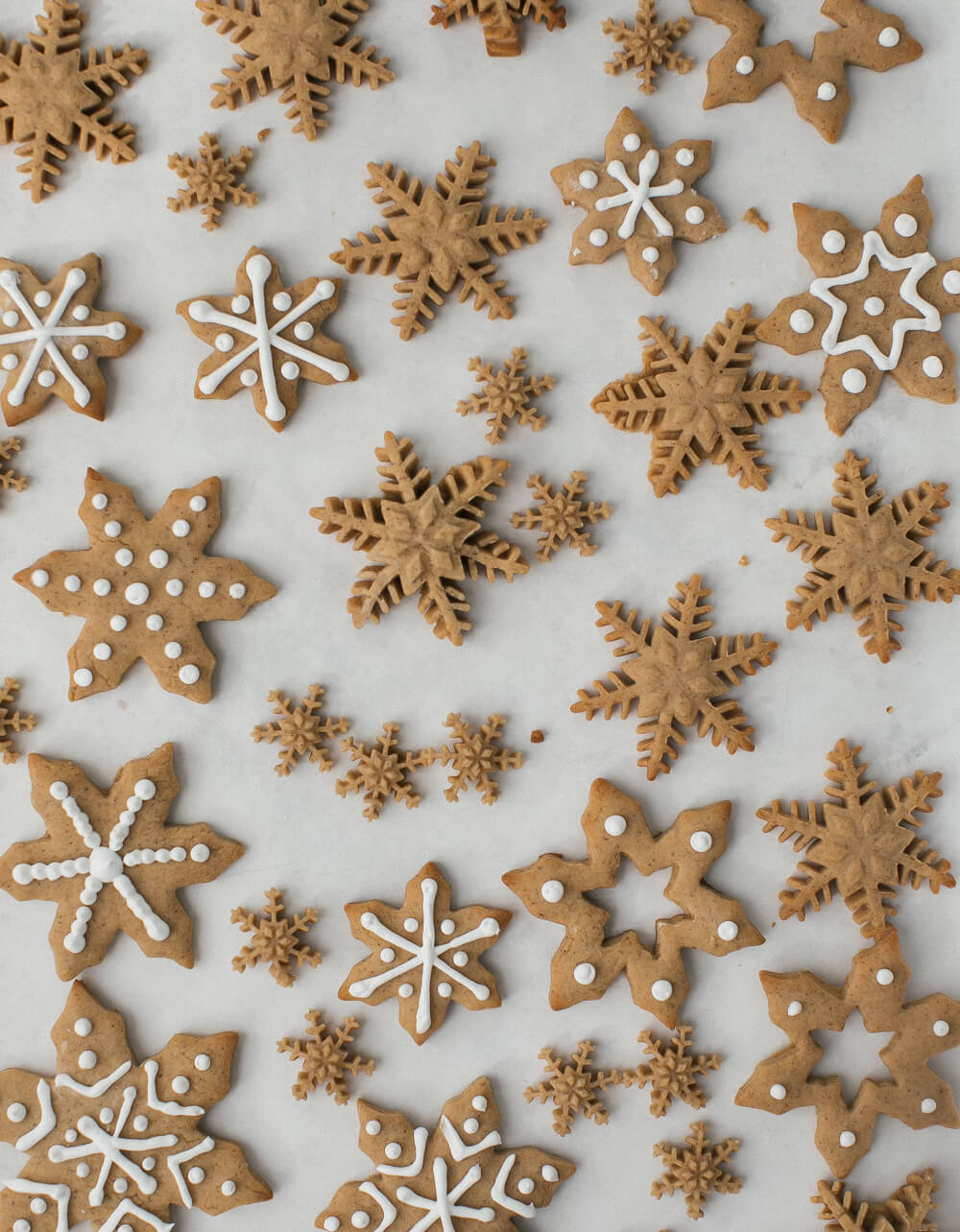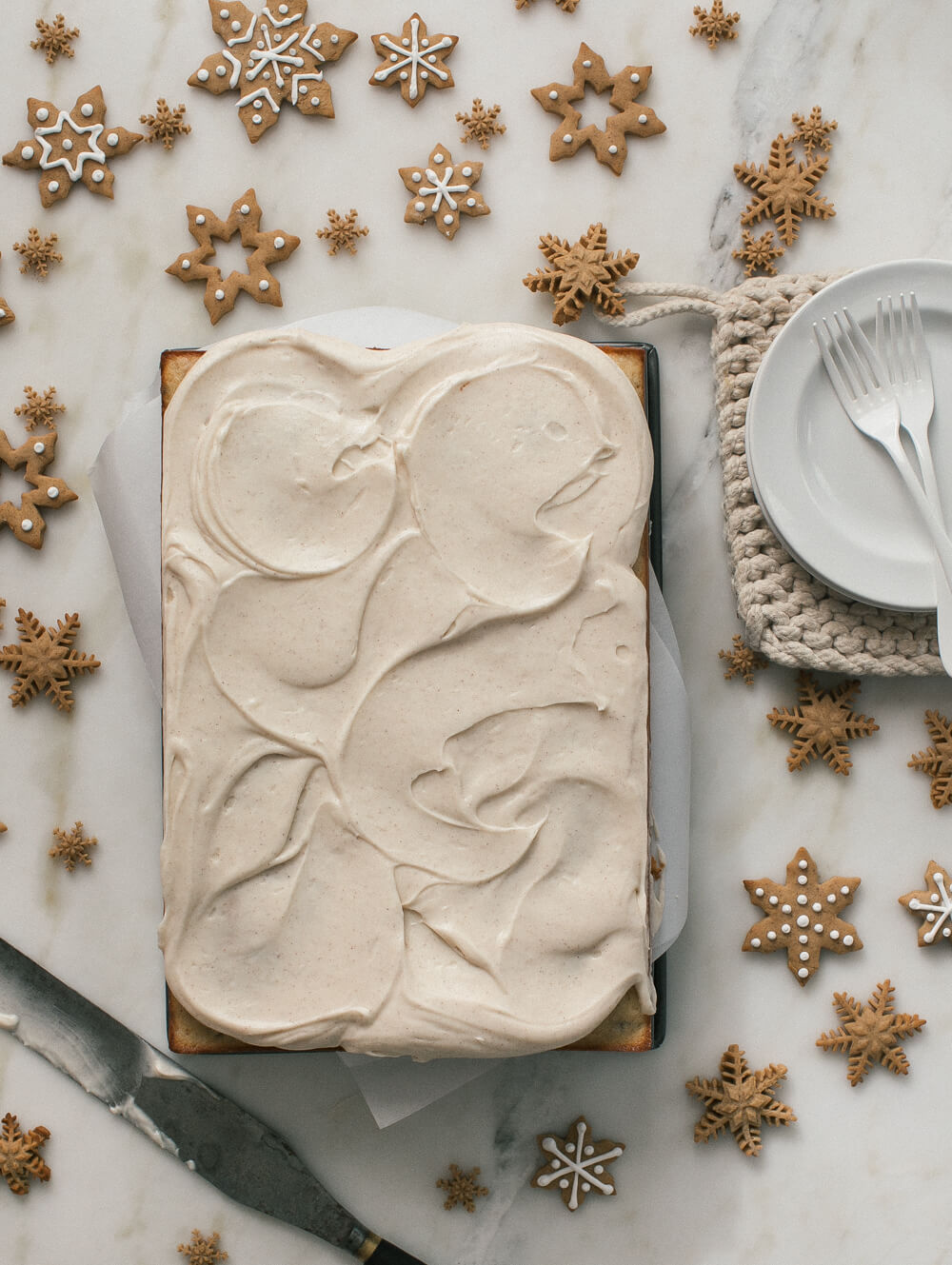 I'm closing the year out with this sheet snacking cake. What makes it snacking cake? The crumb is a bit different. The crumb is larger, not as tight, as the other cakes but still SO GOOD.
The butter cooks with the chopped pecans until the butter gets all nutty and delicious. The frosting is perfectly tart. Perfectly spiced and fluffy AF.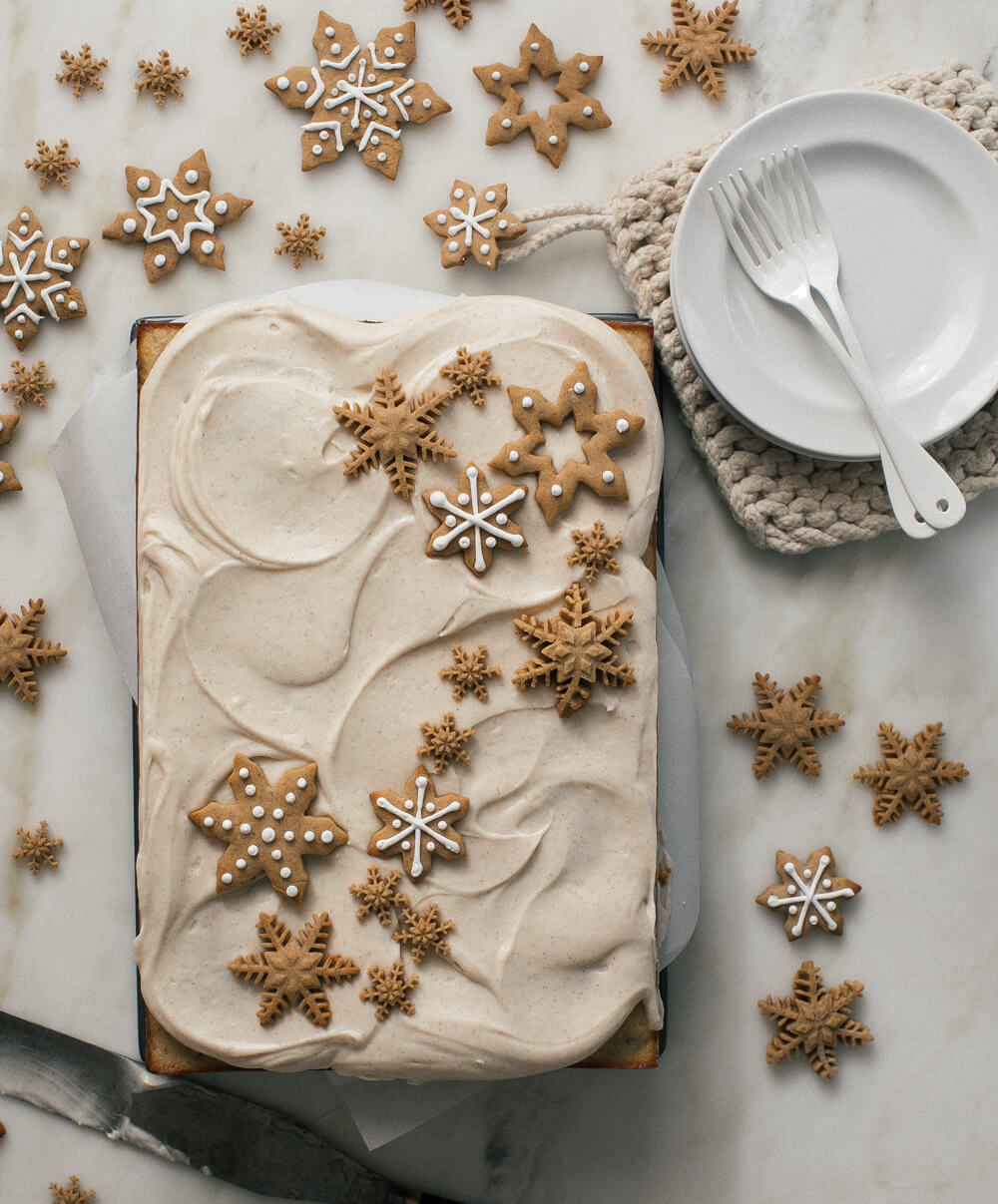 Let's talk about the cookies on top! I used the corgi chai sugar cookie recipe.
And I used these punch out cookie cutters that I was super skeptical about—I was convinced that the dough wouldn't come out. But they worked great. Here are some tips: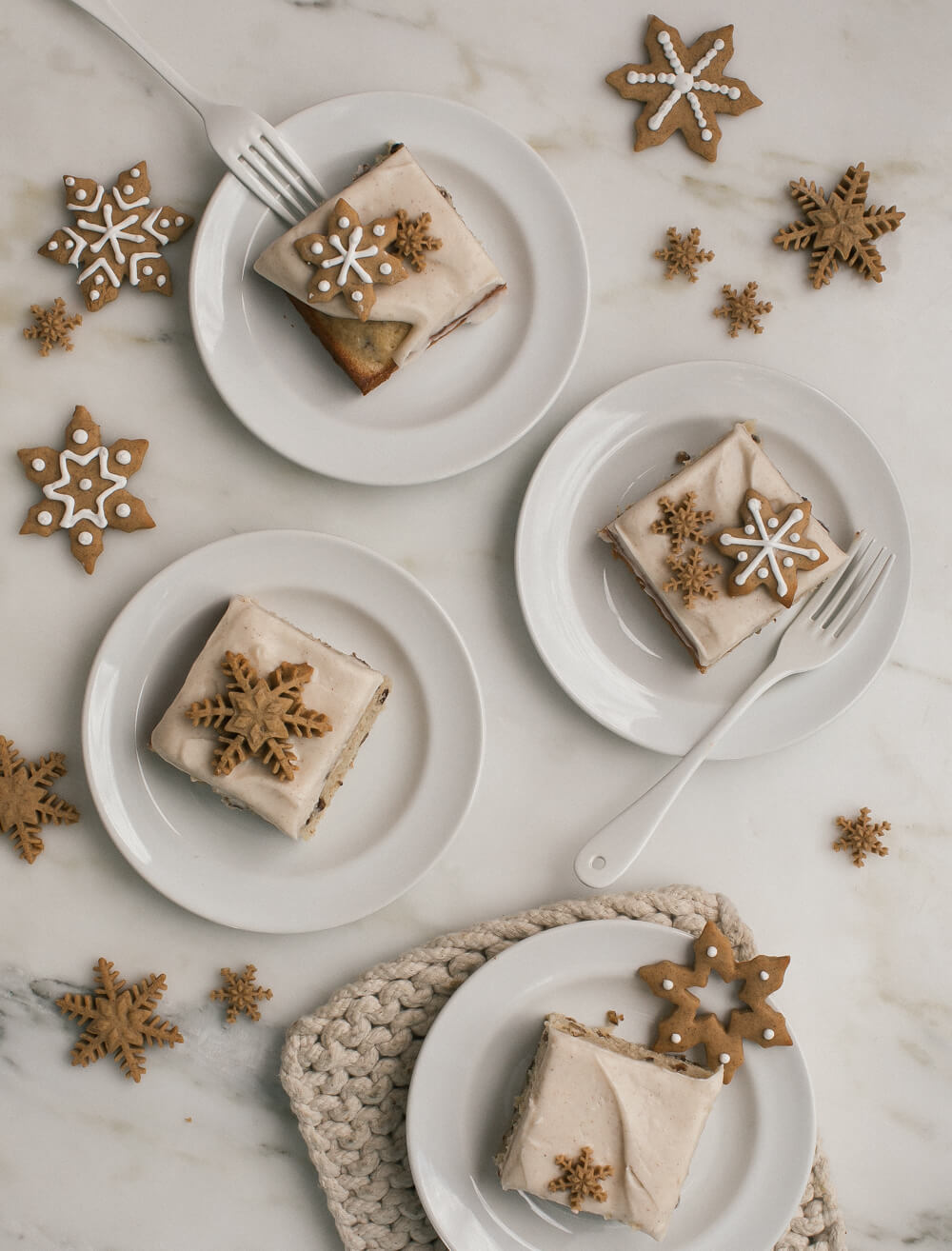 1. I think the trick is to press the dough into the punch snowflake cookie cutters.
2. And then pressing them out onto a baking sheet. This way you don't have to transport the cookies because they're quite fragile.
3. The smaller ones will need to be baked on their own. They bake very quickly (maybe 5 minutes) and the rest bake in about 10 minutes.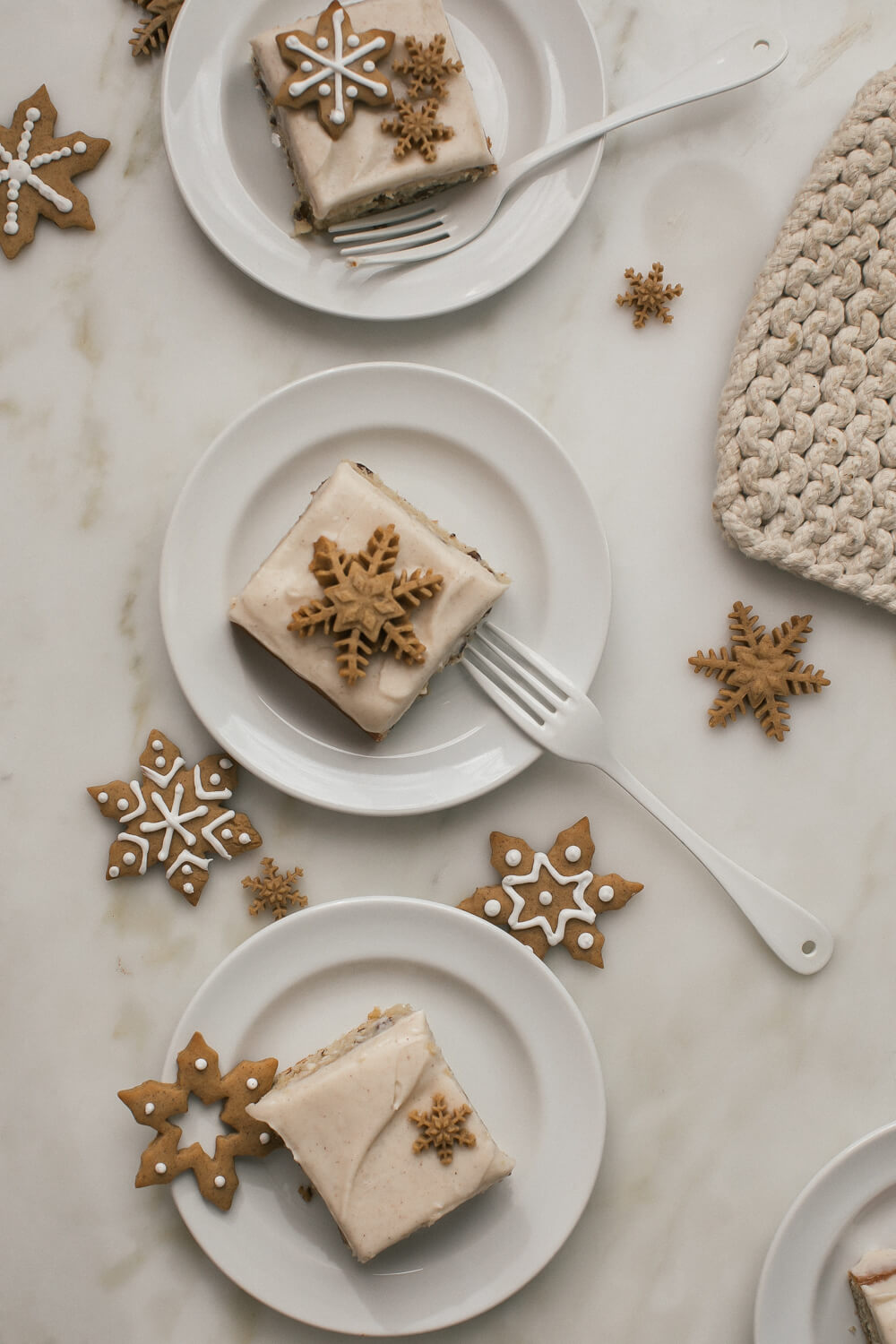 4. Do not move them until they're completely cooled.
5. For royal icing, I always, always use Wilton's meringue powder and just added a few more teaspoons or water to get it to the perfect consistency.
6. Ok I think that's it!
Happy holidays, friends!
xoxo
Adrianna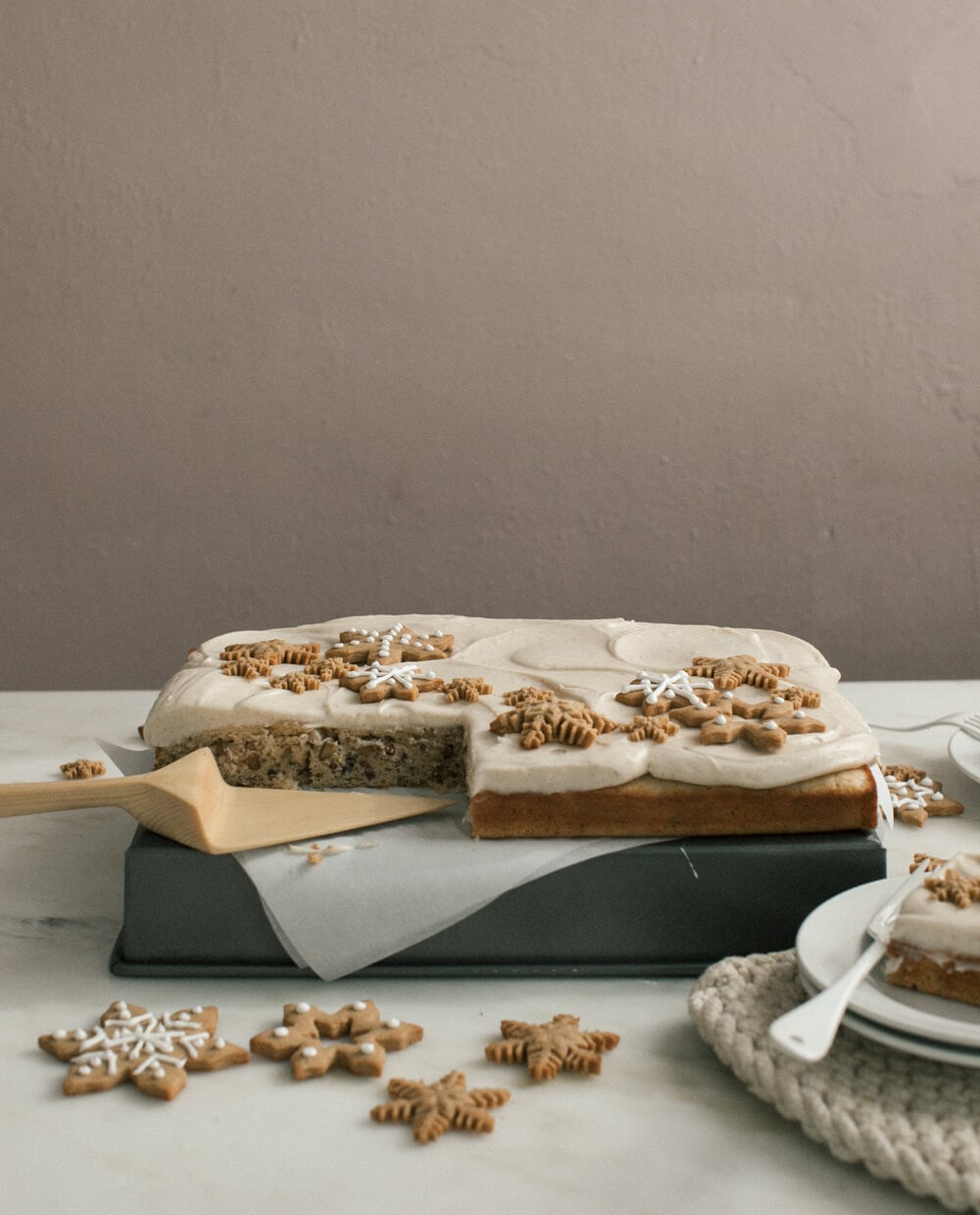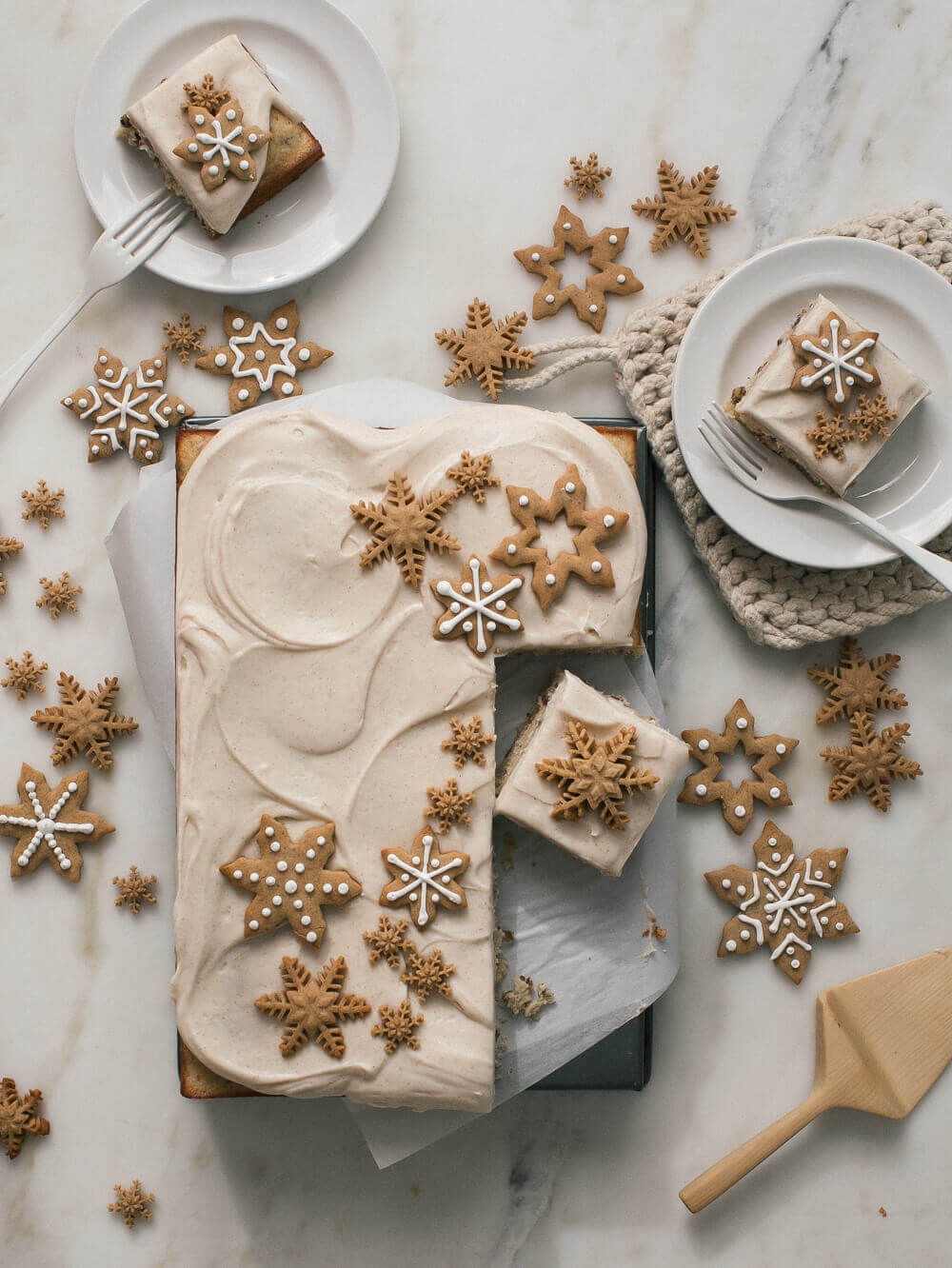 Brown Butter Pecan Sheet Cake with Spiced Cream Cheese Frosting
Print
Serving Size:
1
(9x13-inch) cake
Ingredients
Brown Butter Pecan Mixture:
1

cup

chopped pecans

1/4

cup

unsalted butter
Cake:
2 1/4

cups

all-purpose flour

2 1/2

teaspoons

baking powder

3/4

teaspoons

salt

1/2

cup

vegetable oil

1 1/2

cup

sugar

3

large eggs

1

tablespoon

vanilla extract

3/4

cup

milk
Spiced Cream Cheese Frosting:
1/2

cup

of unsalted butter

,

at room temperature

8

ounces

cream cheese

,

at VERY room temperature

1/2

teaspoon

ground cinnamon

1/8

teaspoon

ground cardamom

1

teaspoon

pure vanilla extract

Pinch

of salt

3

cups

powdered sugar

2

tablespoons

heavy cream

Corgi Chai Cookies

,

for the topping (optional)
Directions
To make the brown butter mixture:
To a medium saucepan, set over medium heat, add the butter. Once it's melted, it will begin to foam up and bubble a bit. Allow it to cook until you begin to see very lightly browned specks beginning to form. Add the pecans; toss the pecans until they're evenly coated. Give it a stir and cook until it's browned, about an additional 1 minute. Allow to stand until room temperature.
To make the cake batter:
Preheat the oven to 350 degrees F. Grease a 9x13-inch cake pan with cooking spray and set aside. I also like to line my cake pan with a sheet of parchment because I don't like anything to stick!

In the a medium bowl, whisk together the flour, baking powder and salt.

In the bowl of a stand-up mixer (or a large bowl using an electric mixer), using the paddle attachment, whisk the vegetable oil and sugar together, until combined about 1 minute. Then, add the reserved pecan/butter mixture and beat for an additional minute. Add the eggs, along with the vanilla extract and mix until combined.

Add half of the dry ingredients and half of the milk and mix until incorporated. Add the remaining dry ingredients and the remaining milk; mix until smooth, about 30 seconds.

Pour the batter into the pan and smooth it out using an offset spatula or butter knife. Transfer to the oven to bake for 15 to 20 minutes, or until a skewer comes out clean. Allow to cool in the pan for about 10 minutes and then invert it onto a cooling rack. BE CAREFUL IT'S A BIG CAKE.
To make the frosting:
To a bowl of a stand-up mixer with the paddle attachment (OR a medium bowl using an electric mixer), add the butter, cream cheese, spices and vanilla. Beat until smooth and fluffy, about 2 minutes.

Sift in the powdered sugar in increments of about 1 cup (just so it doesn't make a mess when you start your machine). Repeat until you've worked your way through the powdered sugar.

Lastly, add the heavy cream and beat the frosting for about 3 minutes. The fluffiness from the heavy cream really lightens up this frosting so be sure to beat it for the full 3 minutes.
To Assemble the Cake:
Pour all of the frosting on the cooled sheet cake and spread it around, creating cute swoops as you go. Top it with whatever you like! I added lil' cookies. Cake will stay moist for about 3 days when wrapped properly.
Notes
If you're looking for a shortcut and you'd like to skip making cookie dough (for the topping), you're welcome to buy cookies!
Nestle also makes prepared gingerbread cookie dough at places like Walmart and Target.
Products used:
1. Snowflake Cookie Cutter Set
2. Large Snowflake Set
3. Wilton Meringue Powder (perfect for Royal Icing)
4. USA Sheet Cake Pan that is 9×13