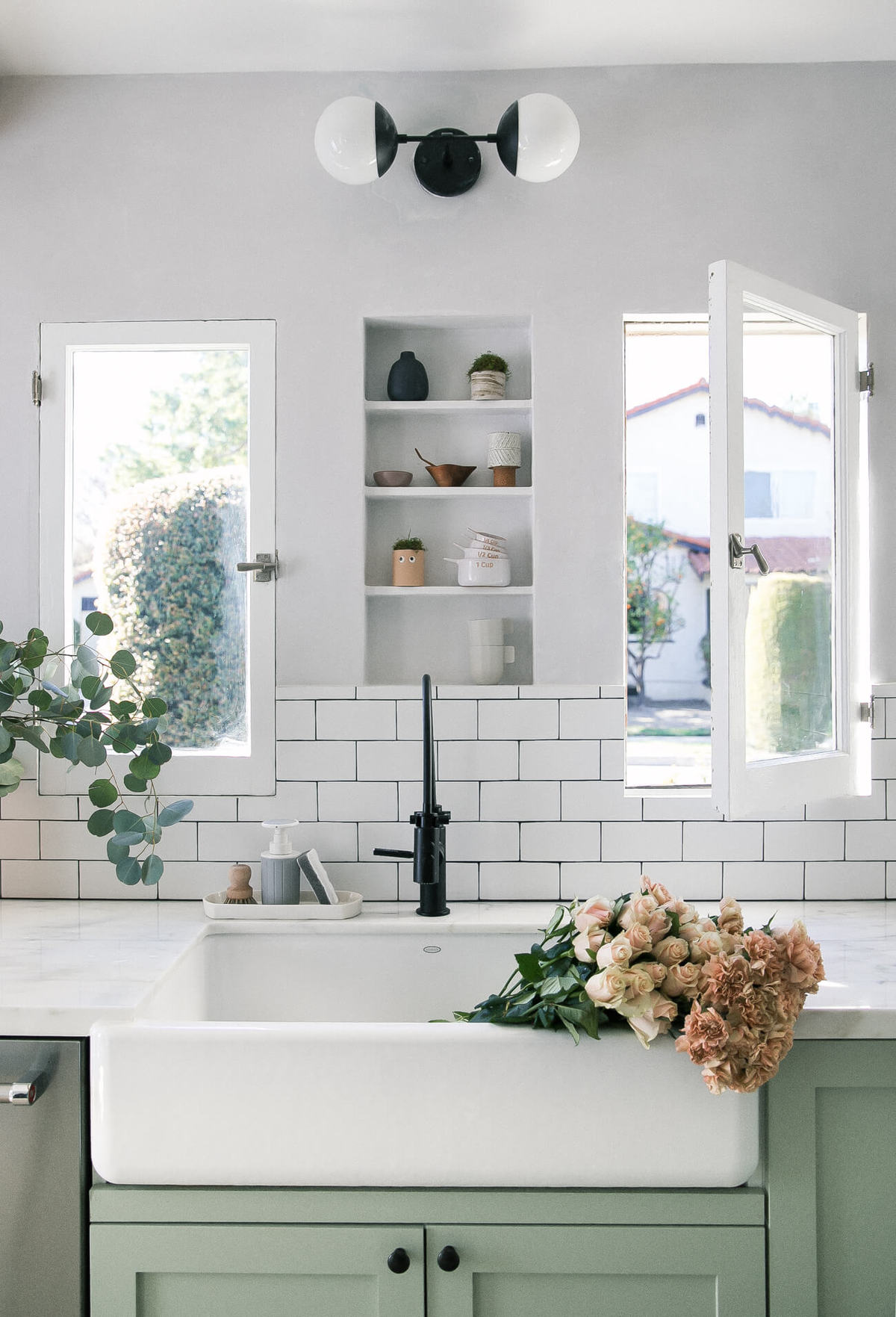 OMG I can finally tell you that the entire kitchen is done done DONE. It's an amazing feeling and I love the way it turned out. As you know, I started this process a long time ago!! There are a lot of bases to cover so I'm not going to cover everything in this post, instead I'm going to separate the posts into three or four posts.
This one is all about the reveal! I love dramatic before and afters and I have to say, the before photos show a pretty intense makeover.
This was my first ever renovation and I learned a lot. I also designed this space myself, which was another huge learning experience.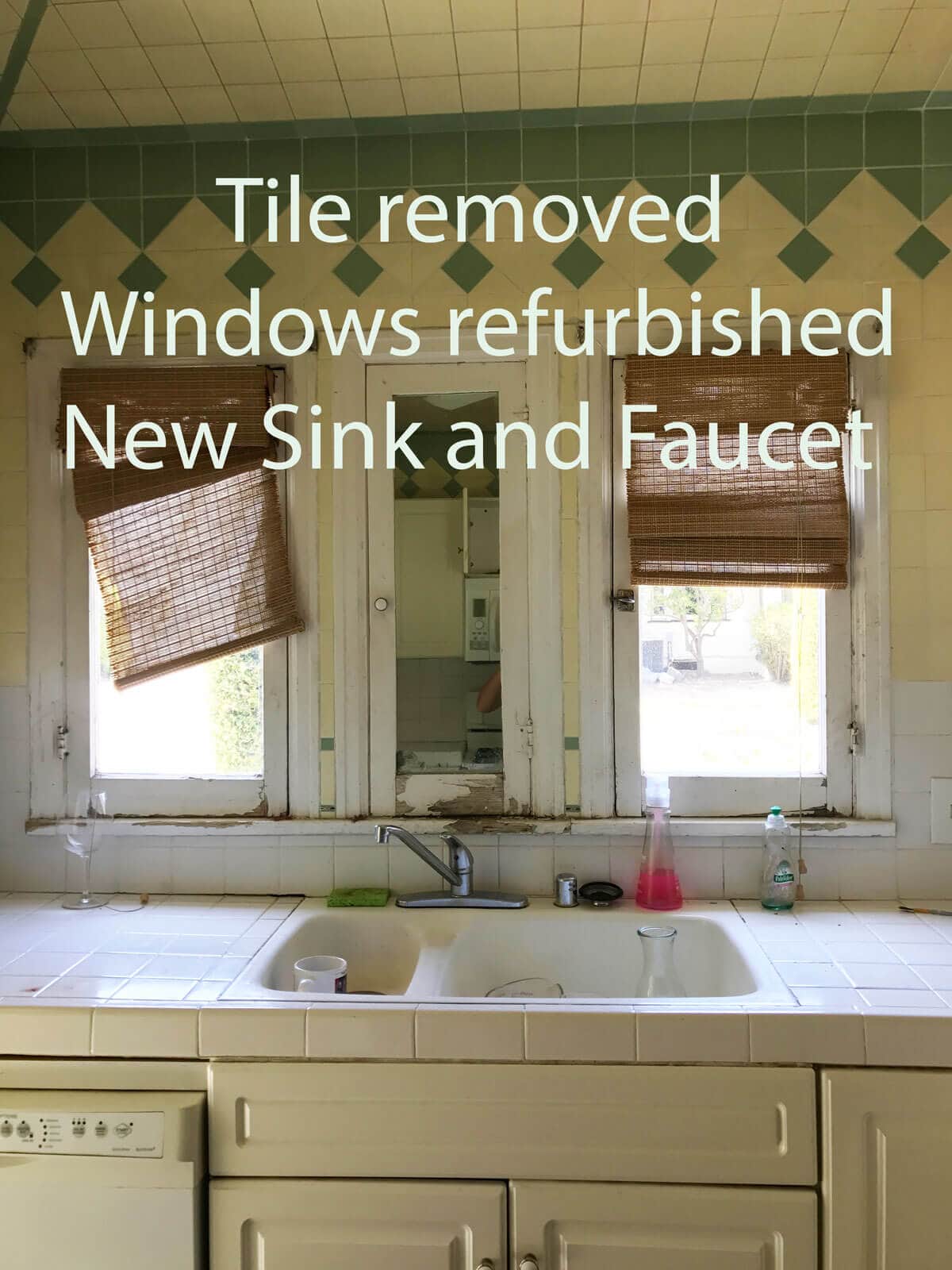 INSPIRATION
Let's start with the inspiration. The house itself is an English-style cottage so I wanted to be true to the house. I wanted it to fit within the style of the house so I went with shaker cabinets. What I didn't want? Was an all-white kitchen. I wanted something with a bit more style but at the same time, I wanted to make something that would be sellable and not too custom.
Here are some BEFORE photos that show the dramatic change: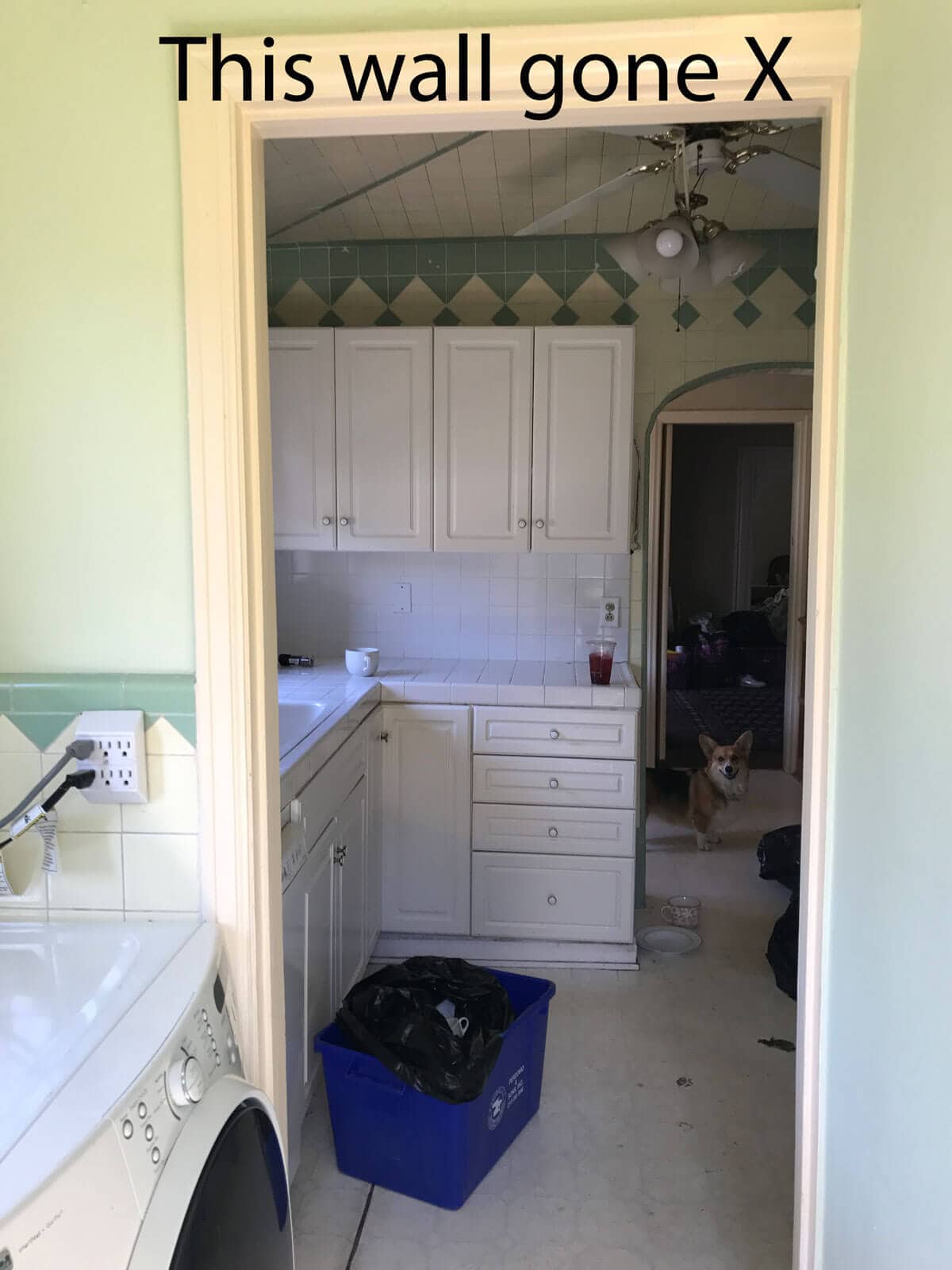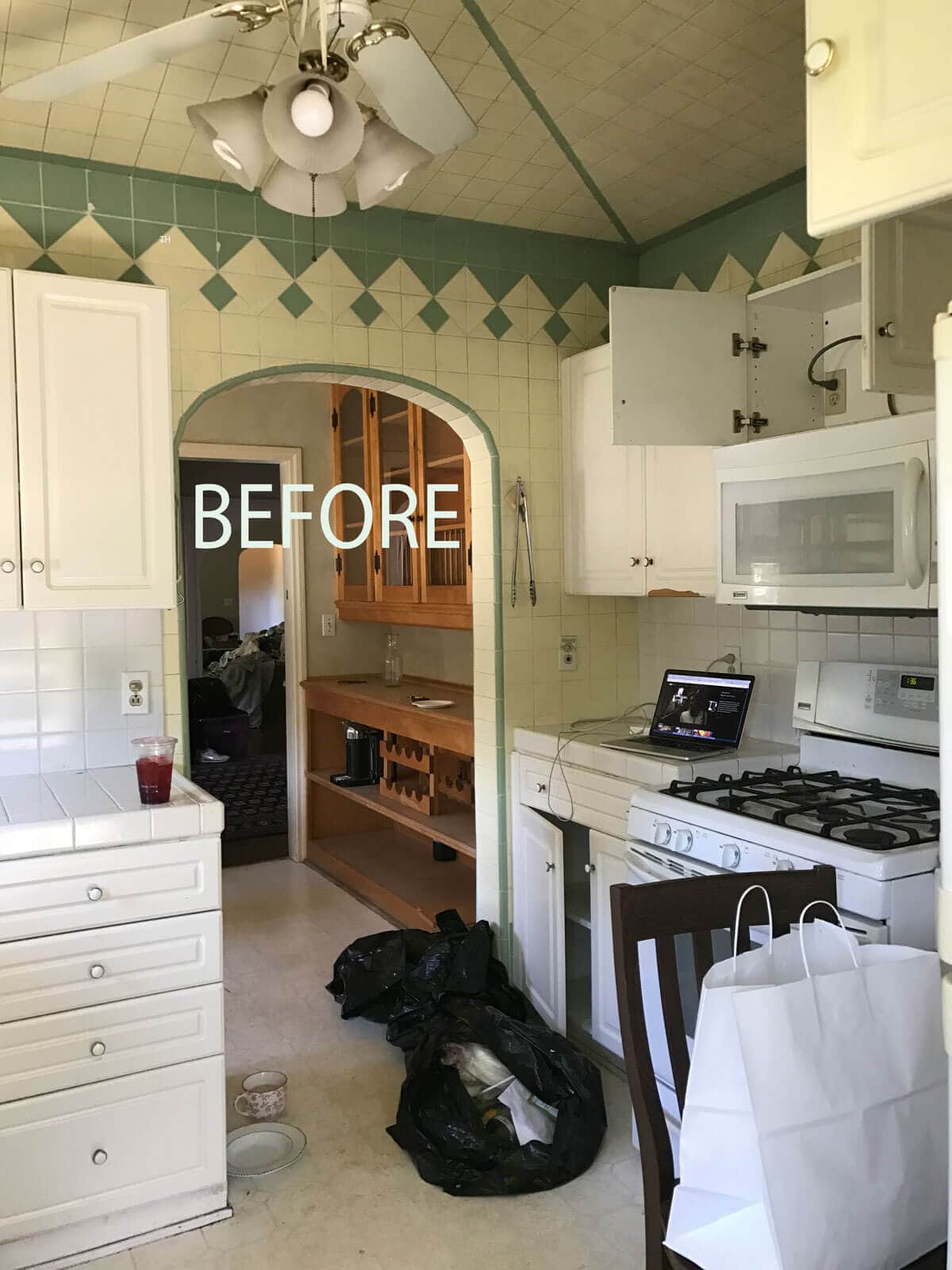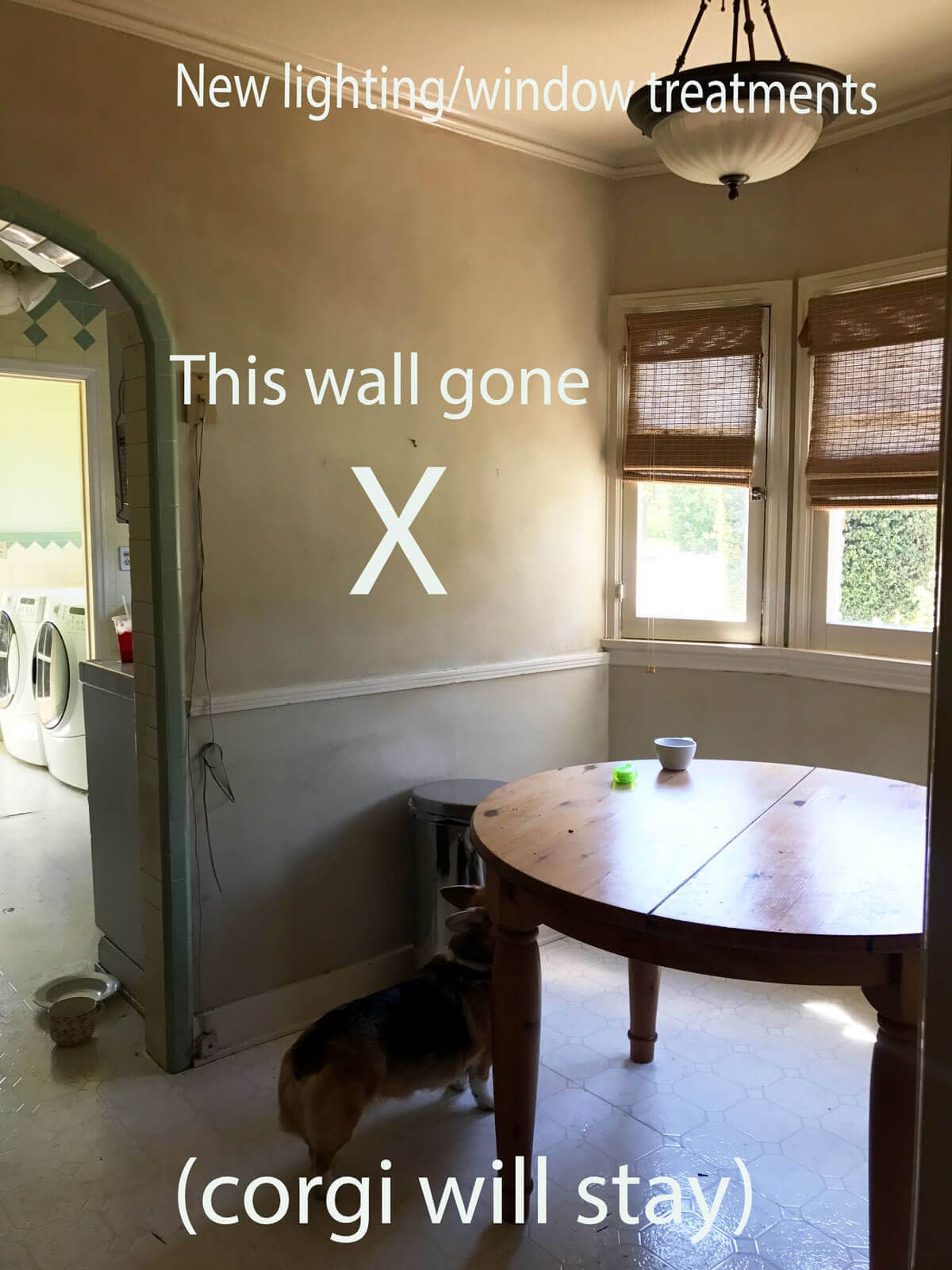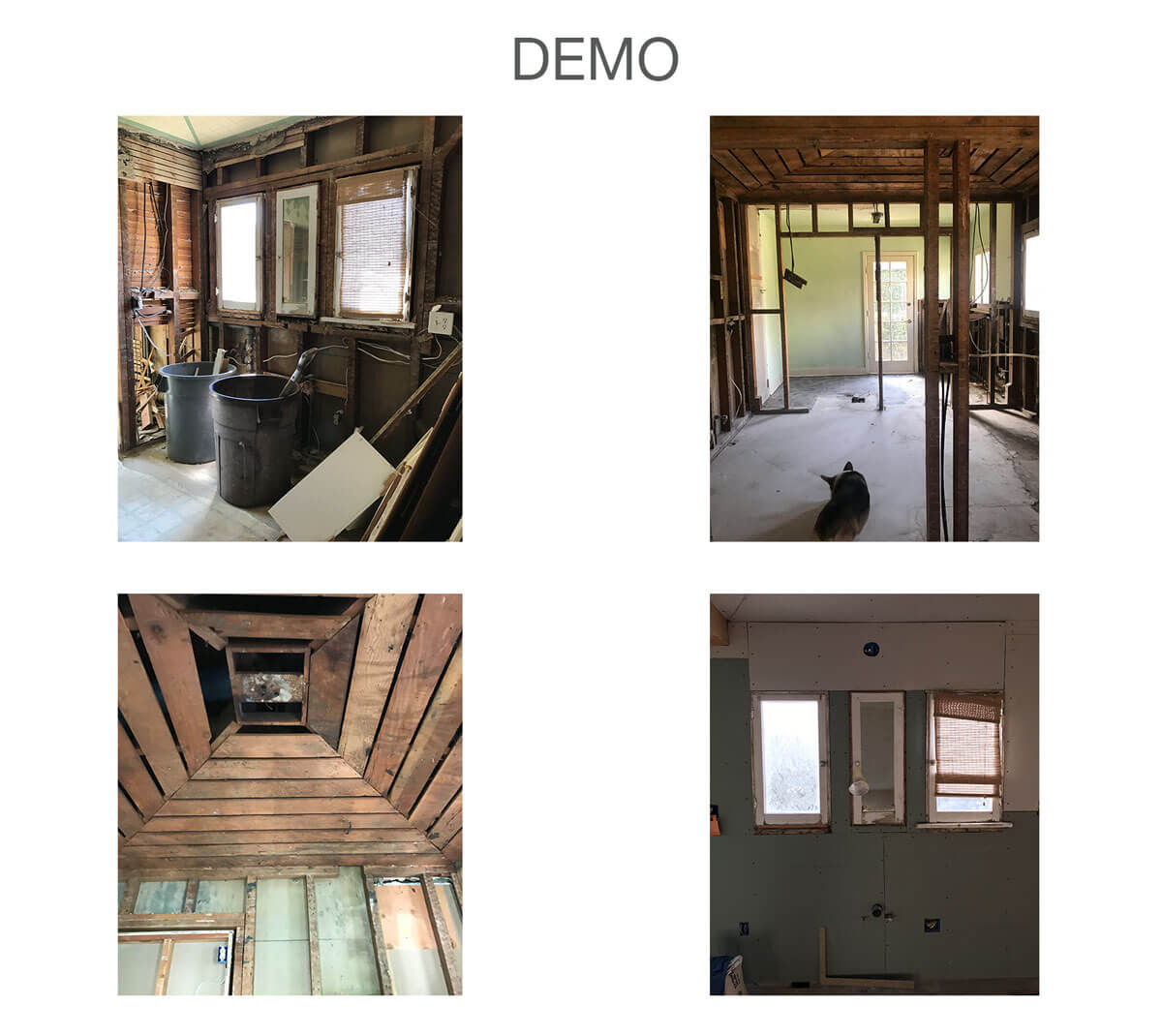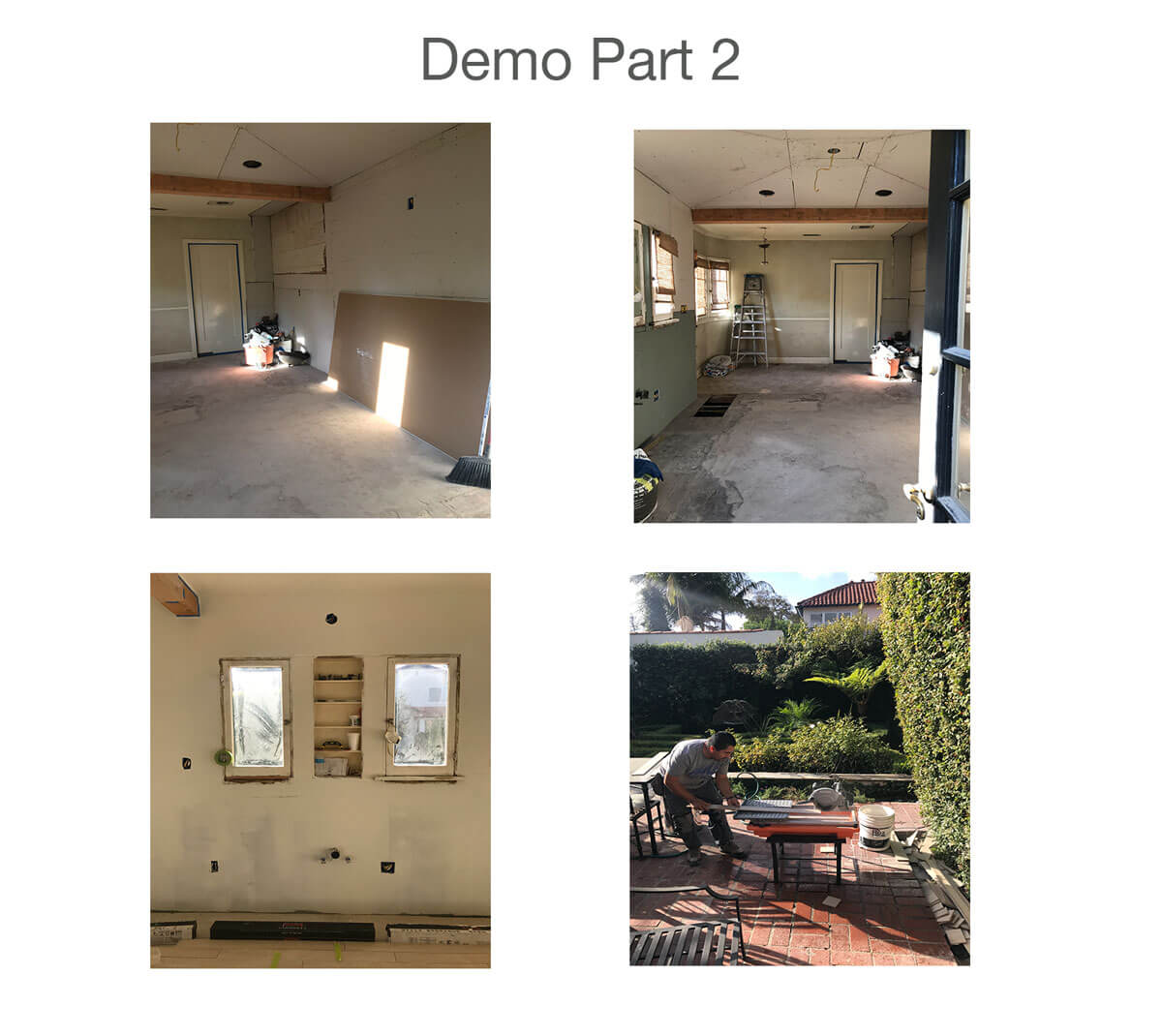 And here is my mood board! I highly recommend making one of these before you start a demo project, especially if you've never done one before. It helps with seeing everything in the same place. I ended up changing some things as I went, but it was a good general idea.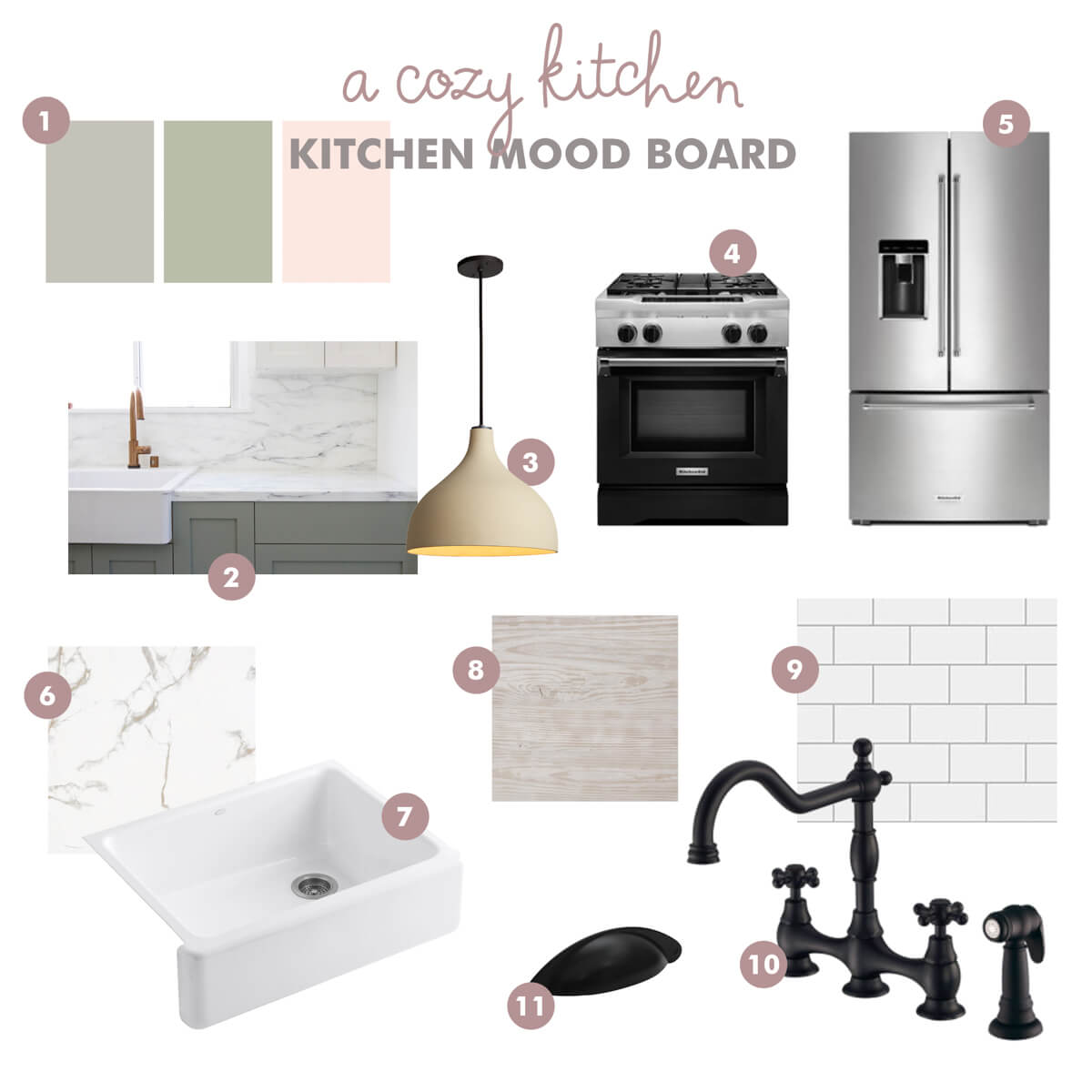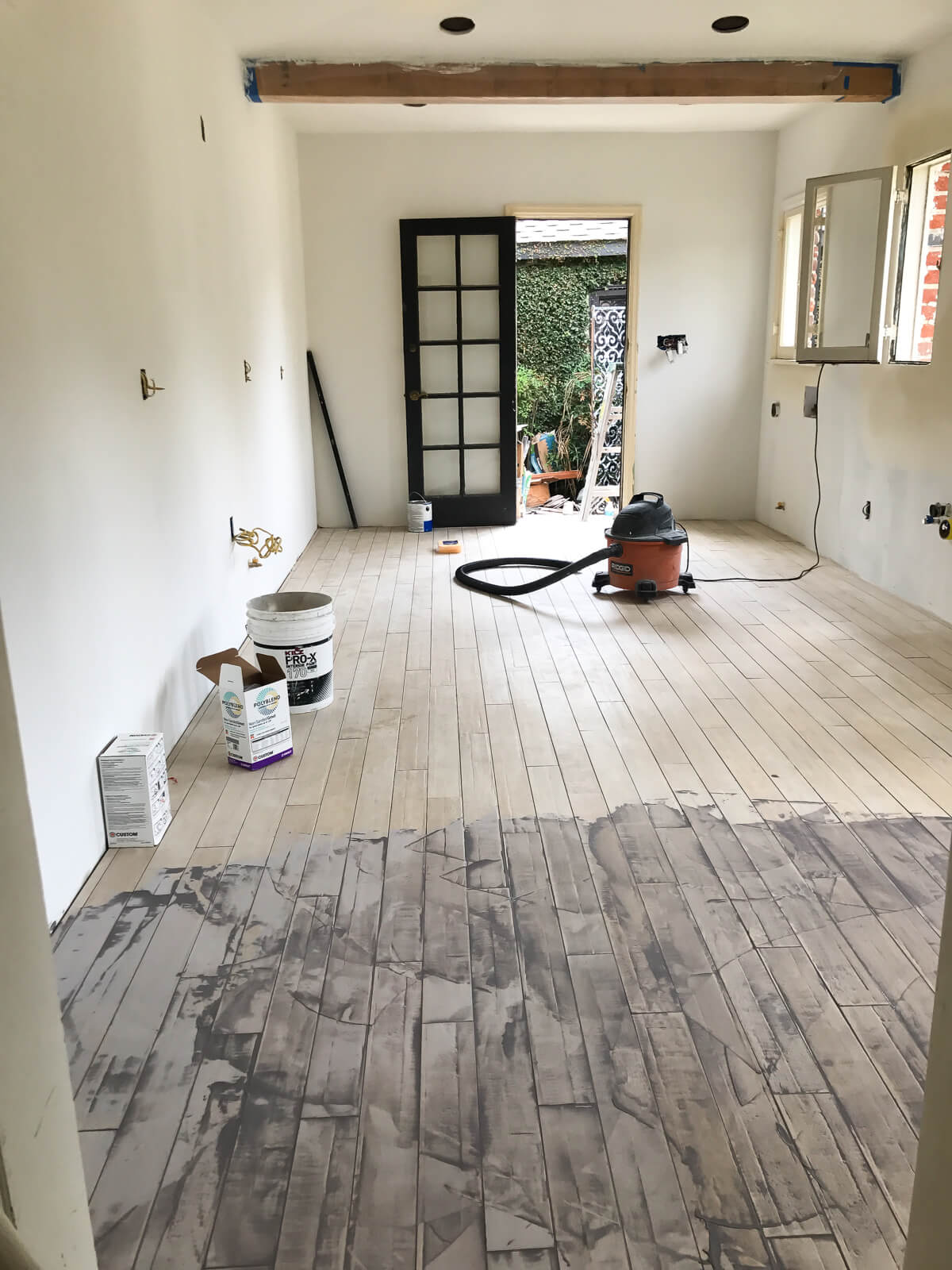 CABINETS
I decided on the sage green the minute I saw this kitchen. It was the perfect soothing color for me. I decided to go with Ikea cabinets and Semihandmade fronts that were painted in Farrow and Ball's blue grey. I will talk more about my experience with Ikea cabinets (hit and miss) and Semihandmade (flawless experience). Also, did you know getting cabinets painted was expensive?!?! The price almost made me fall out of my chair. I'll share the price with you, too. This post is coming soon!
I chose black hardware because I think it's beautiful with the sage green cabinets. The hardware (in total) was about $75 (not too, too expensive) so if the "black hardware" trend fades out of style, I can easily replace it with something that's more current/classic.
I paired these sleek-looking black pulls with black mushroom knobs.
They both feel super sturdy. My only complaint is that they get dusty very quickly so a quick wipe down once a week has become a habit. Other than that, the price is right and quality is really good.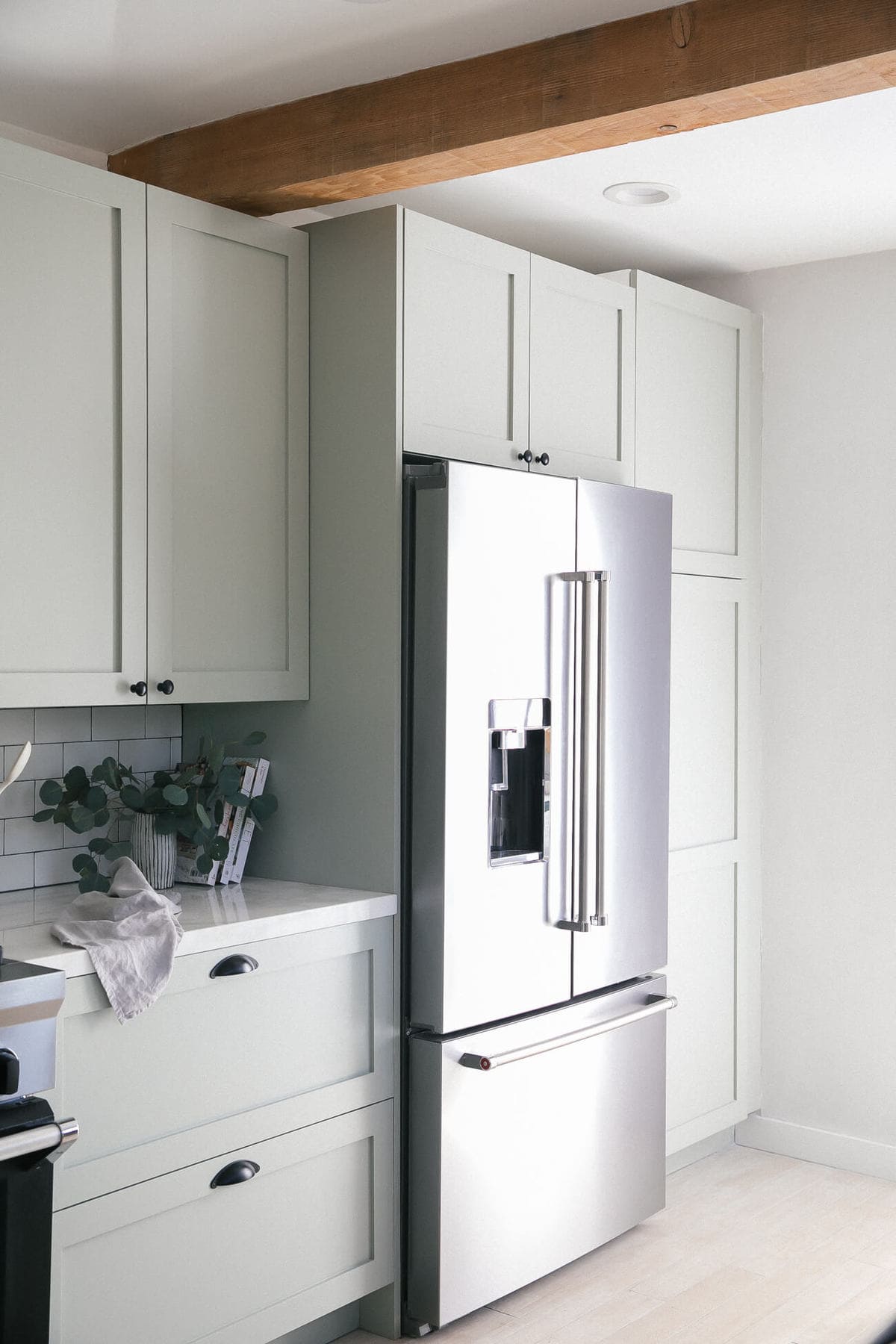 APPLIANCES
Before we started demo, I started to speak to KitchenAid about collaborating on the appliances and to my delight, they said agreed to work with me on this project!
We decided collectively on the 30-inch 4-Burner Fuel Freestanding Commercial-Style Range in go with imperial black. I absolutely love this stove. As you know, I cook and bake a lot and needed something that was a workhorse.
I went with the black range to match the hardware and Im SO glad my-brother-in-law, Sean, convinced me to go with the imperial black. We were debating on white for a lil bit but the black adds nice contrast.
I went with the black range to match the hardware and I'm SO glad my-brother-in-law, Sean, convinced me to go with the black. We were debating on white for a lil' bit but the black adds nice contrast.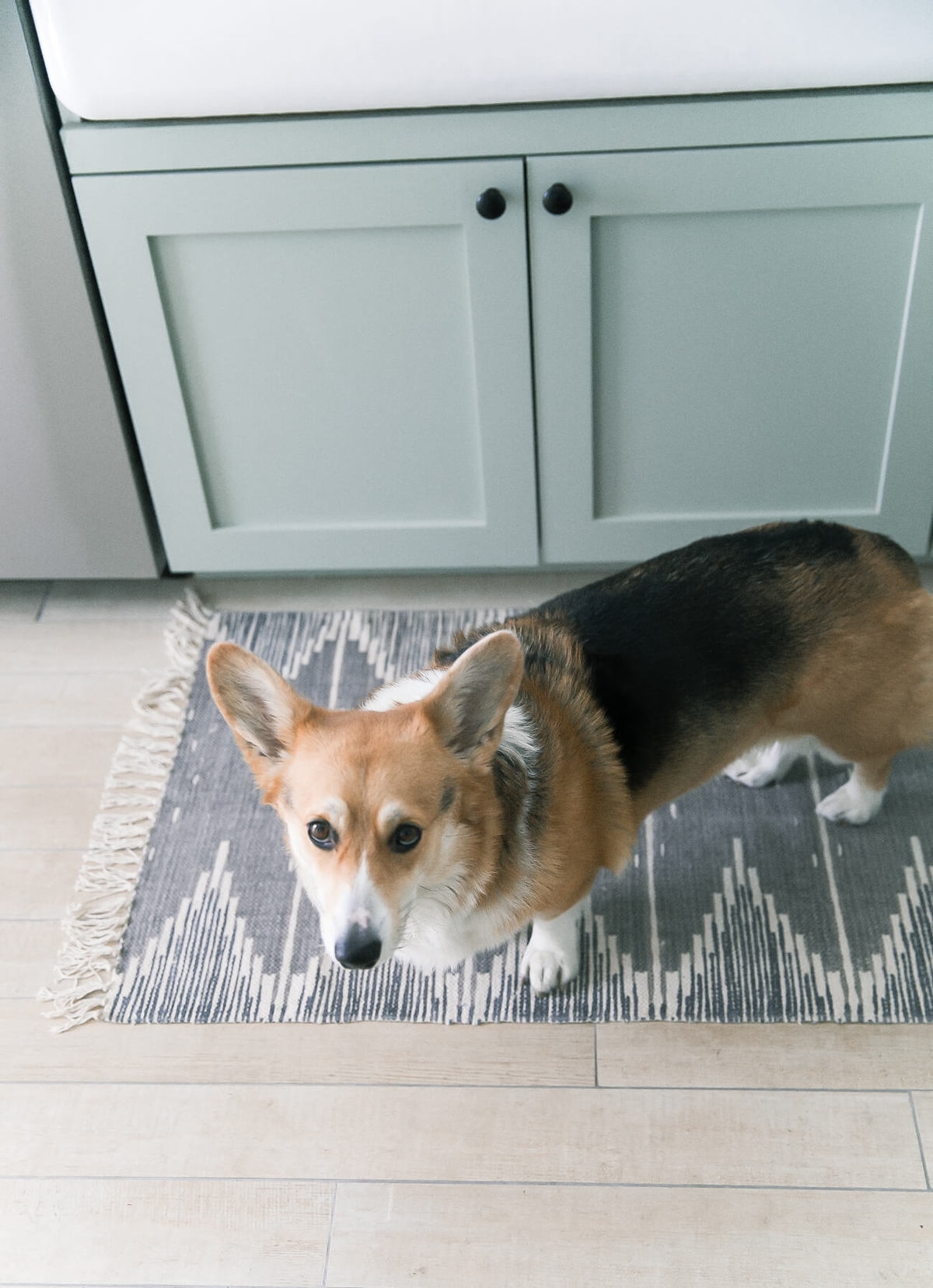 Above the range, lives the 30-Inch Wall-Mount, 3-Speed Canopy Hood. Right when we got this installed, Josh decided to fry up a porchetta and this hood sucked all that smoke up and out! It worked like a pro.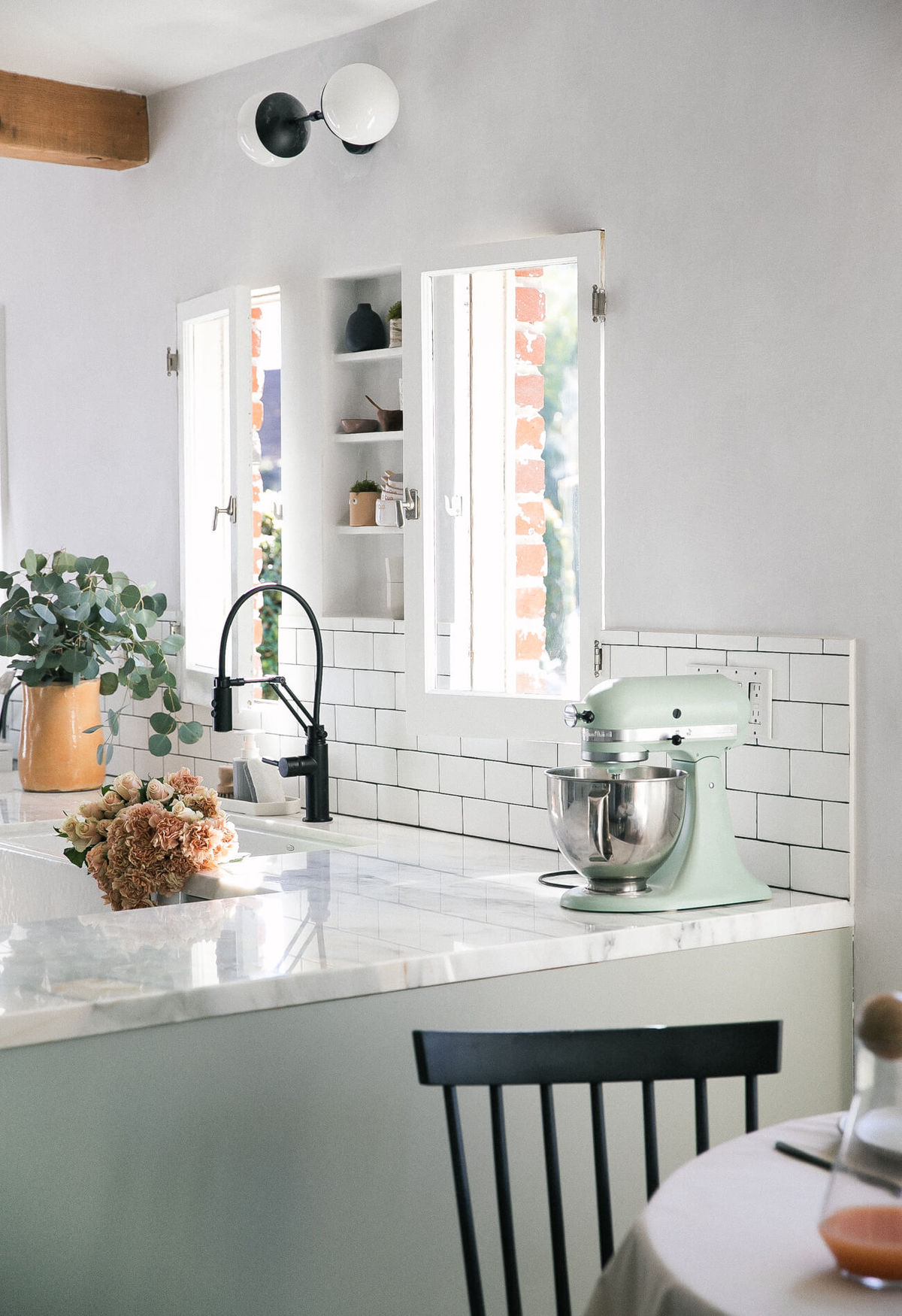 The refrigerator is the most beautiful fridge I've ever had in my life. It's the 36-inch Counter Depth French Door Refrigerator. There is a premium faux wood finish on the inside and the drawers slide and glide so easily and flawlessly. The Preserva Food Care System drawers prevent over ripening of my produce while also minimizing odors with the FreshFlow Produce Preserver and Fresh Flow Air Filter.
It's also a really good size fridge, which is great for me with shoots and stuff. I bought a full cart worth of groceries right when we got it hooked up and there was still SO much room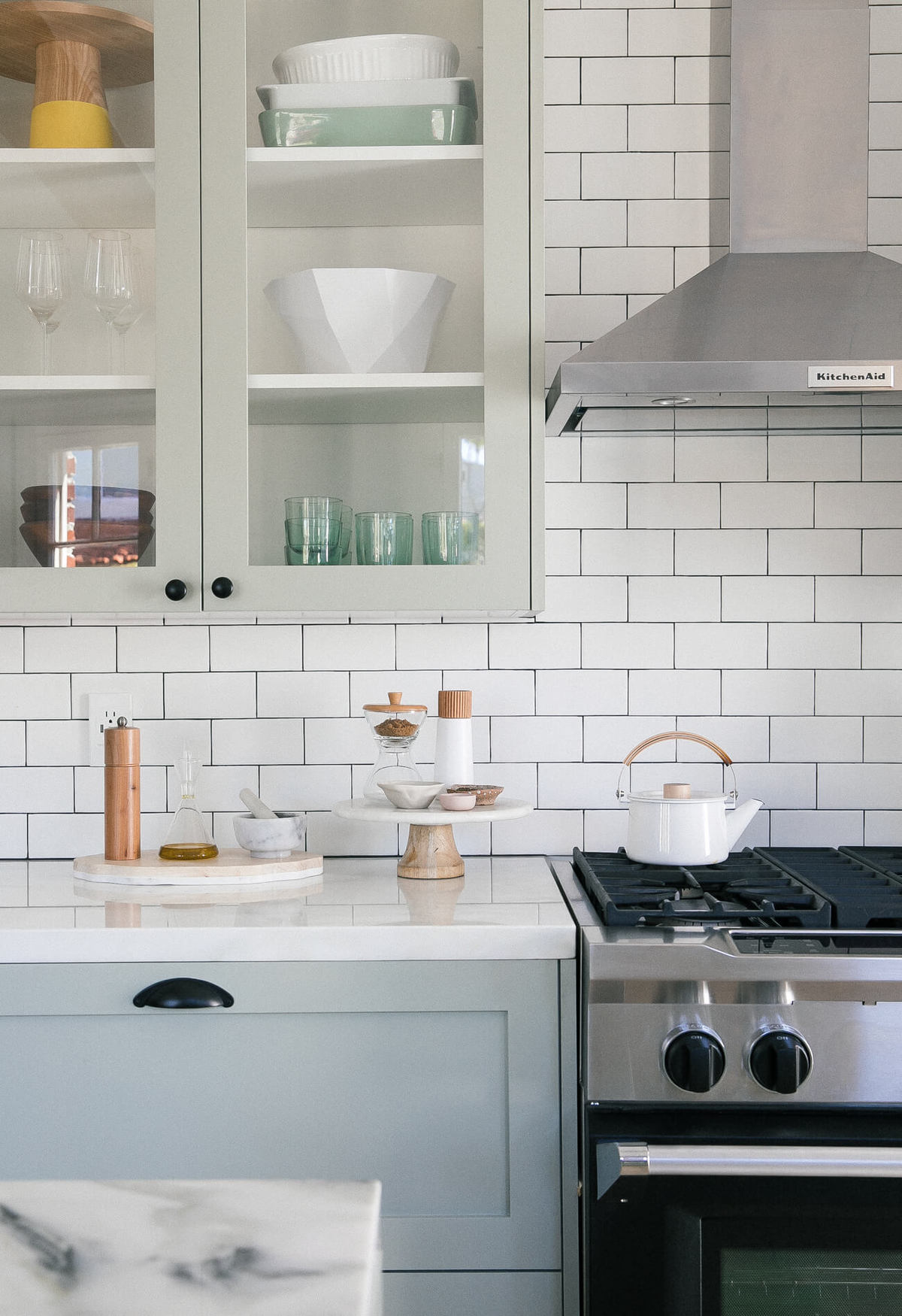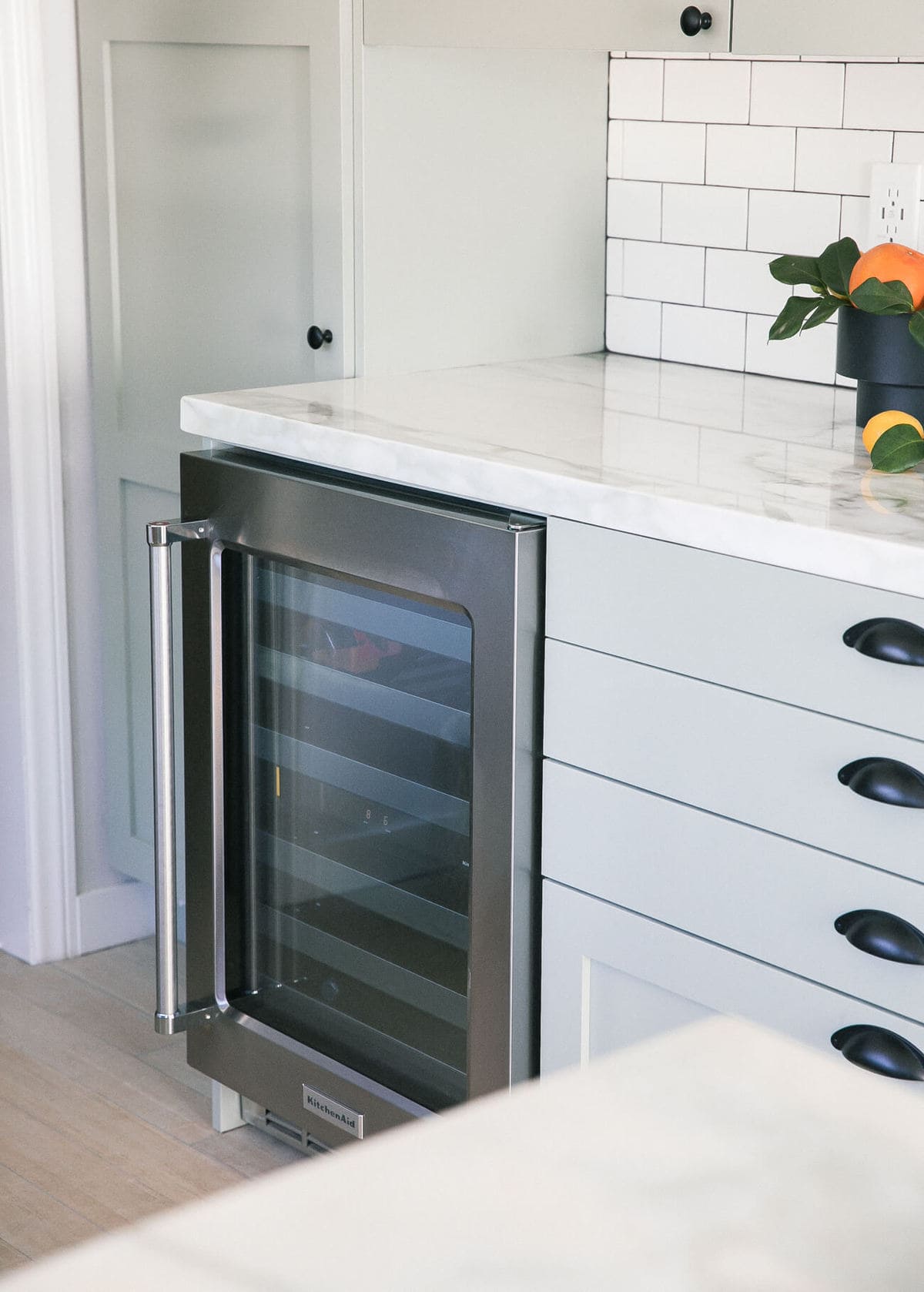 The 24-inch Stainless Steel Wine Cellar with Metal Front Racks is magical because you can set one area's temperature for white wine and another area for red wine so you can store both in the same fridge—genius! When I take a bottle of wine out of the fridge, I feel like a dang adult.
The 44 dbA Dishwasher with Dynamic Wash Arms and Bottle Wash…is my heart. I've had this blog for SO very long and didn't have a dishwasher. Billy and I washed every single dish by hand, nearly every single day. I didn't really even think it was that big of a deal but now that I have a dishwasher it is truly life-changing.
I'm super grateful to have a machine that's sole job is to wash dishes! It's a magical moment for me. It's also SO quiet. I often times do all of my work at the kitchen table and almost forget that I started it—it's that quiet.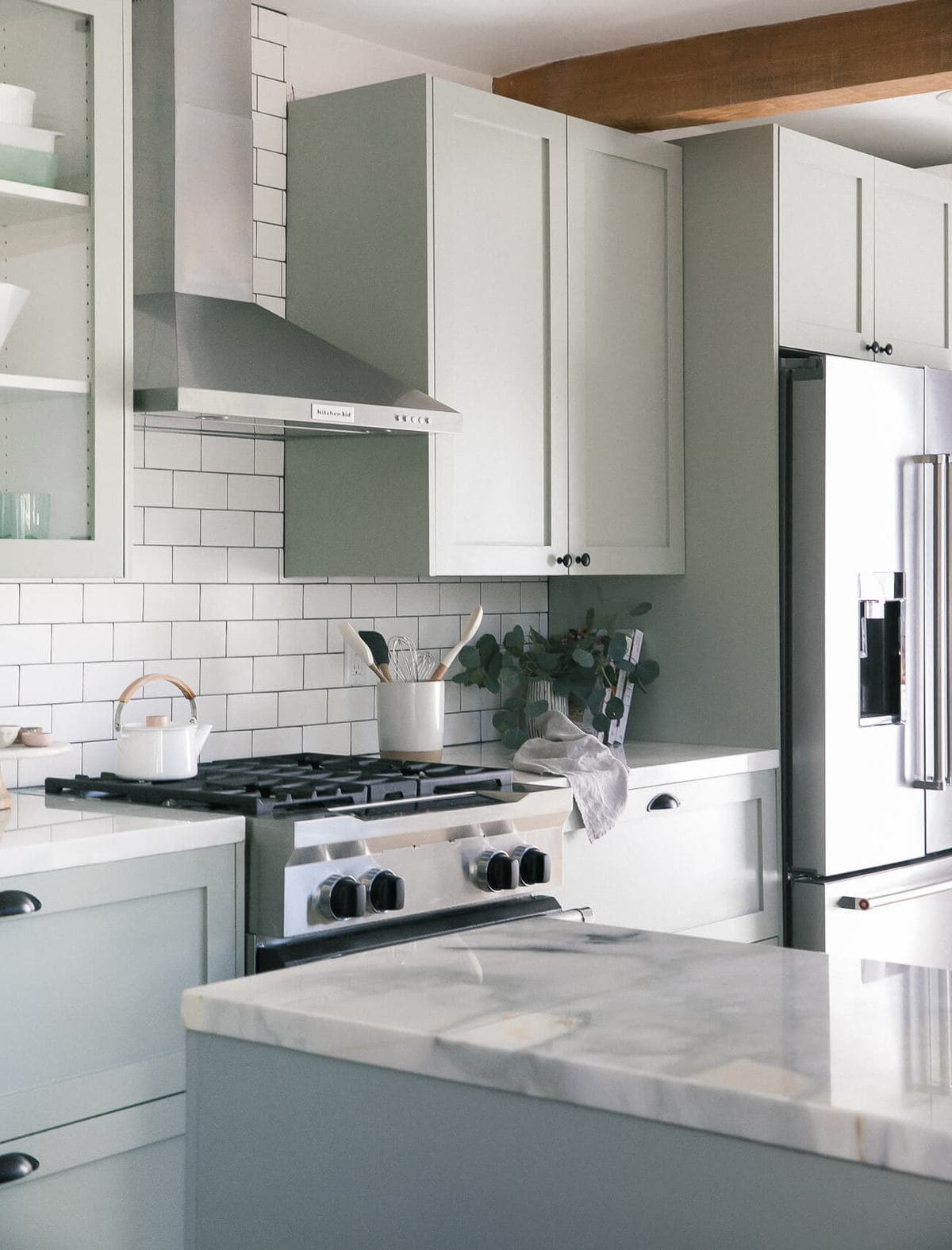 FLOORING:
We ended up deciding on this beautiful tile that looks like white-washed hardwood. Why did we do this? Because I'm hard on kitchens. While I wanted to create a beautiful space where I could shoot content for the blog, I also wanted a space that had a lot of function. I wanted everything to be durable and sturdy and actually work well.
I went with tile because spills happen and I know that I'm inevitably going to spill water or caramel or drop a pie. I wanted something that could take a beating and tile is it. This tile looks like white washed hardwood and so far so good! It's really amazing. We got a medium grey grout so I'm not on my hands and knees trying to scrub the grout.
Here's a link to the type of tile we used but seriously you can go to a lot of tile stores (I love Tap n' Tile in Pasadena) and you can find all sorts of different "grain-finishes" and "stains" that look SO much like hardwood but are tile.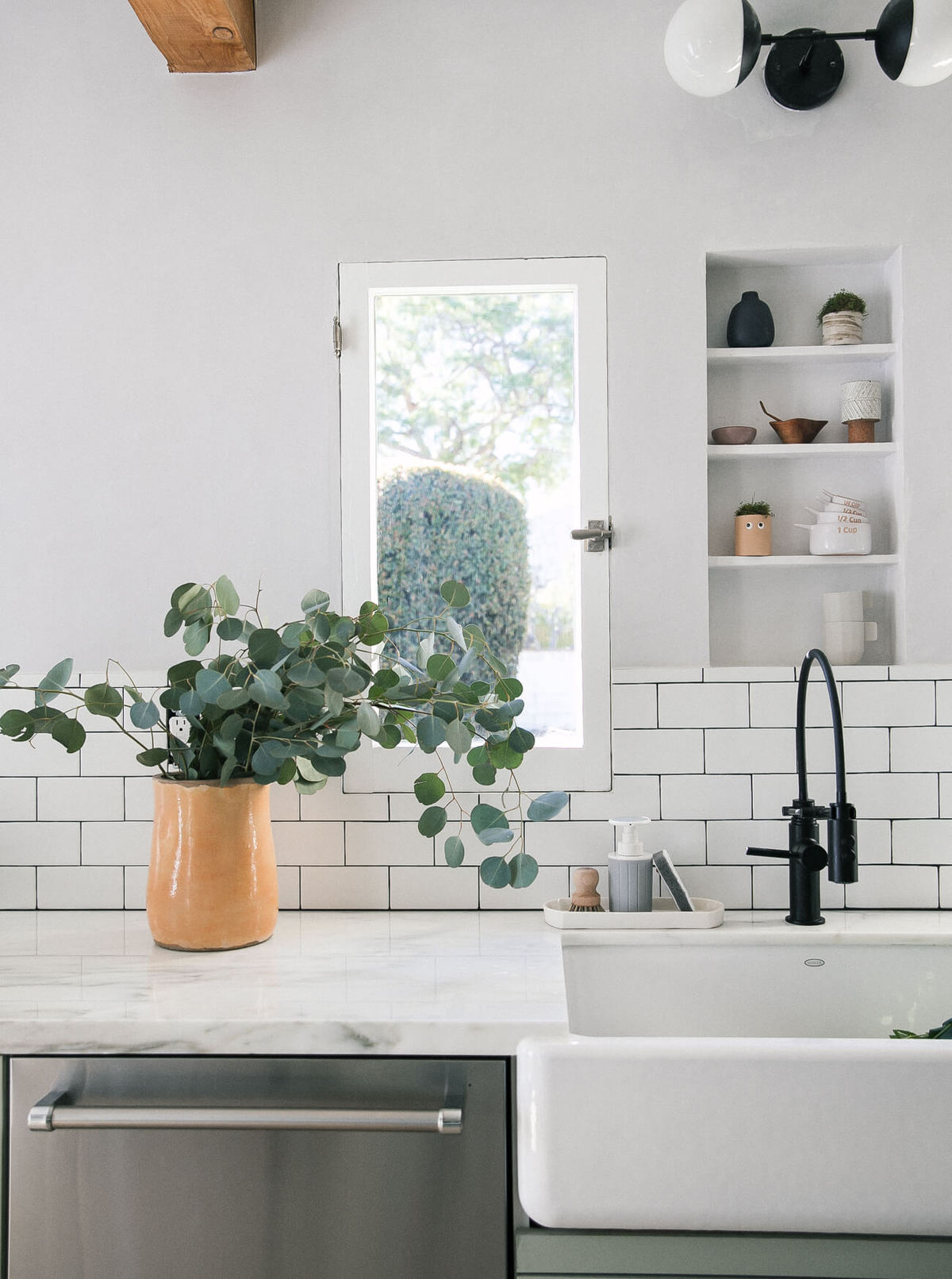 COUNTERTOPS
I decided to go with calacutta marble countertops. I knew that I would use the peninsula to shoot content on and I wanted the surface to be beautiful.
Once I settled on the sage green cabinets, I knew I wanted to find a slab that had a bit of green going throughout the marble. I found it, buried in a marble yard behind all of this other beautiful marble. It was forgotten about and had probably been there for months. I haggled with the guy and got it for about half off—-score!
I actually found the countertops and then picked the exact color of the cabinets based on what I thought would be complimentary. This order worked out for me and I would actually highly recommend it, especially if you're going with a piece of marble or caesar stone that is super unique in color and design.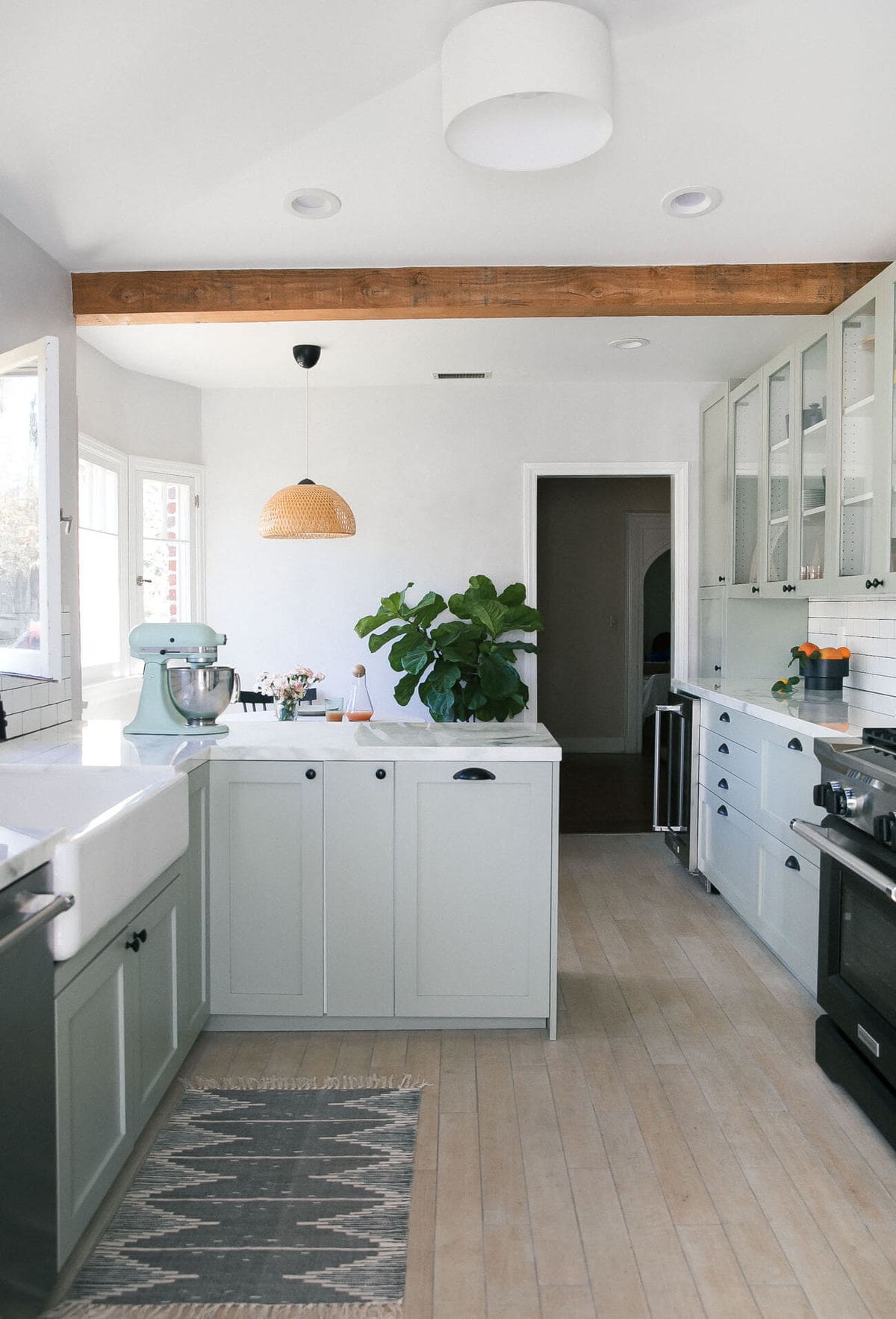 BACKSPLASH
I treated this kitchen very much like how I dress: a mix of highs and lows. I knew the countertops would be a splurge so I had to chill it with the backsplash. Initially I found this beautiful scalloped backsplash but that added up QUICK. It ended up being too expensive so I searched low and far for this perfect white subway tile. I didn't want it to be shiny but I also didn't want it to be so matte that stains would set in.
This was the perfect in between and I bought all the tile for $150—pretty good. I ended up going with black grout to match the hardware and I loved how it turned out. Subway tile can be a bit boring sometimes but I think if it's surrounded by other unique components it can be classic and chill.
Lastly, I want to give another big thank you to KitchenAid for supplying all of the appliances—they truly are a dream come true!! All of my opinions about their products are my absolute own.
I'm going to post a few other posts soon. I'm going to do a deep dive into the cabinets, working with a contractor for the first time and tips on designing your own kitchen sans designer! It should be fun!
Let me know if you have any questions or I missed any links below!
Welcome to the new and improved A Cozy Kitchen.
xoxo,
Adrianna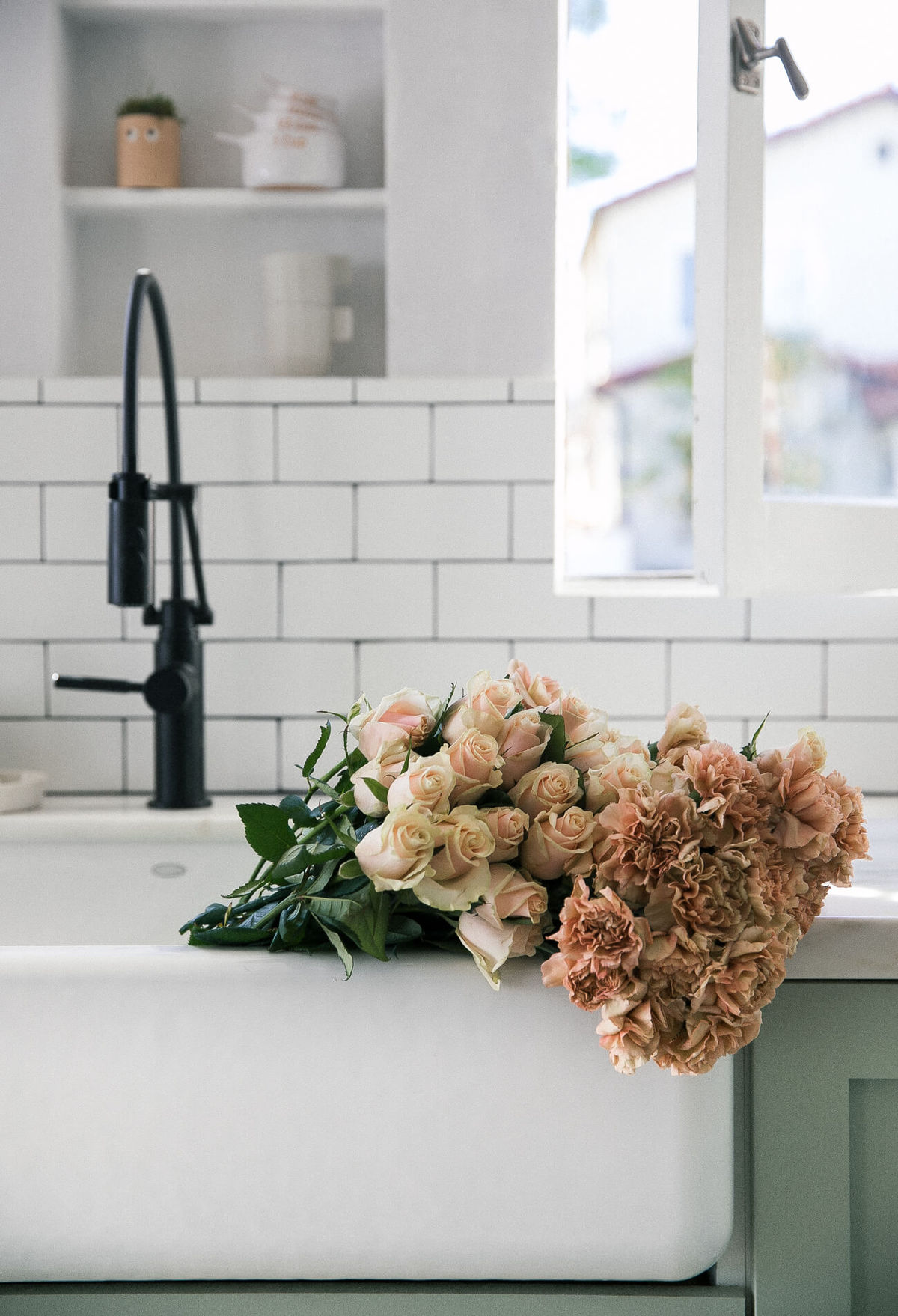 Here are all the links to the items that we used!
Appliances: KitchenAid | Cabinets (Ikea boxes with Semihandmade Fronts) | Farrow and Ball Paint for Cabinets | Knobs + Pulls | Floor Tile | Subway Tile (similar style online) | Calacutta Marble | Sconce from Cedar & Moss in Matte Black/Opal | Sink from Kohler | Faucet from Brizo | Grey Kitchen Rug | KitchenAid Mixer in Pistachio | Kitchen Chairs | Tea Kettle | Eye Ball Planter | Cup Measures | Soap Dispenser (I truly love this!) | Aesthetically Pleasing Kitchen Sponges | Wooden Dish Scrub | Kitchen Nook Lamp Shade | Center Kitchen White Lamp Shade | Espresso Cups from Hay Design