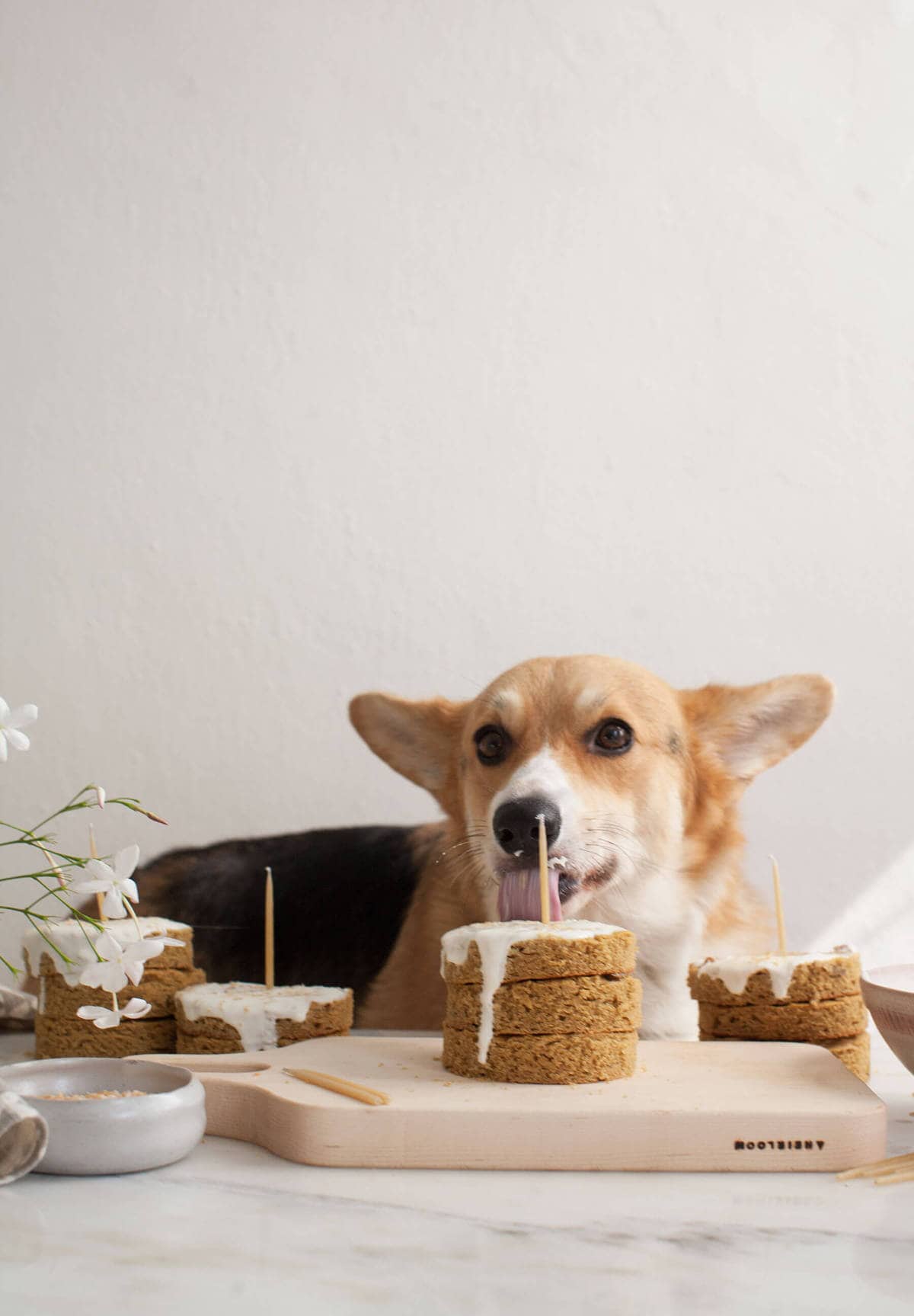 This Grain-Free Dog Cake is for Amelia!
Dear Amelia!
Happy Birthday. You're one year older, one year wiser, more cute and hopefully a bit calmer. Because man, were you a psycho as a puppy.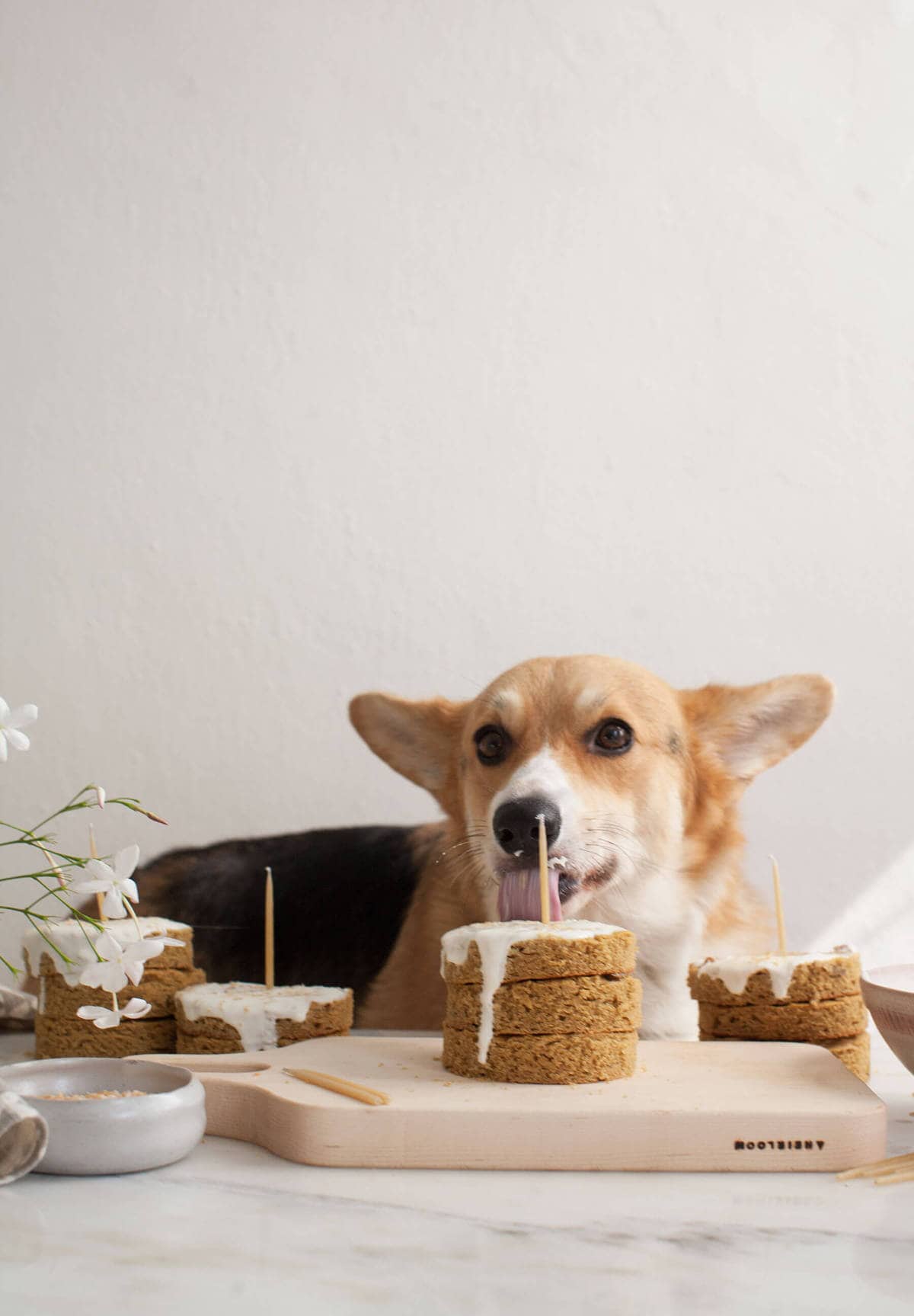 Sometimes when I look at you I wonder if a human has ever loved a dog as much as I love you. I sometimes wonder if my love can be so strong it can hurt you. And then I think about how bratty and spoiled you are and I begin to think yes. 🙁
Regardless, I have a whole lot of things to thank you for. Here's an on-going list.
1. Thank you for sitting on my feet and keeping them warm.
2. Thank you for waking me up every.single.morning v v early. This means I never have to set an alarm and am more productive so I can make more money to buy you bones.
3. Thank you for always eating all the crumbs off the kitchen floor. Because of you, I have to sweep a whole lot less…except for your hair, which is a whole other thing.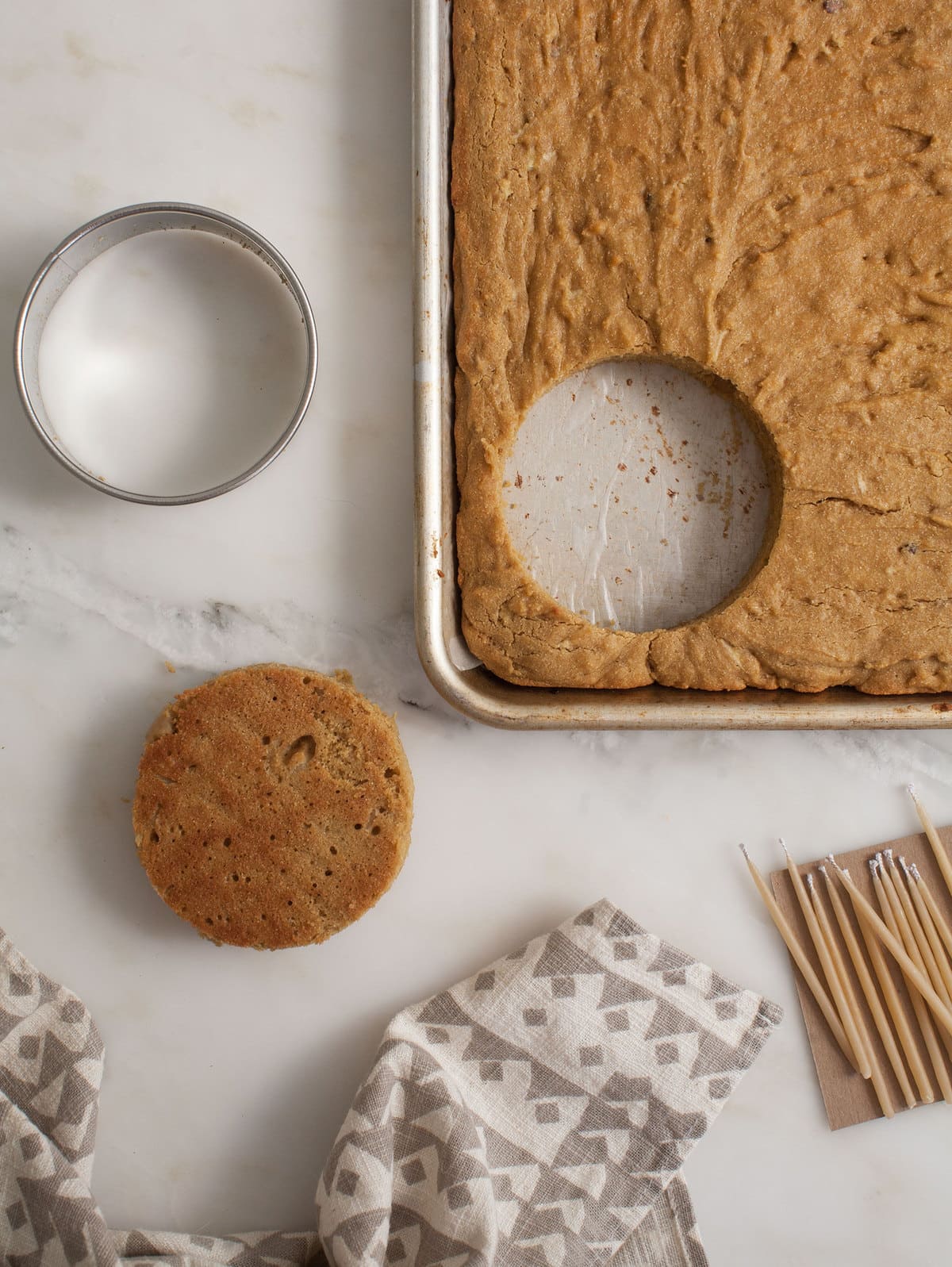 4. Thank you for barking when we sometimes hear scary noises. Maybe you've scared a robber or two away, who knows.
5. Thank you for always sitting next to me when I'm crying.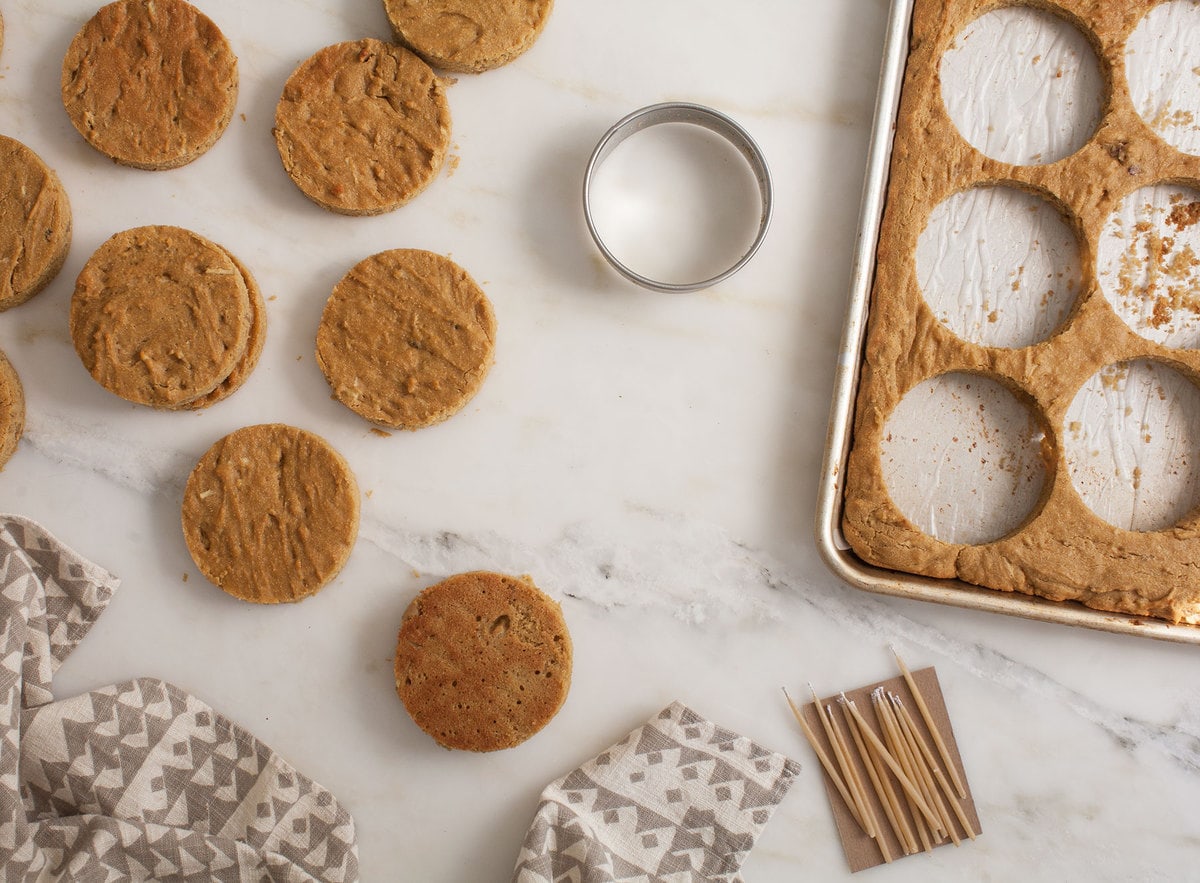 6. Thank you for loving peanut butter as much as me…and bread and popcorn and tortilla chips.
7. Thank you for needing lots of walks. I'm better off now.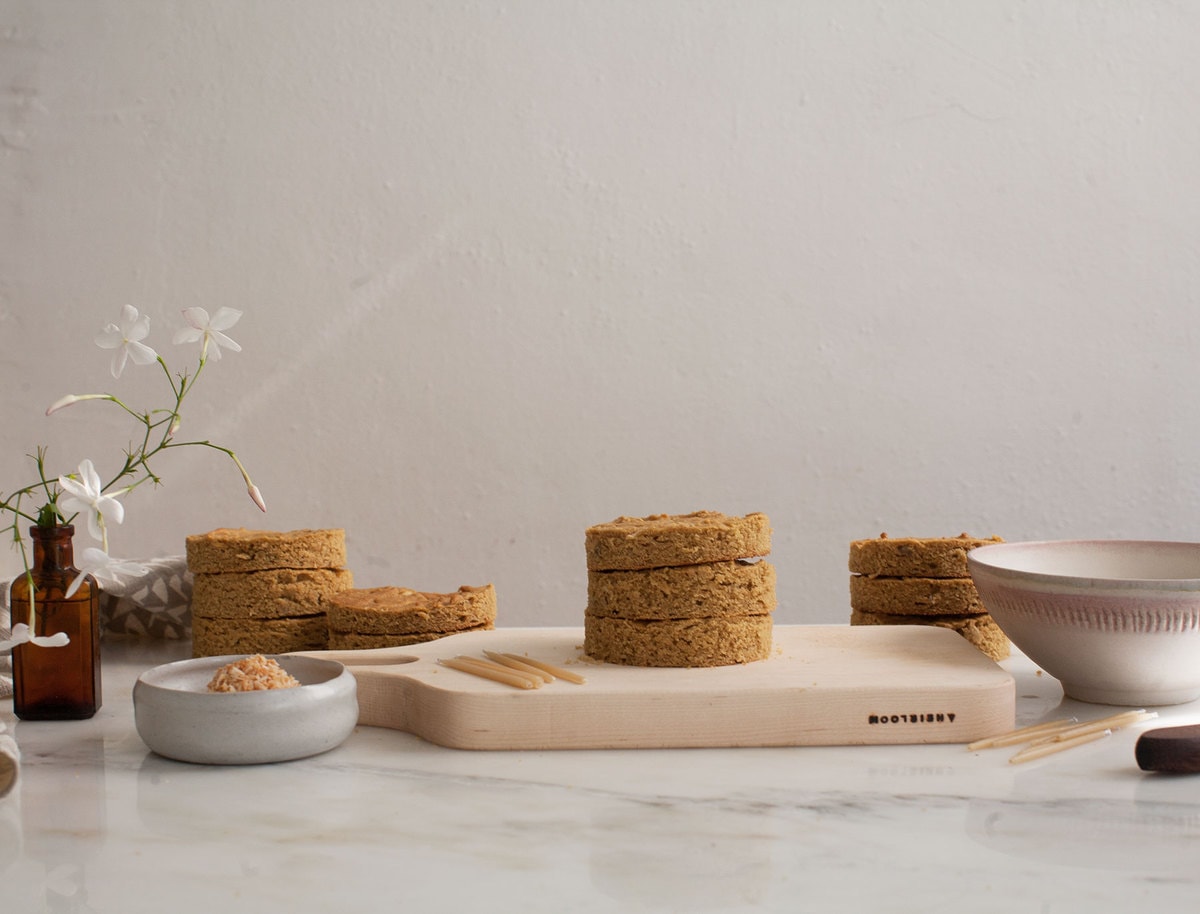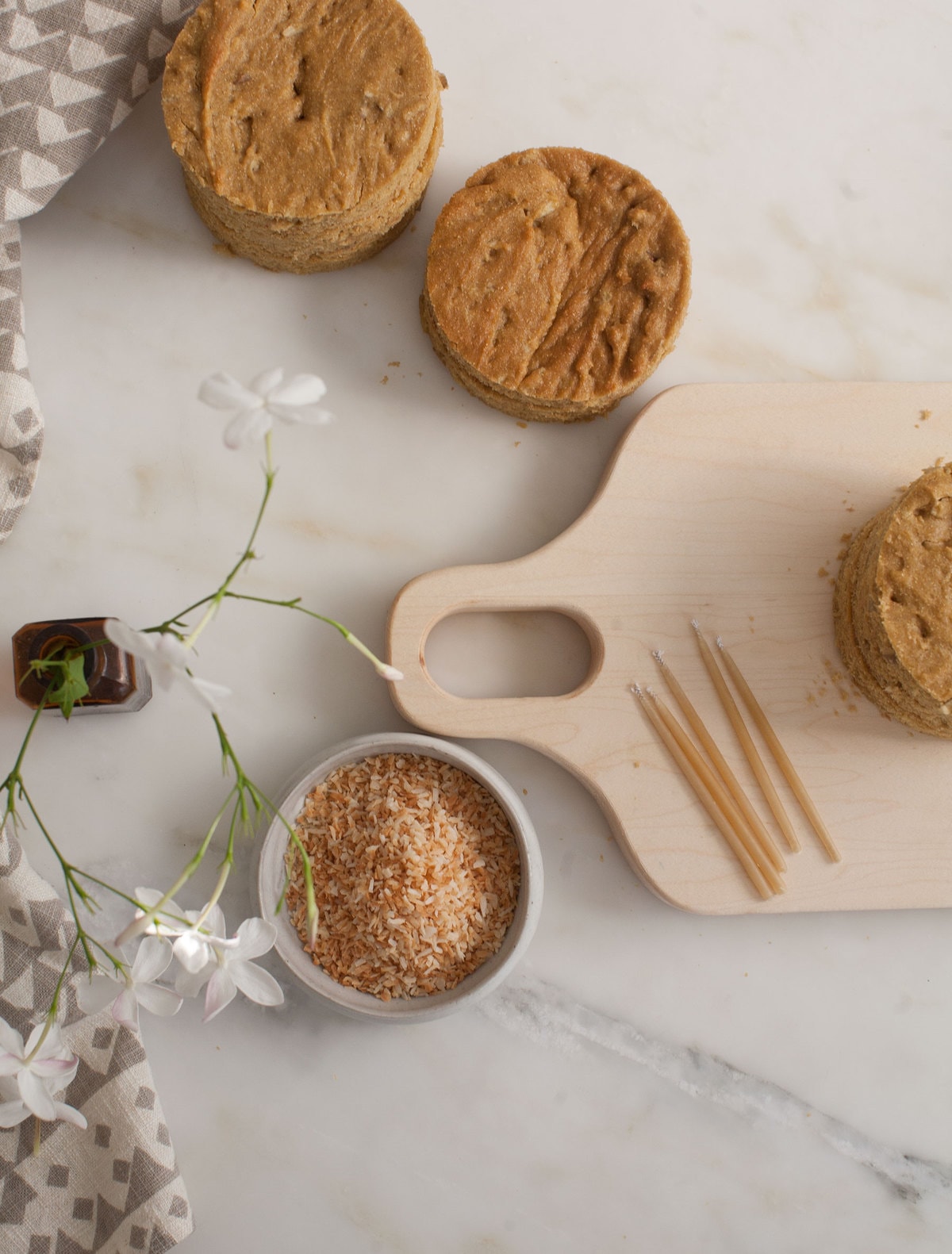 8. Thank you for having paws that smell like Fritos. They always remind me how much I love those chips.
9. Thank you for being so friendly with strangers. It's a reminder that strangers are good and a person can never have too many friends.
10. Thank you for loving so freely and openly and reminding me that the smallest moments in life are the ones I should keep close.
Happy Birthday, Amelia!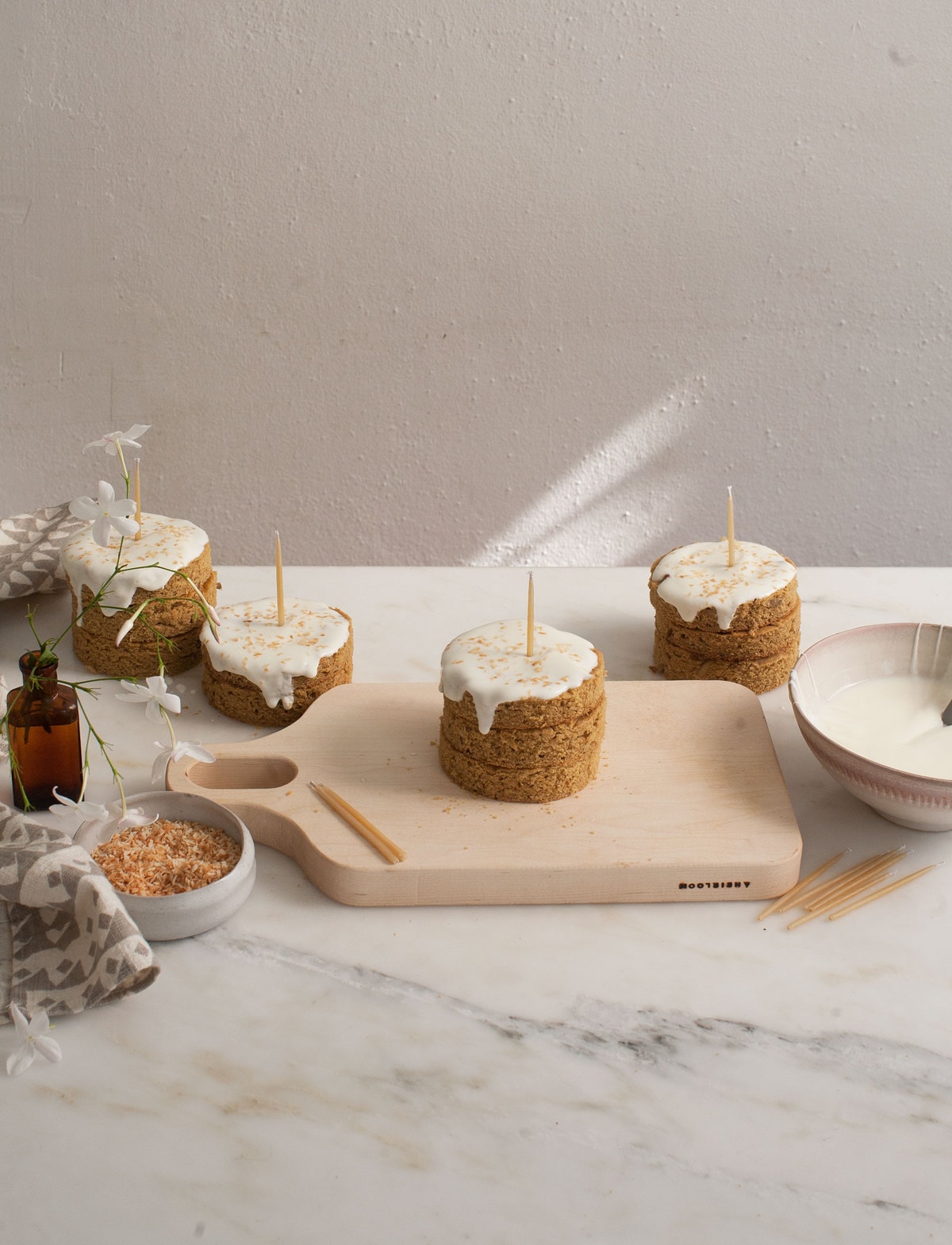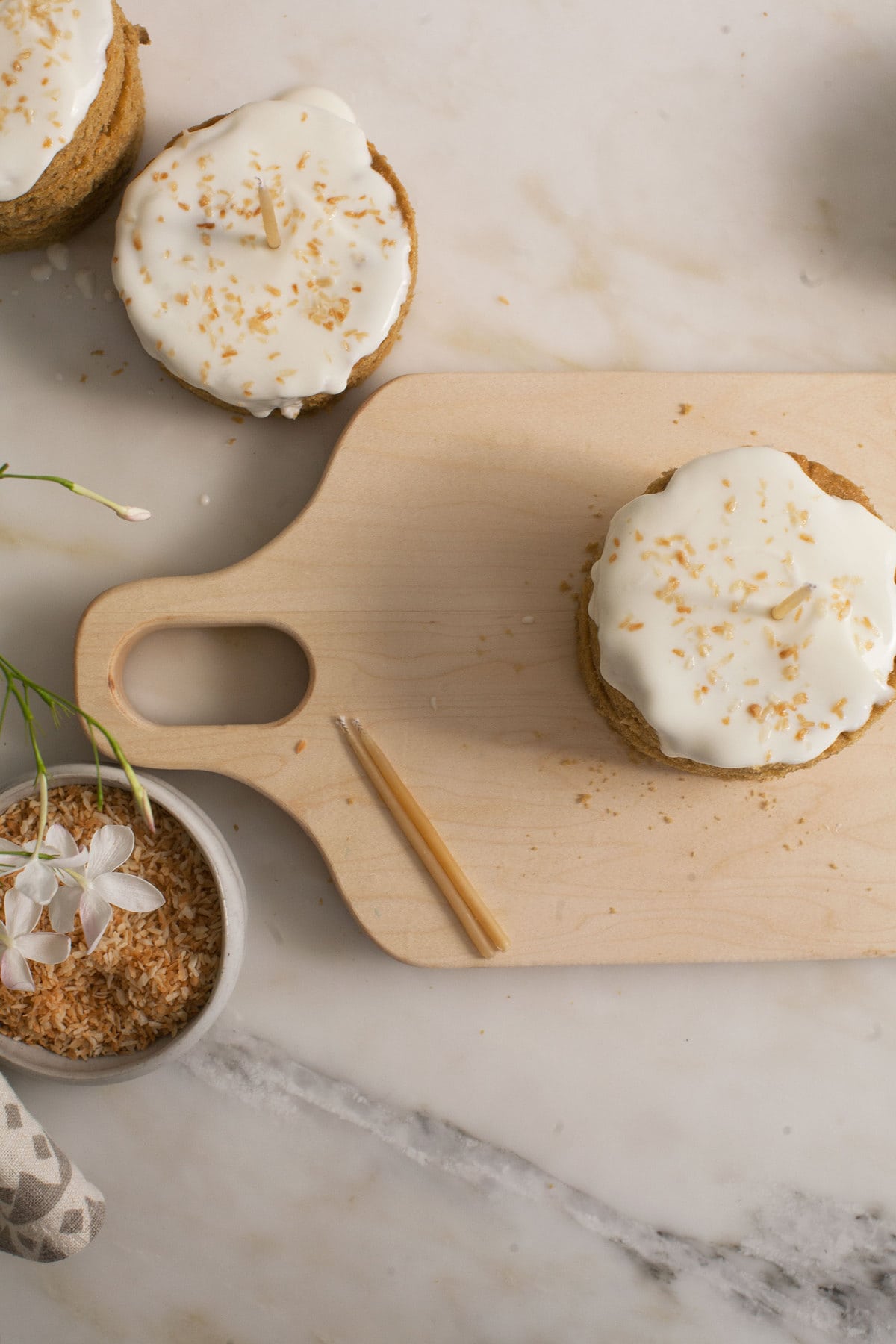 Grain-Free Dog Cake Time!
This recipe is adapted from the Grain-Free Doggie Doughnuts I have in The Year of Cozy. I basically doubled that recipe and BAM. Cake!
This recipe is completely grain-free, using garbanzo flour (just FYI it's way cheaper at the store than on Amazon, I just included this link as reference). High in protein and cheap in price, it's a good alternative. This cake bakes on a Baking Sheet" target="_blank">half baking sheet and then you cut the cakes out using a round cutter. If you don't have a cutter that's circular, you could also use a knife and make little square cakes. SO CUTE!
The frosting is a combination of Greek yogurt and honey. It has no thickener in it so it's a bit runnier than human frosting. This cake is topped with a bit of unsweetened coconut flakes.
This is either a very inspiration recipe for you or you think I'm incredibly strange and weird. And you're right. I'll be back on Wednesday with a human recipe that's pretty near and dear to my lil' heart.
xo
Adrianna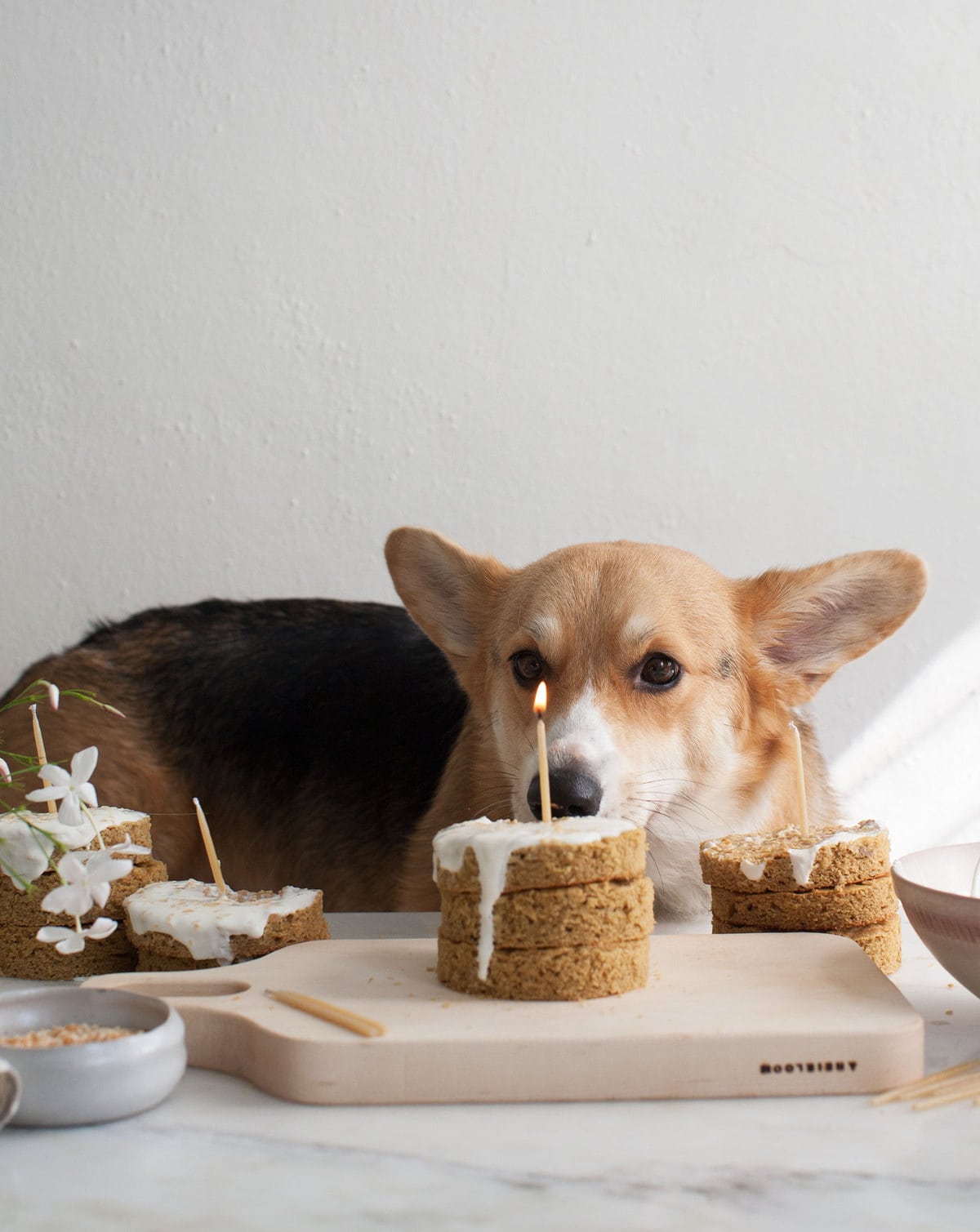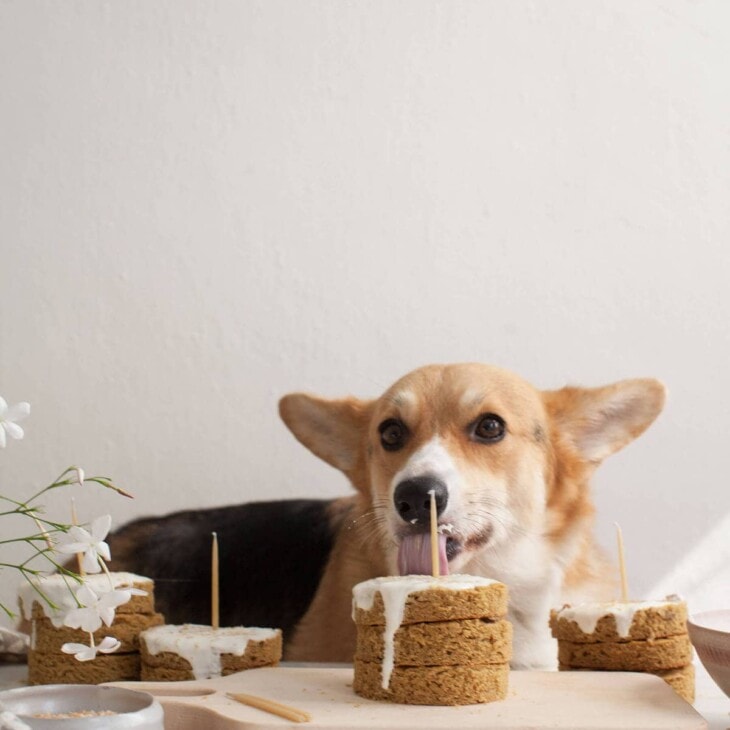 Print Recipe
Grain-Free Dog Cake
This Grain-Free Dog Cake recipe is perfect for your pup's birthday or any celebration to let them know they're special. Made from chickpea flour, this recipe is for all the dogs with grain allergies.
Ingredients
Cake:
4

cups

chickpea flour

2

teaspoons

baking soda

1

cup

natural creamy peanut butter

(stir to incorporate any oil on top)

1/4

cup

honey

6

tablespoons

melted coconut oil

(plus a teaspoon more for the baking sheet)

4

large eggs

1

cup

water

2

cups

shredded apples

(about 4 apples, peeled)
Frosting:
1

cup

Greek yogurt

2

tablespoons

honey
Topping:
1

tablespoon

unsweetened shredded coconut
Instructions
To make the cake: Preheat the oven to 325 degrees F. Line a 1-inch rimmed baking sheet (13 x 18 x 1 inches) with parchment paper. Brush the parchment and sides of the baking sheet with about a teaspoon of coconut oil or spray with cooking spray. Set aside.

In a large bowl, whisk together the flour and baking soda. Add the peanut butter, honey, oil, eggs, and water. Mix until completely combined and then fold in the shredded apples. Pour the dough onto the lined baking sheet and spread it out into one even layer. A spatula is pretty handy.

Transfer to the oven to bake for 15 to 17 minutes, or until the top is lightly golden brown and springs back when touched.

To make the frosting: In a medium bowl, whisk together the Greek yogurt and honey.

To toast the coconut: Add to a small skillet, set over medium-low heat, cook until lightly golden brown, moving the pan every now and then to ensure even toasting.

To assemble the cakes: Using a 4-inch round cutter, stamp out a series of small cakes. I got about 12 from my baking sheet. (Save the scraps for treats! Should be good for 1 week when put into a Ziplock bag and stored in the fridge.) Stack the cakes in threes or twos. Top with a dollop of "frosting" and a sprinkling of coconut flakes. Insert candles and party on!
Equipment I used: