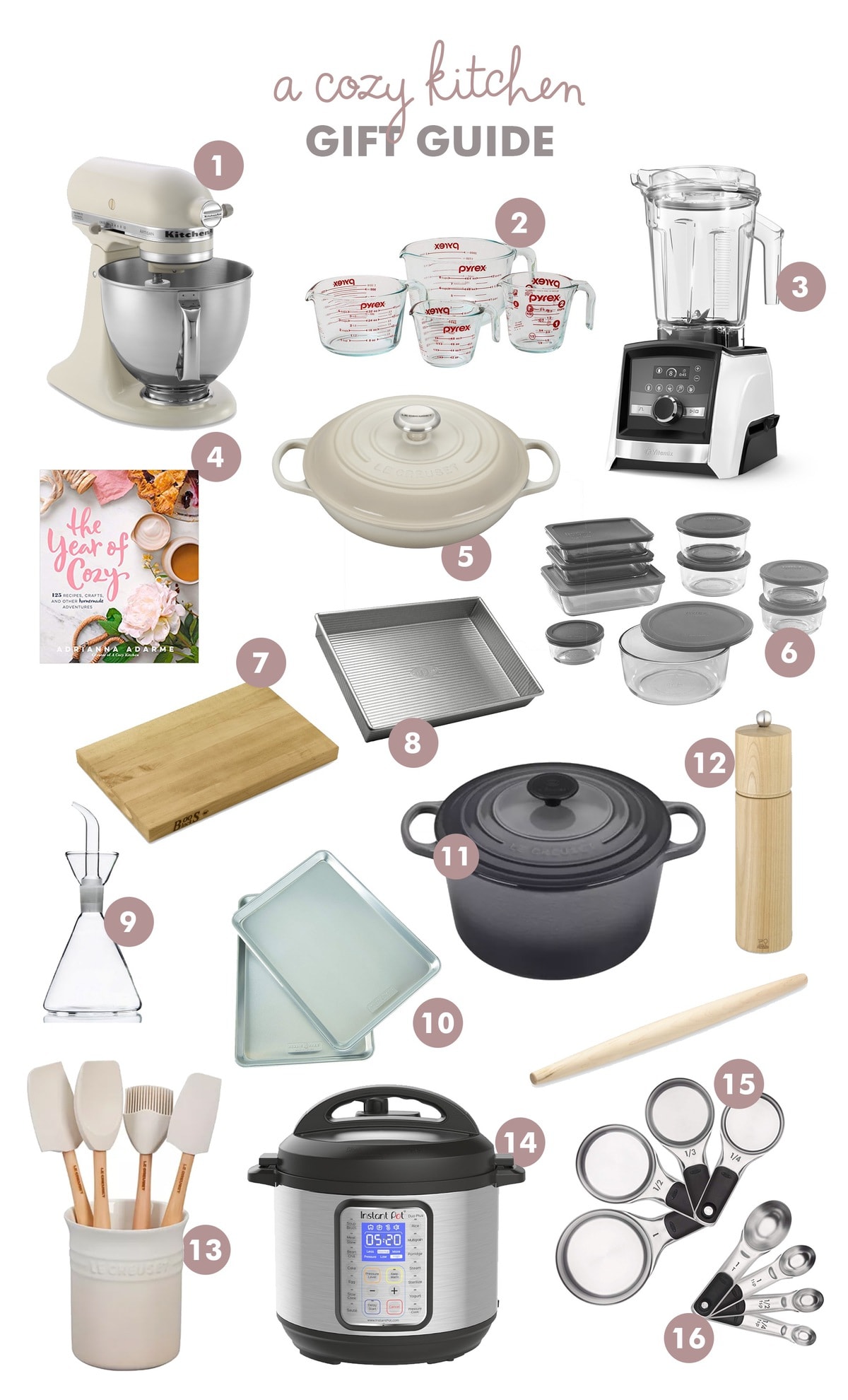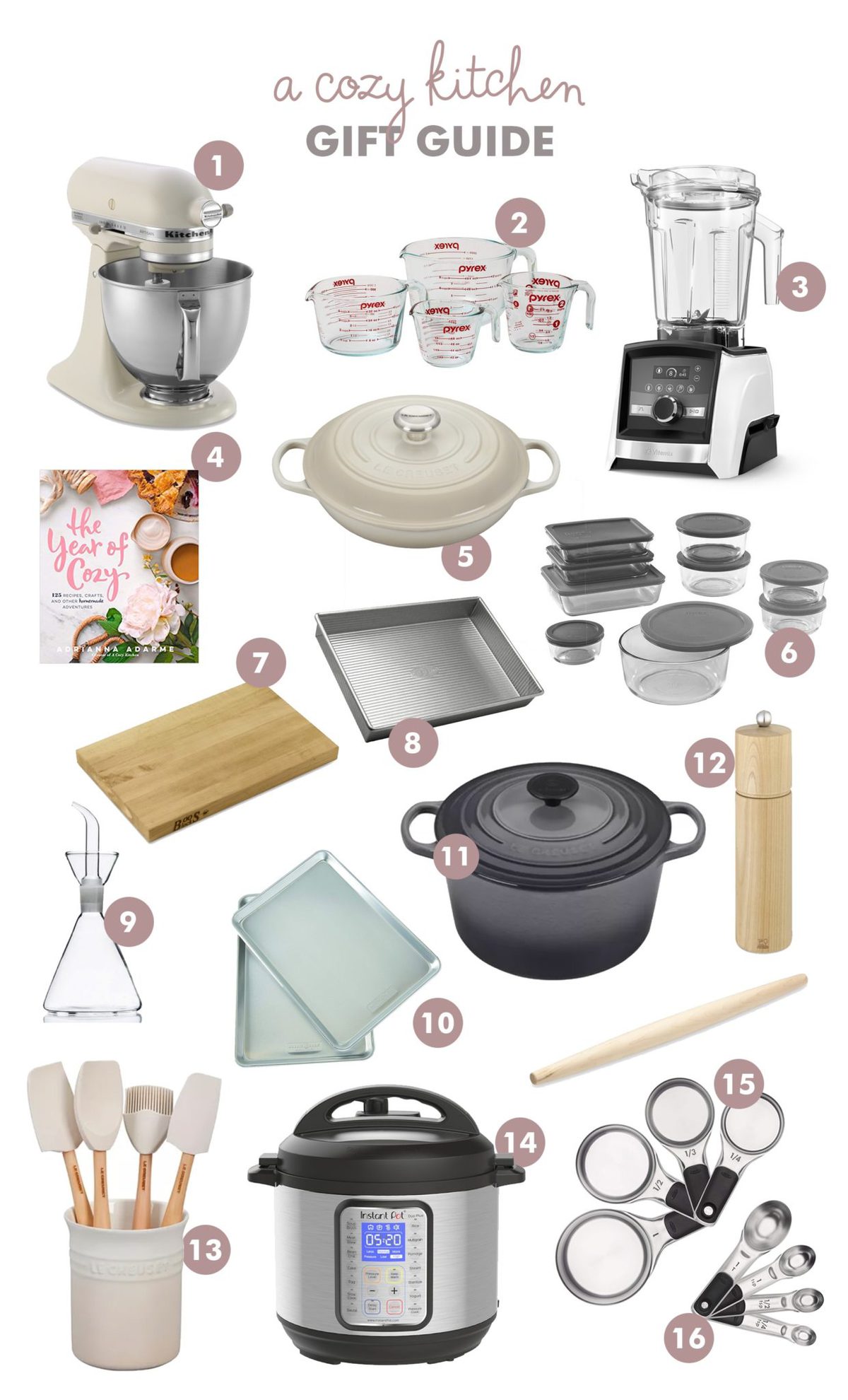 This A Cozy Kitchen Gift Guide 2020 is a list of tools and items I use on the regular! They help make cooking and baking easy, organized and stress-free. Buy them for yourself or your favorite human!
1. KitchenAid Artisan Mixer (Almond Cream) – I have this mixer (though I use the Architect KitchenAid which has since been discontinued *TEARS!*). I used the Artisan for years (and still have it that I keep as a backup). It's super pretty in this Almond Cream color.
2. Pyrex Measuring Set – I have two of these measuring sets and love it! I often times will treat the 8 cup like a big bowl for omelettes and pancake batters. The smaller ones always provide super accurate volume measurements. And I love that the glass doesn't absorb smells or stains.
3. Vitamix A3500 Ascent Series Blender – For years I had a Ninja and I LOVED it. It was super loud (the only caveat). I gave it to my mom and replaced it with this Vitamix. It's SO pretty and quiet. It blends up sauces, smoothies, soups and pestos like a dream.
4. The Year of Cozy – This is my cookbook which I personally *hello bias opinion!* think is a wonderful gift. AND there's a big deal on the book!
5. Le Creuset 3 1/2 Signature Cast Iron Braiser – I use this braiser for SO many things. Arroz con pollo, macaroni and cheese, roasting a chicken, etc. I have it in meringue and it's SO pretty, too.
6. Pyrex Meal Prep Set – I love these glass storage containers for food because, again, they don't stain or absorb odors. If I leave something in here that's turns scary (you know, because I forgot about it), all it needs is a trip to the dishwasher with some super hot water.
7. Boos Block (in Medium Size) – I love this Boos Block though I use it for things that don't stain (like bread, some vegetables and making a sandwich).
8. USA 9×13 Cake Pan – I'm a sheet pan enthusiast (evidence: here, here , here and here). And am actually buying this for myself this week because my old 9×13 cake pan has gone through the ringer and *cough* my husband might've ruined it.
9. Olive Oil Dispenser – I've had this for a few years and use it daily! It's another thing that lives right next to my stove and I grab for it on the regular.
10. Nordic Ware Half Sheet Pans – I have a handful of these sheet pans and I use them for everything from baking cookies to roasting vegetables to even roasting a turkey. The 1-inch rim that goes all the way around makes them very versatile. And the light colored stainless steel won't burn your cookies or biscuits.
11. Le Creuset 5 1/2-quart Dutch Oven – These Dutch Ovens come in a few sizes: 3 1/2 quart, 5 1/4-quart and 7 1/4-quart. Buy according to the size of the friends and family you cook for. For me, I use the 3 1/2 quart ALL the time. And I love the 5 1/4 quart, too.
12. Peugot PepperMill – This is another thing that is parked right next to my stove and it's amazing. I've had it for a few years now and it's equally pretty and attractive and efficient.
13. Le Creuset 5pc. Utensil Set (in color "Meringue") – This is a new addition to my kitchen and it's so pretty parked right next to my stove. The spatulas are super sturdy and the brush tool is my favorite because it's nice and wide.
14. Instant Pot 6-Quart – I love my Instant Pot and I use it ALL the time. Billy gifted this to me last Christmas and I use it at least once or twice a month. During colder months, even more often!
15. OXO Stainless Steel Cups – I used to use cute measuring cups but now I'm more practical and I want guaranteed reliability and accuracy. These cup measurements are great.
16. OXO Stainless Steel Measuring Spoons – These measuring spoons are super accurate and I love that instead of having that annoying ring that holds them together, they're magnetic so they secure together.
(A Cozy Kitchen Gift Guide 2020 contains affiliate links. I may earn a small commission from purchases!)