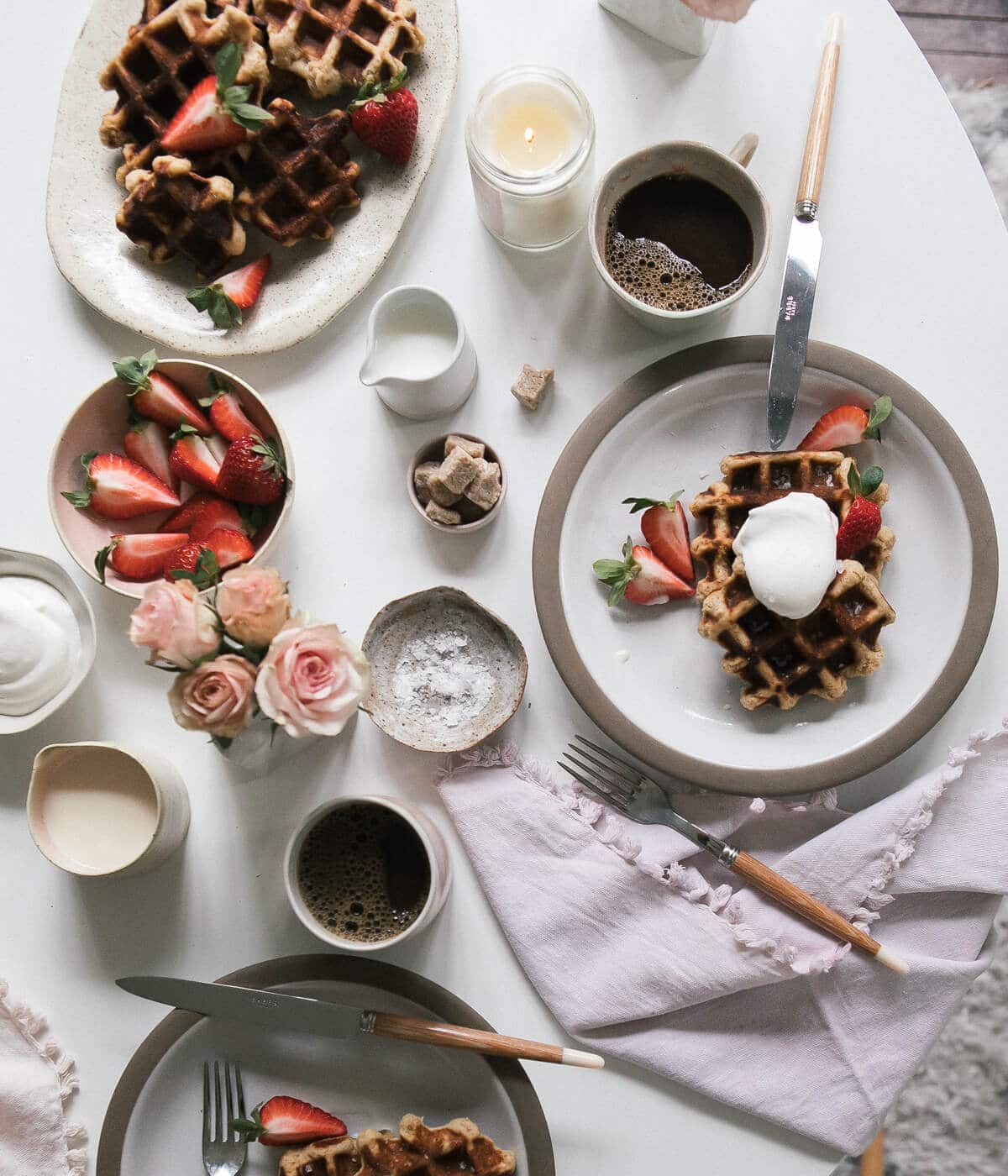 My autocorrect likes to change "leches" (aka "milks") to leeches. VERY DIFFERENT, OK. Leeches also remind me of that gross scene in "Stand By Me" when all the boys decide to go swimming in the pond and then…EW.
These are the opposite of those. I should've never even mentioned my autocorrect…because I've sort of grossed myself out. SO MOVING ON.
I'm currently on a flight to the east coast for a fun-filled weekend where I run around with my head cut off and (hopefully) pet some farm animals and hang out with my mamí and abuelita. Ideally, there will be baby farm animals. We shall see.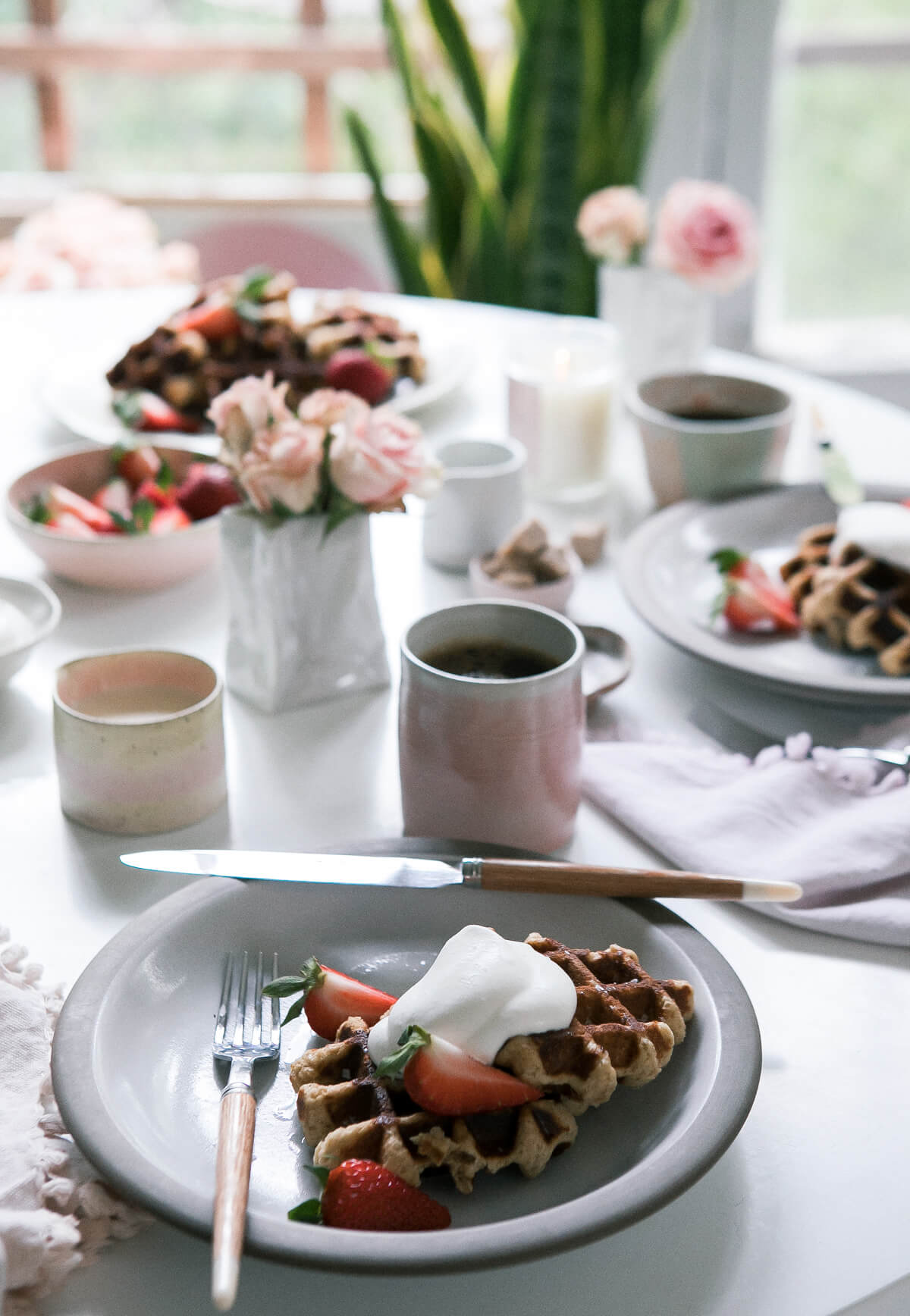 I've been trying to make these waffles for a while and finally did it! They've been on that list to-make for long long time. I love anything tres leches but I'm pretty certain that in order to "tres leches" something, you really need to make sure that it can stand up to liquid. The point is for it not to be soggy.
My typical go-to crispy Belgian-style waffles wouldn't stand-up to the extra sauce. (I'll share those one day!)
So I needed to find something that was thicker and tougher (not in a bad way!). I think I found it with this Leige-style waffle. Josh had been testing waffles a lot and he really loved this recipe from The Kitchn.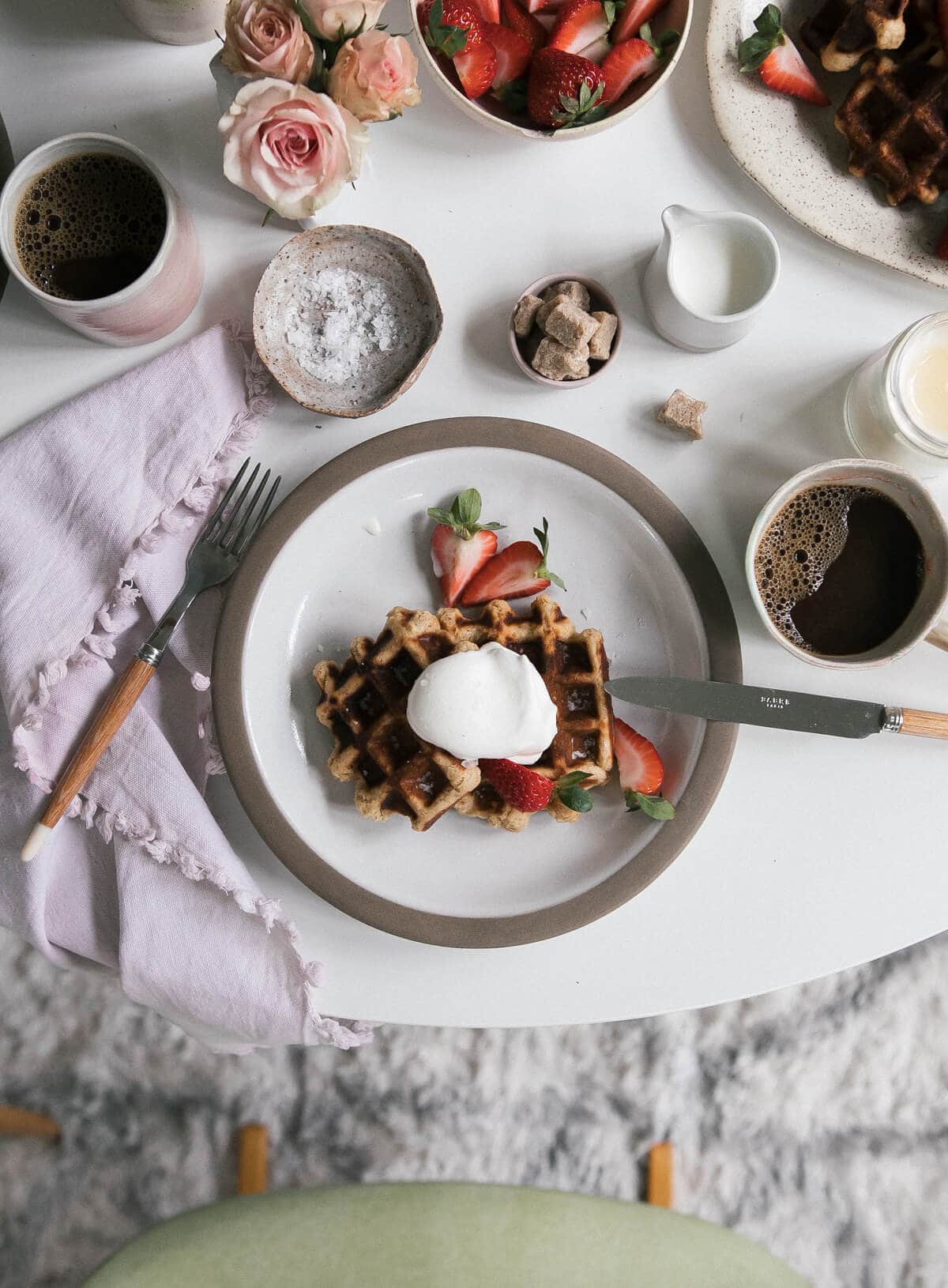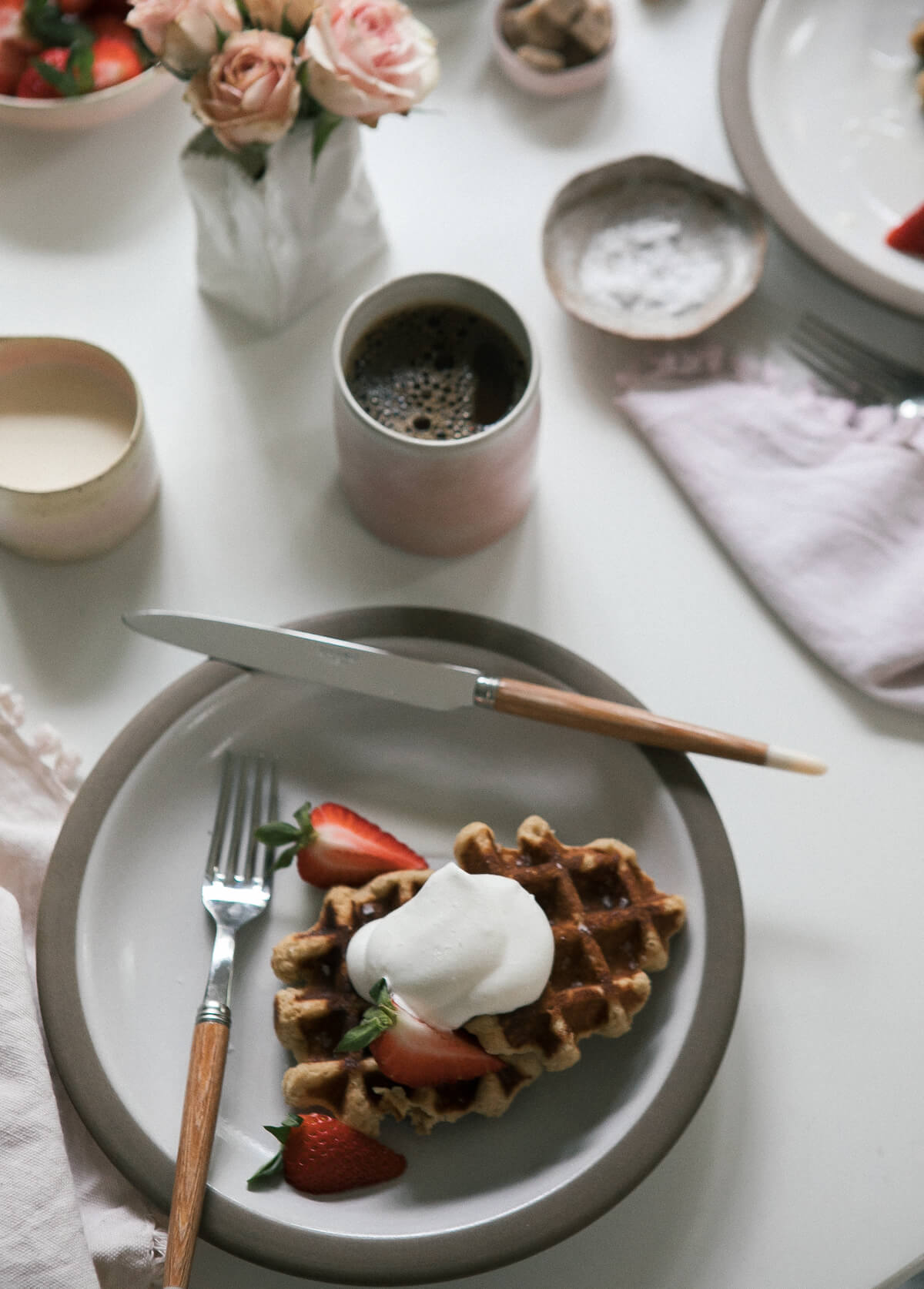 I made some tweaks, making it a bit easier for you and me. I used all-purpose flour because I ran out of bread flour so I made due. AND LOVED THEM. I also decreased the sugar to make-up for the sweetened condensed milk liquid we pour on the plate before we put the waffles on them.
And the whipped cream is not sweetened at all because we really don't need it. One thing that this recipe DEFINITELY requires is a pinch of Maldon sea salt at the end. The sweet/salty thing is so amazing.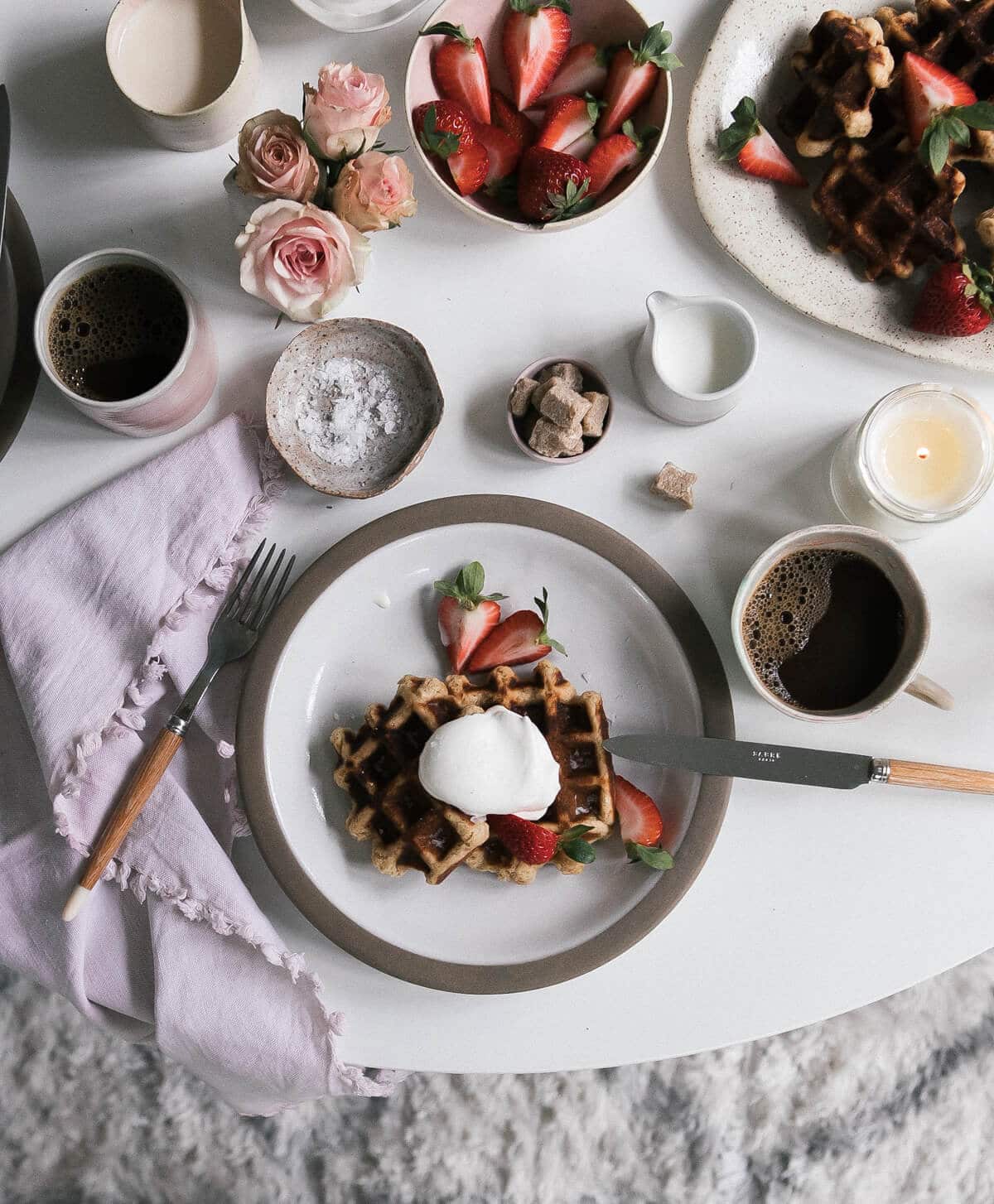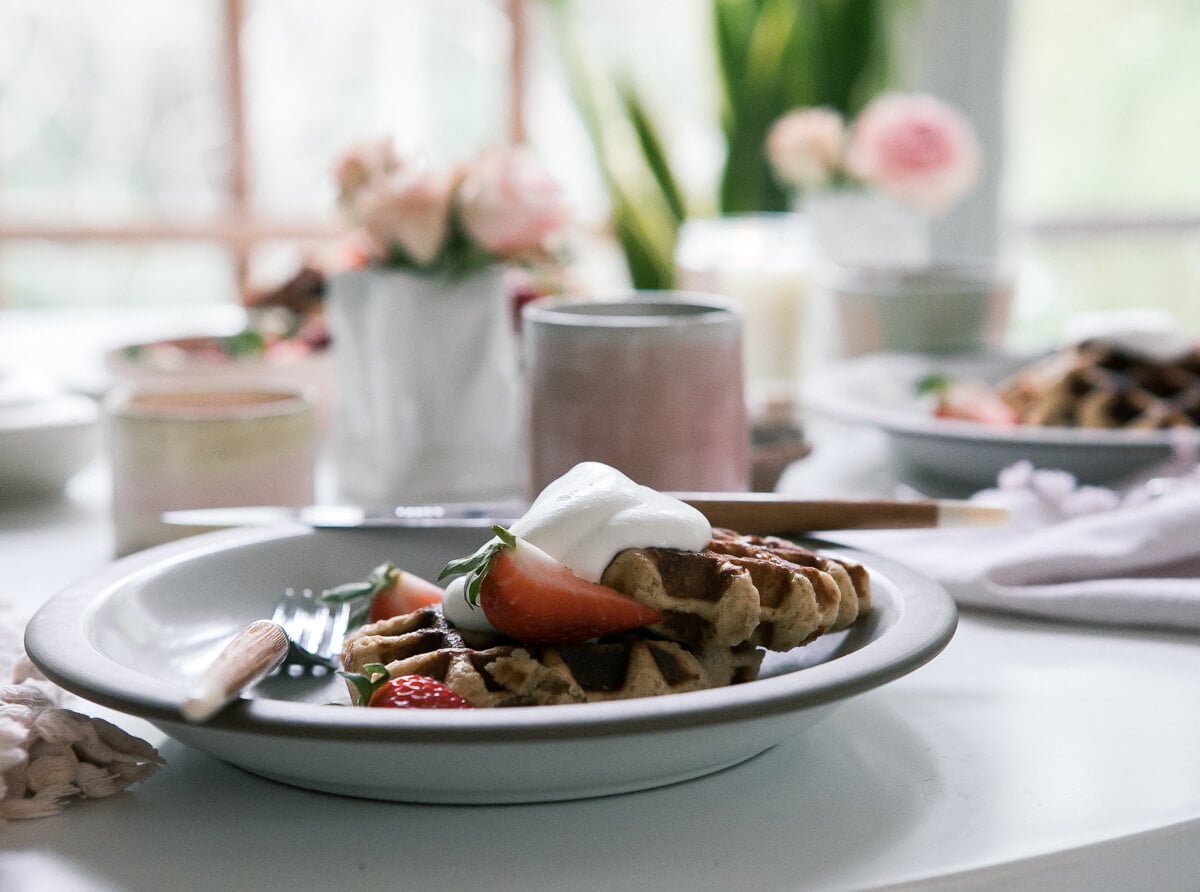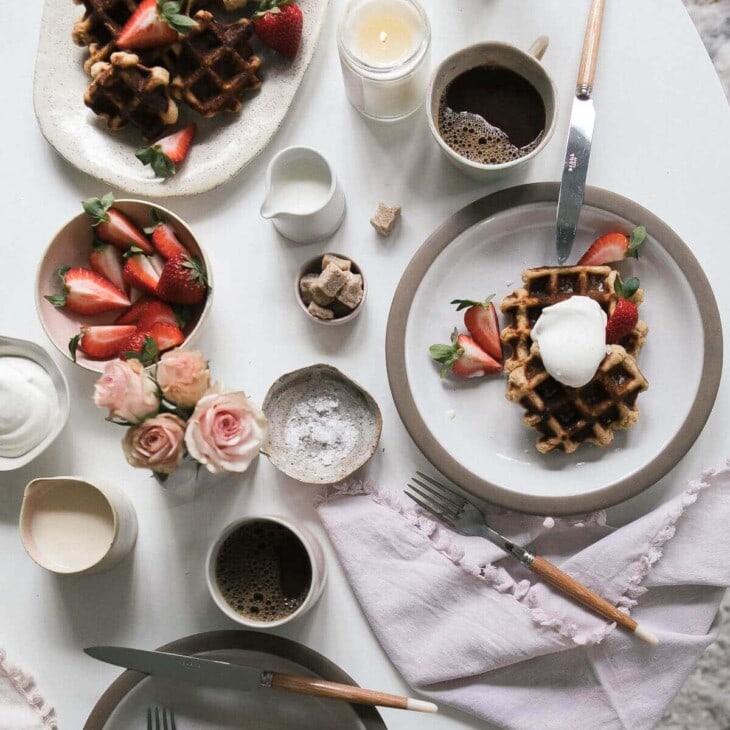 Print Recipe
Tres Leches Liege Waffles
Ingredients
Waffles:
¼

cup

plus 2 tablespoons warm milk

no hotter than 110°F

½

teaspoon

white granulated sugar 


2

teaspoons

instant yeast

1 ¾

cups

all-purpose flour

1

teaspoon

cinnamon

1

teaspoon

pure vanilla past or 2 teaspoons pure vanilla extract

¼

teaspoon

salt

1

large egg

1

large egg yolk

½

cup

unsalted butter

cubed and at room temperature

70

grams

turbinado sugar or pearl sugar

Cooking spray

for waffle iron

Fresh strawberries

for serving
Tres Leches:
¼

cup

sweetened condensed milk

⅓

cup

whole milk

⅓

cup

heavy cream
Instructions
To a measuring cup or small bowl, add the warm milk, sugar and instant yeast. Allow to stand for about 5 minutes, until the yeast has turned nice and foamy.

To the bowl of a stand-up mixer, with the hook attachment, add the all-purpose flour, cinnamon, vanilla paste or extract, salt, egg and egg yolk. Mix until fully combined. The dough should be kinda shaggy. Place a clean kitchen towel over the bowl and let it rest in a warm place for about 30 minutes. I turned my oven to 200 degrees and placed the bowl on the stove-top burner.

Place the bowl back on the stand-up mixer, and beat in the butter, piece by piece. When the butter is incorporated into the dough, turn the mixer to medium-high and keep mixing until the dough is smooth, scraping down the sides of the bowl as needed.

With the mixer on low, pour in the sugar and mix just until evenly distributed. Using a cookie scoop or a tablespoon, scoop out the dough into dollops of 10 and place them on a cutting board.

Allow to stand in a warm place for an additional 15 minutes.

Meanwhile, let's prep the milks! In a small measuring cup, combine the milk and sweetened condensed milk and whisk until smooth. Beat the heavy cream until soft peaks form and set both aside.

Preheat your waffle iron and spray with cooking spray. Cook the waffles per the manufacturer's instructions.

BUT, as a guide, because most of them are the same, I cooked mine for about 2 minutes long. They were perfect at the 2-minute mark.