Tomato Hatch Chile Soup is a great way to spice up the classic. The tomatoes and hatch chiles are roasted too, adding that much more flavor to the soup. Paired with a grilled cheese, it's perfection.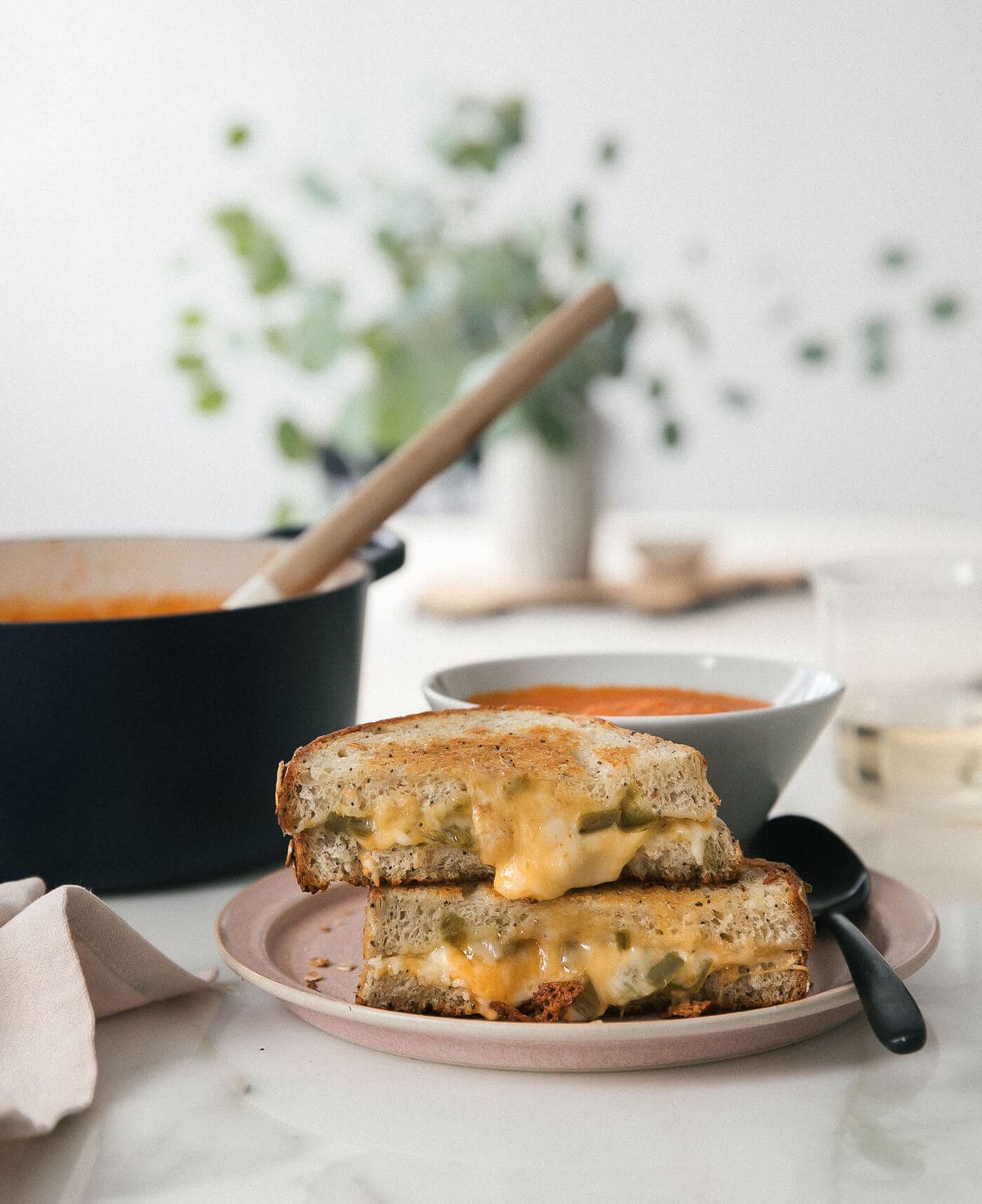 I had a dream that I directed a documentary about La Croix. I honestly have no idea what prompted this insane dream. Yes, I love that sparkling water but for it to appear in my dreams as my next creative venture is a bit weird. But maybe they have an exciting backstory—who knows!
Anyway, I know that everyone is screaming FALL at the top of their lungs (especially Michael's Craft Store. I mean they had autumnal wreathes in July). And yes, maybe I caved and ordered a slice of pumpkin loaf at Starbucks like two days ago, however, I am a huge advocate for stretching each season until the last very bit.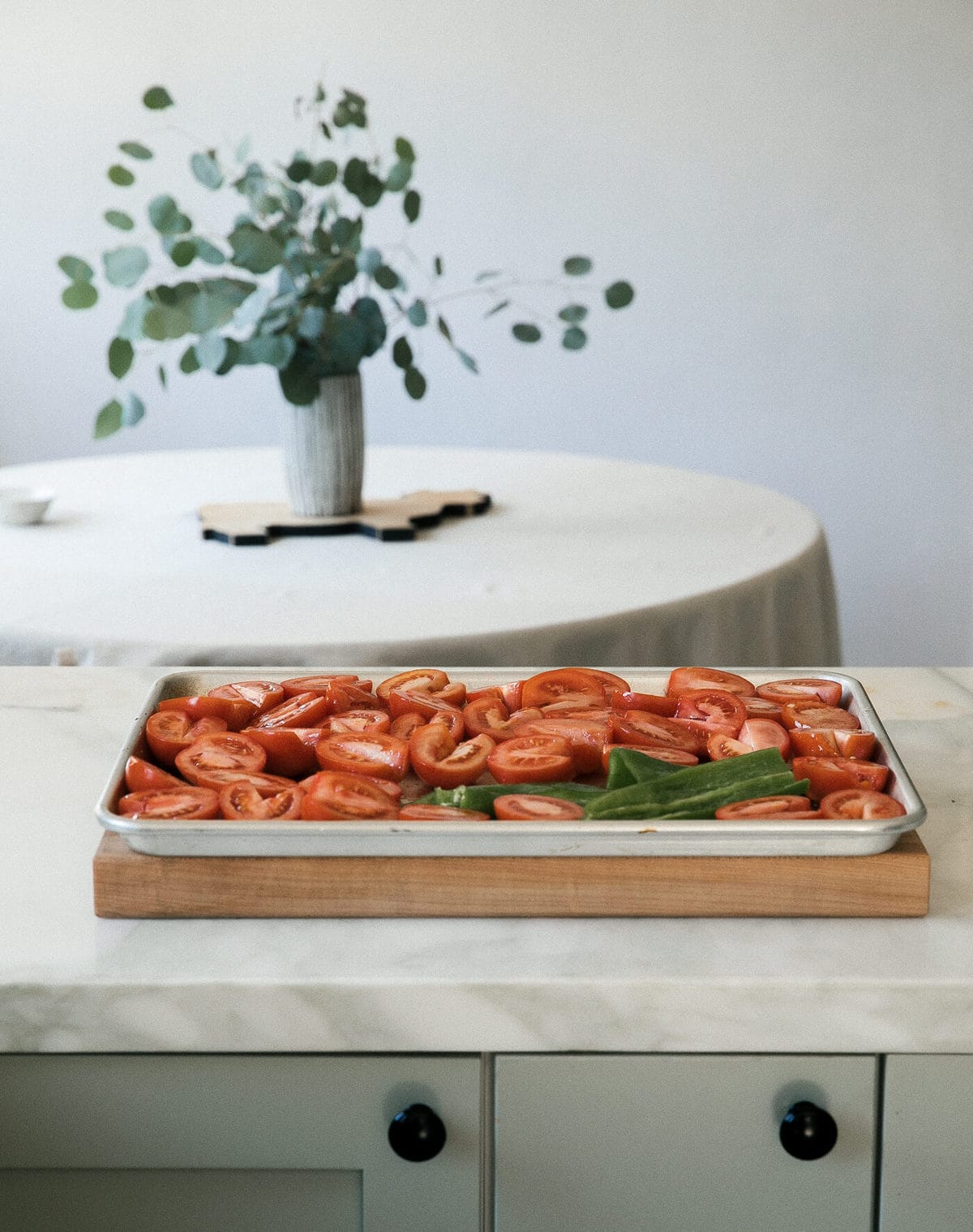 Tomatoes are pretty much at their best toward the end of summer. They are juicy and delicious AND the best part is that it's not super hot in Los Angeles right now so a bowl of soup isn't totally out of the realm of possibility.
While this soup does take a bit of time due to the tomatoes roasting, it's super hands-off. The tomatoes roast in the oven with the hatch chiles. And then it's just blended all up with a bit of cooked onion and garlic. One more trip to a pot to simmer and that's it.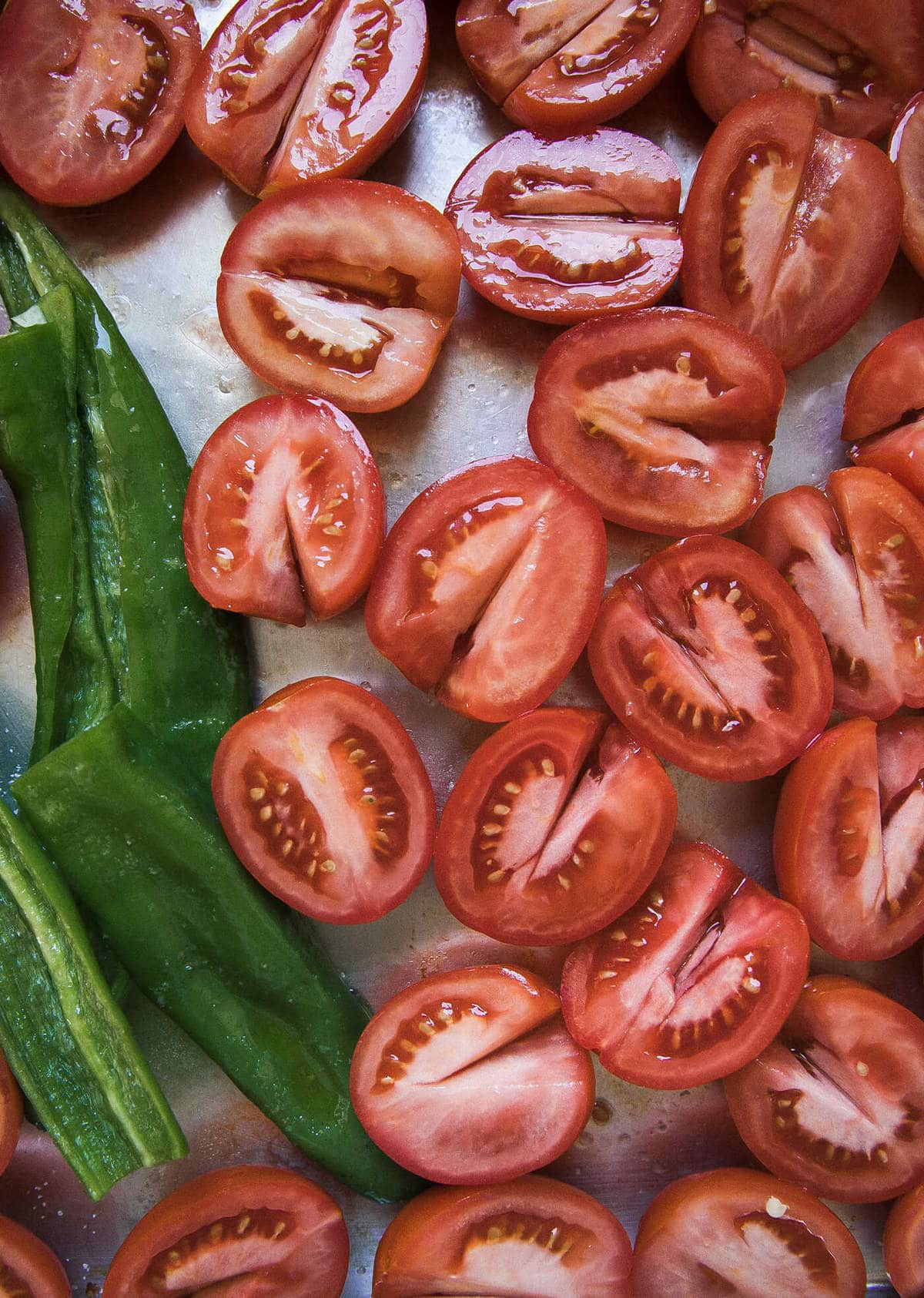 What are Hatch Chiles?
Hatch green chiles are chiles that are grown in a specific region of New Mexico. They usually have a small window of time when they're in season and you find them at all the grocery stores during that time. If you can't find them, anaheim chiles are a good substitute.
How to Make Tomato and Hatch Chile Soup:
Roast. Prepare all the vegetables and transfer them to a baking sheet. Roast until nice and softened.
Cook the aromatics. Sauté the onion and garlic until softened then transfer to a blender.
Blend! Add the tomatoes and hatch chiles to the blender and blend until smooth.
Bring it all together. Transfer the soup to a pot and bring it to a simmer. Cook for 10 minutes to bring all the flavors together.
Make a grilled cheese. It's a crime to make tomato soup and not make a grilled cheese! I've also included an extra roasted hatch chile in the recipe for you to make a roasted hatch chile grilled cheese.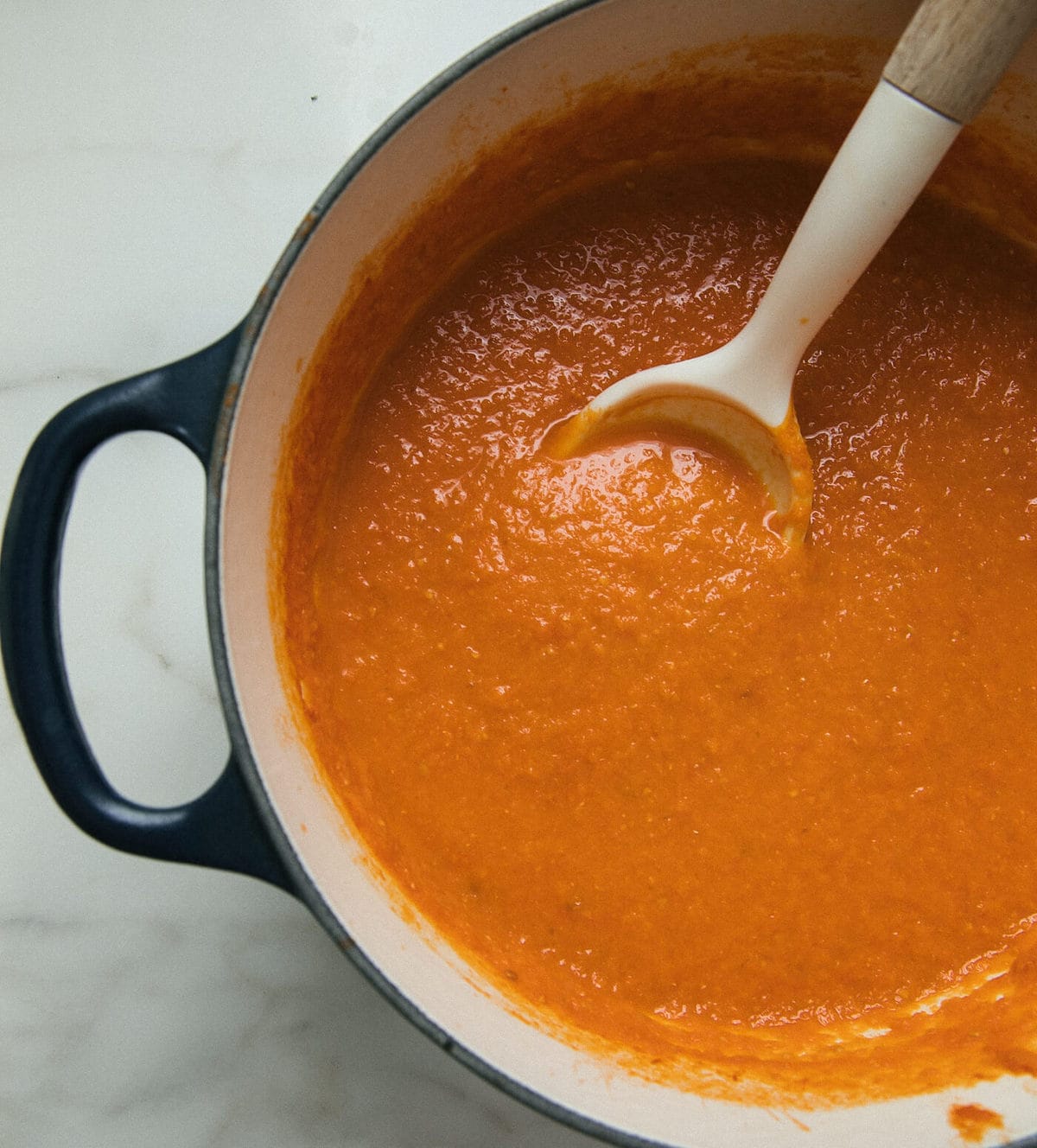 Tips and Tricks:
You can make portions of the soup ahead of time, the roasted tomatoes and hatch chiles can be refrigerated overnight and then blended the next day if you'd like to make the soup that way.
Use anaheim chiles if you can't find hatch chiles.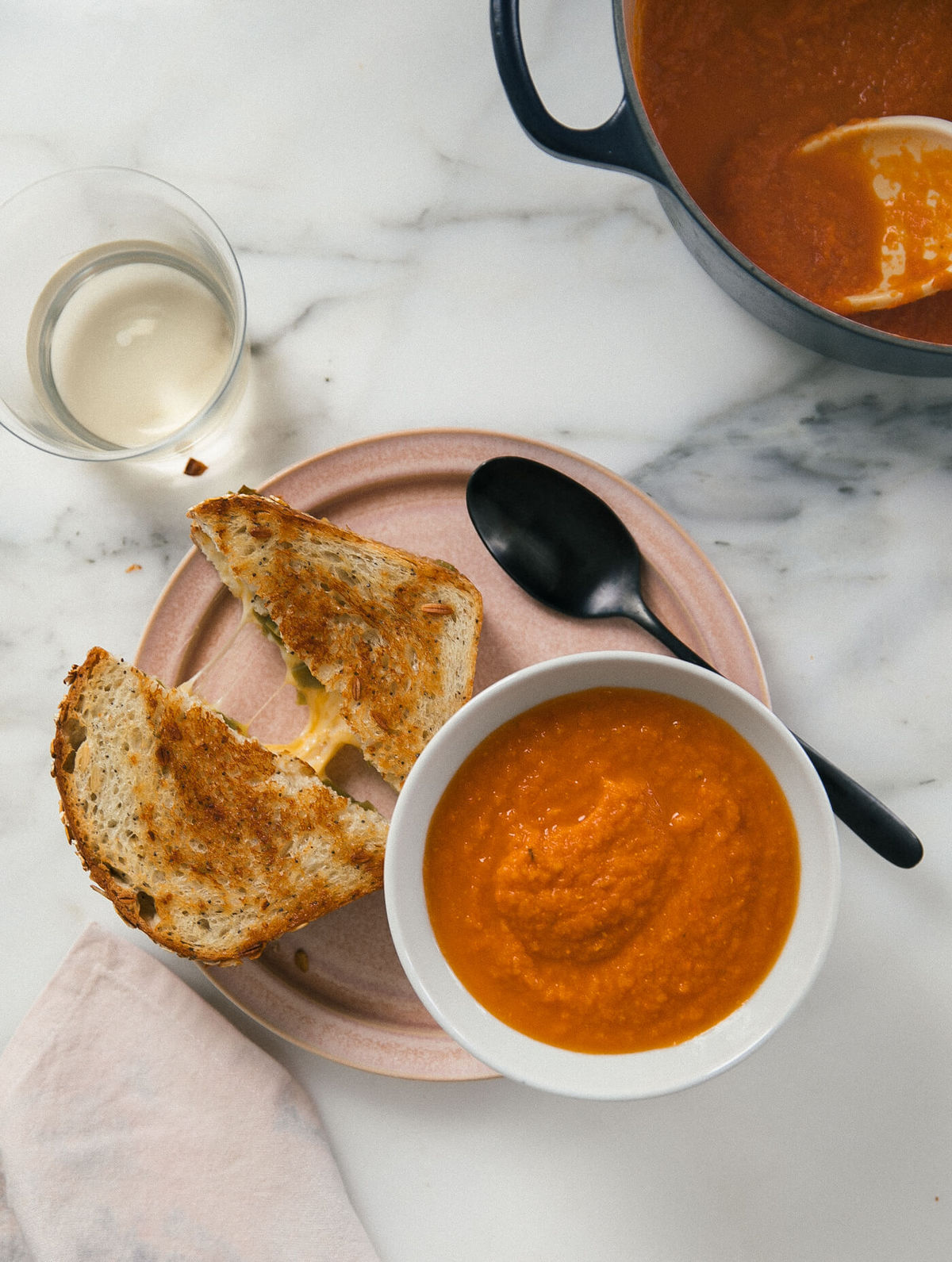 Can I Freeze Tomato Soup?
Yes! Soups freeze really well, just let the soup cool completely then transfer to a zip top bag and lay flat in the freezer to freeze. When you're ready to eat the soup just let it that in the refrigerator or place the bag in some hot water to soften then put the soup in a pot to finish heating up.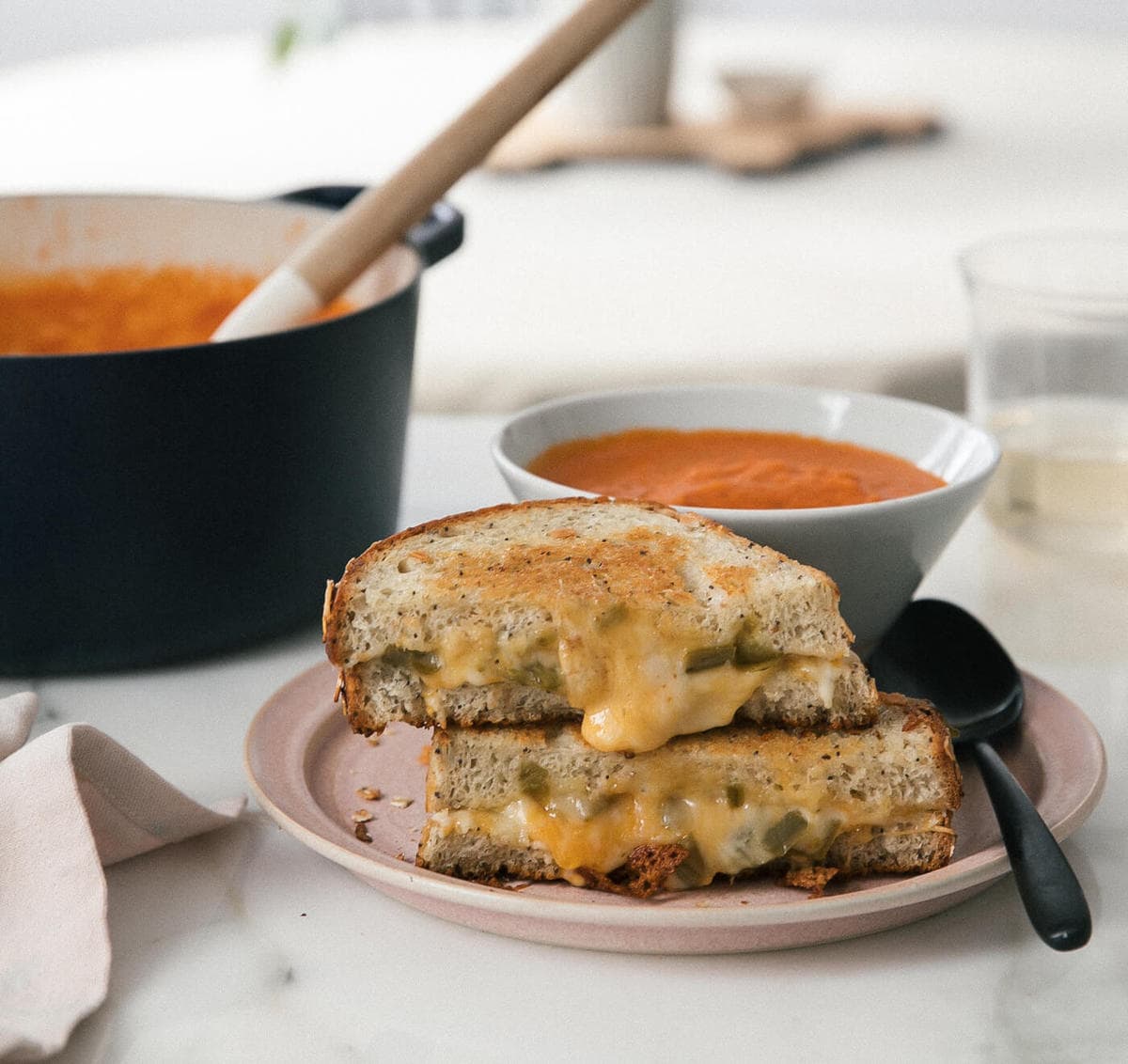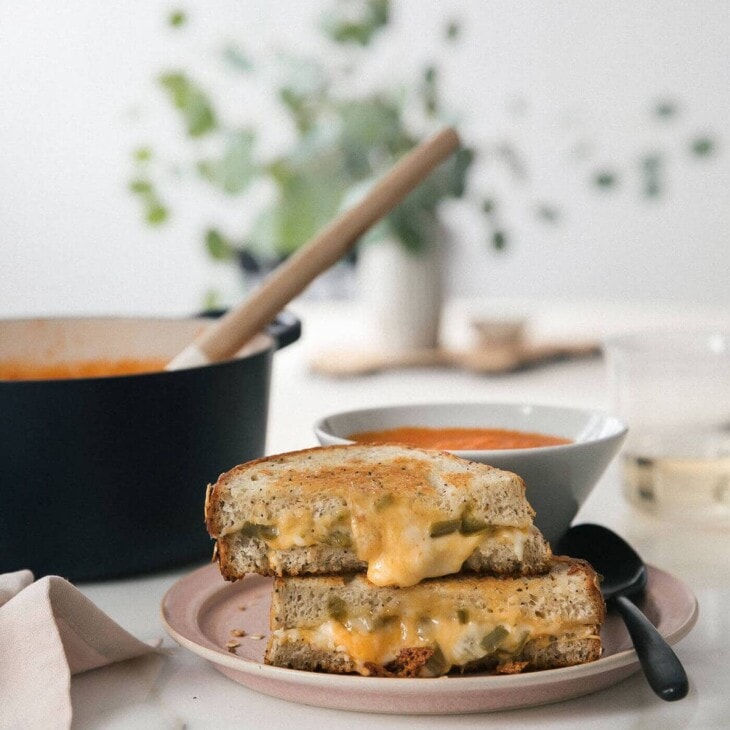 Print Recipe
Tomato Hatch Chile Soup
Tomato Hatch Chile Soup is a great way to spice up the classic. The tomatoes and hatch chiles are roasted too, adding that much more flavor to the soup. Paired with a grilled cheese, it's perfection.
Ingredients
Roasted Tomato Hatch Chile Soup:
3 1/2

pounds

roma tomatoes

halved

2

hatch chiles

halved, ends trimmed with seeds removed

1

teaspoon

salt

2

tablespoons

olive oil

divided

1/4

yellow onion

peeled and roughly chopped

3

garlic cloves
Hatch Chile Grilled Cheese:
1

roasted hatch chile

diced

4

slices

of bread

1

cup

of shredded cheese

of choice (I used a blend)

1

tablespoon

softened unsalted butter
Instructions
To Make the Roasted Tomato Hatch Chile Soup:
Preheat oven to 300 degrees F. To a baking sheet, add the halved roma tomatoes and halved hatch chiles. Sprinkle the tomatoes and chiles with salt and drizzle the tomatoes with one tablespoon for olive oil. Transfer to the oven to roast for about 1 hour, until they're super juicy and a little shriveled up. Let them cool slightly on your kitchen counter.

To a small sauté pan, set over medium heat, add a tablespoon of olive oil. When warm, add the chopped onion and garlic cloves. Cook until softened about 5 minutes. Transfer to a blender.

Using a pair of tongs, add the roasted tomato and one of the hatch chiles (we're gonna use the other hatch chile for the grilled cheese). You may need to do this in batches depending on the size of your blender. Pulse until smooth, about 1 minute. Pour the soup into medium pot, set over medium-low heat. Add about 1/4 cup of water to the blender (you can eyeball this) and swish it around to get all the leftover soup off the sides of the blender. And pour that water/soup mixture to the pot.

Bring to a gentle simmer for about 20 minutes, just so all of the flavors merry together. Give it a taste and add salt to taste. I added about 2 teaspoons.
To Make a Hatch Chile Grilled Cheese:
Meanwhile, make the grilled cheese. I think grilled cheeses are a bit personal. But I like to smear softened butter on the outside slices of the grilled cheese. I add about 1/2 cup of shredded cheese to each grilled cheese and a handful of the diced hatch chiles. I add the grilled cheese to a non-stick skillet over medium-low heat. And then cover it with a lid. I cook the grilled cheese for about 3 minutes per side. And that's it!

Serve with soup.
Nutrition
Serving:
4
g
|
Calories:
139
kcal
(7%)
|
Carbohydrates:
17
g
(6%)
|
Protein:
4
g
(8%)
|
Fat:
8
g
(12%)
|
Saturated Fat:
1
g
(6%)
|
Sodium:
602
mg
(26%)
|
Potassium:
960
mg
(27%)
|
Fiber:
5
g
(21%)
|
Sugar:
11
g
(12%)
|
Vitamin A:
3306
IU
(66%)
|
Vitamin C:
56
mg
(68%)
|
Calcium:
44
mg
(4%)
|
Iron:
1
mg
(6%)
Did you make this recipe? Let me know on Instagram!
Looking for more soup recipes? Here are some of my favorites: