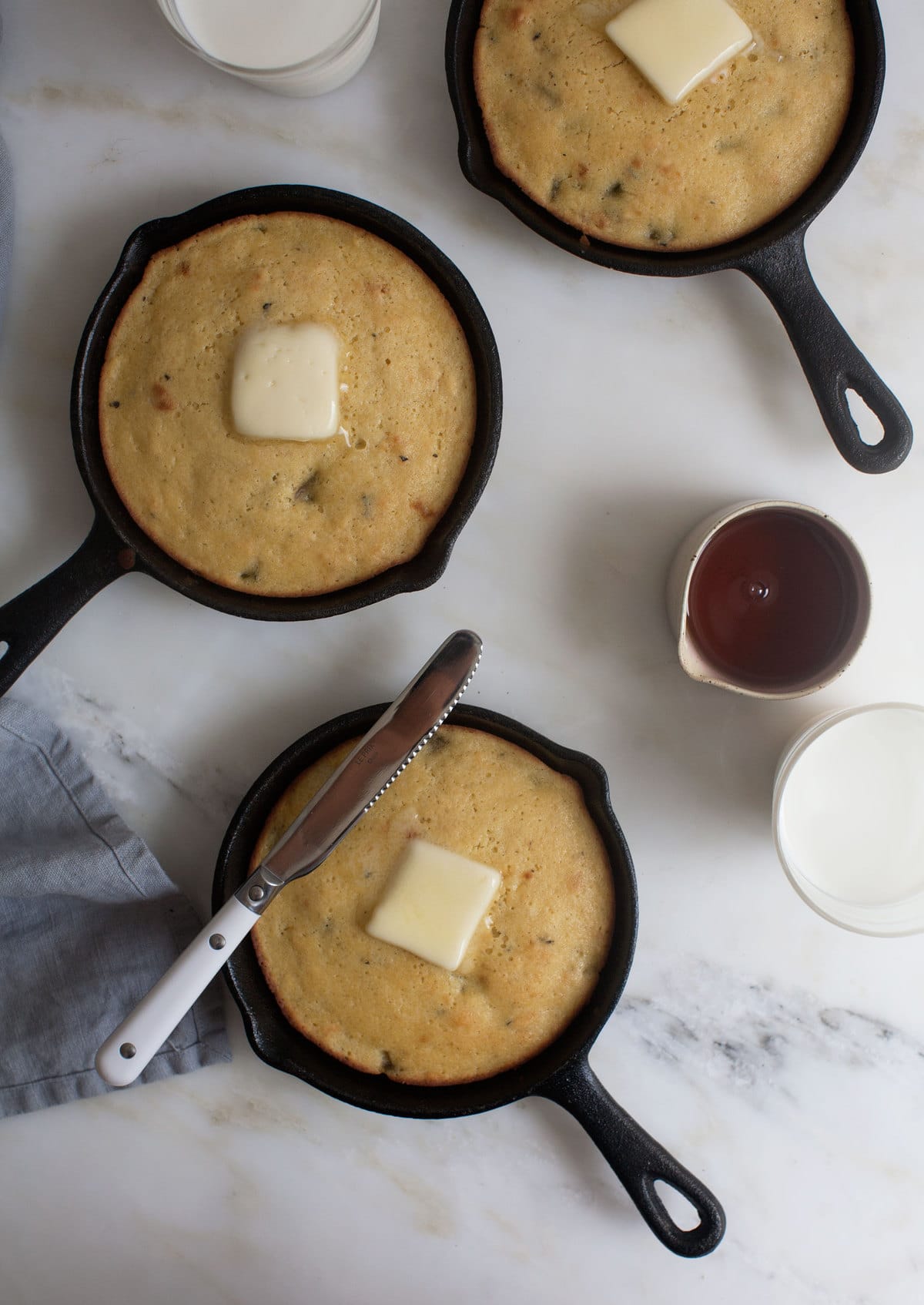 Cornbread makes my face turn into that heart-eyed emoji that I use like every single day of my life to express myself. I sort of wish I could write a whole blog post in emojis because today is one of those days when I feel like I have nothing to say. Do you have those days? When you're sort of like, here's a recipe for such and such BYEEEE!
This week has been hot hot in Los Angeles and I've been avoiding my oven like the plague. The only that that could even remotely tempt me is this cornbread because it's more like cake than bread. And I'm not mad about that.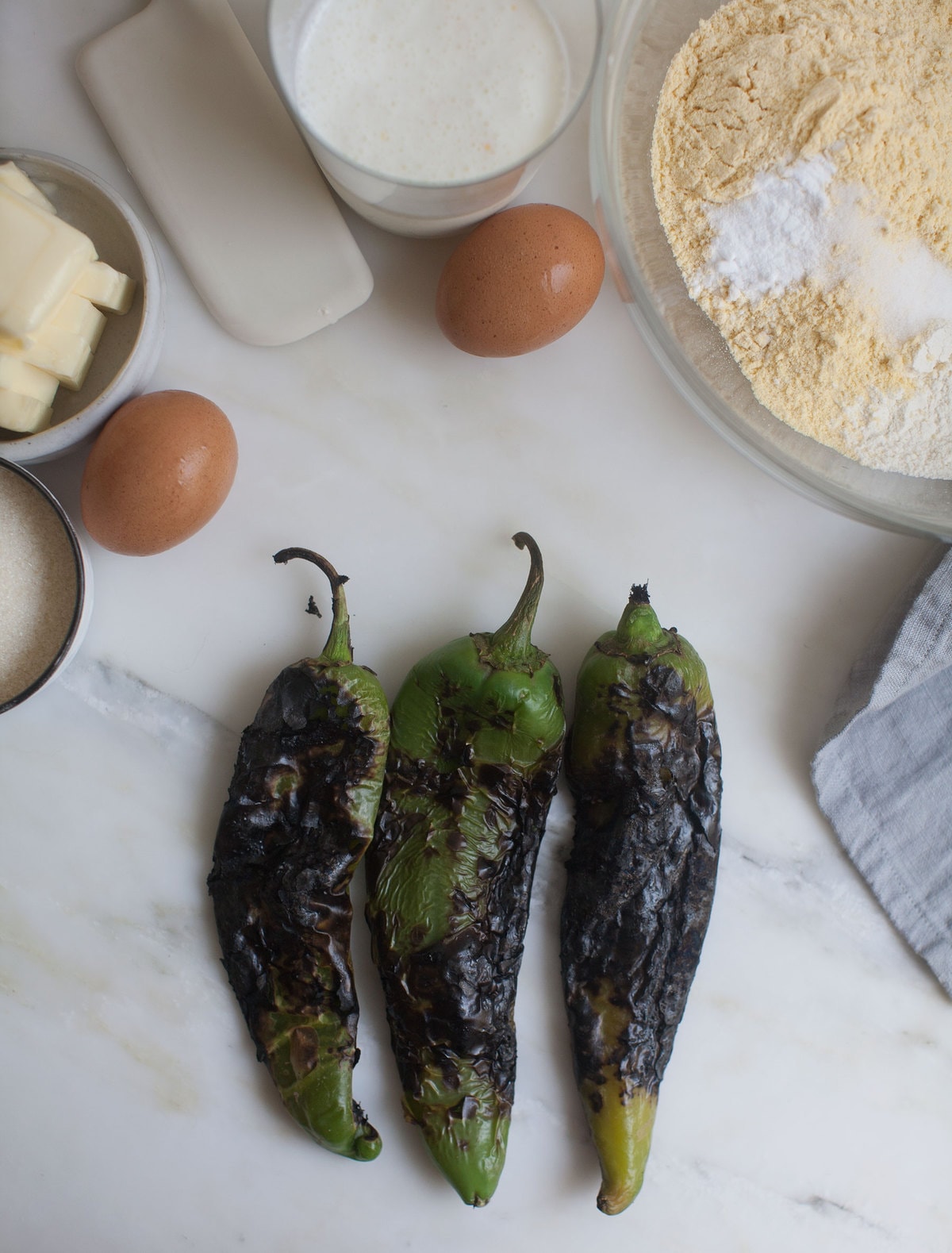 I know southerners are super finnicky about their cornbread but I like mine this way: a little sweet, a little spicy and soft. I like to use corn flour over corn meal. It's more fluffy and soft. If you can't find corn flour, by all means, use cornmeal—it'll work. I've been searching for a recipe for cornbread that's more cake like and when I found this one, I figured it would probably need a ton of work, but it's kind of perfect.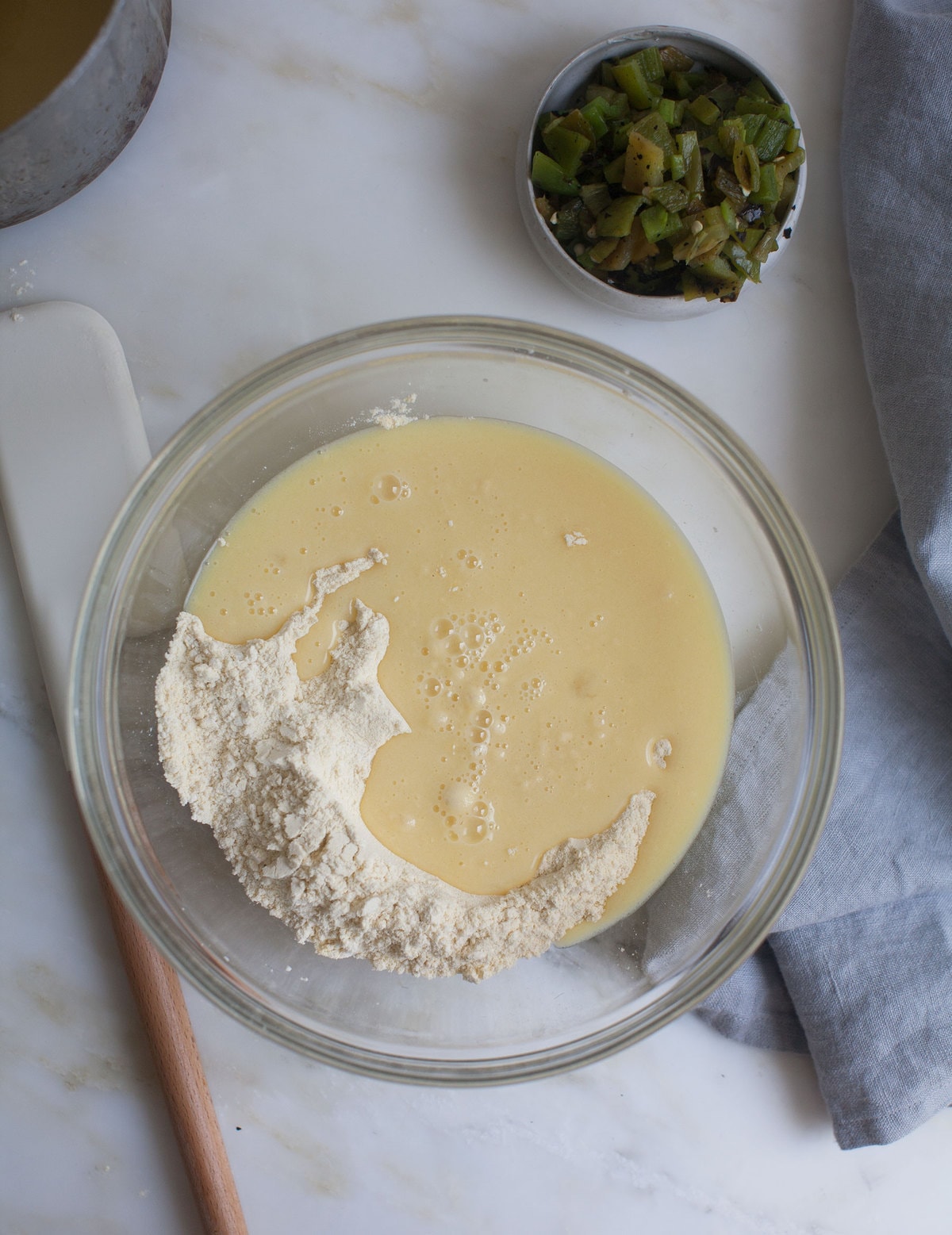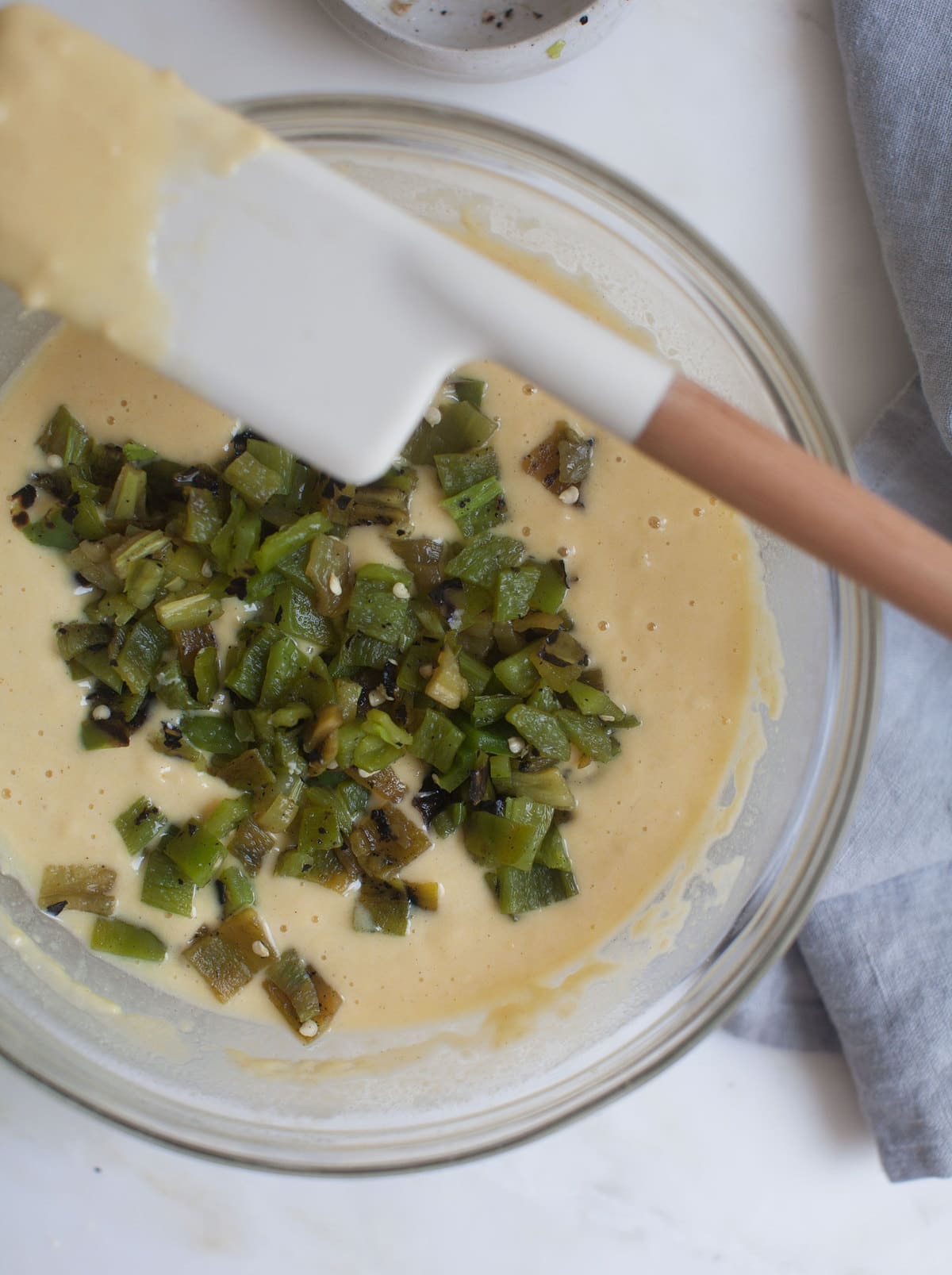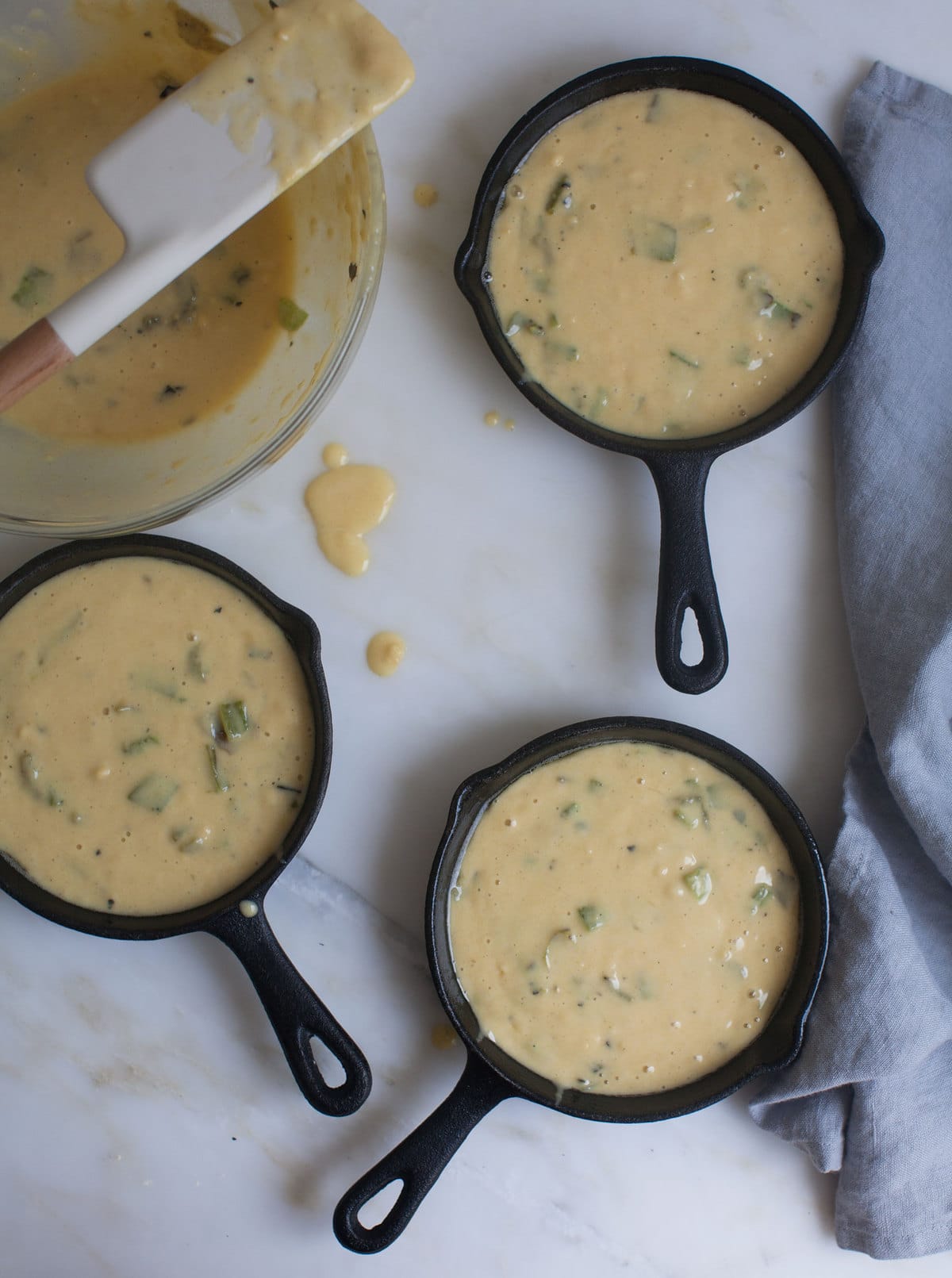 I added the charred hatch chiles and served it with maple syrup and a large pat of butter. It's near perfect.
Every single year I wait for hatch chiles. There's a grocery store here in Los Angeles that always roasts them right in the front and it always makes me want to buy a million.
I bought the spicy ones (my grocery store labeled them medium and spicy). I can't think of a better application other than maybe this macaroni and cheese I posted a few years back.
This weekend I'm actually posting one of my monthly round-ups that I've recently abandoned, so check back for that! I have lots of random things to say!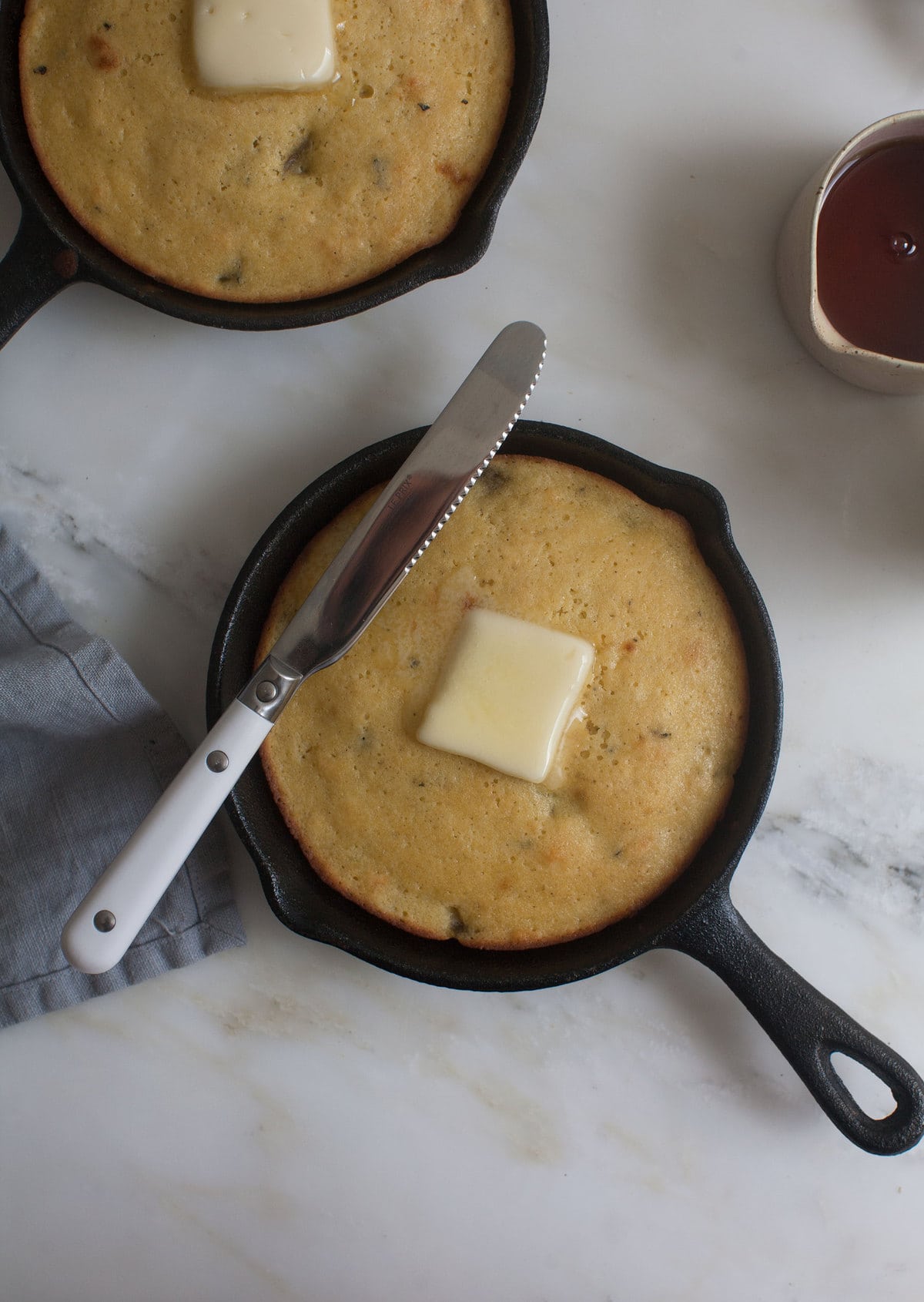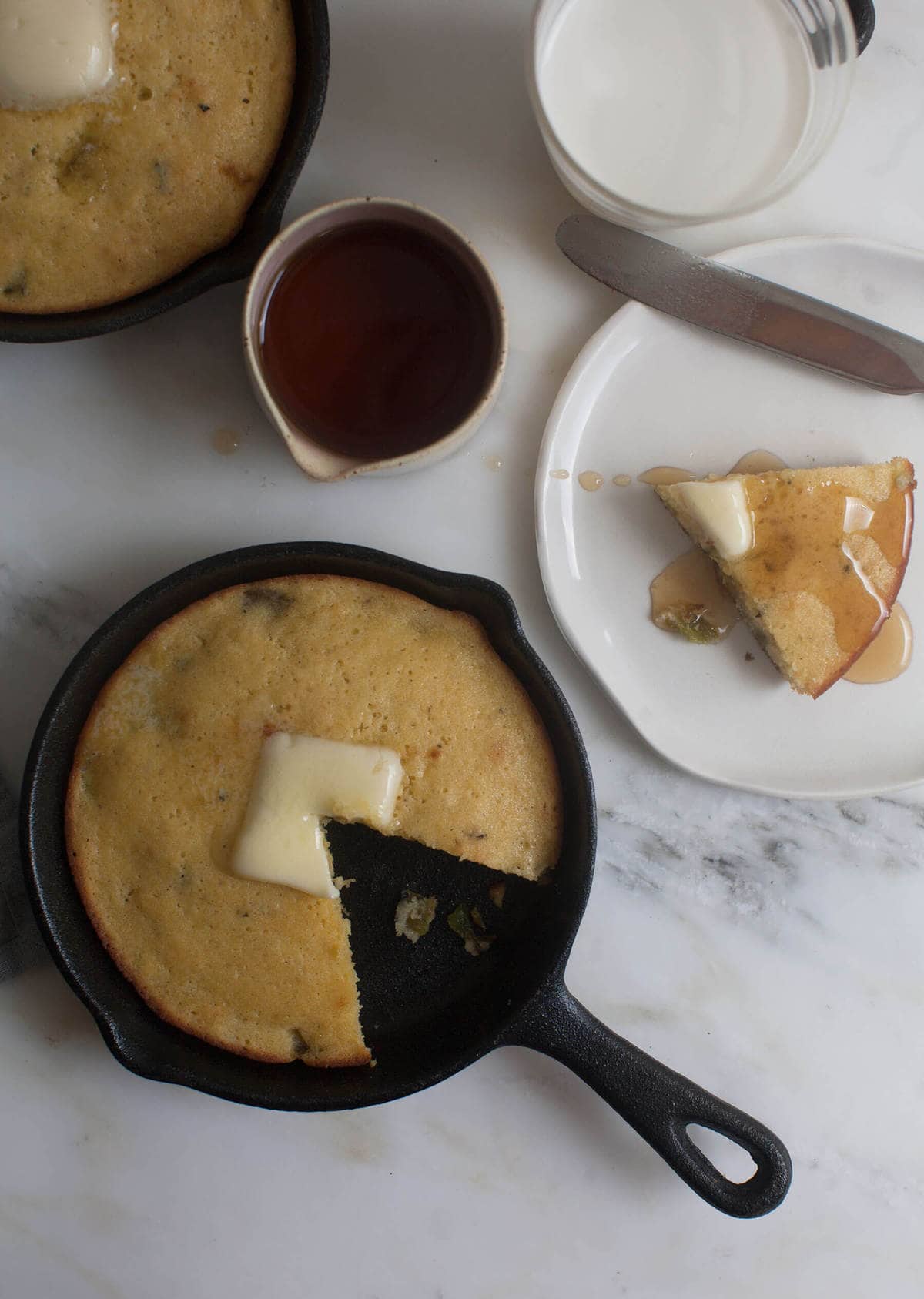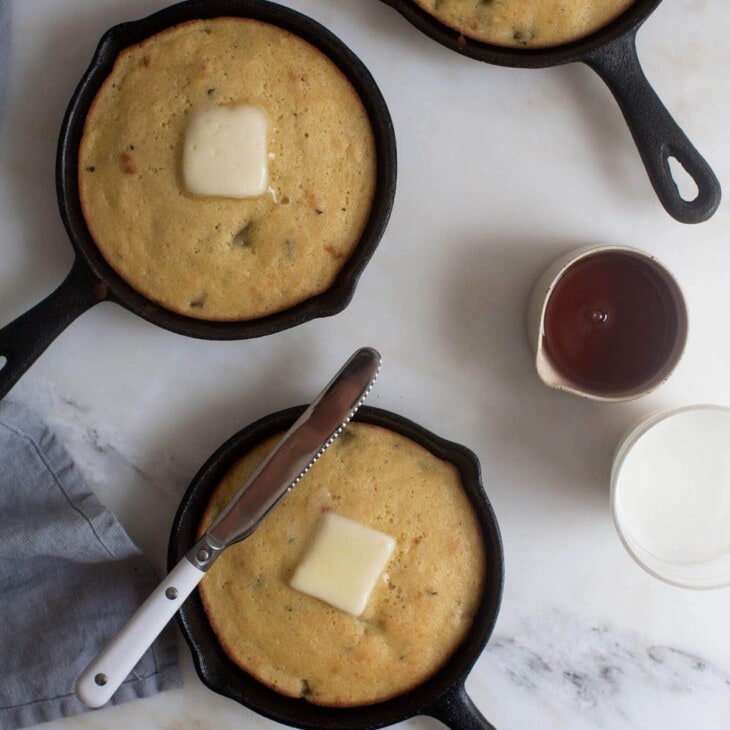 Print Recipe
Hatch Chile Cornbread
Ingredients
3 hatch chiles
1 cup corn flour or corn meal
1 cup all-purpose flour
1/2 teaspoons salt
1/2 teaspoon baking soda
1/2 cup unsalted butter plus a few tablespoons more for serving
2/3 cup white sugar
1 cup buttermilk
2 large eggs
Maple syrup for servingtermilk
2 large eggs
Maple syrup, for serving
Instructions
Place the hatch chiles on the grates of your gas range and turn the heat to high. Rotate the chiles until they're evenly charred on all sides. Immediately transfer them to a cutting board and using the blade of a knife, scrape the charred skins off of the peppers. Slice open the peppers and discard the seeds. Dice the softened peppers and set them aside. Beware that these are spicy so don't rub your eyes!

Preheat the oven to 375 degrees F. I used four 4-inch cast iron skillets but a 10-inch would work just as well. Grease whatever skillet(s) you're using with cooking spray or oil.

In a large bowl, whisk together the corn flour (or cornmeal if using), all-purpose flour, salt and baking soda.

In a medium skillet, set over medium heat, melt the butter. Once melted turn off the heat and stir in the sugar. Pour in the buttermilk and crack in the eggs and beat until well combined. Pour the wet ingredients into the dry and stir. The batter will resemble a very wet pancake batter. A few lumps are totally fine and good! Fold in the chopped hatch chiles. Pour the batter into the prepared cast iron skillets or cast iron skillet.

Transfer to the oven and bake for 17 to 22 minutes, or until a toothpick inserted in the center comes out clean. A heads up: if you're using a big cast iron skillet, the baking time will be longer, about 30 to 35 minutes. Slice it up and serve with butter and a drizzling of maple syrup.