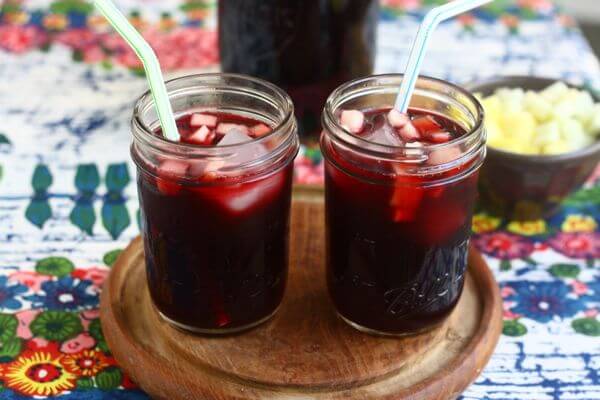 OMG so hot outside, amirite?! Last week in LA felt like the east coast: a ton of humidity, sort of overcast days (which I sort of liked) paired with high temperatures. That winner of a combo resulted in my makeup sliding off my face and my hair all frizzy. Not adorable.
That unattractive experience inspired me to make my favorite cooling-off-drink of my childhood: Chicha Morada. This is what my mama would make me when I was little.
So…here's the deal: This drink is made from corn. Yes! Corn! Beautiful Peruvian purple corn that's been dried. You can find it at most Latin supermarkets and online here. Note: It should run you about $4 at a latin market, so amazon is a little bit more expensive.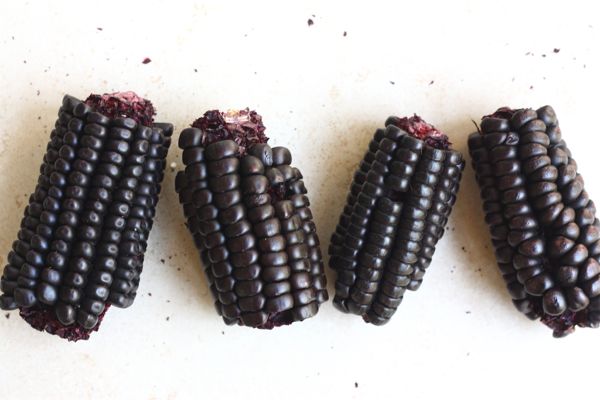 Look how pretty the purple corn is!
The corn is tossed into a pot with water, cinnamon sticks, whole cloves and the peel from a pineapple (waste nothing! and plus it gives it a hint of pineapple flavor).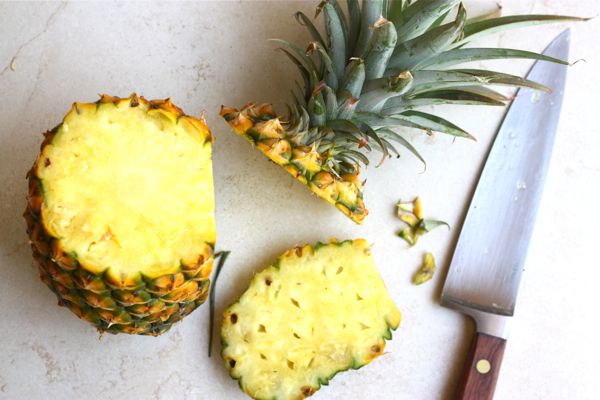 It simmers for 45 minutes and when it's done your house will smell spicy and fruity and your chicha will be a beautiful, dark purple hue.
Then it's time to add the fresh lime juice and sugar. Below it says 1 cup of sugar. This wasn't super sweet, so feel free to taste it after the 1 cup of sugar and add more if you like!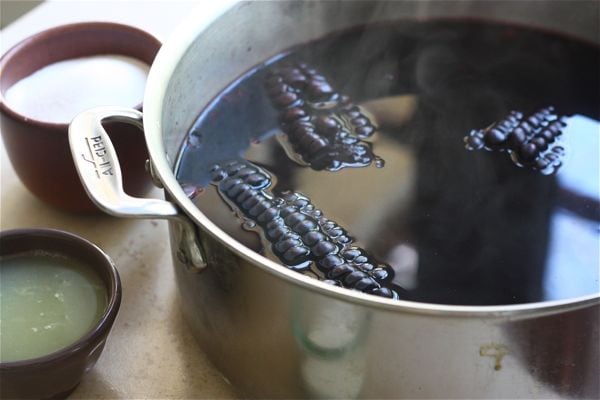 Chicha usually comes in two forms: fermented and non-fermented. Usually the fermented chicha is more like beer, still made from corn, but almost like a beer.
That's not what we're making today. This is non-fermented and non-alcoholic. But I urge a splash of good rum in one of these cups. Or a splash of Pisco wouldn't hurt either.
Top each drink with a small handful of diced pineapple and apple. Screams summer time.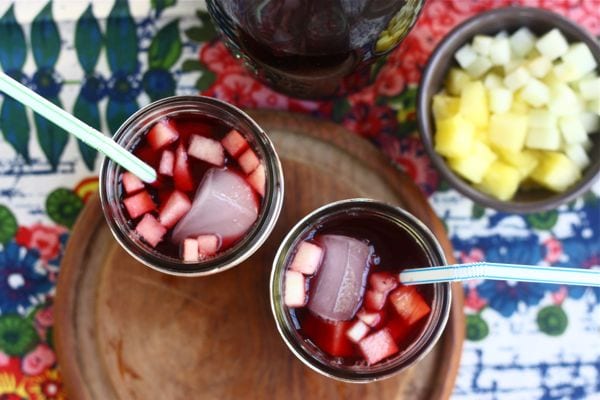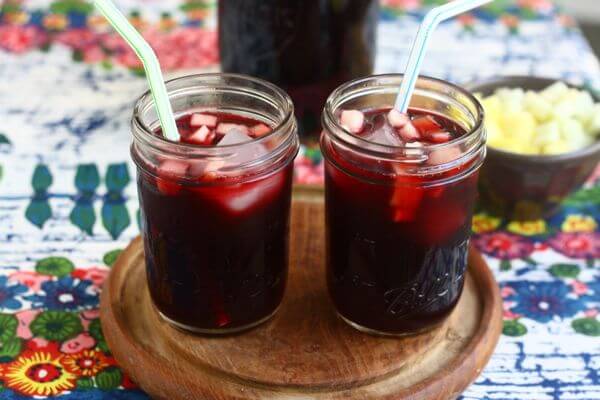 Peruvian Chicha Morada
Print
Chicha morada is a beverage originated in the Andean regions of Perú that's made from purple corn, along with fruit and spices. Served over ice, this delicious drink is very popular throughout Peru.
Ingredients
1

(15-ounce)

bag of dried purple corn

12

cups

water

3

whole

cinnamon sticks

1

whole

pineapple, diced

,

(peel reserved)

1

cup

white granulated sugar

1/2

cup

fresh lime juice

1

green apple

,

diced, for serving
Directions
To a large pot, add the corn, water, cinnamon sticks, cloves and half of the pineapple peels. Heat over high heat and once the mixture reaches a boil, reduce the heat to medium-low and simmer for 45 minutes.

Remove the chicha from the heat and pour in the sugar and fresh lime juice. Place a strainer atop a large bowl and pour mixture through it, catching the large corn ears, pulp and pineapple. Refrigerate until cold. To serve, add ice, and a small handful of diced pineapple and apple to each glass; add chichca and serve immediately.