Irish Soda Bread Scones with Salty Whiskey Butter
39
Mar 14, 2014, Updated Jan 05, 2019
Disclosure: This post may contain affiliate links, which means I may earn a commission if you click on the link and make a purchase.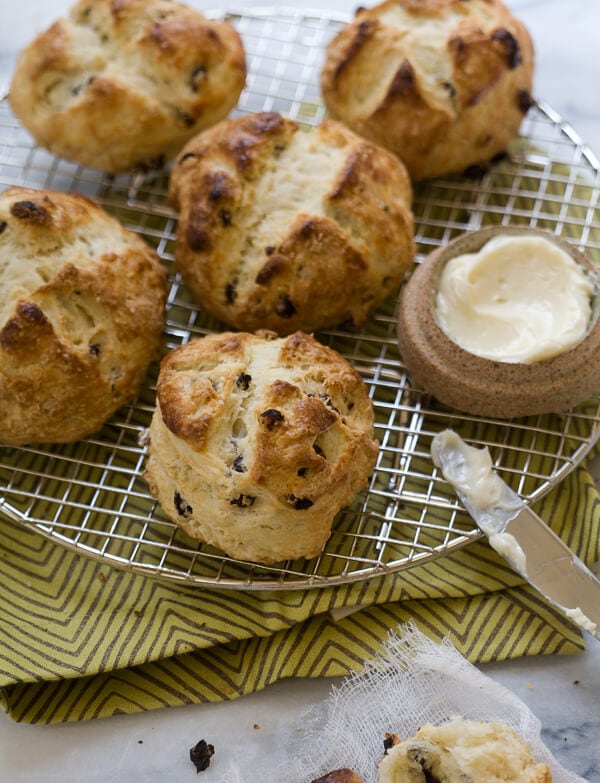 My body is aching. I can't tell if it's from rigorous work-outs or just cooking my little heart out this week. Nonetheless, I'm about to get my hair professionally blow dried so all is ok in the world. It's one of the greatest luxuries. If you're a woman, you understand this sentiment; if you're a dude, you're probably confused why salons dedicated to just blow-drying even exist. The answer: because it's important and blow-drying takes too long!
Last year I made my favorite Irish Soda Bread in the entire world. It was laced with brown sugar, whole wheat pastry flour and OMG there were whiskey-soaked raisins, which let me tell you, completely changed my mind about raisins.
I used to be one of those people who despised raisins. Like, if I saw a "chocolate chip cookie" to only then realize the CCs were raisins, serious side-eye, my friends. Serious. Nowadays I'm a grown-up who has the ability to enjoy some raisins in her baked goods. I'm an ever-evolving human.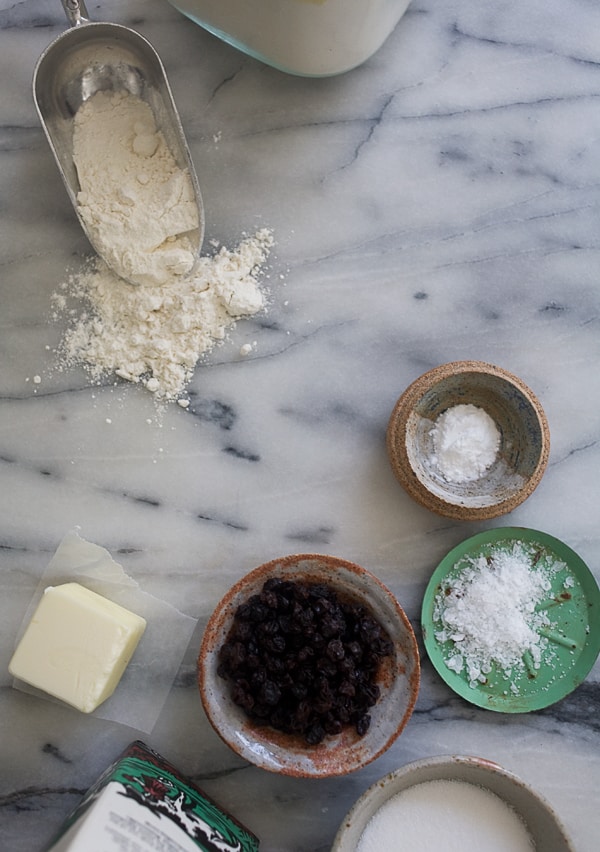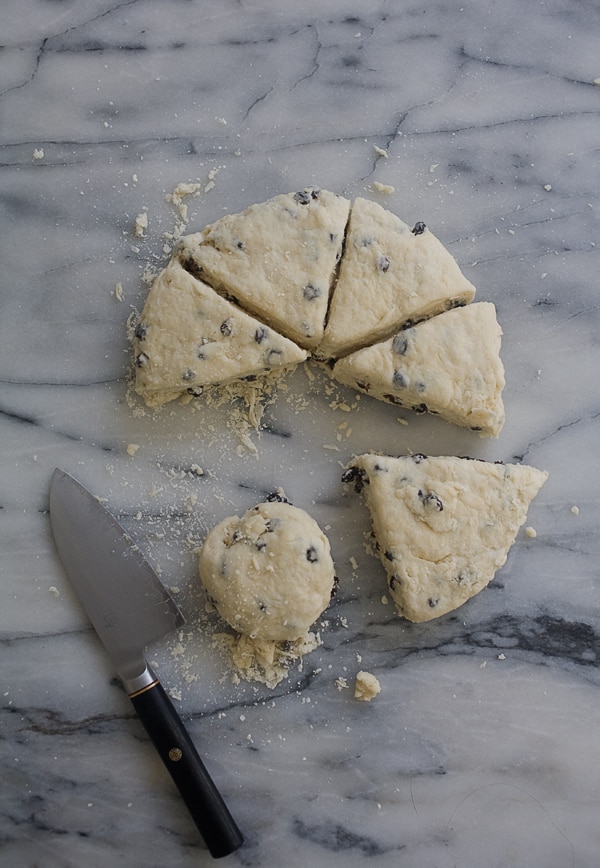 These scones are everything I've ever wanted out of a scone.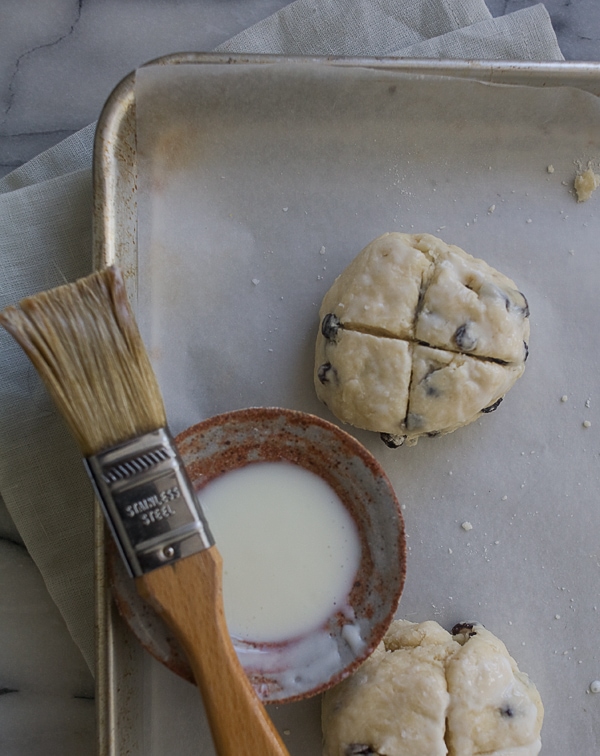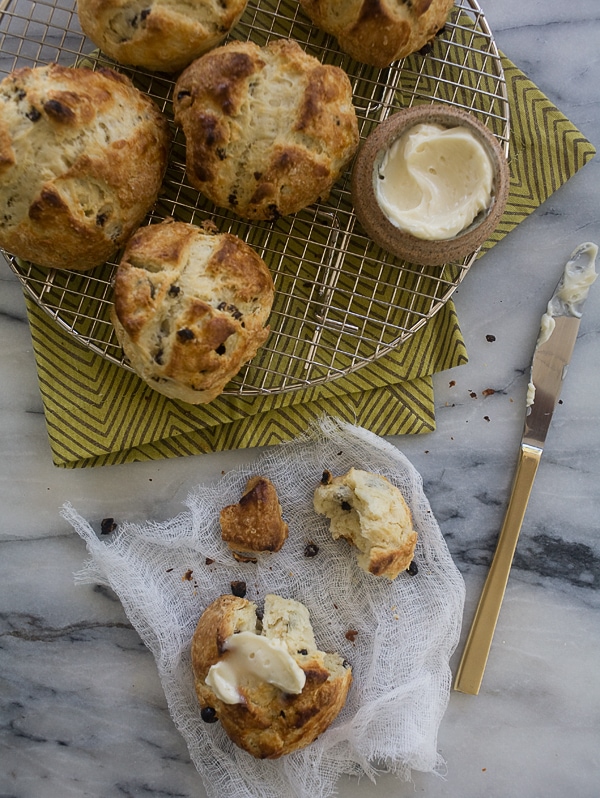 If you bake these things, you might pick one up and mistake it for a hockey puck. DON'T BE ALARMED. The outside is a bit hard and they are kind of on the heavier side, but when you break it open, the interior will be soft and layered and amazing. A hint of sweetness and a slight tang from the buttermilk.
The most amazing part is the Salty Whiskey Butter. Eat every bite of scone with a bit of butter. Go all out. Salty, sweet with a flavor of whiskey. There's nothing not to love.
(Shout out to Billy from Wit and Vinegar for the consulting on the side-eye GIF. He's good at a lot of things; one of them being GIF-scouting on the internets.)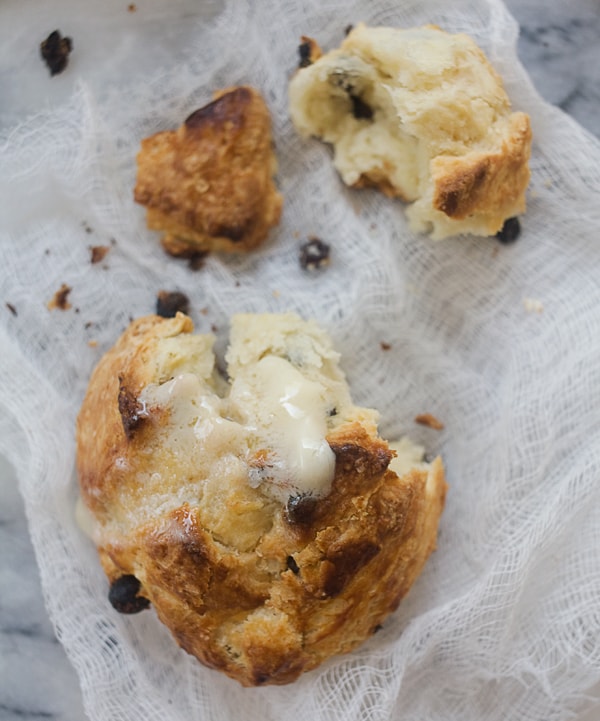 Irish Soda Bread Scones with Salty Whiskey Butter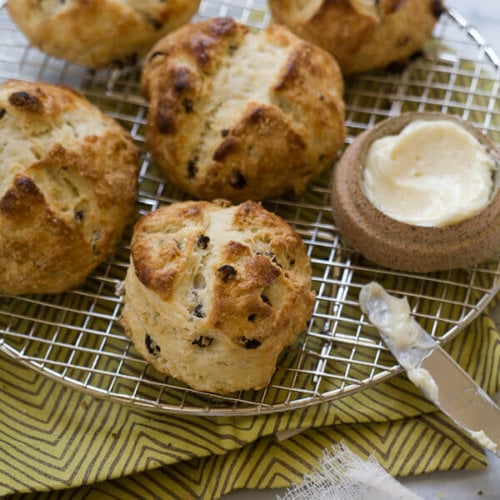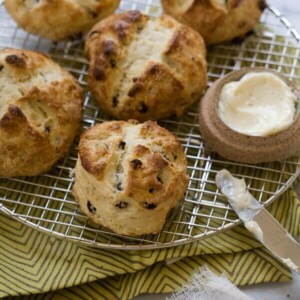 Ingredients
Scones:
3

cups

all-purpose flour

3

tablespoons

white granulated sugar

1/2

teaspoon

sea salt

1

teaspoon

baking soda

4

tablespoons

unsalted butter

,

very cold

1/2

cup

zante currants

1

cup

buttermilk

,

shaken
Salty Whiskey Butter:
3

tablespoons

Irish whiskey

6

tablespoons

unsalted butter

2

tablespoons

powdered sugar

,

sifted

1/4

teaspoon

sea salt
Instructions
Preheat the oven to 425 degrees F. Line a baking sheet with parchment; set aside.

In a large mixing bowl, whisk together the all-purpose flour, sugar, salt and baking soda. Using a box grater, grate the butter into the dry ingredients and mix quickly, breaking up the butter so it's broken up into pea-sized bits throughout. Next, add the currants and toss them gently in the flour mixture so they are evenly distributed.

Create a well in the center of the flour mixture and pour in the buttermilk. Using a wooden spoon, mix it together until it forms a shaggy ball. Drop the soda bread dough onto a lightly floured counter and knead a few times, being sure to not over handle it, which will result in tough bread. Form the soda bread into a 1 1/2-inch thick disc. Using a knife, cut the scones into 6 equal triangles. Form the triangles into circular shaped scones (or leave them as is, if you like). Transfer the scones to the baking sheet and put in the freezer to chill for 5 to 10 minutes. Using a knife, score the tops, forming an X; brush the tops with buttermilk and sprinkle each scone with a pinch of salt.

Transfer the soda bread scones to the oven and bake for 25 to 30 minutes, until a skewer inserted into the centers comes out clean and the scones are golden brown. Serve warm with salty whisky butter.

Salty Whiskey Butter: To make the butter, add the whisky to a small saucepan, cook for a few minutes, until it begins to simmer slightly and it decreases to about 2 tablespoons Irish whiskey. We really just want to cook some of the alcohol out. Allow the whisky to cool completely. To a small bowl, add the softened butter, powdered sugar, cooled Irish whiskey and salt. Using a hand mixer (I only used one of the beaters!), beat until fluffy.