Gigantic Cinnamon Toast Crunch
27
Mar 11, 2016, Updated Jan 27, 2019
Disclosure: This post may contain affiliate links, which means I may earn a commission if you click on the link and make a purchase.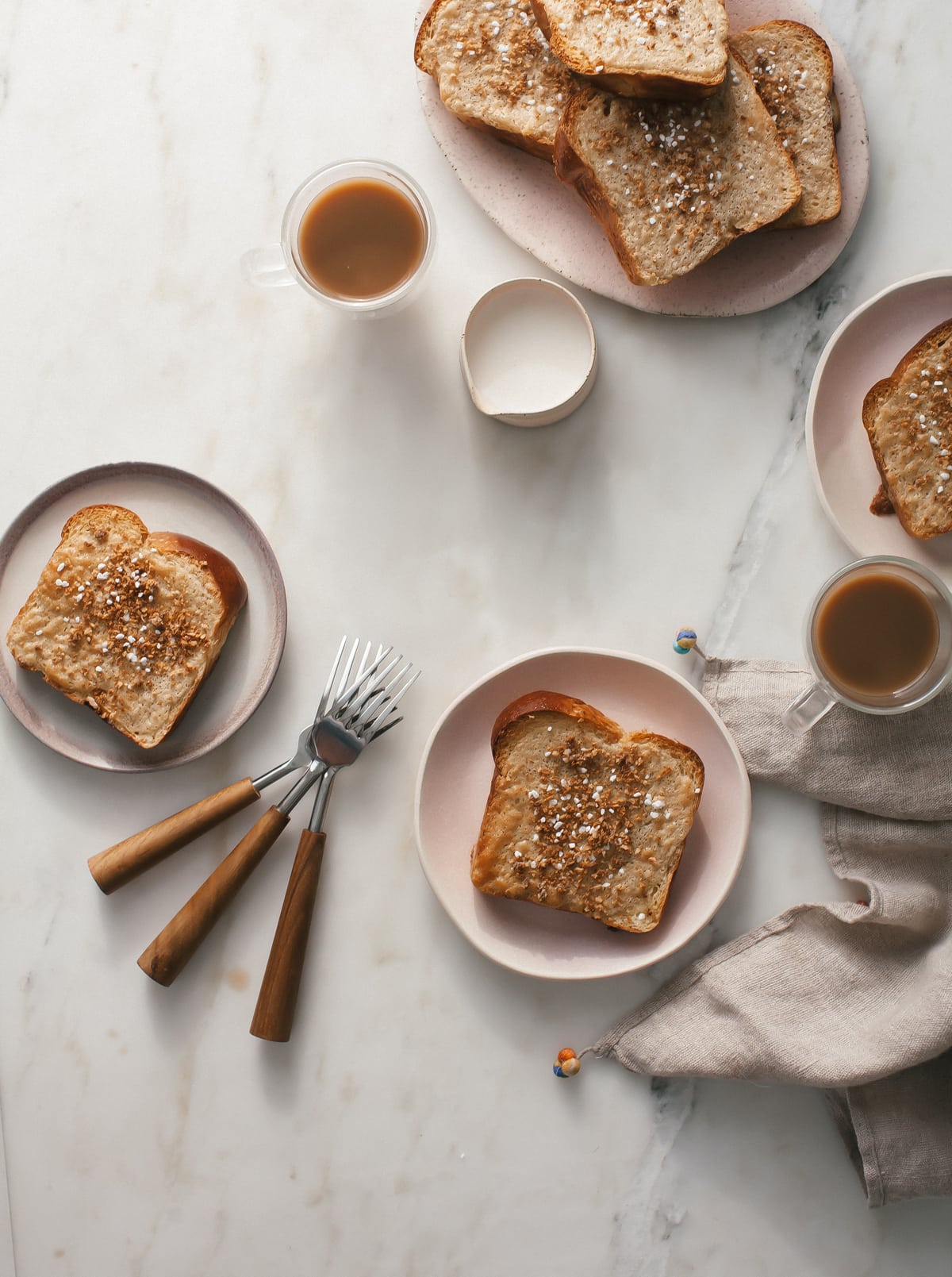 If I could eat any meal, at every meal, until the day I die it would be breakfast. OF COURSE IT WOULD BE.
This recipe is inspired by one of my favorite cereals of childhood: Cinnamon Toast Crunch. I feel like there were a lot of high maintenance cereals, and cinnamon toast crunch was in that category. You couldn't add too much milk and you had to eat that shit FAST. It got soggy a little too quickly for my taste but when it was crunchy and on point, man, was it good.
Other cereals that I loved as a kid:
1. Honey Nut Cherrios
2. Honey Bunches of Oats (I liked honey can you tell?!)
3. Raisin-Bran (I was a sheltered child!)
4. Grape Nuts (my life was terrible!)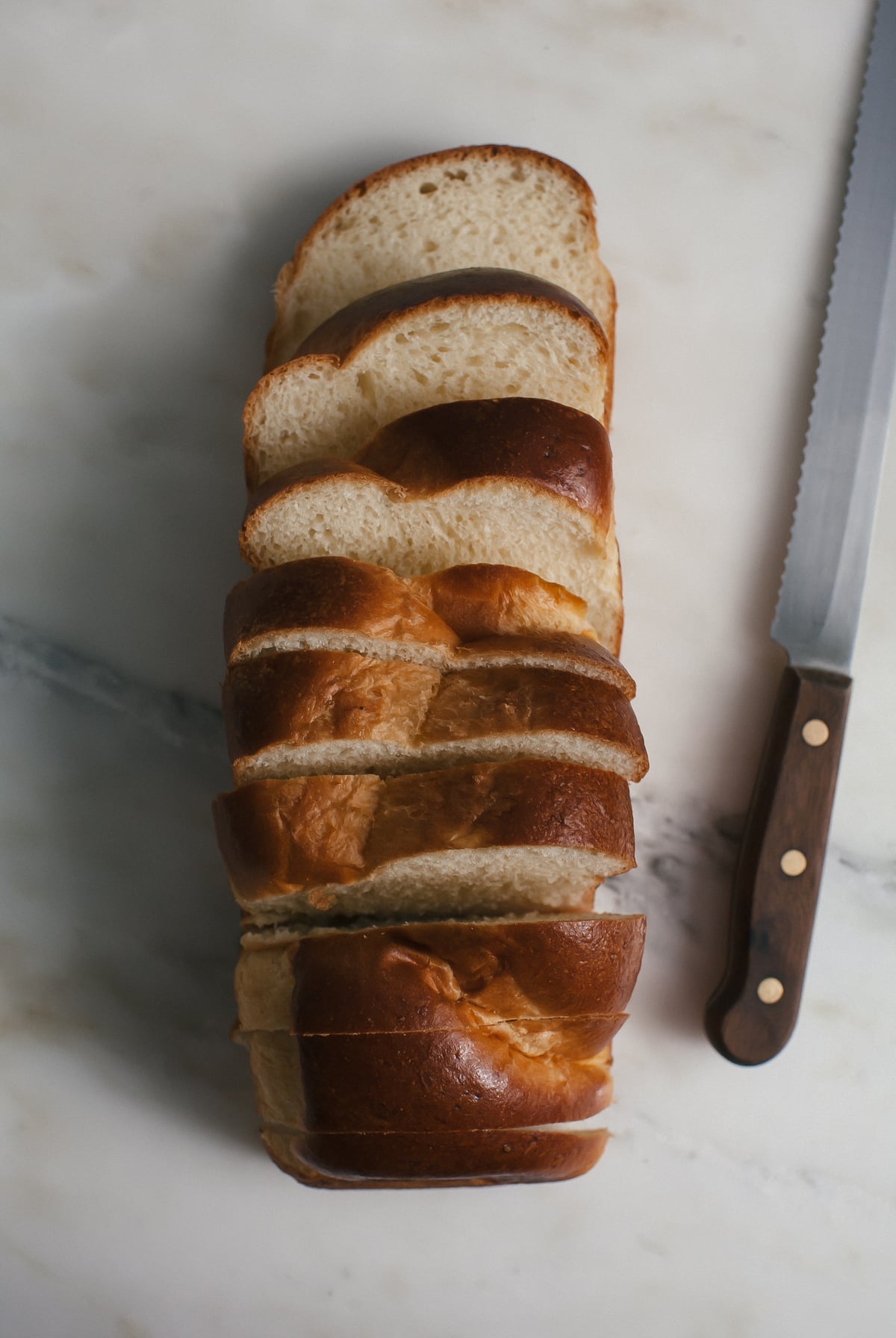 Other cereals that I loved but only enjoyed at friends' house bc my parents hated fun a.k.a. sugary cereals:
1. Cocoa Crispies (the leftover chocolate-y milk? heaven!)
2. Fruit Loops (so fruity!)
3. Frosted Flakes
4. Apple Jacks
5. Corn Pops!
6. And of course, Cinnamon Toast Crunch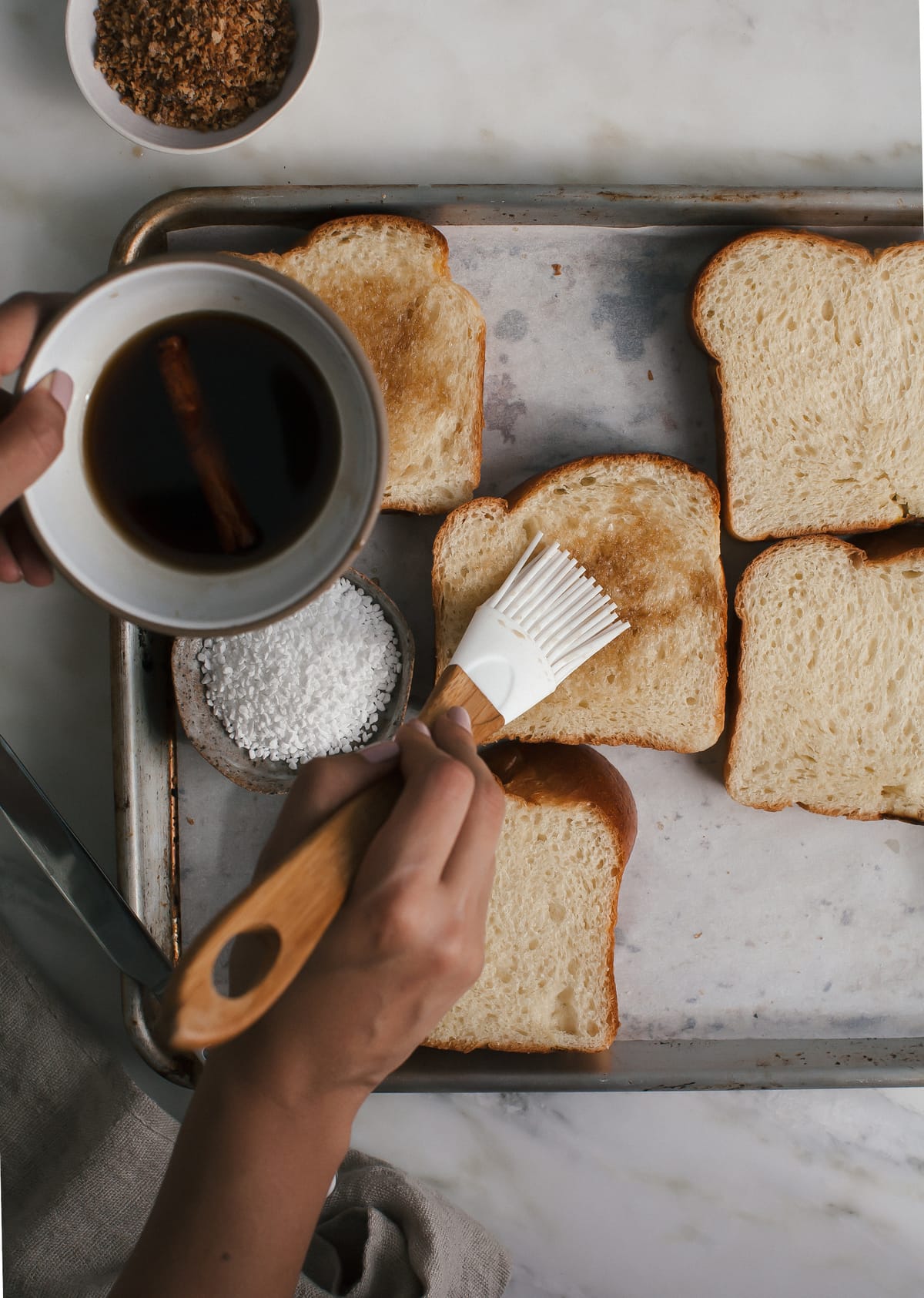 This recipe was inspired by my love of cereal. This is obviously way fancy and bigger. Think of it like gigantic cinnamon toast crunch.
Ok I'm going to change directions rn. Do you know what bostock is? It's like a fancy French toast. One of my favorite cookbook writers, Flo Braker, wrote about it a few years ago.
It starts with a syrup that's brushed on both sides of preferably day-old brioche (but frankly you can use a fresh loaf too).
Then the thing I like to call "cinnamon smear" is mixed up, which consists of butter, flour (to thicken it), egg, sugar and cinnamon. This is smothered all over the thick pieces of brioche and then the entire thing is baked.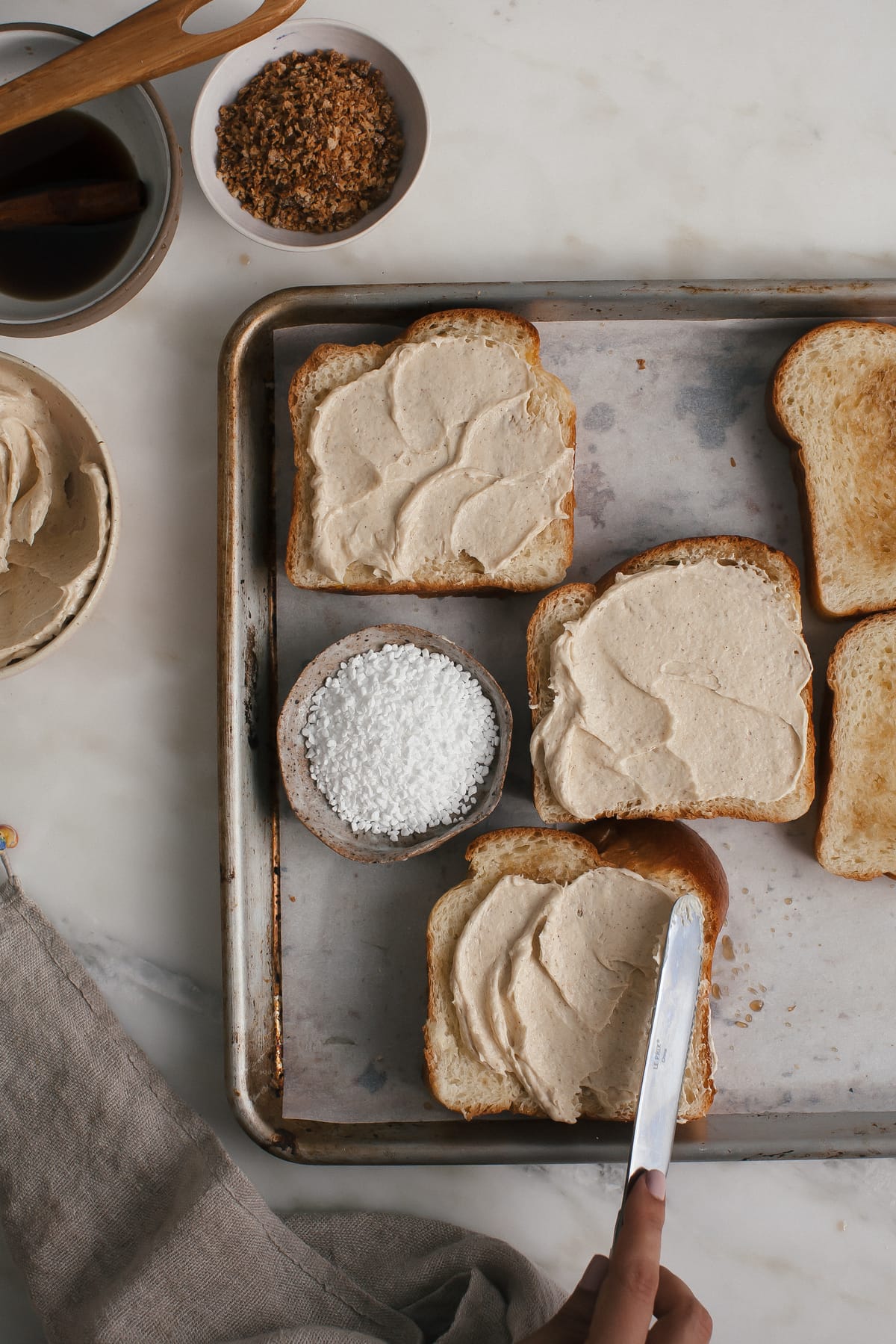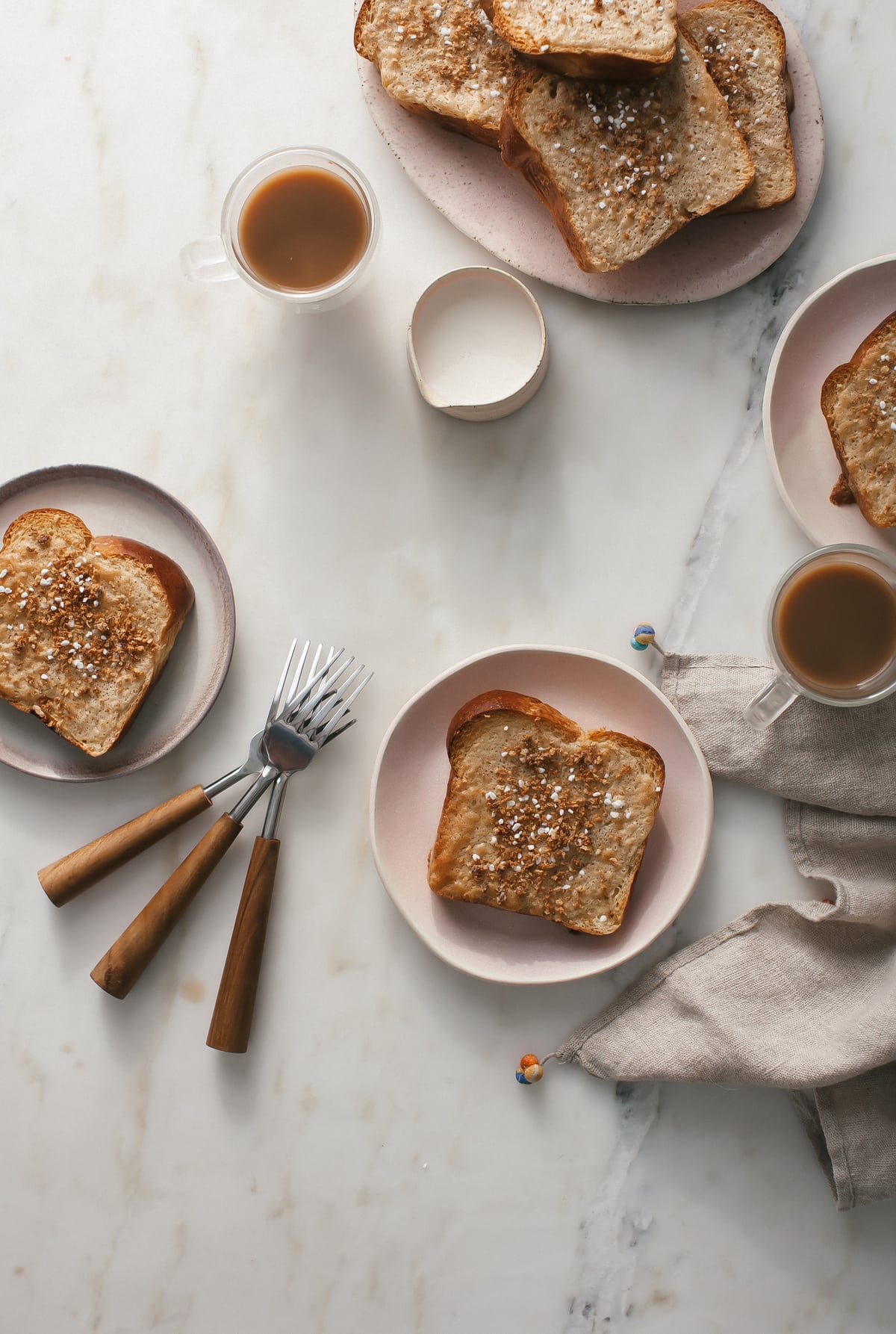 The crunch crispies on top add the perfect amount of texture.
Think of this recipe like fancy French toast meets cinnamon toast crunch cereal. I feel like I'm over explaining it but it's actually quite simple and comes together so easily. And the pay off is HUGE.
The Swedish pearl sugar is there for looks and some added sweetneess and crunch. It's definitely not necessary but I do love it. I bought it on this v obsecure website called Amazon.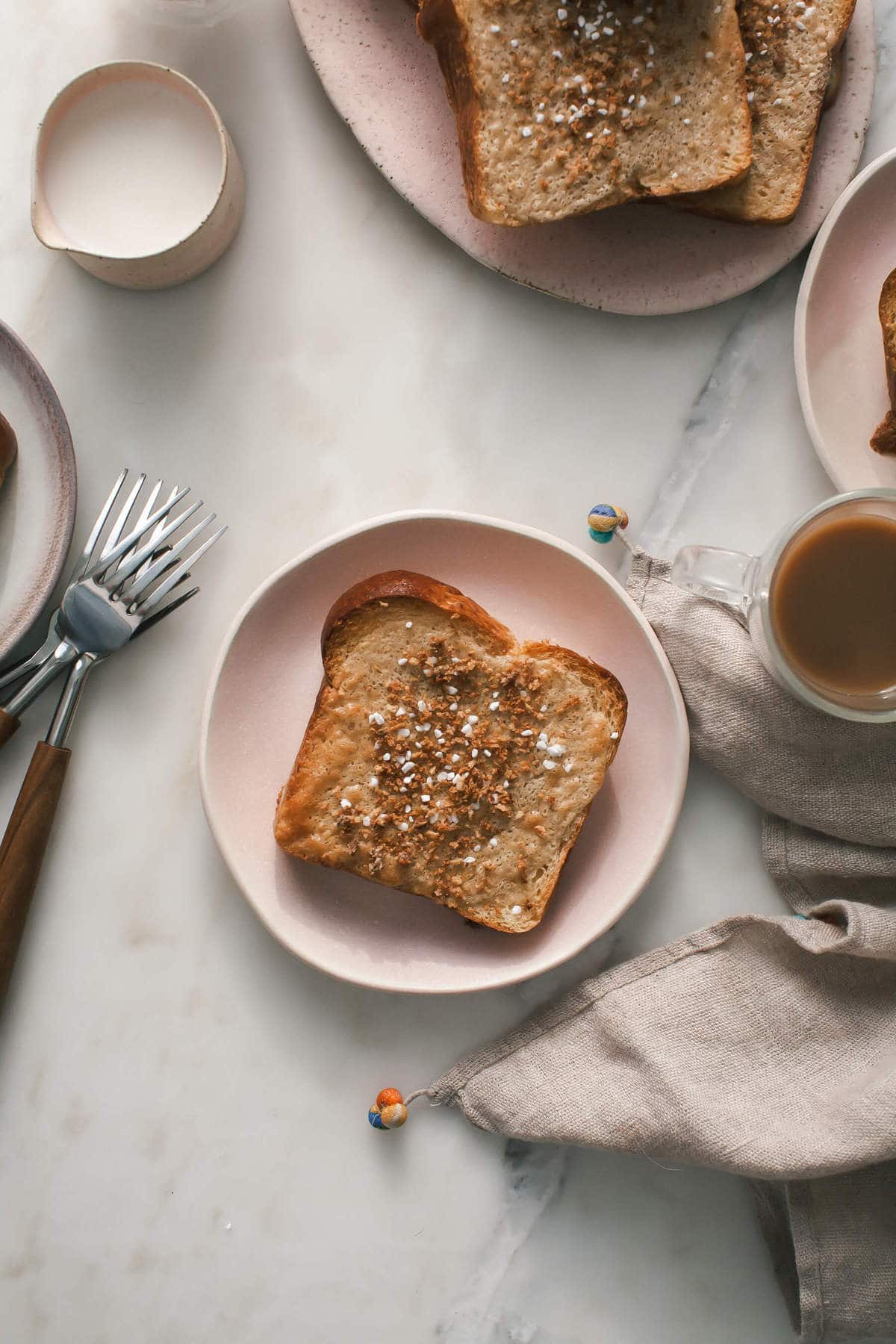 Big Ass Cinnamon Toast Crunch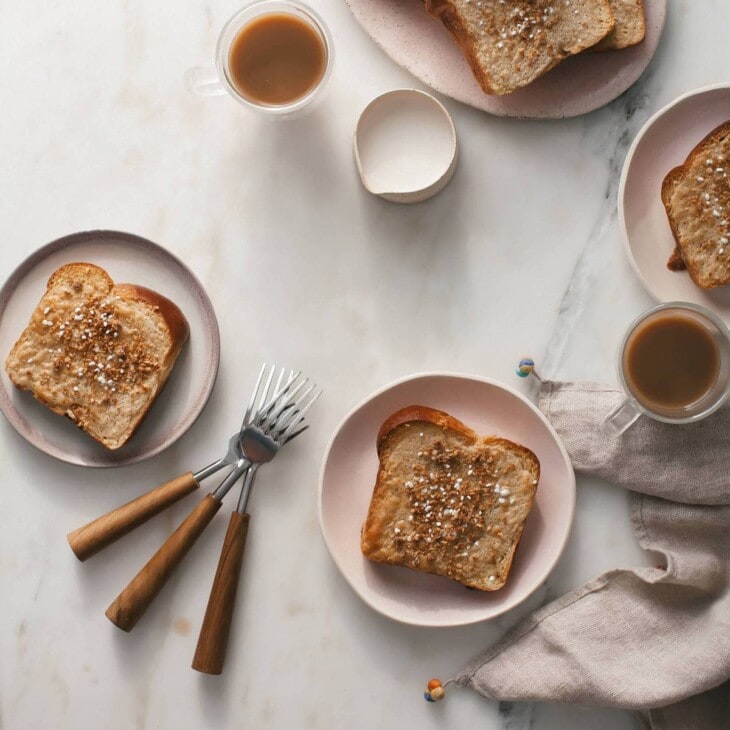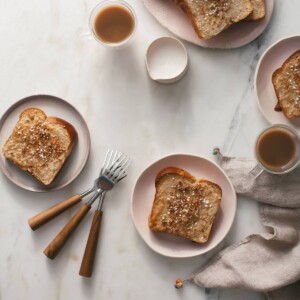 Ingredients
Cinnamon Crunch:
3

tablespoons

panko bread crumbs

1

teaspoon

sugar

1/2

teaspoon

ground cinnamon
Brown Sugar Syrup:
1/4

cup

brown sugar

1/4

cup

water

1

cinnamon stick

Pinch

of salt
Cinnamon Smear:
1

cup

2 sticks unsalted butter, at room temperature

1/4

cup

plus 2 tablespoons all-purpose flour

1/4

cup

white granulated sugar

2

large eggs

1

teaspoon

ground cinnamon

1

teaspoon

pure vanilla extract

Pinch

of salt

1

loaf of brioche

,

cut into slices (I got about 7 half-an-inch-thick slices)

1

tablespoon

Swedish pearl sugar

,

for garnish (optional)
Instructions
Preheat oven to 350 degrees F. Line a baking sheet with parchment.

To make the cinnamon crunch: In a small skillet, set over medium heat, add the bread crumbs, sugar and cinnamon. Stirring frequently, toast until medium golden brown. (The stirring is a must because the sugar will begin to caramelize which is great, you just don't want to get it too too brown or else it will get too sticky!) Transfer to a small bowl. Rinse out the skillet.

To make the brown sugar syrup: To the washed out skillet, add the brown sugar, water and cinnamon. Heat until the sugar dissolves and the mixture is at a slight simmer. Turn off the heat and allow to steep for 10 minutes.

To make the cinnamon smear: add the butter, all-purpose flour, egg, cinnamon, vanilla and salt to a medium bowl or bowl of a stand-up mixer (with a paddle attachment). Mix until ingredients are thoroughly combined and mixture is fluffy.

Lay the brioche slices side by side on the lined baking sheet. Brush both sides of the brioche with the syrup. Smear a tablespoon of the cinnamon smear on each piece of the toast. Transfer to the oven to bake for 15 minutes. At the 15 minute mark, remove from the oven and sprinkle on the cinnamon crunch and a few pearl sugar granulates, if using, return to the oven to bake for an additional 2 to 3 minutes. Divide amongst plates and serve.
Nutrition
Nutrition information is automatically calculated, so should only be used as an approximation.