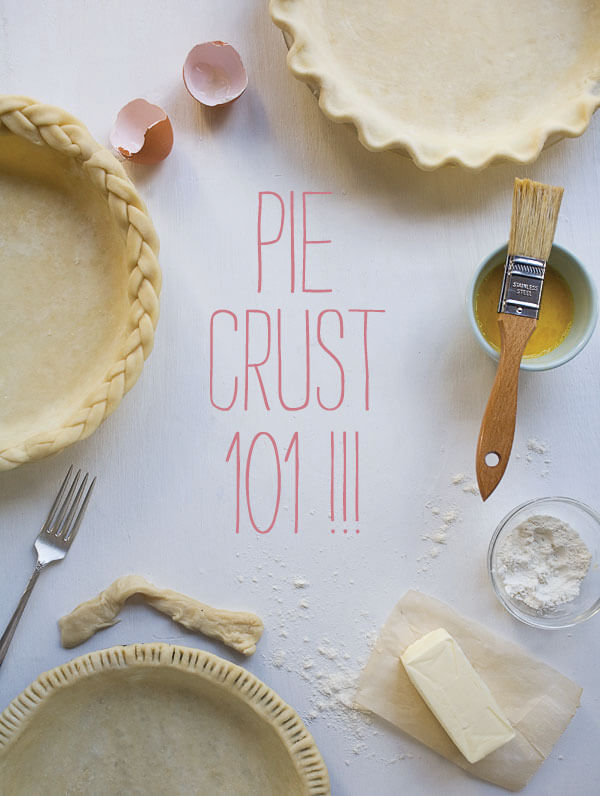 Pie is my love language. And this week I'll be serenading you with butter and caramel and fruit. It's PIE WEEK!
Each day I'll be bringing you a new pie. Some will be classics with small twists; other's will be new-to-me (and you, hopefully) combinations.
Thanksgiving is next week and if you've worked it right, you've got the savory stuff down. You have your turkey reserved and situated. Dessert, though, might still be up in the air. If so, I urge you to make a lil' pie. What's great is that all of these pies can be made the night before and then served the next day. They all keep well.
I'll admit that the first time I made pie, years ago, it was a complete disaster. I blame myself for being a terrible reader of instructions AND pies aren't "easy as pie." (That might be the most inaccurate, idiotic idiom I've ever heard.)
Pie has its challenges, though it's definitely not impossible. Hopefully these tips and photos will help make you successful at da pie-a-makin'.

INGREDIENTS: Freeze your butter. Start with frozen butter. I generally freeze the butter for about an hour or so prior to starting.
Step 1: Possible obvious advice: Careful when measuring out your dry ingredients. I always weigh out my dry ingredients (because I actually find it easier than dirtying up cup measures). If you do use cup measures, make sure to fluff the flour, scoop it and then level it off with a butter knife.
Step 2: Use a box grater to cut up the butter. I find this WAY easier than breaking it up using a pastry cutter. Just shred the frozen butter atop the mixed dry ingredients. The end goal when making pie dough is to get the butter to resemble pea-sized bits; well, if you use a box grater, you're already there. This makes it so you handle the flour mixture less, which will result in a tender pie crust.
Step 3: The key to good pie crust is everything should be cold, cold, COLD! This includes the water. I usually drop a few ice cubes into the water so the water is chilly.
Step 4: I usually add about 50% of the water I need to the dry ingredients, mix it together, AND then add more water a tablespoon at a time, until the dough comes together. Knead the dough a good ten times and form it into one cohesive ball. If it's a bit shaggy, no biggie. When the dough rests in the fridge, the moisture will disburse throughout.
Step 5: This is a double-crust, so I slice it in half and reshape the dough into two discs. You should see the butter striated throughout the dough, creating layers of butter and flour.
Step 6: Let the dough rest. Resting the dough for an hour usually does the trick, but ideally it should be kept overnight. Have you ever had problems with your pie crust shrinking in the oven? This usually happens because there's too much water in the dough and/or the gluten in the flour hasn't had enough time to relax. Overnight is always better.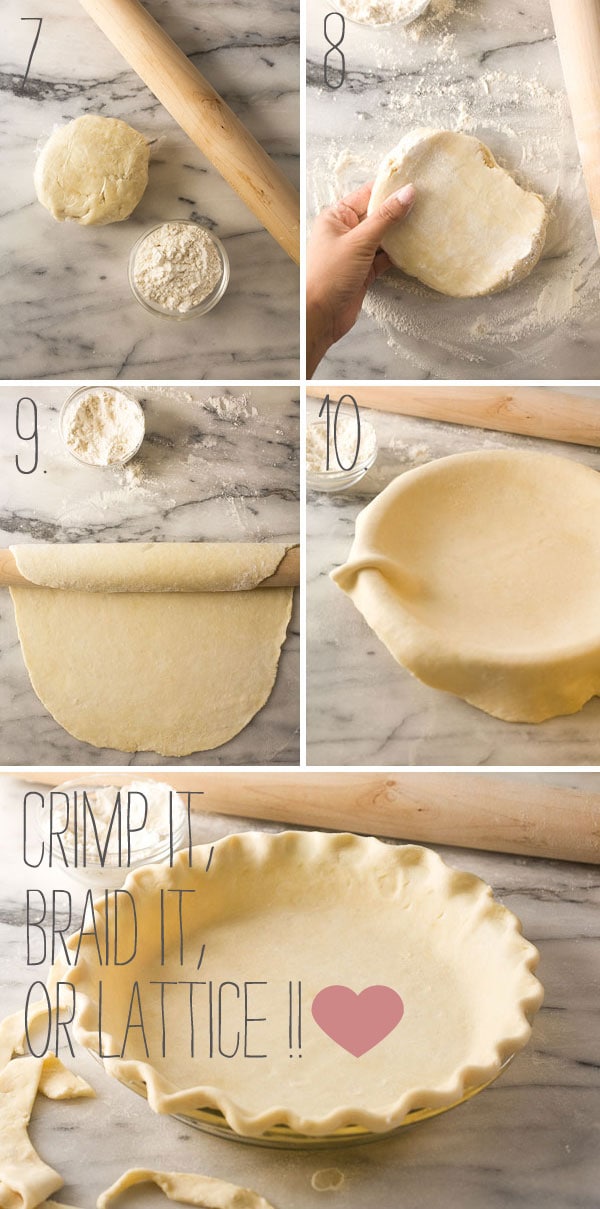 Step 7: Have you ever started rolling, only to find out the pie dough starts to crack on you?! Very frustrating. Allow the dough to sit on a floured work surface for about 10 minutes. This way it'll shake off its chill, making it easier to roll out.
Step 8: Flour everything. Everything!! Press your rolling pin and roll outward. Give it one push, then rotate the disc a quarter turn, and repeat the process until the pie dough has reached about a 13-inch circle. Keep flouring, too. If the dough seems like it's sticking to your counter, lift it and sprinkle a little flour underneath.
Step 9: The transfer. I like to do it grandma style by rolling the dough onto the rolling pin and then laying it over my pie pan. Some people like to fold it like a business letter and then transfer it. Both work fine.
Step 10: Trim the dough, leaving about a 1/2-inch overhang. There will be a bit of shrinkage, so just prepare for it.
Step 11: Crimp, if you like! Or braid it. You can also take a fork and create little indentations. Place the pie pan in the freezer for 20 minutes. This is also a good time to preheat your oven. If you're filling it with fruit, do it post-freezer trip.
Supplies:
Here's what I like and why.
1. Pie Pan – Glass. I like this Pyrex one. I love vintage-y pie pans I find at yard sales, but they heat unevenly and get way too hot. I like that the Pyrex ones are inexpensive and see-through so I can see how the crust is doing.
2. French rolling pin. These are inexpensive, better looking (in my opinion) and way less heavy than the traditional ol' handle rolling pins.
3. Box grater. See above for my long-winded, very passionate reason why I use a box grater! Another thing that would work is a food processor with the cheese grater attachment. But do we really want to clean a food processor? Not really.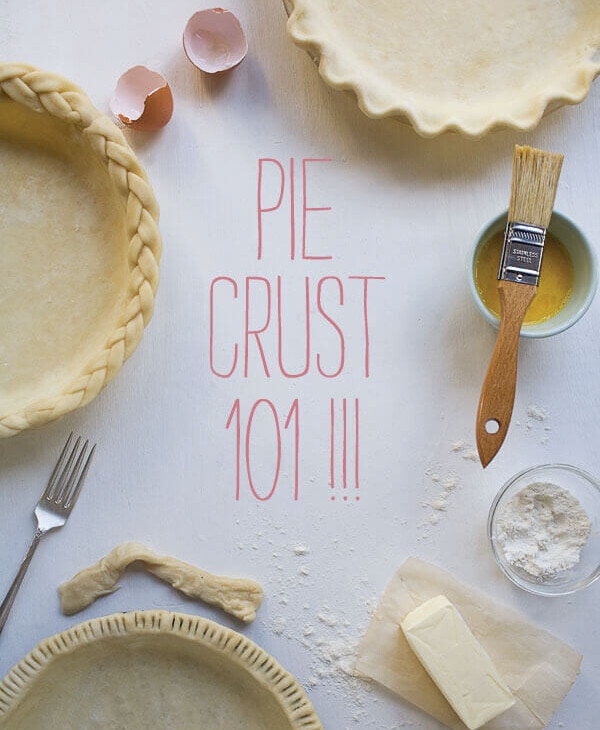 Print Recipe
Double Crust
Ingredients
2 1/2

cups

312.5g all-purpose flour

1

tablespoon

15g white granulated sugar

1 1/2

teaspoon

7g fine-grain sea salt

2

sticks

226g unsalted butter, frozen

3/4

cups

very cold water

divided

1

large egg

beaten (for egg wash)
Instructions
In a large bowl, mix together the flour, sugar and salt. Using a box grater, grate the cold butter atop the flour mixture. Working quickly, and using your hands, break the butter bits into the flour until they're evenly distributed and resemble the size of small peas.

Add a 1/2 cup of water and mix. The mixture will be shaggy at this point. From here, add 1 tablespoon of water at a time until the dough comes together (I usually need to add 3 to 4 tablespoons). Flour your counter and dump the dough onto it. Knead a few times more until it comes together. Divide the dough, forming two discs. Wrap the discs in plastic wrap and transfer to the refrigerator to chill for at least 1 hour, ideally overnight.

Remove the first disc of dough from the refrigerator and allow to come to room temperature for 10 minutes. Liberally flour your work surface and rolling pin. Begin to roll the dough, being sure to rotate it every so often to avoid sticking, to a 13-inch round. Wrap the dough around the rolling pin and unroll it over the pie tin. Gently fit the dough into the bottom and up the sides of the pie tin. Trim the dough around the pie tin, leaving a 1-inch overhang. Add your filling and transfer the pie to freezer while you roll out the second disc of dough.

Remove the second disc of dough from the refrigerator and repeat the rolling process as you did with the first disc. You have a couple of options, you could simply lay the second rolled out sheet of dough on top, making a few slits with a knife so steam can escape. You can do a lattice. You could even punch out holes or any sort of shape and place it on top. Crimp the edges and brush with the egg wash.