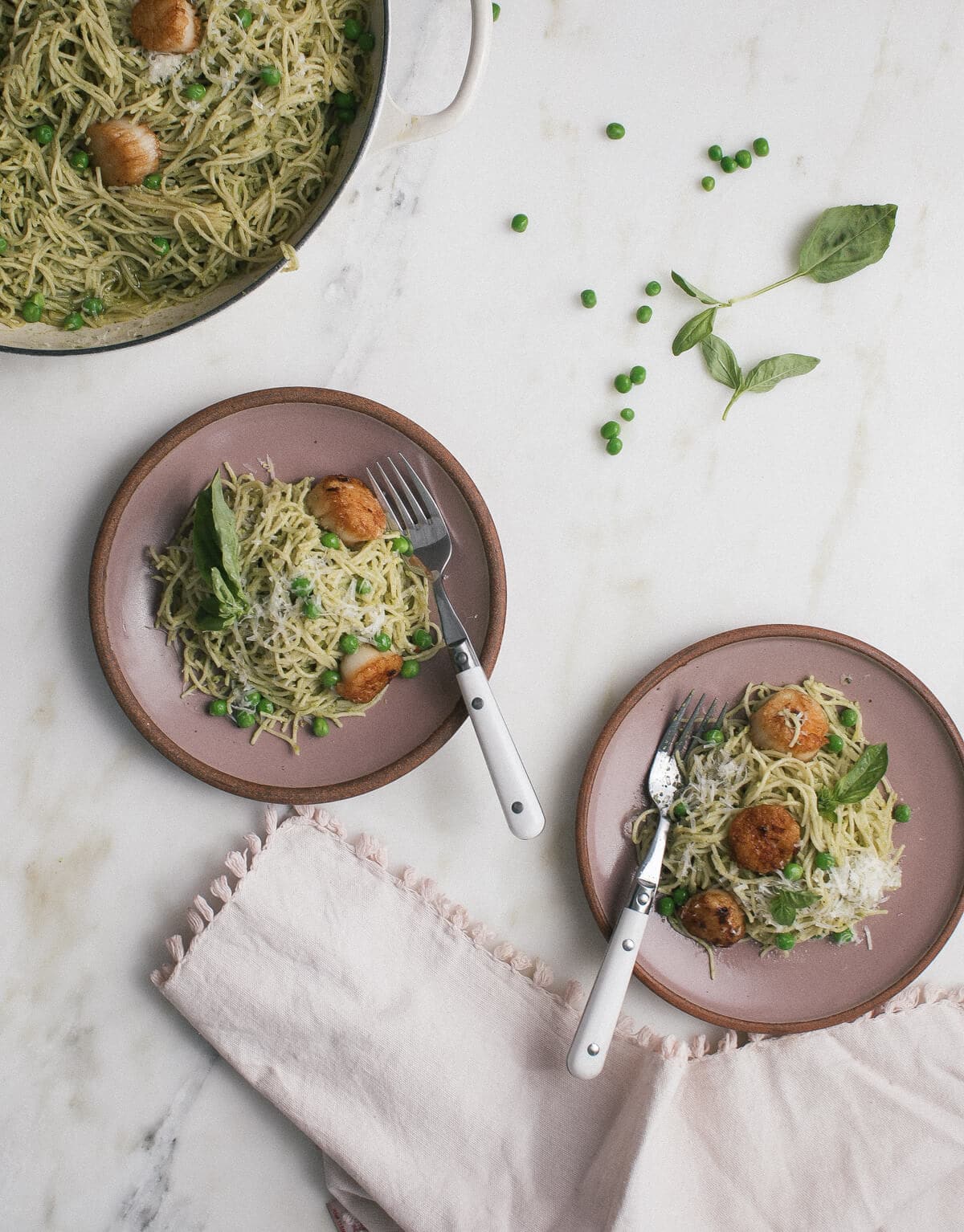 Spring is in full effect and I am fully enjoying going for long walks with Amelia and seeing Los Angeles so bright, green and blooming. Since we got a pretty heavy dose of rain this winter, Los Angeles is probably the prettiest I've seen it in quite some time.
I know I say this with every season (minus summer) but I love spring. I love the produce above all of the other seasons. Peas and rhubarb and strawberries and fava beans! I love it all so much.
I also love that spring doesn't involve any sweating. And there isn't anything more delightful than warm yet light and fresh-tasting pasta.
I teamed up with ALDI to bring you this delicious pasta tossed in an arugula pea pesto that's spiked with a good amount of lemon, ricotta and parmesan. It results in a creamy rich pasta that's still so fresh and clean.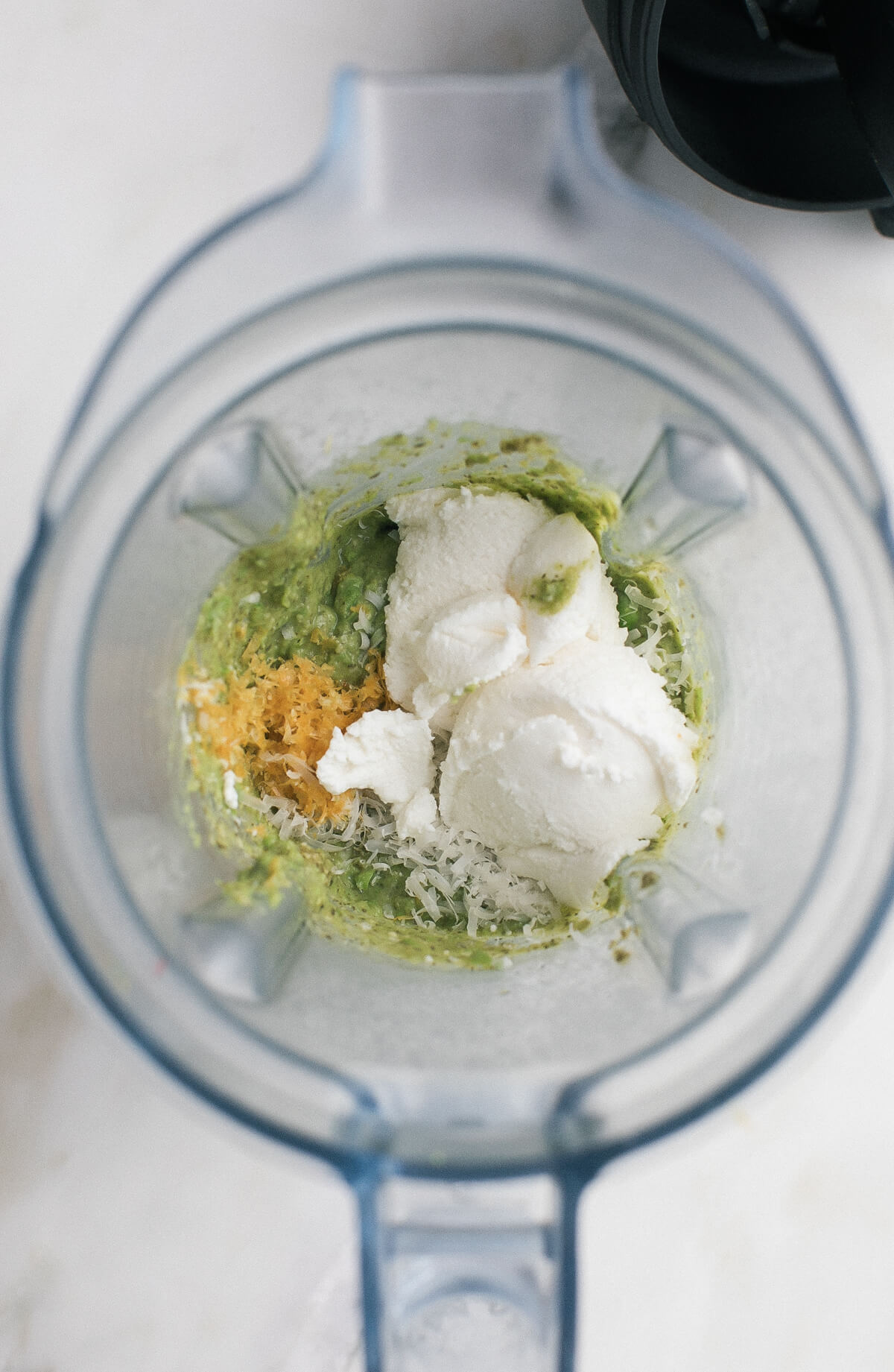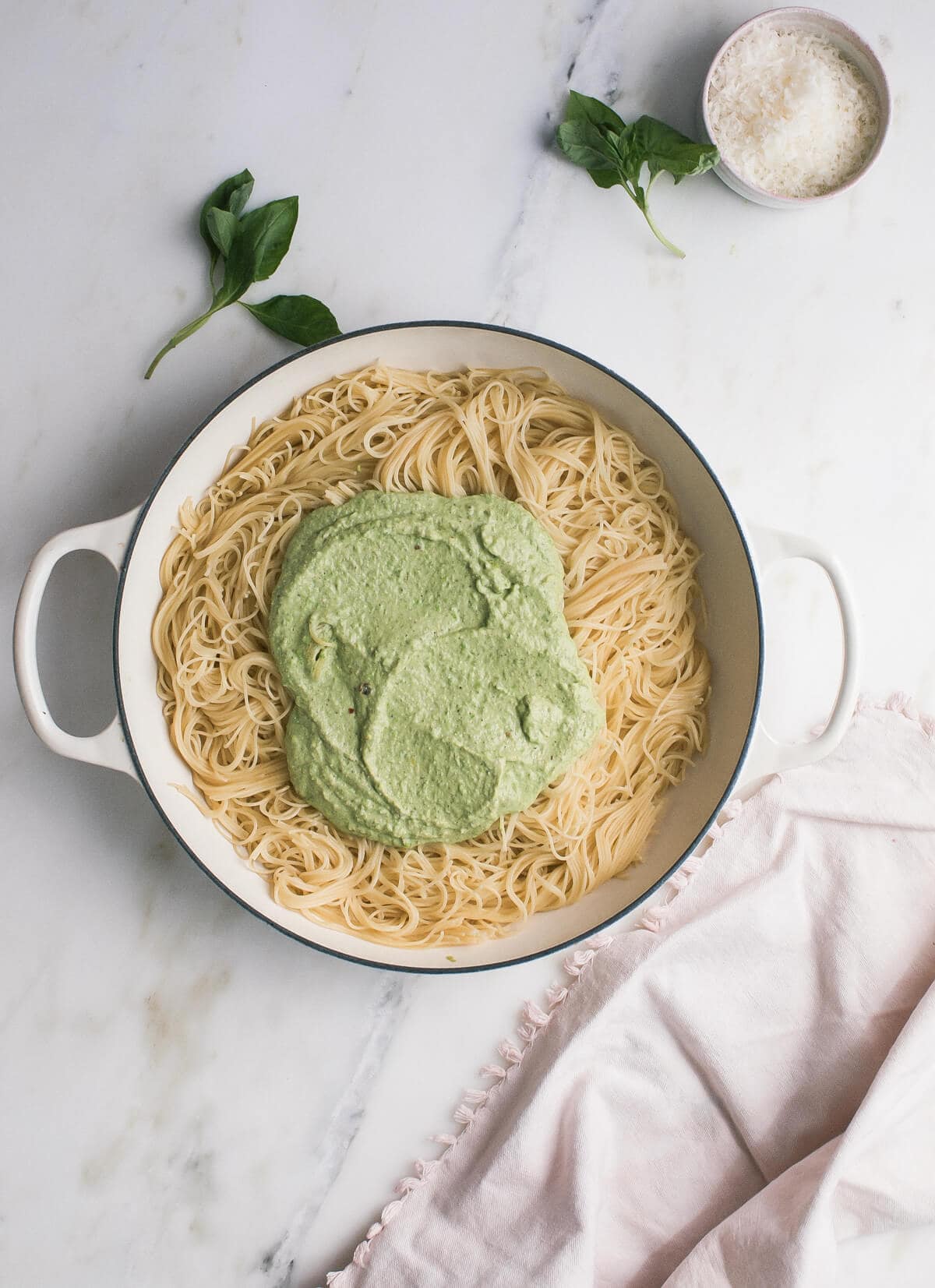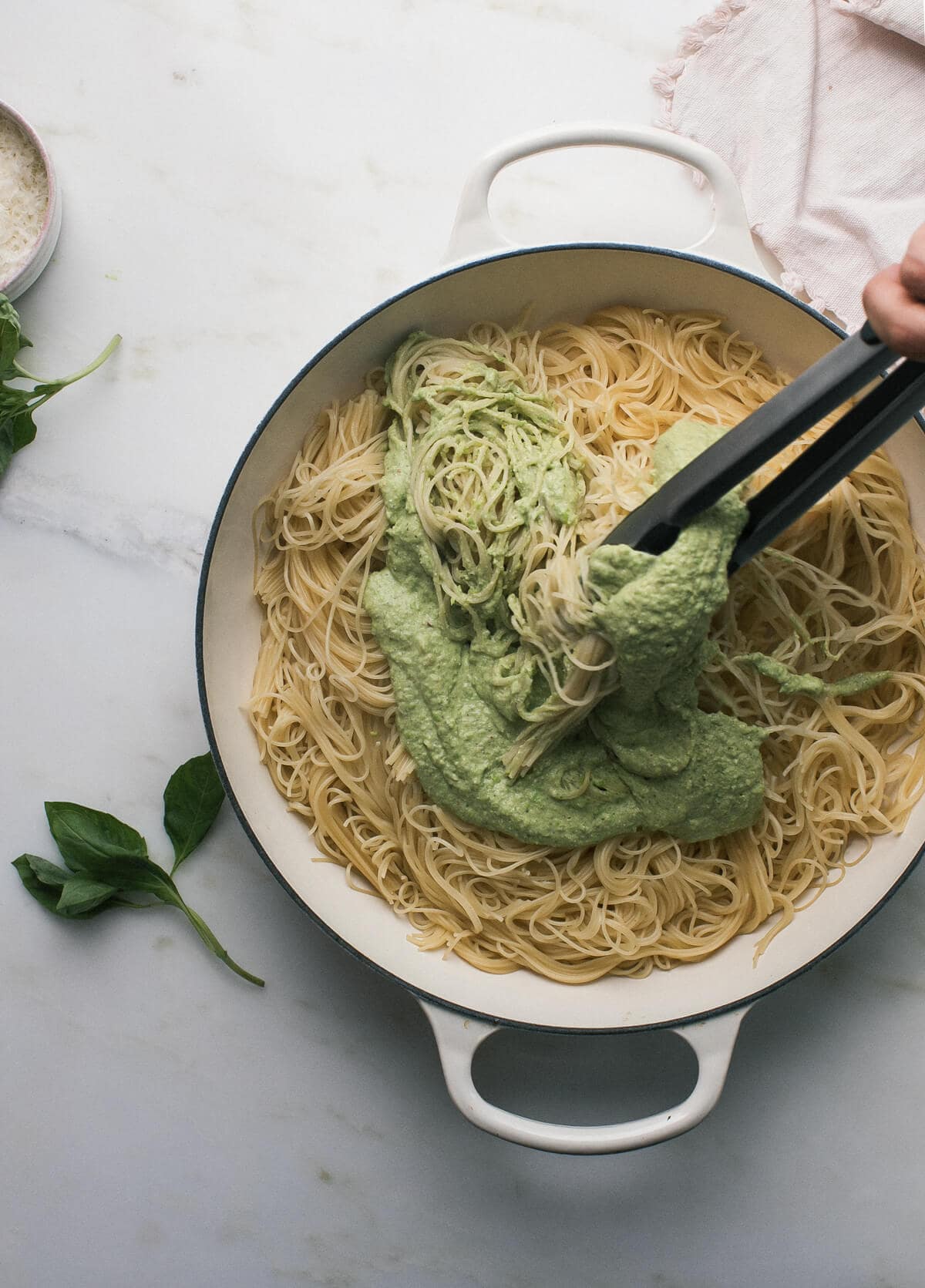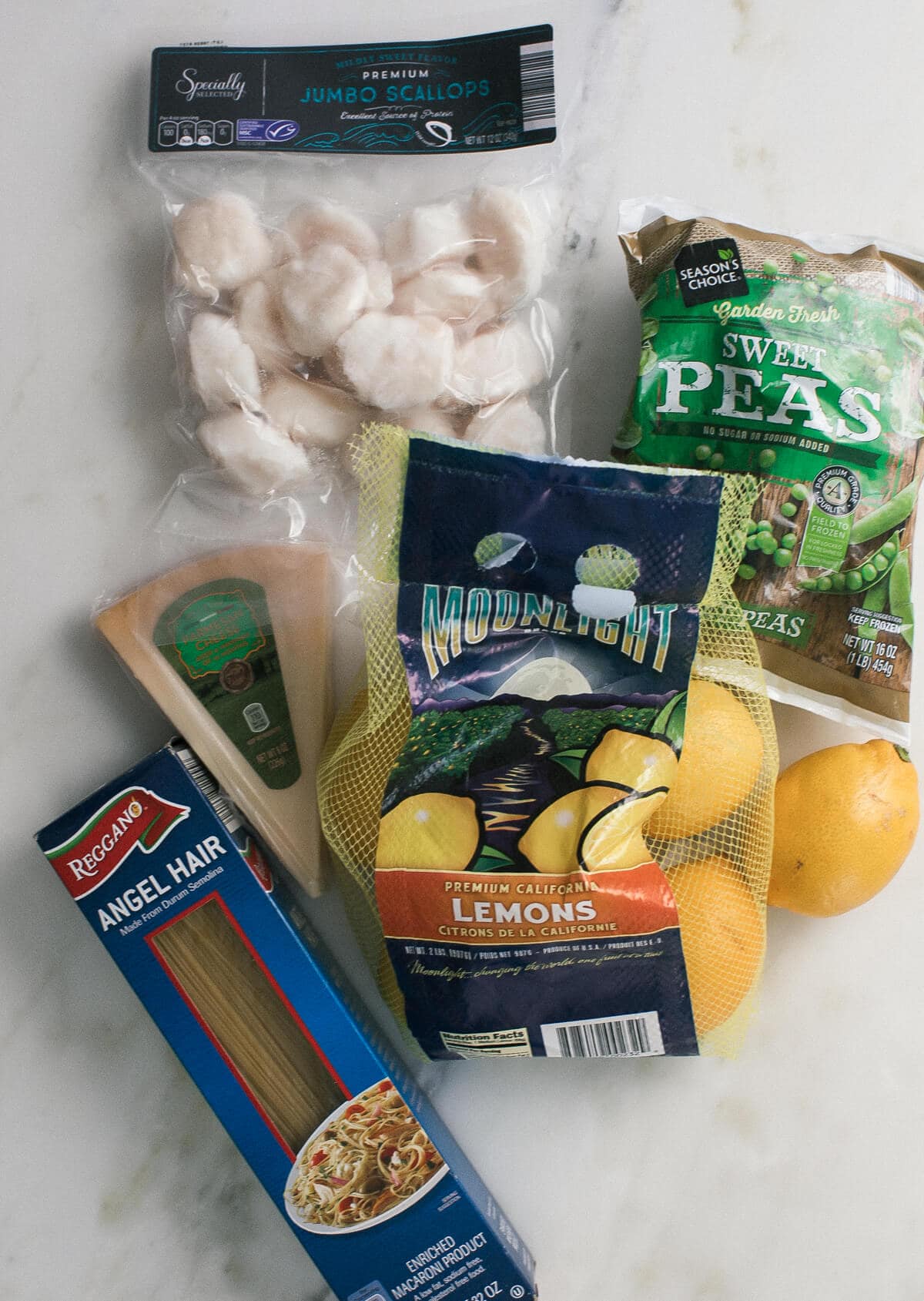 I topped the pasta with tasty scallops from ALDI that I seared up in ghee or butter, which is currently my favorite thing to use to pan-fry or sauté anything. It's the one thing from Whole 30 that I still hold onto.
It gives the scallops a delicious buttery aroma and flavor that I love. It works well with the brininess from the scallops.
The best part about this lil' meal is that it is super fastsuper-fast and easy. I'd say all in all, it took me about 20 minutes. I've been trying to make more easy meals, especially since the last month it seems that all I've wanted to make are layer cakes that take me (and you) like 3 hours.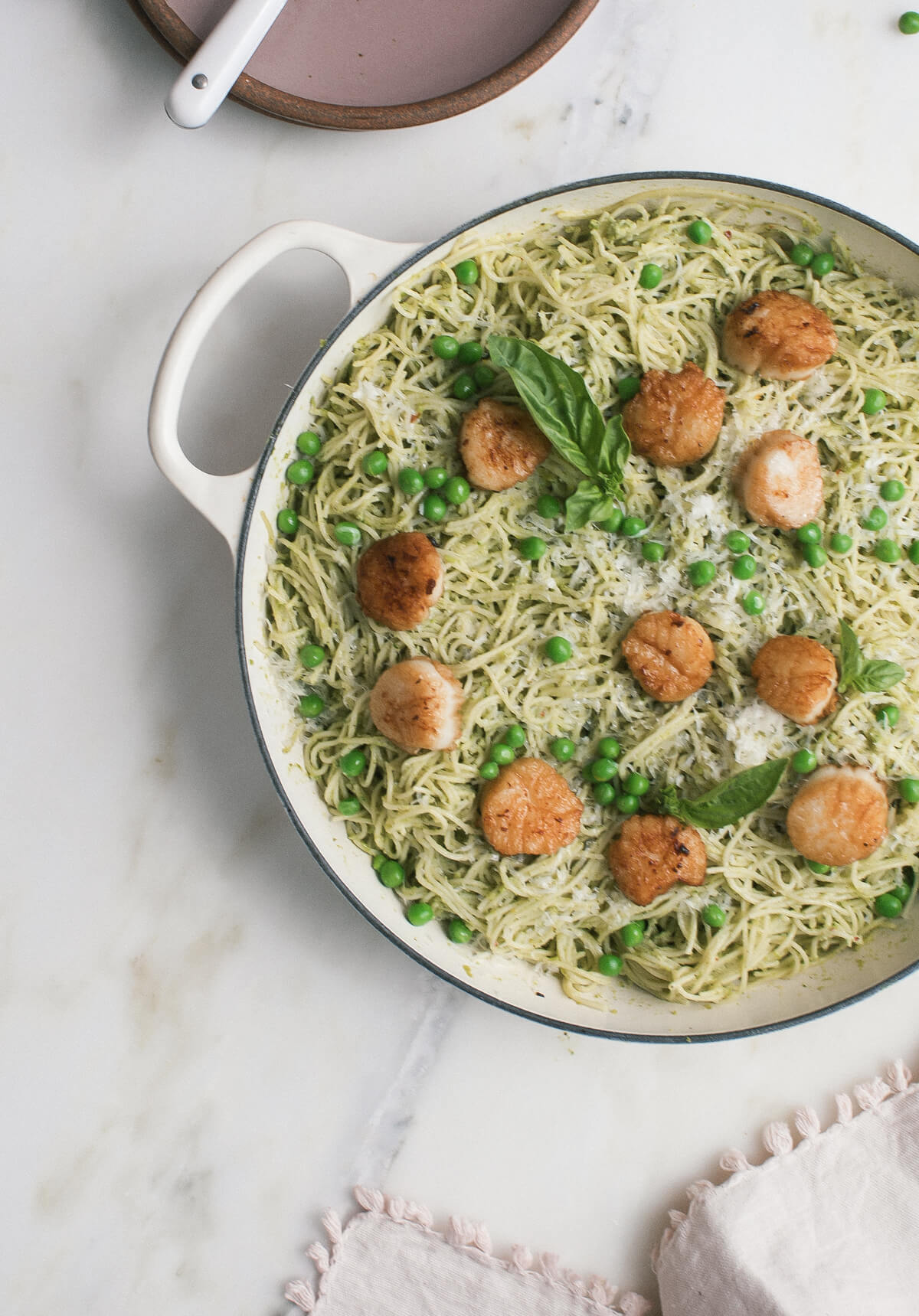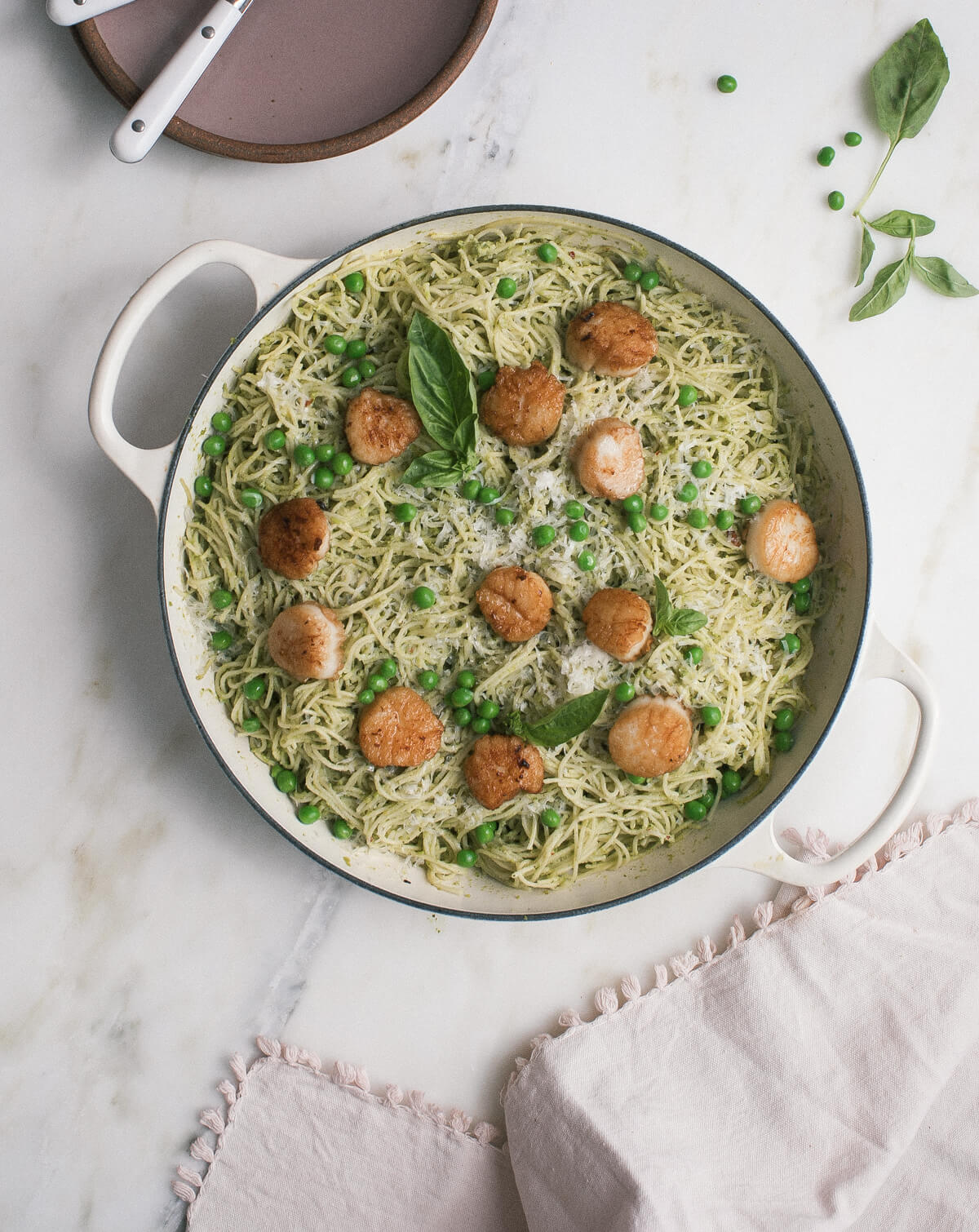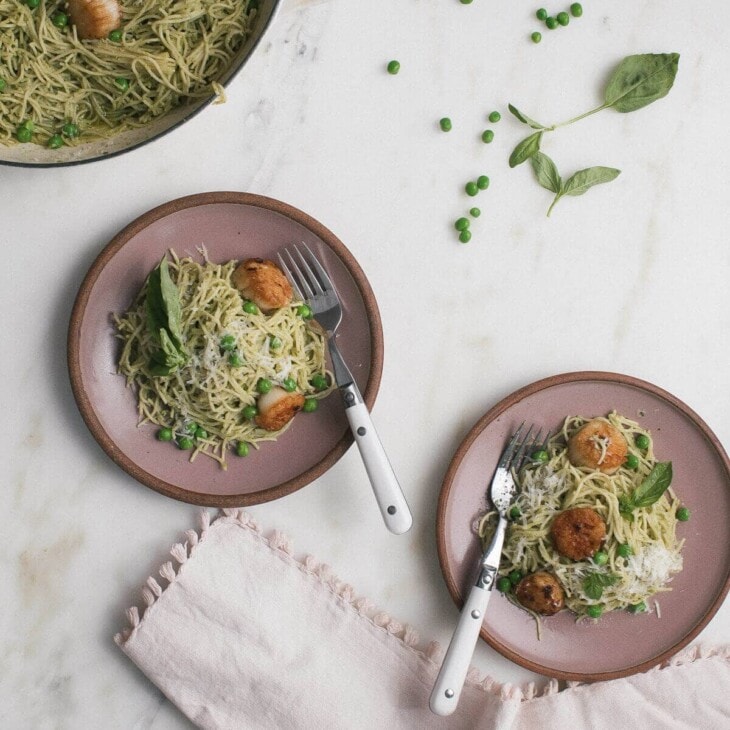 Print Recipe
Pea Pesto Pasta with Brown Butter Scallops
Ingredients
Arugula Pea Pesto: 
3

tablespoons

olive oil

1 1/4

cup

SimplyNature Organic Arugula

1/4

cup

fresh basil

1/2

cup

Season's Choice Frozen Sweet Peas

thawed (I simply rinsed them under cool water for a minute or so)

Zest from 1/2 lemon

Juice from 1 lemon

1/2

cup

Happy Farms Preferred Ricotta Cheese

1/4

cup

grated Priano Parmesan Cheese Wedge

1/4

teaspoon

crushed Stonemill Crushed Red Pepper

Stonemill Salt
Pasta + Scallops:
Salt

1

pound

Reggano Angel Hair Pasta

2

tablespoons

ghee or butter

1

pound

Specially Selected Scallops

thawed and dried well with a paper towel 
Instructions
To a blender or food processor, add the olive oil, arugula, peas, zest, lemon juice, ricotta, parmesan, crushed red pepper and a few pinches of salt. Pulse until the pesto is smooth, scraping down the sides as needed. Give it a taste and adjust the salt to taste. Set aside. 

Bring a medium pot of salted water to a boil. Cook the angel hair pasta per the package's instructions (mine said about 6 minutes). Reserve about a 1/2 cup of pasta water (you can eyeball this measurement). Immediately return the pasta to the pot. Add the pesto and and toss until evenly coated. If needed, add a splash or two of pasta water. 

Meanwhile, in a small skillet, set over medium-high heat, add the ghee or oilbutter. When hot, add the scallops and sprinkle them with a few pinches of salt. Cook for 3 to 4 at a time, as to not crowd the pan. Cook on the first side for about 30 seconds to 40 seconds; flip and cook on the opposite side for about 30 seconds. Repeat until you've worked your way through all of the scallops. 

Divide the pasta and scallops amongst bowls. Garnish with a few sprigs of basil and Parmesan. 

(This post is sponsored by ALDI. Thanks for supporting the sponsors that keep A Cozy Kitchen cozy.)