Brown Butter Scallops + Walnut Pesto Pasta
13
Feb 13, 2017, Updated Dec 22, 2018
Disclosure: This post may contain affiliate links, which means I may earn a commission if you click on the link and make a purchase.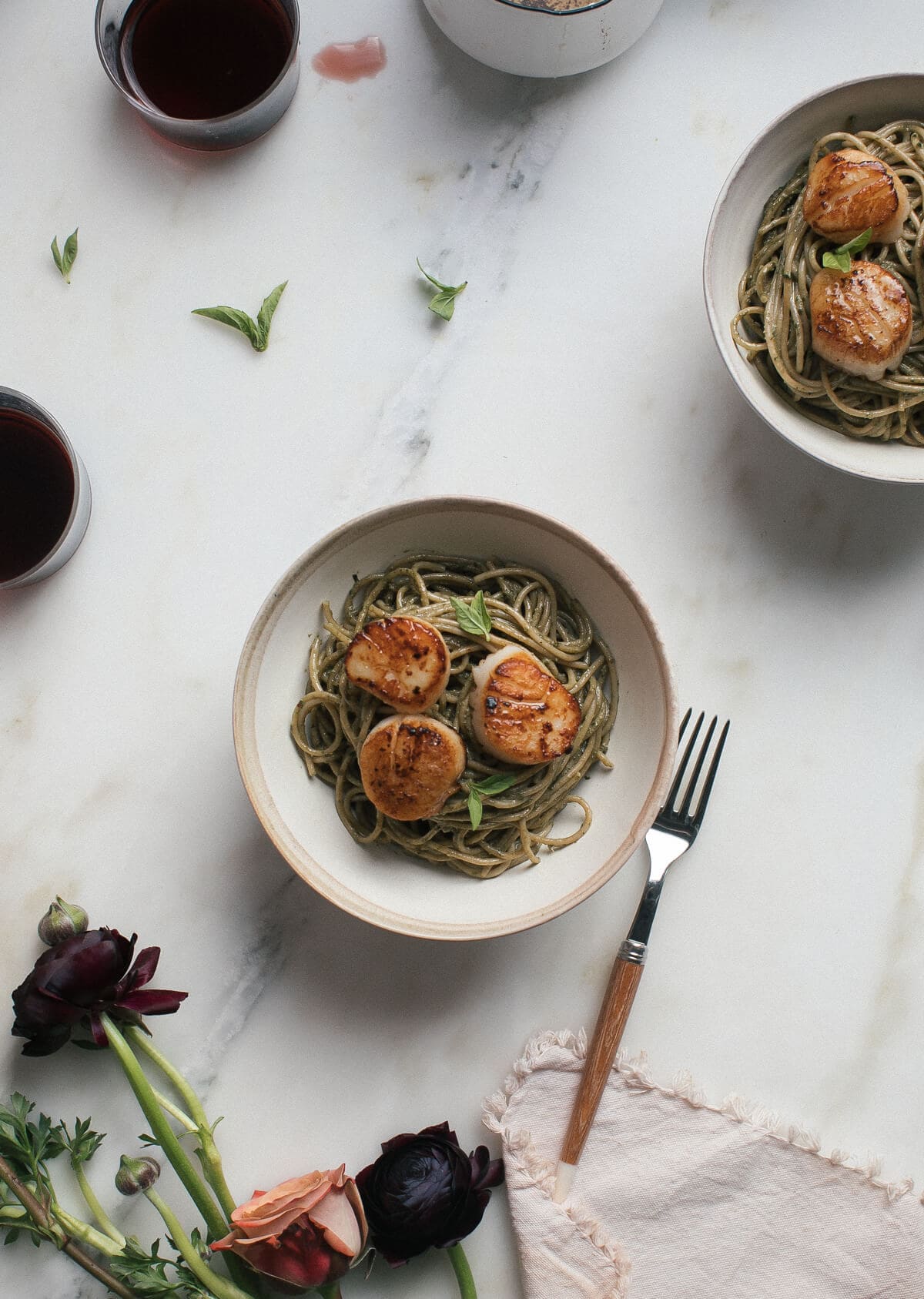 My single friends searching for long-term relationships often ask me for advice on the subject. While I am not a professional, I usually tell them this:
NO ONE is perfect. You just have to find someone who has potential and then try and change them into who you want them to be!!! 😬😬😬
My friends usually laugh when I tell them this but it's sort of true! When you meet someone and start hanging out with them, they're not gonna know what you like and dislike and what annoys you and what makes you happy. So you have to communicate this in a not-so-terrible way.
Also, when Josh and I first starting dating, I didn't totally expose how crazy and weird I am. He fell in love with me AND then I slowly showed him the absolute true me. By then it was way too late. MUAHAHAHA! 😬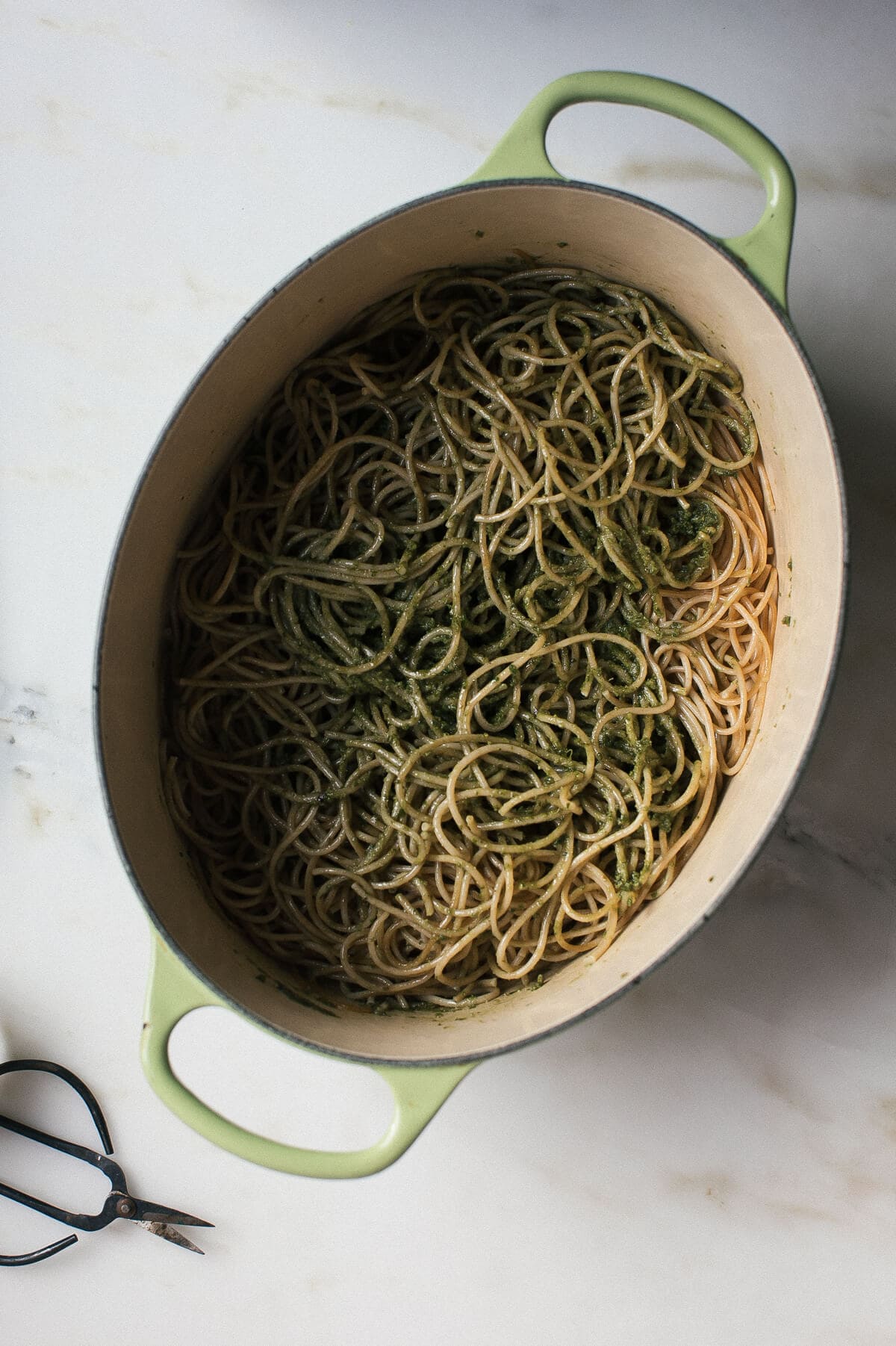 Poor Joshua.
This year Valentine's Day lands smack dab in the middle of the week. On a Tuesday no less. This is a meal that can be made in literally 30 minutes. It's so easy and delicious and comforting. Browned butter and scallops are always a favorite of mine.
I made this dish with whole wheat pasta which if we're all being honest with each other isn't THAT much healthier than regular pasta so choose what you like.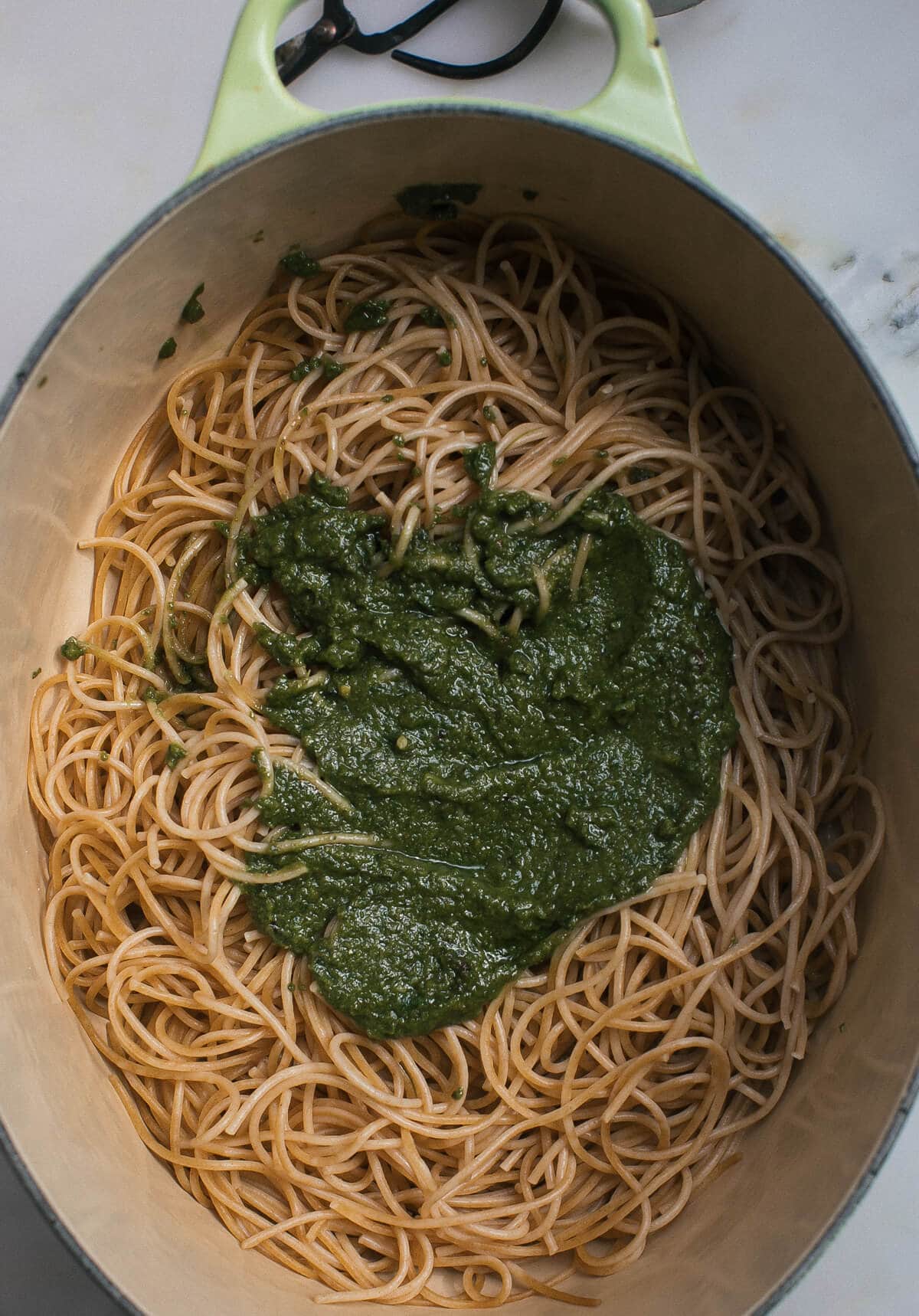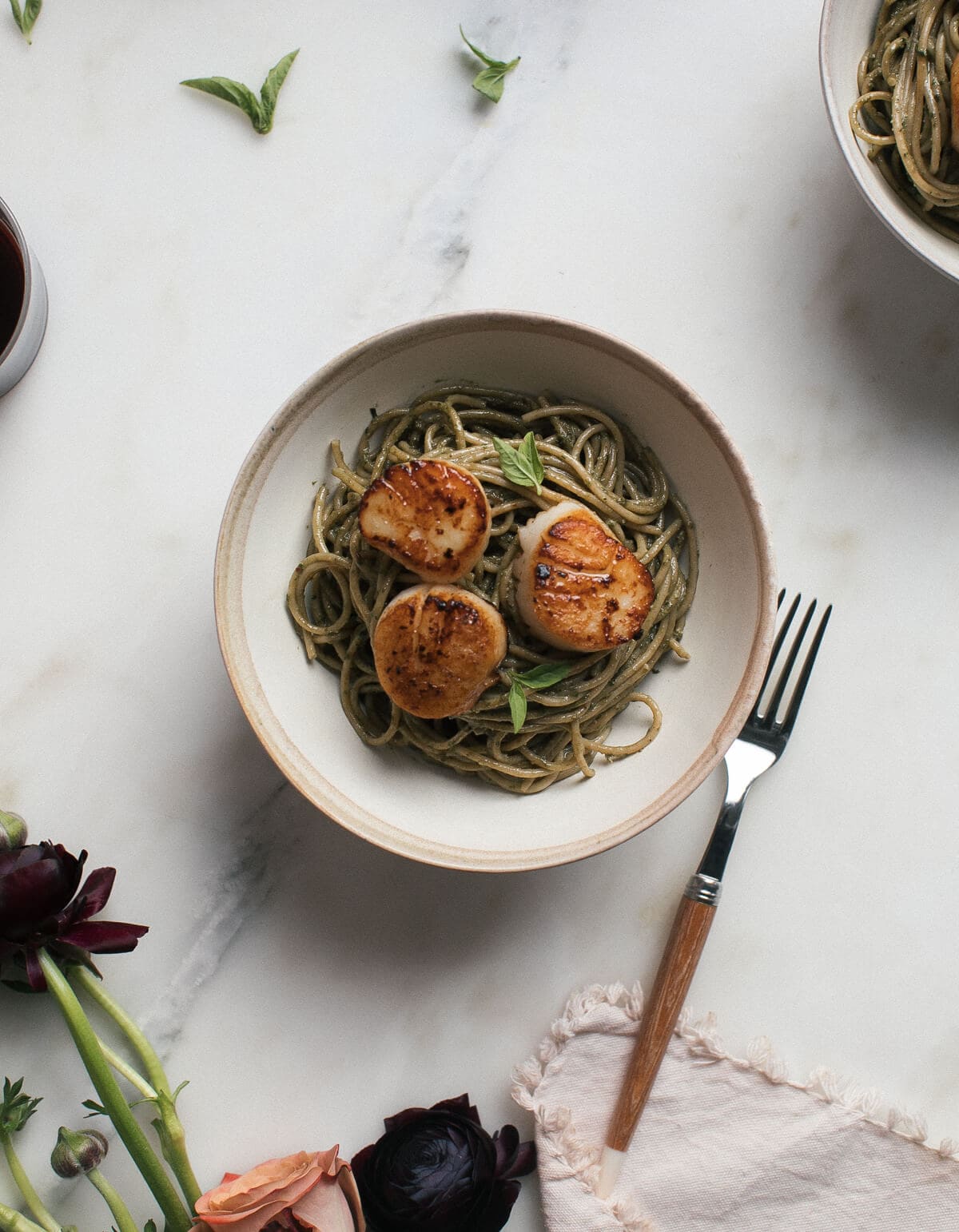 The pesto is my favorite and I could eat it on anything. It's super nutty because of the large amount of walnuts. And while it's comforting, it's still really light and fresh-tasting.
Happy Valentine's Day. Hug your bf/gf, husband/wife, call your mama, hug your dog. Love is cool.
P.S. Another AMAZING weeknight V-Day meal would be these Double-Decker tacos that I made for the Super Bowl but let's be real is there anything more romantic?!?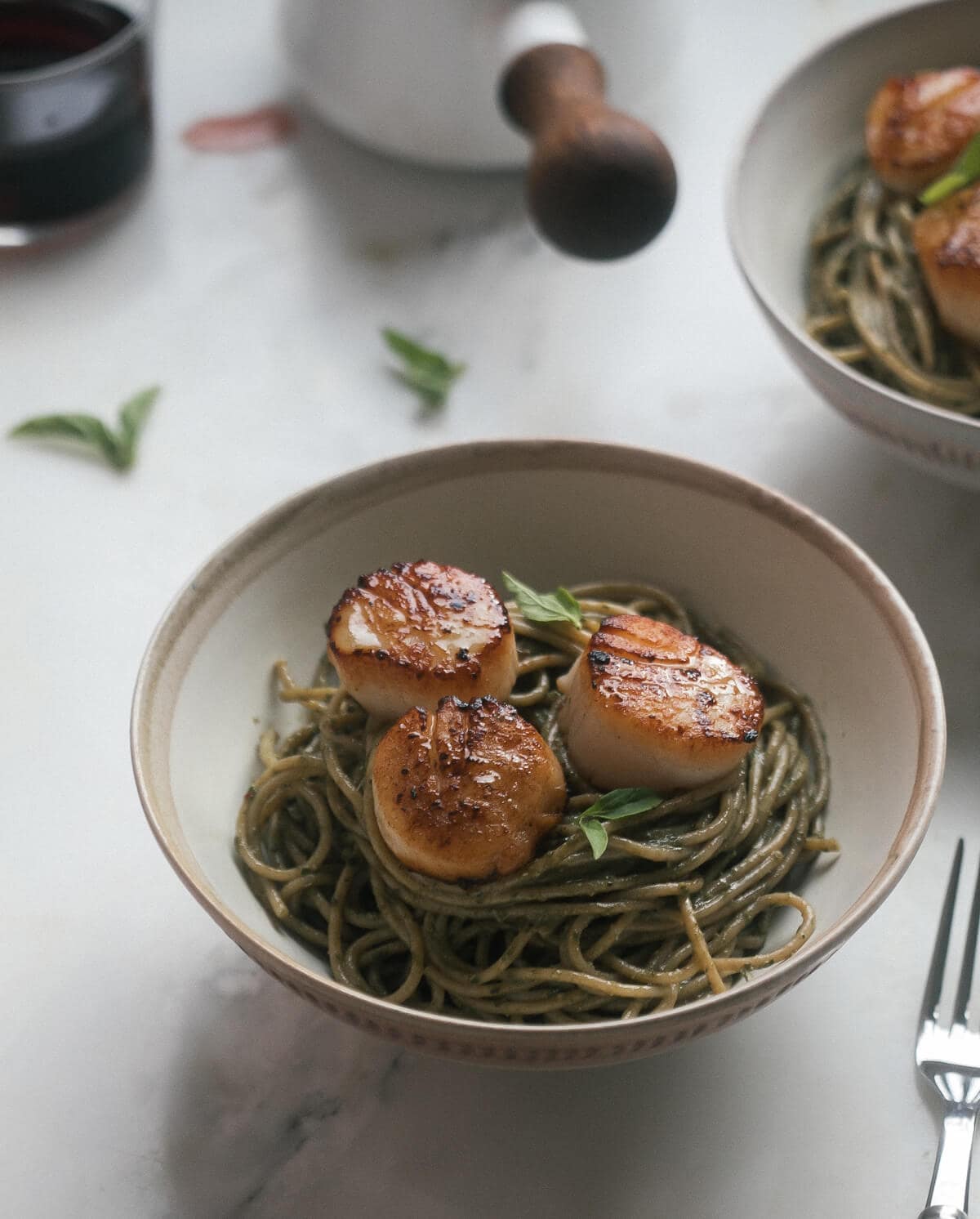 Brown Butter Scallops + Walnut Pesto Pasta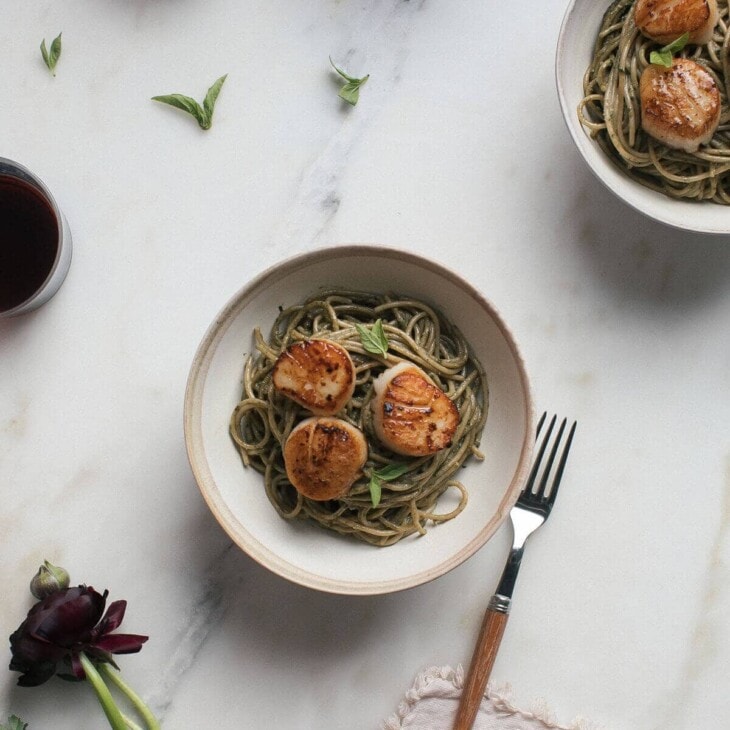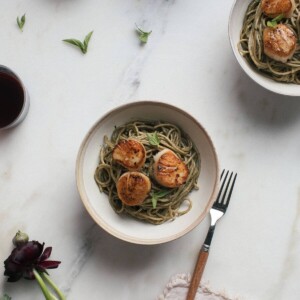 Ingredients
Walnut Pesto:
1/2

cup

walnuts

1 1/4

cups

fresh basil + more as garnish

1/4

cup

shredded Parmesan cheese

3

tablespoons

olive oil

Salt

Crushed red pepper

1

garlic clove

Juice from 1/4 lemon

1/2

pound

pasta

,

of choice (I used whole wheat spaghetti)
Brown Butter Scallops:
1 to 2

teaspoons

of oil

1/2

pound

scallops

,

about 6 to 8

Salt

2

tablespoons

unsalted butter

,

cubed
Instructions
To make the pesto:
To a blender, add the walnuts, fresh basil, Parmesan, olive oil, salt, crushed red pepper, garlic clove, lemon juice and a few pinches of salt. Pulse until very smooth, scraping down the sides of the blender as needed. Give it a taste and adjust the salt and crushed red pepper to your liking.

Bring a pot of salted water to a boil. Cook the pasta per the package's instructions (mine said about 9 minutes). Scoop out about 1/2 cup of pasta water (you can eyeball this measurement) and set it aside. Drain the pasta and transfer it back to the pot. Pour in the pesto, along with a splash of pasta water. Give it a toss and cover the pot with a lid so it stays warm.
To cook the scallops:
Start by patting the scallops dry with a paper towel (this helps with them getting nice and browned). Sprinkle both sides with a teeny bit of salt. In a small skillet, set over medium-high heat, add the oil. When hot, add the scallops, cooking on each side for about 1 to 2 minutes, until nice and golden brown. Repeat until you've worked your way through all of the scallops. Set them aside. Add the butter to the pan and cook for about 1 to 2 minutes, stirring frequently, until it goes from melted to foamy to nutty and browned. Remove immediately.
To assemble:
Divide the pasta amongst to bowls. Top with the scallops and a few spoonfuls of the browned butter. Garnish with little basil leaves.
Nutrition
Nutrition information is automatically calculated, so should only be used as an approximation.