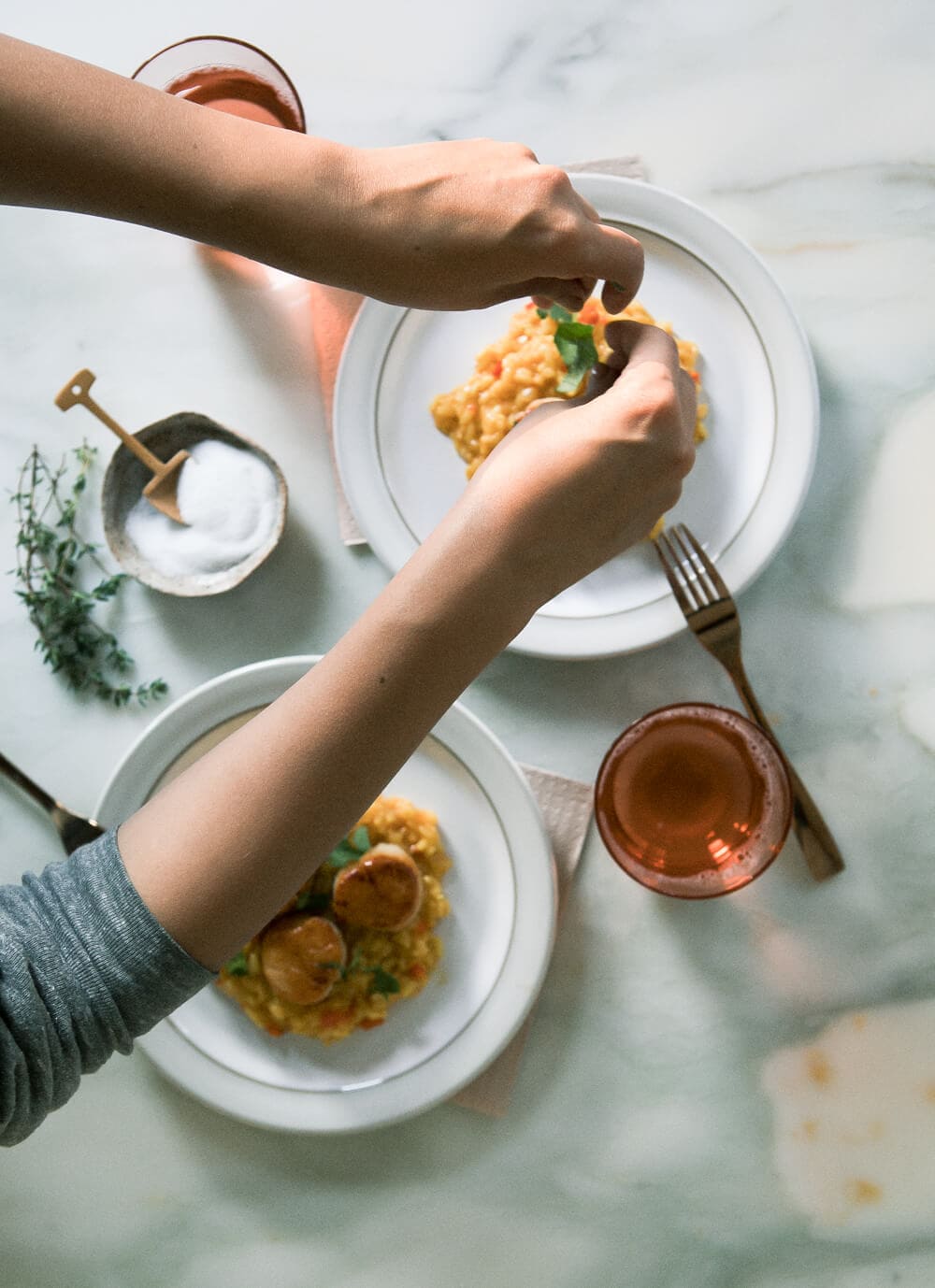 Are you a freezer person? You know, like one of those people who freezes all type of stuff? I've never been big on the freezer…until now! I'm like having a huge moment with my freezer (which reminds me of this song called umm NEW FREEZER).
I swear, come summertime, I'm going to make a big batch of sofrito to add to everything because the beginning of this recipe calls for a small version of it and if it was in my freezer, that means I'd be able to skip a gigantic step.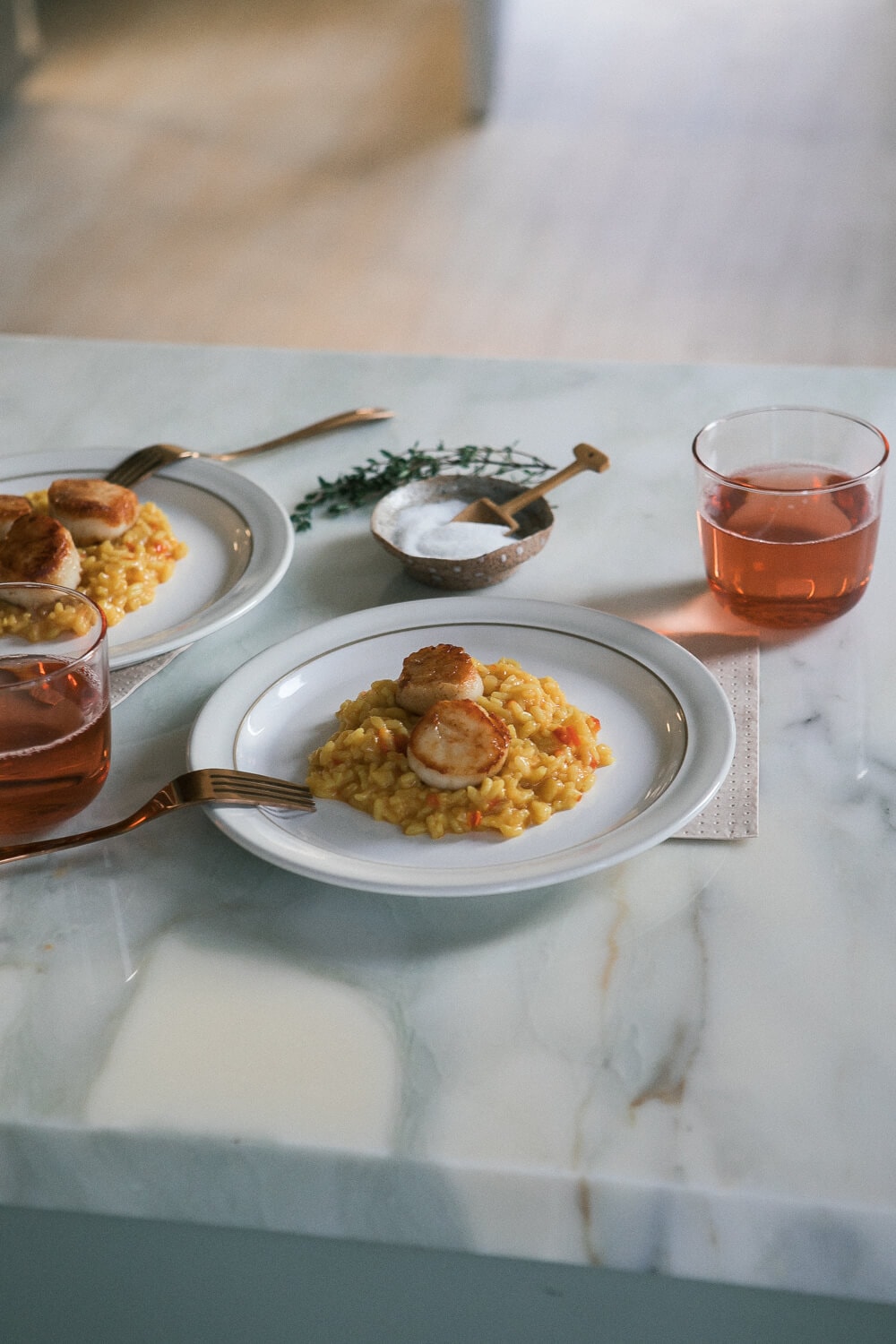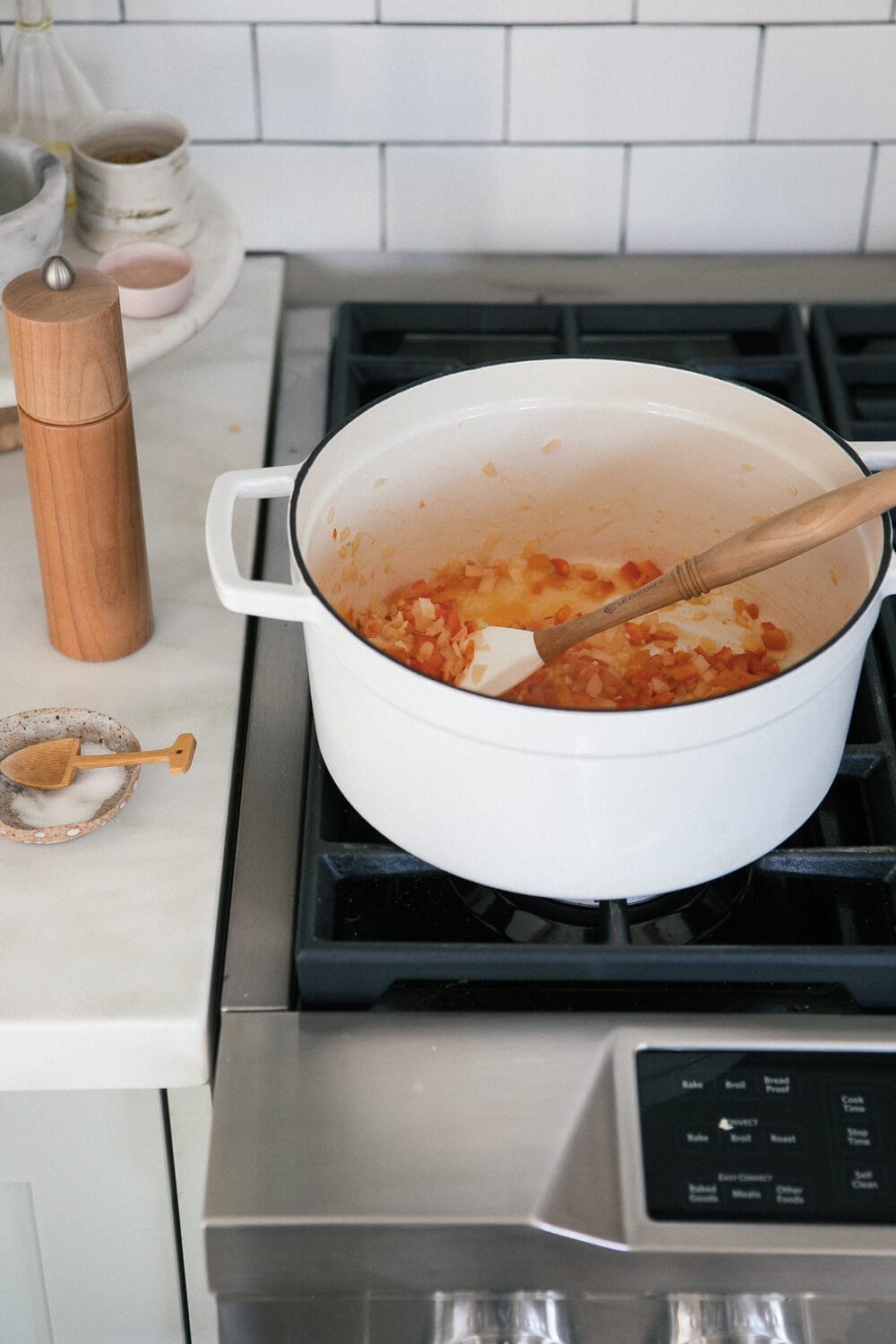 Ok, moving on…I'm not a huge risotto maker. I mean, I've made it a few times but it's always felt like such a diva-like dish to make. So high-maintenance. It has to really be worth it to me and GIRRRLL this recipe is worth it.
The beginning part is where all the flavor comes from. There's lots of onion, red bell pepper, tons of garlic, tomato and spices. It tastes like paella but it's not. And it's way faster and you don't have to make it for a gazillion people. It's that perfect dish for two or for four or for one (with leftovers).
I will give all my skepticism to baked risotto. I'm just not a fan. I like my risotto creamy and a bit on the runnier side. I don't like it block-y or stiff. This risotto doesn't even have cheese because it's totally not necessary. The arborio rice has enough creaminess!
I topped this risotto with seared scallops that I topped with brown butter and it was to die for. But you could do a piece of salmon, a piece of chicken or just keep it very chill and easy and add nothing to the top. It's really up to you.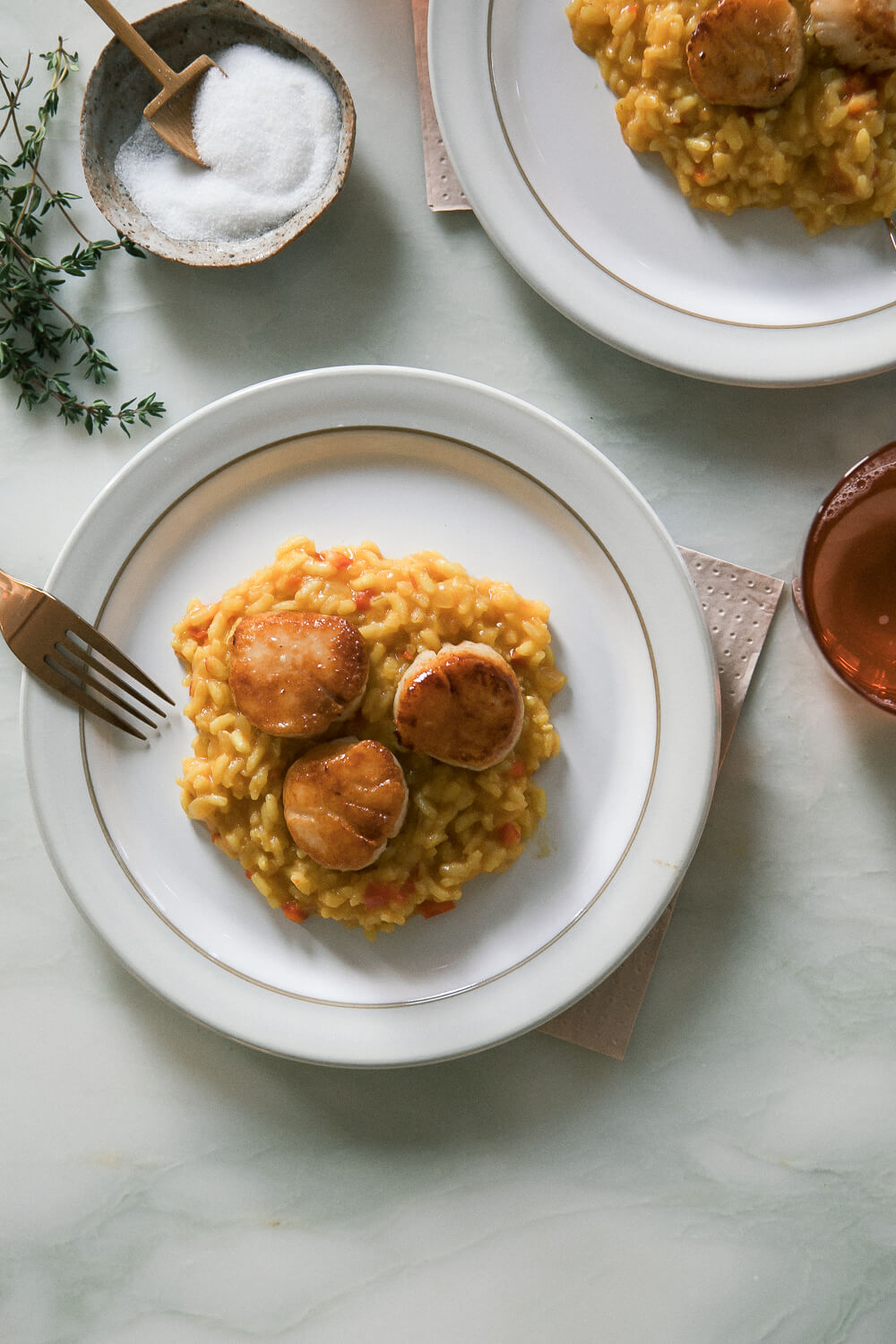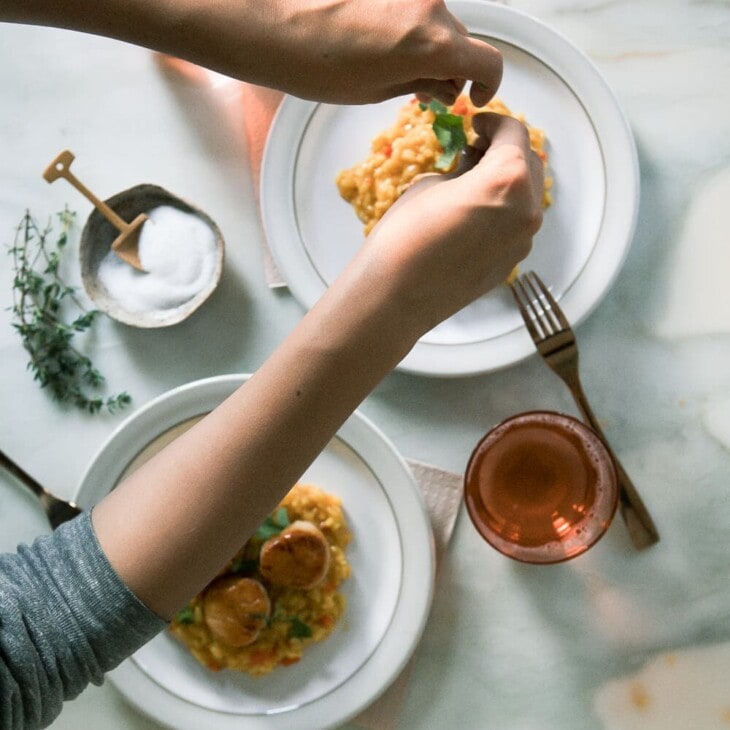 Print Recipe
Paella-Tasting Risotto with Brown Butter Scallops
Ingredients
Paella-Tasting Risotto:
*1 tablespoon olive oil

1/2

yellow onion

peeled and minced

1 to

mato

peeled and diced

1

red bell pepper

diced

4

garlic cloves

minced

Salt

1

teaspoon

ground cumin

1/2

teaspoon

crushed red pepper

1/4

teaspoon

ground turmeric

Pinch

of saffron

1 1/2

cups

risotto rice

like arborio or carnoli

1/4

cup

white wine

optional

4 to 4 1/2

cups

water

vegetable or chicken broth
Brown ButterScallops:
1 to 2

teaspoons

of oil

1/2

pound

scallops

about 6 to 8

Salt

2

tablespoons

unsalted butter

cubed
Instructions
To Make the Paella-Tasting Risotto:
*If you have a food processor, you can add the olive oil, yellow onion, tomato, red bell pepper and garlic to it and pulse until it's all minced up. Big step skipped!

To a Dutch oven or medium pot, set over medium-low heat, add the olive oil. When the oil is hot, add the diced onion, tomato, red bell pepper, garlic and a teaspoon of salt. Stirring regularly, cook until very softened, about 10 to 15 minutes. Add the spices: the crushed red pepper, cumin, turmeric, saffron and white wine.

Stir in the rice and cook for about 2 to 3 minutes. Turn the heat down to medium-low and add 1/2 cup of broth to the rice. Stir occasionally until the broth is absorbed. Give the broth a taste and add some salt according to taste. Continue adding the broth, 1/2 cup at a time, stirring regularly, until the liquid is absorbed and the rice is al dente, about 15 to 20 minutes. Give the rice a taste and adjust the salt to your liking.
To Make the Brown Butter Scallops
Start by patting the scallops dry with a paper towel (this helps with them getting nice and browned). Sprinkle both sides with a teeny bit of salt. In a small skillet, set over medium-high heat, add the oil.

When hot, add the scallops, cooking on each side for about 1 to 2 minutes, until nice and golden brown. Repeat until you've worked your way through all of the scallops. Set them aside on a paper towel. Add the butter to the pan and cook for about 1 to 2 minutes, stirring frequently, until it's turned from melted, to foamy to nutty and browned. Remove immediately.
To Assemble:
If the risotto has stiffened up, stir in about 1/4 cup of broth or water to loosen it up. Divide the risotto amongst the plates and top with the scallops. Pour a bit a teaspoon of the brown butter on top of the scallops.