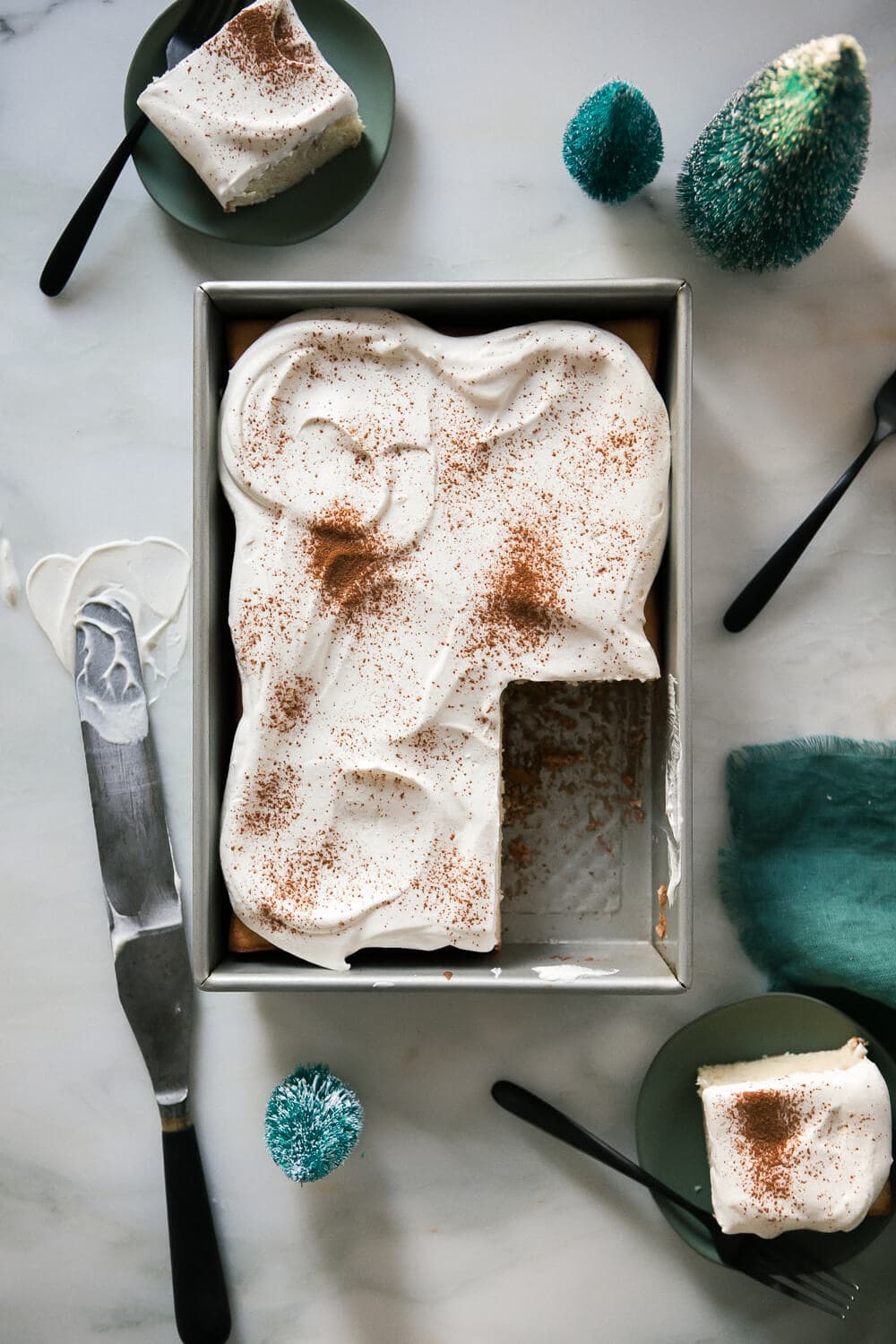 Hiiiii!
Now that work has started to slow down and I can concentrate on being festive AF, I have decided to list some of my favorite Christmas/Holiday movies. And then maybe you can tell me your favorites because for the next couple of weeks I am preparing myself to just chill and watch movies. And maybe bake a few things, sparingly.
1. Little Women - Winona Ryder at her best. Kirsten Dunst SO YOUNG. Annie McDowell love her!
2. It's a Wonderful Life - I maybe know every word to this movie. Take a wild guess who currently reminds me of Mr. Potter? Lol.
3. Elf - I mean, it's just a classic.
4. Home Alone - I still kinda almost cry at the end when he sees the old man in church.
5. Love Actually - Hugh Grant at his best—I miss him, wish he was still acting.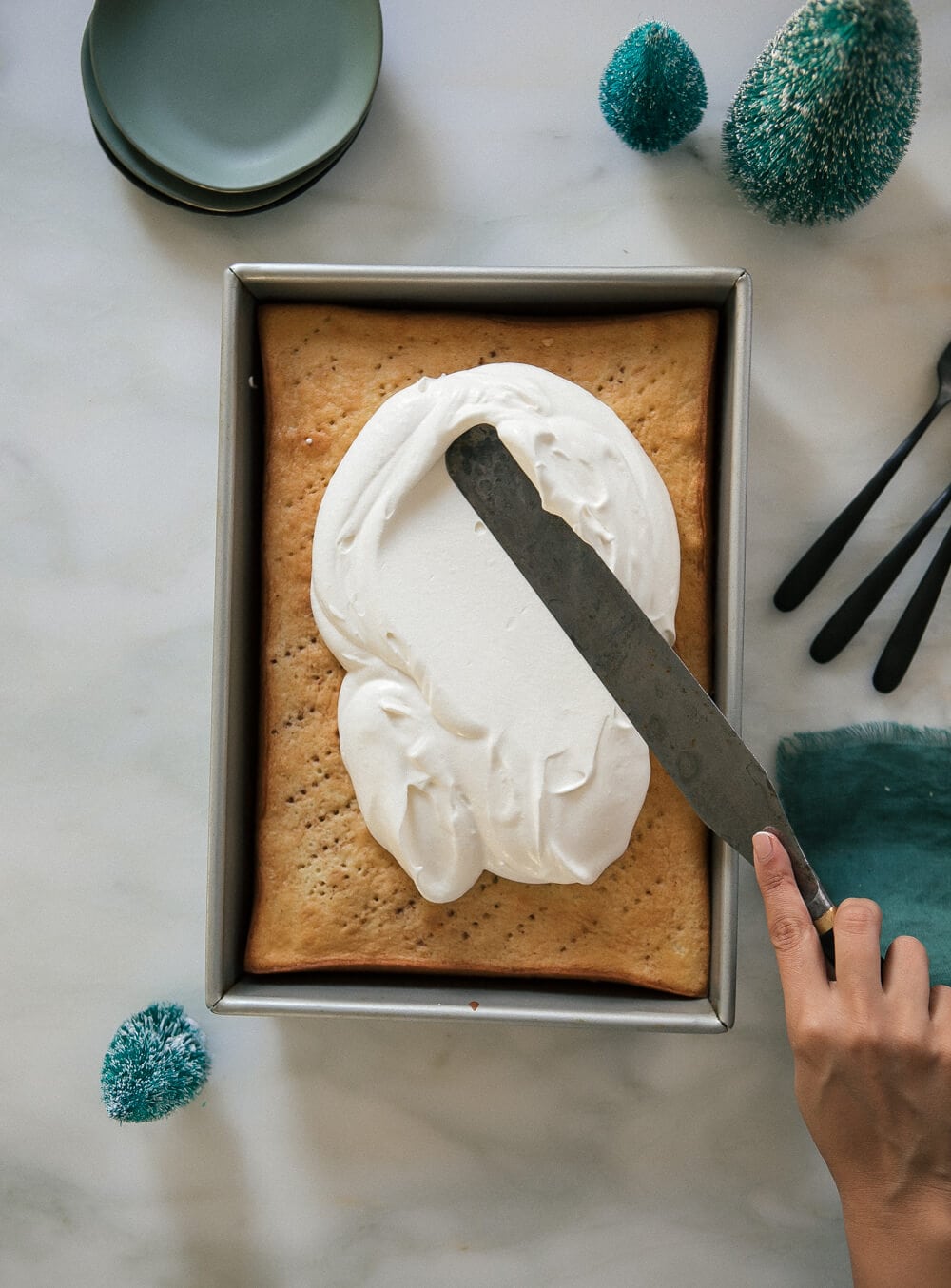 Am I missing any? I feel like I must be. Oh I was going to put The Christmas Story on there but honestly that movie always creeped me out. The dad and his creepy-ass obsession with the leg lamp; the mom washing out the kid's mouth out with soap; and them having a depressing Christmas. That movie is a bummer. Maybe it's more honest than most Christmas movies but I need some magic.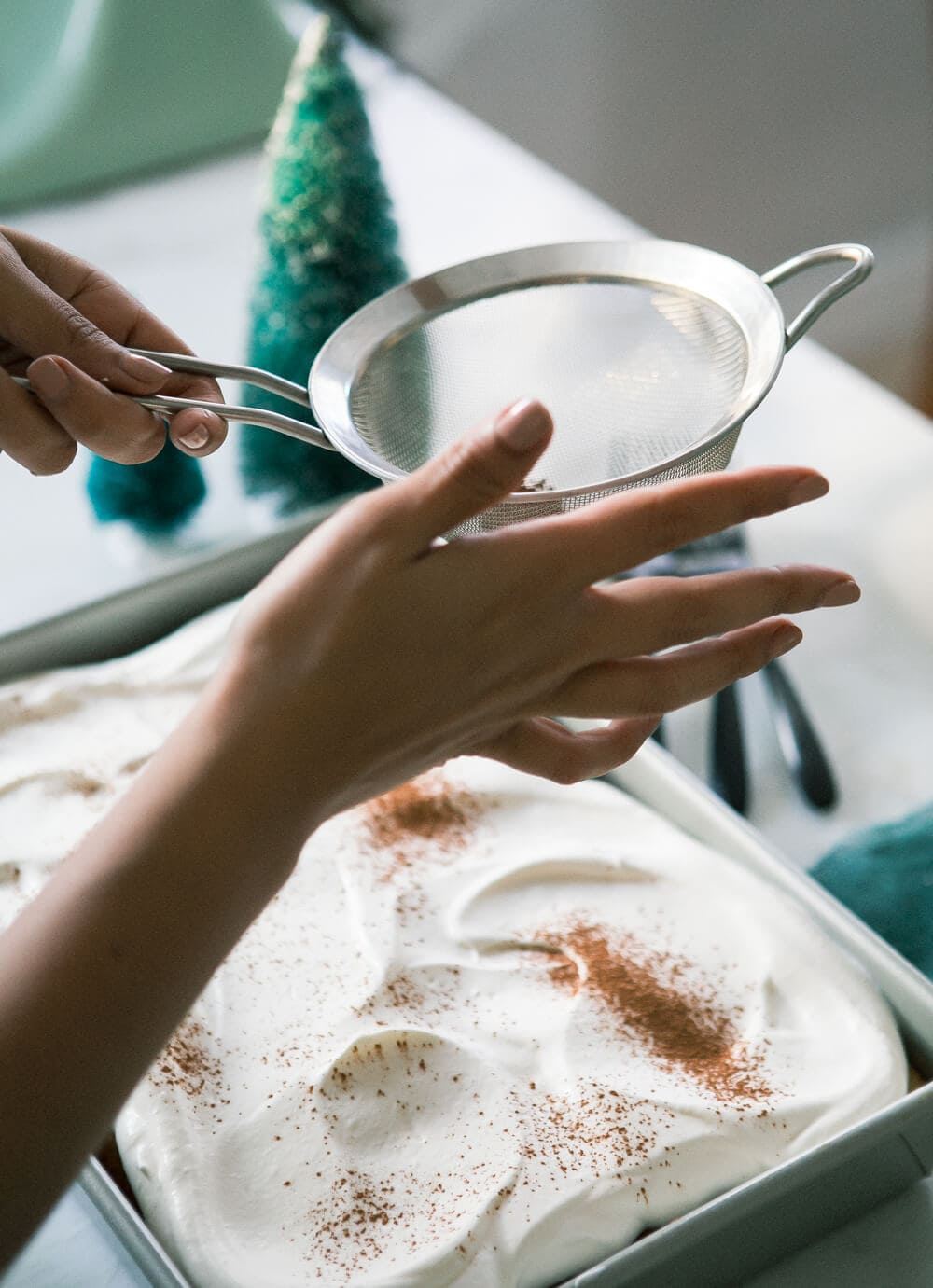 Anywayyyzzz, welcome to the post where I'm reorganizing the beloved "tres leches cake." I like to think that maybe I simplified it with uno leche. Lol. The only leche that's in this cake is the horchata. In case you are unfamiliar with horchata, I will break it down for you in a list (because I love lists):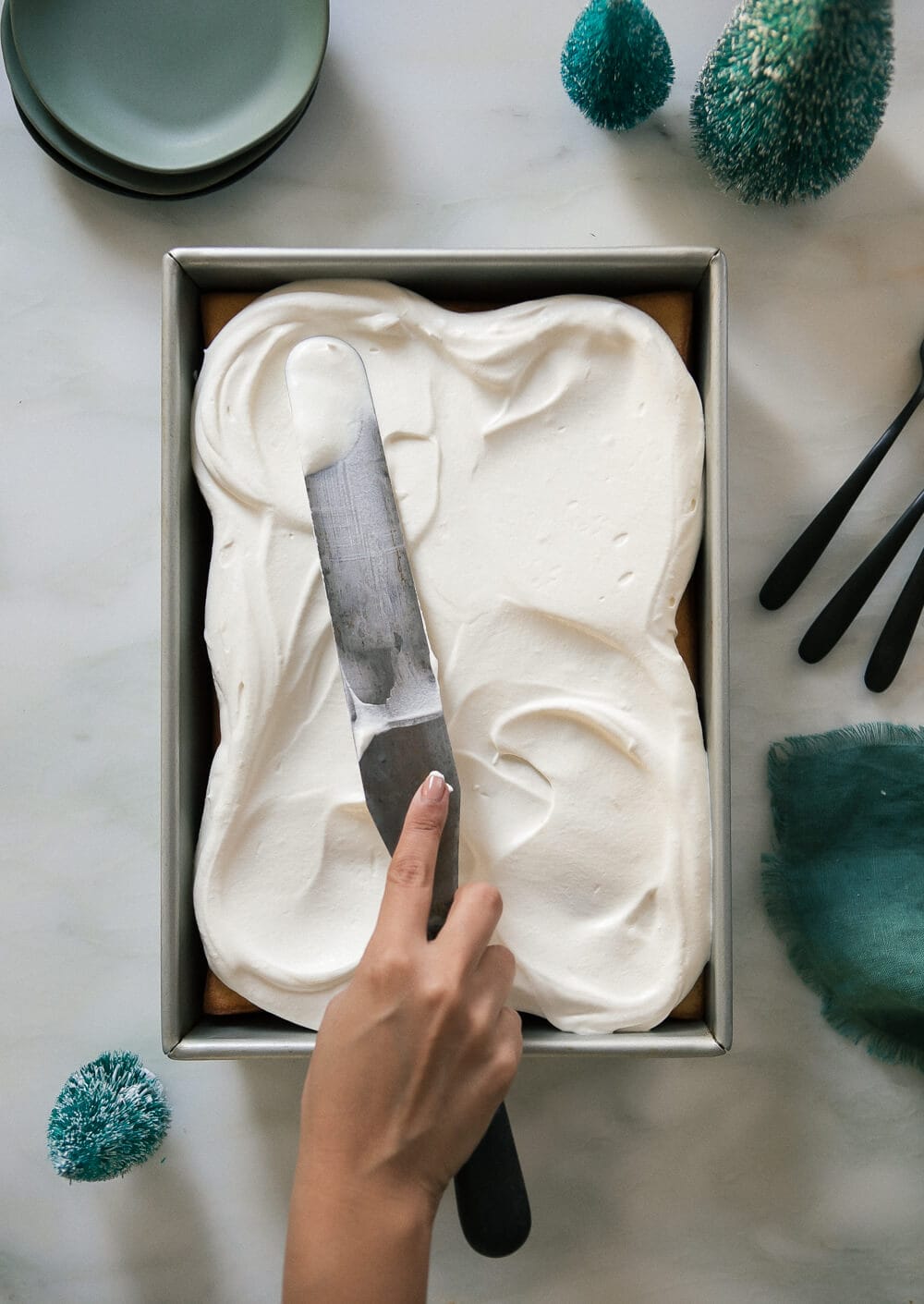 1. Mexico and Spain both drink/make horchata. As do several countries in central America.
2. The one I'm referring to is the Mexican-style horchata, which is a rice drink. Some recipes have almonds in it. All recipes have cinnamon.
3. Some horchata recipes have dairy milk in them, some do not.
4. I like to buy horchata from Guisados because it's nearby and their horchata is delicious. (Theirs has dairy in it.)
4. You could also use the horchata from Califia.
5. You could also make horchata, if you like. This recipe from Aaron Sanchez looks good, tho I've never tried it.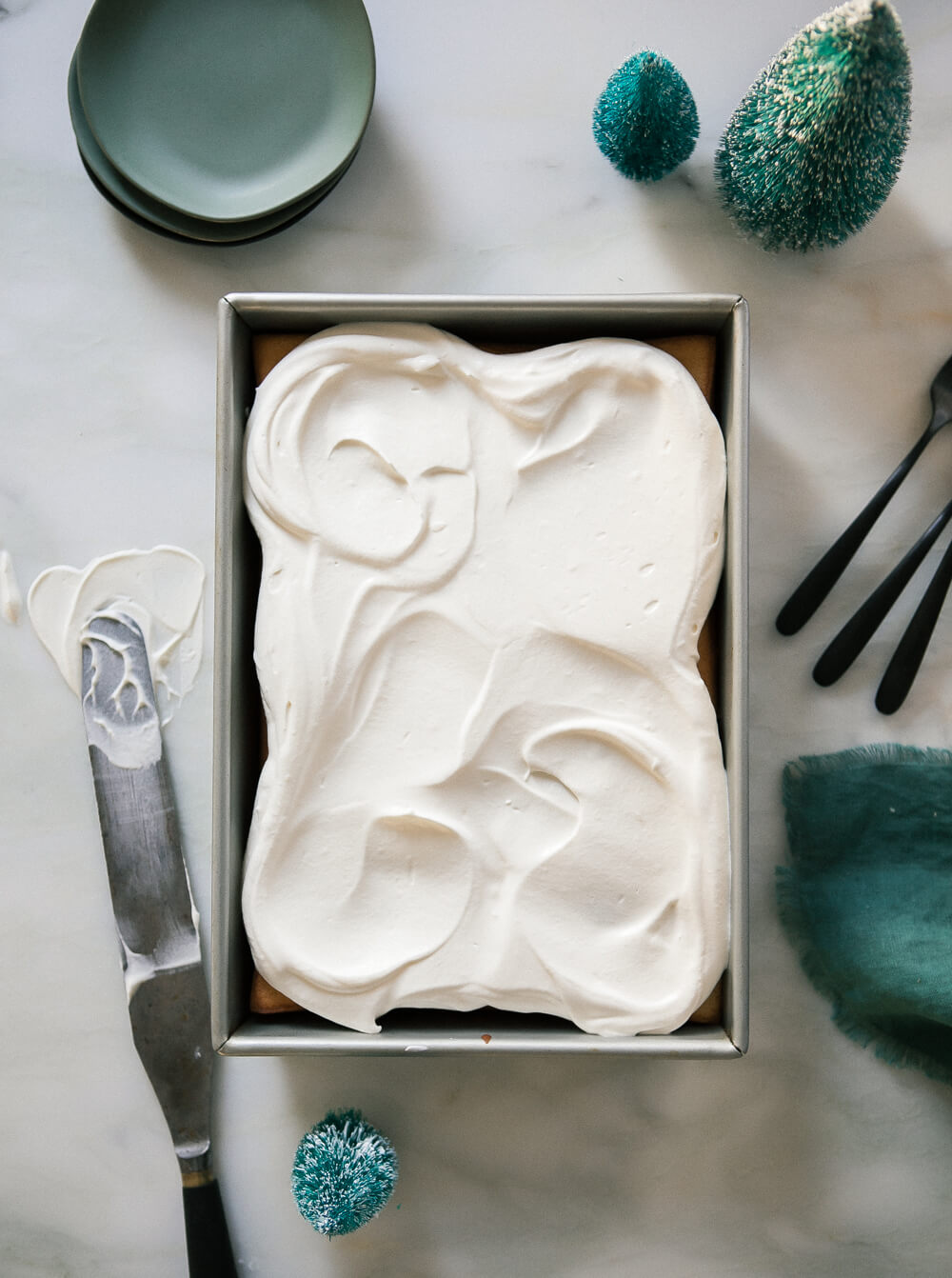 To be very honest with you, I had never tried horchata until I moved to Los Angeles. The countries my parents come from don't drink it so I had no idea what it was. But once I tried it, I was down. It is so delicious.
This sponge cake is a great base. It's very dry when you bake it so it needs that moisture from the milk. It may seem like a lot of liquid when you pour it over the cake but the cake soaks it all up and it ends up being a delicious bite at the very end.
Remember, tell me your Christmas/holiday movie faves!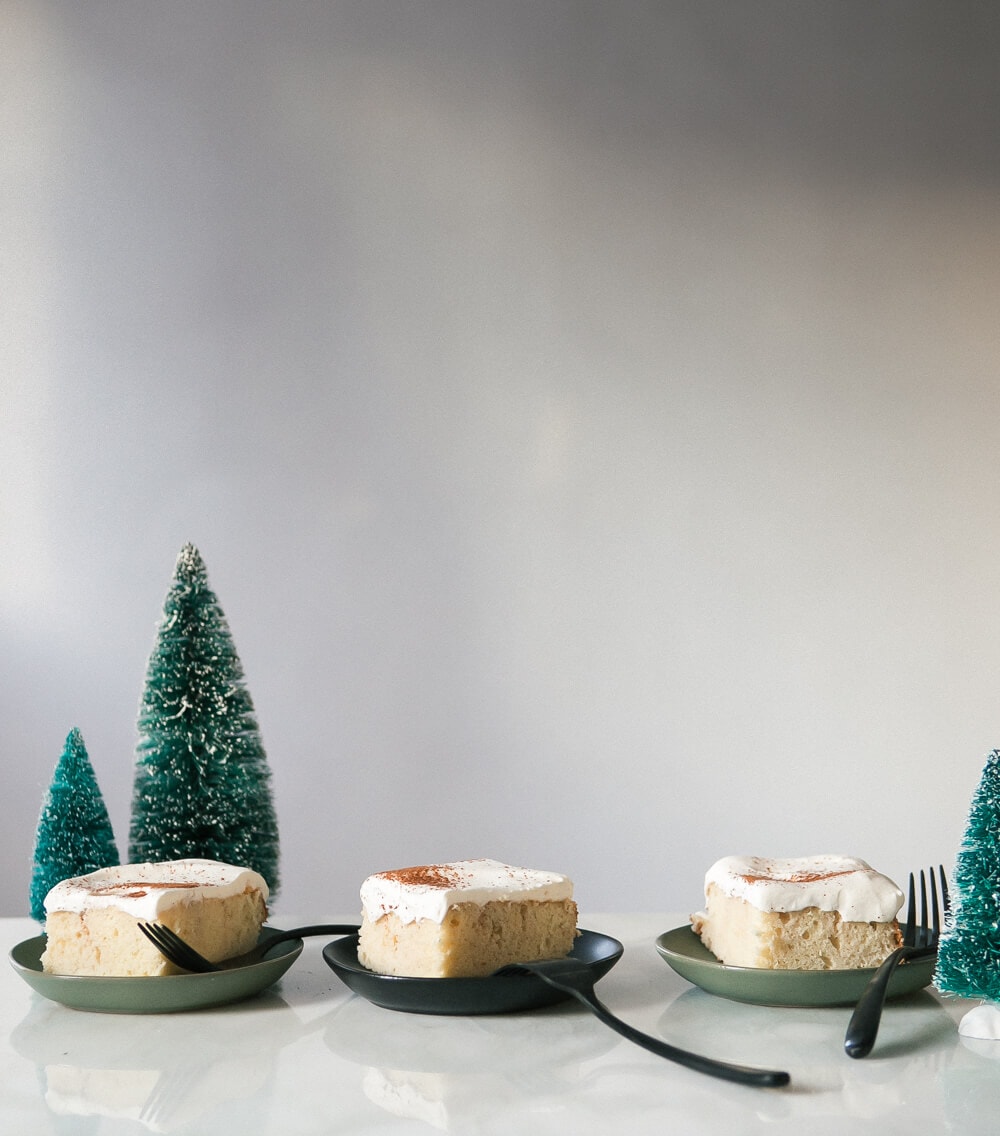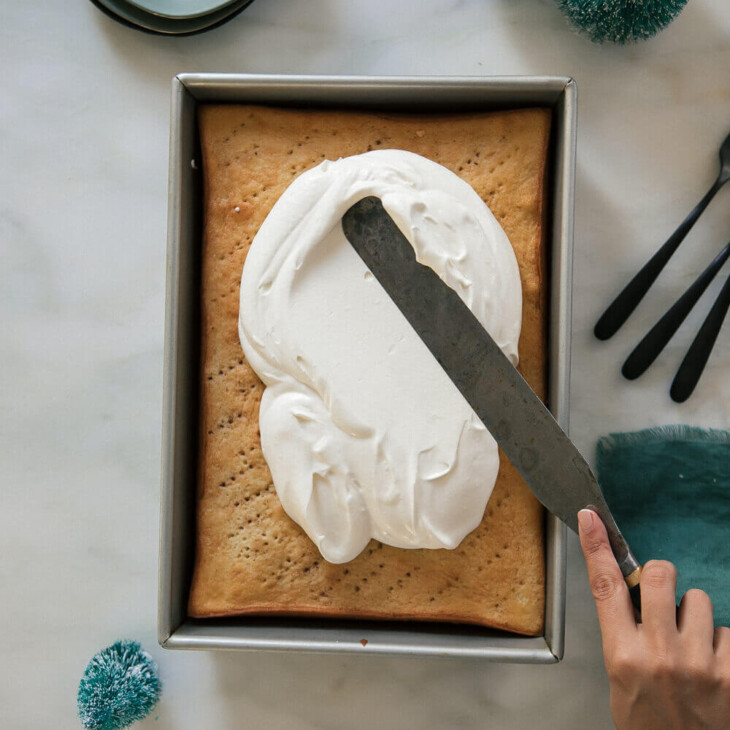 Print Recipe
Horchata Uno Leche (Like Tres Leches but Different!)
Serving Size:
(9x13-inch) cake
Ingredients
Cake:
1 ½

cup

all-purpose flour

1 ½

teaspoon

baking powder

½

teaspoon

ground cinnamon

¼

teaspoon

salt

6

large eggs

separated

1

cup

sugar

1

teaspoon

vanilla

⅓

cup

milk
The Rest:
2 ½

cups

homemade or store or restaurant-bought horchata

1 ½

cup

heavy cream

for topping

1

tablespoon

powdered sugar

for topping

½

teaspoon

ground cinnamon

for topping
Instructions
To Make the Cake:
Grease a 9x13-inch pan. Preheat the oven to 350 degrees F.

In a large bowl, whisk together flour, baking powder, cinnamon and salt. Set aside. In a stand-up mixer with paddle attachment, beat egg yolks and sugar until pale yellow and double in volume, about 3 minutes. Mix in the vanilla and the milk on low speed just until combined, then fold the egg yolk mixture into the flour mixture.

Clean and dry the egg yolk bowl. Add the egg whites and beat with the whisk attachment on high until stiff peaks form, about 3 to 4 minutes. Be sure they are stiff peaks or else your cake could deflate.

Fold the egg white mixture into egg yolk and flour mixture.

Pour the batter into the cake pan and bake for 18 to 20 minutes. Let cool completely in the pan before proceeding with the rest of the recipe. The cake may shrink a bit as it cools--that's ok!
The Rest:
After the cake has cooled, using a fork, poke a bunch of holes in the top. Pour the horchata on top; it may seem like a lot of liquid, but the cake will absorb it! Cover lightly with plastic wrap and transfer to the fridge to absorb, about 3 hours, ideally overnight.

When you're ready to serve the cake, add the heavy cream and sifted powdered sugar into the bowl of a stand-up mixer with the whisk attachment (you can also do this with a medium bowl and an electric hand mixer). Beat until soft peaks form, about 3 minutes. Add it to the top of the cake and smear it around. Garnish with a sprinkling of cinnamon (I used a sieve to get proper distribution).