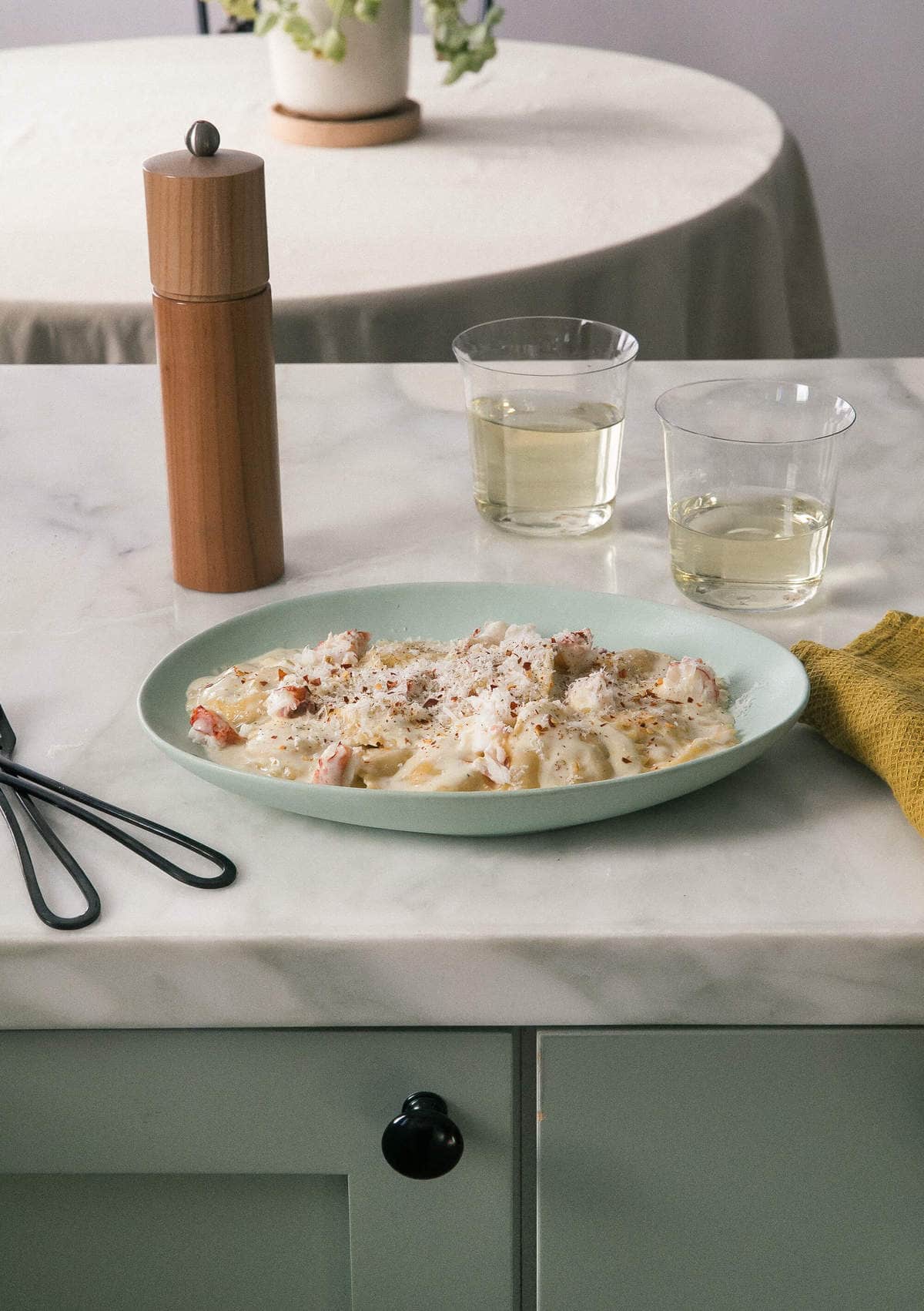 I've been on this quest to make homemade ravioli. I usually go the super easy route and buy the pre-made ones from the store stuffed with cheeses and then just try and make the sauce as exciting as possible. Let's be clear: I still advocate for doing just that, especially on busier nights when time is not on our side. But, on occasion, when I'm feeling artsy, I like to make my own.
For this post, I teamed up with Vidalia Onions from Georgia. These onions—if you're unfamiliar—are so deliciously sweet and tender. Now, you're probably going to ask me, "Adrianna, what's the difference between a regular yellow onion and a Vidalia onion?" I'm glad you asked!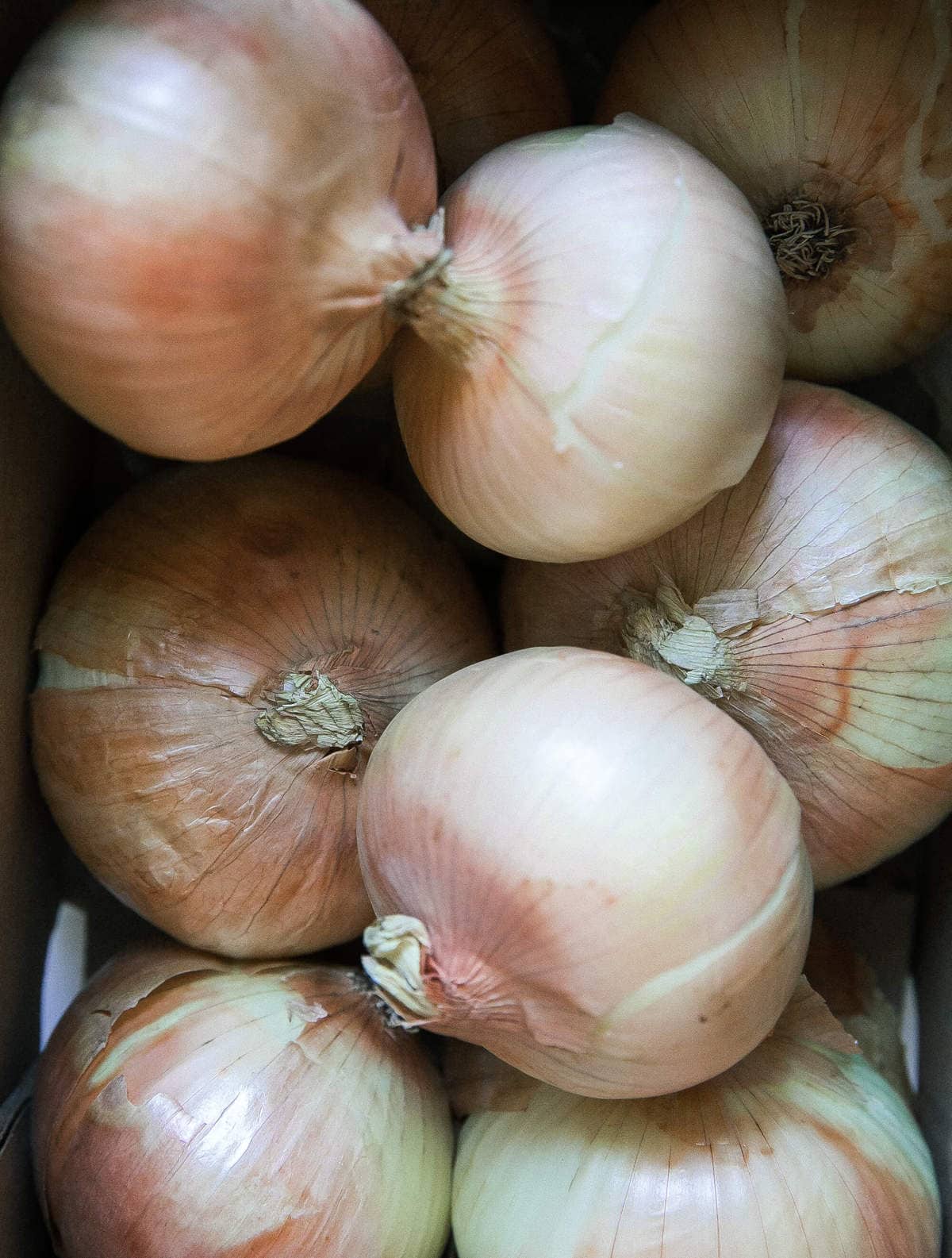 Vidalia onions are from Vidalia, Georgia. The water content in Vidalias is usually higher than a yellow onion. Their vibe is subtle and a bit more mellow. If I'm eating raw yellow onions, I usually soak them in a bit of water with salt to take their edge off; no need with Vidalias!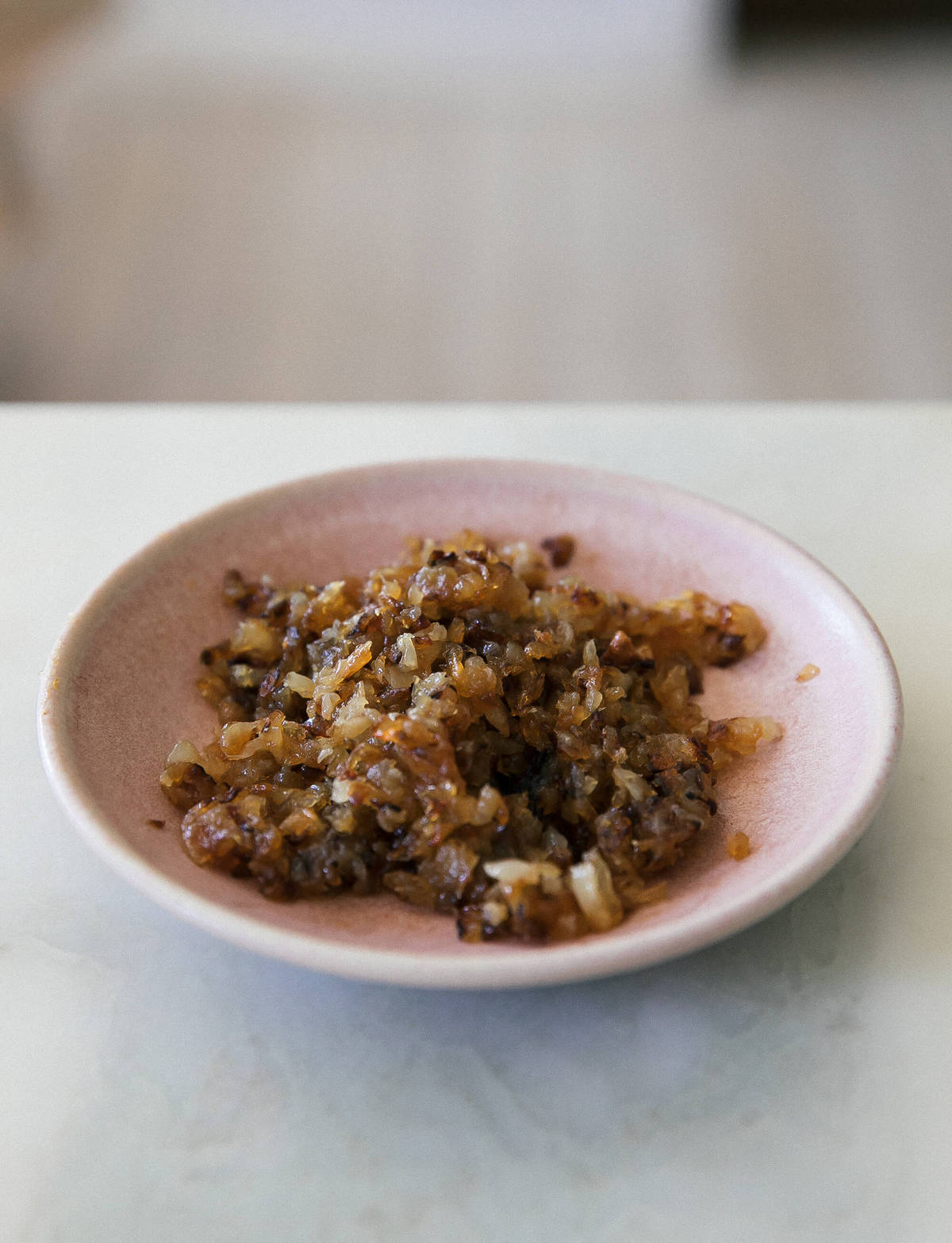 Their primo season is from April through September. And while they're usually categorized as "sweet onions" not all sweet onions are Vidalias. So specifically look for Vidalias. They still have a lovely savory quality to them that makes everything more flavorful.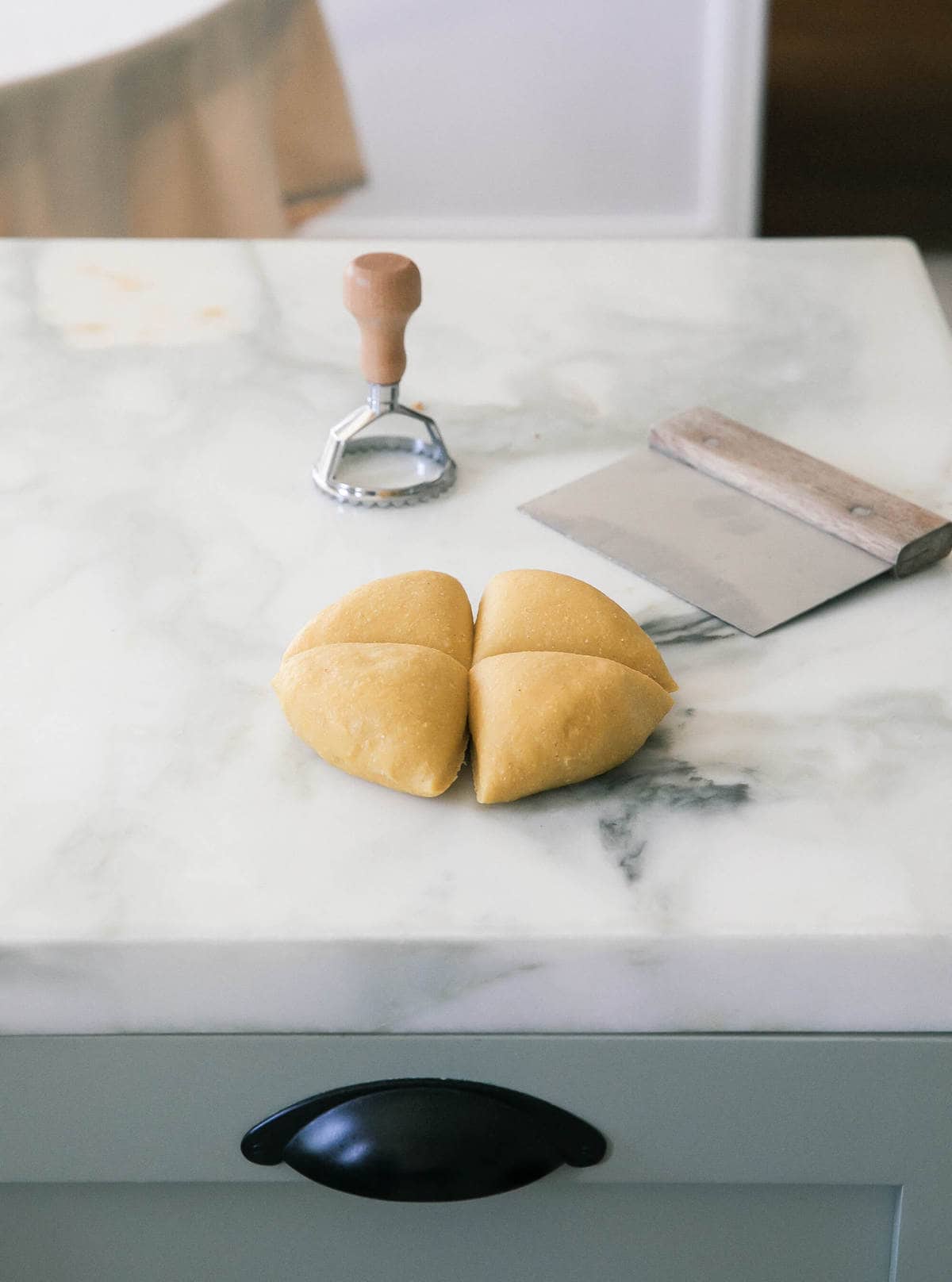 In this dish, I caramelized them while I was making the pasta. They slowly turned light brown, making my whole house smell like a dream. I love the smell of onions!
Once they were all caramelized, I chopped them up finely and mixed them in with some ricotta, lemon zest, crushed red pepper and Parmesan-Reggiano. The filing to these ravioli is very simple and delicious.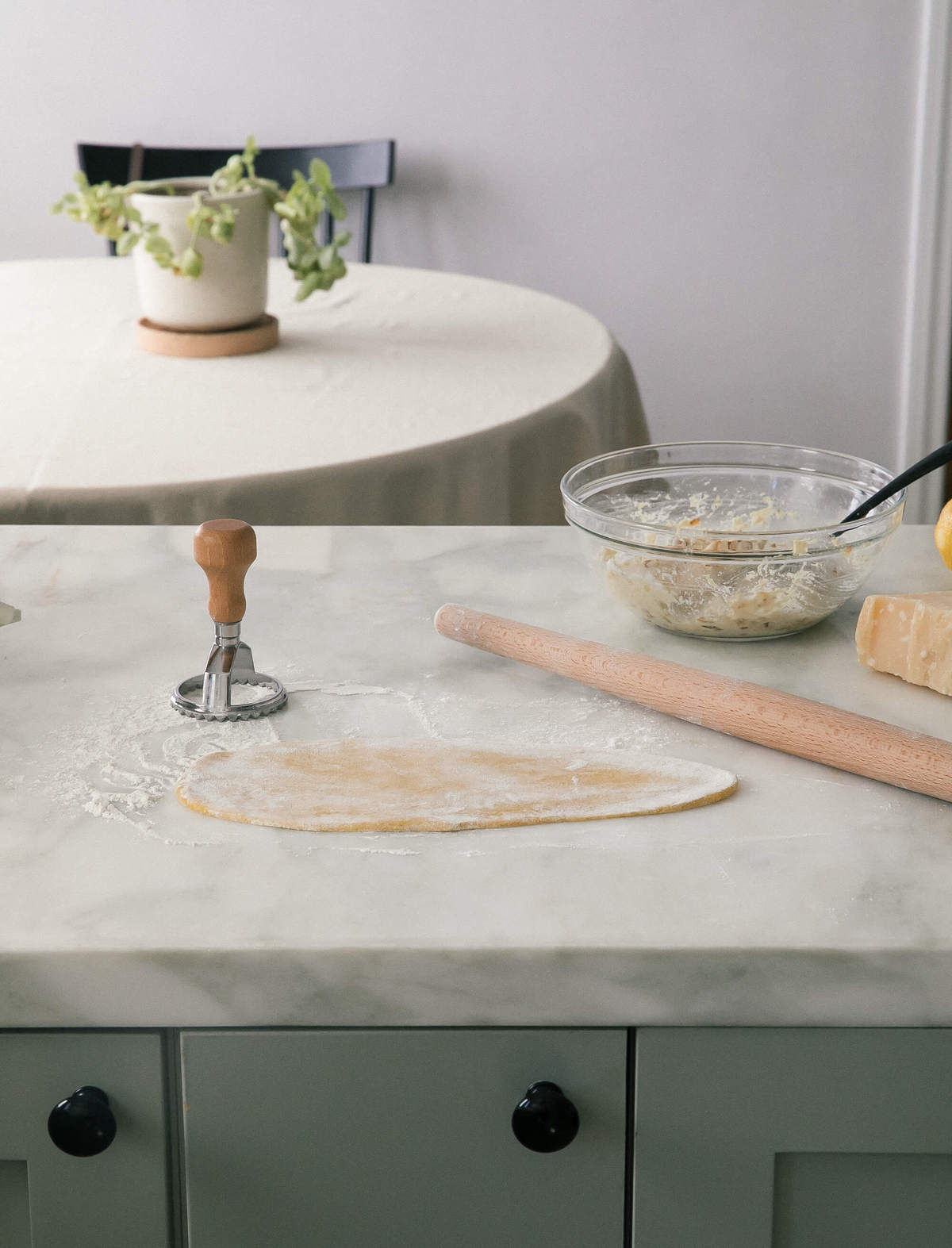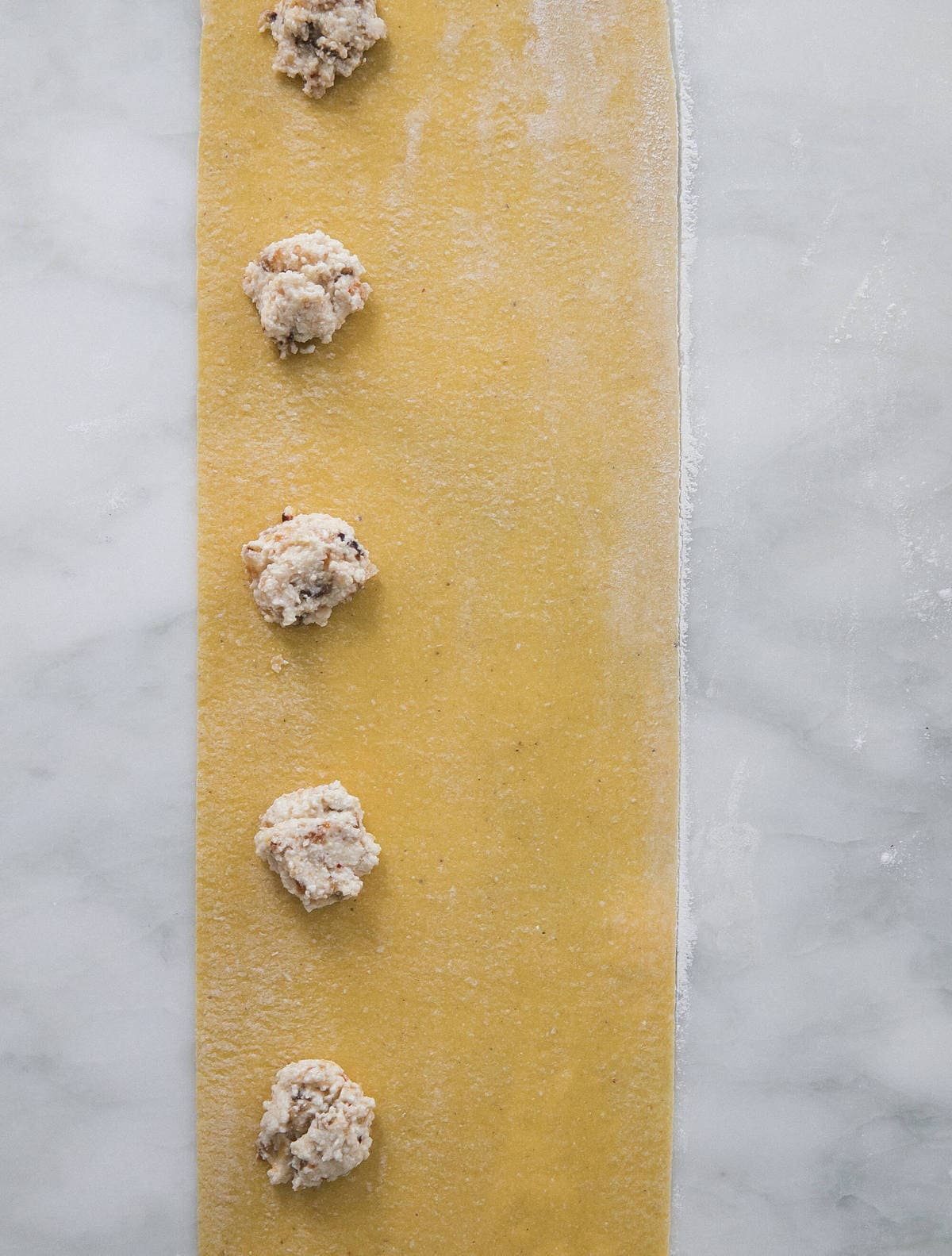 Homemade versions of anything are usually better, fresher and simply more exciting. This dish succeeds in doing just that. The best part about making homemade ravioli is that they freeze splendidly. So pull up your sleeves, make a double batch and spontaneous ravioli dinners are in your future!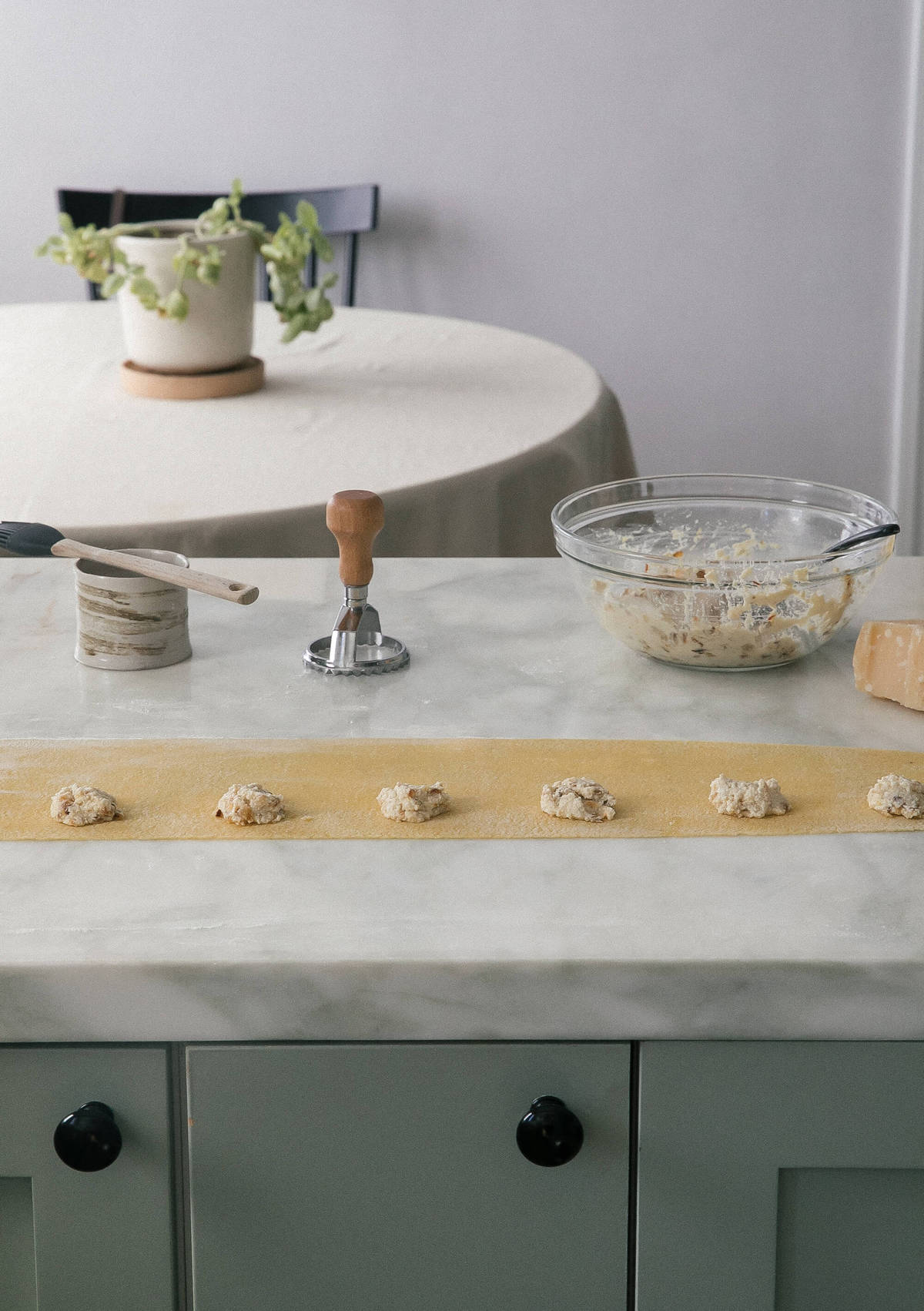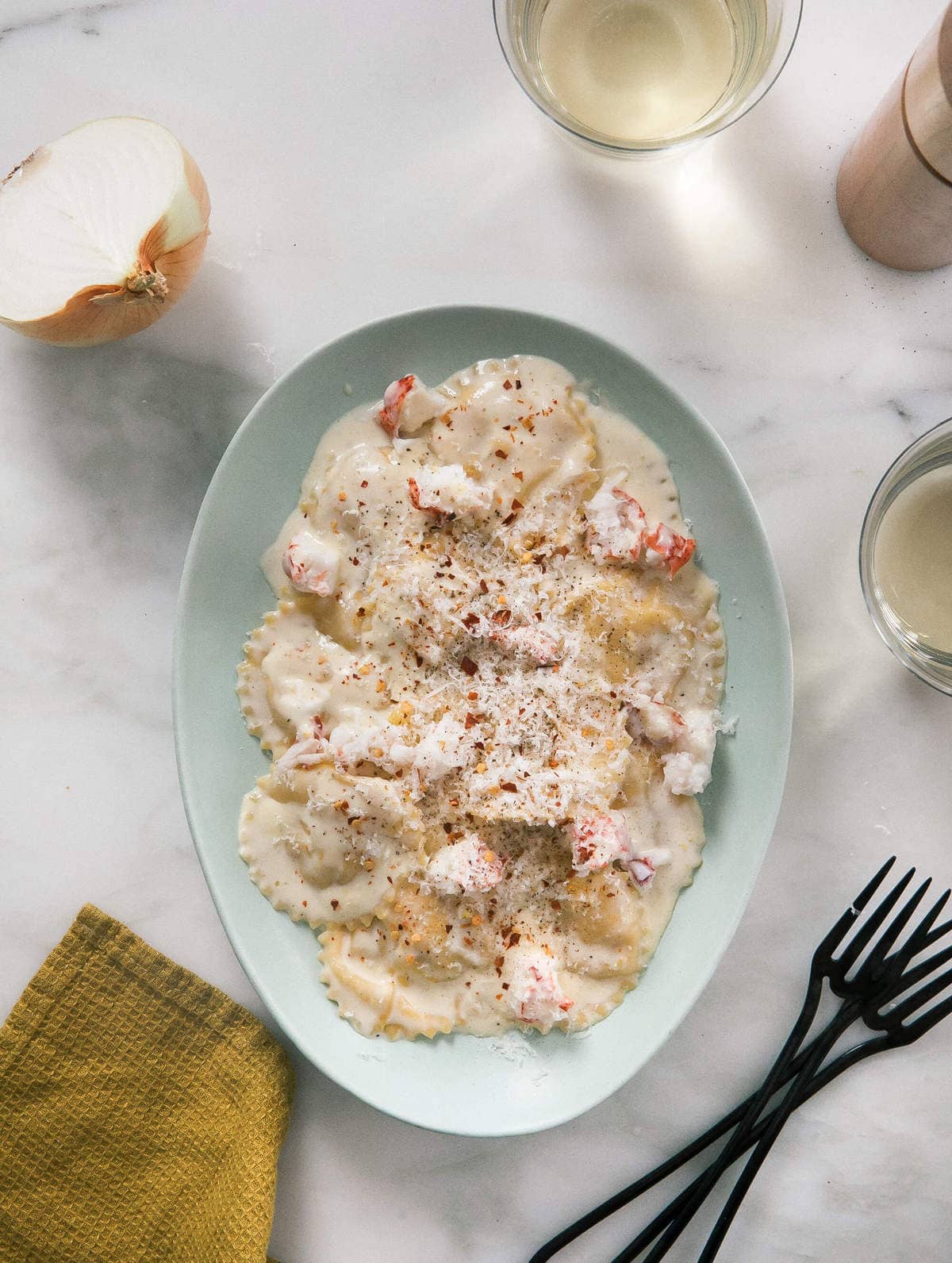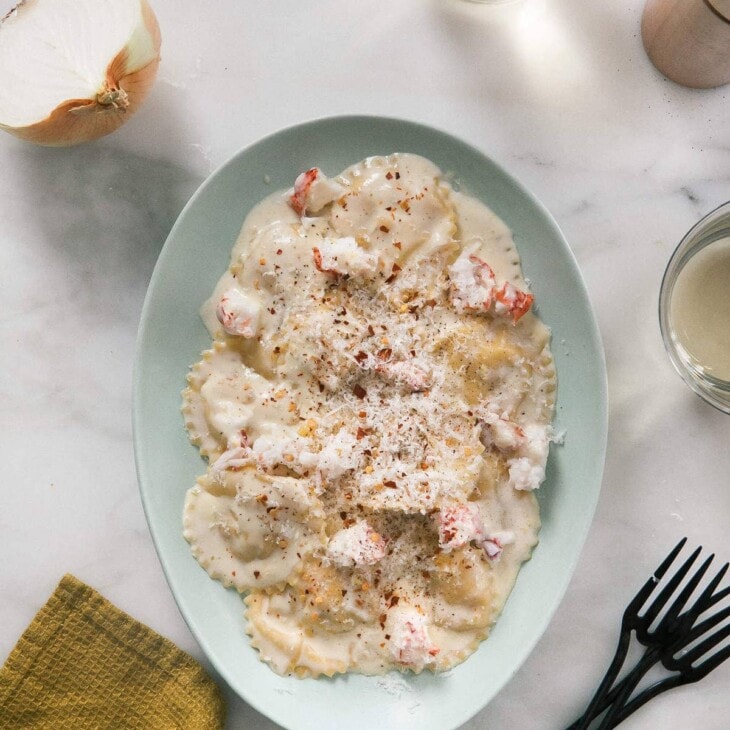 Print Recipe
Homemade Cheesy Vidalia Onion Ravioli with Lobster
Ingredients
Ravioli Filling:
Olive oil 

1

Vidalia onion

peeled and thinly sliced

1

cup

ricotta

Zest from 1 lemon

1/4

cup

freshly grated Parmesan-Reggiano

1

large

egg yolk 

Kosher Salt 

1/2

teaspoon

crushed red pepper
Ravioli Pasta:
1 1/4

cups + 2 tablespoons

all-purpose flour

plus more for dusting

7

tablespoons

fine cornmeal 

9

large

egg yolks 

1

tablespoon

extra-virgin olive oil 

4

tablespoons

water

plus more as needed 
Cream Sauce:
2

lobster tails 

1

cup

heavy cream 

2

tablespoons

unsalted butter

Zest from 1 lemon 

Freshly ground black pepper 

Kosher salt

Crushed red pepper
Instructions
To Make the Filling: 
In a non-stick medium skillet, set over medium low heat, add a teaspoon or two of olive oil. Add the sliced Vidalia onions to the skillet and add a few pinches of salt. Cover the skillet and allow to cook for about 15 minutes, mixing every now and then. At the 15 minutes mark, uncover and continue cooking, mixing every now and then, until caramelized, about an extra 20 minutes. If needed, add an additional teaspoon or two of olive oil. Remove from the pan and mince up using a knife. Set aside.

To a bowl, combine the ricotta, Parmesan-Reggiano, reserved minced caramelized Vidalia onions, egg, a few pinches of salt and crushed red pepper.
To Make the Ravioli:
To a stand-up mixer, with the paddle attachment, add the flour and cornmeal. *You can absolutely do this with a big bowl and a fork, too.* Adding one ingredient at a time, add the egg yolks, oil and water, adding the water, one tablespoon at a time, until the dough comes together.

When the dough turns into a somewhat cohesive ball, turn the dough out onto a lightly floured work surface and knead it until it feels silky smooth, about 5 minutes. The dough is ready if when you stretch it with your hands, it gently pulls back into place.

Shape the dough into a ball then flatten the ball into a disk. Cover the dough and transfer to the fridge for at least 30 minutes.


When the 30 minute is up, remove the ball of dough from the fridge and cut it up into 4 pieces. Let the pieces come to room temperature slightly, being sure they're covered with a clean kitchen towel as to not dry out.

Roll them into a long oval strip, and then run it through the pasta machine at it's largest thickness setting (#5). Flip it on the opposite side, flour that side a bit and run it through again. Repeat this, decreasing the size each time (#4, #3 and then finally to #2). I found that #2 was the perfect thickness (1/8-inch thick) for ravioli.

To the first sheet of pasta, add half of teaspoon worth of filling, spacing them about 2-inches a part. Brush the edges of the pasta with a teeny bit of water. Lengthwise, fold over the sheet of pasta and seal on the sides. Using your ravioli stamper, stamp out ravioli shapes. I used this round stamper. Repeat with the remaining balls of dough until you've worked your way through all of it. Transfer to a baking sheet dusted with flour and place in the fridge until you're ready to use it.

If you'd like to freeze some of it, easy! Simply place it on a baking sheet, in one even layer, and transfer to the freezer. When cold to the touch, about 30 minutes, transfer to an airtight freezer-safe container or bag. Cook straight from frozen in sauce or in a pan.
To Make the Sauce: 
To cook the lobster, bring a pot of salted water to a boil. Drop the lobster in the water and cook for 4 to 5 minutes, until the flesh goes from translucent to opaque. Immediately run under cold water. Flip the lobster over and using kitchen shears, slice the inside shell on each side. Pull it back like a tab and then remove the lobster meat. Repeat with the second lobster tail. Chop up the lobster and set aside.

In a medium skillet, add the cream, cubes of butter, lemon zest, a few pinches of salt and black pepper. Bring to a gentle simmer and cook for about 7 minutes. Give it a taste and adjust the salt to your liking.

Meanwhile, bring a pot of salted water to a gentle boil. Drop the ravioli in and cook for about 2 minutes, just until they float to the top. Immediately transfer them to the sauce, along with the lobster. Gently mix everything together and then transfer to a plate. Garnish with a pinch of crushed red pepper and more Parmesan cheese.
Nutrition
Serving:
4
g
|
Calories:
400
kcal
(20%)
|
Carbohydrates:
30
g
(10%)
|
Protein:
5
g
(10%)
|
Fat:
5
g
(8%)
|
Saturated Fat:
3
g
(19%)
|
Cholesterol:
124
mg
(41%)
|
Sodium:
4
mg
|
Potassium:
70
mg
(2%)
|
Fiber:
3
g
(13%)
|
Sugar:
5
g
(6%)
(This post is sponsored by Vidalia Onions from Vidalia, Georgia. Thanks for supporting the sponsors that keep A Cozy Kitchen cozy.)