It's Wednesday but I wish it was Sunday. It's spring but for the first time in my entire life, I wish it was summer. I'm currently working a lot, but I wish I was on vacation. And I'm not talking about one of those vacations where you stay in your own hometown. No, no. I'm talking island life. With a coconut in hand. And lots of ice cream in my life. Snorkeling, very large turtles that are sort of scary but they move slowly so it's ok.
I want to live in a bathing suit (and I hate wearing bathing suits so this says A LOT!). If winter has been hard on you and all you want in your life is the sun on your face and a cold drink in your hand, stop what you're doing and make these Hawaiian Sweet Rolls.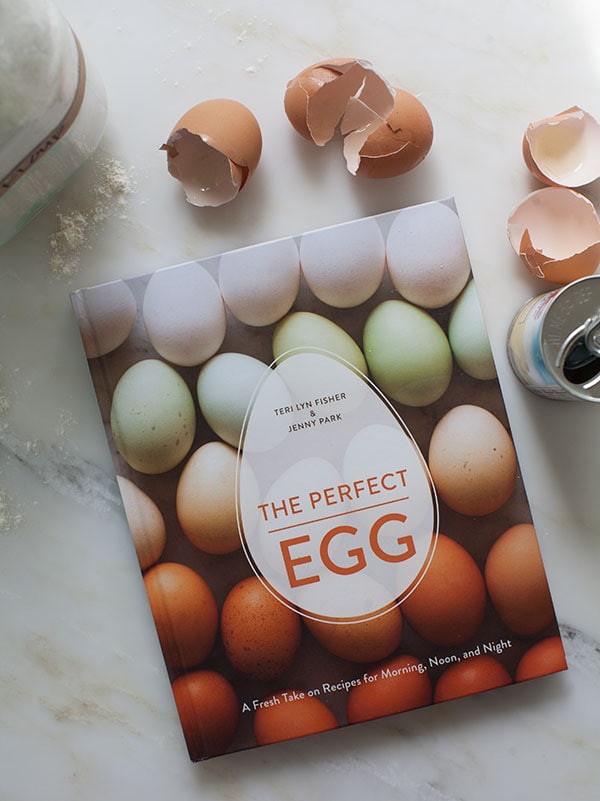 I grew up OBSESSED with Hawaiian Sweet Rolls. My mother would buy them for me as a treat and in one weekend my brother and I would eat them all. We'd eat them with everything; all by themselves or with turkey and cheese in between them. I have never ever had them with ice cream on the inside and OMG hello. So good!
This recipe comes from The Perfect Egg.
Have I ever told you how much I LOVE punching dough down?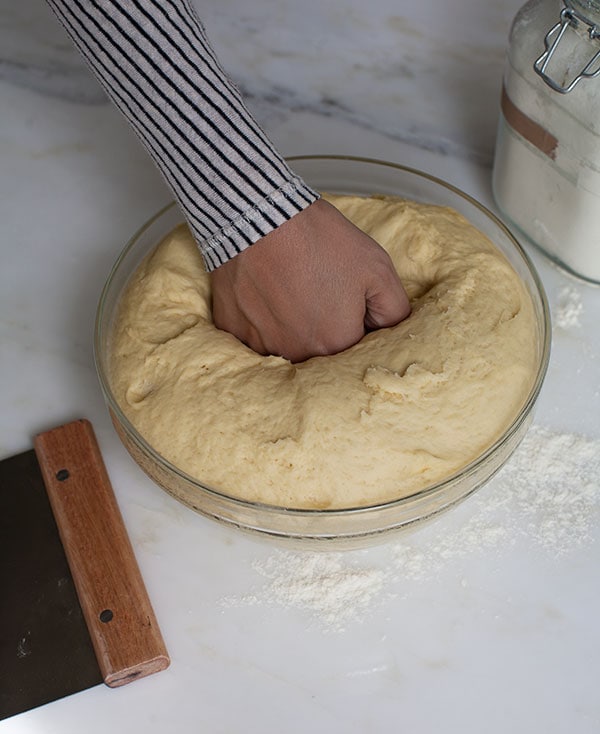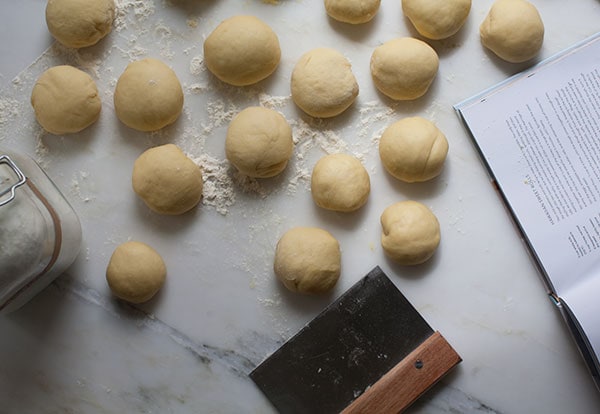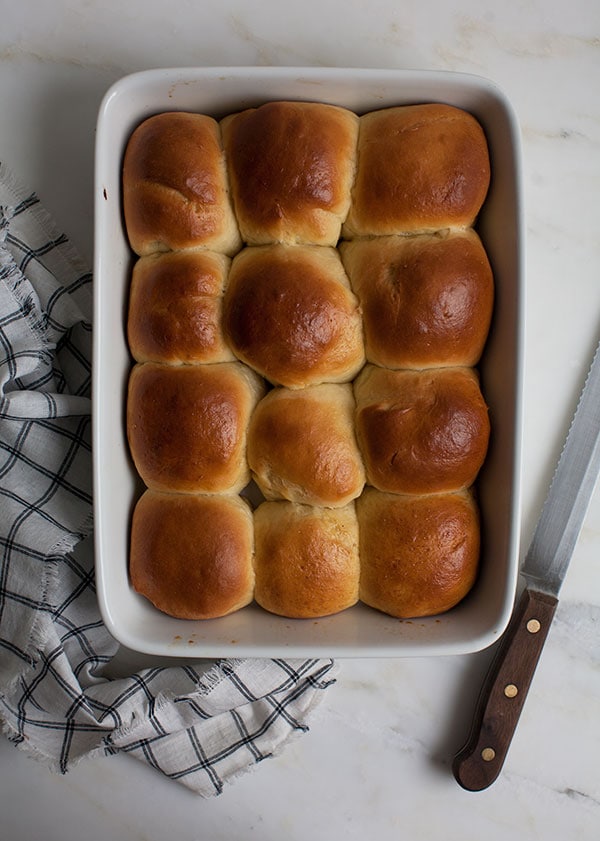 You know their blog, of course you do! This book fits is so ridiculously beautiful. But it's not just looks, this book is full of tons of really interesting egg information. I know that sounds a lil' nerdy but I looove books that teach me things along the way. This book does just that.
The recipes all look so delicious and interesting and not recipes you've probably seen before. It's not just the same ol' quiche recipes; this not that kind of book.
The recipe for these Hawaiian Sweet Rolls in is in the bread section; it was honestly hard to settle on this recipe but I've been craving carbohydrates, especially ones that are recommended to be eaten alongside scoops of ice cream.
Yes. I took their headnote advice, went to the store and bought some McConnell's toasted coconut almond chip ice cream. You guys! Hawaiian Sweet carbs with ice cream. WHOA! So good.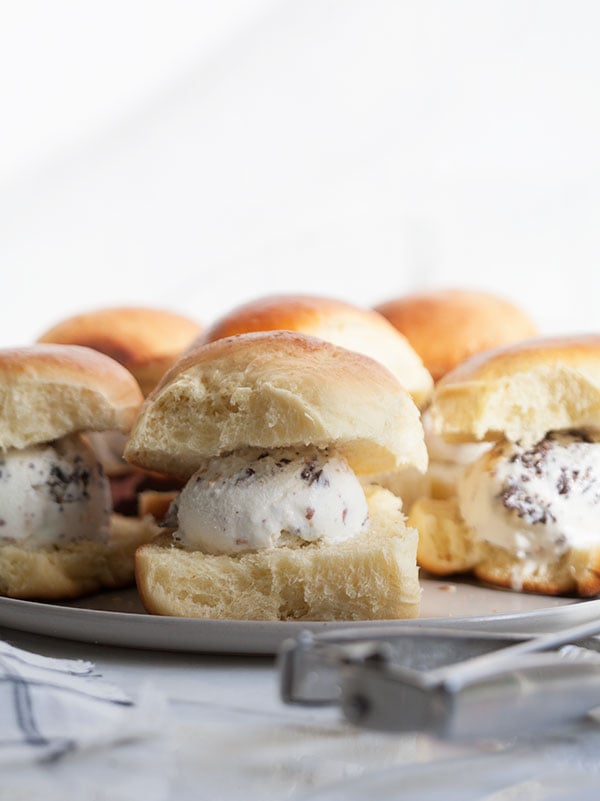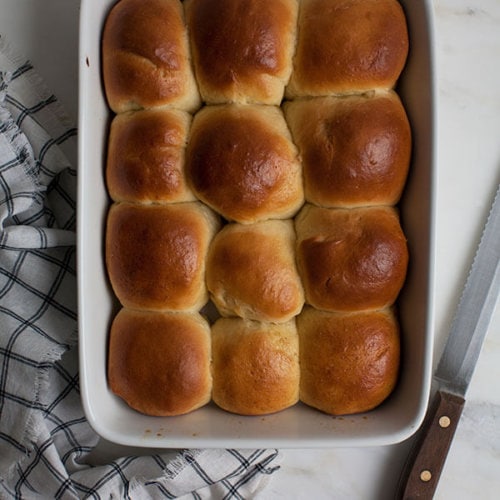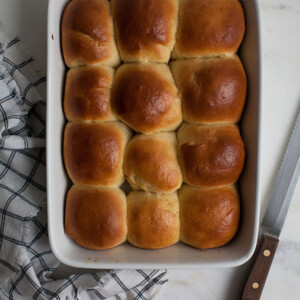 Ingredients
1/2

cup

whole milk

,

heated to lukewarm (110 degrees F)

1/2

cup

honey

,

warmed

4

teaspoons

active dry yeast

3

large eggs

,

lightly beaten

1

cup

pineapple juice

1/2

cup

unsalted butter

,

melted and cooled

1/2

teaspoon

salt

7 1/2

cups

all-purpose flour

1

large egg

,

lightly beaten with 1 1/2 tablespoons water, for egg wash
Directions
*Stir together the milk and 1/4 cup of the honey in a large bowl. Sprinkle the yeast evenly over the top and let stand for about 5 minutes, until foamy.

Stir the eggs, pineapple juice, butter, salt and the remaining 1/4 cup of honey into the proofed yeast.

Stir in the flour, 1/2 cup at a time, until the dough comes together in a rough mass.

Lightly flour a work surface and turn the dough out onto it. Knead the dough (adding more flour as needed to prevent the dough from sticking to the surface) for 6 to 8 minutes, until the dough is smooth, soft, and elastic. Shape the dough into a smooth ball. Lightly oil a large bowl, transfer the dough to it, and turn the ball to coat the surface with oil. Cover the bowl with a damp kitchen towel and let the dough rise at warm room temperature for about 1 1/2 hours, until doubled in size.

Oil a 9 x 13-inch pan and an 8-inch square pan. Punch down the dough, turn it out onto a lightly floured surface, and gently reshape it into a ball. Cut the dough into 24 equal pieces, and shape each piece into a ball. Arrange 15 of the balls in the larger pan and the remaining 9 balls in the smaller pan, spacing them about 1 1/2 inches apart. Cover the pans loosely with plastic wrap and let the dough rise at room temperature for about 1 hour, until almost doubled in size.

Preheat the oven to 350 degrees F.

Brush the top of each roll with the egg wash. Bake for 25 to 30 minutes, until golden brown. Transfer the rolls to a wire rack and let cool at least 30 minutes before serving.

The rolls will keep in an airtight container at room temperature for 3 to 5 days.
Notes
*I'm super lazy so I mixed this dough using my stand-up mixer (with the dough hook attachment). Feel free to do this if you have one! When it came to the kneading step, I ran the mixer on medium for about 3 minutes and it turned out great.