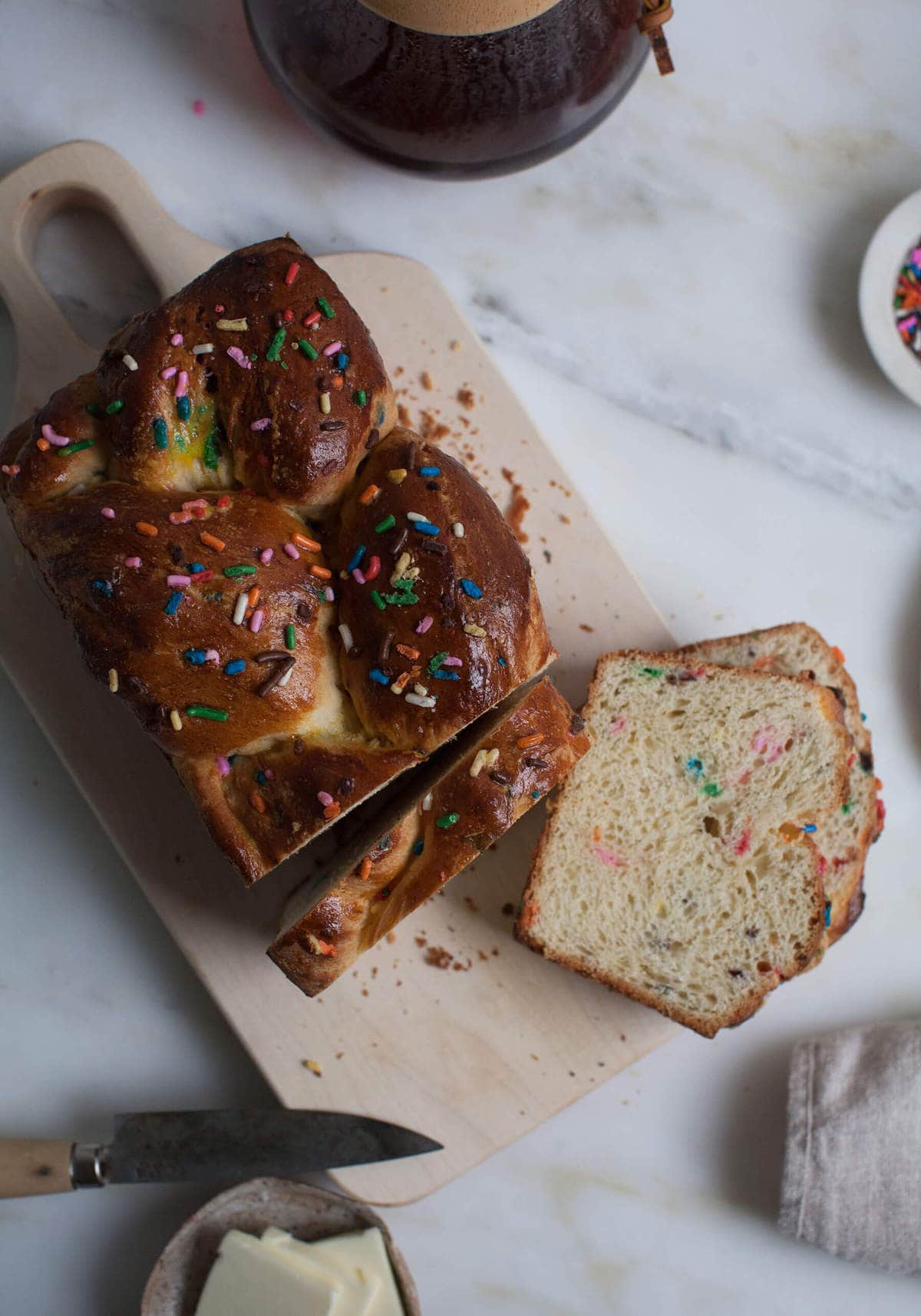 Today we are here to celebrate with Funfetti Brioche Bread!
After a year hiatus, I've gotten back into ceramics and I'm making plates! And bowls and all the things. I'm super excited. One of the best parts about ceramics class is that I get to take it with my friend Lara. She's Australian and I alway ask her questions about Australia. I recently brought up fairy bread and she was like "Oh yeah, for kids' birthday parties!"
Well, today is the day I take a turn around the earth one more time, so I figured what better way to celebrate than with re-imagined fairy bread.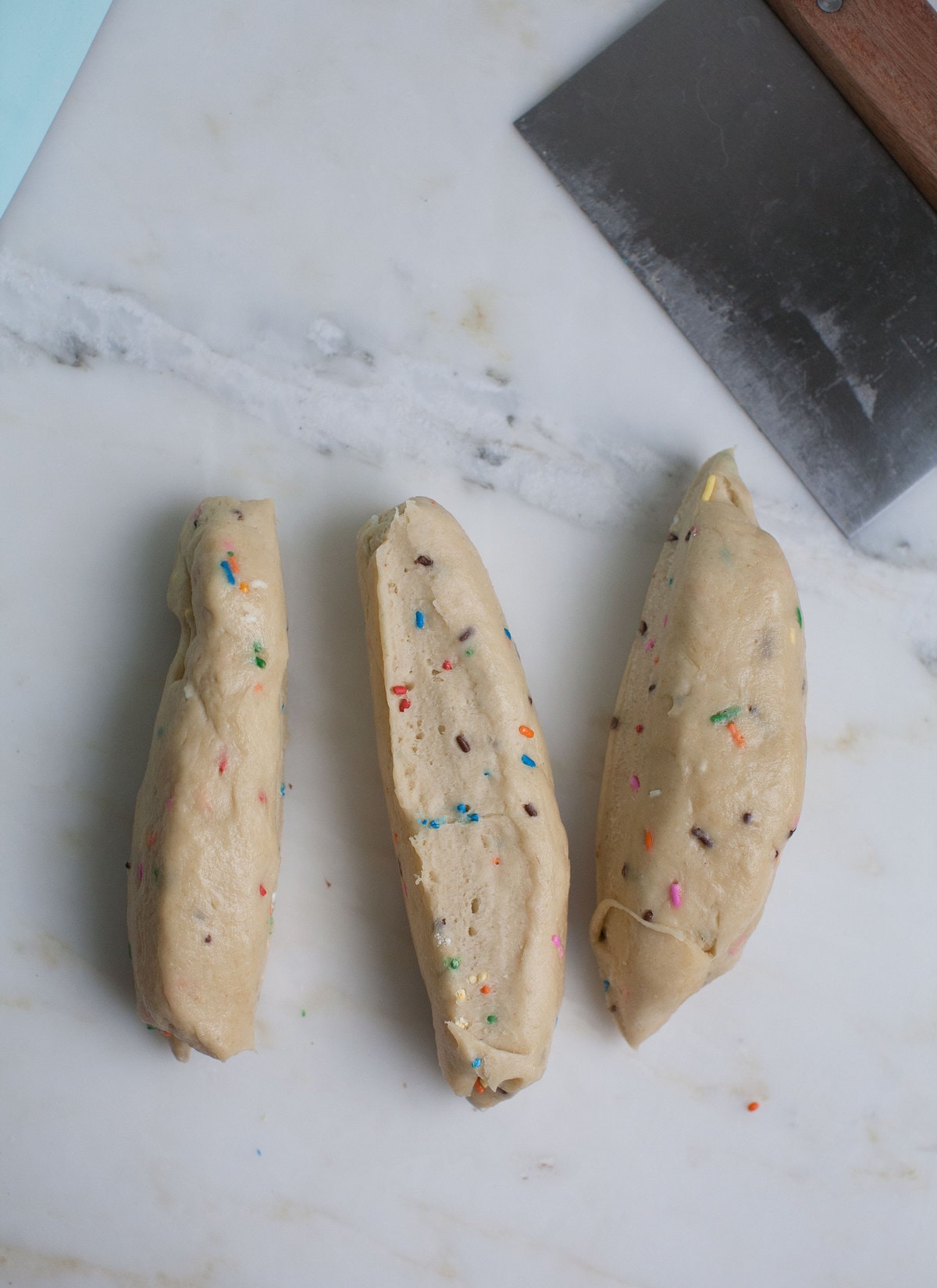 If you're unfamiliar, fairy bread goes like this: margarine or butter smothered on soft bread…and then topped with sprinkles! That's it. Couldn't be simpler and kewt!!
This is different because instead of the sprinkles sprinkled on top, which you could do, the sprinkles are dotted throughout the buttery brioche.
How to Incorporate Sprinkles in a Warm Dough!
Sounds simple…umm…but this took me like a week to figure out. One secret I learned: FREEZE YO SPRINKLES.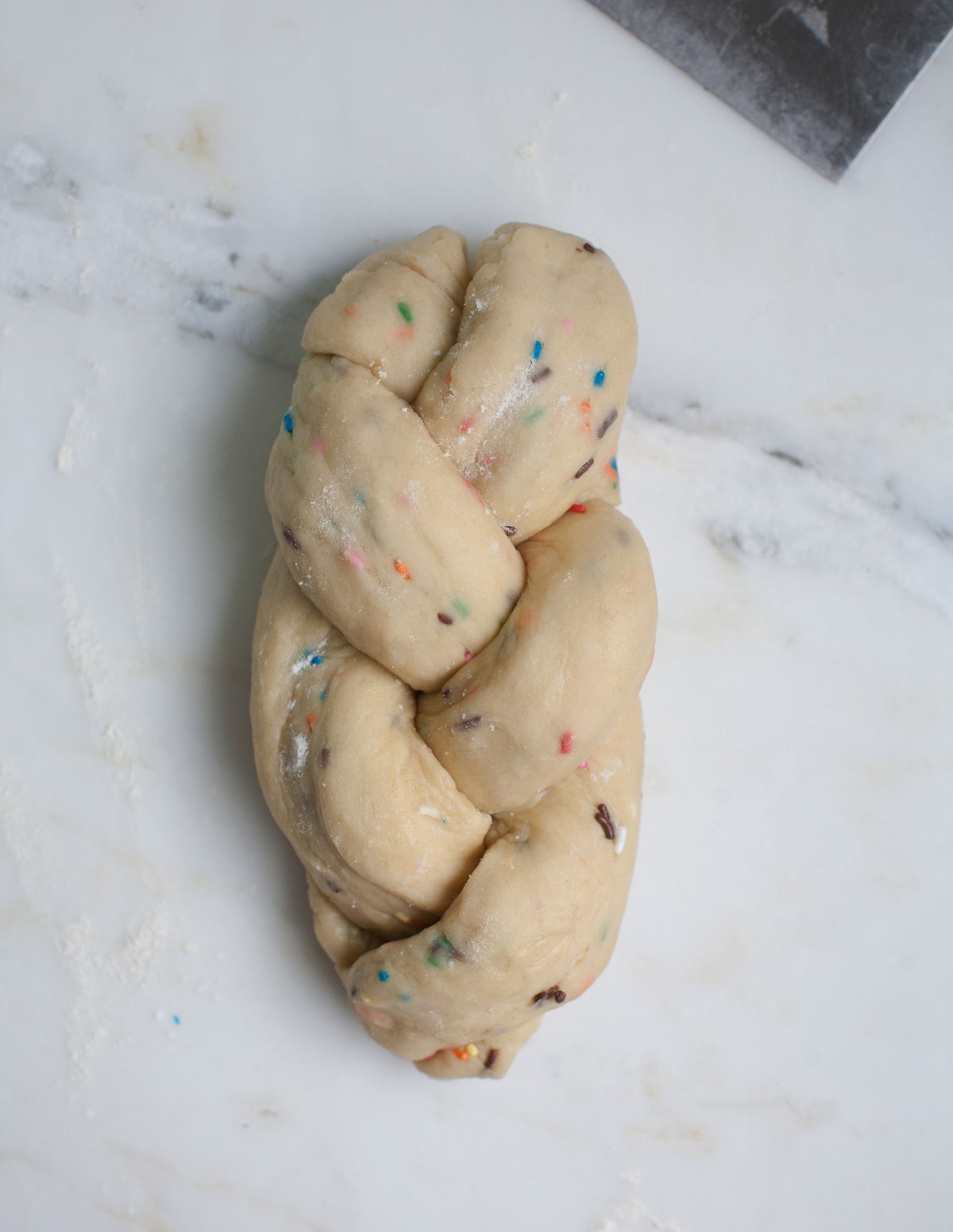 Freezing the sprinkles prevents the sprinkles from bleeding as they're mixed into the dough. And we do have to really mix in the sprinkles so you get the sporadic sprinkle behavior.
Back in February, I made funfetti souffles (after my friend, Sam, was like dude funfetti souffles) and the sprinkles were a nightmare in the egg white. They created a big ol' mess and I sort of just abandoned the project. Now I know the secret thanks to Joshua. (This has been a community effort!)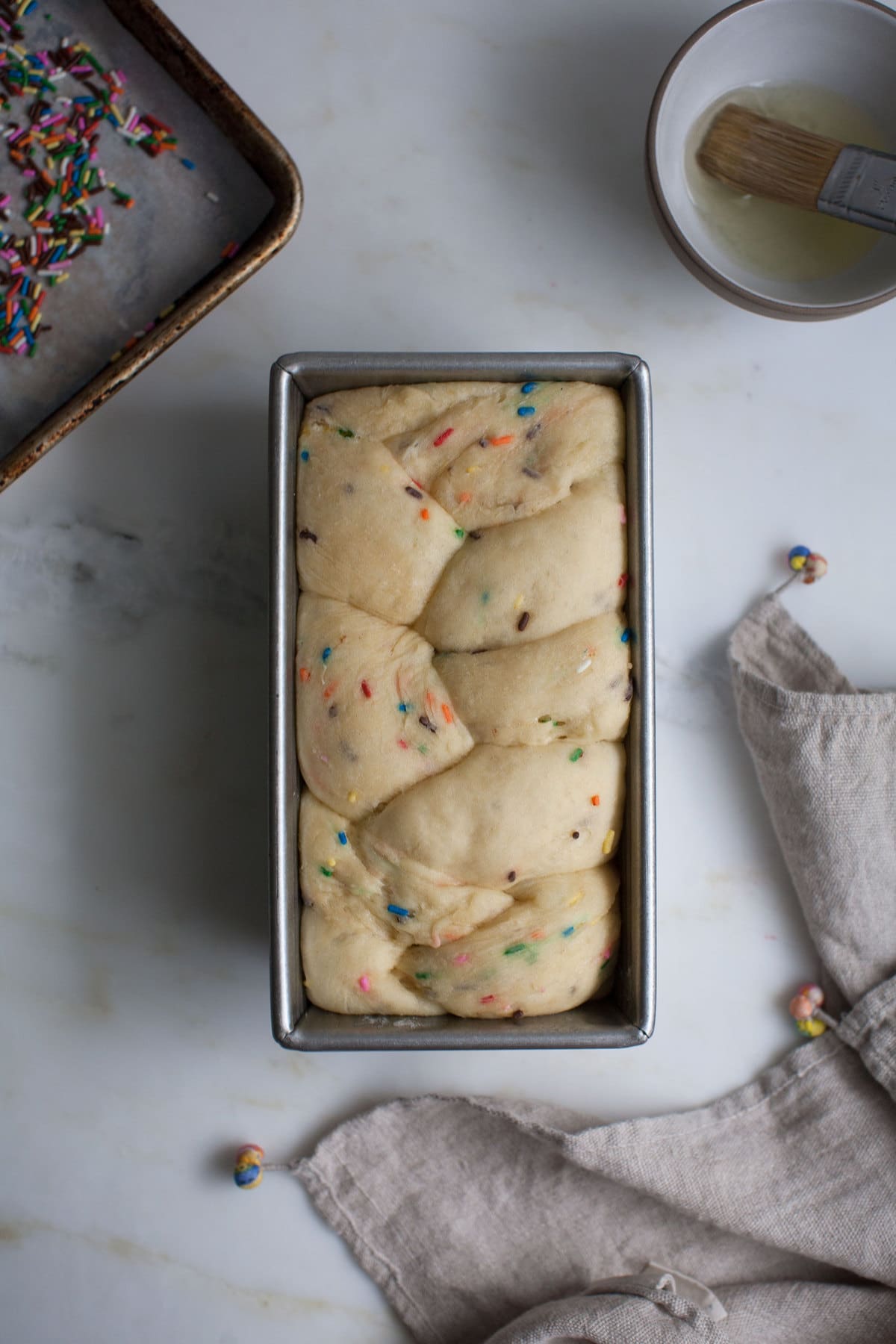 I tried this bread lots of different ways and here is the workflow that works best:
1. Make da dough but stop 5 minutes before it's totally done kneading. Let it rise for 1 hour. Put it in the fridge overnight to have a slow rise. Freeze da sprinkles.
2. In the morning, put the dough back in the stand-up mixer and knead in the sprinkles in two batches. Braid the brioche. And let it rise again.
3. Brush with egg yolk, sprinkle on more sprinkles and BOOM! Fluffy, buttery, decadent cuteness.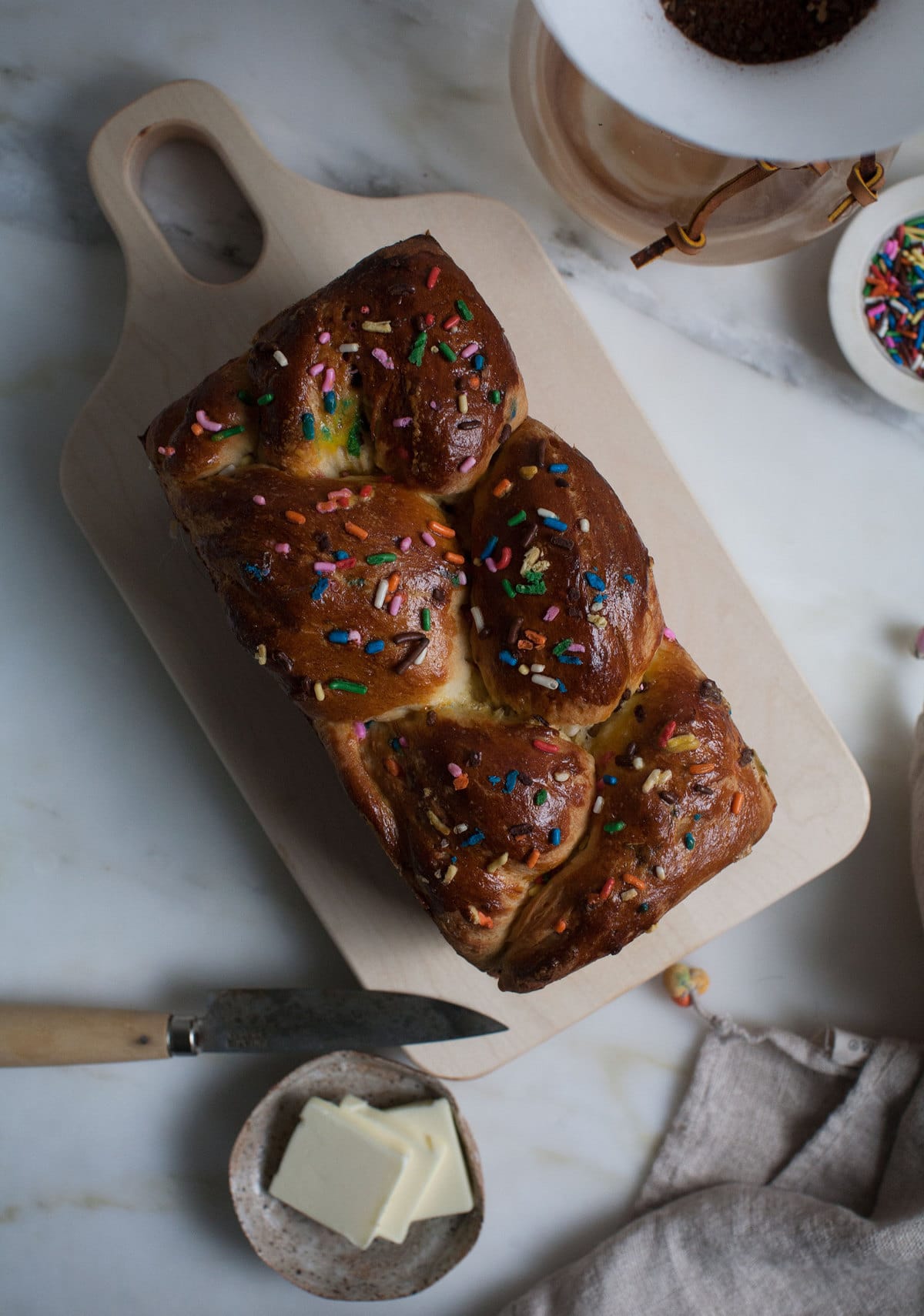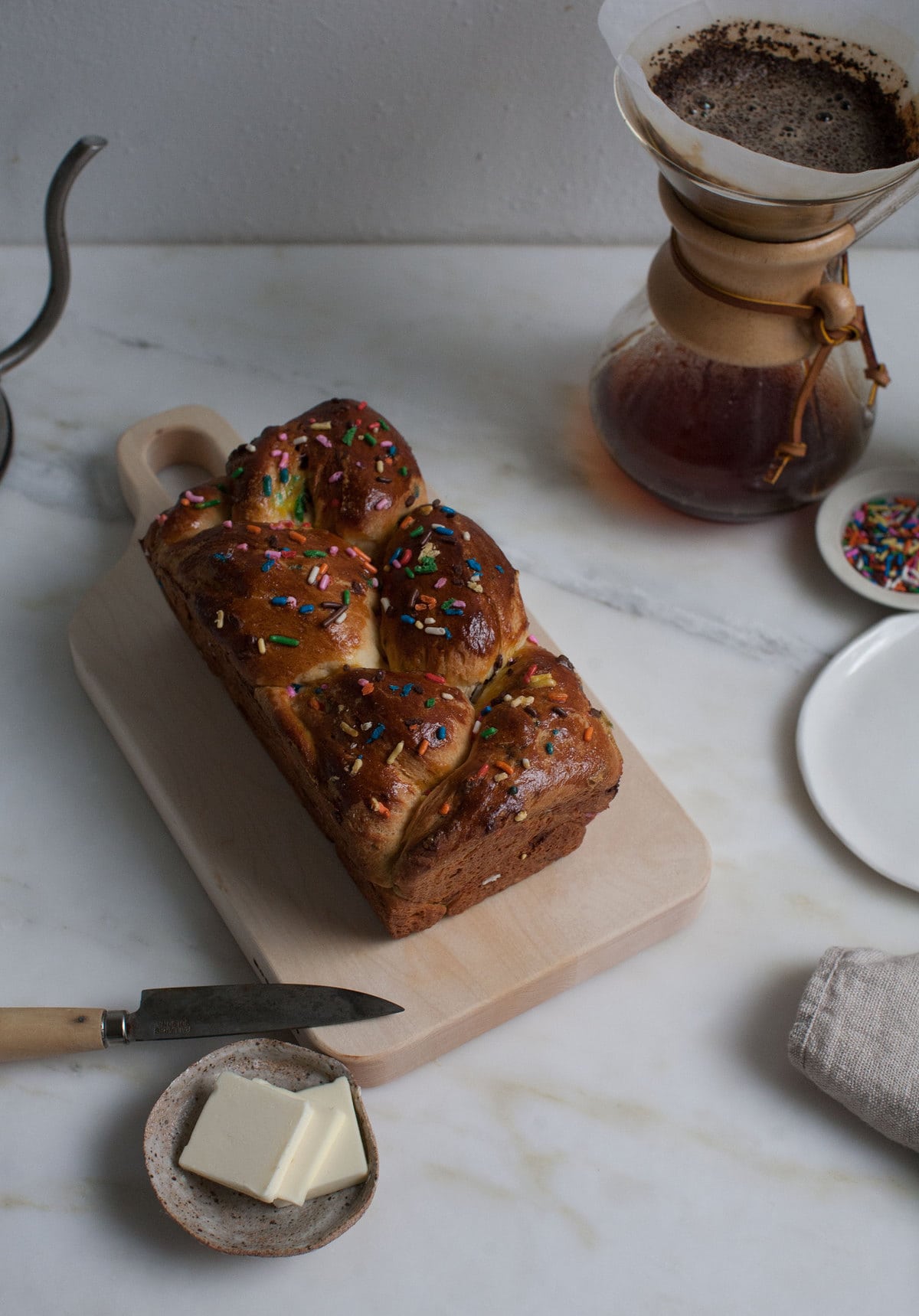 I started with King Arthur's brioche recipe, figuring that would be my starting point but, man, it's such a solid recipe so I've only really adjusted it to make way for the sprinkles. I also found out that the milk powder is totally optional because I forgot like an idiot to add it a few times when testing this and it was totally fine.
The only thing I didn't take a picture of was making this as French toast. I mean, c'mon…it's dying to be used like this. Can you imagine Funfetti Brioche Bread…but French toast? YAS.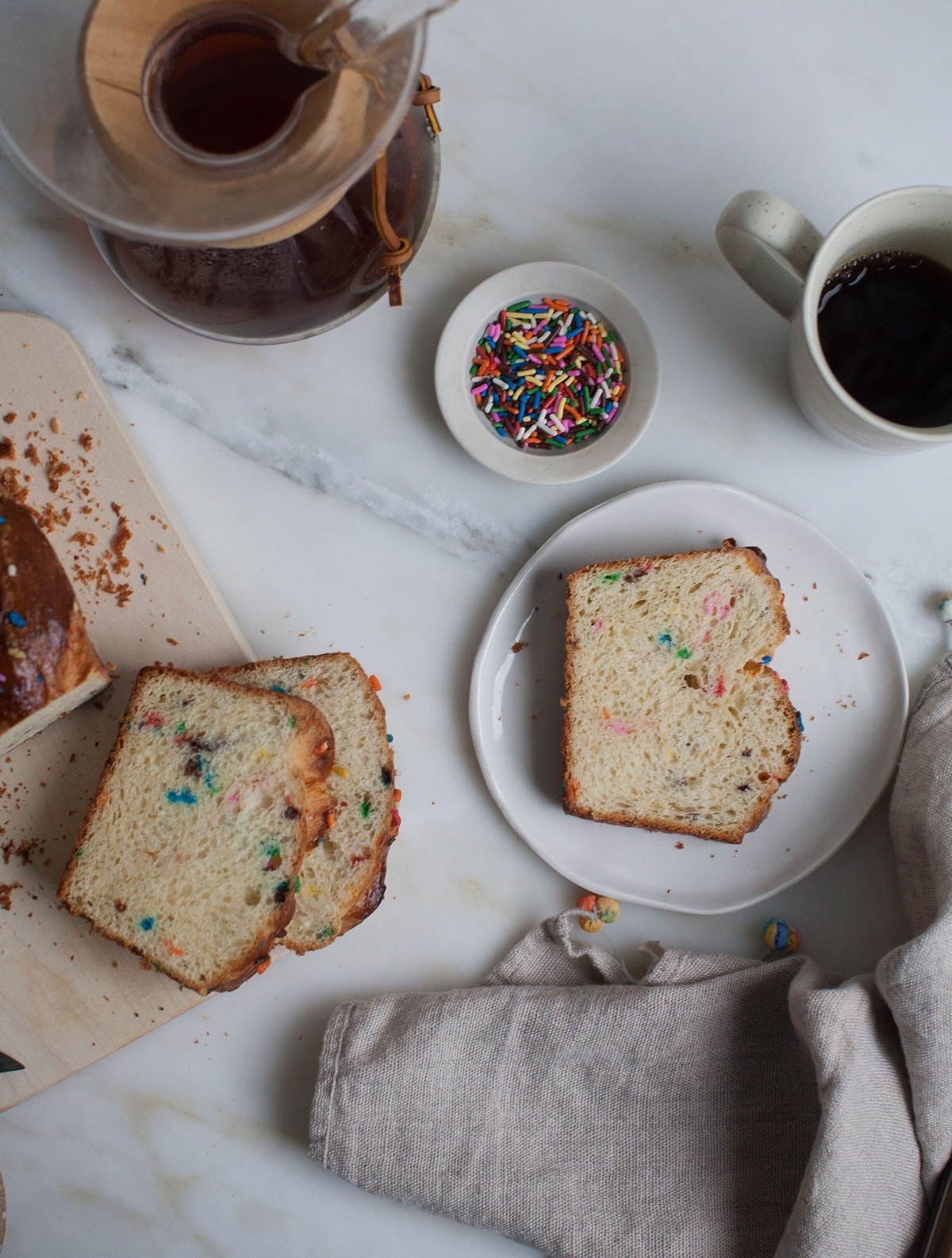 Umm…
Thanks for all your support this week. I absolutely adore seeing photos of your books on The Instagram and The Twitter #TheYearofCozy.
Keep them coming! xo
Adrianna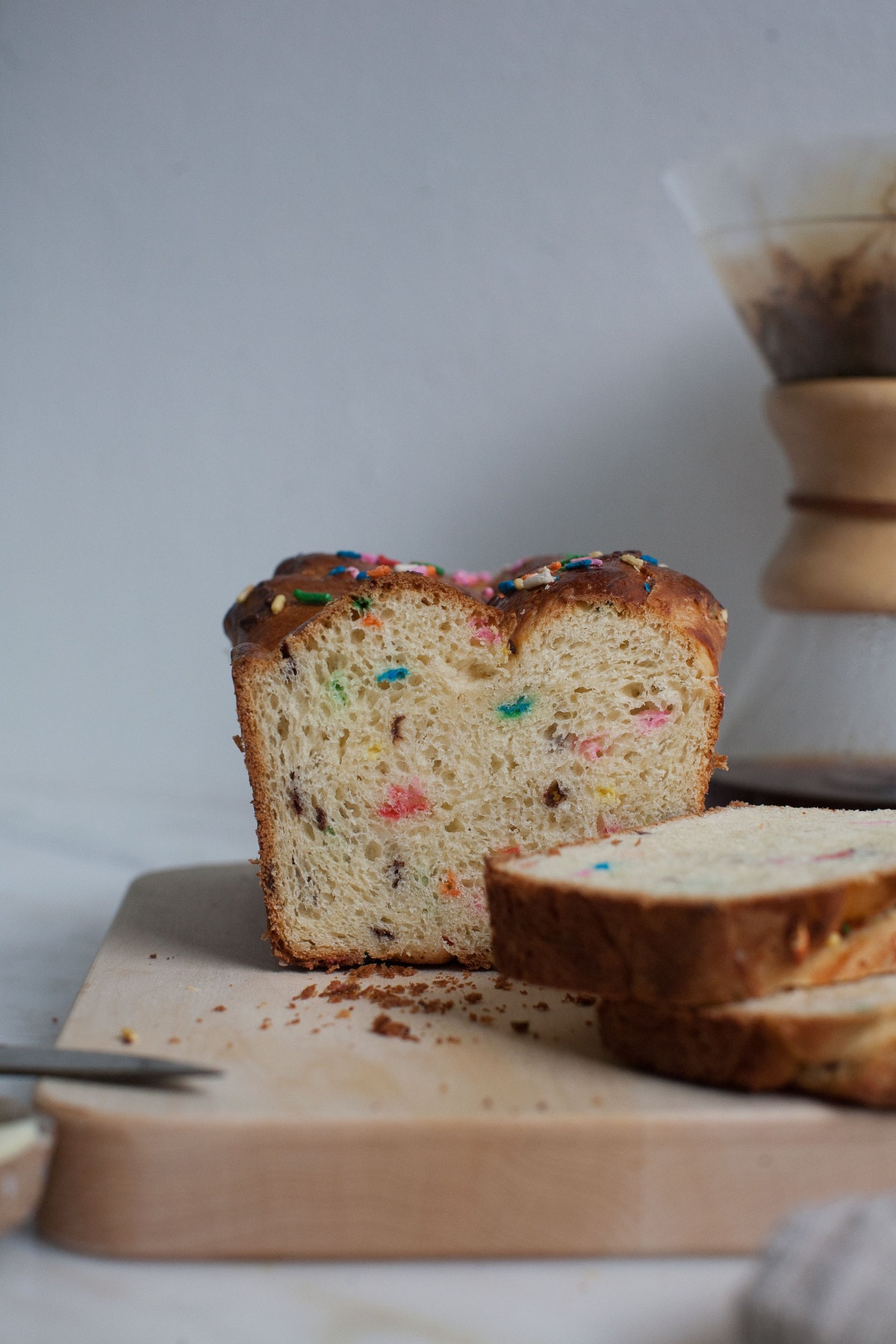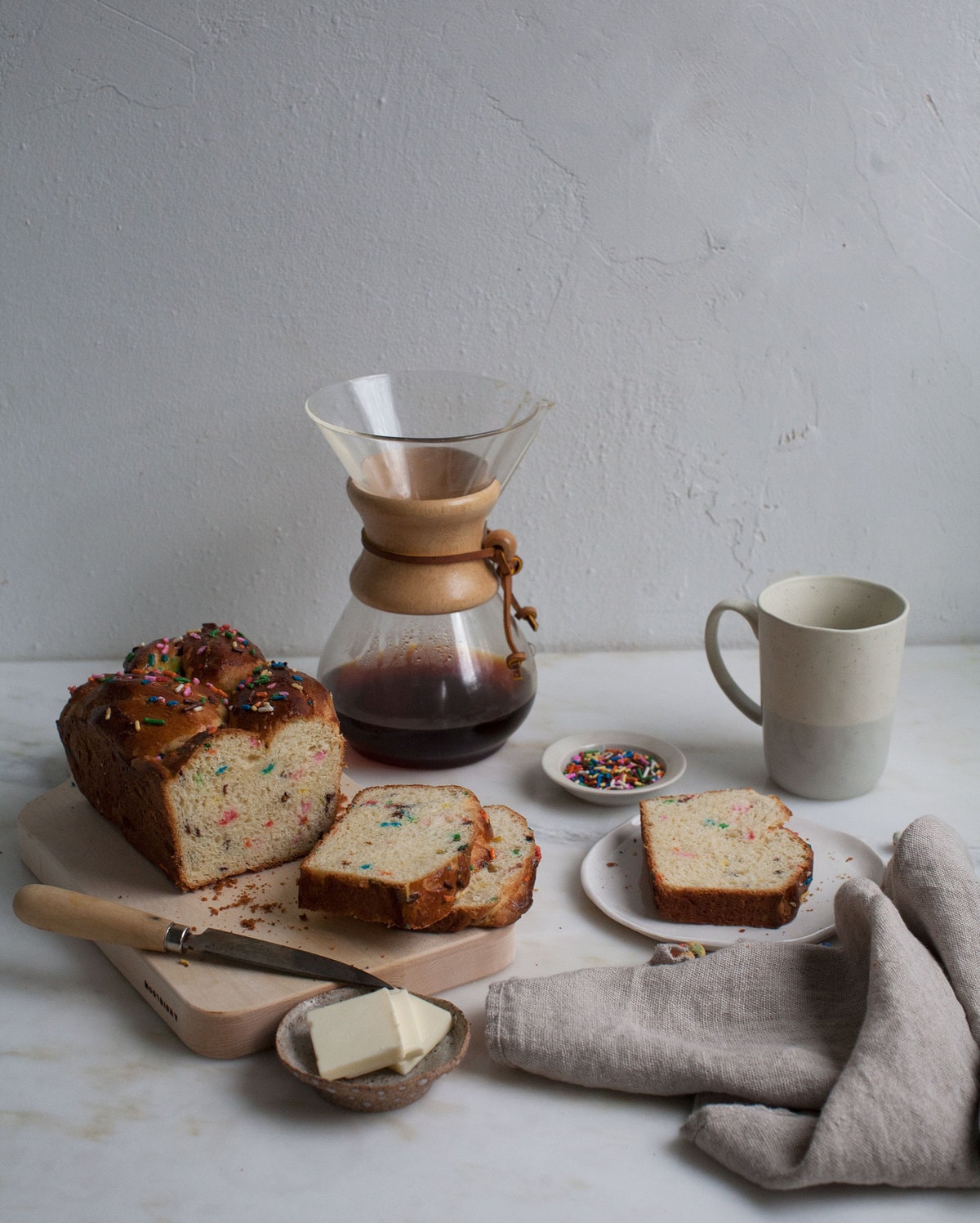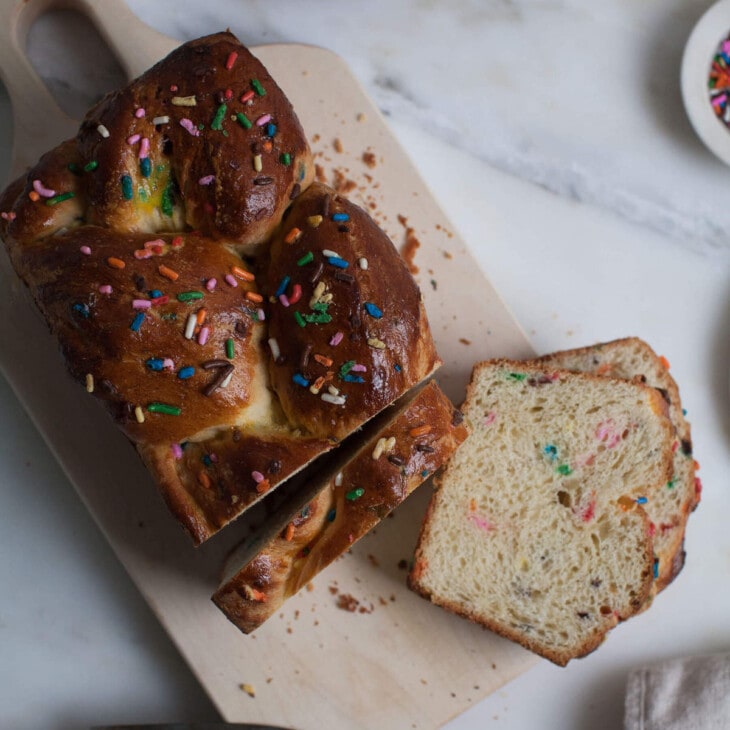 Print Recipe
Funfetti Brioche Bread
Funfetti Brioche Bread is a celebration of the Austrailian favorite: fairy bread. Sprinkles are throughout an enriched brioche loaf that is delicious.
Serving Size:
(9x5-inch) loaf; 1 (8x4-inch loaf) & 1 (2x2-inch loaf); or 4 (2x2-inch loaf)
Ingredients
Sprinkles:
2

tablespoons

colored sprinkles
Brioche Dough:
2 3/4

cups

all-purpose flour

1/4

cup

nonfat powdered/dry milk (*optional, see note)

3

tablespoons

white granulated sugar

1 1/4

teaspoons

kosher salt

1

tablespoon

instant yeast

3

large

eggs

1/4

cup

lukewarm water

10

tablespoons

unsalted butter

at room temperature
Instructions
Line a baking sheet or baking dish with plastic wrap, foil or parchment. Add the sprinkles to the baking sheet and transfer to the freezer.

In a stand mixer, with the dough hook, mix together all of the dough ingredients to form a mostly smooth, shiny dough. Don't worry; what starts out as a sticky mess becomes beautifully satiny as it kneads. Knead this dough on medium speed for 10 minutes. (The original recipe usually calls for 15 to 20 minutes, but we're kneading it later on in the recipe, again, and we don't want over-kneaded dough so we're stopping at 10 minutes!).

Spray a medium bowl with cooking spray. Transfer the dough into the greased bowl, using a spatula because the dough will be a bit sticky. Cover the bowl with a clean kitchen towel and let it rise for 1 hour. At the 1 hour mark, cover the bowl with plastic wrap and transfer to the fridge to proof for several hours, ideally overnight. This will slow the fermentation and chill the butter, making the dough easier to shape.

When the dough has chilled, transfer about half of it (you're really gonna have to pull it out of the bowl--it'll be hard and super cold!) to the bowl of a stand-up mixer, with the dough hook attached.

Remove the frozen sprinkles from the freezer and reserve about a teaspoon for the topping. Pour about 2 teaspoons of sprinkles on top of the dough that's in the machine. Turn the machine on low speed and knead for about 30 to 40 seconds. Stop the machine and add the remaining dough and sprinkles. Knead again for about 2 minutes--during this time the sprinkles should totally be mixed into the dough and the dough should become smoother. Turn the dough out onto a lightly floured surface and knead it a few times to form a ball. This step helped with getting it a bit smoother.

You have some options in terms of sizing. You can do: 1.) One large loaf in a 9x5-inch loaf pan. 2.). One loaf in a 8x4-inch pan and one 2 1/2x2 loaf pan. 3.) Or you could do four 2 1/2x2 loaf pans.

To do a 9 x 5-inch loaf: Divide the dough into three and roll those pieces into logs that are about 9 inches long. Braid them, tuck the ends under and transfer the whole thing to the lightly greased pan.

To do a 8x4 1/2-inch loaf and one 2 1/2x2 loaf: Form the dough into a ball and cut off about 1/4 of the dough. Cut that small piece into three and roll each of those pieces into logs that are about 3 inches long. Braid them, tuck the ends under and transfer the small braid to the lightly greased 2 1/2x2-inch loaf pan. Repeat these same steps with the larger leftover piece of dough and transfer the big braid to the lightly greased 8x4 1/2-inch pan.

To make mini loaves: Divide the dough into four. Divide the first ball of dough into three and roll each of those pieces into logs that are about 3 inches long. Braid them, tuck the ends under and transfer the braid to the lightly greased 2 1/2x2-inch loaf pan. Repeat these same steps with the three remaining pieces of dough and transfer them each to 2 1/2x2-inch loaf pans.

Cover the dough, regardless which route you went, and allow it to rise for 2 1/2 to 3 hours. During this time, each loaf will double in size.

Preheat your oven to 375 degrees F. Brush the loaf or loaves with the egg yolk and top with sprinkles. Transfer to the oven to bake for 10 minutes. At the 10 minute mark, turn the heat down to 350 degrees and tent the brioche, if needed, with a sheet of foil. I found that I needed to tent it at the 15 minute mark but this may vary. Bake for an additional 20 to 25 minutes for a large loaf and 10 to 15 minutes for a smaller loaf. Insert a digital thermometer in the center and you'll know it's done when it reads 190F. Remove and allow to cool completely before slicing.
Notes
*In my testing, I found that the milk powder was optional. If you're at the store, buy it--it adds a bit of a creamier texture to the milk. But if you have everything at your house right now, you can skip it and the bread will still totally be delicious.
Equipment
8x4-inch loaf pan (or 9x5-inch loaf pan)