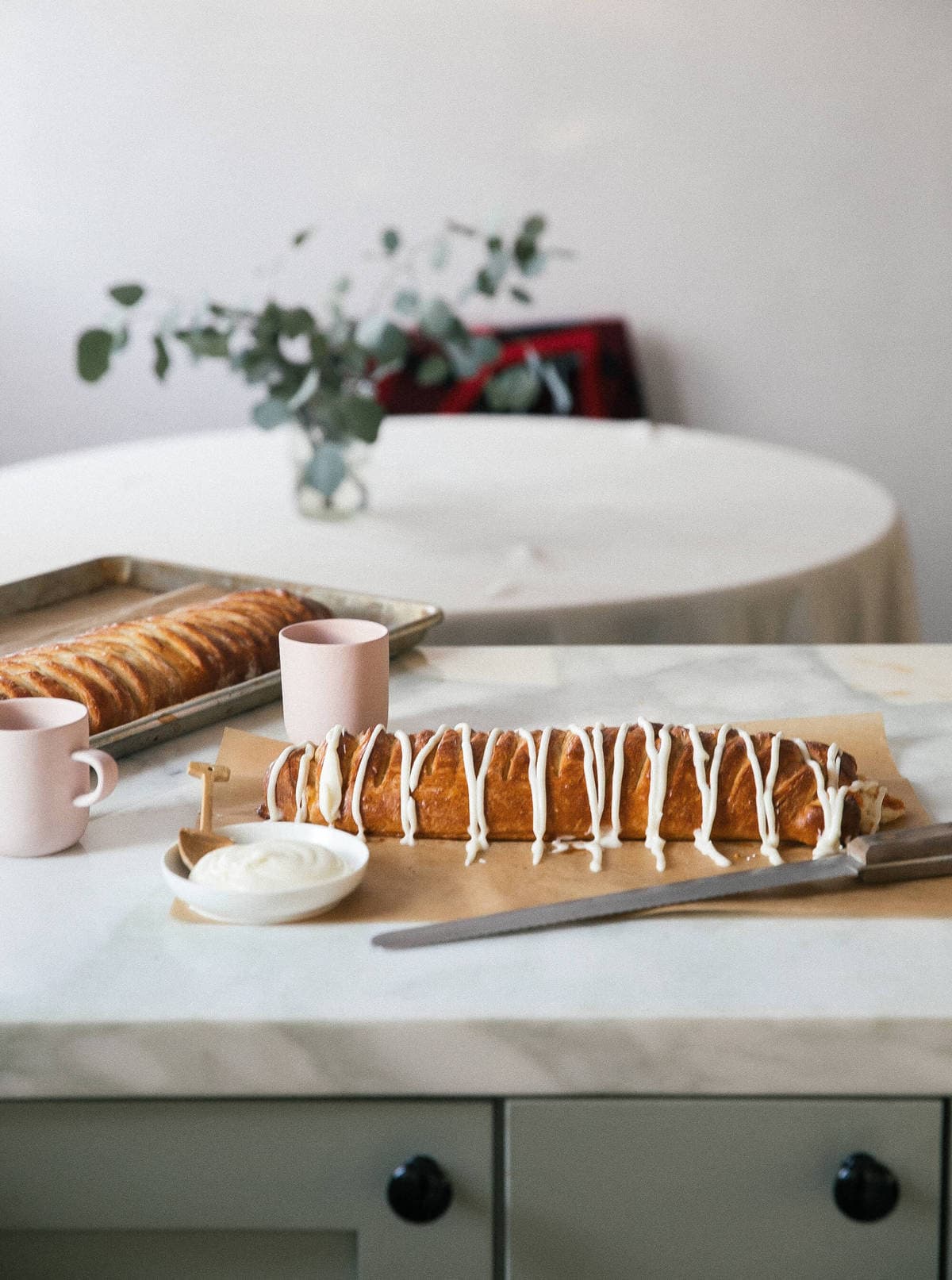 I have recently (re)discovered the pleasure of wearing a robe around the house. I have this one, in case you're curious, and it feels like luxury! I have no idea what I've been doing wearing PJs when I could've been wearing an incredibly soft robe. This recipe for Danish Braided Strawberry Bread is the perfect fluffy loaf to be made in a robe.
I think a lot about Christmas breakfast and how epic I always want it to be. I always love a braided situation. I usually use store-bought puff pastry but I love this bread-y version because oh so delicious.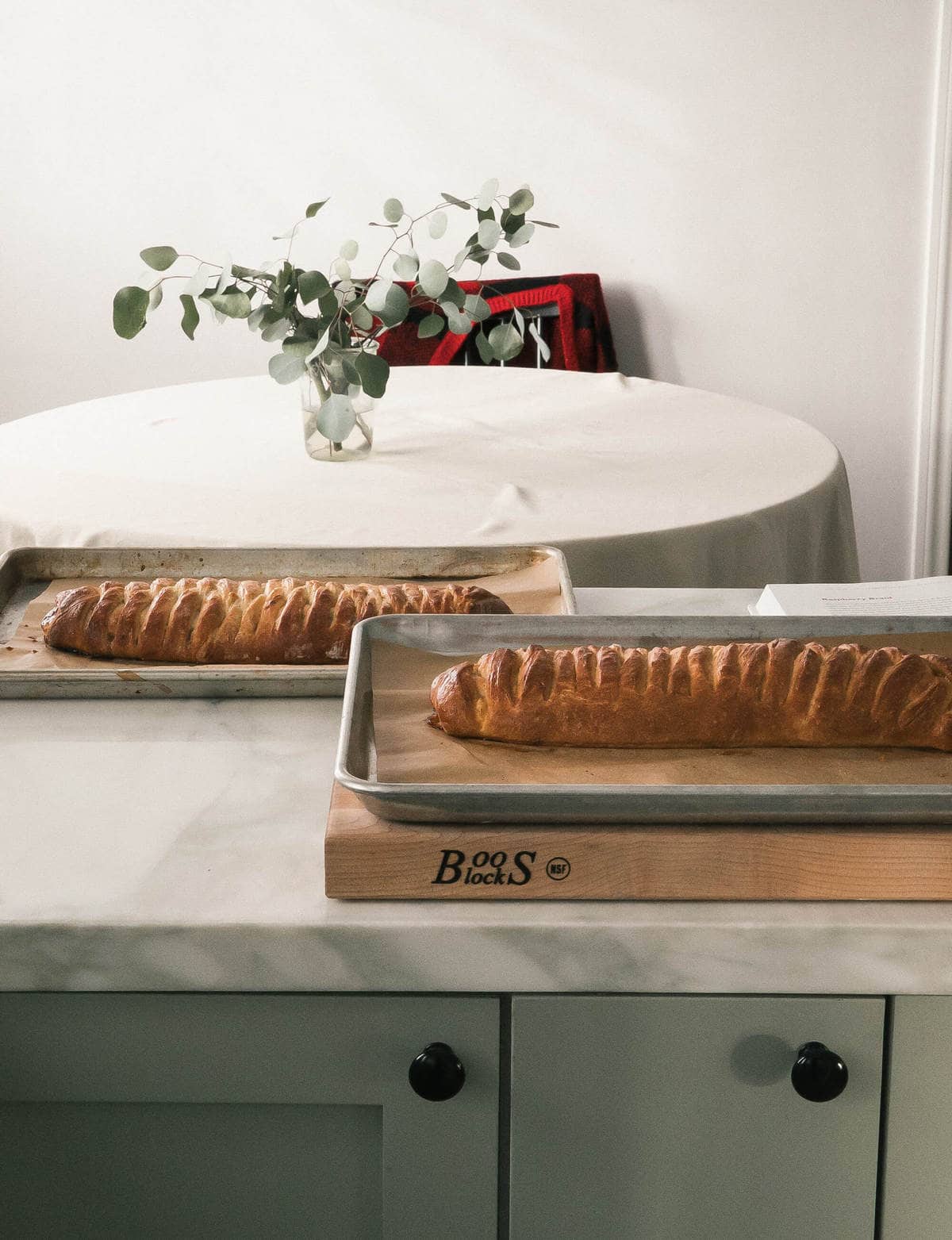 This recipe comes from Zoë Francois + Jeff Hertzberg, M.D new book, Holiday and Celebration Bread in Five Minutes a Day. I love Zoe's Instagram. It's maybe one of my favorite. Her recipes always look so incredible. And while at time they look super ambitious, her recipes are 100% doable and dependable.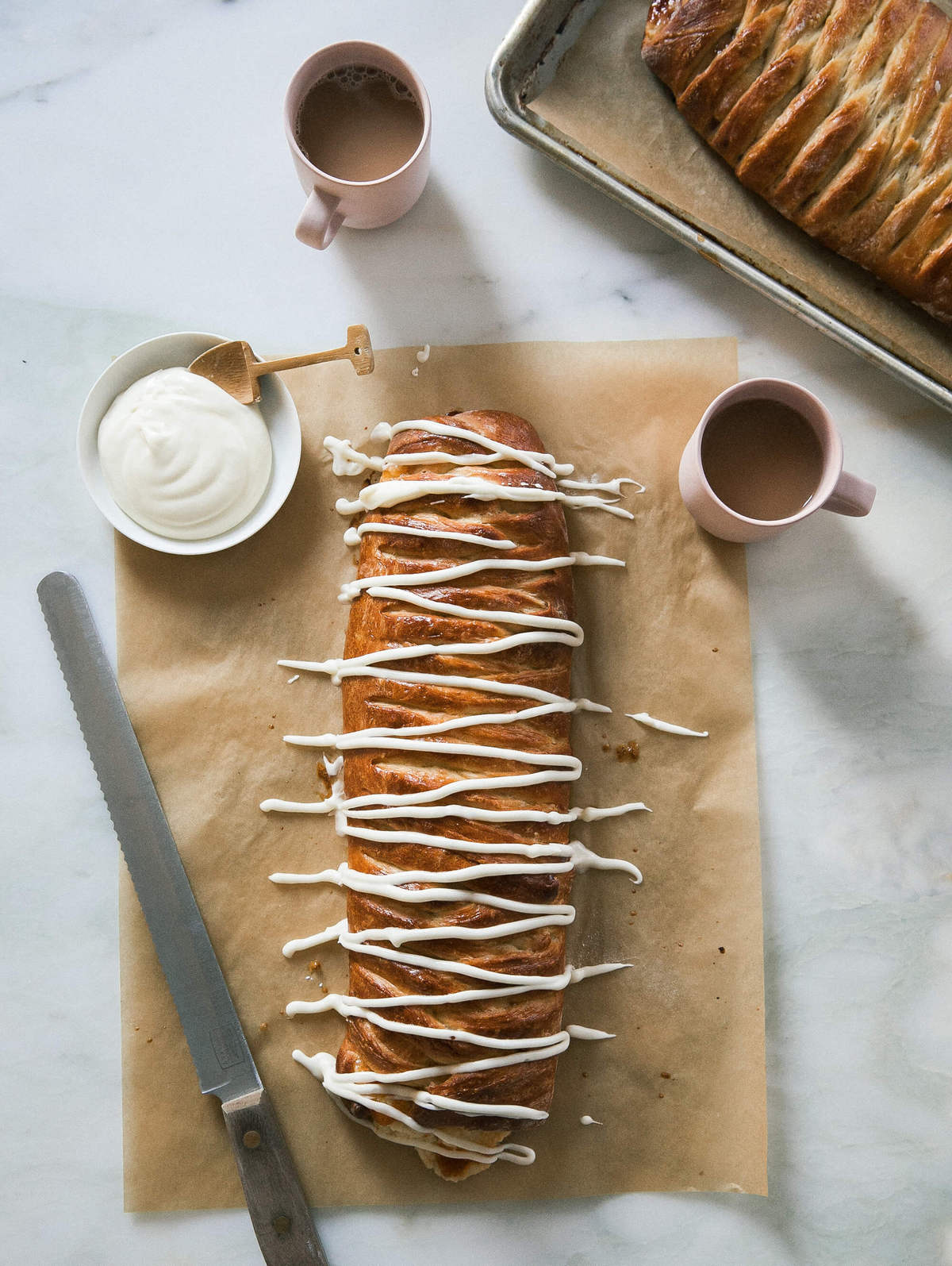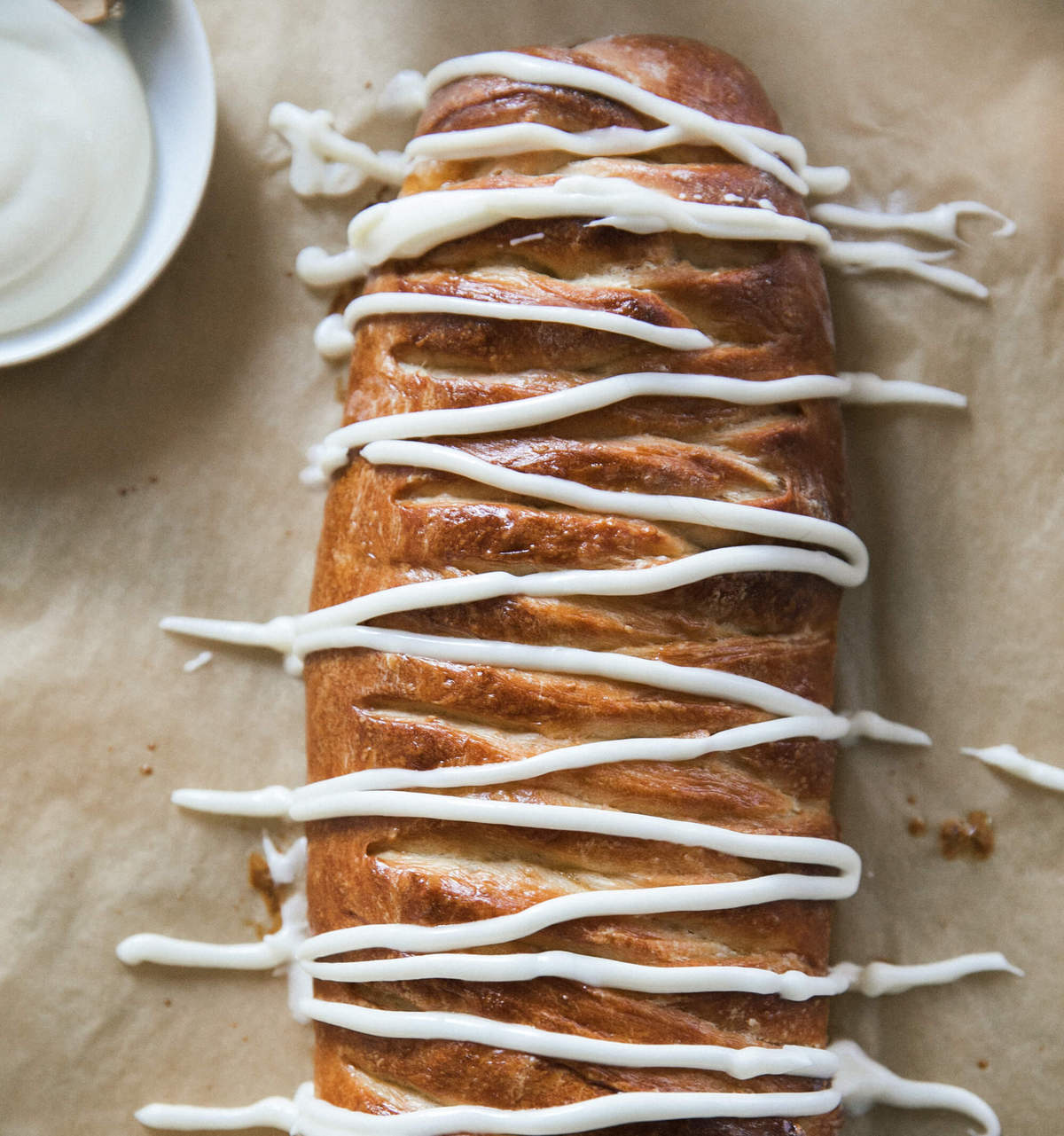 What Is a Danish Loaf
How to Make a Danish
While I was thumbing through her new book, there were SO many things I wanted to make. I finally narrowed it down to this braided bread loaf with a zest-y cream cheese filling with jam. It was SO good.
The dough is so easy to make. You simply mix everything together. No exhausting kneading, no work lol.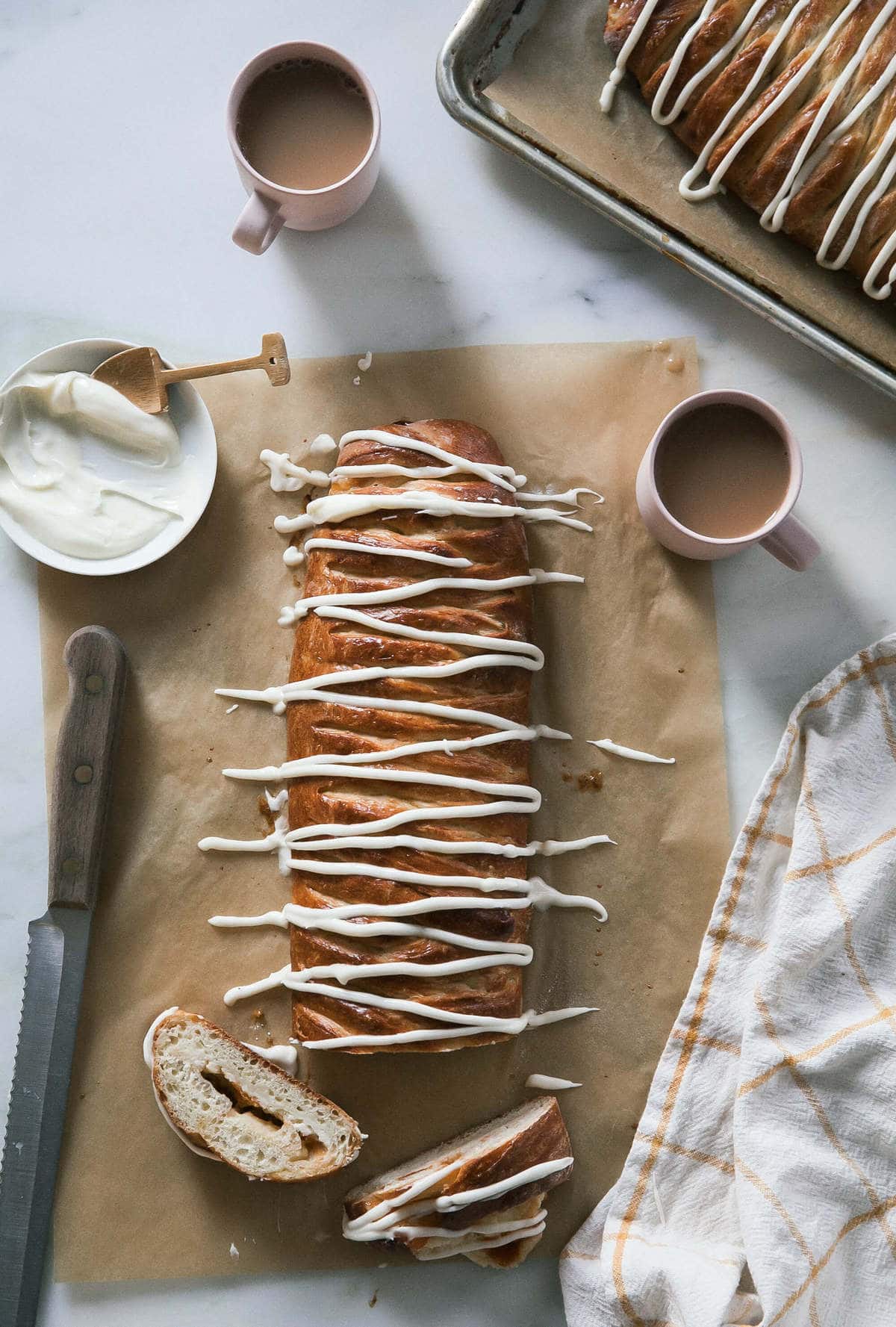 If you want to make it ahead, you 100% can because this tasted so good the next day. You can warm it up in the oven for 10 minutes if you want to eat it warm—which I highly recommend.
Coffee or hot chocolate is a must.
If you make this Breakfast Braided Strawberry Bread, let me know on Instagram!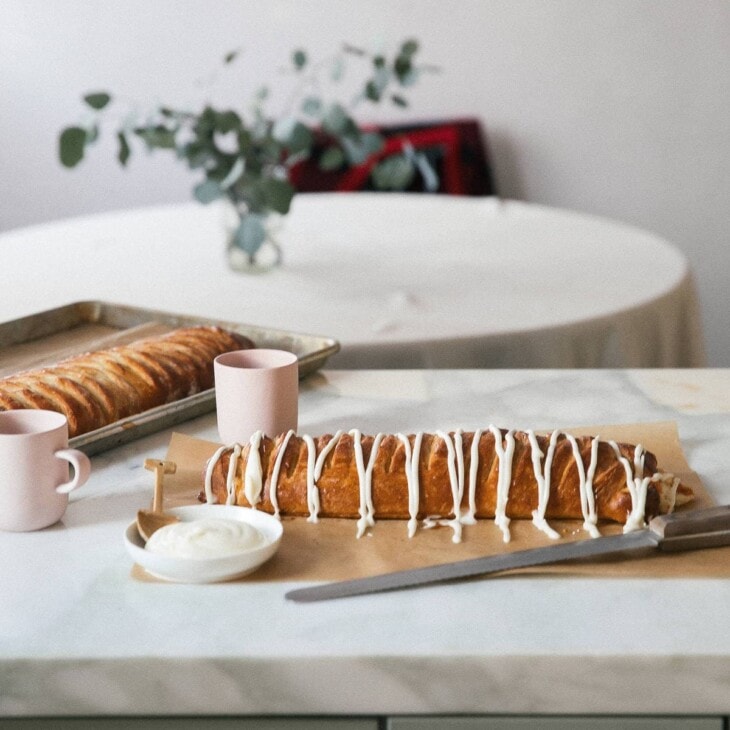 Print Recipe
Breakfast Braided Strawberry + Apricot Bread
Serving Size:
braided loaves
Ingredients
Dough:
2

large eggs

lightly beaten

3/4

cup

+ 2 tablespoons lukewarm water

100F or below

1 1/2

teaspoons

granulated yeast

1 1/2

teaspoons

kosher salt

1/4

cup

honey

4

tablespoons

unsalted butter

melted

3 1/2

bread flour
Cream Cheese Filling:
8

ounces

cream cheese

1

teaspoon

grated lemon zest

2

tablespoons

sugar

1/2

cup

your favorite store-bought jam (I used half apricot and half strawberry jam

Egg yolk wash

1 egg yolk beaten with 1 tablespoon water, for brushing the braids
Icing:
1

cup

powdered sugar

4 to 6

tablespoons

heavy cream

or more as needed to reach the proper consistency
Instructions
To Make the Dough:
You can use a big bowl with a strong spoon or a stand-up mixer with the paddle attachment.

To the bowl, add the beaten eggs, lukewarm water, yeast, kosher salt, honey and melted butter. Mix.

Add the flour--without kneading—and mix until combined. Cover the dough with a clean kitchen towel and place in a warm-ish area in your kitchen. Allow the dough to rise for 2 hours.

The dough can be used immediately after the initial rise, though it is easier to handle when it's cold. Refrigerate the container and use over the next 5 days.
To Make the Cream Cheese Filling:
Mix the cream cheese, lemon zest, and sugar in a bowl until smooth. Set aside.

Line a baking sheet with parchment paper or a silicon mat.
To Assemble the Braided Loaves:
Dust the surface of the refrigerated dough with flour and divide in half. Dust the first piece with flour and shape into a rough ball by stretching the surface of the dough around to the bottom, rotating the ball a quarter-turn as you go.

Using a rolling pin, roll the first piece of dough out to a 1/4-inch-thick rectangle, about 9 x 12 inches. As you roll out the dough, add flour as needed to prevent sticking.

Transfer the dough onto the lined baking sheet. Place the cream cheese filled down the length of the dough in a 3-inch strip in the center, and add the jam on top in an even layer.

Using a sharp paring knife or a pair of kitchen scissors (I found the scissors to actually work best), cut about 1/2-inch-wide strips down each side. Twist and then fold the strips, left over right, crisscrossing over the filling. Lightly press the strips together you move down the pastry, creating a braid.

Repeat with the second braided loaf.

Cover loosely with plastic wrap and allow them to rest at room temperature for 60 minutes.

Preheat the oven to 350 degrees F, with a rack placed in the center of the oven.

Brush the braids lightly with egg wash. Bake the braided loaves for 30 to 35 minutes, or until golden brown. Allow to cool.
To Make the Glaze:
While the braid is cooling, mix together the powdered sugar and cream. I wanted the drizzle to be prettier, so I transferred to a piping bag, snipped off the end and drizzled the glaze on the both of the braids. A spoon would also work!
Notes
To make ahead:
Make the dough the day ahead and place in the fridge.
You can also bake these off the night before and drizzle the glaze morning of serving. Will taste delicious when wrapped for 3 days.