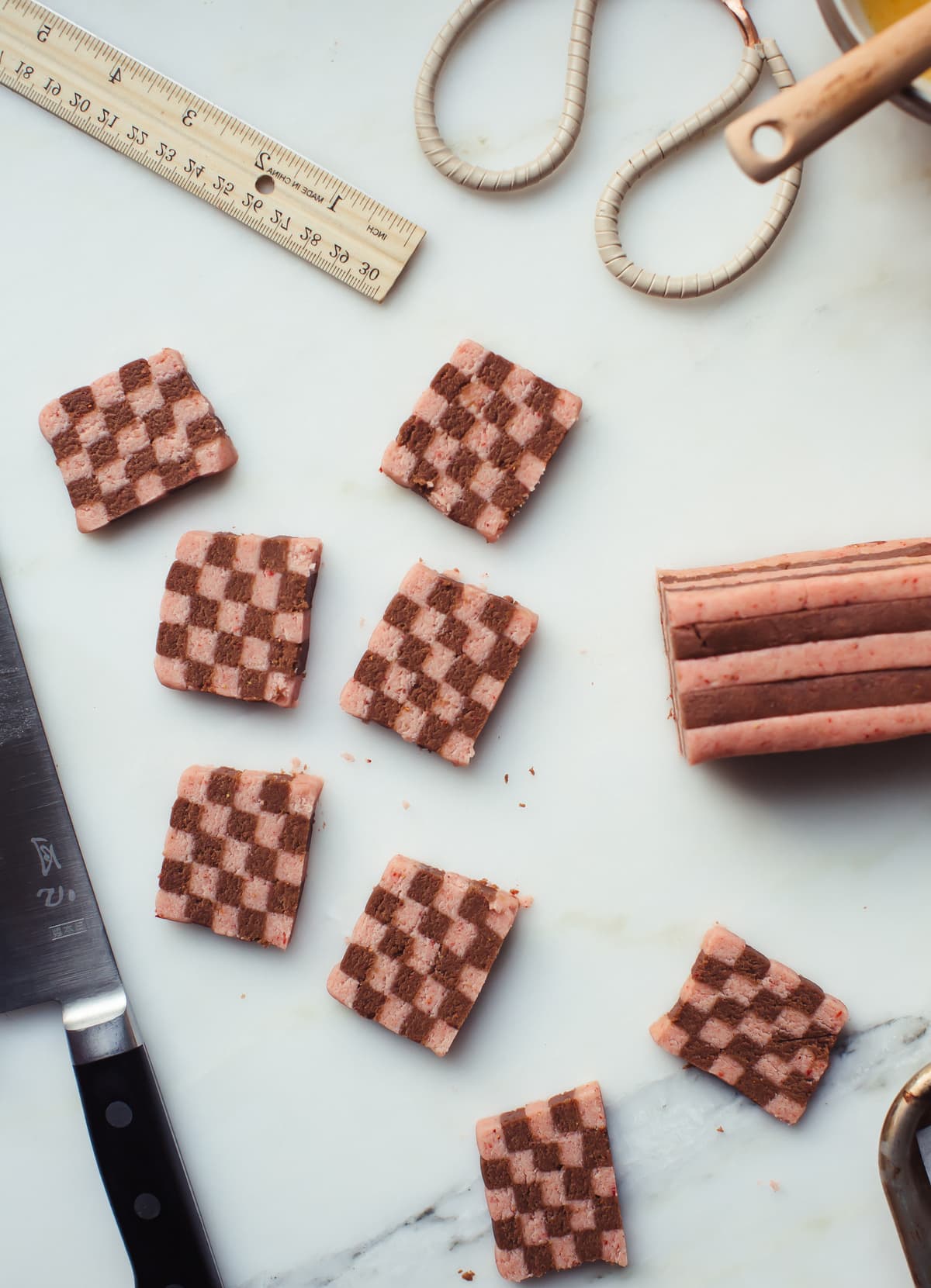 Today I'm headed to Santa Ynez (right by Santa Barbara) for a super short trip for the grocery store ALDI (more on dat soon!). I have a few days of eating and drinking and taking lots and lots of photos—-I'm excited.
It's super cliche but right now I'm really inspired by trips to the farmer's market. I don't always go the farmer's market, which surprises most people since I live in California but my defense is that I bake a lot and many times when I'm recipe testing for the blog, I already have an idea of what I want to cook and many times the farmer's market is too fickle. sometimes they have stuff and sometimes they don't, so I usually just buy my ingredients from the grocery store. but recently, walking through the aisles of the markets has been so inspiring.
Yesterday I bought a big flat of strawberries and was going to put them in a dessert but instead just cut them up and at them as is and they were amazing.
They reminded me of why I love eating strawberries in the simplest ways. if I'm craving their flavor in baked goods, I turn to freeze-dried, always.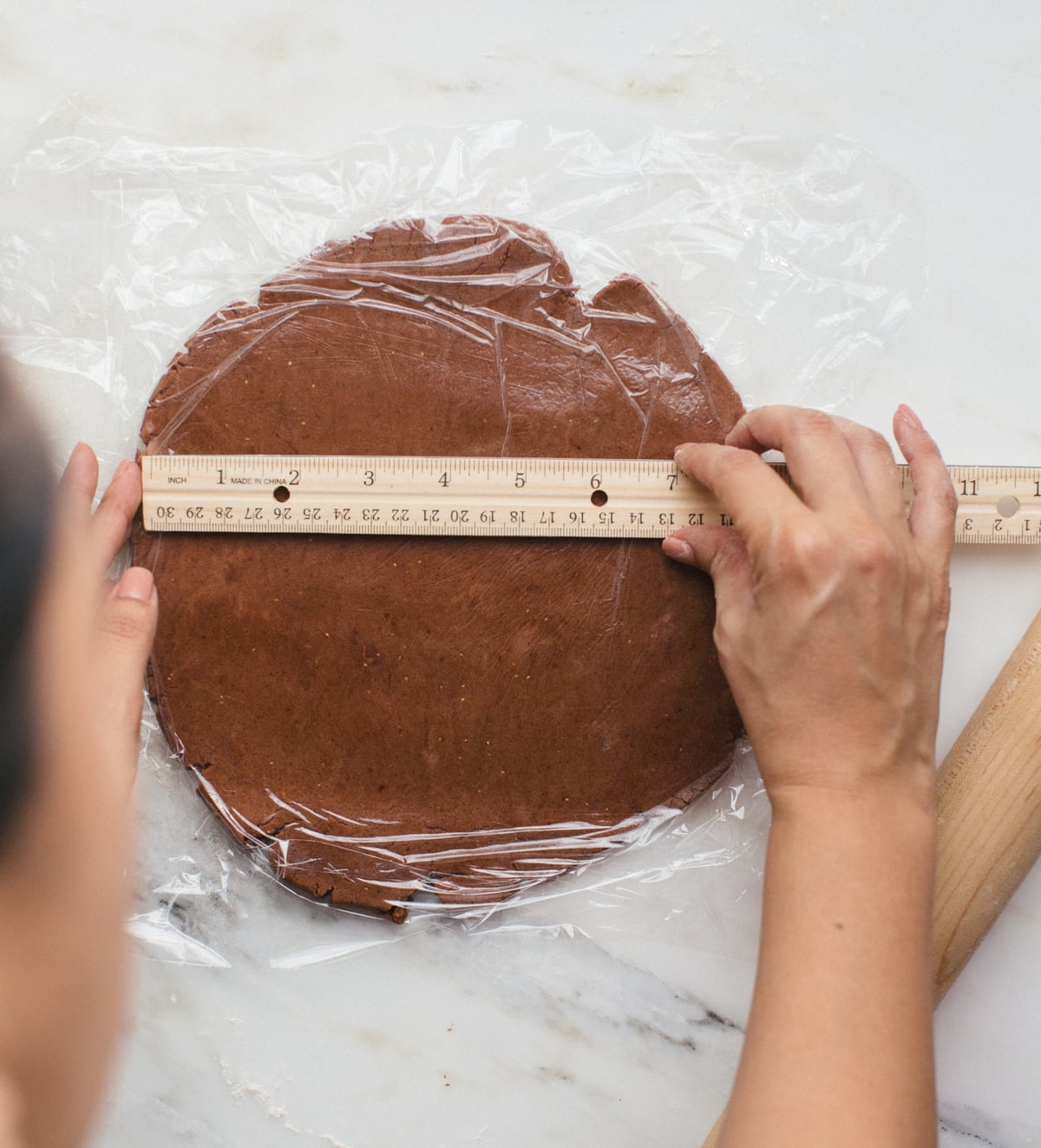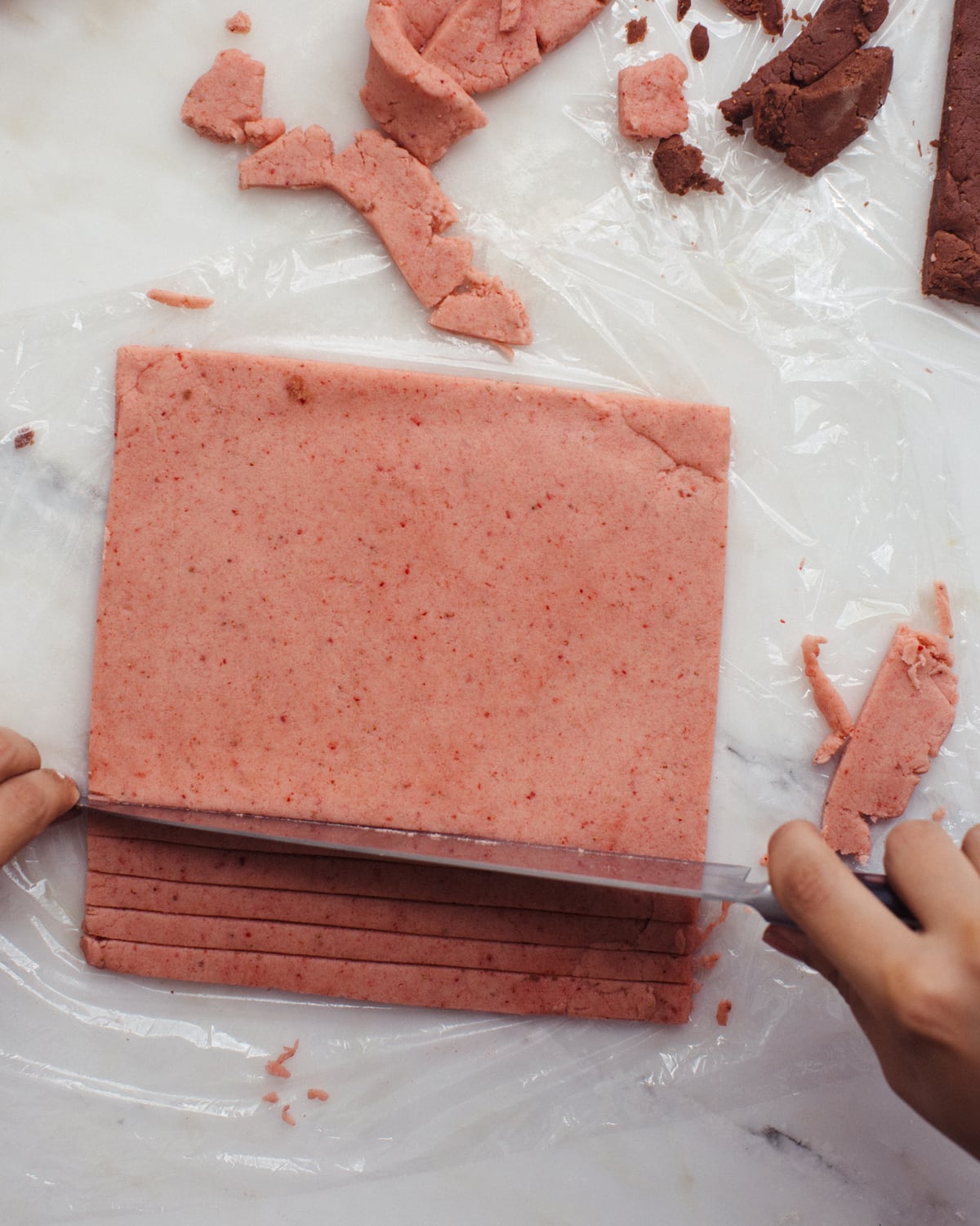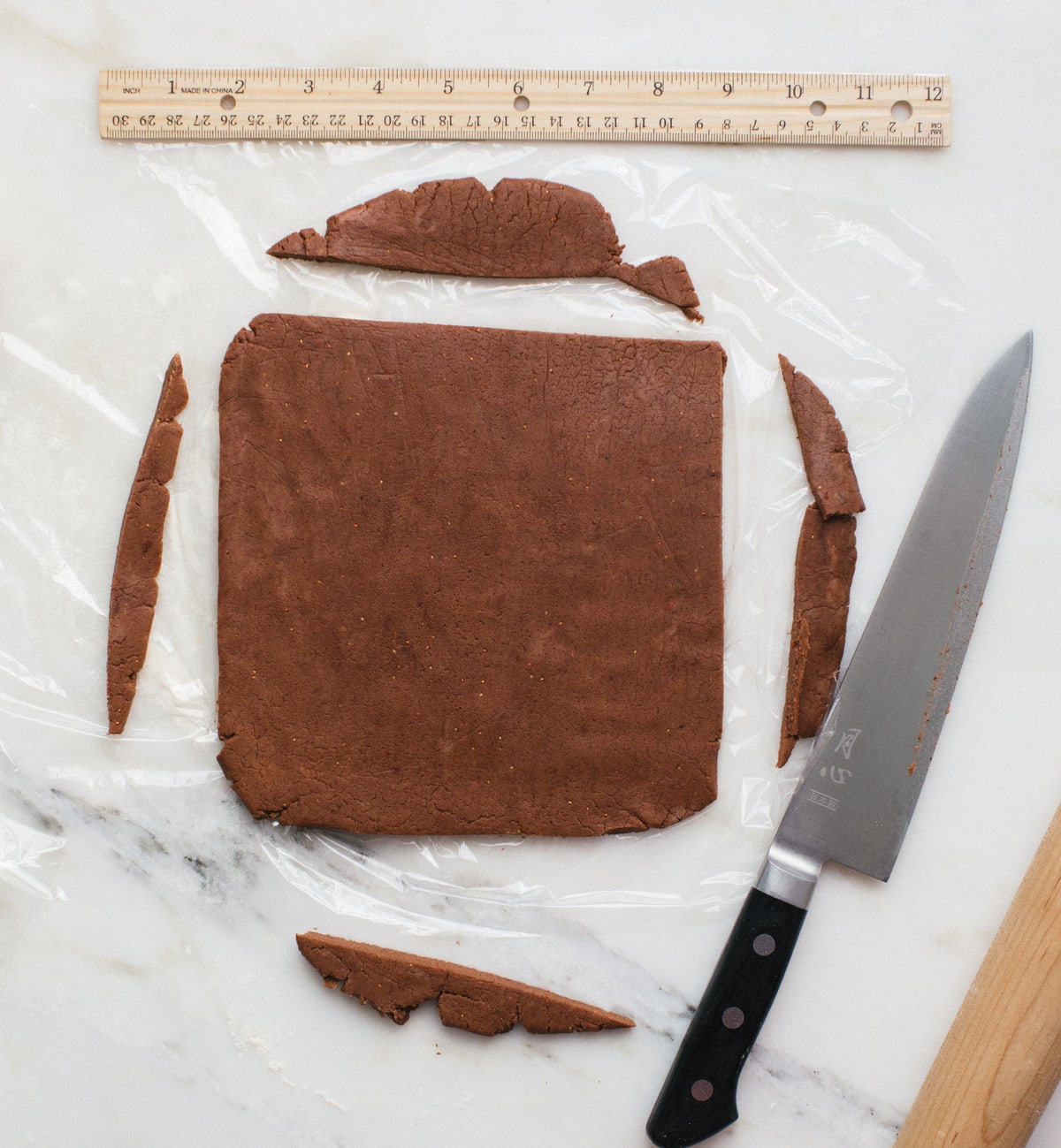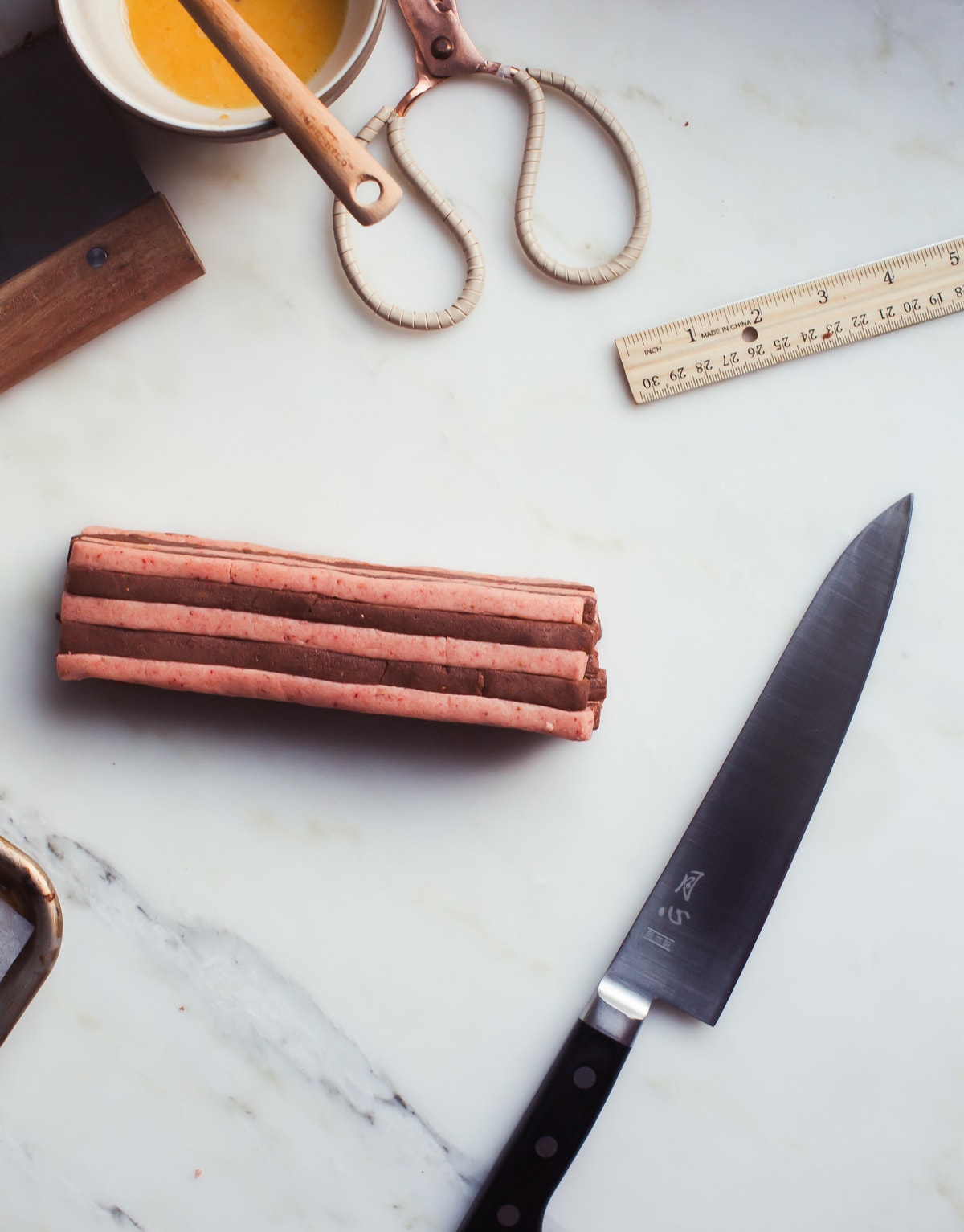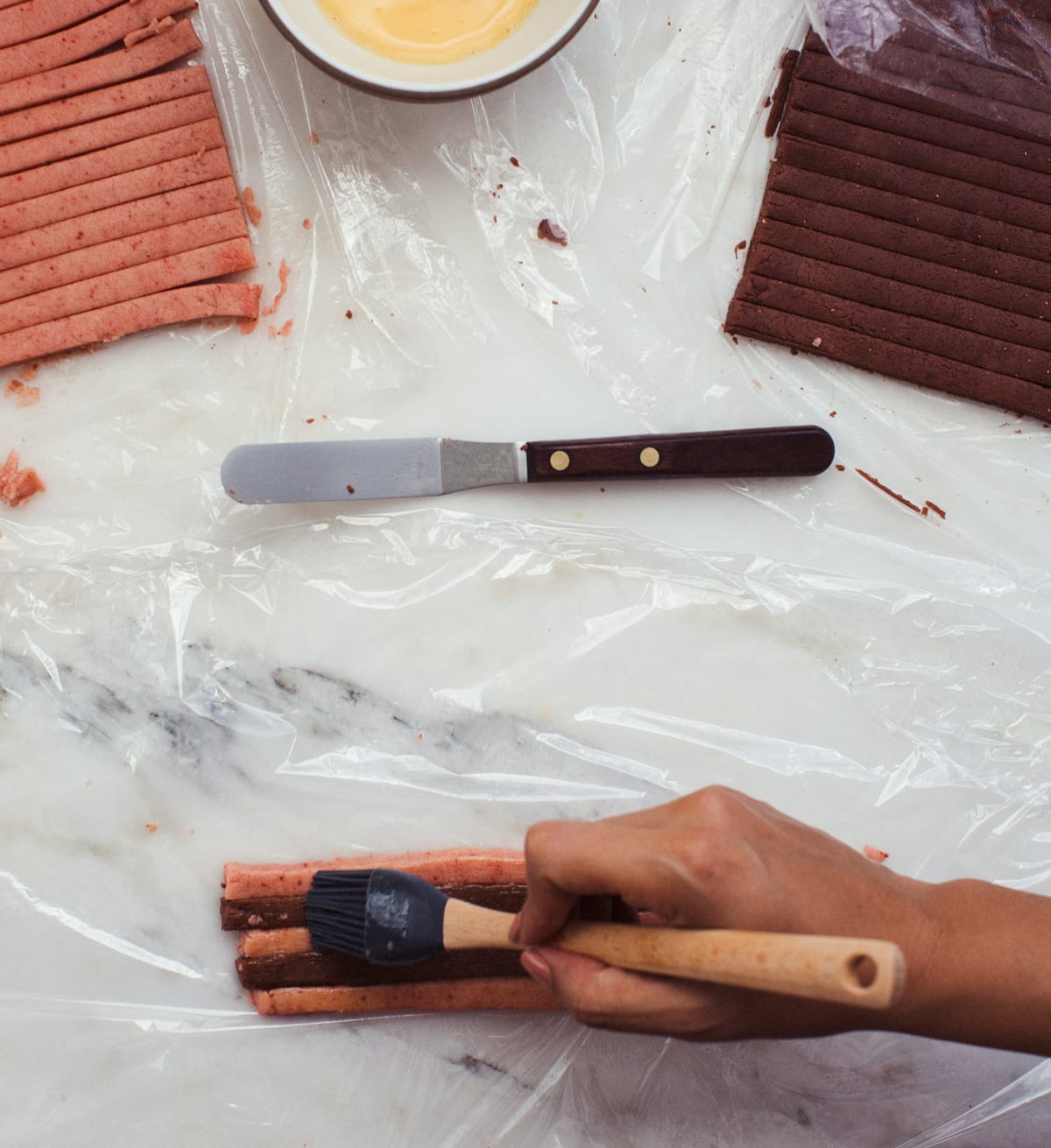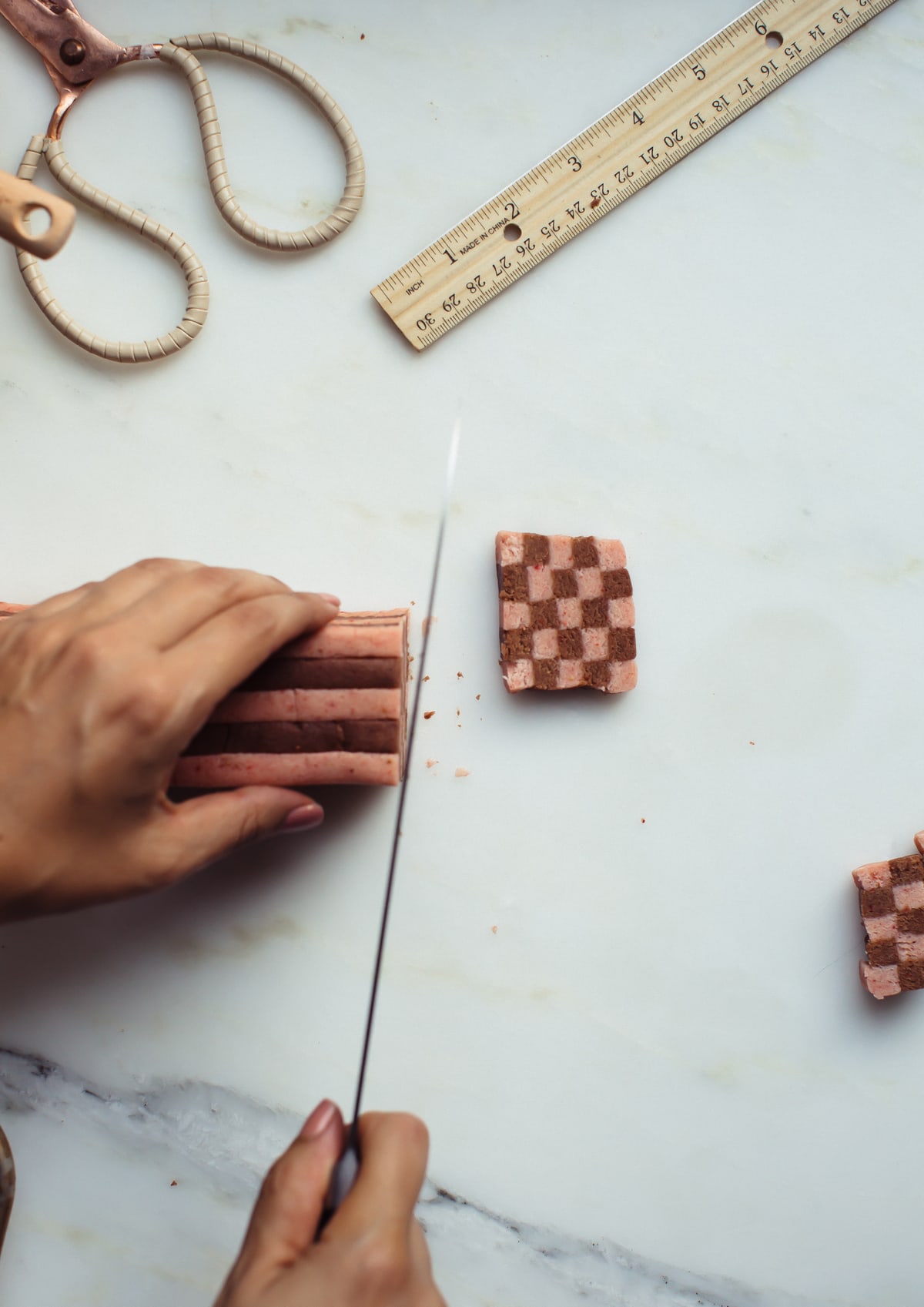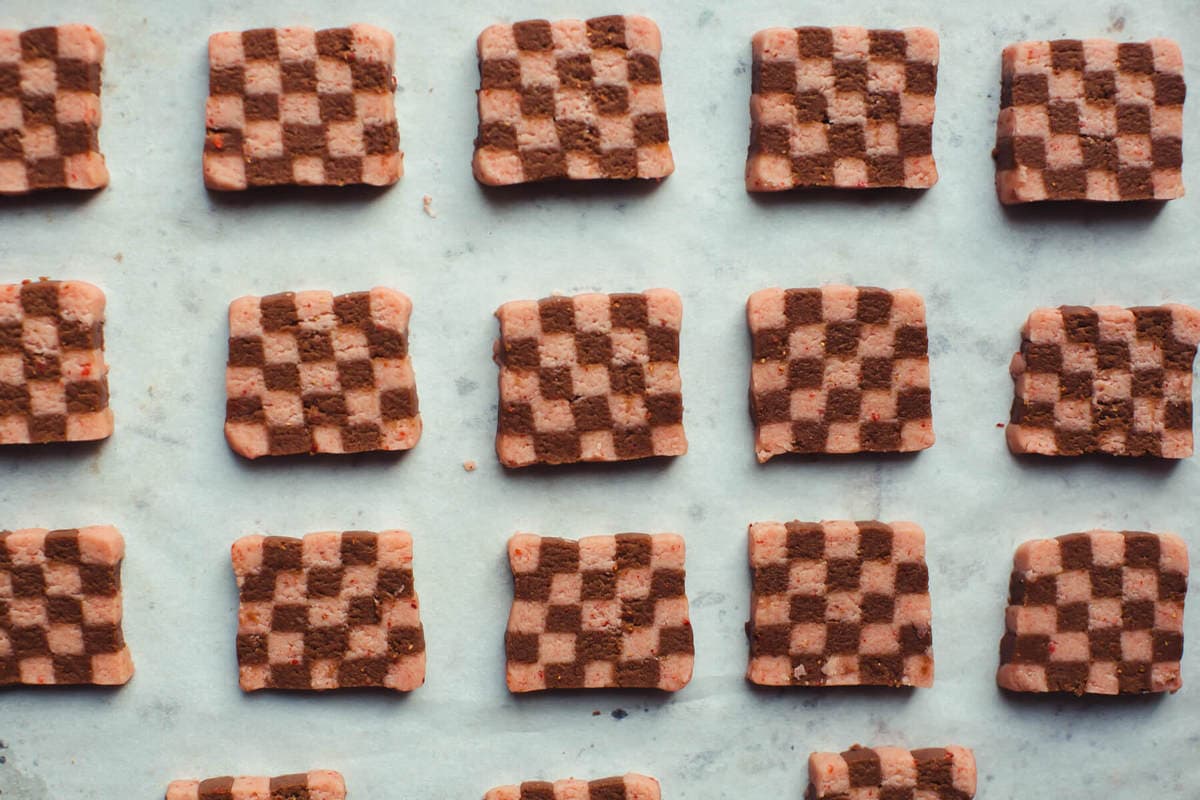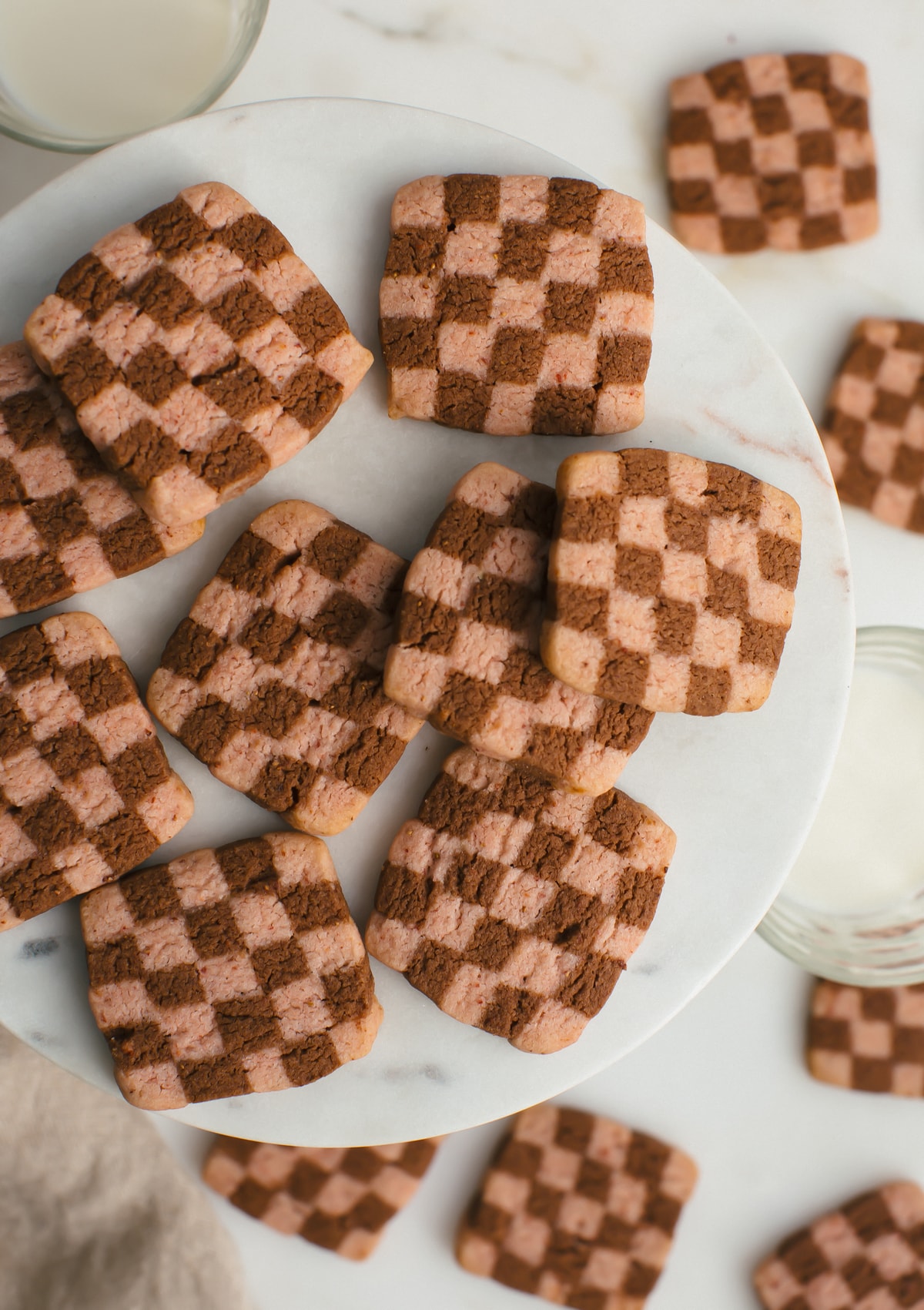 They offer the deep strawberry flavor without the water and juice that can sometimes mess with the consistency in baked goods.
And while these cookies depend on freeze-dried fruit for their flavor, they also depend on an equal amount of borderline psychoses for their checkered pattern.
But I can assure you that it's not that hard. it just seems much harder than they actually are. it's really just a lot of slicing and layering.
These cookies are sable-like in texture. Think of them almost like a shortbread cookies with my favorite flavor combination: strawberry and chocolate.
If you want to follow more of my Santa Barbara adventures, follow me on Snapchat! (username: acozykitchen)!!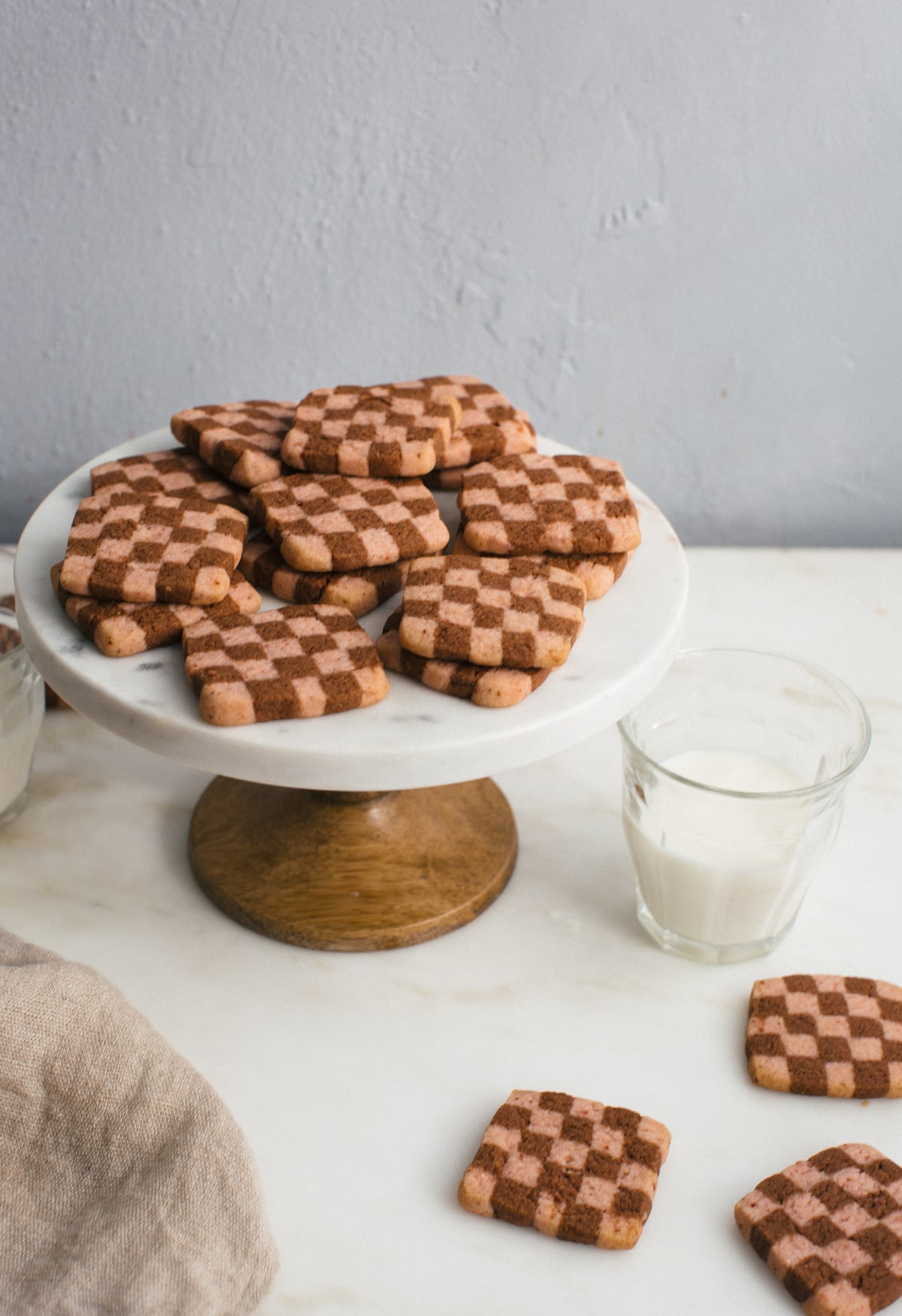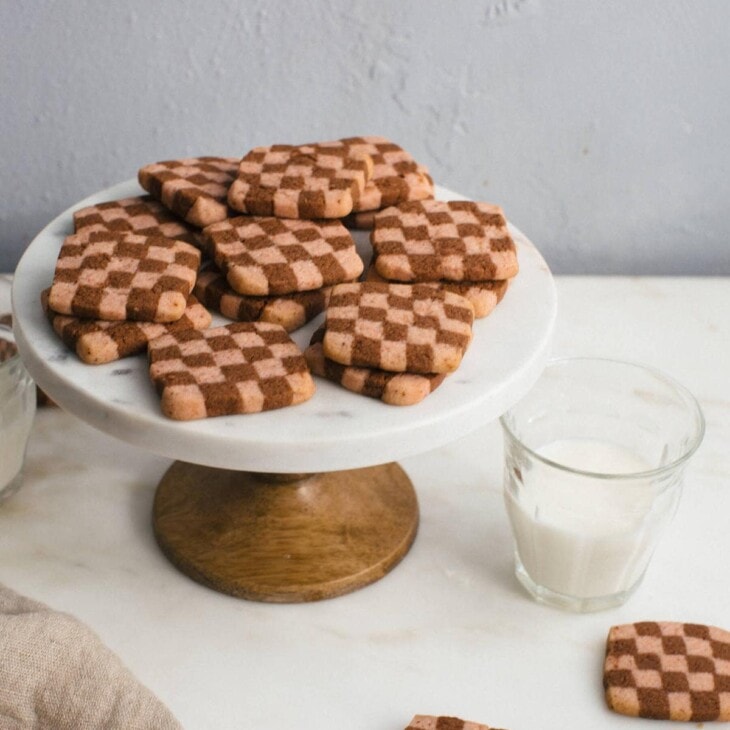 Print Recipe
Strawberry Chocolate Checkered Cookies
Serving Size:
cookies (approx.)
Ingredients
3/4

cup

white granulated sugar

3/4

cup

freeze dried strawberries

1

cup

unsalted butter

at room temperature

1

teaspoon

pure vanilla extract

1/2

teaspoon

salt

2 1/2

cups

all-purpose flour

1/4

cup

unsweetened cocoa powder

1

large egg

beaten in a bowl with 2 tablespoons water
Instructions
In a food processor, add the sugar and strawberries and pulse until mixture turns to a reddish/pinkish powder.

Transfer the strawberry sugar to the bowl of a stand-up mixer with the paddle attachment.

Add the butter, vanilla extract and salt. Beat until the mixture is light and fluffy and turns a pale pink, 2 to 3 minutes.

Add the flour, in two batches, and mix until combined. Remove half of the dough (you can eyeball this) and place on a sheet of plastic wrap. To the stand-up mixer with the remaining dough, add the cocoa powder and mix until the mixture is brown and chocolate-y throughout and the cocoa powder is thoroughly combined.

Wrap the two doughs in plastic wrap, separately, and transfer to the fridge for 15 minutes.

Roll out each dough so it's a 7-inch square that's 1/2-inch thick. Slice each square into 1/2-inch wide strips. You should end up with about 14 strips per batch of dough (28 strips total).

Handling the strips delicately (I used a small offset spatula), place the logs, alternating between colors, next to one another. I placed 5 strips next to one another, as the first layer. Brush the top lightly with the beaten egg. And then repeat with the next layer, starting with the opposite color as before and alternating between colors. Repeat this process until you have 5 layers. (You'll end with around 3 strips that will go unused—that's ok!)

Wrap the square log with plastic wrap and transfer to the freezer to chill for 10 minutes.

Preheat the oven to 350 F and line a baking sheet with parchment. Slice the logs into 1/4-inch to 1/2-inch thick cookies. Place on the baking sheet and bake for 10 to 12 minutes. Allow to cool completely on the baking sheet before moving them.