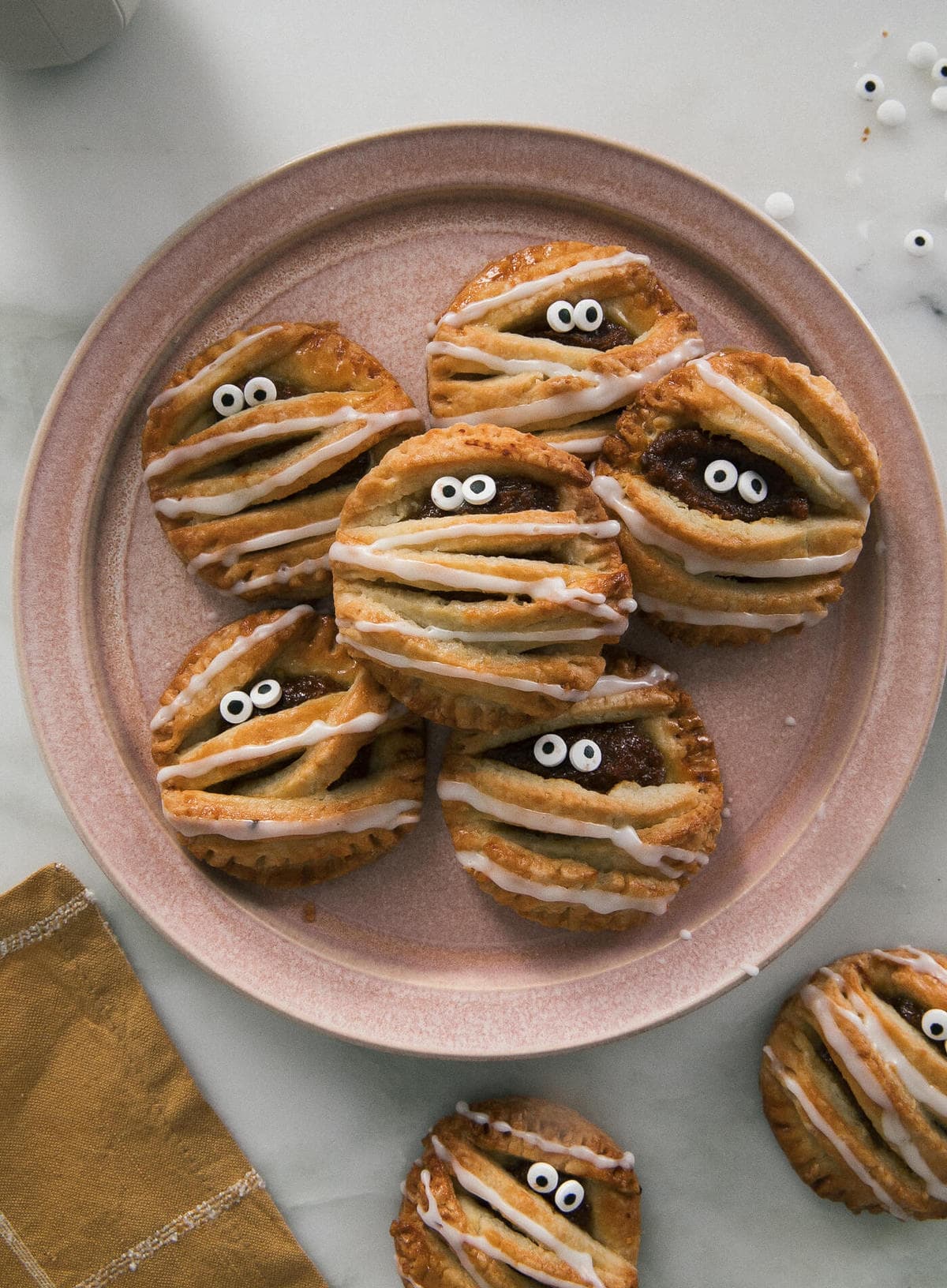 Before we dive into these Spooky Mummy Pumpkin Pop Tarts, let's talk about the obvious.
If you have followed me for a while then you probably know that I'm not really the type to give you an appetizer that is also made up of "bloody" cupcakes, or a spooky one-eyed appetizer…or something green and murky with a chocolate monster coming out of it.
You see, me and Halloween are really not a vibe. And that's ok. There are some holidays that's aren't me and I just let them pass without giving them any real attention. Halloween has been that type of holiday for me for a long time. Except this year…maybe.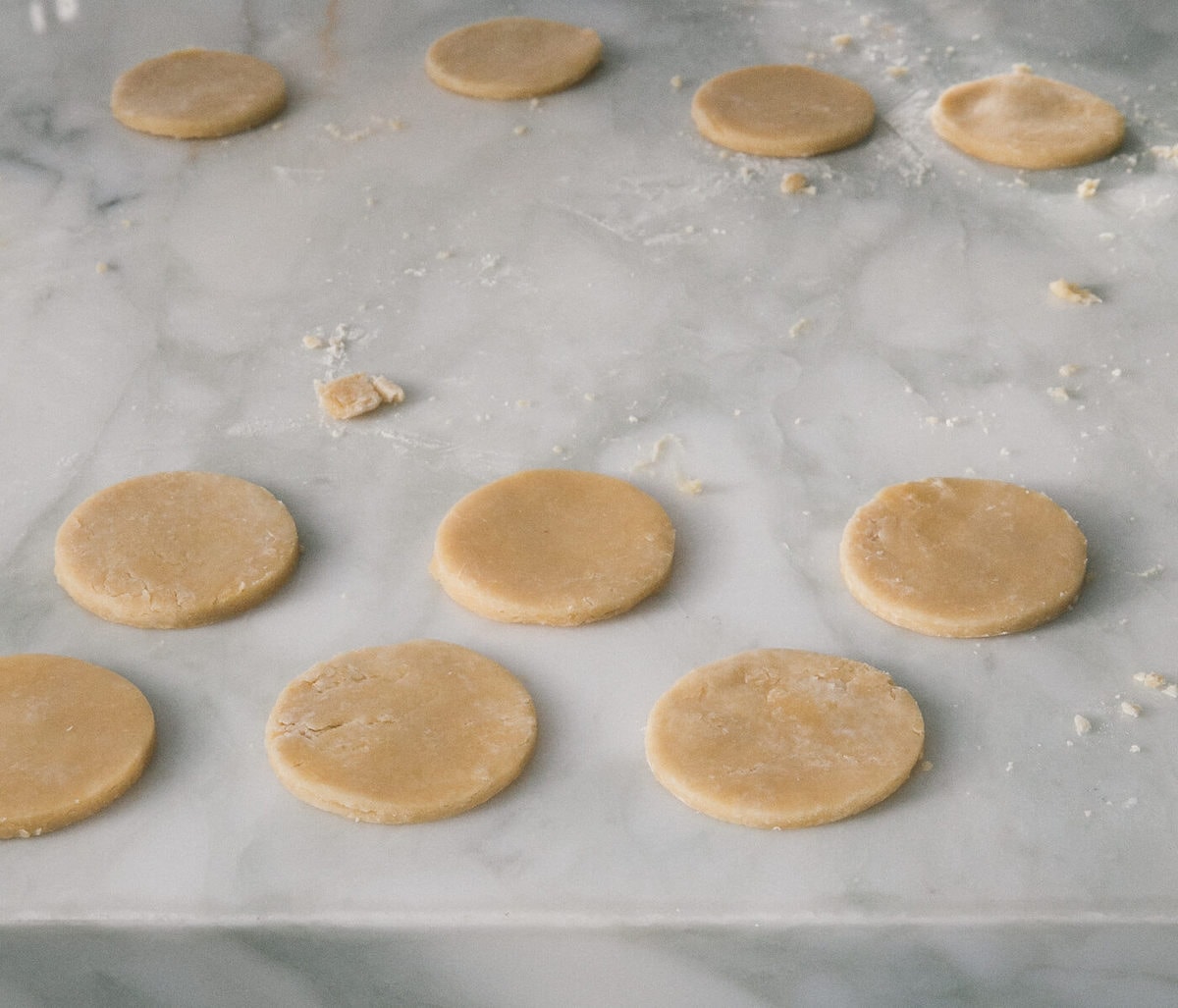 My lukewarm sentiments towards Halloween started as a kid. Haunted houses actually scared me. A Charlie Brown Halloween gave me nightmares. I hated dressing up (so uncomfortable), disliked the stories about potential grownups giving us spiked candy that was filled with razor blades (do they still tell kids these scary stories?) and generally would pass on anything bright orange.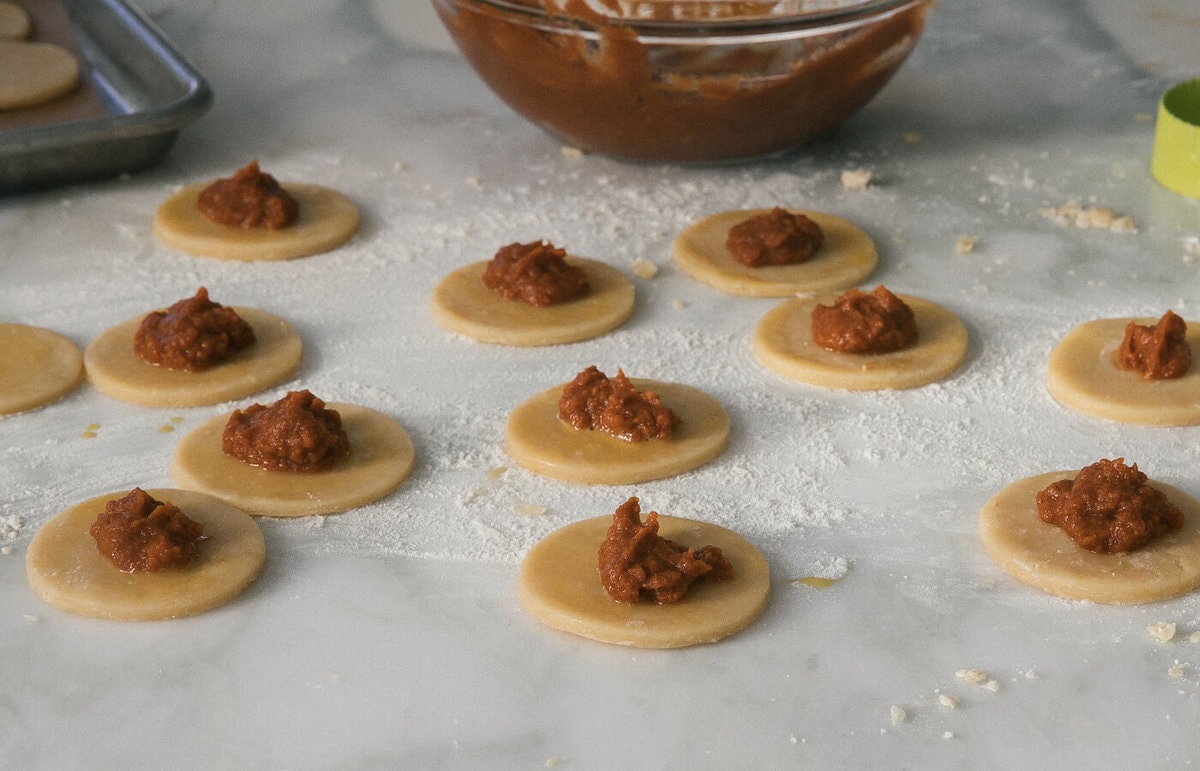 But over the past couple of years, I've come to like it. Like, ok maybe I'll buy some Halloween candy, I'll dress up Amelia in a costume that she hates but tolerates. Maybe I'll bring a bloody finger appetizer I found off Pinterest to this party. And maybe I'll dress up.
This year I'm dipping my toe in once again with these spooky mummy pumpkin pop tarts.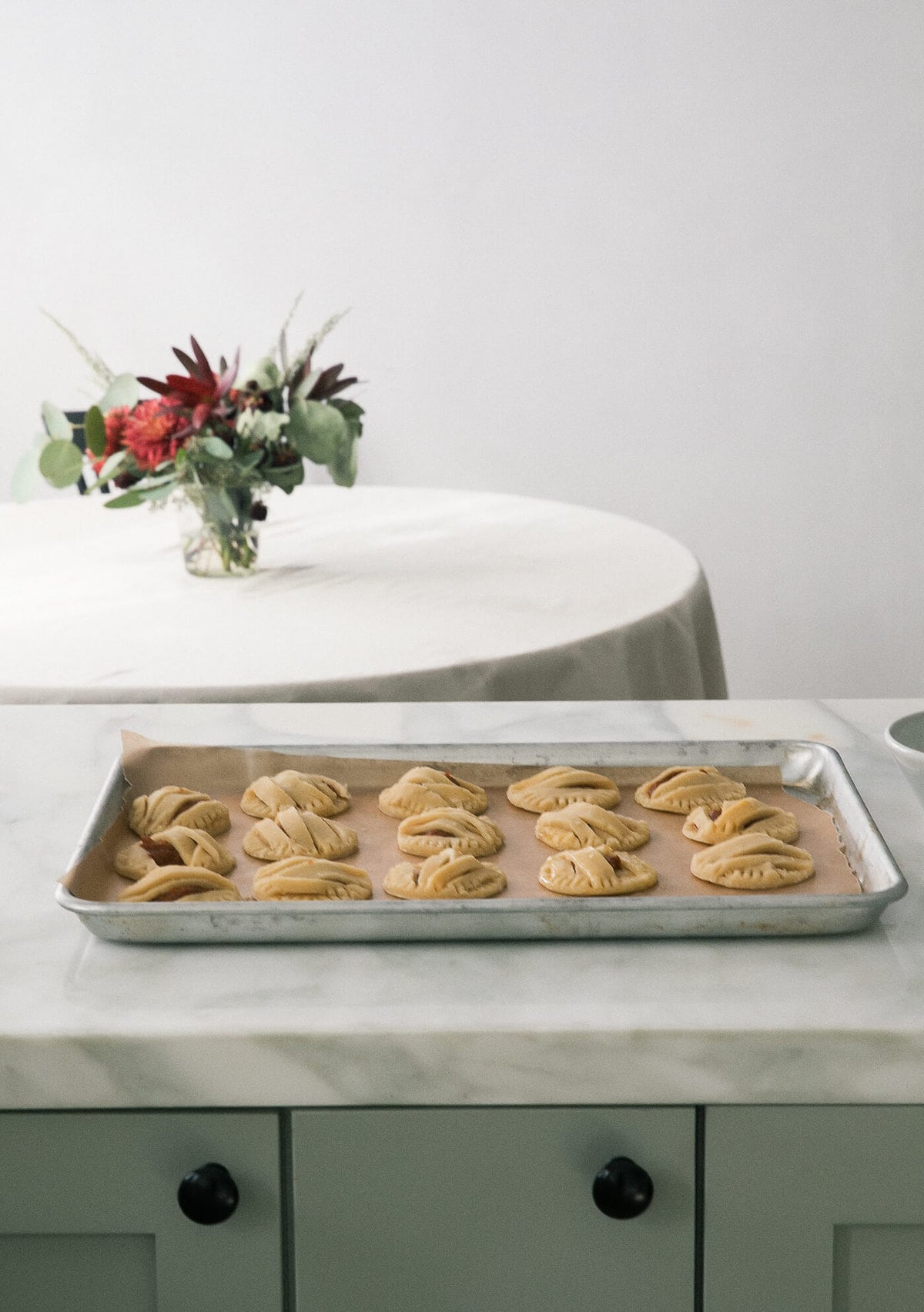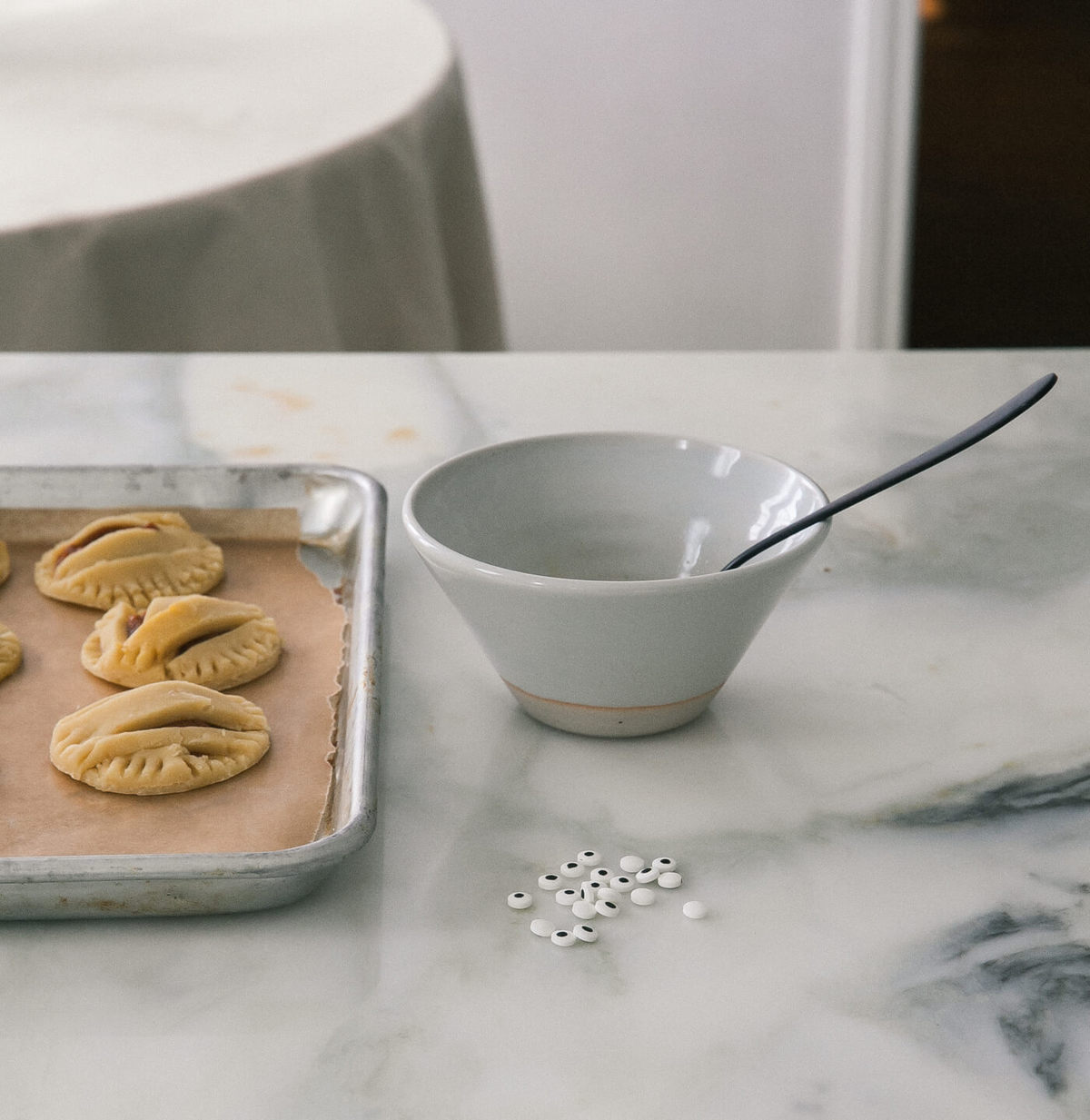 Toaster streudels have always inspired me so the glaze is in an attempt to mimic their glazes. I loved those little microwaveable packets as a kid.
These are similar to hand pies, but slightly different.
The dough is dramatically different than typical pie dough. For one, it has an egg yolk in it and it's way softer with a much smaller crumb than pie dough. Think of pie dough as being flaky and this dough as being more cookie-like.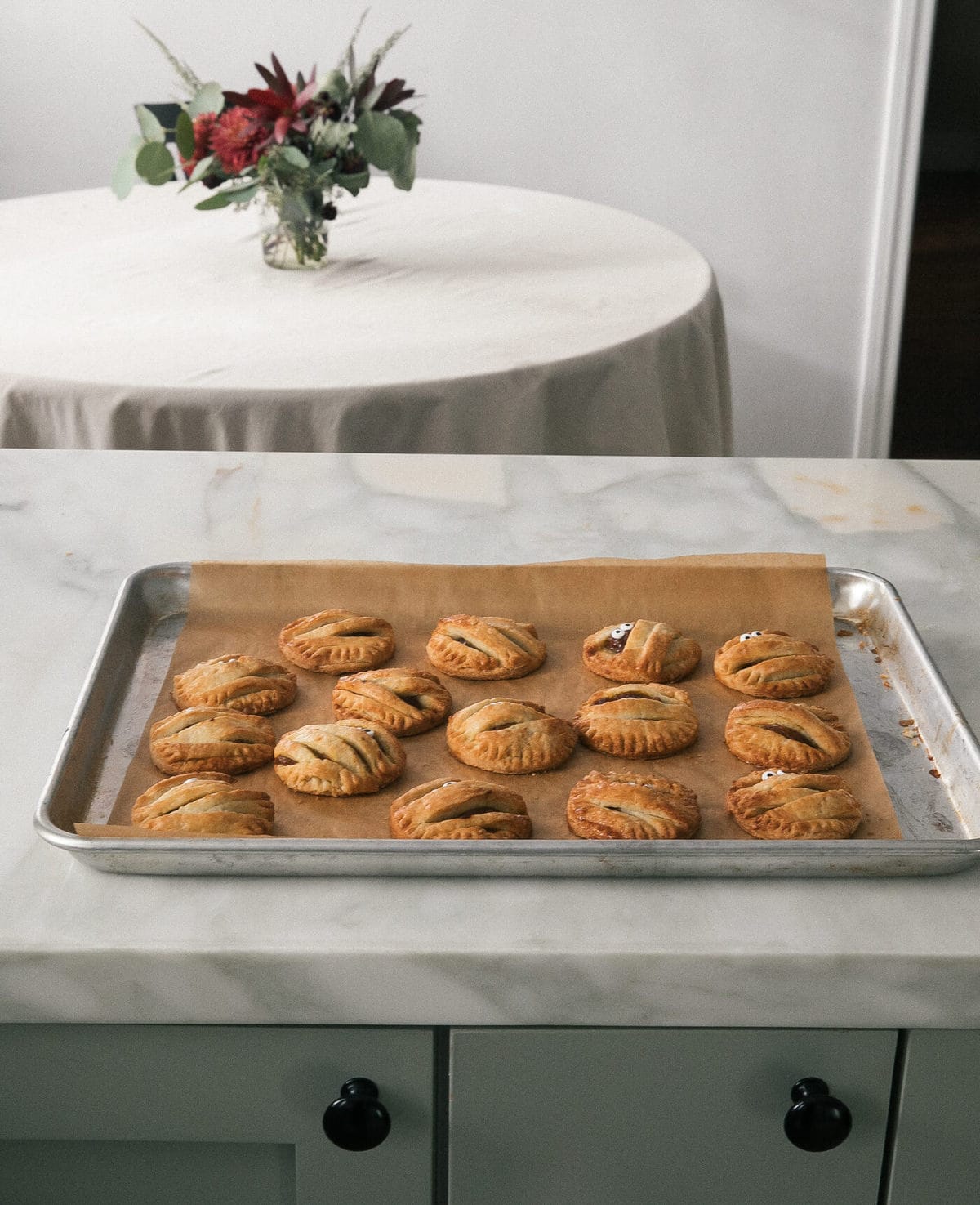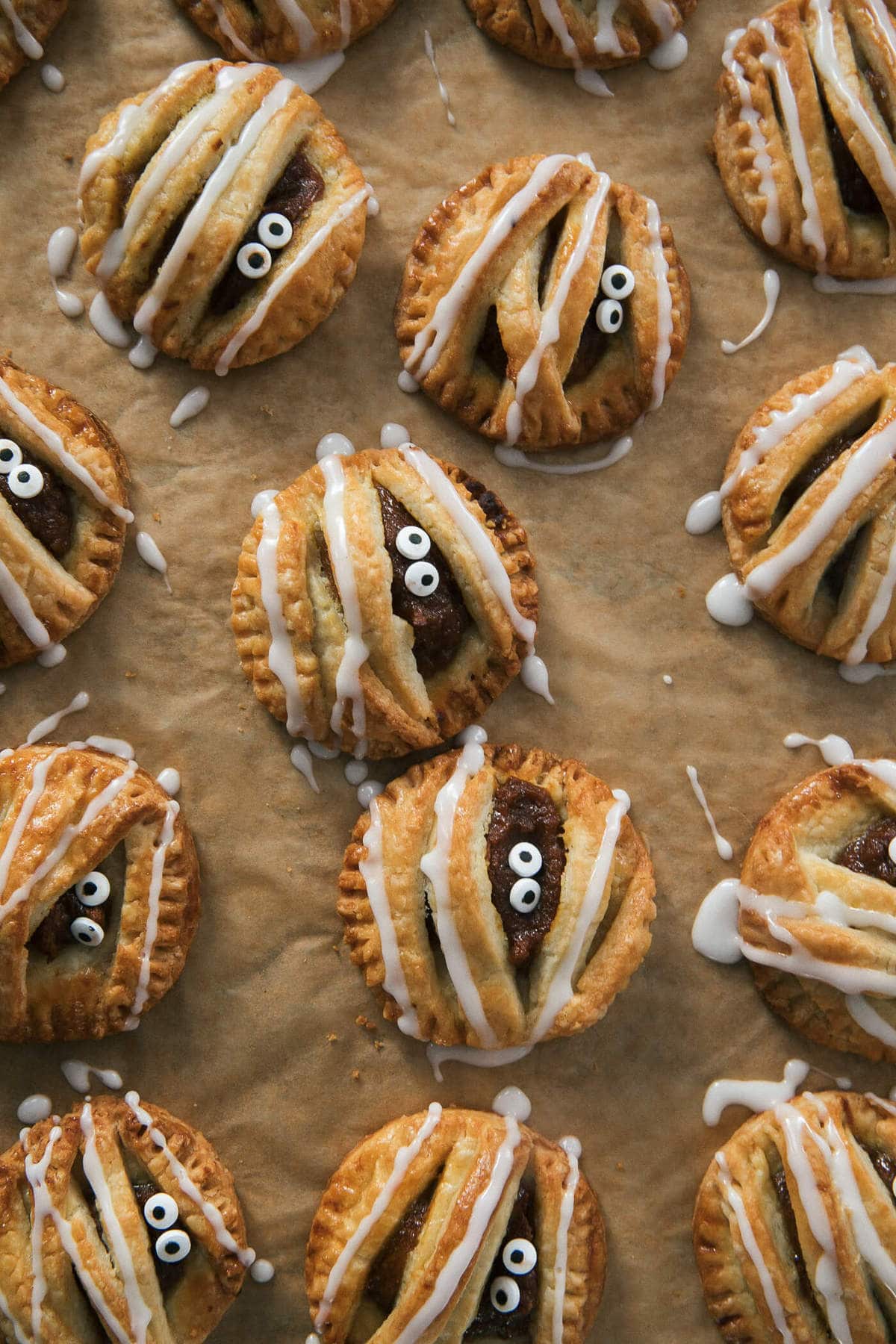 The filing is pumpkin-y and spiced. The strips of dough go across the pop tart to create a "mummy effect" while the edible eyeballs add "I SEE YOU vibe.
All in the name of trying to be spooky AND cute.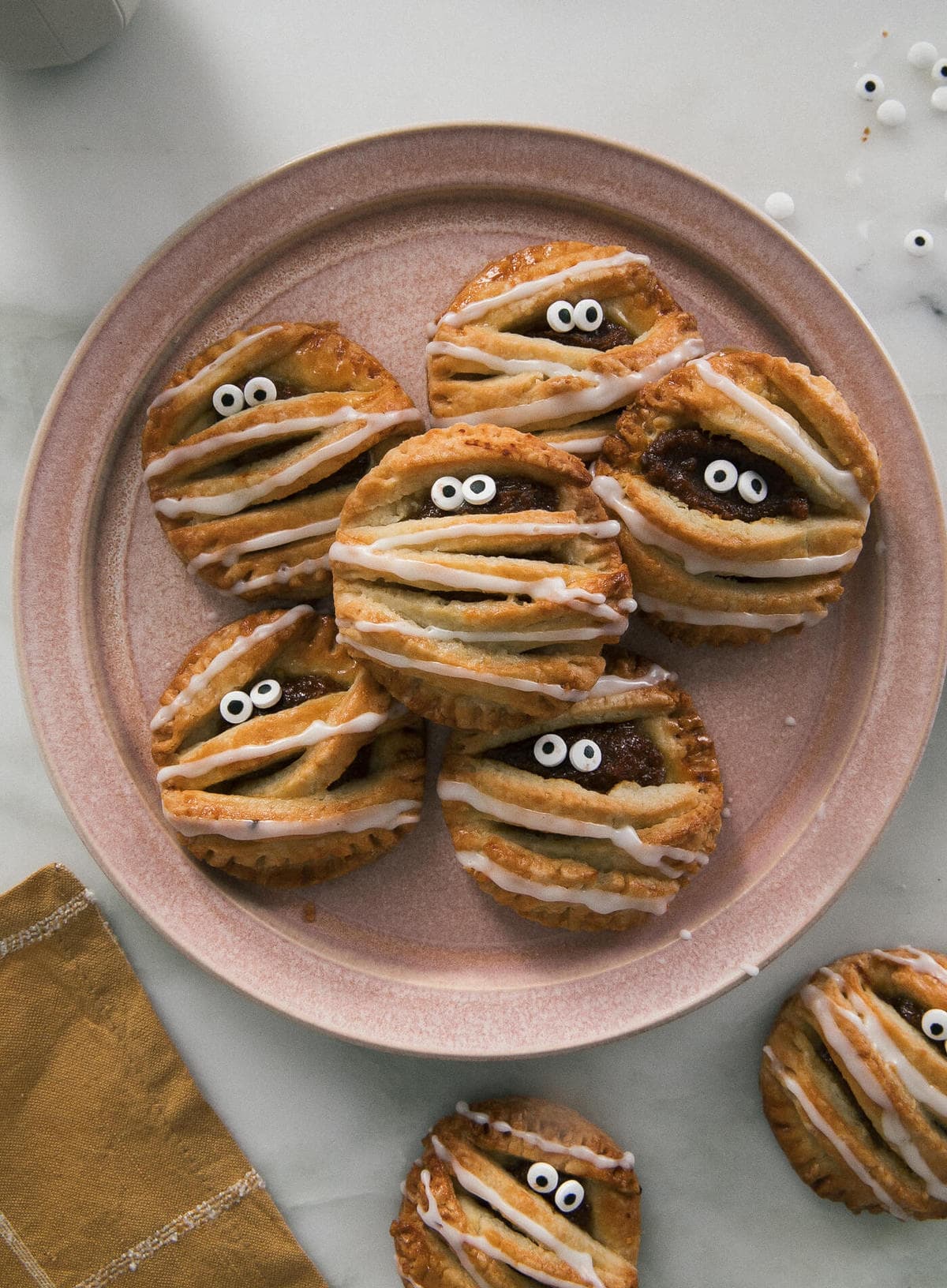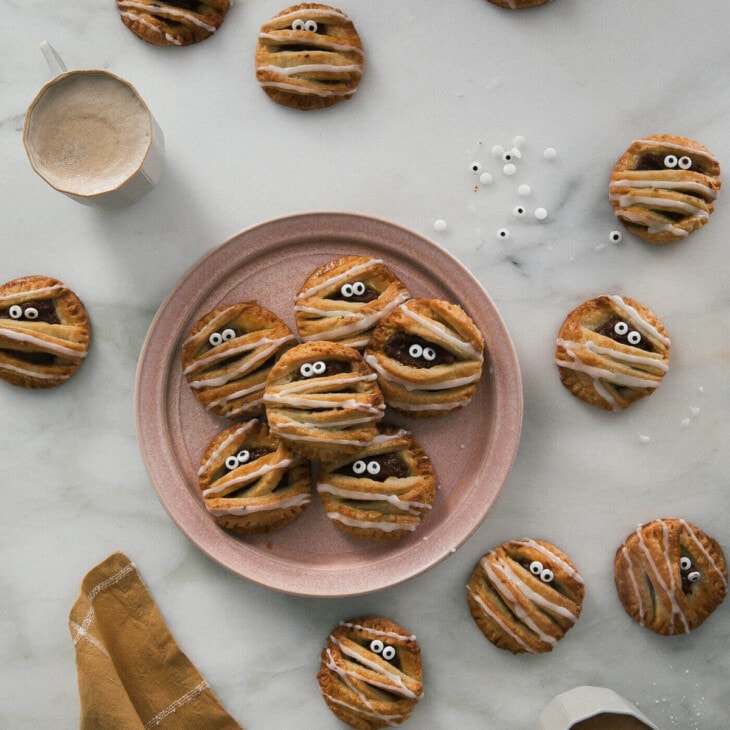 Print Recipe
Spooky Mummy Pumpkin Pop Tarts
Ingredients
Pop Tart Dough:
3

cups

all-purpose flour

1

tablespoon

sugar

1

teaspoon

salt

4

tablespoons

unsalted butter

cold

1/2

cup

milk

plus 1 to 2 tablespoons more

1

large egg yolk
Pumpkin Filling:
1

cup

pumpkin puree

2

tablespoons

sugar

1

large egg

1

teaspoon

ground cinnamon

1/4

teaspoon

ground ginger

1/8

teaspoon

ground cloves

Pinch

of salt

Edible eyeballs
Toaster Streudel-Inspired Glaze:
1

cup

powdered sugar

sifted

Pinch

of salt

2

tablespoons

milk

1

teaspoon

vanilla extract
Instructions
To Make the Pop Tart Dough:
In a large stainless steel bowl, combine the all-purpose flour, sugar, and salt; stir to mix well. I am a firm follower of the grating butter method. Using a cheese grater, grate the butter into the dry ingredient mixture. Transfer to the freezer to chill for about 5 minutes. Mix the butter into the flour mixture, until throughly combined, breaking up the butter bits until they resemble the size of peas.

In a measuring cup, measure out the milk and then add the egg yolk. Whisk the two together. Pour the liquid into the dry ingredients and mix until it roughly comes together.

Remove the dough from the bowl, place it on a lightly-floured counter, and knead it until it comes together; if it's super dry, add a tablespoon of milk or water until it comes together (I needed about 2 tablespoons extra of milk). Form it into one disc and using a bench scraper or knife, divide into two equal pieces. Gently pat each into a 1-inch thick square, working quickly to seal any broken edges before wrapping them tightly in a double layer of plastic wrap. Refrigerate the dough for at least 2 hours, or, ideally, overnight.

You can keep the dough in the fridge for a few days or in the freezer for up to 1 year. If frozen, remove the dough and place tin the refrigerator to thaw one full day before you intend to use it.
To Make the Pumpkin Filling:
In a medium bowl, whisk together the pumpkin, sugar, egg yolk, spices and salt.

Remove the first disc of dough from the fridge. Lightly flour your work surface and roll the dough out to a 1/2-inch thick round. Using a 3-inch or 4-inch round cookie cutter, stamp out rounds of pop tart dough and transfer them to a baking sheet or tray. You should end up with about 20 rounds.

I stuck them in the freezer for about 10 minutes just to firm up a bit. We're going to use the scraps for the top; if it's too warm, transfer the scraps to the fridge to cool down before rolling out. Re-roll the scraps and cut a variety of 2-inch strips, 1-inch strips and 1/2-inch strips. This will all be the "mummy bandage" top.

Brush each round entirely with beaten egg. Add a scant teaspoon of pumpkin filling to the center of each round. Place a variety of strip on top, one skinny, one thicker, overlapping them, so it appears "bandage-like." Trim the strips so they're not super long, but they don't have to be perfect.

Using the tines of a fork (dipped in flour), press the edges together and do this around the edge of the entire round, making a decorative edge. Take the 3-inch or 4-inch cutter (whichever one you used) and cut the hand pie once more to clean and define the edges. Transfer to a baking sheet and place it in the fridge. Repeat with the remaining hand pies.

Transfer them to the freezer to chill for about 10 minutes. Meanwhile preheat the oven to 400 degrees F.

I baked these in batches, about 8 to a baking sheet. Brush the tops with egg wash and transfer to the oven to bake for about 15 to 20 minutes, until golden brown. Repeat with the remaining pop tarts. Add the edible eye balls to each pop tart. I used tweezers to make it easy on myself.
To Make the Toaster Streudel-Inspired Glaze:
Meanwhile, whisk together powdered sugar, salt, milk and vanilla, until smooth. I added the glaze to a piping bag (no tip required), snipped off the end and drizzled it on. You can use a spoon too!

Add the glaze on top!

To store, place in an airtight container. Store at room temperature.