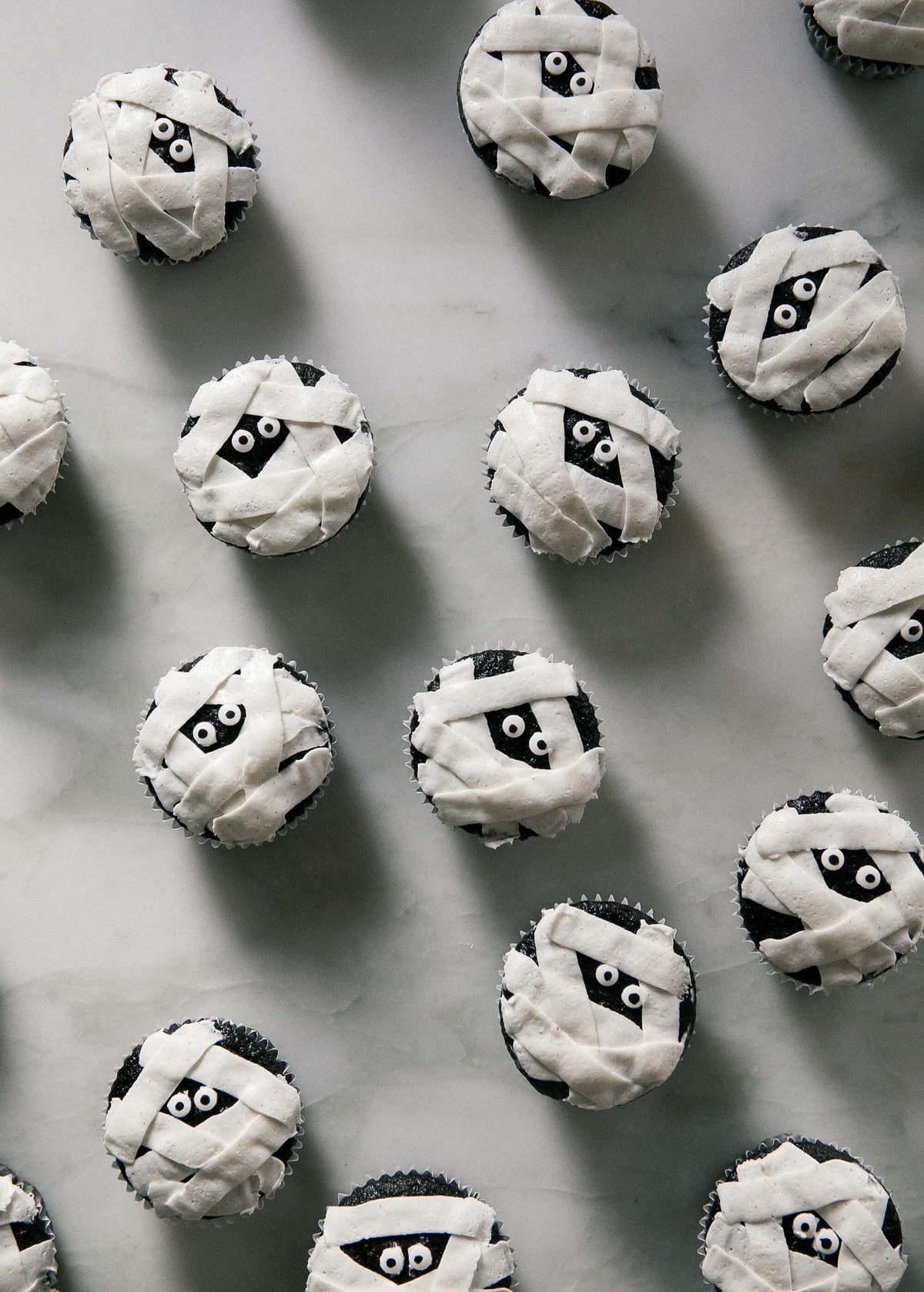 Hello cute, Mummy Dark Chocolate Cupcakes!
If you've read this blog for a long time you probably know by now that Halloween ACTUALLY scares me. I was walking around in the neighborhood the other day and was frankly disturbed by some of the elaborate spooky decorations. People really get into it.
These mummy cupcakes are about as spooky as I get. I'm more of a Christmas and Valentine's Day girl, you know. But I do, however, stand by these cupcakes 100% in terms of flavor and cuteness.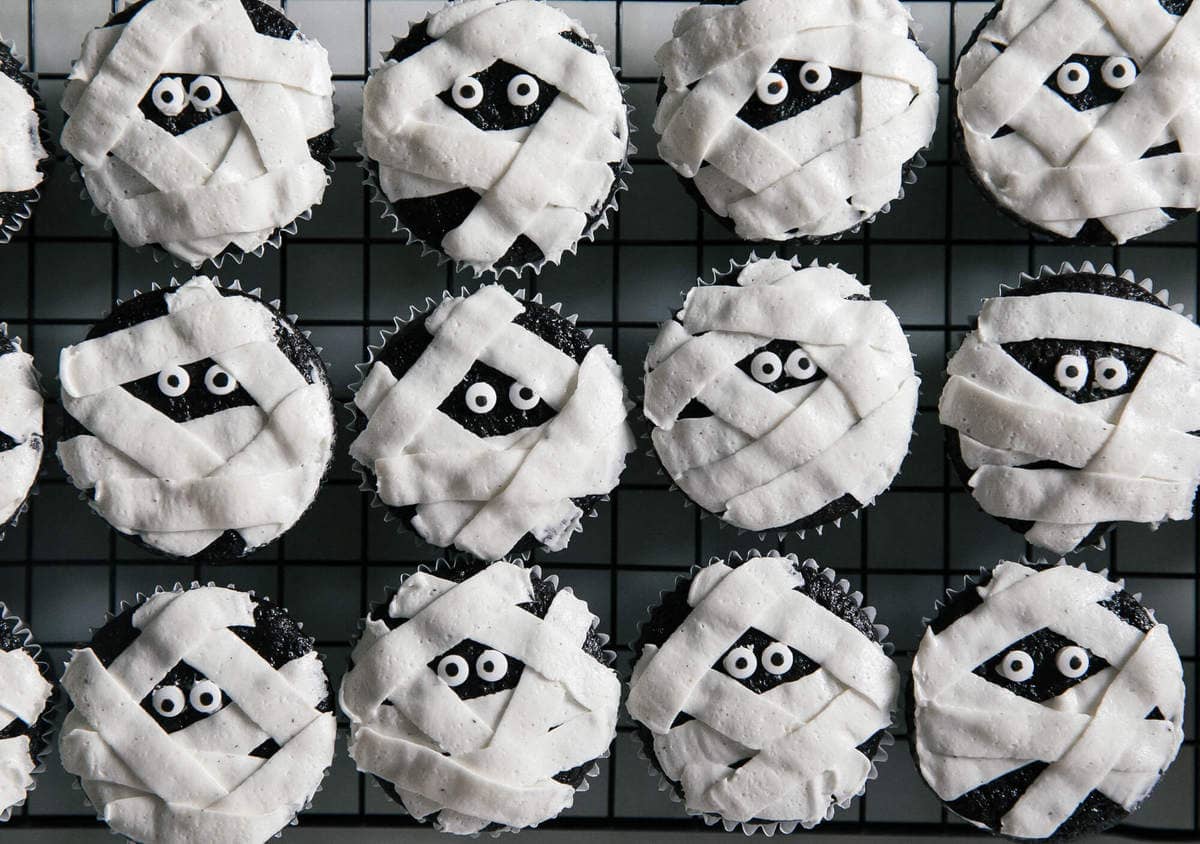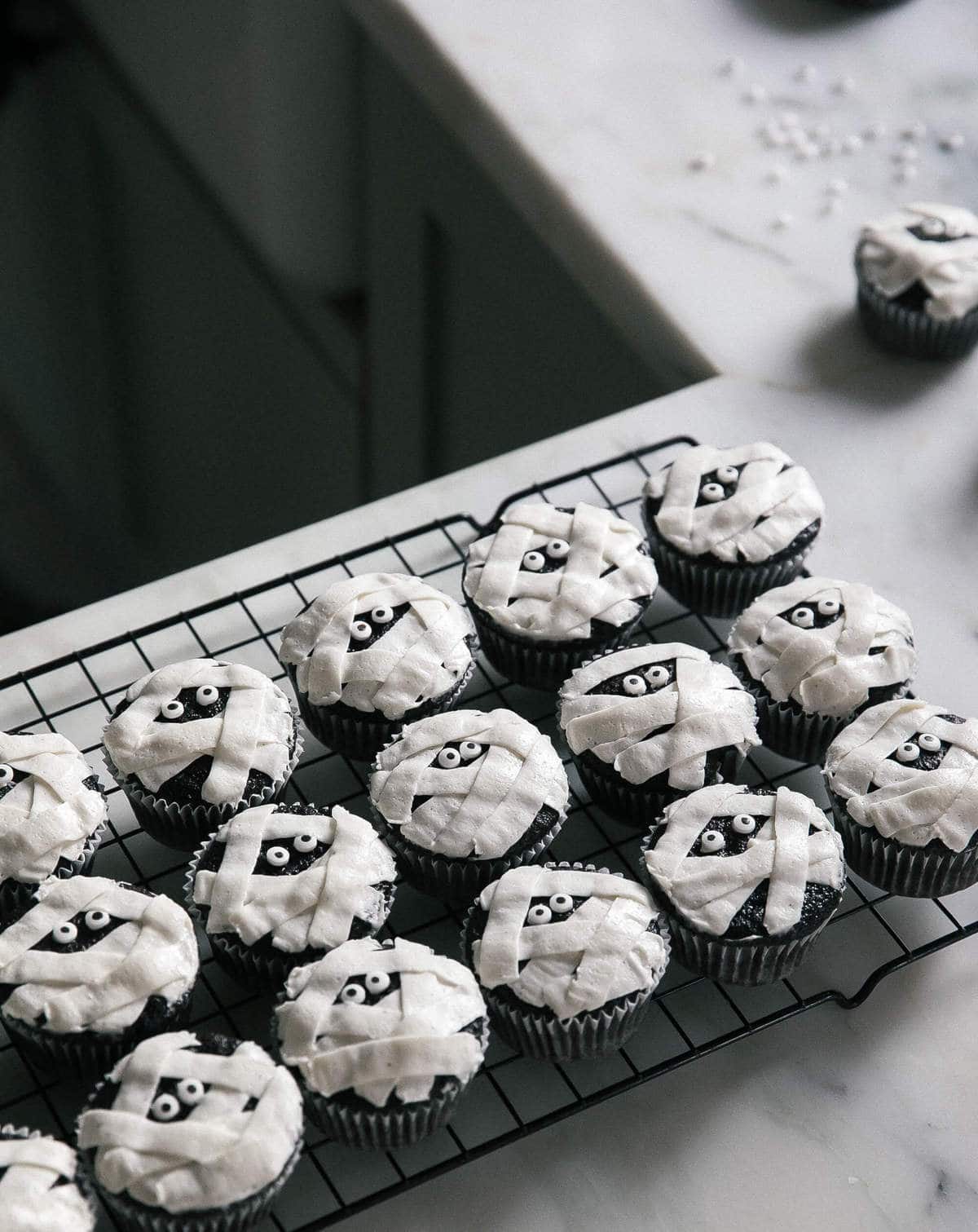 What is Black Cocoa Powder?
These cupcakes are very dark chocolate flavor and color. They're nearly black. So, what is black cocoa powder?
Black cocoa powder is a cocoa powder that has been heavily Dutched. I know that might sound like a sex position but it's not.
Cocoa powder can be broken into two categories: Natural and Dutch.
Natural means that the cocoa beans have been roasted, dried and then pulverized into a fine powder.
Dutch means that cocoa beans have been washed in a potassium solution to remove the cocoa's acidity.
Have you ever wondered how an Oreo cookie or ice cream cookie sandwich is so dark? It's because it uses black cocoa powder.
Black cocoa powder is fat free so you want to use it in conjunction with another cocoa powder for balance in flavor and texture.
For this recipe, the ratio is 2 to 1 regular cocoa powder to black cocoa powder.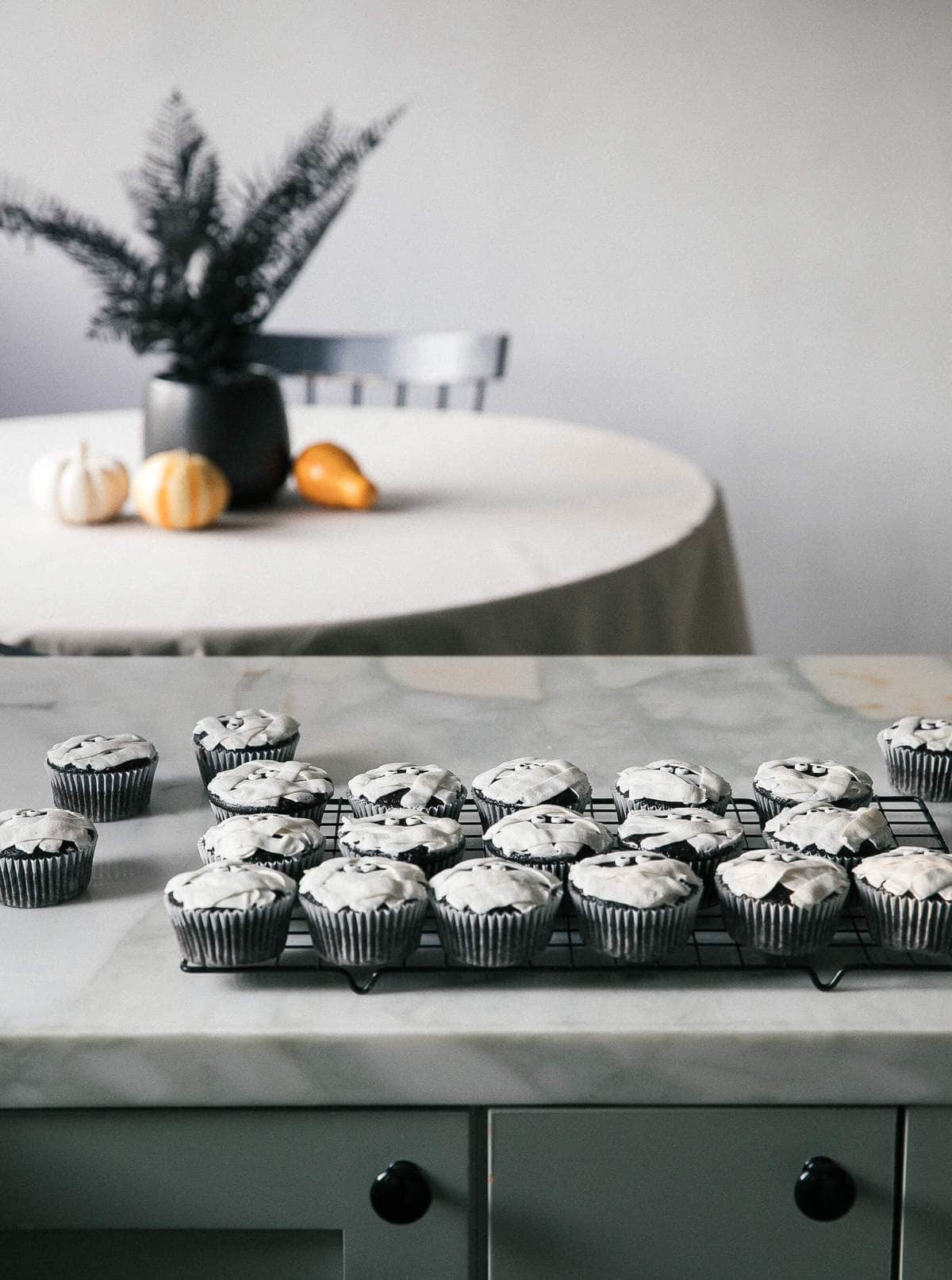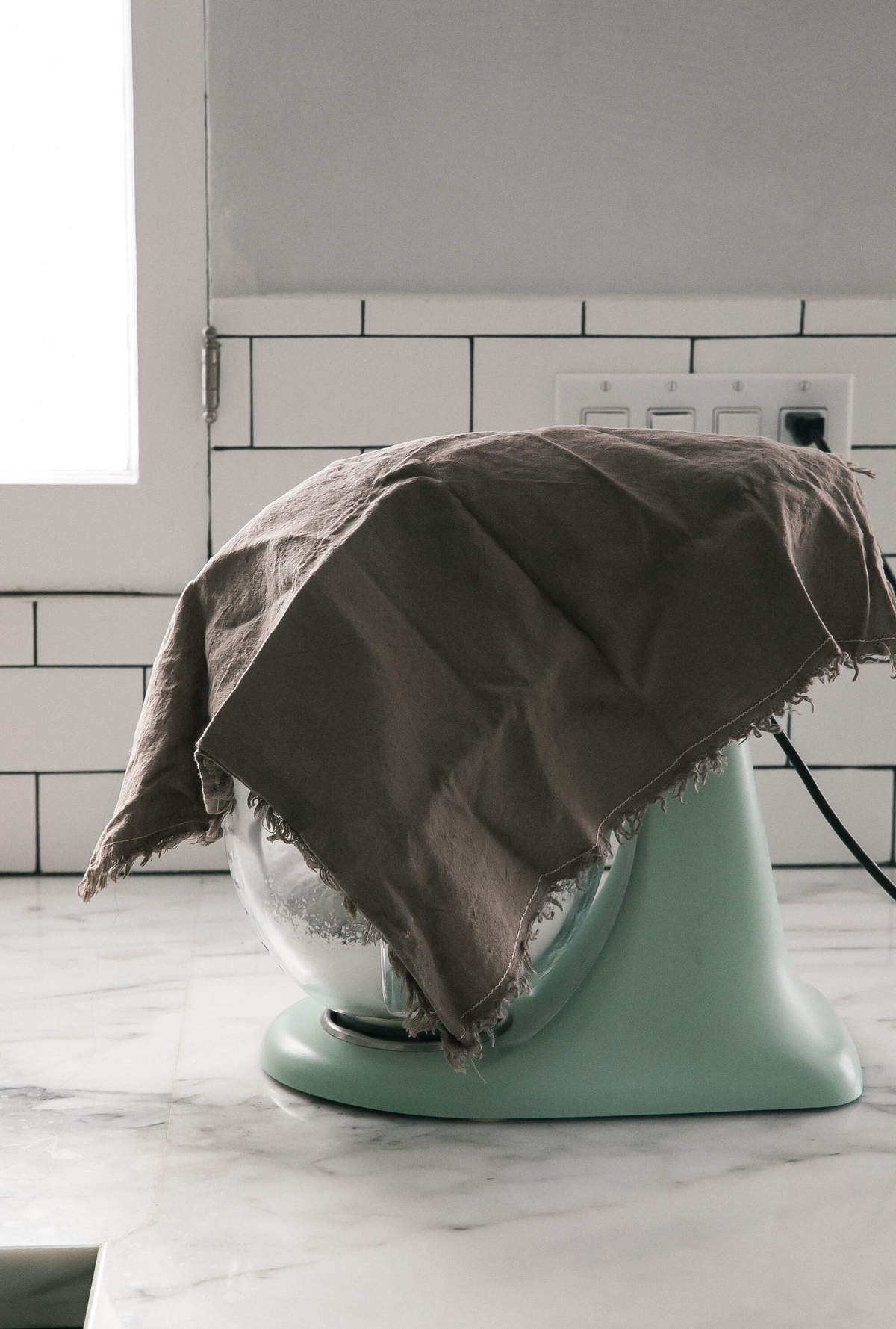 Where to Buy Black Cocoa Powder?
I had some in my pantry (King Arthur's Flour is a brand that sells it!) and put it in these cupcakes for this super rich, dark color. You can find it on Amazon or even buy it at your favorite bake supply store.
It gave these cupcakes a lovely earthy flavor and the color was nearly black.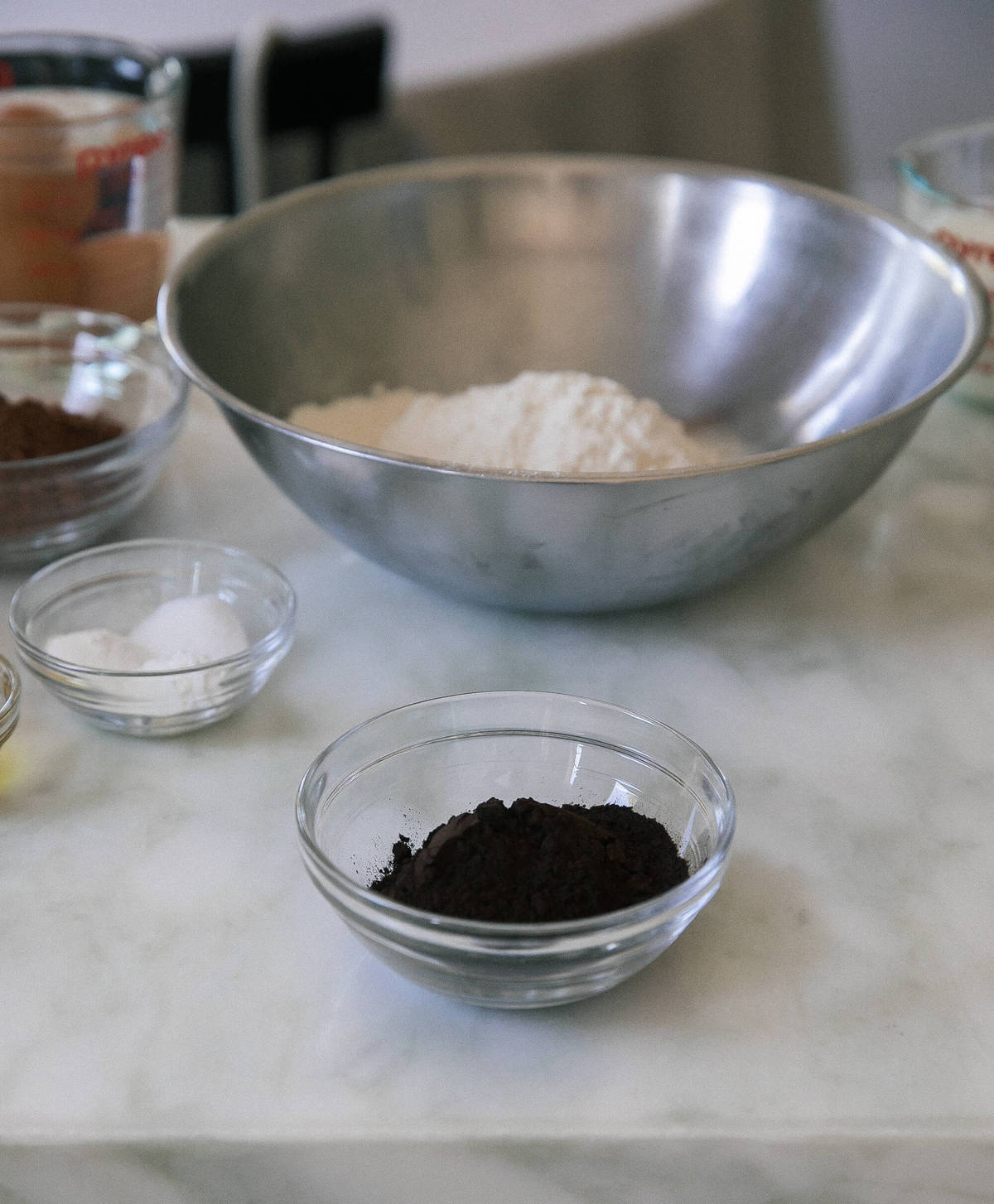 Can I Use All Regular Cocoa Powder?
Yes. Will they be as dark? Obviously not, but yes, just replace the amount of 1/3 cup black cocoa powder with regular cocoa powder (for a total of 1 cup cocoa powder). This recipe will turn out great!
This is an adaption of my chocolate sheet cake which is always my go-to chocolate cake recipe.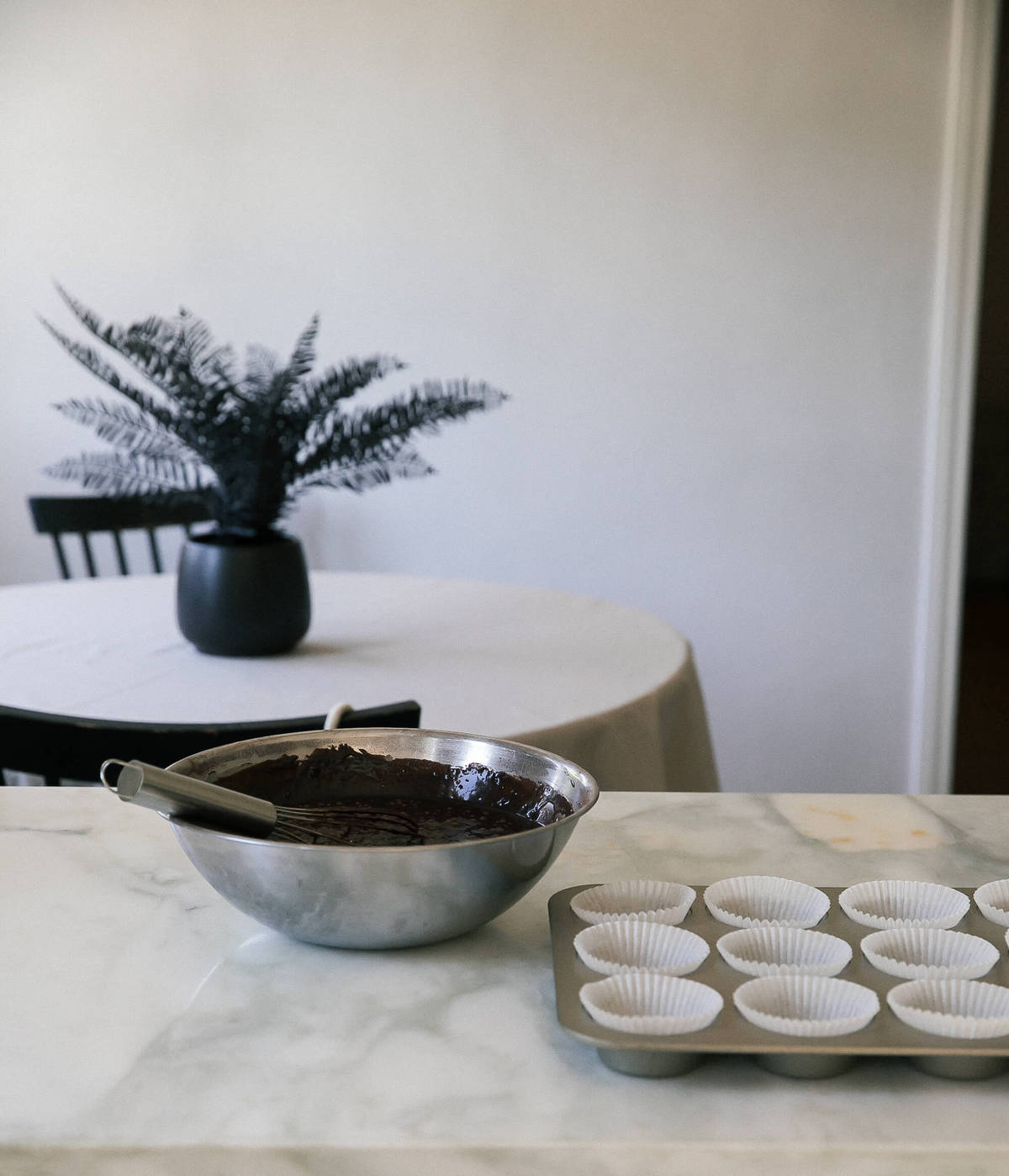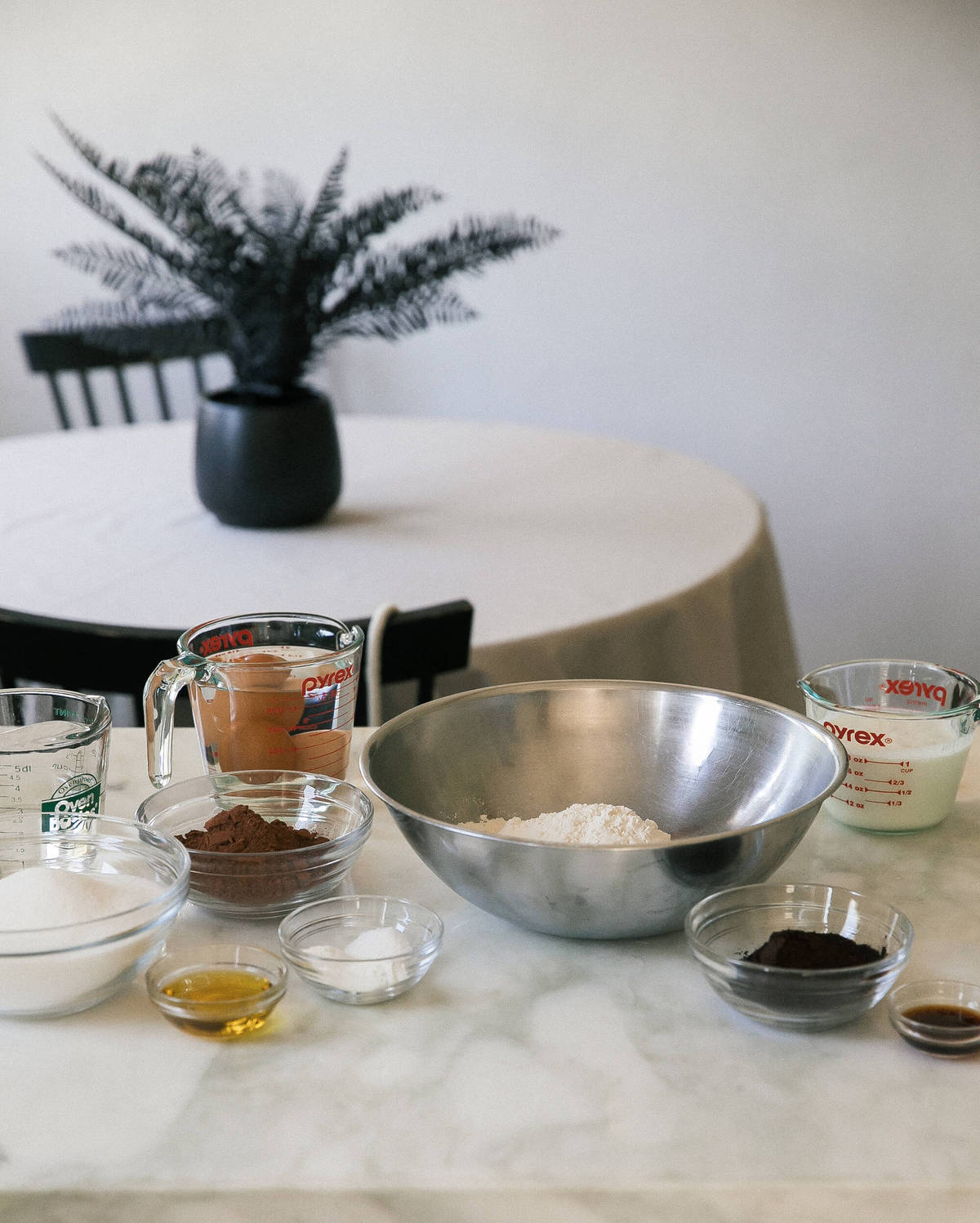 Mummy Decorations!
Let's talk about decorating. These couldn't be simpler. You're going to use a flat piping tip (I used #47 tip from Wilton) and make strips, going over each other on the surface. It looks much more difficult than it is. For a video tutorial, check out my highlights on my Instagram profile!
If you make these Mummy Dark Chocolate Cupcakes, lemme know!!
And for another spooky recipe, here are these pop tarts!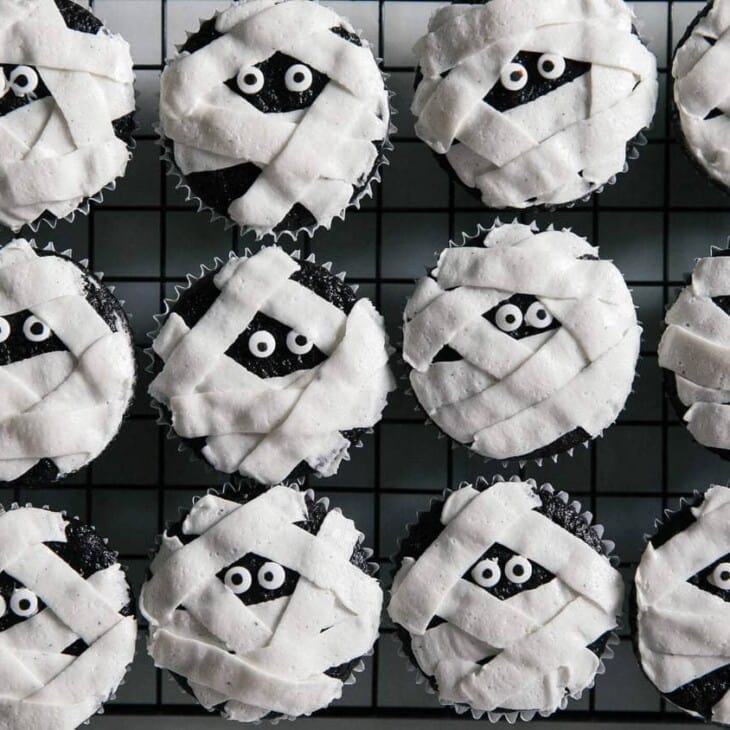 Print Recipe
Mummy Dark Chocolate Cupcakes
These Mummy Dark Chocolate Cupcakes are a spooky treat perfect for a Halloween party. These cupcakes are decadent, topped with frosting and spooky eyeballs.
Ingredients
Dark Chocolate Cupcakes:
2 1/4

cup

all-purpose flour

2 1/4

cup

white granulated sugar

2/3

cup

cocoa powder

1/3

cup

black cocoa powder

2

teaspoons

baking soda

1 1/2

teaspoons

baking powder

1 1/2

teaspoons

kosher salt

3

large

eggs

1

cup

buttermilk

shaken

1

cup

warm water

3

tablespoons

olive oil

2

teaspoons

vanilla extract or vanilla paste
Vanilla Buttercream:
1/2

cup

unsalted butter

at room temperature

2

cups

powdered sugar

1/4

teaspoon

kosher salt

1/2

teaspoon

vanilla bean paste or 2 teaspoons vanilla extract

1

tablespoon

heavy cream

Edible eyeballs
Instructions
To Make the Dark Chocolate Cupcakes:
Preheat your oven to 350 degrees F. Place 12 cupcakes liners into the cavities of a cupcake tin.

In a large bowl, add the flour, sugar, cocoa powder, black cocoa powder, baking soda, baking powder and salt. Mix until combined.

To the dry mixture, crack in the eggs, pour in the buttermilk, water, olive oil and vanilla extract. Mix until smooth. The batter will be thin—that's ok!

Fill each of the cupcake liner about 1/2 way. Transfer to the oven to bake for about 20 to 22 minutes, until a skewer inserted into the center comes out clean. Allow to cool in the pan for about 5 minutes and then transfer to cooling rack and cool until room temperature before frosting.

Repeat with the remaining cupcake batter. I got 30 cupcakes with this amount.
To Make the Vanilla Buttercream:
In the bowl of a stand-up mixer, with the paddle attachment, add the butter, powdered sugar and kosher salt; beat until smooth and fluffy, about 30 seconds. Pour in the vanilla extract or vanilla bean paste and heavy cream; beat until nice and fluffy, about 1 minute.
To Frost the Cupcakes:
Add the frosting to a piping bag with a #47 piping tip attached. Using the flat (not the side with teeth) side, pipe out strips, going back and fork all along the surface of the cupcake. There's no "right" way to do this. It's just across and up and a few times, leaving a small area to place the eyeballs. Using tweezers, carefully place the eyeballs in the empty space. Repeat with the remaining cupcakes.
Notes
Here's a link to the edible eyeballs! 
If you don't have black cocoa powder, no worries. You can substitute regular cocoa powder for a total 1 cup for this entire recipe.