Tomorrow I'm hopping on a plane to speak at Blogher in hot and humid Orlando, Florida. Should be fun! I'm there for like 24 hours so unfortunately I won't have time to go to Disney World. I have a lot of fun memories of Disney World, especially grad night where all of us loaded in a bus and drove 3 hours up north to attend. They shut down Disney early and us kids, like a thousand 16 year olds hung out during the middle of the night.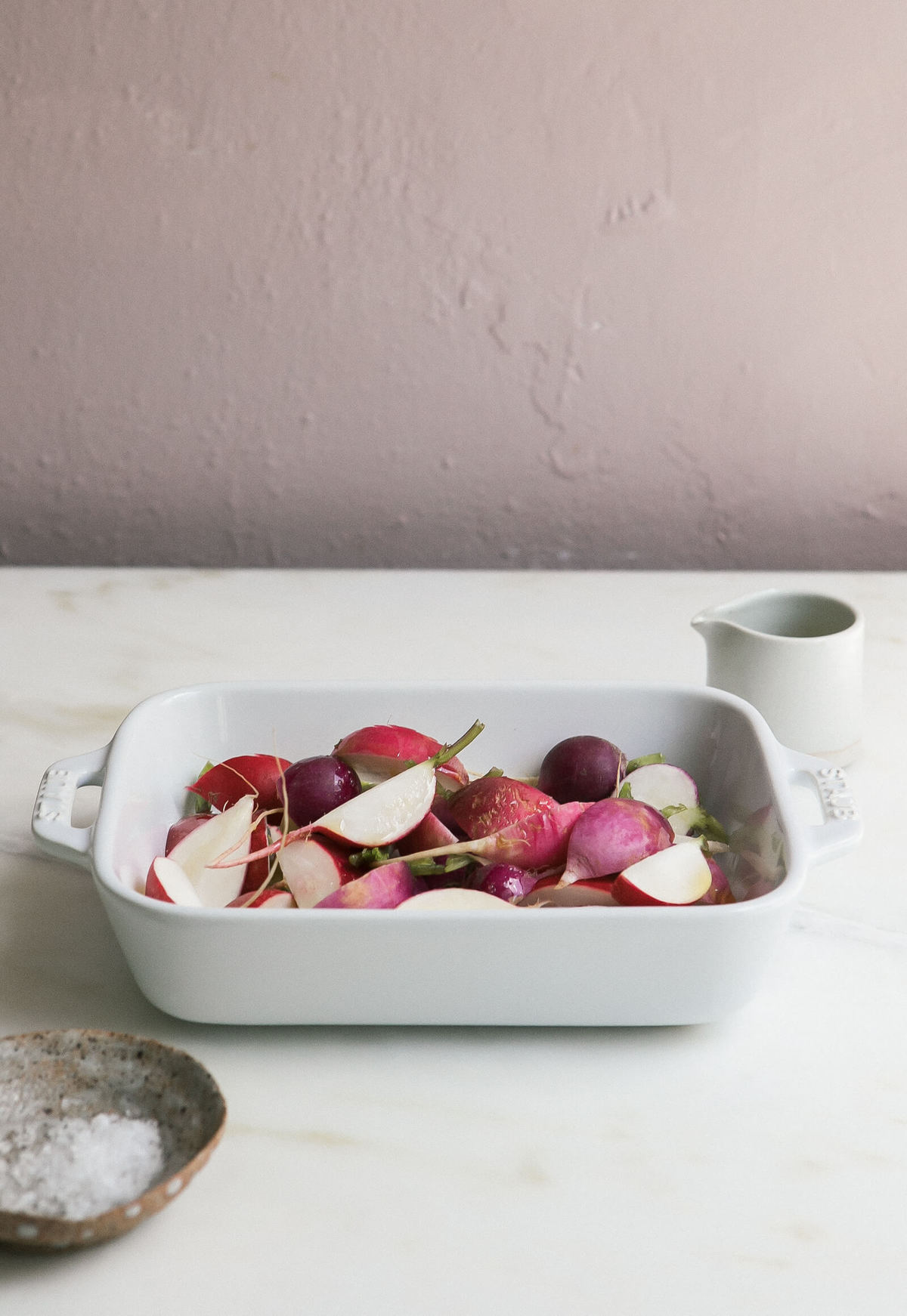 There were SO many kids doing things they shouldn't have been doing. Luckily my school threatened the day lights out of us with the idea of not possibly graduating so I'm pretty sure none of us brought alcohol/did bad things because the wrath of failure and parents was too much to deal with. FEAR IS WHAT DRIVES MANY OF US! Sometimes it's not a bad thing.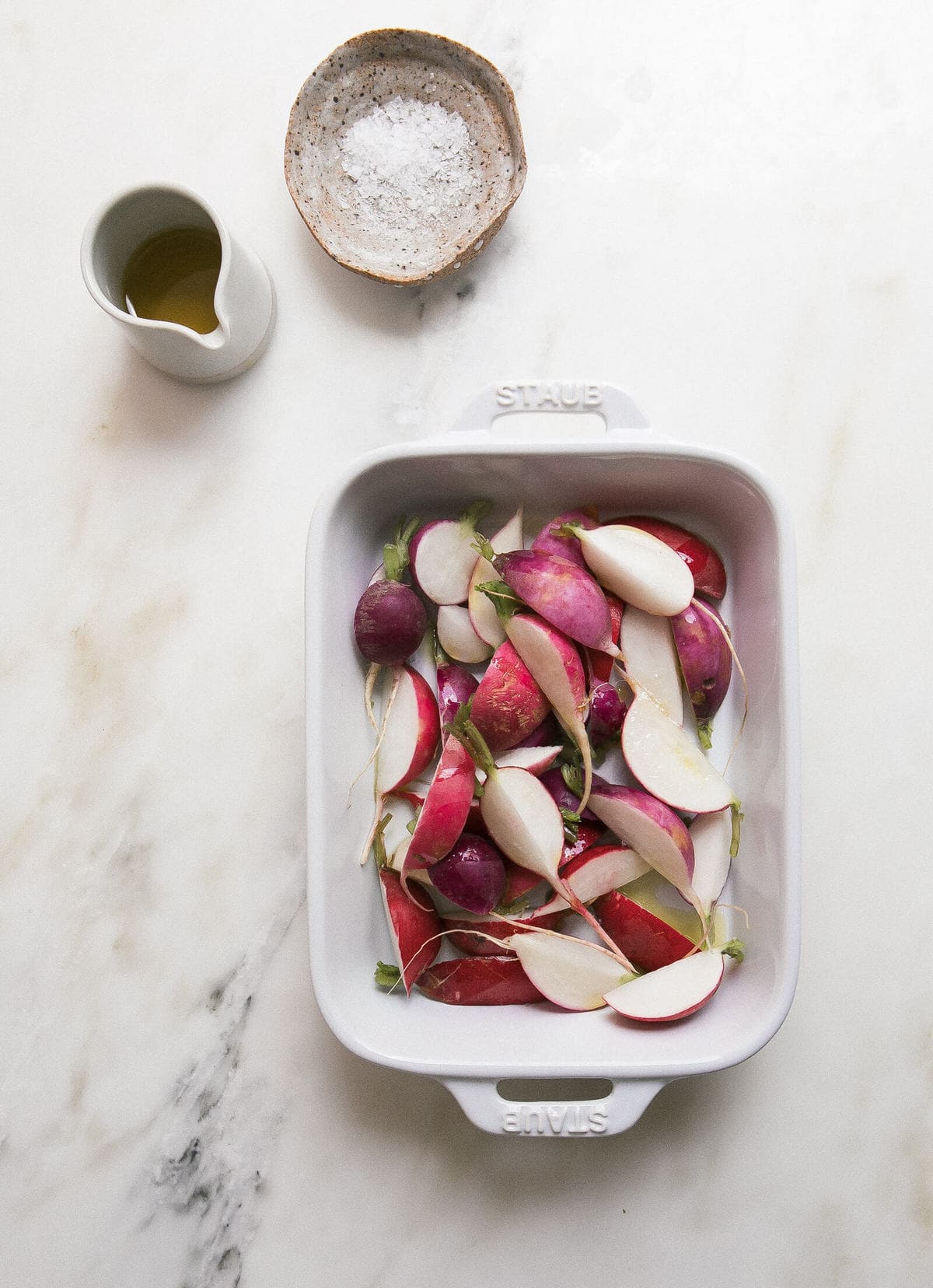 Anyway, I'll be back before you know it and then I'm headed to Palm Springs for the weekend with my friend Cassie and of course Amelia is coming because when a pool calls, homegirl is there.
On the Instagram a week ago or so I asked many of you, "What do you wanna see for summer!?!?"
A lot of people responded with my favorites (thank you, friends) like pie, cake, more desserts. YAS. Those are coming.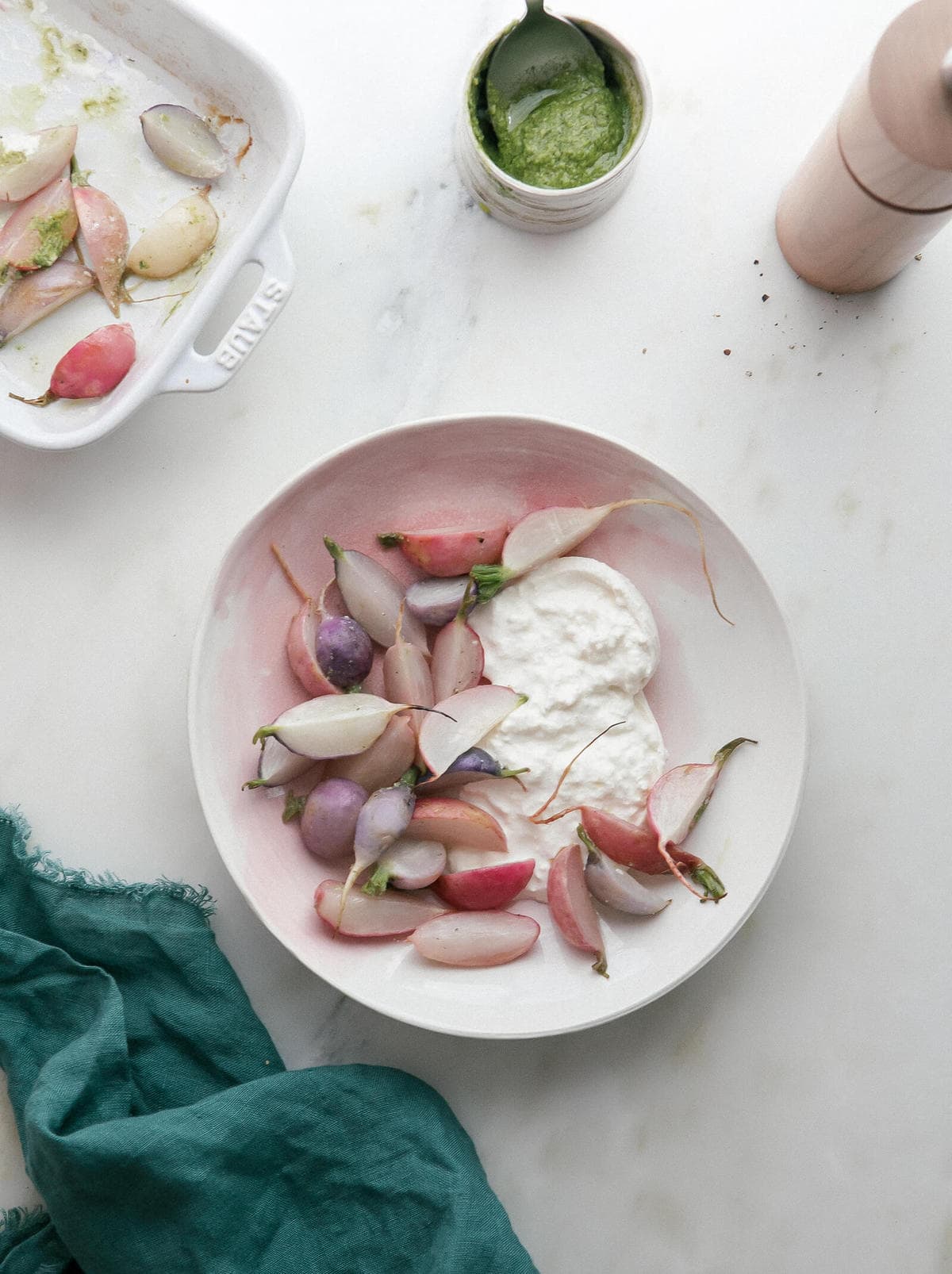 And other people were like, "healthy quick dinners!" and "easy appetizers."
I understand both of these because when summer rolls around, I barely want to lift a finger because I'll start sweating. And I want mostly everything to be cold.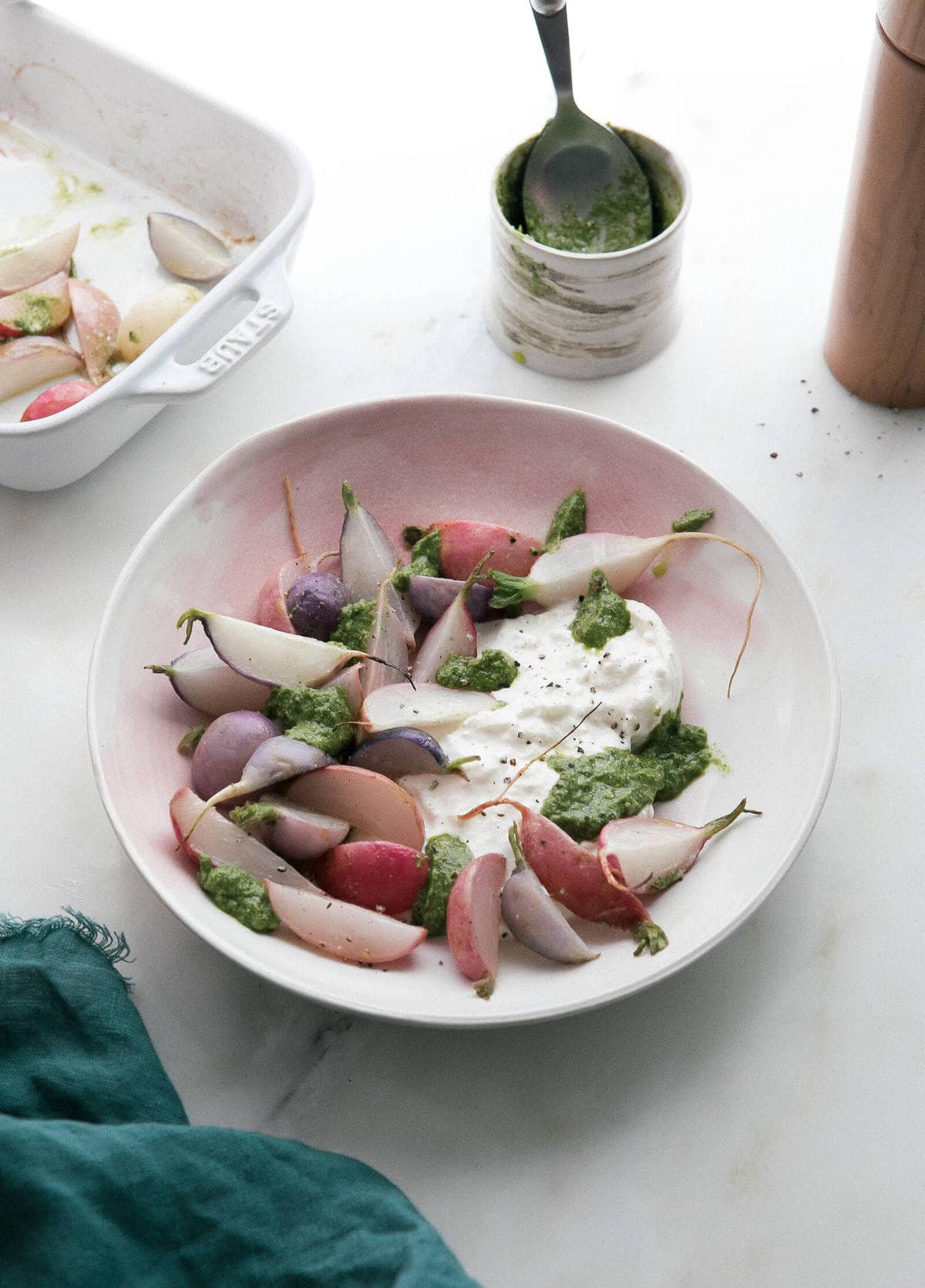 This is suuuuuch an easy appetizer salad thingy. I dunno what category it's supposed to be in, so let's just call it a salad? With a fuck ton of cheese?
I think that's about right.
I loooove roasted radishes. And this one can't be simpler. Just some quartered radishes, olive oil, salt and pepper.
All roasted. And then pesto. I love a pesto with arugula in it because I appreciate the spiciness. And you may be thinking to yourself, "This is gonna be too spicy because radishes are spicy and arugula is spicy."
Luckily it's not too spicy. It's spicy in the most perfect way. It tastes so very fresh. I broke open a ball of burrata (AY MAMÍ!), spooned the radishes over the cold cheese, topped it with little dollops of pesto and boom. The easiest most delicious appetizer/salad thing ever.
It's so easy and good.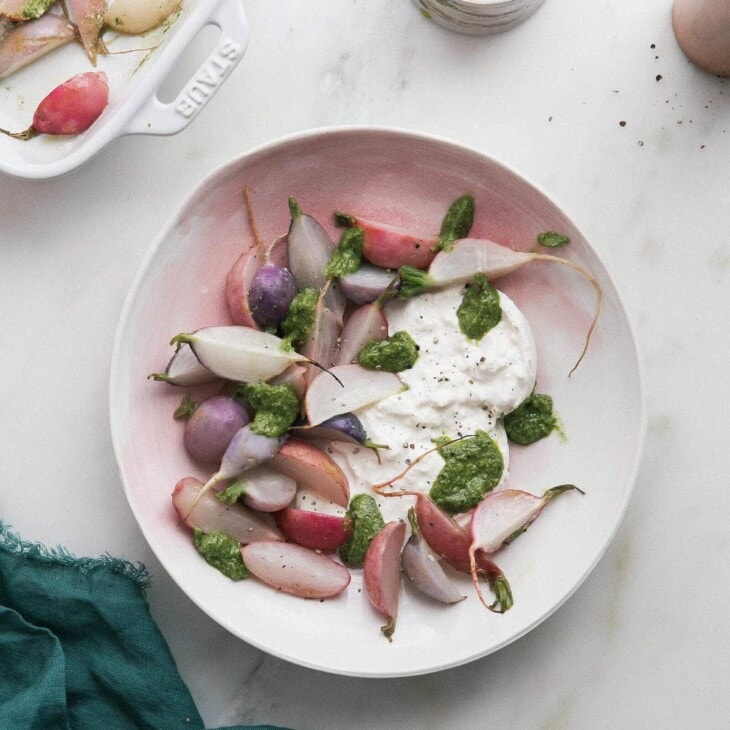 Print Recipe
Roasted Radishes with Burrata and Arugula Pesto
Ingredients
Radishes:
1

bunch of radishes

trimmed and quartered

1

tablespoon

of olive oil

Salt

Pepper
Pesto:
2

cups

fresh arugula leaves

1/2

cup

Italian parsley leaves

1/2

cup

walnuts

6

tablespoons

olive oil

1

teaspoon

lemon zest

2

tablespoons

lemon juice

from about 1/2 large lemon

2

tablespoons

minced shallot

from about 1/2 shallot

1/2

teaspoon

salt

plus more to taste
Instructions
To Roast the Radishes:
1 ball of fresh burrata (about 3 ounces) cheese (if you can't find burrata, fresh mozzarella would also be delicious)

Preheat oven to 400 degrees F. In a small baking dish or baking sheet, add the radishes. Drizzle with olive oil and sprinkle with salt and pepper. Toss together until evenly coated. Transfer to the oven to roast for 20 minutes, until slightly softened and until some of the edges have turned light golden brown. (We still want them to have a bite so no roasting for too long!)
To Make the Pesto:
Meanwhile, in a blender or food processor, add the arugula, parsley, walnuts, olive oil, lemon zest, lemon juice, shallot and salt. Pulse until very smooth, scraping down the sides of the blender as needed. Give it a taste and adjust the salt. I added a few pinches more of salt.
To assemble:
Slice a ball of burrata down the center and open it up like hoagie roll (this was the best analogy I could think of, sorry!) and place it in the center of a shallow set bowl or plate. Spoon the roasted radishes atop the cheese. OR, psychotically arrange them neatly like I did. Top with dollops of pesto and add a few pinches of salt and freshly ground pepper.