Peruvian Green Arroz con Pollo
30
Mar 12, 2018, Updated Sep 17, 2023
Disclosure: This post may contain affiliate links, which means I may earn a commission if you click on the link and make a purchase.
This Peruvian Green Arroz Con Pollo (arroz con pollo Peruvano receta) is how Peruvians make arroz con pollo! The broth that everything cooks in is infused with cilantro, onion, and jalapeño making it a beautiful, vibrant green. Lastly, it's topped with a lime/onion mixture called Salsa Criolla.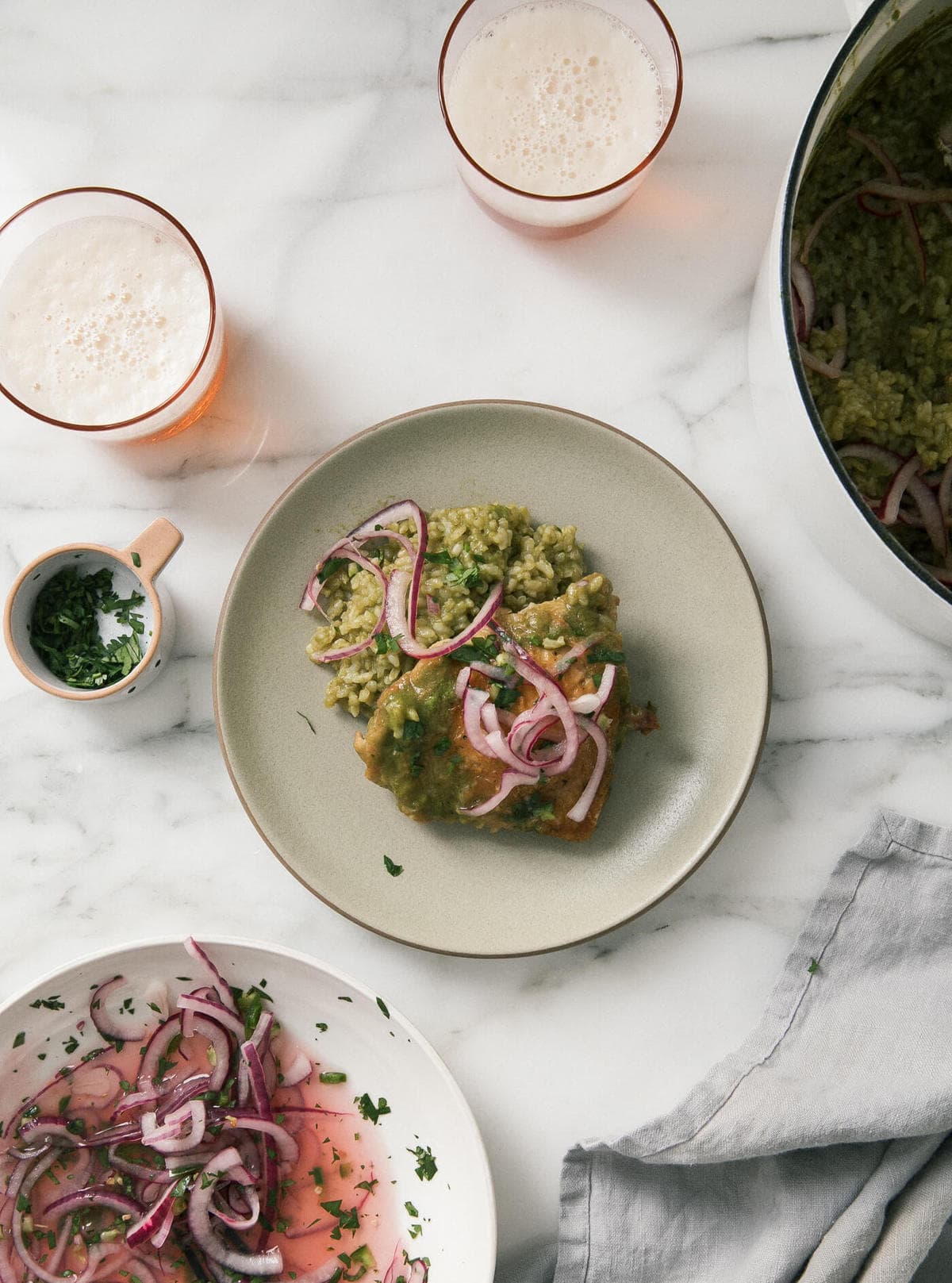 It's been rainy and cold in Los Angeles the past week and obviously I have loved every second of it. It's been glorious to put on a big sweater and cook some food. This Green Arroz con Pollo (Peruvian Arroz con Pollo) has been on my list to make because it's so good and cozy. And yes, I will admit that it's not the most photogenic food but whatever. It's rice and chicken!
Green food is always difficult to shoot. Besides salads, those always look gorgeous. But I decided that it doesn't matter. Sometimes ugly food is delicious!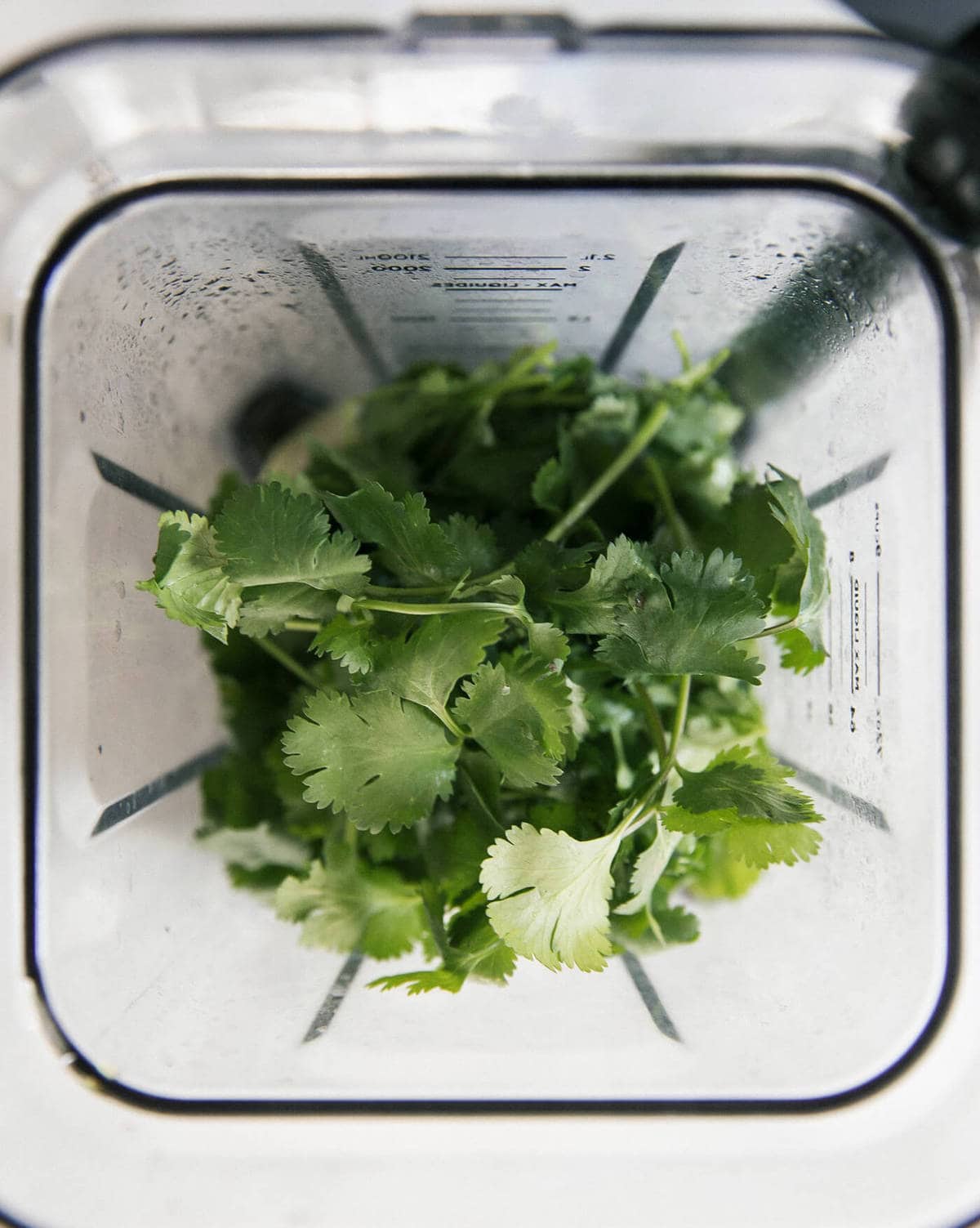 How is Peruvian Green Arroz Con Pollo different than regular Arroz Con Pollo?
This differs a lot from your typical arroz con pollo. The mixture that makes it green is a big bunch of cilantro, garlic, onion, jalapeño and stock all blended in a blender. This makes a delicious, flavorful broth mixture that is combined with the rice. This is what makes it super delicious and flavorful. It tastes bright and earthy and spicy.
If you've ever made my aguadito, you'll know that this base is very similar to that soup. It's herbaceous and bright.
The spice definitely chills out as it cooks with the rice. The chicken is so good and falls off the bone. The little guy on top is killer.
What is Salsa Criolla?
It's called Salsa Criolla and my mom used to make it when we were eating really boring things like lentils or beans. It transforms anything that might be a bit mundane and not so flavorful. Lucky for us, the rice is flavorful and then you add this and it adds even more flavor. It's amazing.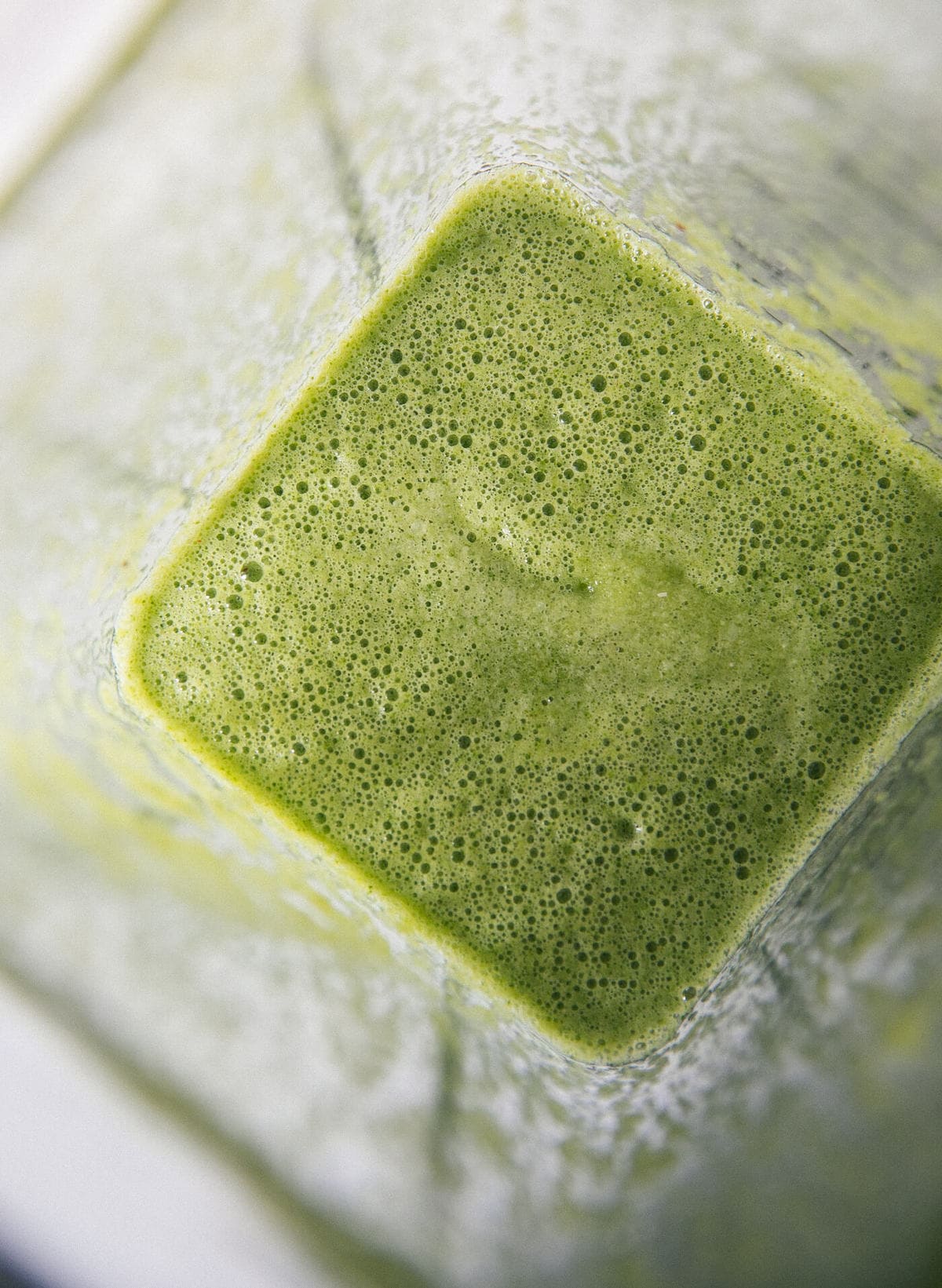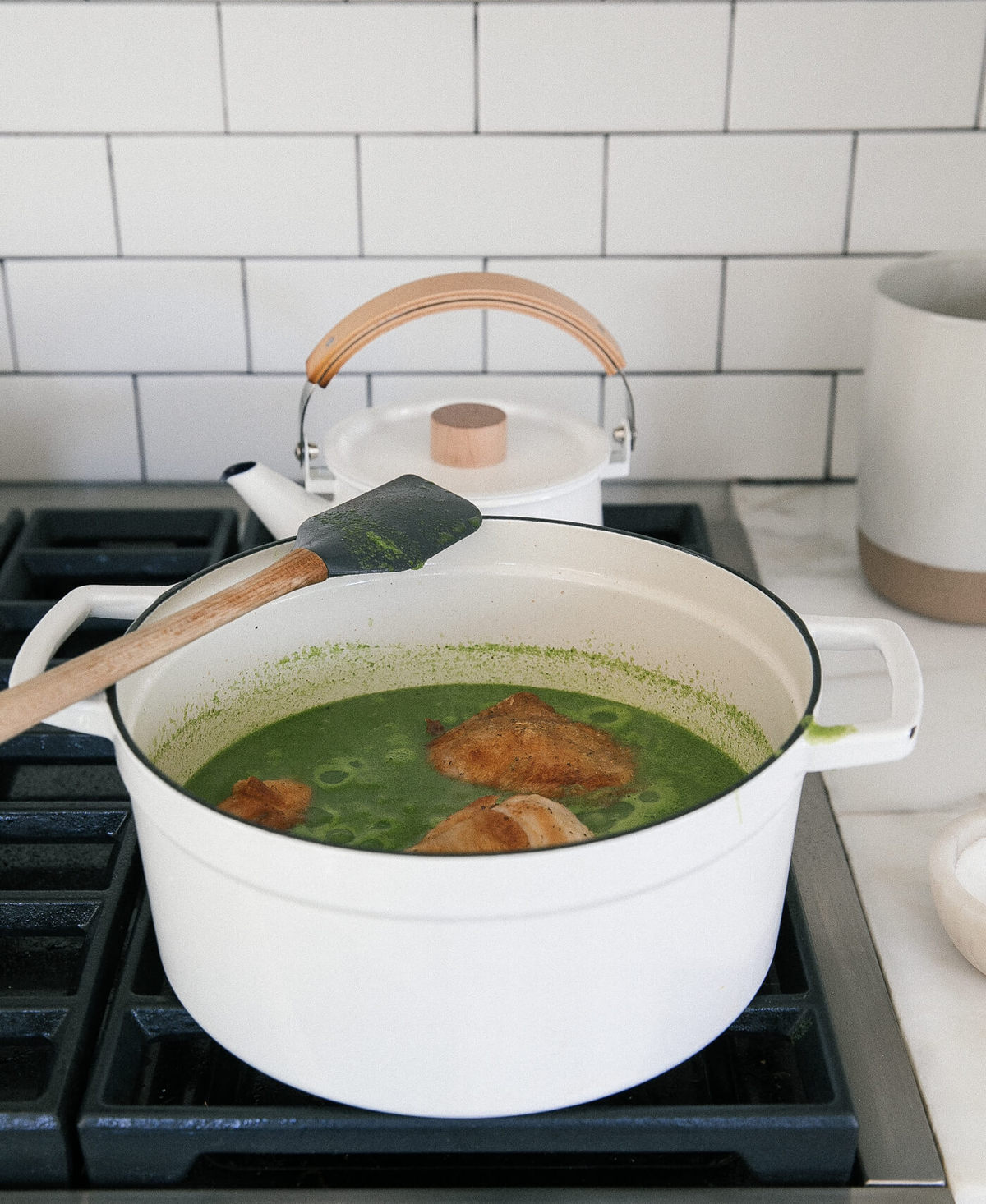 How to make Peruvian Green Arroz Con Pollo:
Make the broth. Add all the good green flavors with the chicken broth to a blender and blend until smooth. This is where the good flavor comes from!
Brown the chicken. Heat up some oil in dutch oven, season the chicken very well, and brown on both sides. This is also where good flavor comes from, don't skimp on the browning!
Toast the rice. Once the chicken has browned on both sides, remove it from the pot and add the rice. Cook for a minute or two to toast it lightly.
Add the rest. After the rice is toasted, add the green broth, stir to combine, and gently place the chicken on top.
Cook! Cook the rice for 45-50 minutes, making sure it's got enough liquid, checking on it every 15 minutes or so.
Serve. Portion out the arroz con pollo and top with the salsa criolla.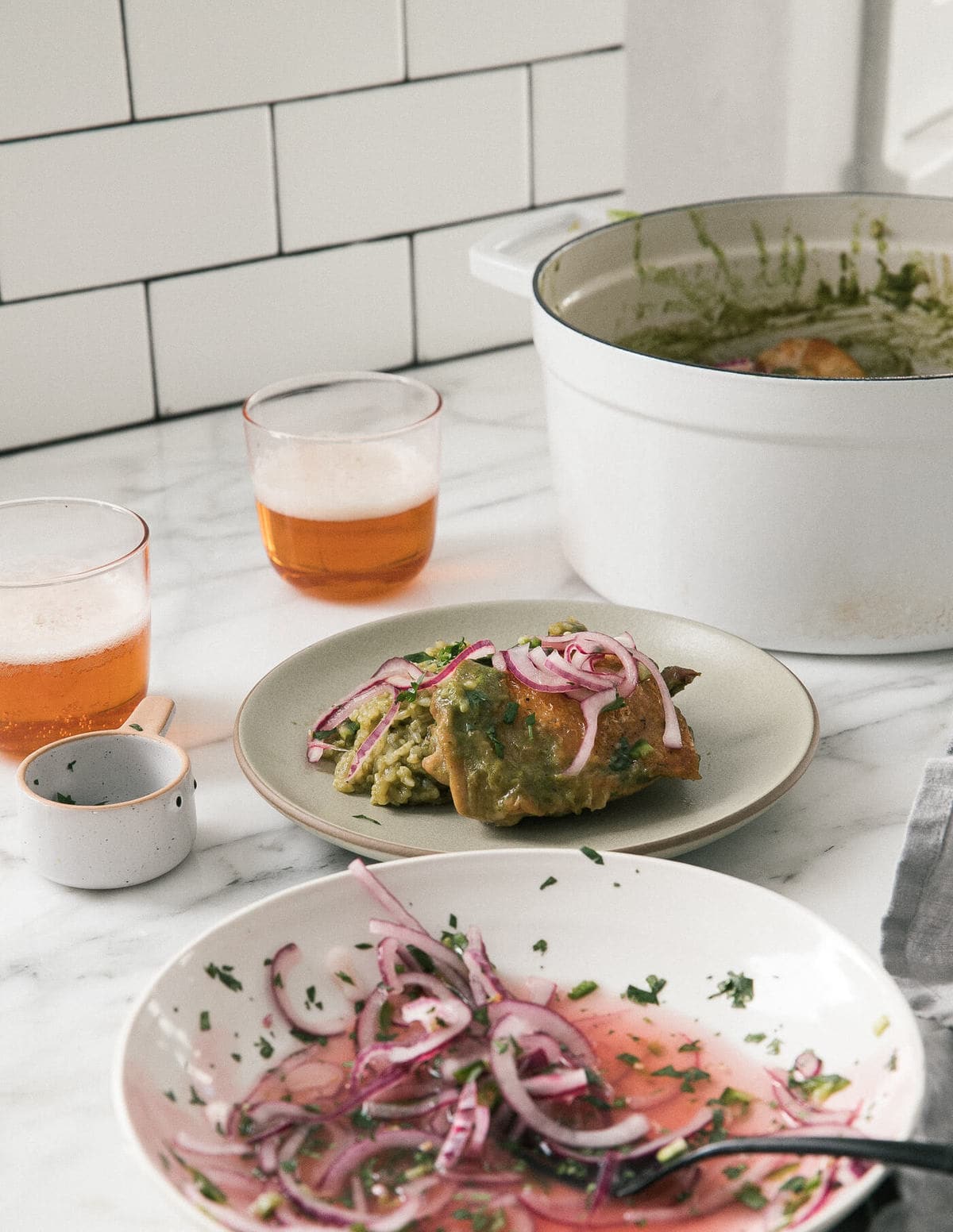 Peruvian Green Arroz con Pollo Recipe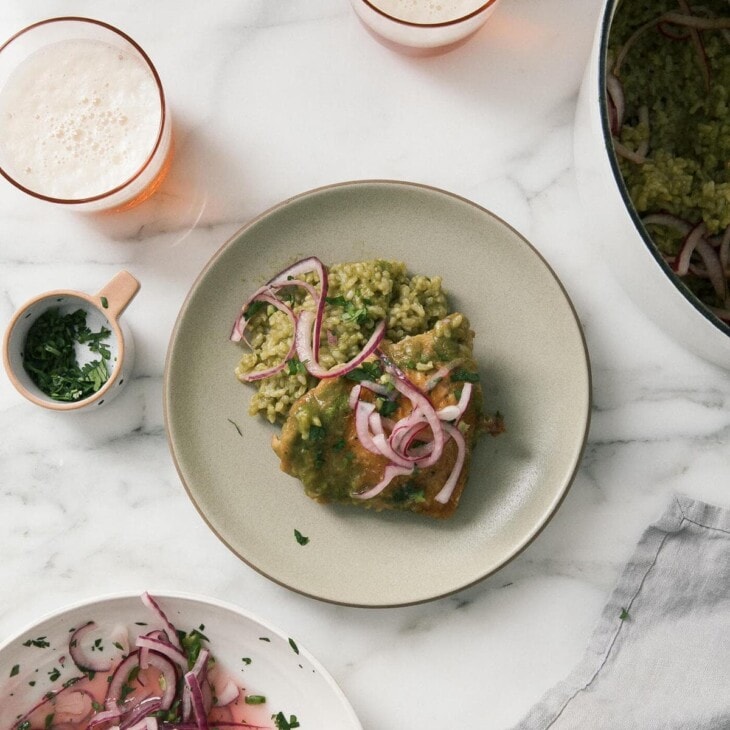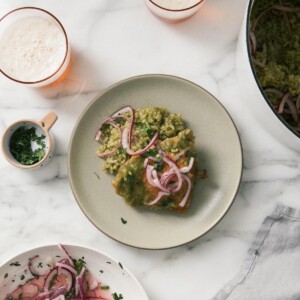 Green Arroz con Pollo (Peruvian Arroz con Pollo) is a Latin rice and chicken dish that is cooked in a spicy cilantro mixture. Topped with salsa criolla.
Ingredients
Green Arroz con Pollo:
1/2

yellow onion

3

garlic cloves

,

peeled

1

bunch of cilantro leaves

1/2

jalapeño pepper

2

teaspoons

ground cumin

1/2

teaspoon

ground paprika

3

cups

of chicken stock or water

,

divided

2

bone-in thighs

3

bone-in drumsticks

Kosher salt

Pepper

1

tablespoon

neutral oil

1

cup

medium or long-grain white rice
Salsa Criolla:
1/2

red onion

,

thinly sliced

Juice from 2 limes

1/2

jalapeño

,

diced

1

tablespoon

minced cilantro

Kosher salt
Instructions
To Make the Green Arroz con Pollo:
To a blender, add the onion, garlic cloves, cilantro, jalapeño, cumin, paprika and about 1 1/2 cups of chicken broth. Pulse until completely smooth. It will smell crazy spicy—don't worry! It'll mellow out as it cooks. Set aside.

Sprinkle the chicken with a liberal amount of salt and pepper. In a Dutch oven or medium pot, heat oil over medium-high heat. When oil is hot, add chicken, skin side down, until browned, about 5 minutes. If you have a screen guard for the pot, use it because the oil may jump out of the pot. Flip the chicken, using tongs, and cook on opposite side until golden brown, about 5 to 7 minutes. You want to practically cook it all the way through. Remove the chicken and transfer to a plate or cutting board.

To the pot, add the rice and toast it for about 1 to 2 minutes, stirring regularly. Next, pour in the cilantro mixture. And then pour in about an additional cup of broth/water. Place chicken atop of rice mixture. Bring the pot to a simmer and then reduce heat to low. Cook, covered, for about 45 to 50 minutes, and until rice is tender. Note: Throughout the cooking process, I checked on it every 15-20 minutes or so and topped it off with about 1/4 cup of stock each time, if needed. In the end, I added 3 cups of chicken stock total. Also, in the last 15 minutes, I salted to taste, adding about 1 teaspoon more of salt.
To Make the Salsa Criolla:
To a medium bowl, mix together the red onion, juice from 2 limes, jalapeño and minced cilantro. Add a few pinches of salt and let marinate for about 10 to 15 minutes. Give it a taste just before serving and adjust the salt to your liking.
To Serve:
Divide the arroz con pollo amongst bowls and top with a spoonful of salsa criolla.
Nutrition
Calories:
334
kcal
|
Carbohydrates:
32
g
|
Protein:
15
g
|
Fat:
16
g
|
Saturated Fat:
6
g
|
Cholesterol:
71
mg
|
Sodium:
61
mg
|
Potassium:
255
mg
|
Fiber:
1
g
|
Sugar:
1
g
|
Vitamin A:
211
IU
|
Vitamin C:
5
mg
|
Calcium:
35
mg
|
Iron:
1
mg
Nutrition information is automatically calculated, so should only be used as an approximation.
Did you make this recipe? Let me know on Instagram!
Looking for more Peruvian recipes? Here are some of my favorites: