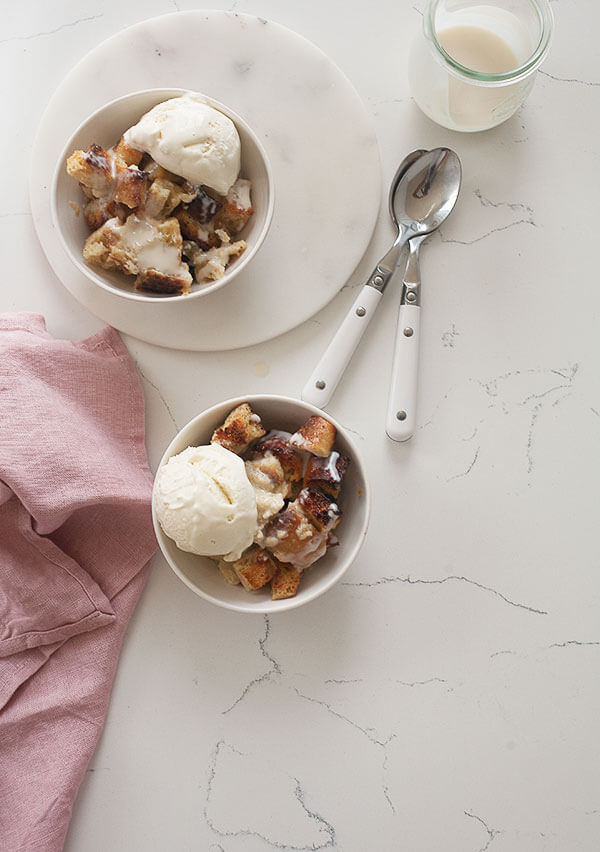 The way I like to cook is the opposite of how I'd have to be on a competition cooking show.
I like to put on some music, zone out, and if it's at night, I like to pour myself a glass of wine. And I move slowly, neatly and calmly. Basically my kitchen is the chill-zone.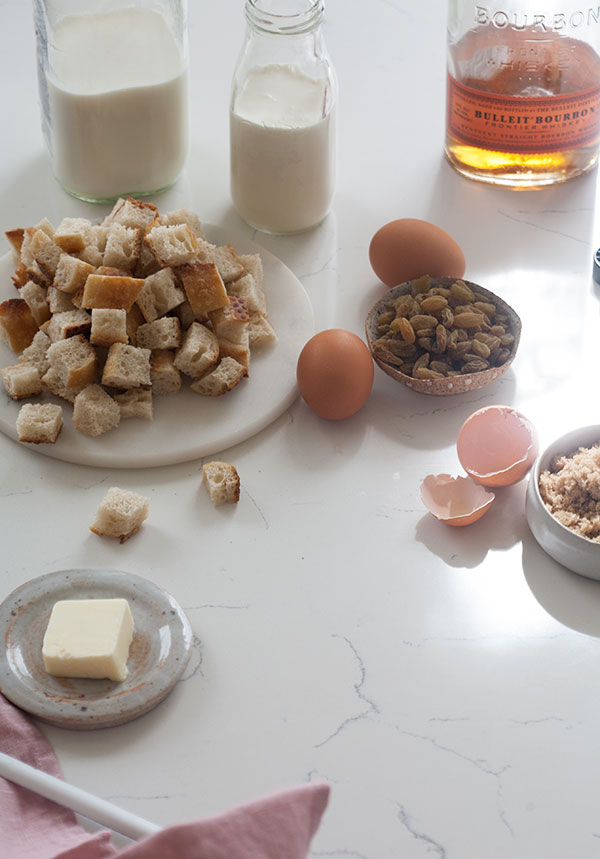 On a competition cooking show, I'd be a nervous wreck. I imagine if you put that type of spotlight on me, I'd forget how to boil water, burn everything, cut my fingers off and fumble my words. I'm not sure I'd do a good job. That's why I always watch competition cooking shows at night when I'm editing photos and thank the stars it's not me in the hot seat.
This post is in collaboration with Emeril Lagasse's (along with Ty Pennington) new show, on TNT, On the Menu! It airs tonight on TNT at 8/7c. The premise of the show: contestants will compete to create the next dish to appear on the menu of well-known restaurants. Emeril will be their seasoned, industry insider, while Ty will be their confidant.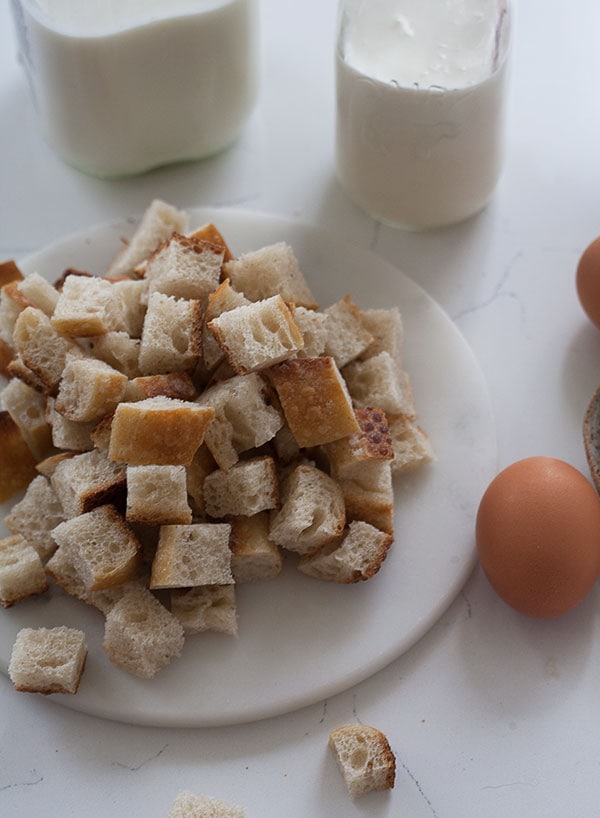 This New Orleans bread pudding comes as one of Emeril's creations. It's rich and dreamy and warm, made better by whiskey cream sauce and a scoop of ice cream.
Like all good bread pudding, it's so simple to put together. I used a sour dough baguette for some tartness and LOVED it, but feel free to use any sort of dry bread you like.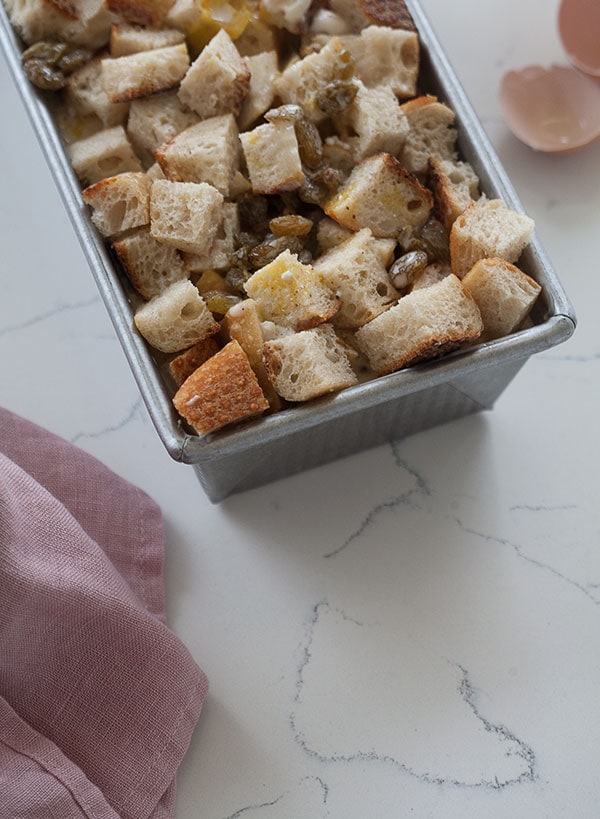 The whiskey cream sauce is a huge winner. It's sweet and salty and creamy. It almost tastes like a good ice cream base, like, if you put it in an ice cream maker to churn, you'd have delicious whiskey ice cream.
If I had to compete on a competition show, I'd probably make this because it's so easy I could just throw it together and chill in the corner.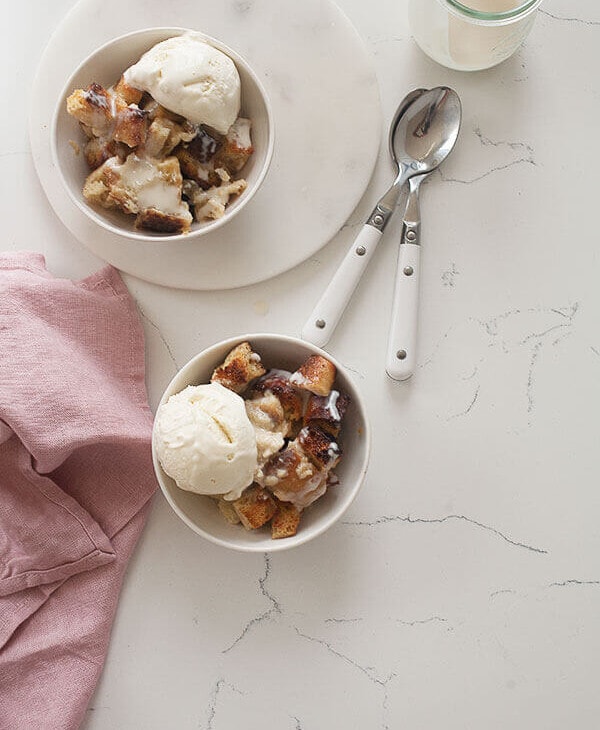 Print Recipe
New Orleans-Style Bread Pudding w/Whiskey Cream Sauce
Ingredients
6

cups

1-inch cubes day-old white bread

from 1 French or sourdough baguette

1

tablespoon

unsalted butter

1

cups

heavy cream

2

cups

whole milk

3

large eggs

3/4

cup

light or dark brown sugar

1

teaspoon

pure vanilla extract

1/2

teaspoons

ground cinnamon

1/4

teaspoon

freshly grated nutmeg

1/4

teaspoon

salt

1/4

cup

raisins

I used golden raisins

1

cup

heavy cream

1/4

cup

whole milk

1/4

cup

granulated white sugar

1

tablespoons

cornstarch

1/3

cup

bourbon or whiskey

Pinch

salt

Vanilla ice cream

for serving
Instructions
For bread pudding: Preheat the oven to 350 degrees F.

Place the bread in a large bowl. Grease a 9 by 13-inch casserole dish (or you can use a 5x9-inch loaf pan, like I did) with the tablespoon of butter and set aside.

Combine the heavy cream, milk, eggs, brown sugar, vanilla, cinnamon, nutmeg, salt, and raisins in a large bowl. Whisk to mix. Pour the cream mixture over the bread, and stir to combine. Allow the mixture to sit at room temperature for 30 to 45 minutes.

Transfer the bread mixture to the casserole dish and bake until the center of the bread pudding is set, 40 to 45 minutes.

To make the whiskey sauce: in a 1-quart saucepan set over medium heat, combine the cream, milk, and sugar.

Place the cornstarch and 1/4 cup of the bourbon in a small mixing bowl and whisk to blend and make a slurry. Pour the slurry into the cream mixture and bring to a boil. Once the sauce begins to boil, reduce the heat to a gentle simmer and cook, stirring occasionally, for 5 minutes. Remove the sauce from the heat, add the salt, and stir in the butter and the remaining 1 1/2 tablespoons of bourbon. Serve warm.

Divide the bread pudding between bowls, drizzle with whiskey cream sauce and serve with a scoop of ice cream, if you like.
(This is a conversation written by me on behalf of TNT. Thanks for supporting the sponsors that keep A Cozy Kitchen cozy!)