Mint Chocolate Chip Cake
17
May 08, 2017, Updated Dec 22, 2018
Disclosure: This post may contain affiliate links, which means I may earn a commission if you click on the link and make a purchase.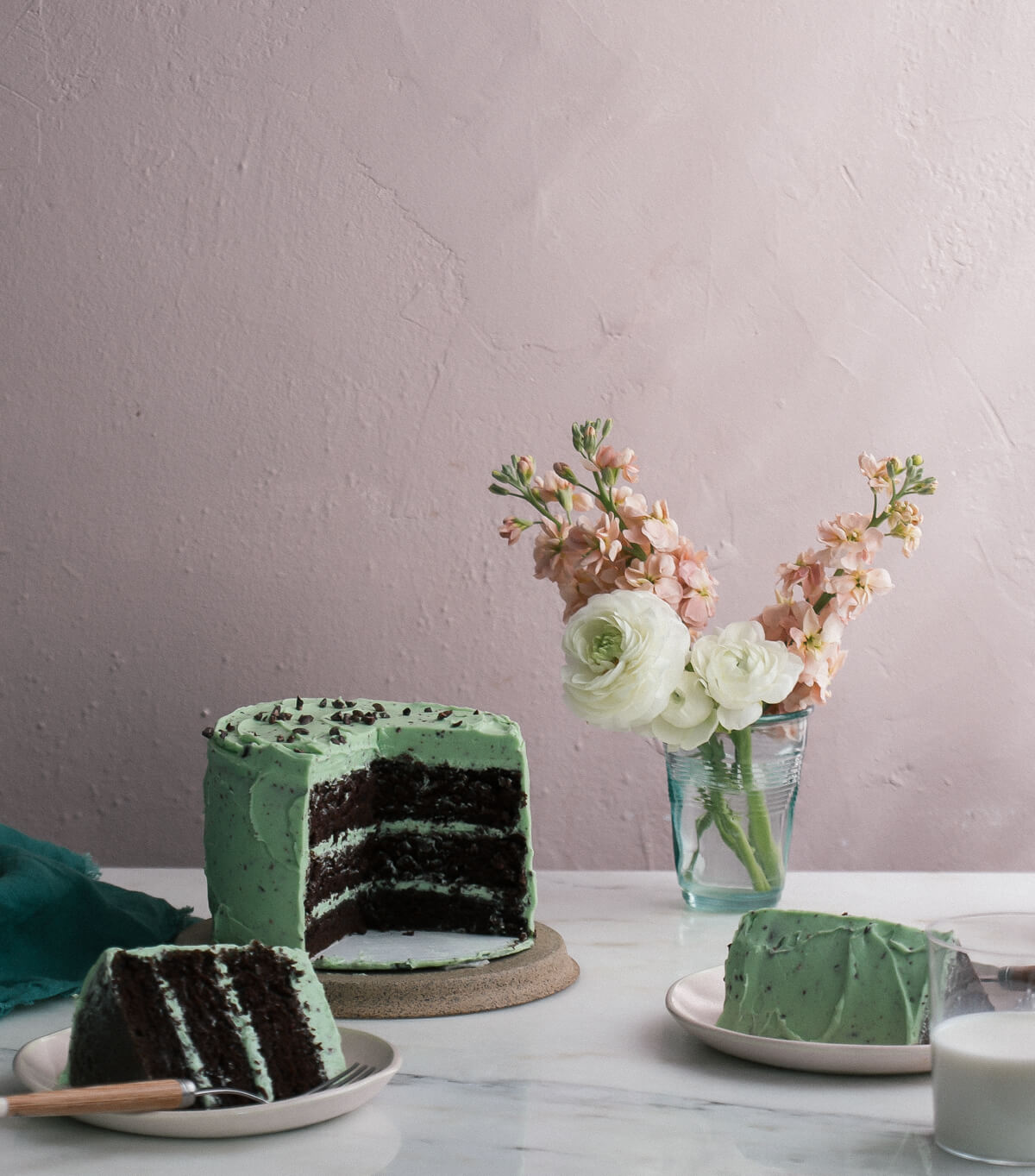 Mint chocolate chip ice cream is my jam!
My favorite brand of mint chocolate chip is Talenti. Duh. But when I was a kid? I wasn't fancy, so it was Breyers. Or Dryers. I forget. Or maybe even the Publix brand? Have you ever had a Publix sandwich? Childhood right there.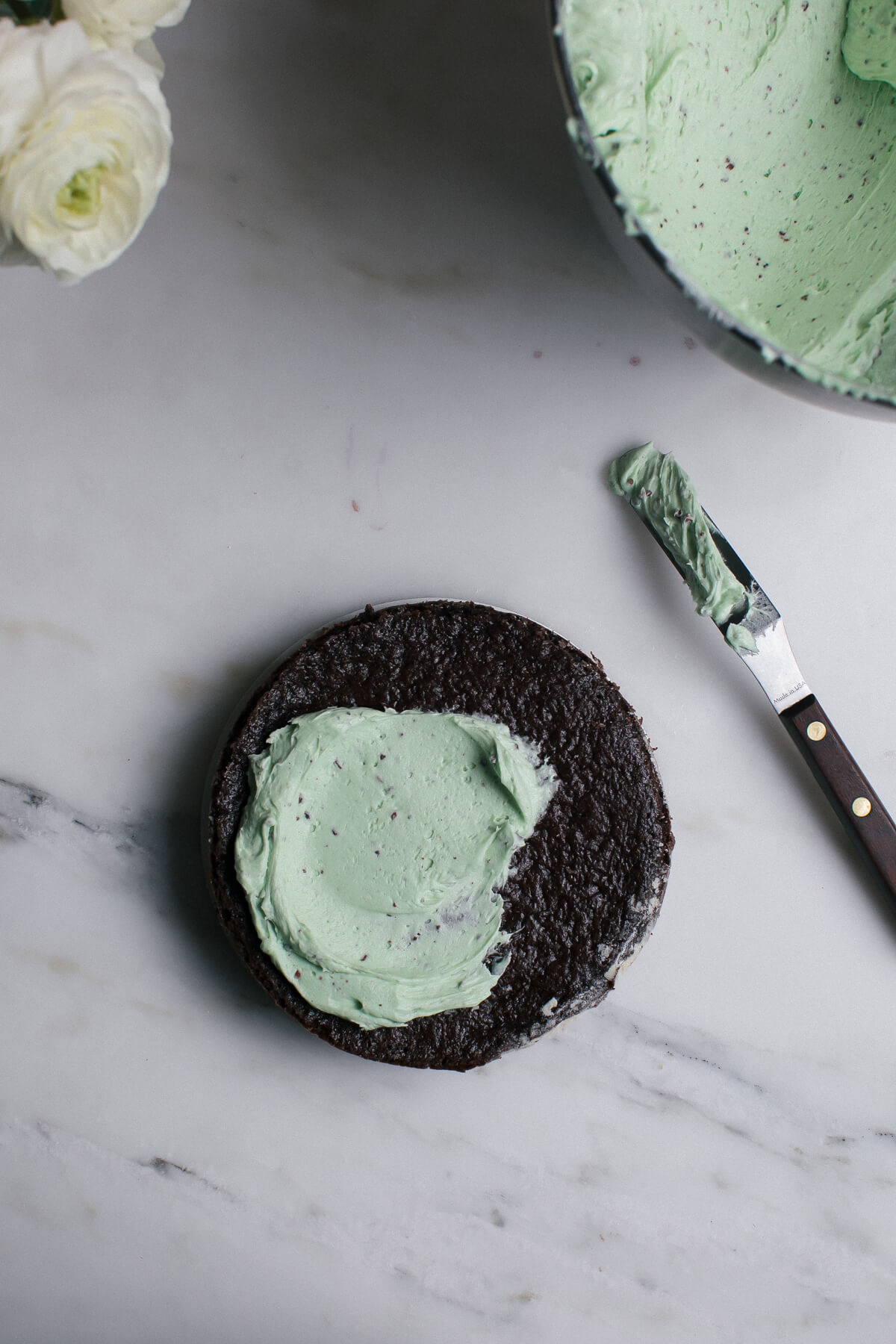 I think my love of mint chocolate chip had to do with the fake green color that was so pretty…or maybe it was the shards of chocolate vs. chocolate chips. They were so crunchy and delicious!
This cake is born from that love.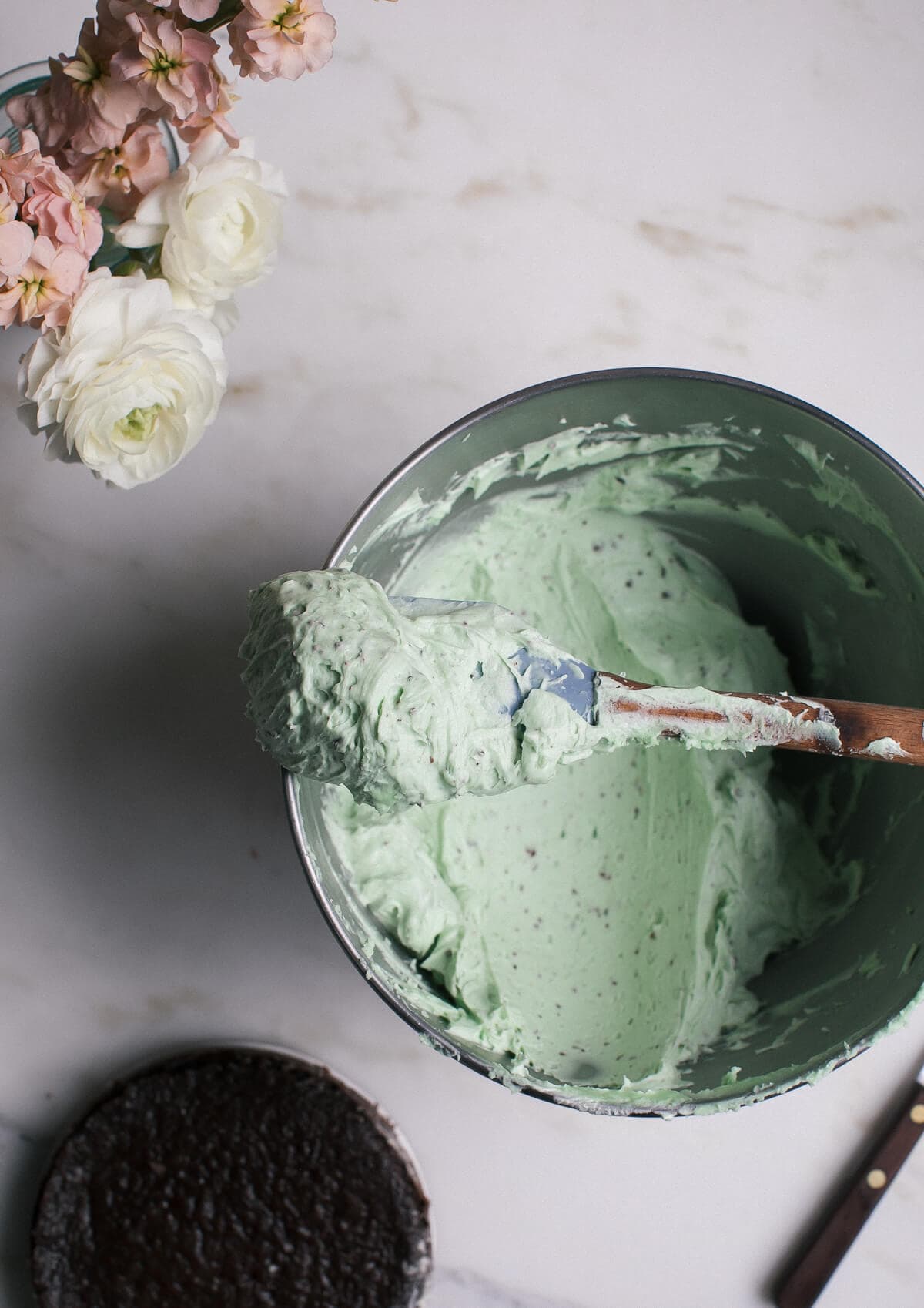 I thought of using chopped up milk chocolate chips instead of cacao nibs but I'm so glad I went with my gut because the frosting is a sweet buttercream and the bitterness from the chocolate is so very welcomed.
The cake is delicious and moist and everything you want from a simple chocolate cake. It is a my one-bowl chocolate cake so it's literally the easiest thing to make, cake-wise.
I love the mint chocolate chip profile SO much that I even started to make my morning smoothie flavored as such. Of course, it's healthy so it has kale, peppermint extract, collagen/whey, cacao powder, cacao nibs and almond milk. IT IS MY FAVORITE THING IN THE WORLD. I was thinking of sharing the recipe at one point but I sort of just did so there you have it!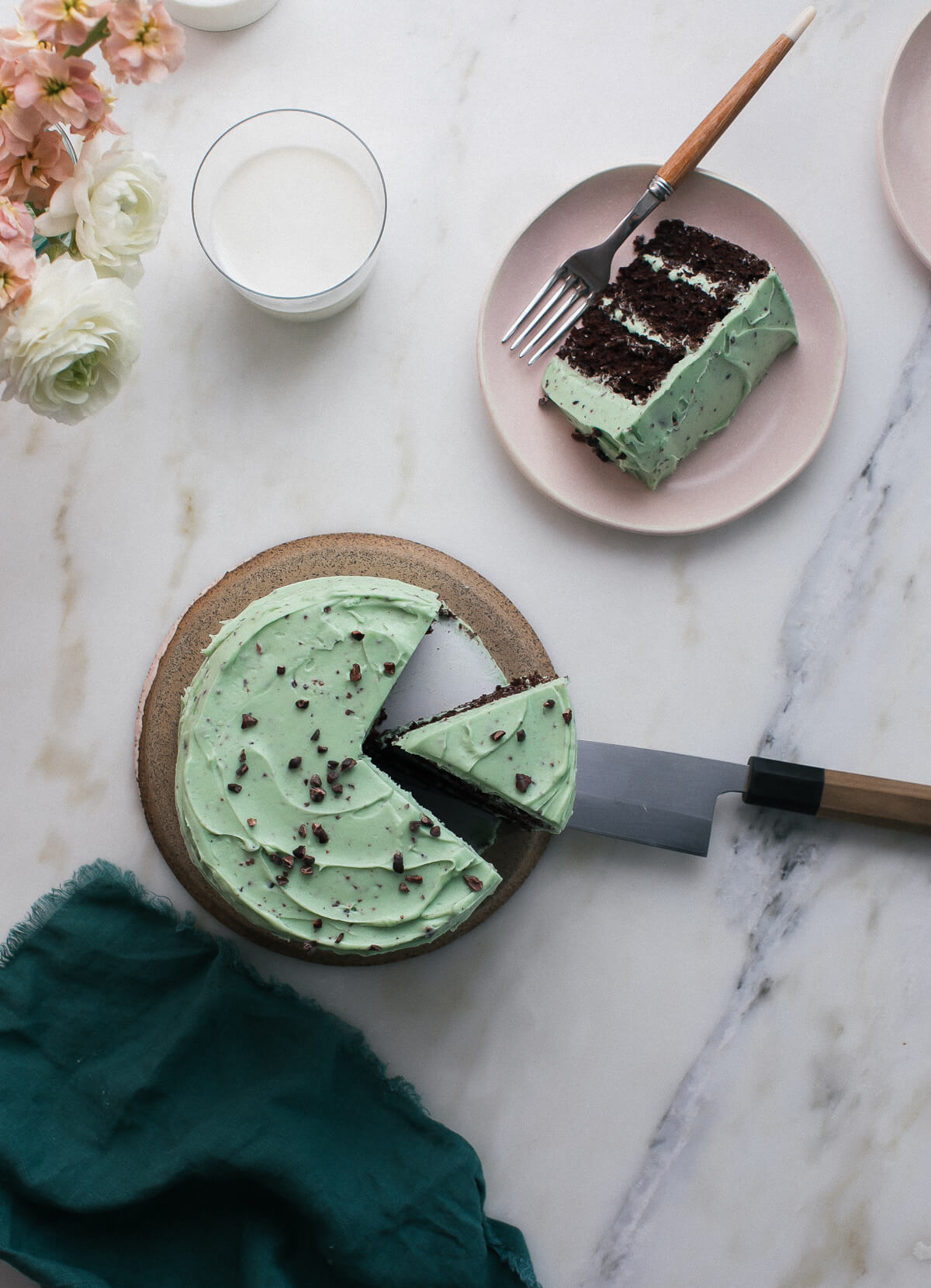 I have a plan for you:
1. Make this cake. Eat it and enjoy it.
2. The next morning make that smoothie and tell yourself you live a balanced life!
Happy almost-Mother's Day
xoxo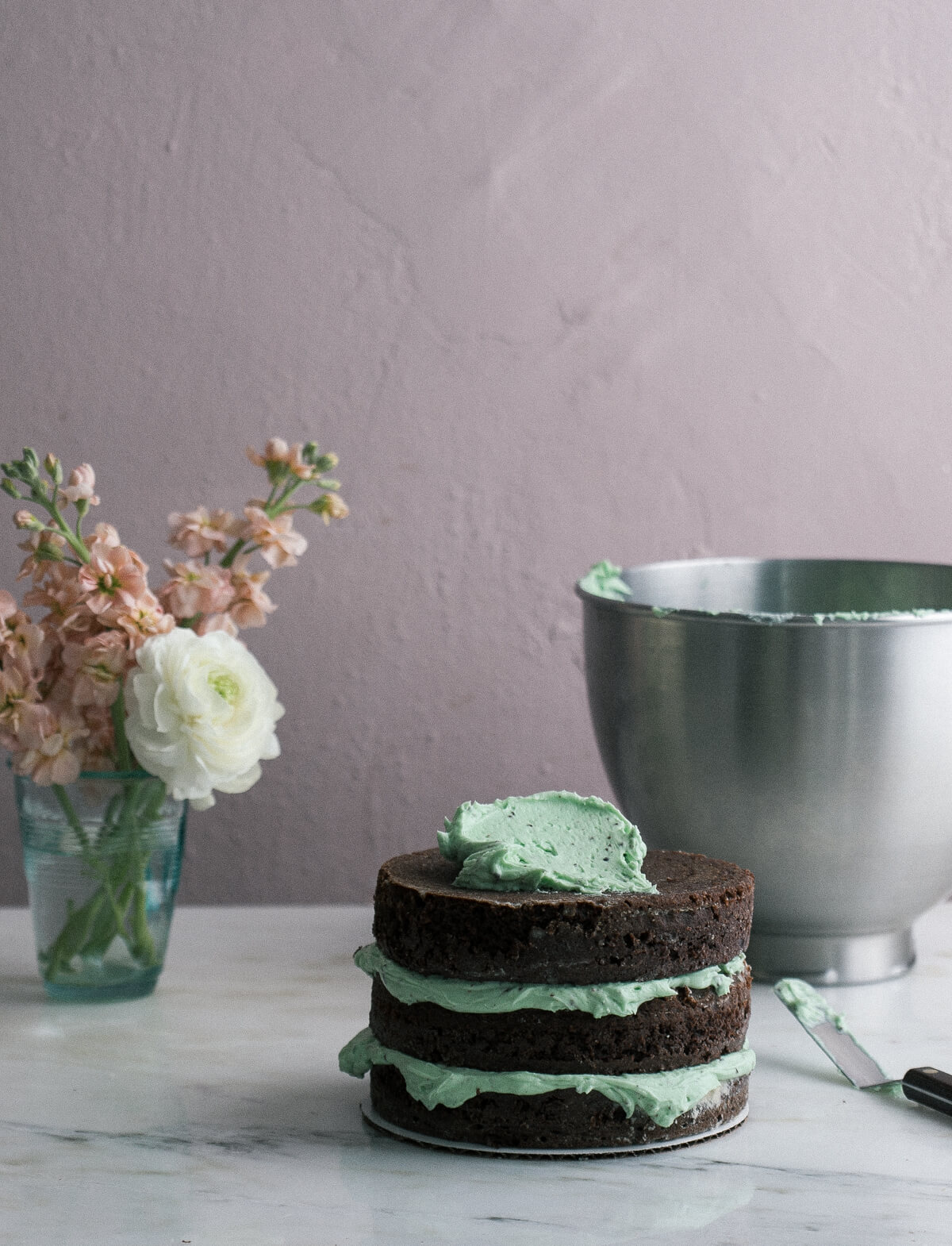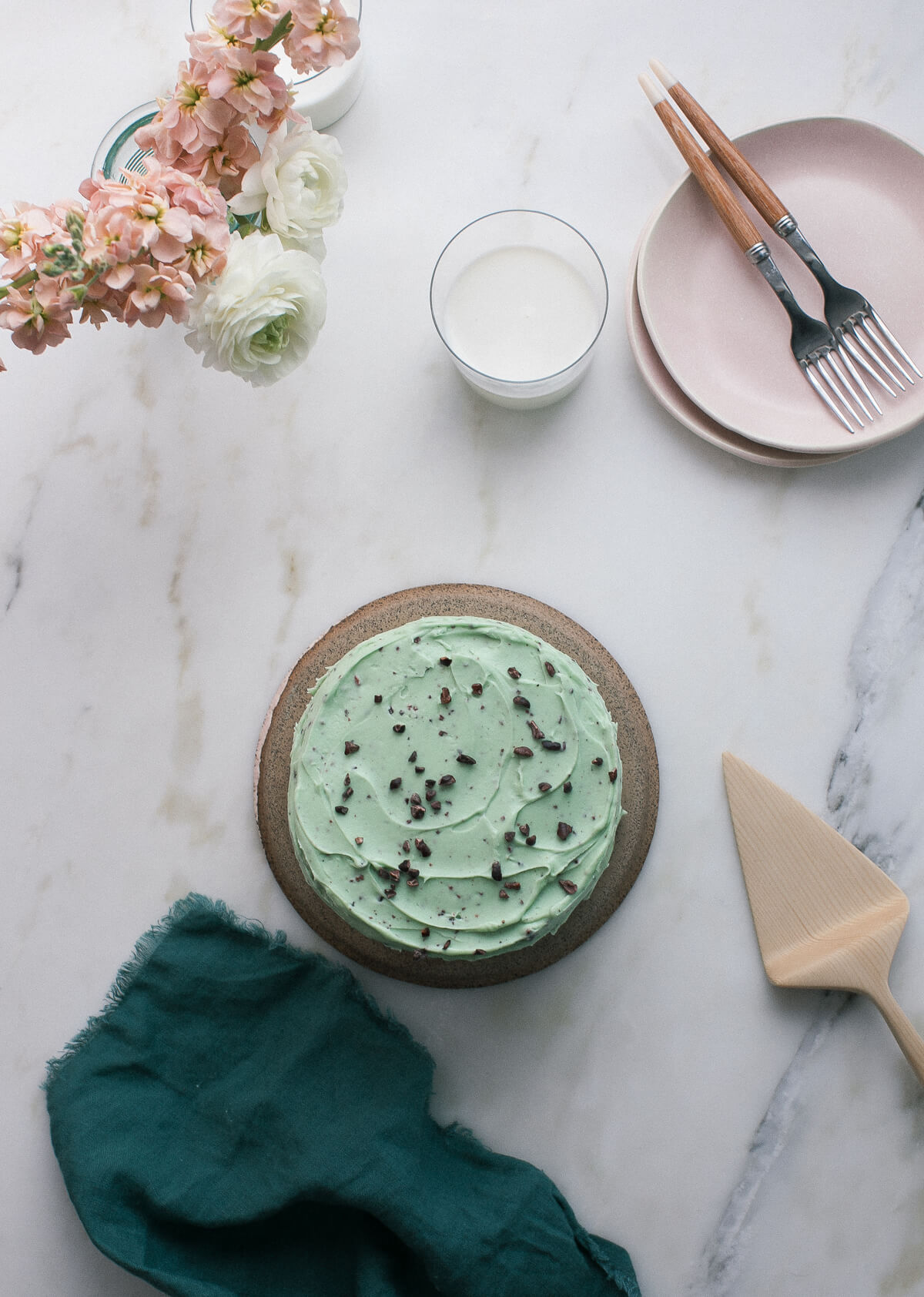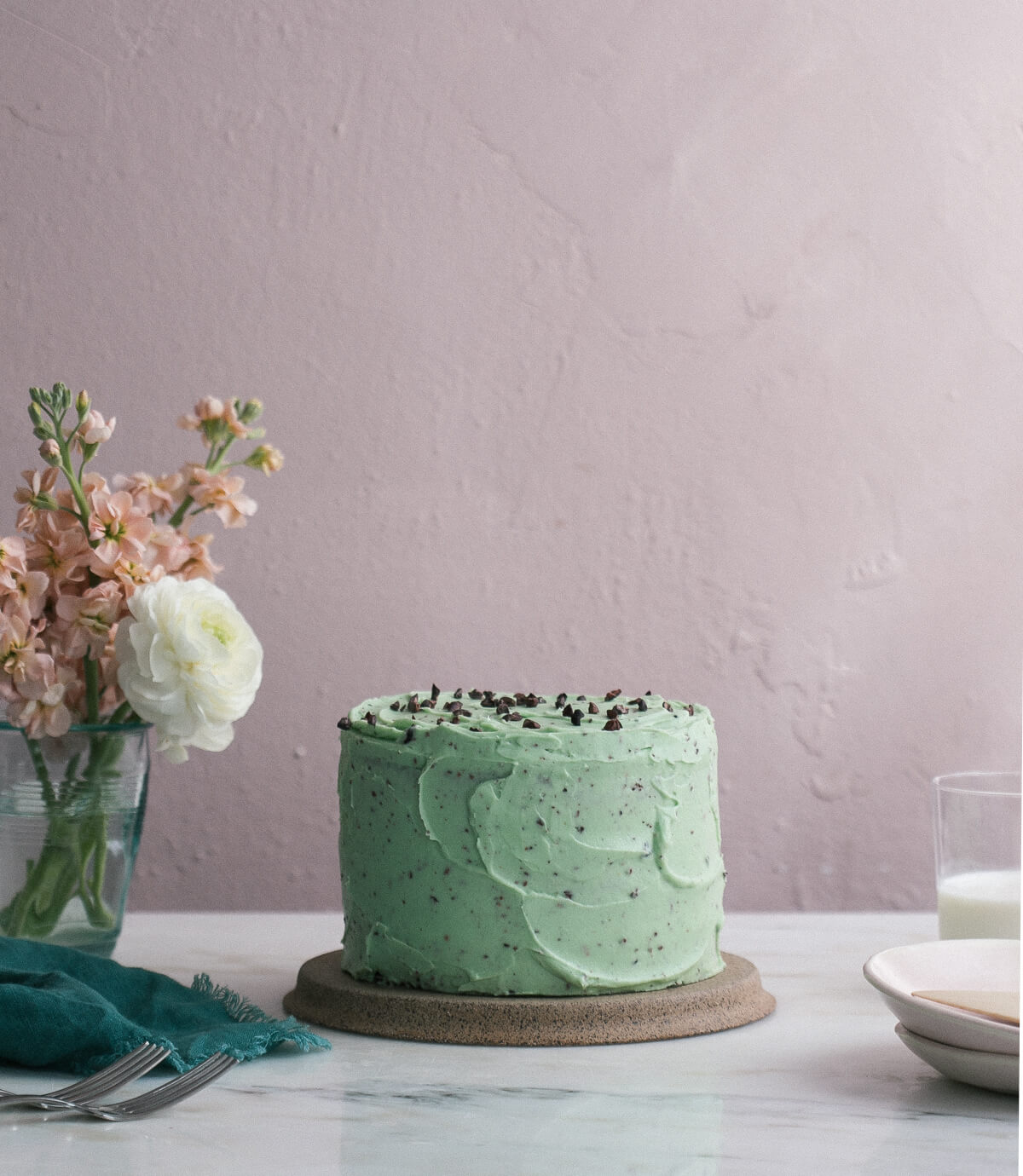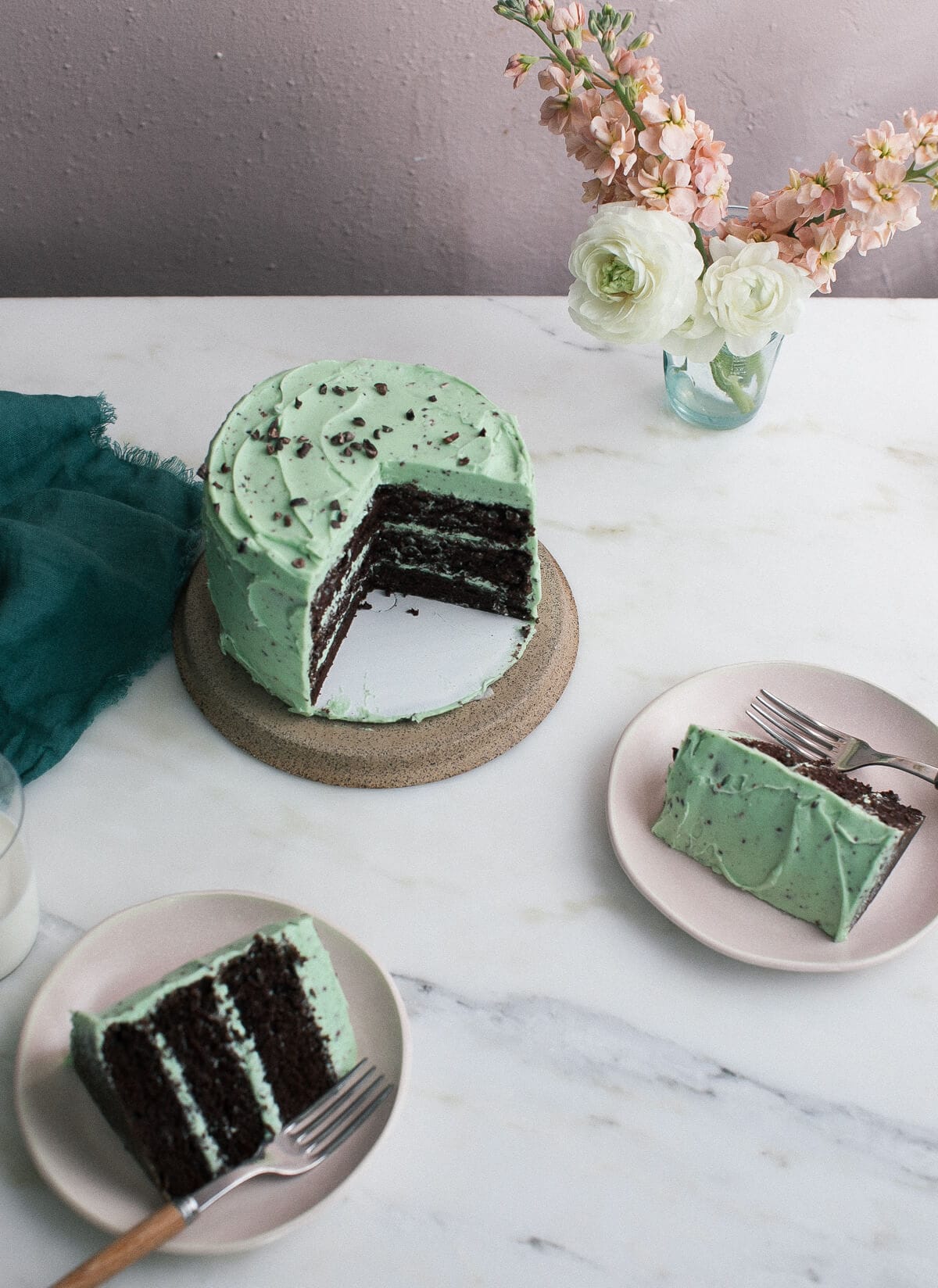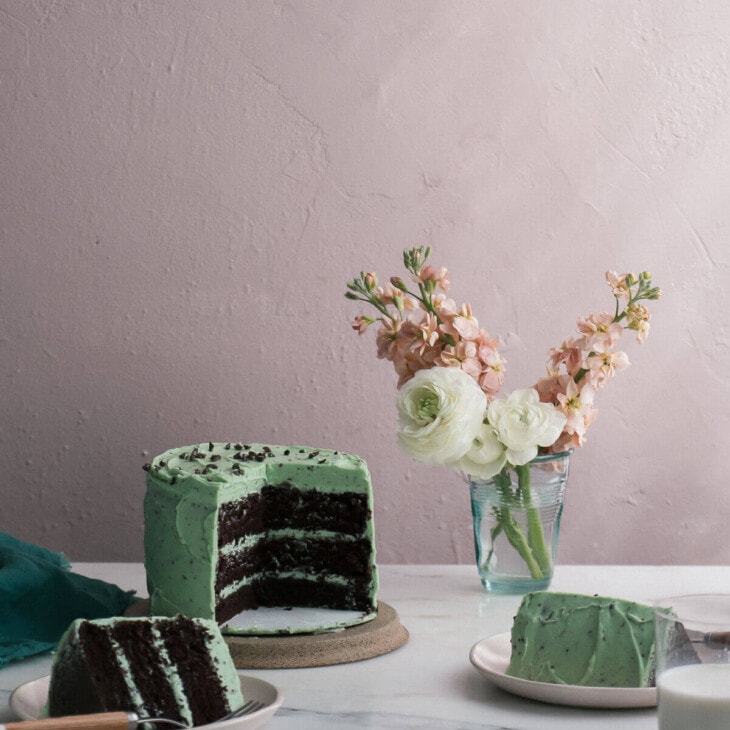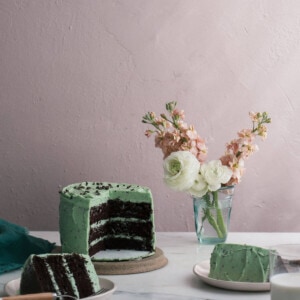 Ingredients
To make the chocolate cake:
1

cup

plus 2 tablespoons all-purpose flour

1

cup

plus 2 tablespoons white granulated sugar

1/2

cup

baking cocoa powder

1 1/2

teaspoon

instant espresso powder

1

teaspoon

baking soda

3/4

teaspoon

baking powder

3/4

teaspoon

salt

1

egg plus 1 egg yolk

1/2

cup

buttermilk

1/2

cup

warm water

1

tablespoon

olive oil

2

teaspoons

vanilla extract
To make the mint chocolate chip frosting:
1 1/2

cups

unsalted butter

,

at room temperature

2

tablespoons

heavy cream

4

cups

powdered sugar

,

sifted

1/4

teaspoon

salt

1/4

teaspoon

peppermint extract

1

drop of blue food coloring

1

drop of yellow food coloring

1

tablespoon

of cacao nibs
Instructions
To make the cake:
Preheat oven to 350 degrees F. Butter and flour three 6-inch cake pans or two 8-inch cake pans. Butter and flour your cake pans. If you're like me and are a little paranoid of a cake sticking, line it with parchment, too. Set the pans aside. See below for link as to how to bake cake layers flat. I do this every single time and it's SO helpful. Also, I own only two 6-inch cake pans and I baked up the first two layers first and then the third last. The batter was a-ok to do this!

In a large bowl or the bowl of a stand-up mixer (with the paddle attachment), add the all-purpose flour, sugar, cocoa powder, espresso powder, baking soda, baking powder and salt. Mix until combined. Next, crack in the egg and egg yolk, pour in the buttermilk, warm water, olive oil and vanilla. Mix until thoroughly combined and the batter is smooth, about 1 minute. The batter will be thinner than cake batter that you're probably used to—that's ok!

Divide the cake batter amongst the cake pans and transfer to the oven to bake for 27 to 30 minutes, or until a skewer inserted into the center comes out clean. Clean out the bowl you used to make the cake and dry it thoroughly. While the cakes are cooling, make the frosting.
To make the mint chocolate chip frosting:
To a blender or food processor, add the cacao nibs. Pulse until the cacao nibs are broken into tiny pieces. Mine were pretty big so this helped a lot! Set aside.

In the bowl of a stand-up mixer with the paddle attachment, add the butter and heavy cream. Beat until smooth and fluffy, about 1 minute. Take the paddle attachment off and place a sieve on top of the bowl, sift in the powdered sugar. Turn the mixer to low until the powdered sugar is almost incorporated. Add the peppermint extract and beat until smooth, about 1 minute. Add one drop of blue food coloring gel and then 1 drop of yellow food gel coloring. I was pretty happy with this color but if you're using coloring vs. gel, you might need to add an additional drop of each. Lastly, add the pulsed cacao nibs and mix one last time, until it's evenly dispersed throughout the frosting.
To assemble the cake:
Place one layer on a cake board or cake stand or plate (I also love turning plates upside down and using them as cake stands). Add about 1/4 cup (you can eyeball this measurement) to the top of the first cake layer; smooth it out so it's a nice even layer of frosting. Place the second layer on top and repeat the process. Since the frosting has lil' bits of cacao nibs in it, it's not an ideal piping texture. I skipped the piping and made little swoops all around the cake and topped it with some more cacao nibs! Slice it up and serve.
Nutrition
Nutrition information is automatically calculated, so should only be used as an approximation.