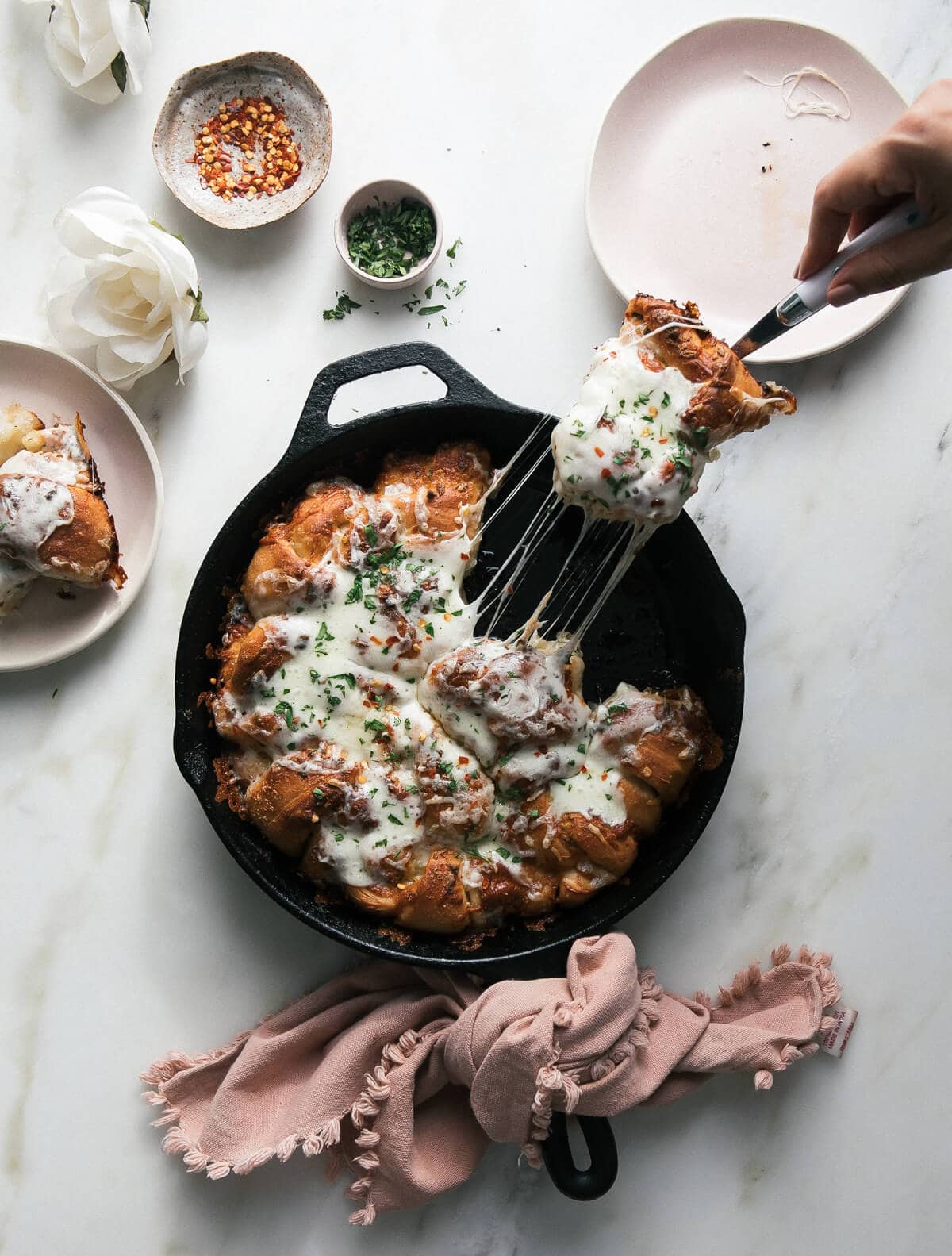 Ayyyyye! These are SO good, girlfriends and dude friends.
I am currently in full-on heavy planning for Thanksgiving and this year it feels like SO much earlier than usual. Thanks so much for all your feedback about Classics vs. Twists. It was so interesting hearing everyone's opinion on it.
I think I feel similarly like all of you: mostly classics on the savory stuff but TONS of twists and fun with desserts.
I think I'm going to bring a few classics. Like how I get the fluffiest of fluffy mashed potatoes and give you some fun twists on desserts.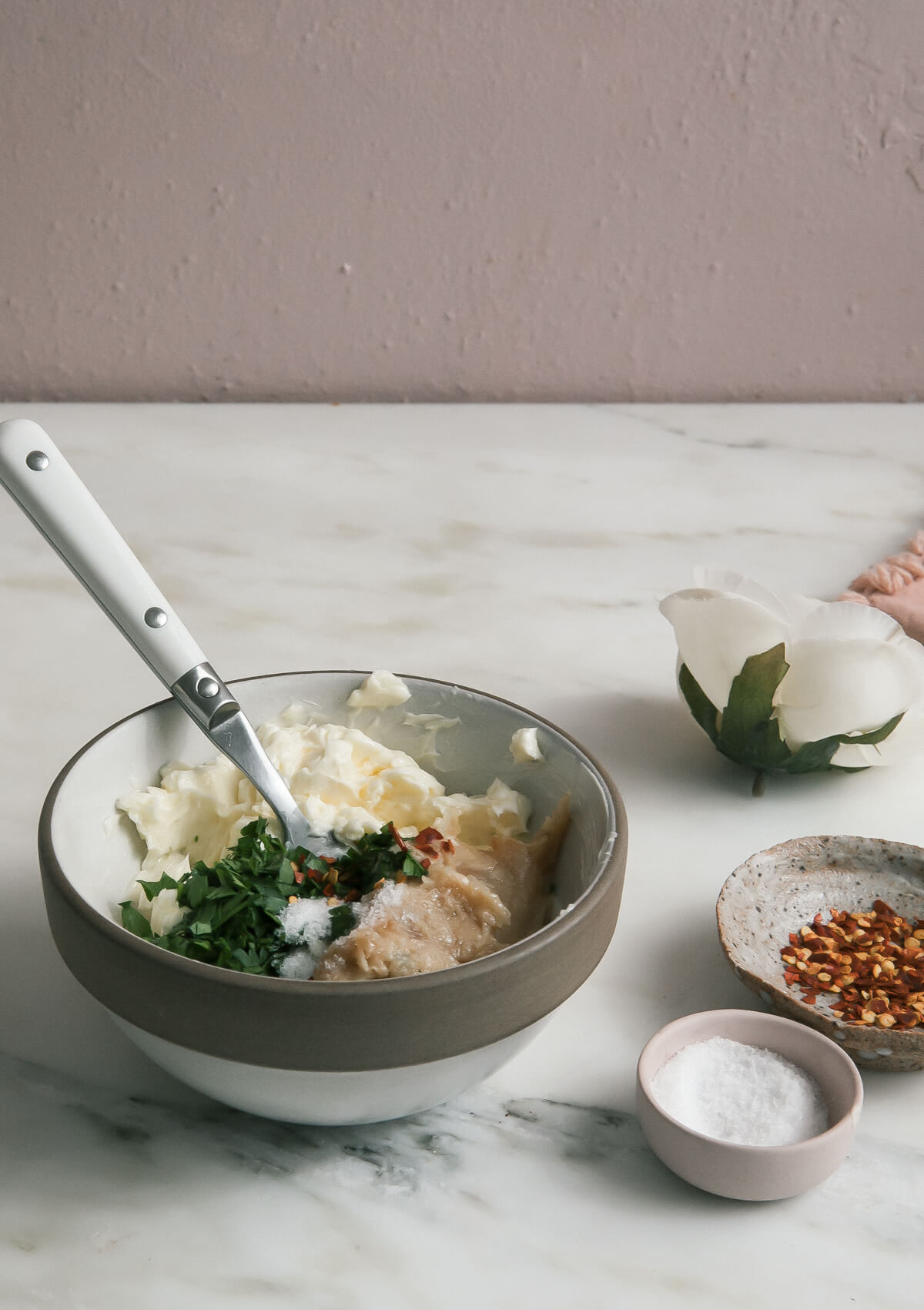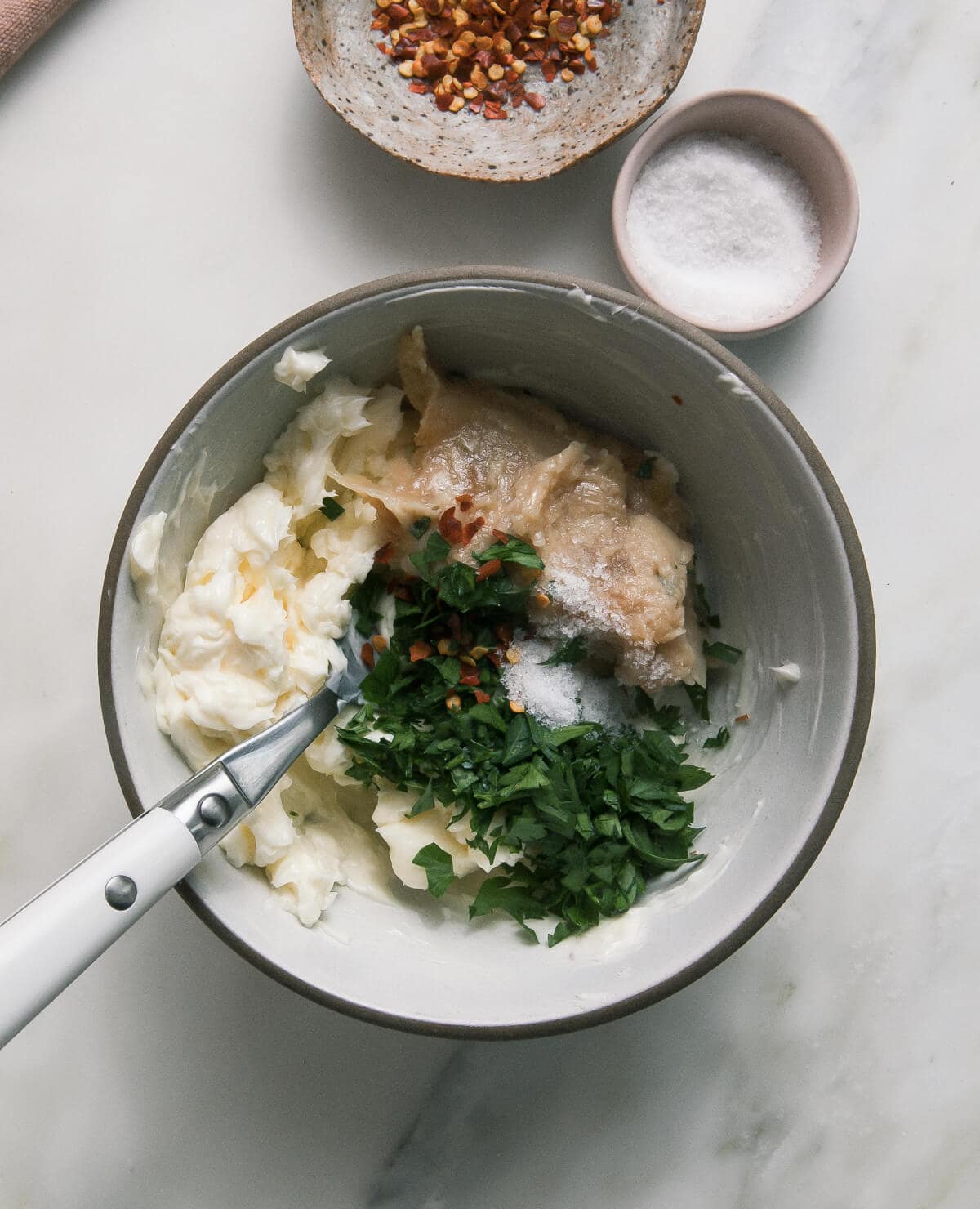 This fine specimen you see in the photos is something that could definitely be served at Thanksgiving. The big, gigantic bonus is that it uses store-bought pizza dough (and yes, you can make a homemade batch too). It saves on a ton of time so it's basically just an assembly-type recipe.
Moving to the suburbs of LA has kinda forced Josh and I to explore the chain restaurants of our childhoods. Some are just as good as we remember them. But others….eeesh. I feel like I remember them being so much more awesome back then.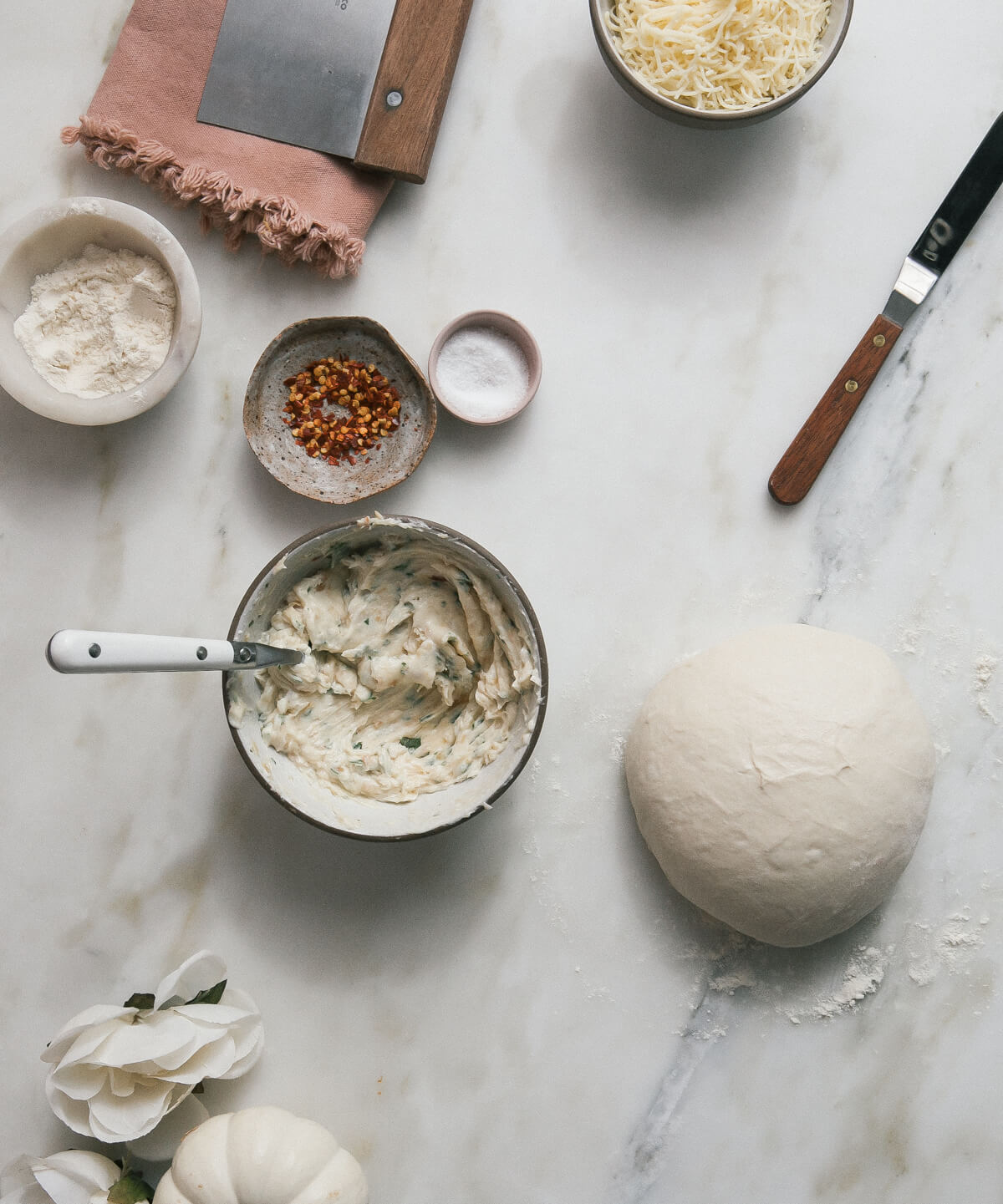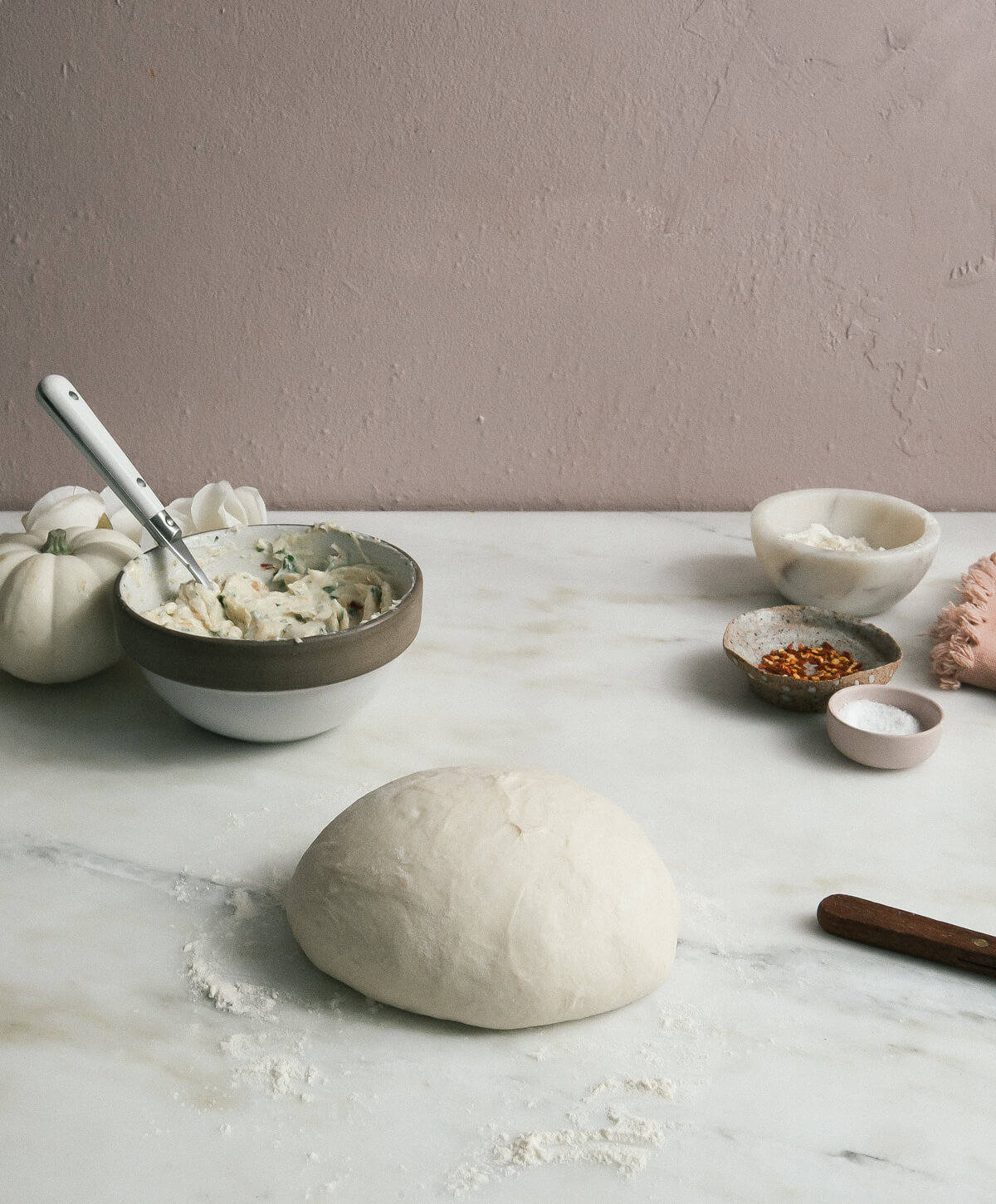 I feel like garlic knots are those things that are still awesome at Olive Garden but why not make a homemade version, especially when we can make it taste better.
This recipe starts with roasting dat garlic.
We're using an entire head of garlic here and it's amazing. I just squeezed it out into of bit of room temperature butter with crushed red peppers, salt and dried oregano.
We're going for classic, Italian-pizzeria type content, ok.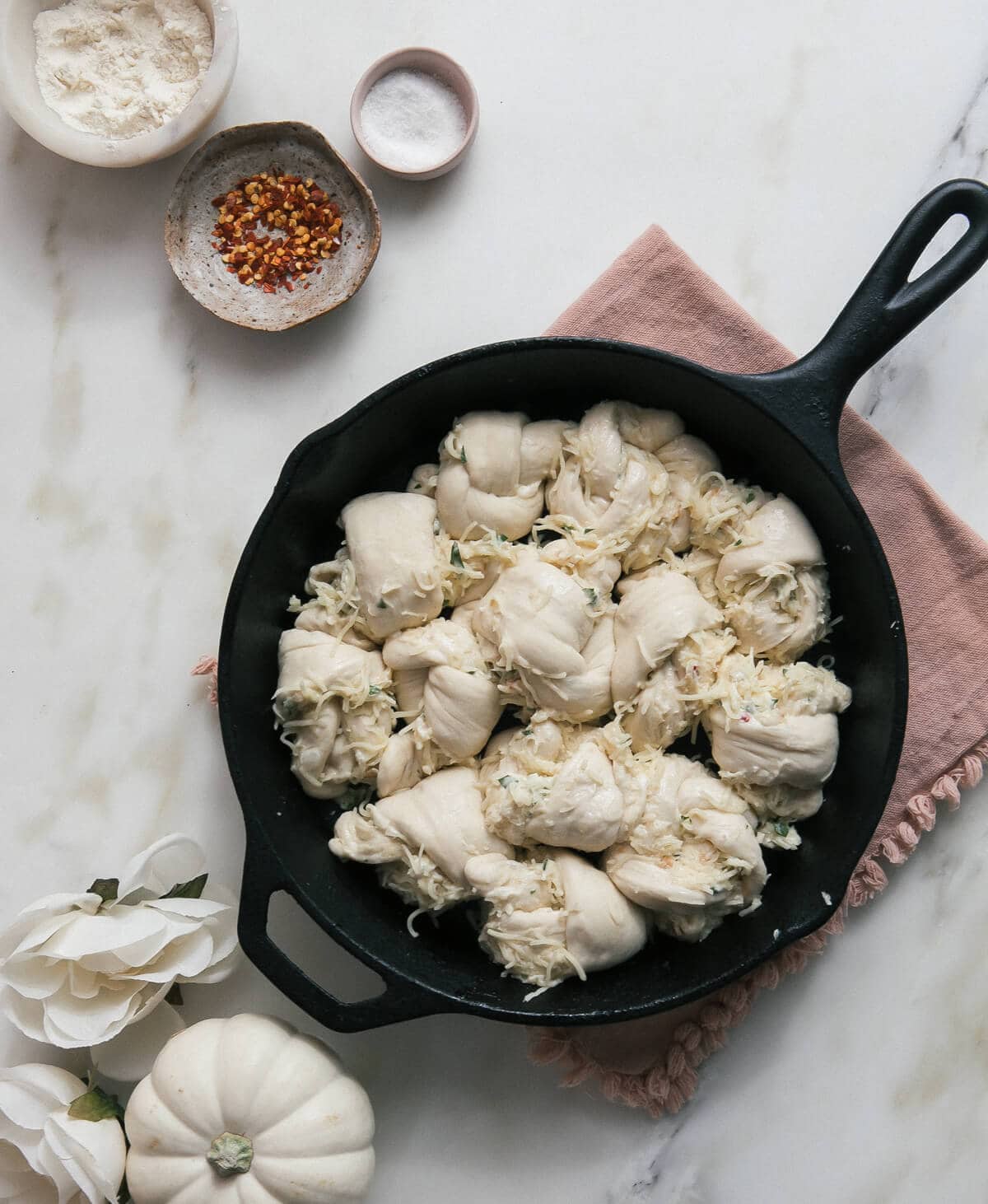 Another big bonus with this recipe is that it uses store-bought pizza dough. Of course, you could make your own but I used store-bought and it saved a ton of time and made me excited to start the assembly process.
I divided the dough into twelve pieces. And rolled them out into strips. THEN I smothered them with the butter/garlic mixture and that's kinda it!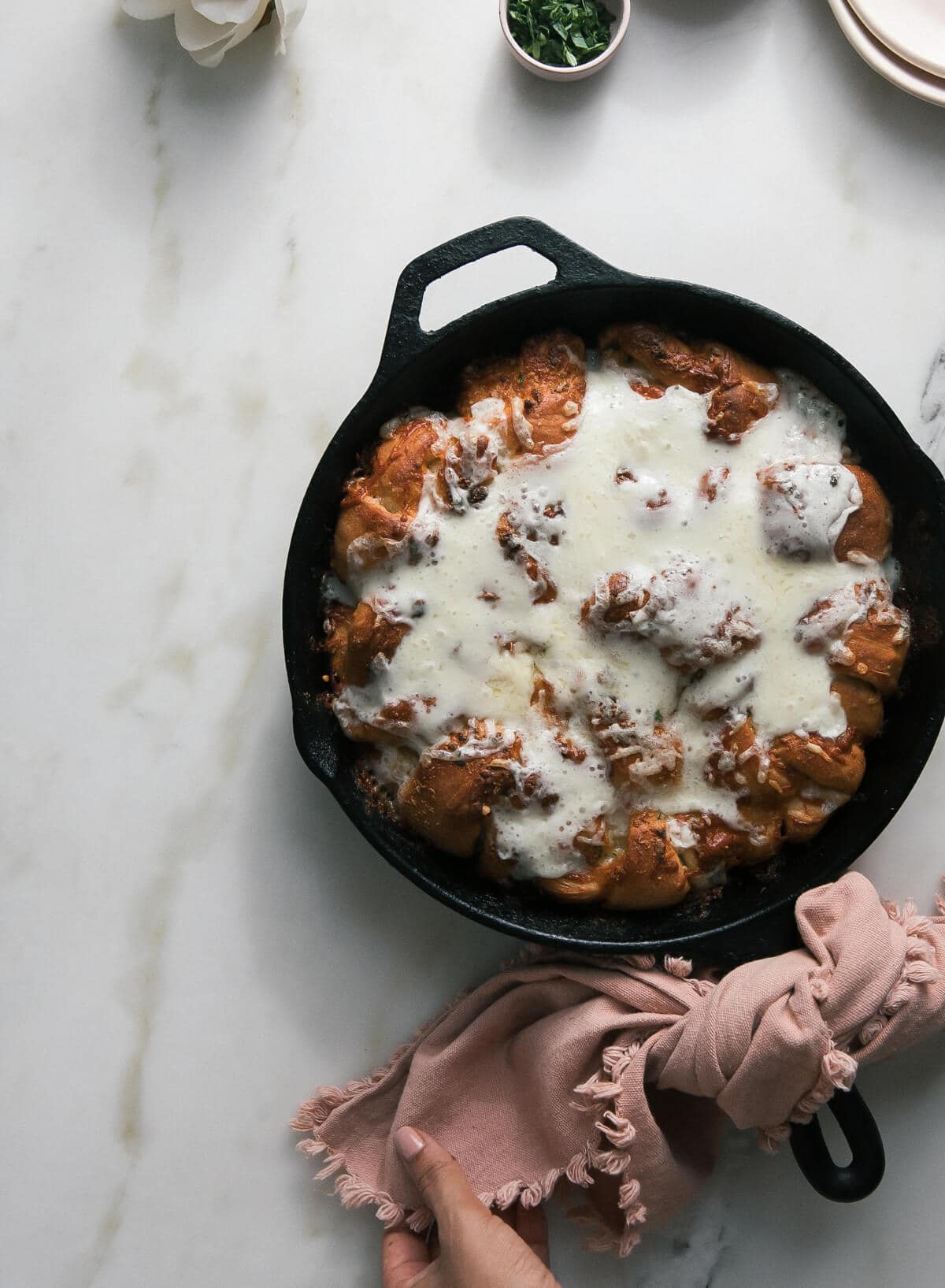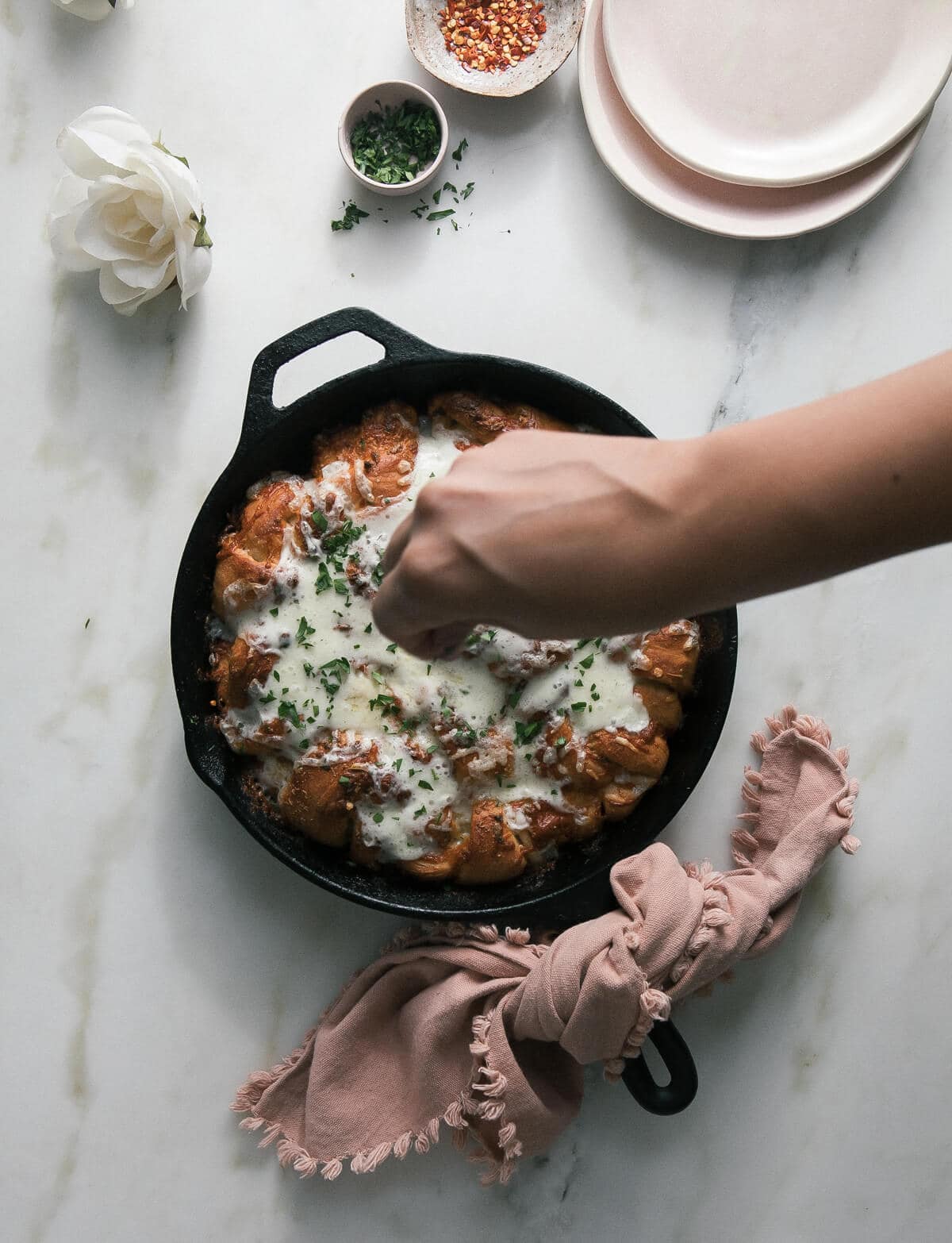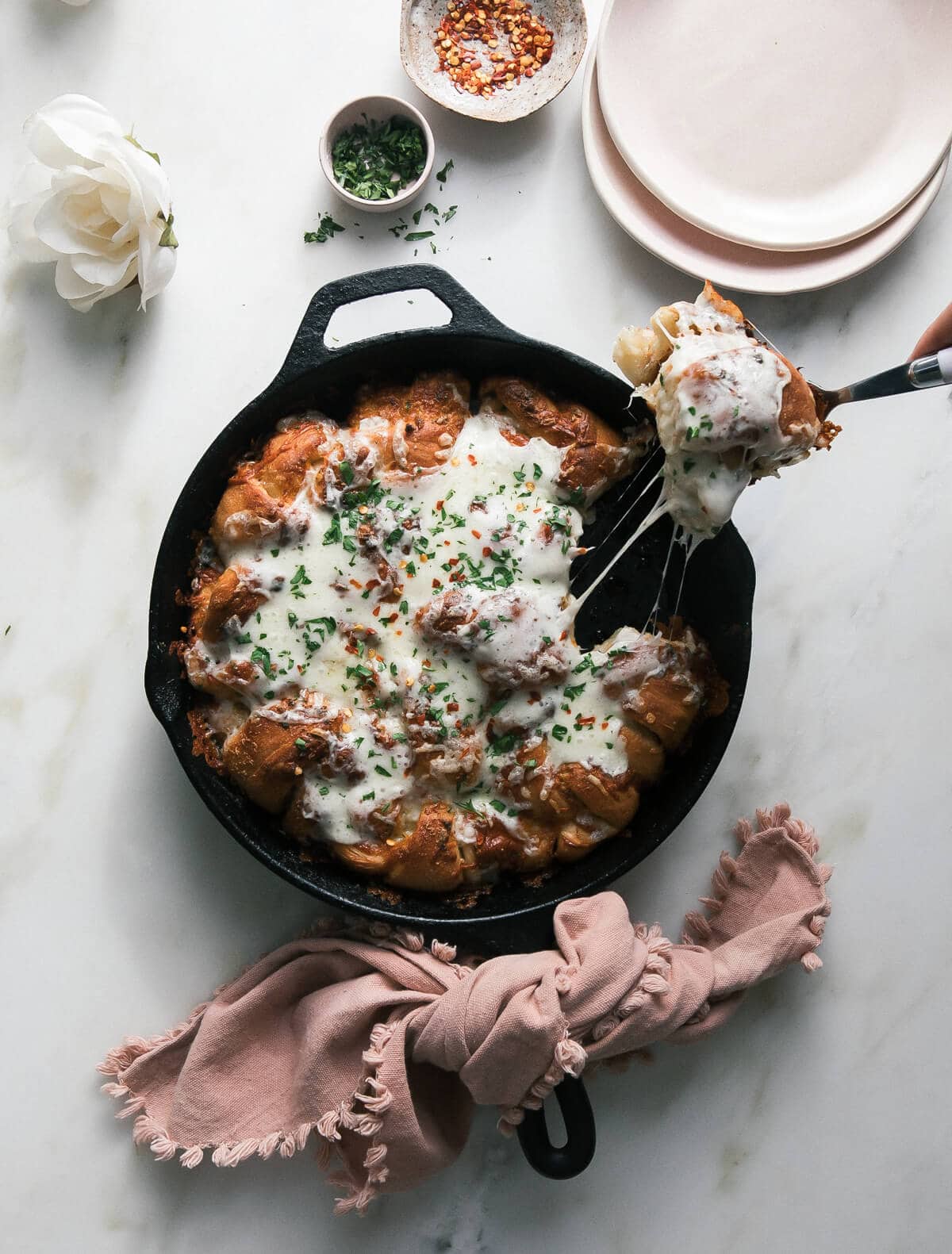 It rises and then bakes. It is glorious and maybe too cheesy…but then maybe it's just heaven.
You decide.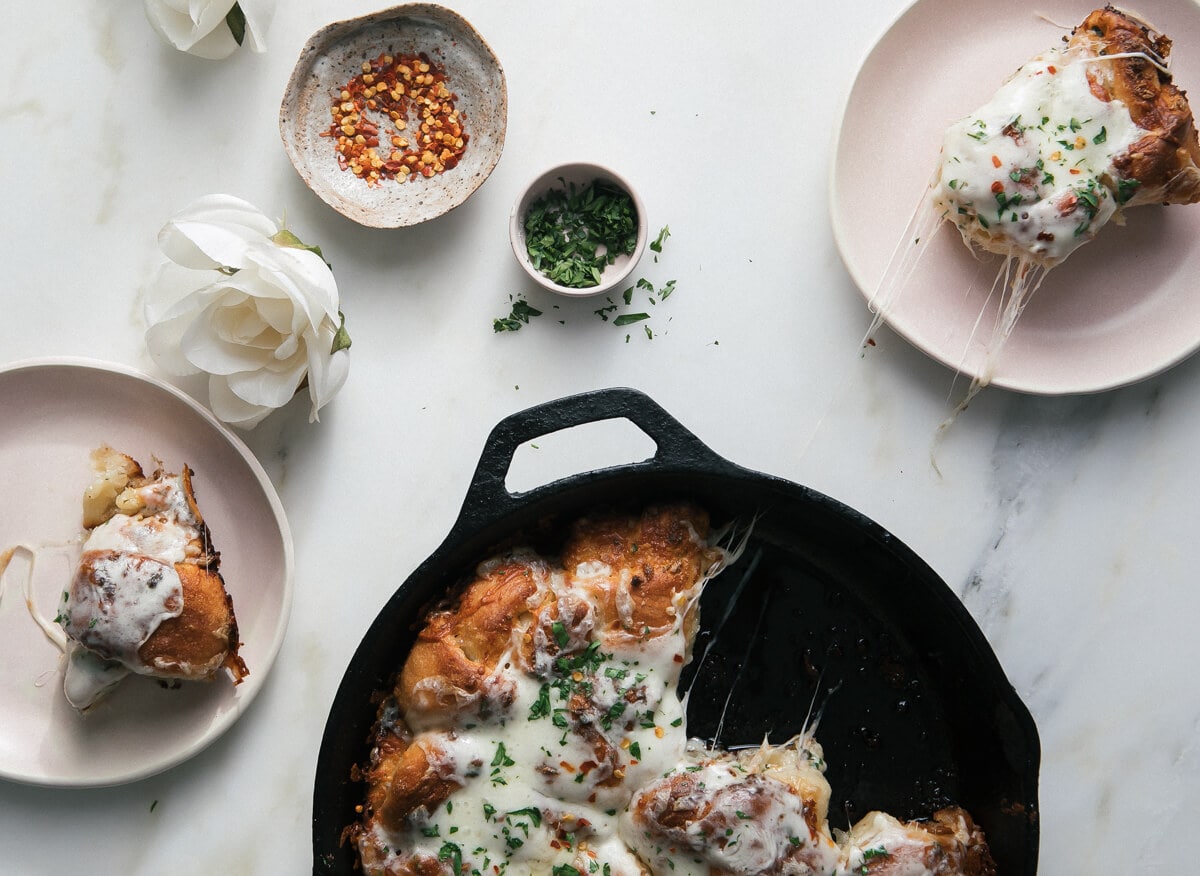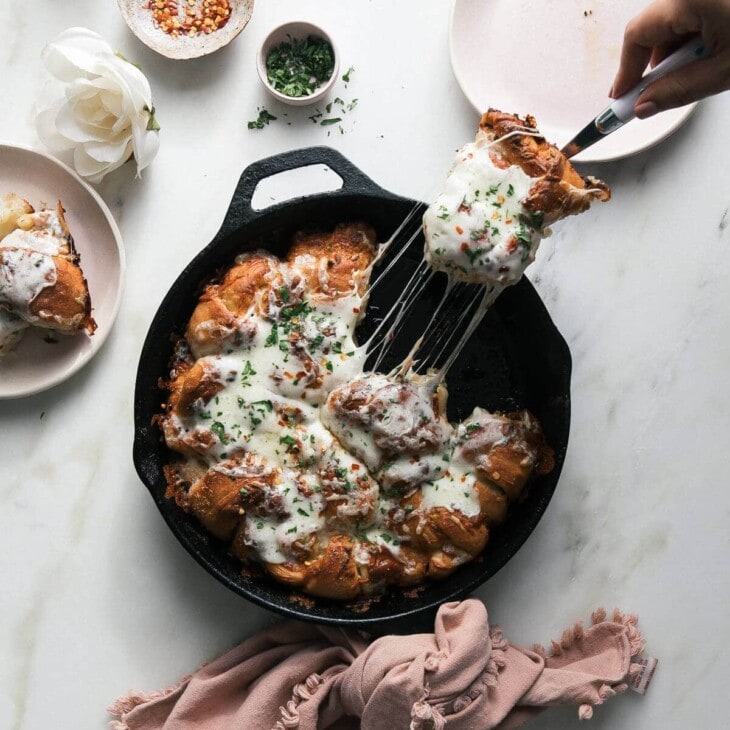 Print Recipe
Maybe-Too-Cheesy Roasted Garlic Knots
Ingredients
1

whole head of garlic

top sliced off

1

pound

of store-bought or homemade pizza dough

1/2

cup

unsalted butter

at room temperature

2

tablespoons

minced Italian parsley

plus more for garnish

2

teaspoon

salt

if you're using salted butter, please leave this out!

1/2

teaspoon

crushed red pepper

plus more for garnish

1/2

teaspoon

dried oregano

1 3/4

cups

of shredded mozzarella

divided
Instructions
Preheat the oven to 350 degrees F. Wrap the head of garlic in a small sheet of foil and place on a baking sheet or in a baking dish. Transfer to the oven to roast for 1 hour. Carefully remove it from the foil. Allow the head of garlic to cool and press the roasted garlic out of the cloves and into a bowl.

To the bowl with the garlic, add the butter, minced Italian parsley, salt, crushed red pepper and oregano. Mix and mash it together until combined. Give it a taste and add a bit more salt if needed.

Lightly flour your work surface and divide the dough into twelve pieces. Listen, this doesn't have to be perfect. We just want the twelve pieces to be sorta the same size so it all bakes evenly.

Roll and stretch each piece until it's about 5 inches long. Spread about a half of teaspoon of the butter mixture onto the piece of dough and sprinkle it with a bit of mozzarella, pressing it into the butter. Tie the strip of dough into a knot and transfer it to the cast iron skillet. Repeat until you've worked your way through all of the strips of dough.

Brush the top with a bit of the remaining butter (if any) and cover the knots with a clean kitchen towel. Allow it to rise until it's doubled in size, about 30 minutes.

Preheat the oven to 375 degrees F. Uncover the cast iron skillet and transfer to the oven to bake for 20 minutes. At the 20-minute mark, sprinkle the top with the remaining 1 cup of mozzarella and bake for an additional 5 to 10 minutes, or until the tops of the knots are golden brown. Top with more Italian parsley and crushed red pepper (if you like it spicy!).
Notes
Tip #1: If you don't have time to roast garlic, it's ok. Just add half of the garlic (about 6 cloves) of minced garlic to the butter mixture. Raw garlic is more intense than roasted garlic so that's why I recommend half of the amount.
Tip #2: I use a cast iron for this recipe but a baking dish that's about 9-inches round or rectangular will work just fine too.