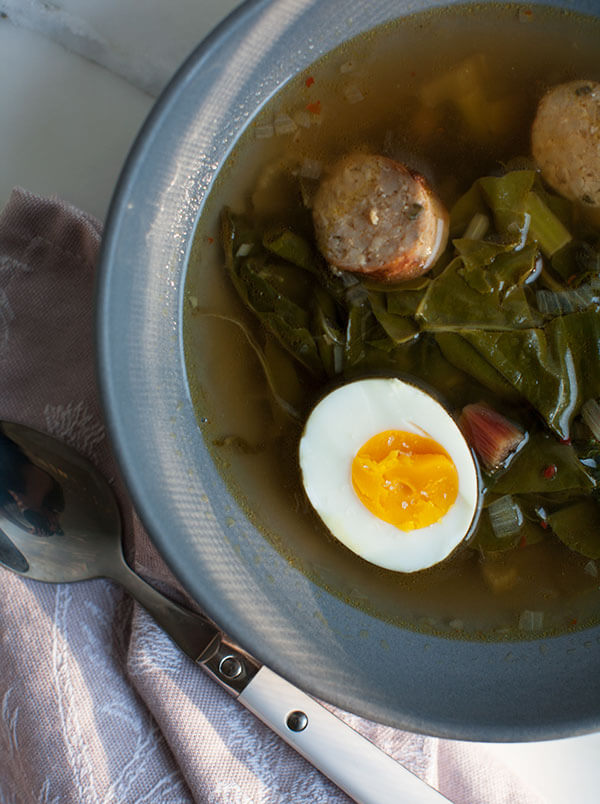 December is for cookies and pies and appetizers, specifically meatballs. I love meatballs.
January is for recovery. Honestly, I always feel a little silly and cliche posting healthy recipes at the beginning of the year, but right now I'm actually craving vegetables and broth and nourishing foods. December wrecked my body. I ate and drank a lot and thoroughly enjoyed it (no regrets!), but this state of recover is really necessary.
Enter: this potlikker (pot liquor?) soup.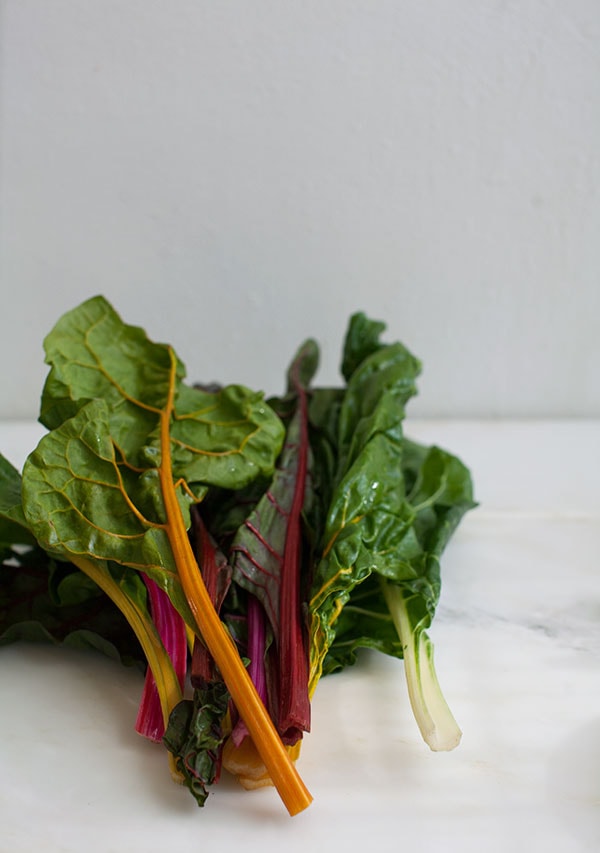 I first learned about potlikker while watching PBS's A Chef's Life with Vivian Howard. Have you seen it? Oh man, she's my new obsession. Every show ends and I'm so inspired to make the stuff she's making. She's fun to watch, too. Vivan strikes this perfect balance of being knowledgeable, relatable, and vulnerable. And all her ideas are really smart and interesting…even if she doesn't think they are at first.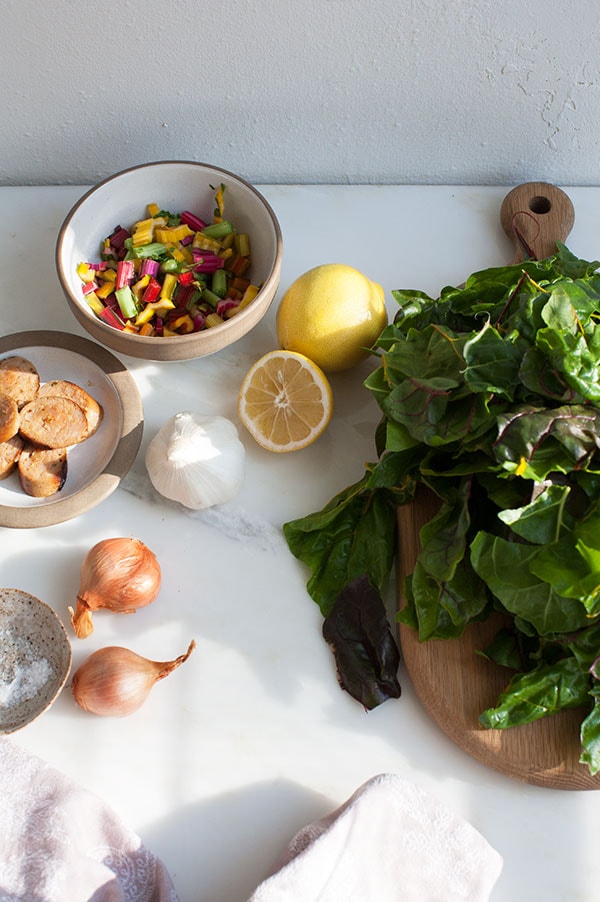 While I wrapped presents in January, I plowed through the first and second seasons. Her latest episode, which aired last week, was all about turnip greens and using them for potlikker.
I took the potlikker idea, using chard and kale, and turned it into a soup by adding more water and throwing in sliced chicken sausage (healthish?) and a boiled egg.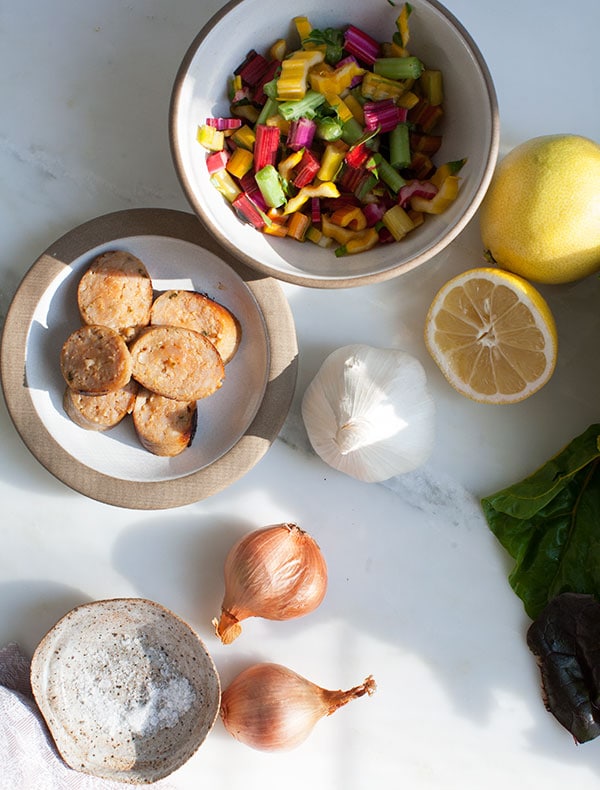 Potlikker is basically boiled down greens. The broth leftover is called potlikker. This potlikker broth has tons of vitamins and flavor–it basically tastes like good health.
You can use a variety of greens for this recipe, but since I used kale and chard, I removed the leaves and chopped up the stems. I figured the stems needed to cook for longer so I started the recipe with sautéing them, along with diced shallot. Lots of shallot!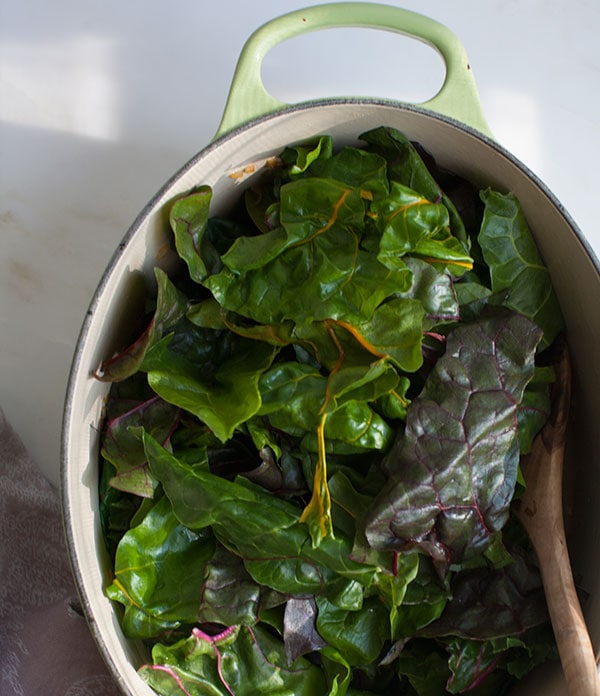 Then the leaves were added, along with water. And that's sort of it! It couldn't be simpler.
Crushed red pepper flakes, garlic and onion really give this a ton of flavor. It's light and nourishing-tasting and really really healthy.
If you want to keep it vegetarian, by all means leave out the chicken sausage. Either way it's a good way to start off the year.
Happy New Year, guys. It's gonna be a good one.
xo
Adrianna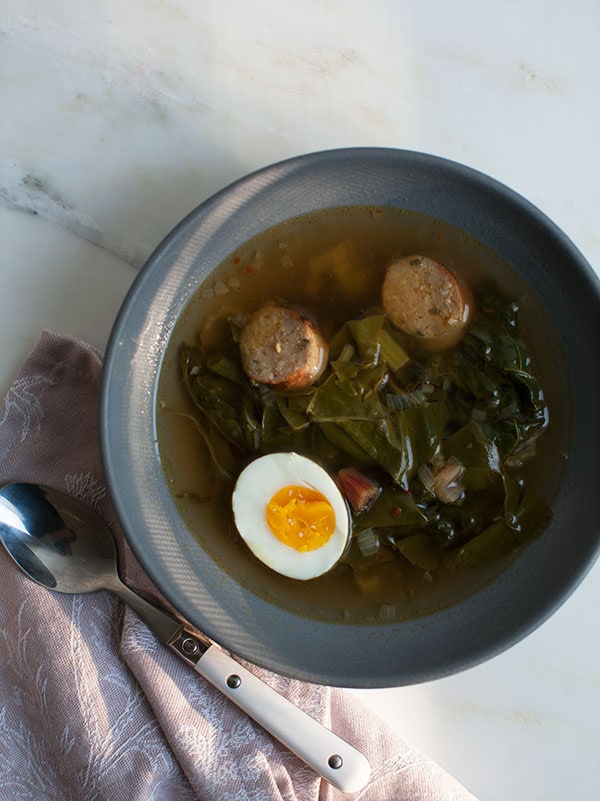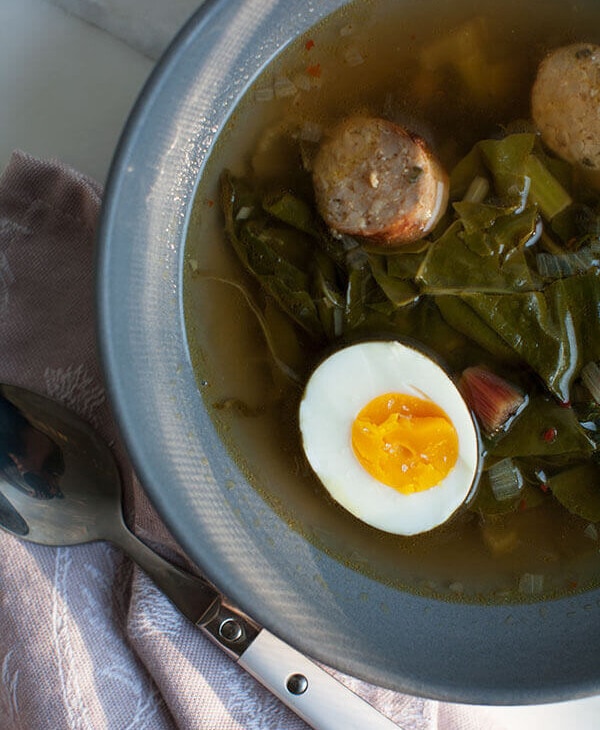 Print Recipe
Kale and Chard Potlikker Soup
Ingredients
2

big leaves red kale

1

bunch of swiss chard

Olive oil

2

shallots

peeled and minced

1

garlic clove

peeled and minced

Salt

1/2

teaspoon

crushed red pepper flakes

Water

Juice from 1/2 lemon

1

chicken sausage link

sliced (optional)

1

egg

boiled and halved (optional)
Instructions
To prep the kale and swiss chard, tear the leaves from the stems. We're going to sauté the stems first: they hold a ton of flavor and tend to be more fibrous so they need a bit of extra care and love. Cut the stems into a small dice and set aside. Loosely chop up the kale and swiss chard leaves and also set aside.

In a dutch oven or large pot, heat about three tablespoons of olive oil over medium heat. When the oil hot and visibly glistens, add the shallot and reserved kale and swiss chard stems. Sprinkle the stems with a teaspoon of salt and red pepper flakes and mix. Saute for about 8 to 10 minutes, until they've become softened. If needed, add a bit more oil and turn the heat down to medium-low. Give them a stir every so often.

Add kale and swiss chard leaves along with 6 cups of filtered water. Add an additional teaspoon of salt; cover the pot and cook for 30 minutes, until the leaves are wilted and soft. Give it a taste and stir in more salt to taste (I added about 1 teaspoon). Cook for an additional 10 minutes. Stir in lemon juice.

While the pot likker is cooking, sauté the sausage and slice (if using). Stir in the sausage and divide the soup between bowls. If adding an egg, place an egg into each bowl. Serve immediately. Soup will keep in an airtight container in the fridge for 4-5 days. Bonus: This soup heats up really well. It's a good one to make at the beginning of the week and eat throughout.
Notes
*To boil an egg, here's how I do it: Fill a small saucepan with about 3 inches of cold water. Add the egg (shell on, of course) and place the saucepan over high heat. When the water comes to a boil, immediately turn off the heat, cover and pan and allow the egg to sit for 8 to 10 minutes (8 min for a runny yolk; 9 min for a soft yolk; 10 min for a firm yolk). At the 8-10 minutes mark, remove the egg, run it under lukewarm water and crack and peel.