Grilled Watermelon Mint Julep
22
Jul 12, 2013, Updated Dec 22, 2018
Disclosure: This post may contain affiliate links, which means I may earn a commission if you click on the link and make a purchase.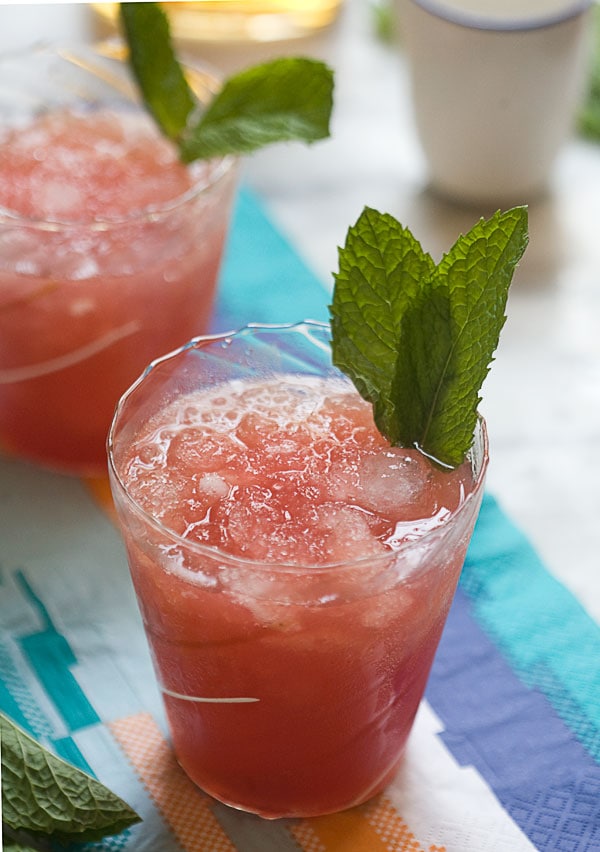 My favorite and least favorite thing about owning a dog is how she wakes me up EARLY every. single. morning. I hate it because she whines and complains until I get up and take her for a walk; I love it because I don't have to set an alarm clock and can depend on her to whine and complain to get me out of bed. So basically I love her method during the weekday and hate it on the weekends. No matter what day it is, I love our early morning walks, except for this past week when they've gotten SCARY. Yes, scary.
Last weekend we were walking, minding our own business when Amelia spotted a cat in the bushes. Amelia loves cats, wants to be their friends – just like I do, actually – but they're never interested in friendship. This particular thugged-out cat was pissed that Amelia was interested. So, I did what I always do and tugged on her leash and was like, "C'mon Amelia, that cat doesn't like you." And she usually tries again and then gives up.
So as Amelia was still staring at the cat, it surprisingly leaped out at us and screeched. Amelia let out this yelp that I've never, EVER heard before and then of course since I'm scared of things like ants and teeny-tiny spiders, it startles me and we take off down the street, running like two crazy mad things. I stopped running when it dawned on me that I was running from a thing that I'm totally bigger than. It was absurd. But then I look behind me to see the cat running after us. So we do what anyone would do: we ran again.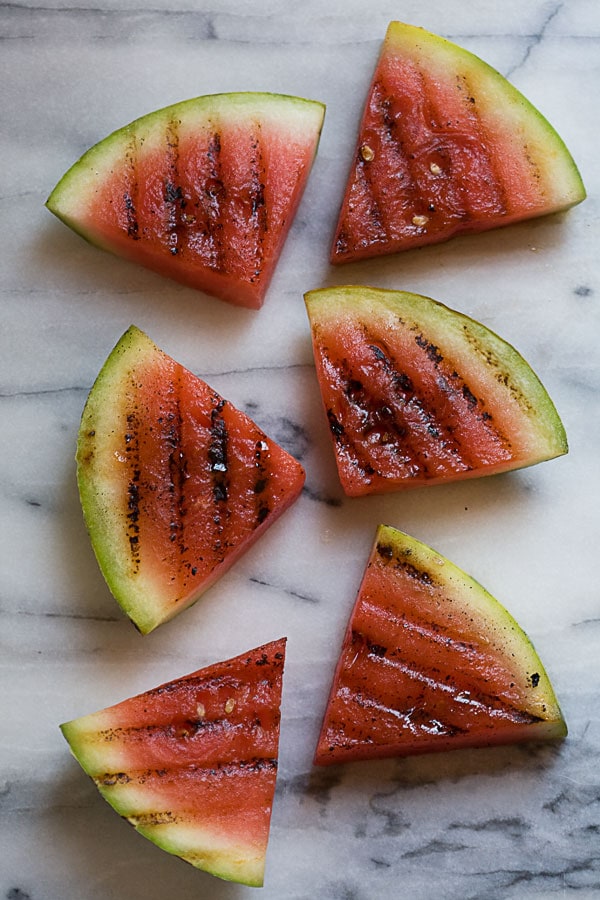 I'm just glad it was early and no one was awake because it was embarrassing.
Yesterday morning, we were our walk and we turn the corner and are face to face with a coyote. It was eating its breakfast (for a split second I hoped it was that mean cat). Amelia's tail starting wagging because she saw it as a dog and wanted to make friends. I yank on Amelia and start walking VERY fast in the opposite direction. (I was scared the coyote would chase us if we ran.)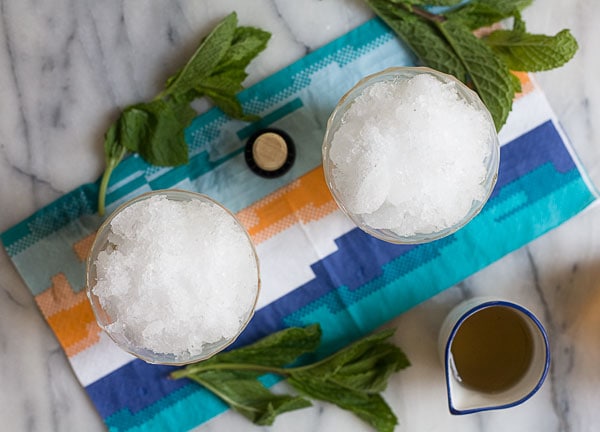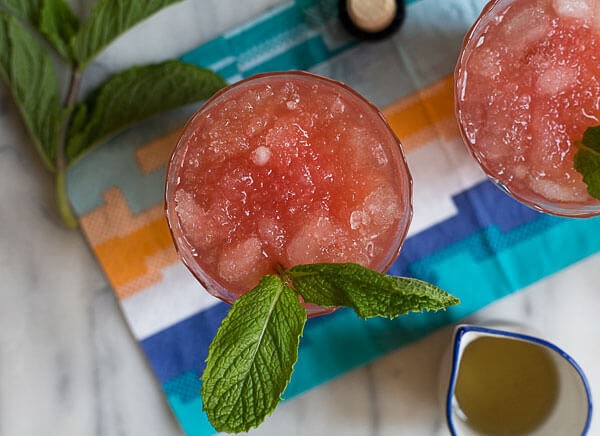 It's been a rough week for us, man. After our morning walk full of predators, I was happy to see this Grilled Watermelon Mint Julep on my to-do list. Having a confrontation with coyotes merits a drink, me thinks.
Grilling fruit is my recent obsession. I've been grilled all sorts of fruit and putting them in salads and grilled cheeses.
Grilling watermelon and putting it in a cocktail adds a nice lil' smokey flavor that I LOVE. Just love. I recently tried to give liquid smoke a fair chance and omg is it disgusting–it tastes WAY too much like smoke and not natural at all. This cocktail isn't too smokey. If anything it's just a hint, the perfect amount of "hint," in my opinion.
On Monday I'm headed to Palm Springs for a little two-day getaway. I'm mostly excited to see Amelia swim again. Her short, stubby lil' legs do her right!
Have a good weekend. Get ur drink on!
xo
Adrianna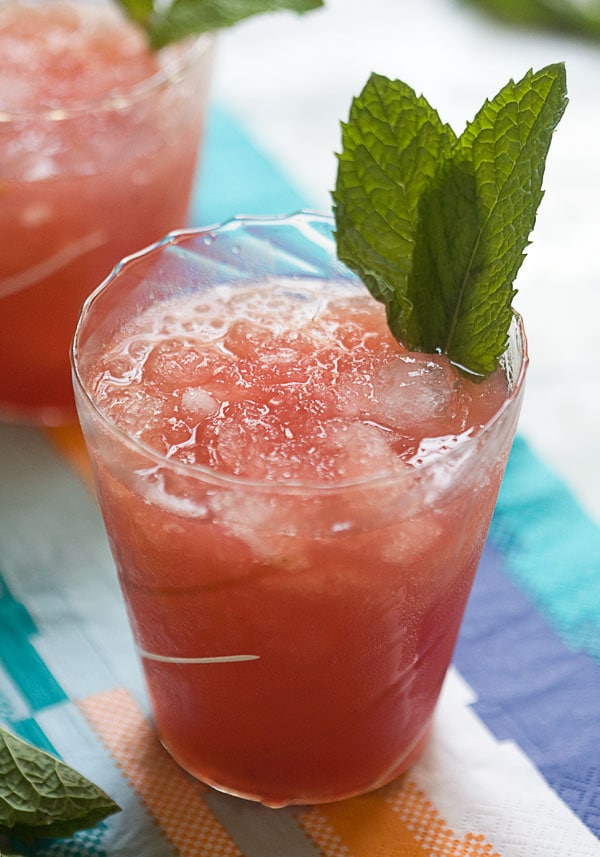 Grilled Watermelon Mint Julep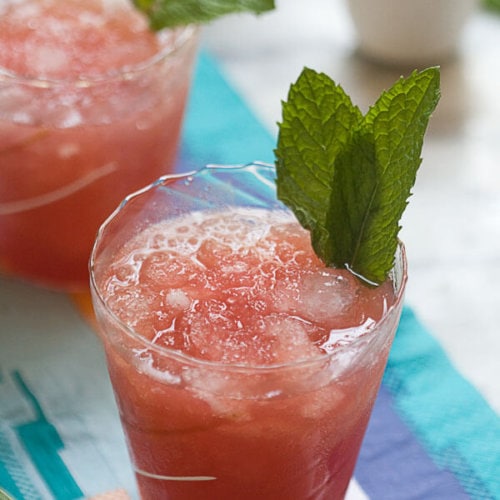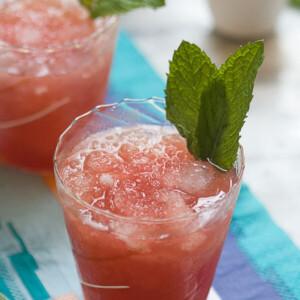 Ingredients
Handful mint

,

about 2 ounces, plus more for garnish

1/2

cup

white granulated sugar

1/2

cup

filtered water

1/2

pound

seedless watermelon

,

cut into wedges

Crushed ice

6

fluid ounces

bourbon
Instructions
In a small saucepan, combine the mint, sugar and water. Heat over medium low heat until the mixture reaches a slight simmer. Turn the heat off and allow the mixture to steep for 1 hour. Strain, discarding the mint leaves, and transfer to a small bowl. Set aside.

Over a hot charcoal grill (or alternatively you could use a griddle - this one is my favorite), grill the wedges of watermelon for about 1 minute per side. You'll know they're done when they reach a dark red color and have visible grill marks. Transfer them to a plate and allow to cool slightly. When cool enough to handle, chop up the watermelon into cubes, discarding the rind. Transfer the watermelon to the jar of a food processor or blender and pulse until pureed, about 10 seconds. Run the watermelon puree through a strainer and discard the pulp.

Pack your cocktail glasses with crushed ice. Divide the bourbon between the glasses. Next, add a tablespoon or two the mint simple syrup and then top with the watermelon puree. Garnish with mint leaves.
Recipe inspired by these popsicles