How To Make Italian Sodas
65
Apr 23, 2014, Updated Jan 03, 2020
Disclosure: This post may contain affiliate links, which means I may earn a commission if you click on the link and make a purchase.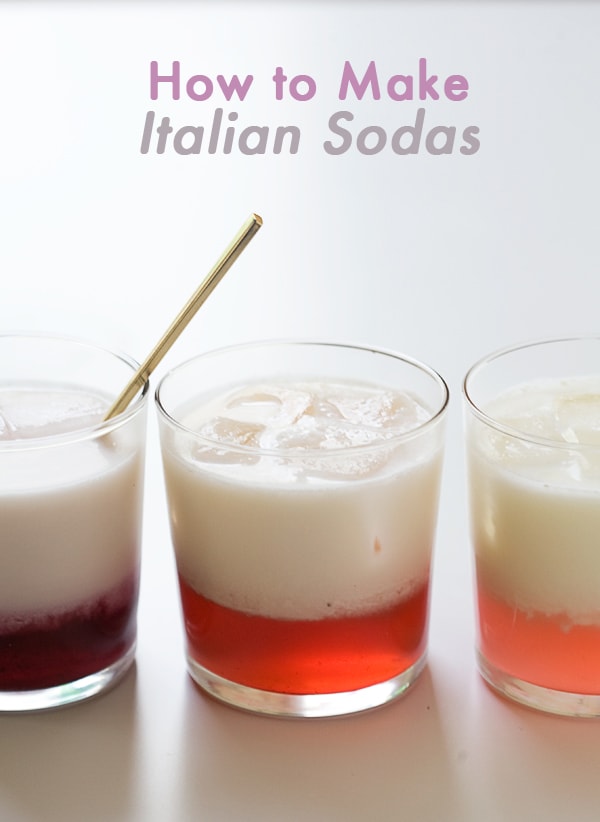 Let's talk about how to make Italian sodas. They are delicious fizzy and fruity, and best of all, creamy. They are the perfect refreshing drink.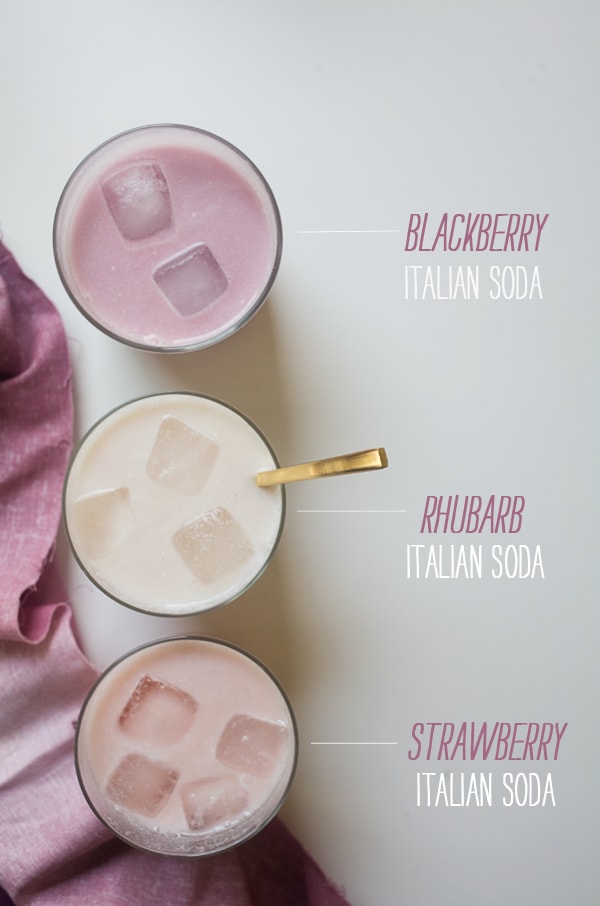 I'm so very excited about these Italian sodas. They're maybe the prettiest thing I've made in quite some time, and my favorite part about this recipe is that it's an idea-based recipe. You can apply the ratios below to any fruit and be met with delicious results. And seriously how gorgeous are the colors? I LOVE THEM!
If you've never had an Italian soda, they're so rich and refreshing all at the same time. You may have had one using Torani syrup–they're unfortunately super sweet filled with a bunch of additives that aren't fun. These are way more natural. I decided on three flavors: rhubarb, blackberry and strawberry, but feel free to use up any fruit that cooks down well. Other fruit ideas are pineapple, blueberries, mulberries (they just came in season!) and even mangos. If you like, you can add a scoop of ice cream instead of half and half.
How is Italian Soda Different?
Italian sodas are unique because they consist of three parts: flavored fruity syrups, club soda or sparkling water and half and half.
Most typical American sodas are just syrup and sparkling water or club soda.
Crushed ice takes these to over the top. That's probably the one big change I would make with the recipe pictured. Go with crushed ice, if you can!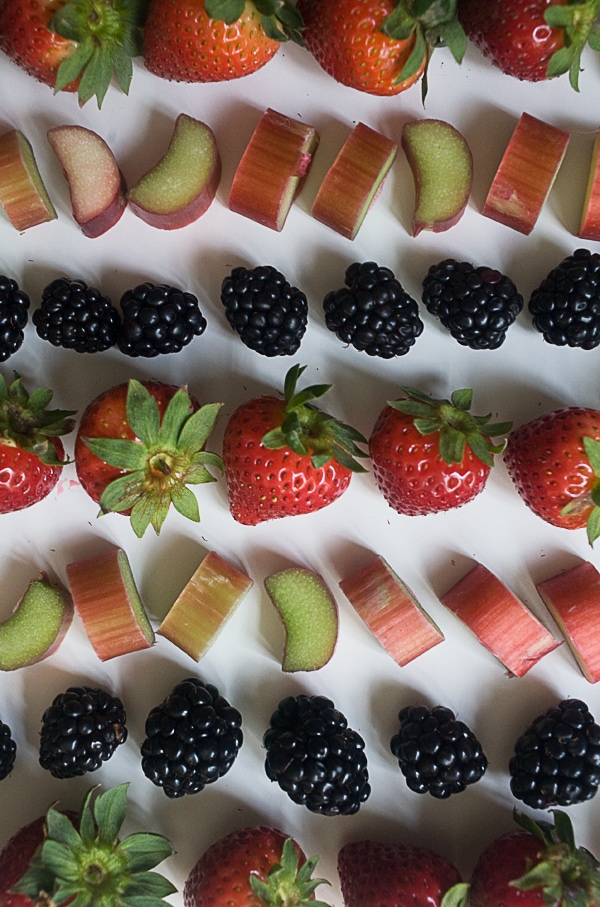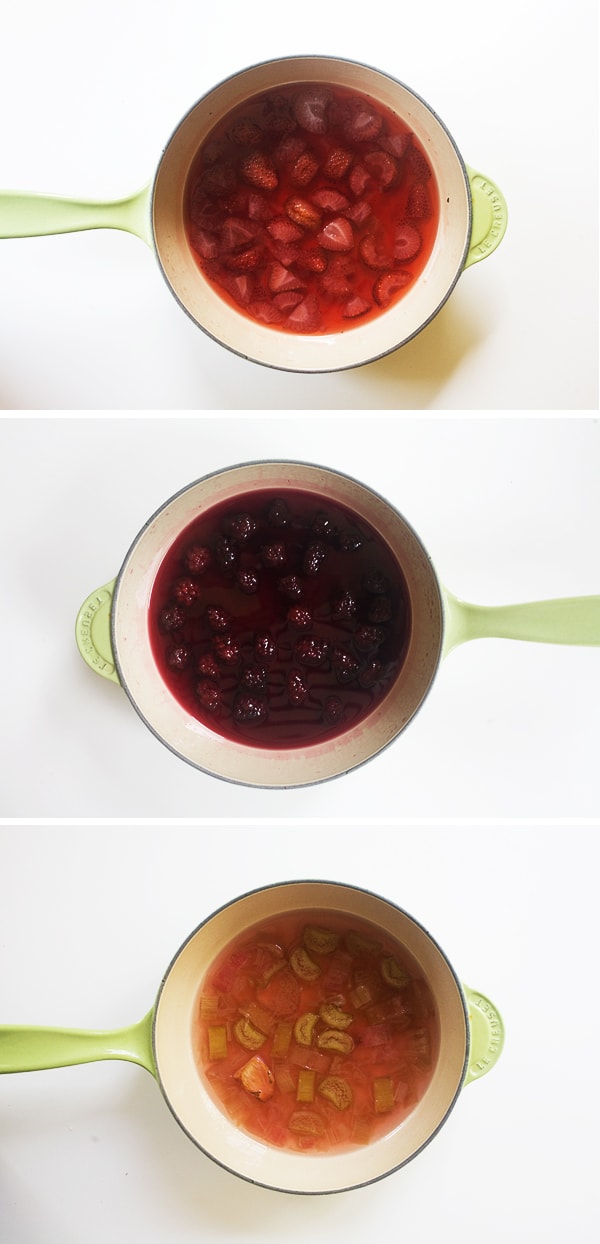 What are the Best Italian Soda Flavors?
The best Italian soda flavors are fruit flavored sodas. I prefer the ones pictured here: rhubarb, blackberry and raspberry.
I love the idea of serving this at a party and making an Italian Soda Bar, allowing people to sort of assemble them as they see fit.
And the inevitable question that I asked myself, and you'll probably ask, too, is: HOW CAN I INCORPORATE ALCOHOL IN THIS?
Easy: vodka. Or whiskey. I mean, have you ever had a White Russian? My mom would order them when I was a kid and I always thought they looked so good.
They might be the most 80s drink ever invented, but who cares—this would be the modern 2014 version.
Is there Caffeine in Italian Soda?
There could be caffeine in Italian sodas if you wanted to add a coffee syrup, but in these fruit-flavored Italian sodas there is zero caffeine. While these Italian sodas are caffeine-free they are definitely not sugar-free. The syrups need the granulated sugar in order to give it a lovely viscosity.
What Equipment Do You Need to Make an Italian Soda?
The best part about Italian sodas is that they're so simple to make. With this recipe, all you need is a saucepan, a sieve or strainer and a spoon. Super simple.
Hope you enjoyed this recipe for How to Make Italian Sodas. If you make them, let me know on Instagram!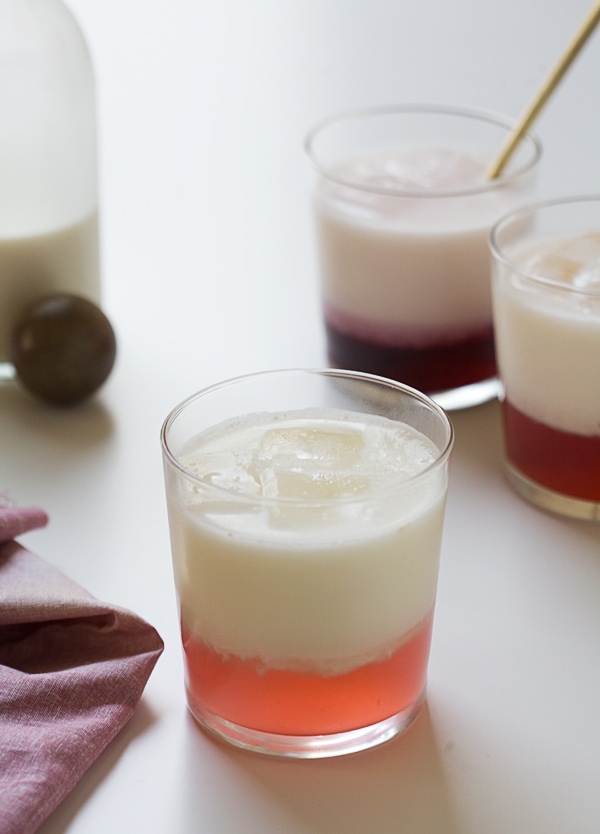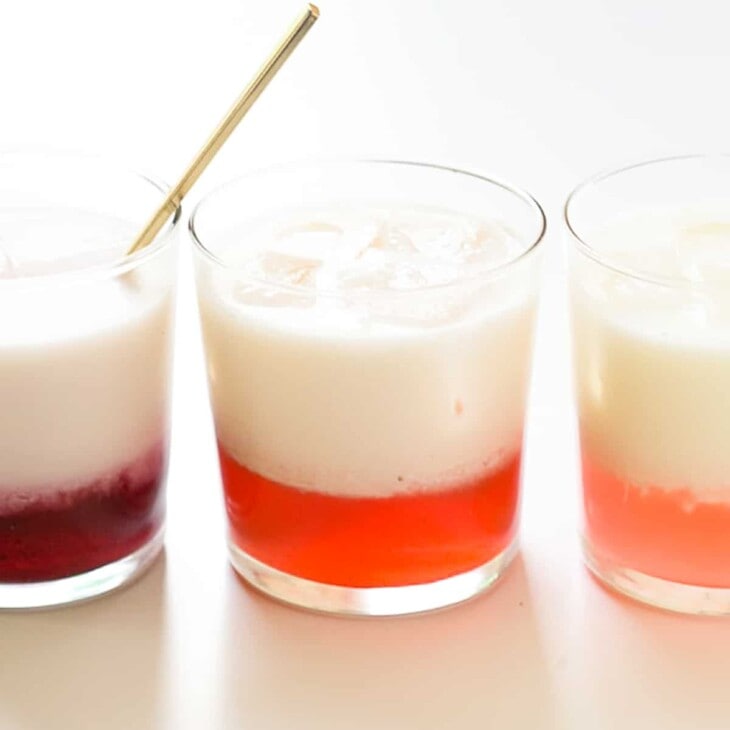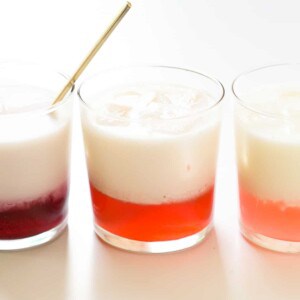 This Italian Soda Recipe is made from fizzy water and natural homemade fruity syrups. Next, a bit of cream is added for a rich delicious addition.
Ingredients
Rhubarb Syrup:
1

stalk of rhubarb

,

chopped

1

cup

water

1

cup

granulated sugar
Blackberry Syrup:
1

cup

fresh or frozen blackberries

1

cup

water

1

cup

granulated sugar
Strawberry Syrup:
1

cup

diced strawberries

,

about 10 strawberries (fresh or frozen)

1

cup

water

1

cup

granulated sugar
Italian Soda Assembly:
Half & Half

,

or you can mix together 1 parts heavy cream and 1 parts milk

Sparkling water
Instructions
To Make the Syrups:

To make any of the syrups, add the fruit, water and sugar to a small saucepan. Place the saucepan over moderately medium heat and bring to a light simmer; cover the saucepan and cook for 10 minutes or so. The syrup is ready when the fruit has softened and the color of the syrup has changed. Mash the fruit with the back of a fork and pour the syrup through a sieve. Set the syrup aside and allow it to cool to room temperature.
To Assemble the Italian Sodas:
To assemble the drink, pour 1/4 cup of syrup in a glass, pour 1/4 cup half & half and top with a few splashes of sparkling water. Repeat with remaining Italian sodas.
Notes
Tips:
1. Use filtered water or bottled water for the syrups. I made a batch with unfiltered and oof, I could taste the terribleness.
2. This will absolutely work with frozen fruit, too!
3. If you live out of the U.S./Canada, you might have no idea what half & half is. You can make half & half by mixing together 1 cup heavy cream and 1 cup milk.
Milk Alternatives:
Almond milk tastes great, if you're looking for a dairy alternative! Other milk alternatives that would work is light coconut milk, oat milk or soy milk.
Equipment: 
Saucepan | SodaStream | Silicon Spatulas 
Nutrition
Calories:
210
kcal
|
Carbohydrates:
75
g
|
Sodium:
5
mg
|
Sugar:
75
g
Nutrition information is automatically calculated, so should only be used as an approximation.