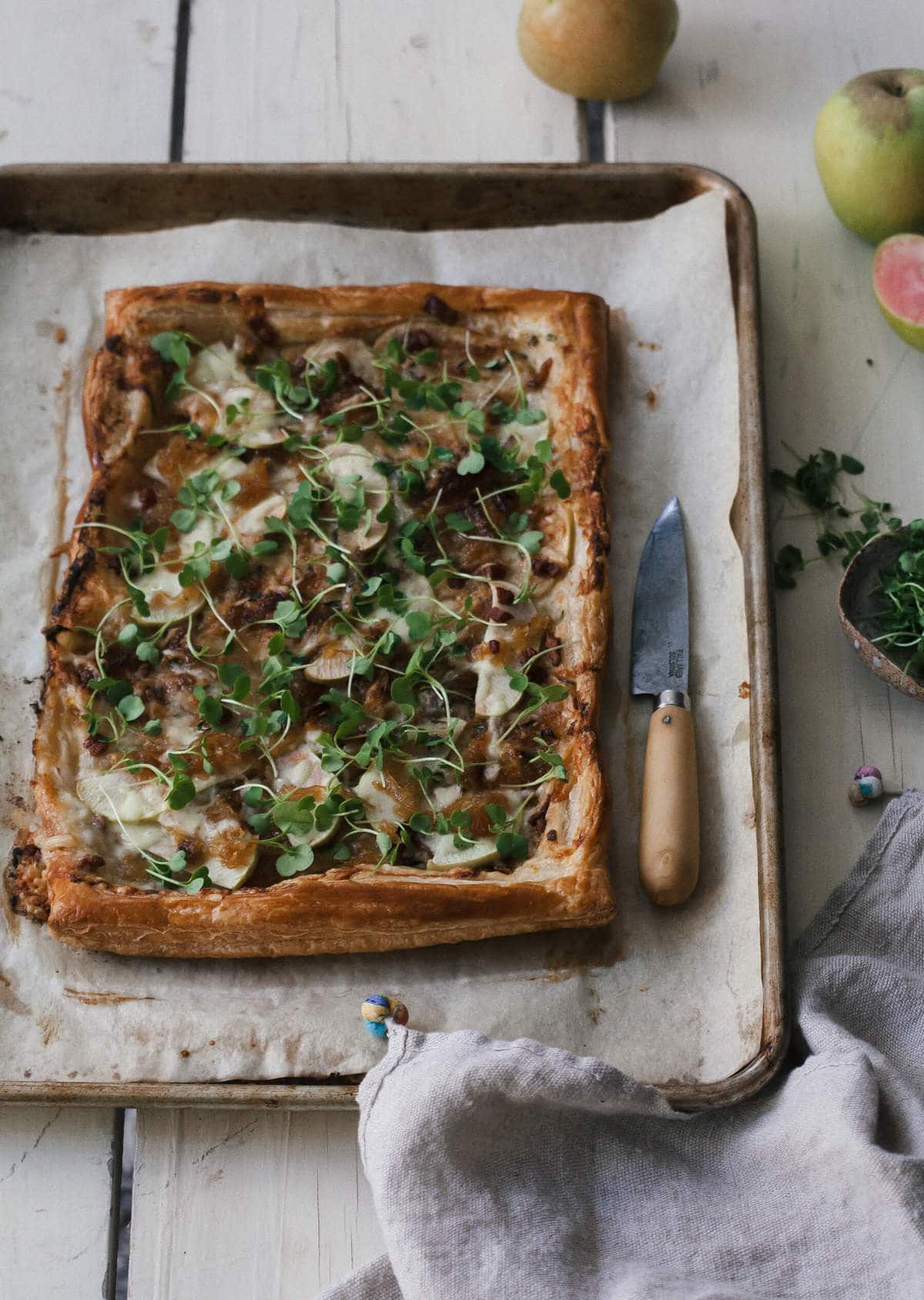 My former professor from college texted me out of the blue yesterday, saying she saw The Year of Cozy at Anthropologie and she was V proud. (EEE!!!)
It made me think back when I had just graduated from college…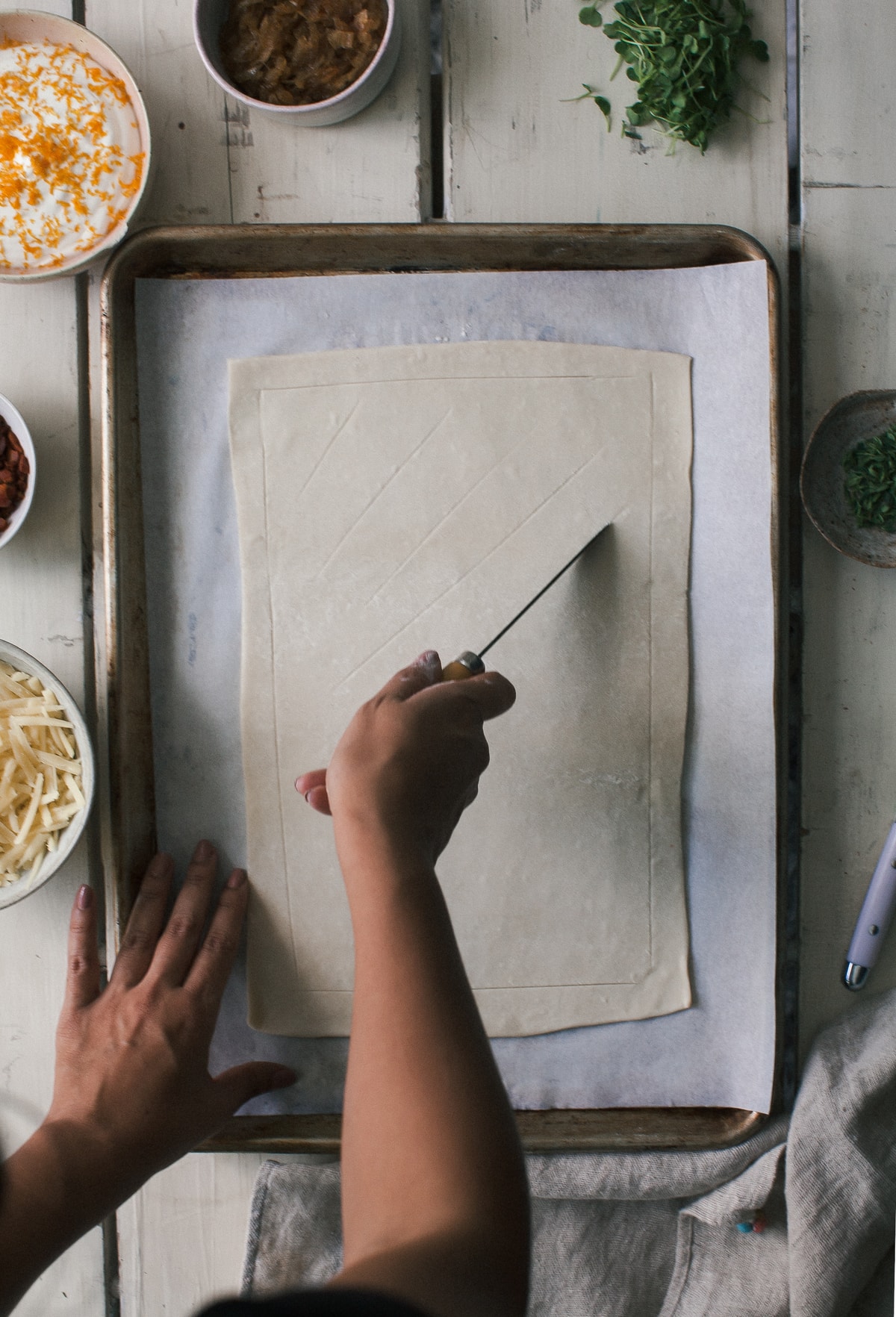 …during my senior year I waited tables at a brewery and saved up like $5,000 so I could pack all my shit in my car and drive across country and move to LA. I felt sort of rich but at the same time knew that in LA-terms, 5k was, like, nothing. That would get me into my apt and maybe hold me over for a few months and that was it.
When I got to LA, my former professor actually gave me my first job and kept me working for a long time. I was super grateful for her because I don't even know how I would've survived without those first few jobs.
For the first few years, my existence was also credited to a lot of frozen stuff from Trader Joe's. They have this pizza/tart thingy—not sure if you're aware—that has like ham, caramelized onions, gruyere and IT IS SO GOOD.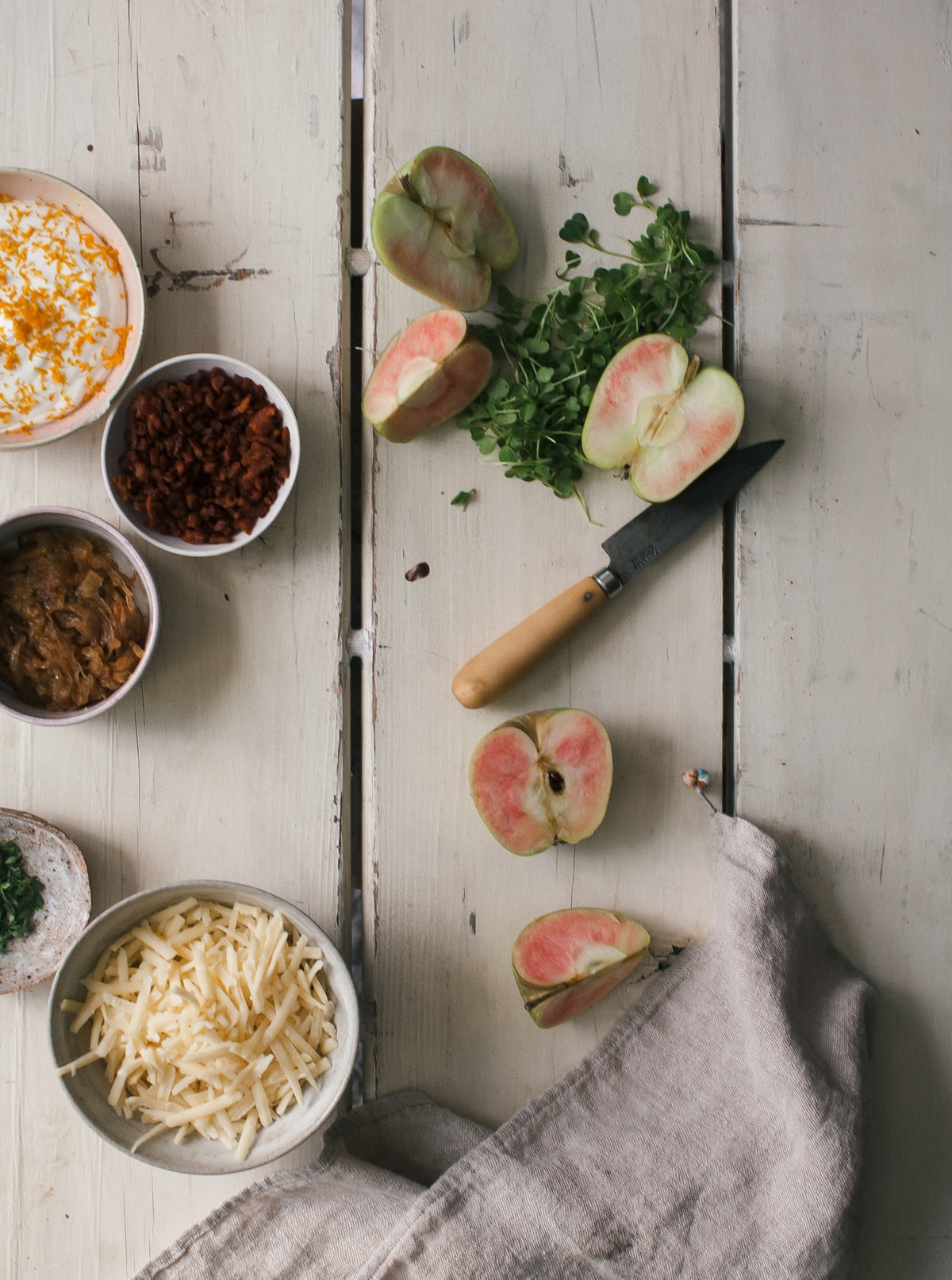 I think it runs like $4.50 and that was dinner.
This is definitely inspired by that tart/pizza thing from TJ's.
It's a bit different though. It starts with creme fraiche with a bit of orange zest mixed into it. This goes on the base.
Then! Fancy ass apples that Josh was nice enough to get for me from Santa Monica Farmer's Market. They're pink inside and make my eyeballs turn into hearts.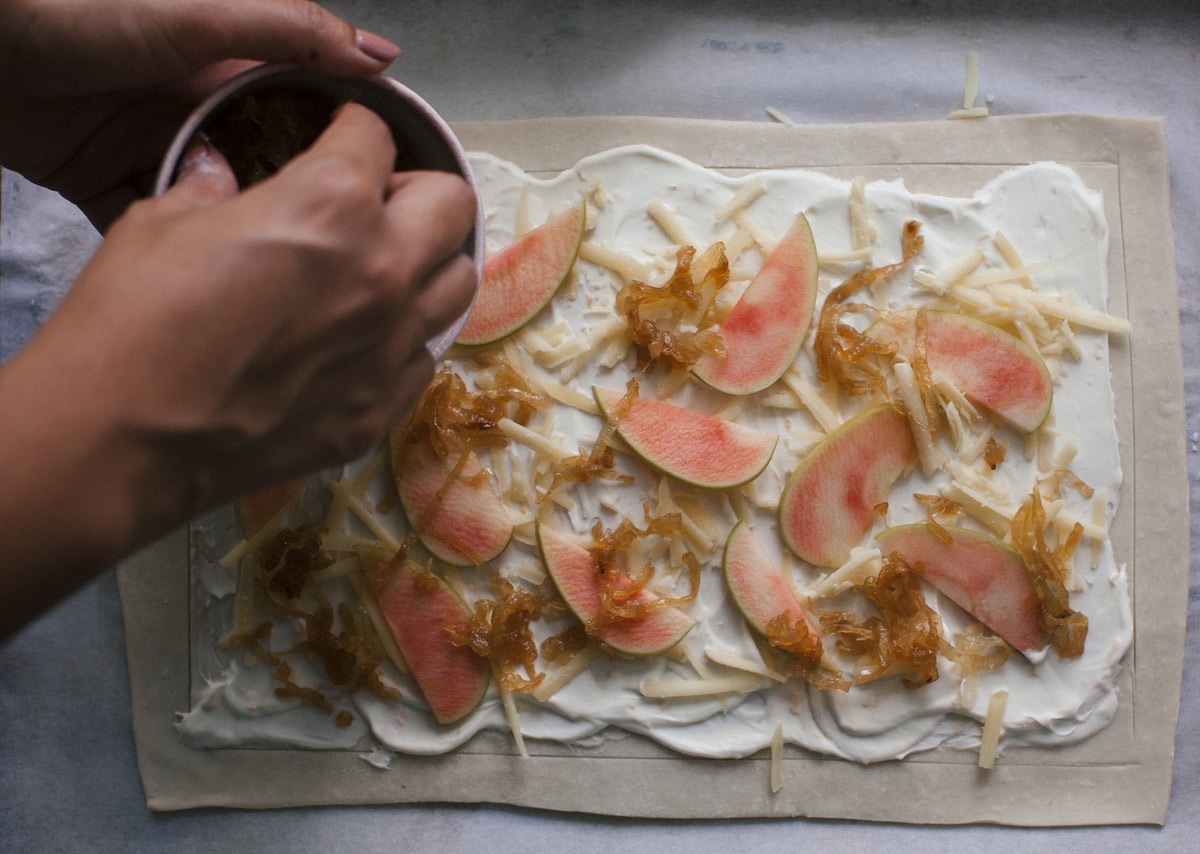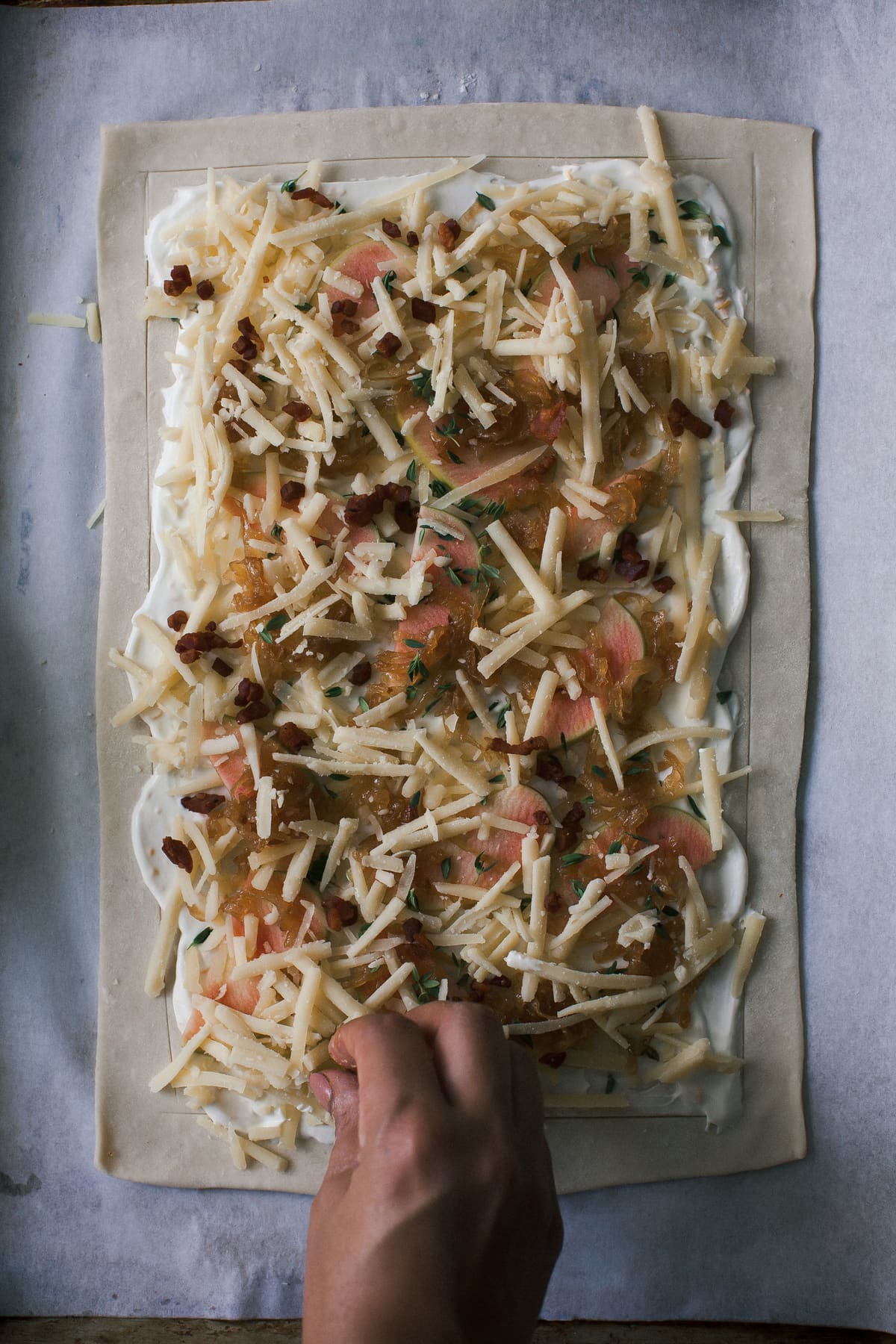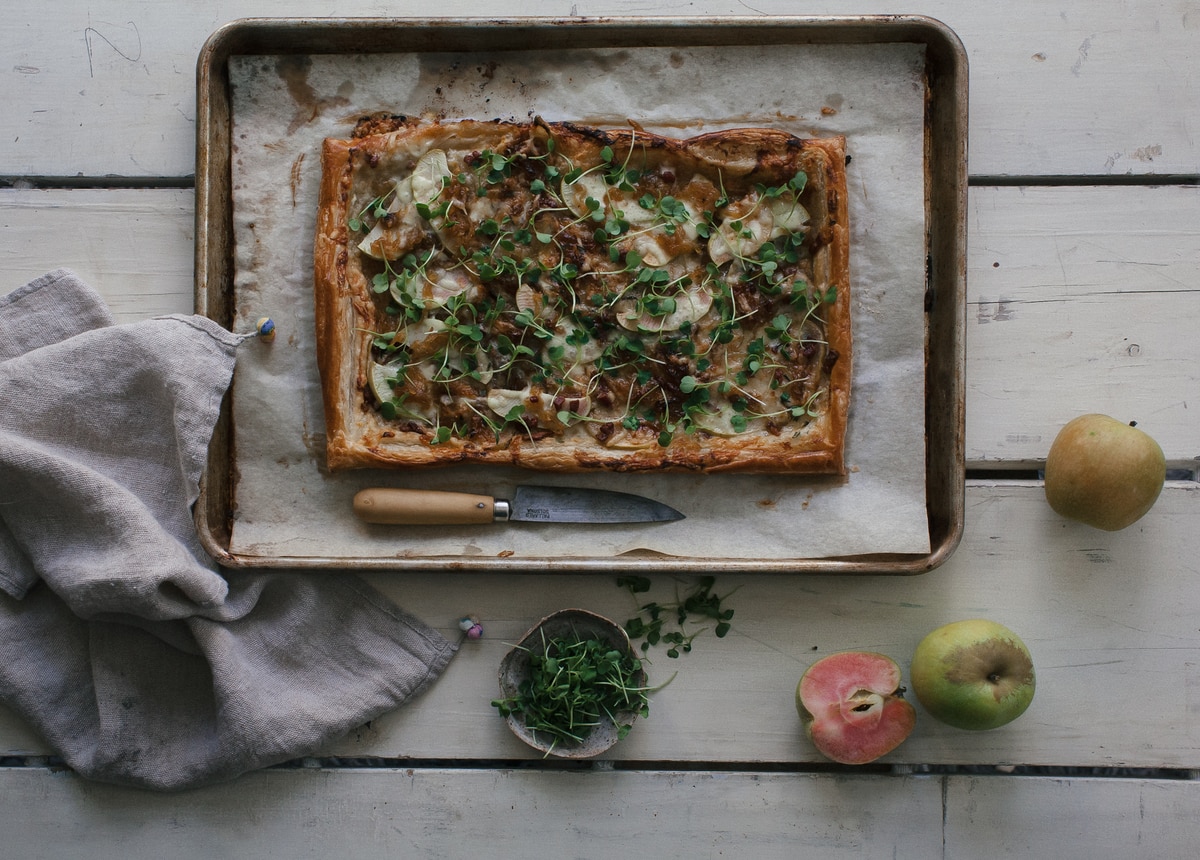 And then Gruyere cheese, carmelized onions and crispy pancetta.
After! I topped it with a bit of arugula.
It was the best, tastiest tart/pizza thing. It felt fancy but took me like 10 minutes to put everything together.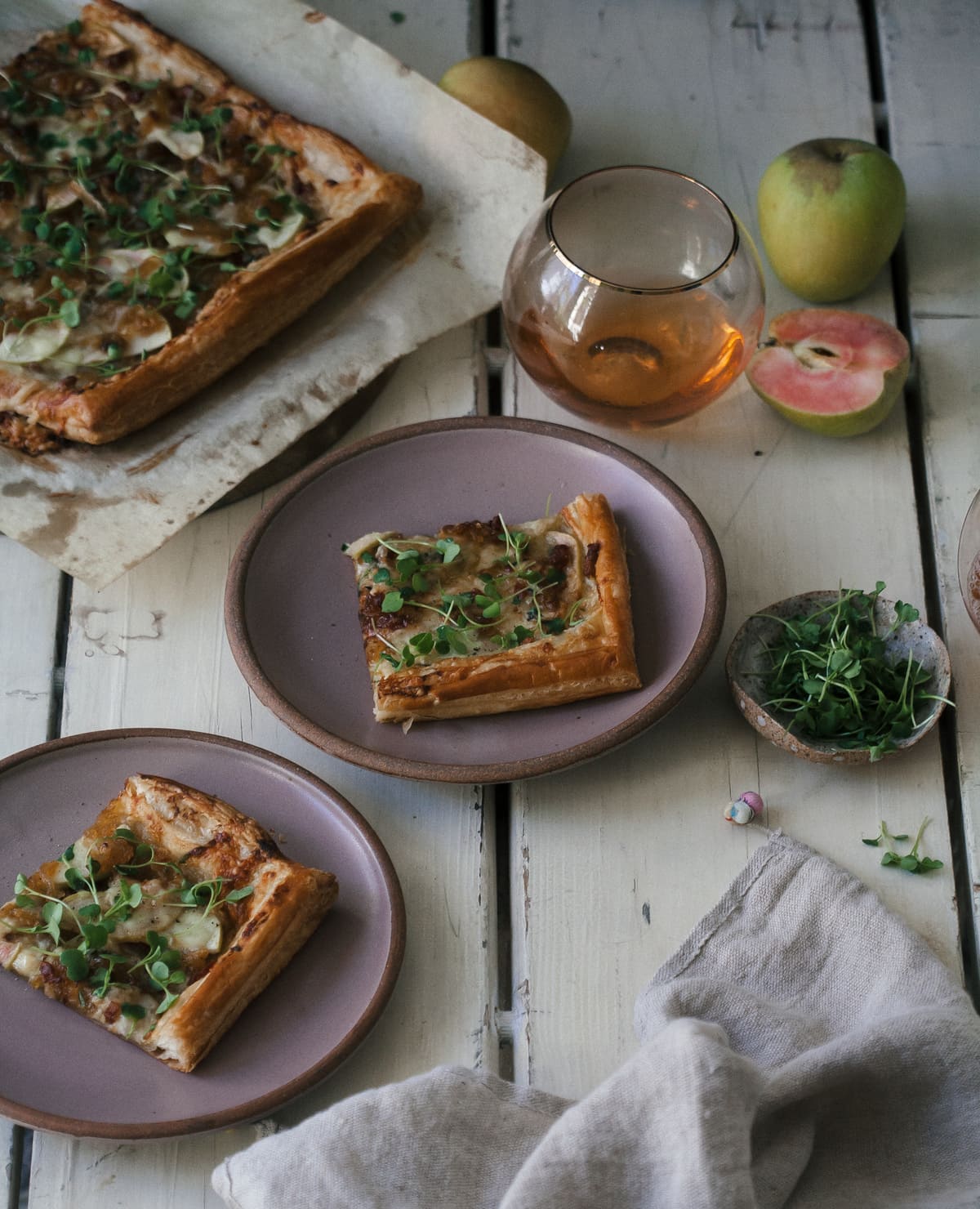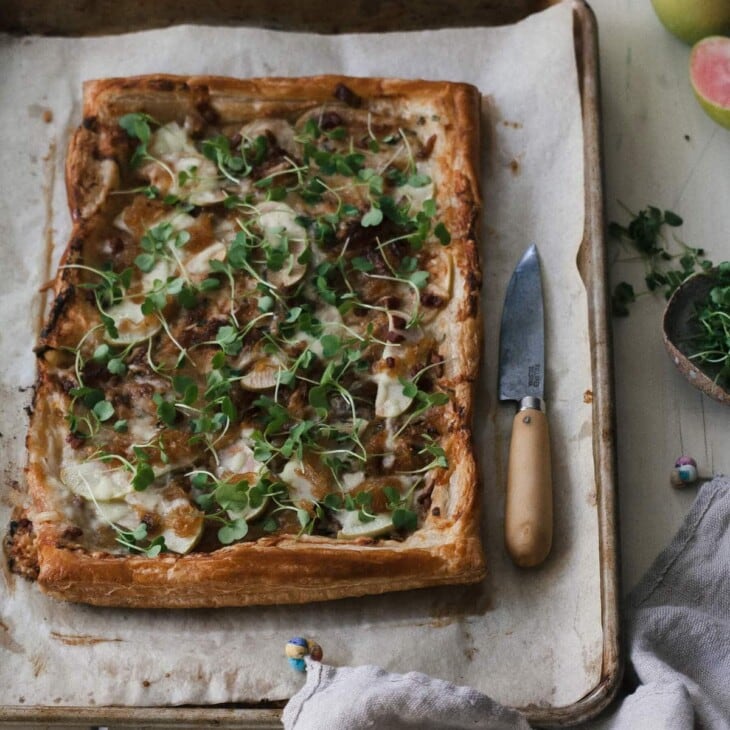 Print Recipe
Fancy Apple Gruyere Tart with Caramelized Onions and Pancetta
Ingredients
1

yellow onion

sliced (or you can use store-bought caramelized onions or onion jam)

2

ounces

pancetta

cooked until crispy

Flour

for rolling out the puff pastry

1

sheet of frozen puff pastry

defrosted in the fridge

1/4

cup

creme fraiche

1

teaspoon

orange zest

1/2

apple

I used fancy pearl apples but honey crisp, gala or pink lady would be great, cut into sliced

3

sprigs of thyme

leaves removed

3/4

cup

shredded Gruyere cheese

1

beaten large egg

for egg wash

1/2

cup

arugula microgreens or just regular arugula

for topping

1

teaspoon

olive oil

Salt
Instructions
Do a bit of prep by caramelizing the onions, in a small skillet over medium-low heat, stirring regularly, about 30 minutes. You could also buy caramelized onions or onion jam.

Cook up the pancetta in a small skillet until crispy and evenly browned. Transfer to a paper towel to drain.

Preheat oven to 400 degrees F. Lightly flour your work surface. Unfold the puff pastry (mine was a rectangle, yours might be a circle!) and roll it out with a rolling pin until it's a bit thinner in height. Transfer it to a parchment-lined baking sheet.

Using a knife, score a 1/2-inch perimeter onto the puff pastry, all the way around. Poke a bunch of holes in the center, too.

Add the creme fraiche mixture to the center and smother all around until there's an even layer.

Add the apple slices, caramelized onions, thyme leaves, Gruyere and pancetta. Brush the edges with the egg wash.

Transfer the tart to the freezer for 5 minutes. Preheat the oven to 400 degrees F. Bake for 15 to 20 minutes, until the edges are golden brown.

While the tart is in the oven, toss the arugula with a teaspoon of olive oil and a few pinches of salt. Top the tart with the arugula once it comes out of the oven. Slice up and serve!