The Art of Blending Sweet and Savory: Fancy Apple Gruyere Tart
6
Sep 26, 2016, Updated Nov 20, 2023
Disclosure: This post may contain affiliate links, which means I may earn a commission if you click on the link and make a purchase.
In a culinary world where sweet and savory often dance in separate halls, the Fancy Apple Gruyere Tart brings them together in a delightful waltz. This dish, an epitome of culinary finesse, seamlessly marries the crisp sweetness of apples with the nutty, salty depth of Gruyere cheese, all nestled within a flaky, herbed pastry.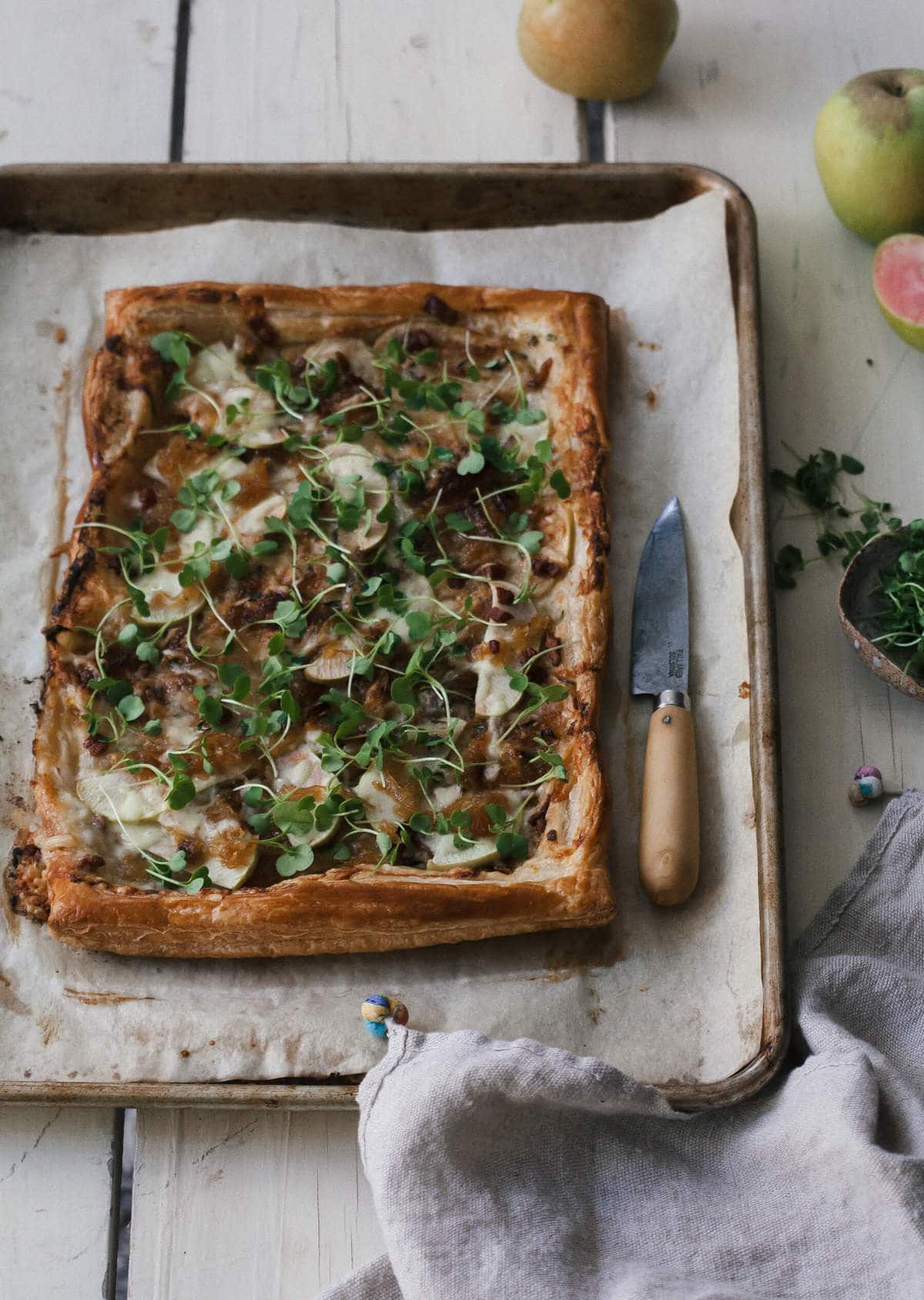 Gourmet Apple Tart with Gruyere Cheese: A Culinary Delight
Imagine biting into a tart where the buttery crust crumbles, giving way to a layer of thinly sliced, tender apples, their natural sweetness heightened by a touch of sugar and cinnamon. Then comes the Gruyere, melted and bubbly, its complex flavor elevating the humble apple to new heights. This gourmet apple tart with gruyere cheese isn't just food; it's an experience—a celebration of how contrasting flavors can create a harmonious and unforgettable dish.
To enhance your dining experience, pair this tart with a simple yet elegant endive prosciutto gratin, offering a delightful balance of bitterness and richness.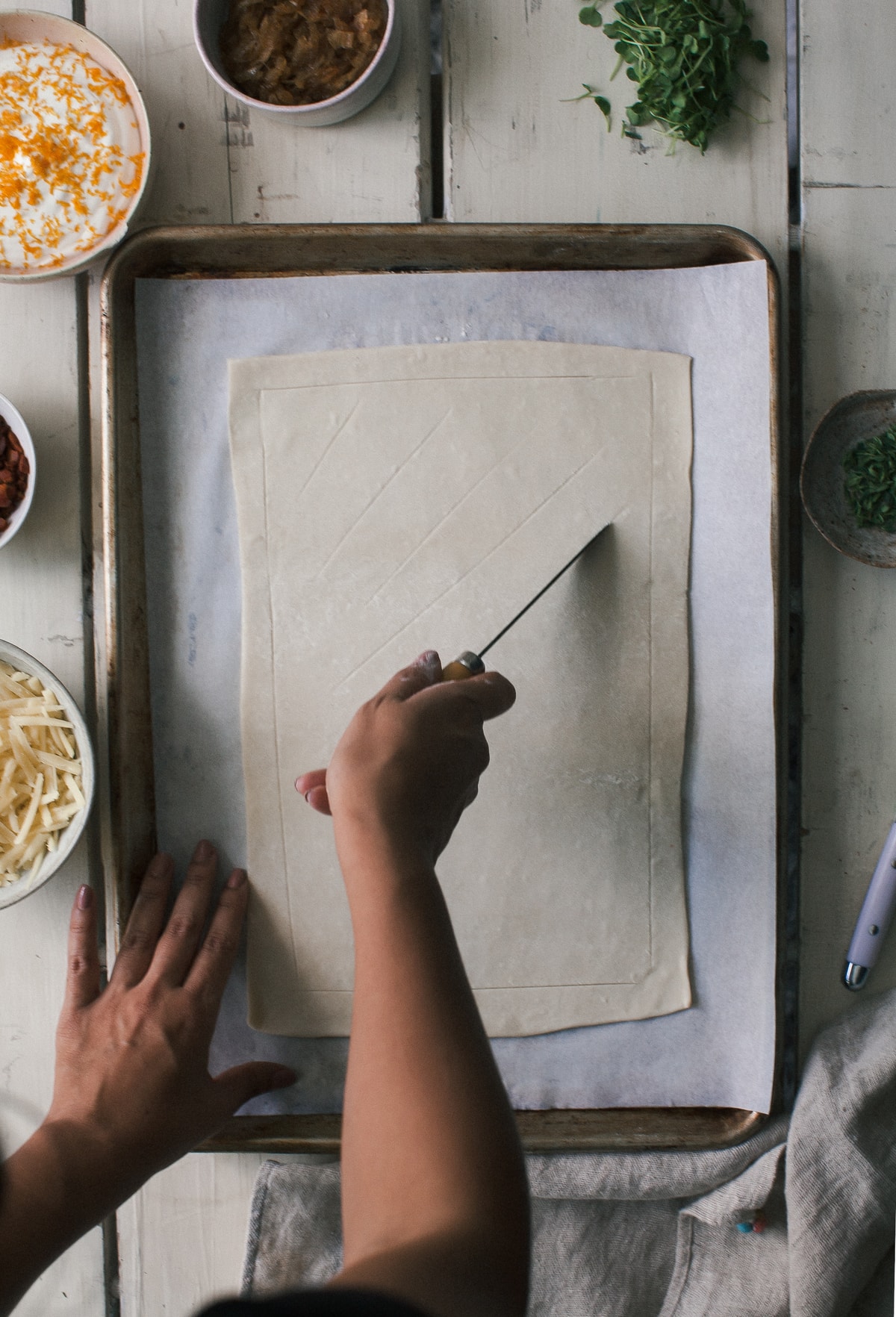 Sweet and Savory Apple Tart for Entertaining
There's something about the sweet and savory apple tart for entertaining that makes it a perfect centerpiece for any gathering. Whether it's a cozy family dinner or a sophisticated soiree, this tart, with its layered flavors and rustic charm, is sure to impress. The combination of Gruyere cheese flavor and baking with apples results in a dish that is as pleasing to the palate as it is to the eye.
To complement your tart, consider serving a light delicata kale salad on the side, or finish the meal with a sweet note of chewy chai snickerdoodles.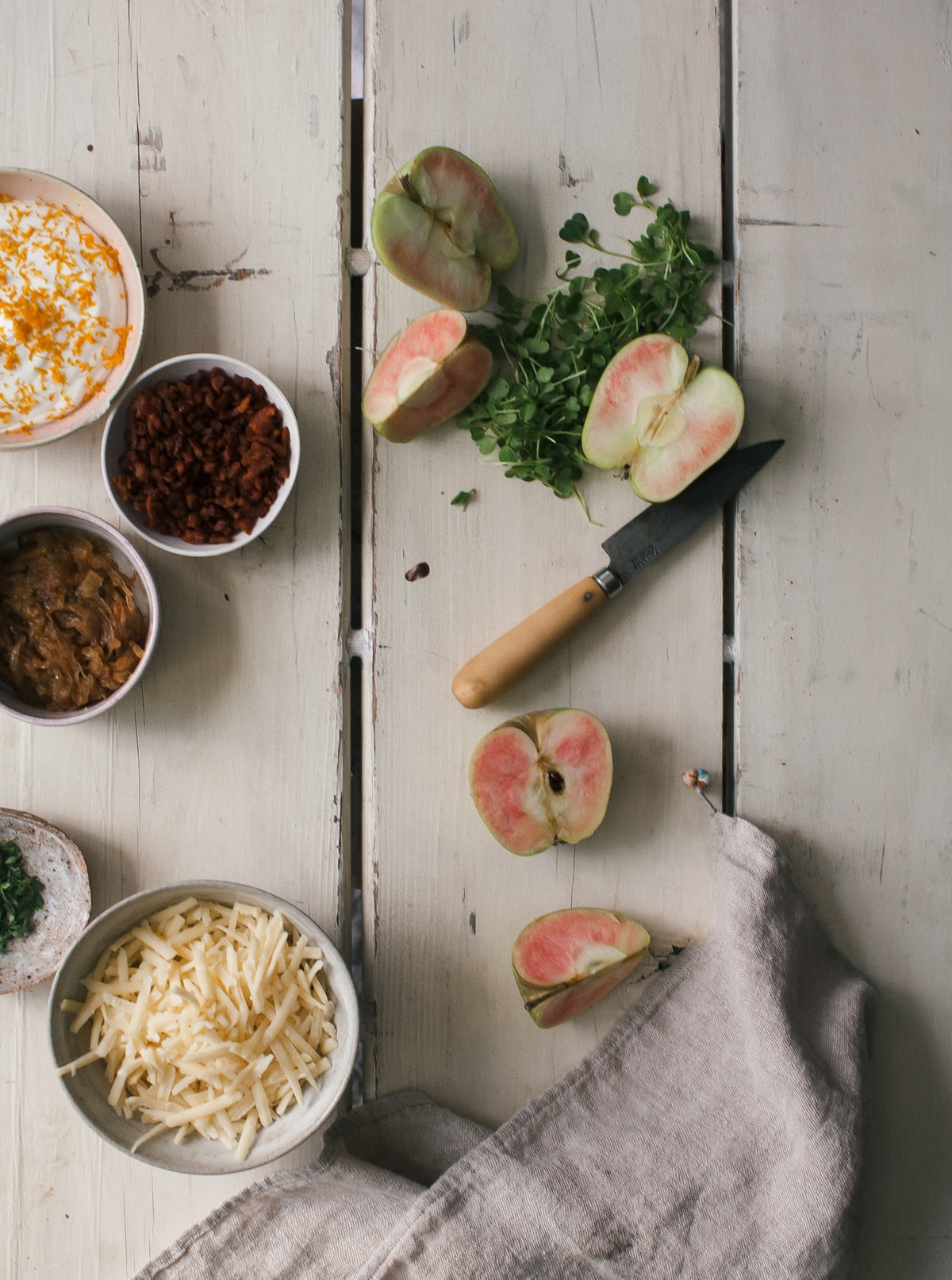 Tips & Tricks
Thinly Slice Your Apples: Ensure your apples are thinly and evenly sliced for the perfect texture in every bite.
Season Wisely: A sprinkle of fresh thyme or rosemary can add a wonderful herbal note to the tart.
Bake to Perfection: Keep an eye on the tart while baking to achieve that golden, crispy crust without overcooking the apples.
Cheese Distribution: Spread the GruyREere evenly for a consistent flavor experience in every slice.
Presentation is Key: Garnish with a few fresh apple slices or a sprinkle of cheese before serving for an extra touch of elegance.
Recipe FAQs
Can I use a different type of cheese for this tart?
Certainly! While Gruyere is recommended for its unique flavor, feel free to experiment with other cheeses like Cheddar or Brie.
What apple varieties work best for this tart?
Firm, slightly tart apples like Granny Smith or Honeycrisp are ideal, as they hold their shape and offer a good flavor balance.
Can I prepare this tart ahead of time?
Yes, you can assemble the tart a day in advance and bake it just before serving.
Is puff pastry a good option for this tart?
Absolutely! Puff pastry tarts add a delightful flakiness to the dish.
Can this tart be served at room temperature?
Yes, it can be enjoyed warm or at room temperature, making it perfect for gatherings.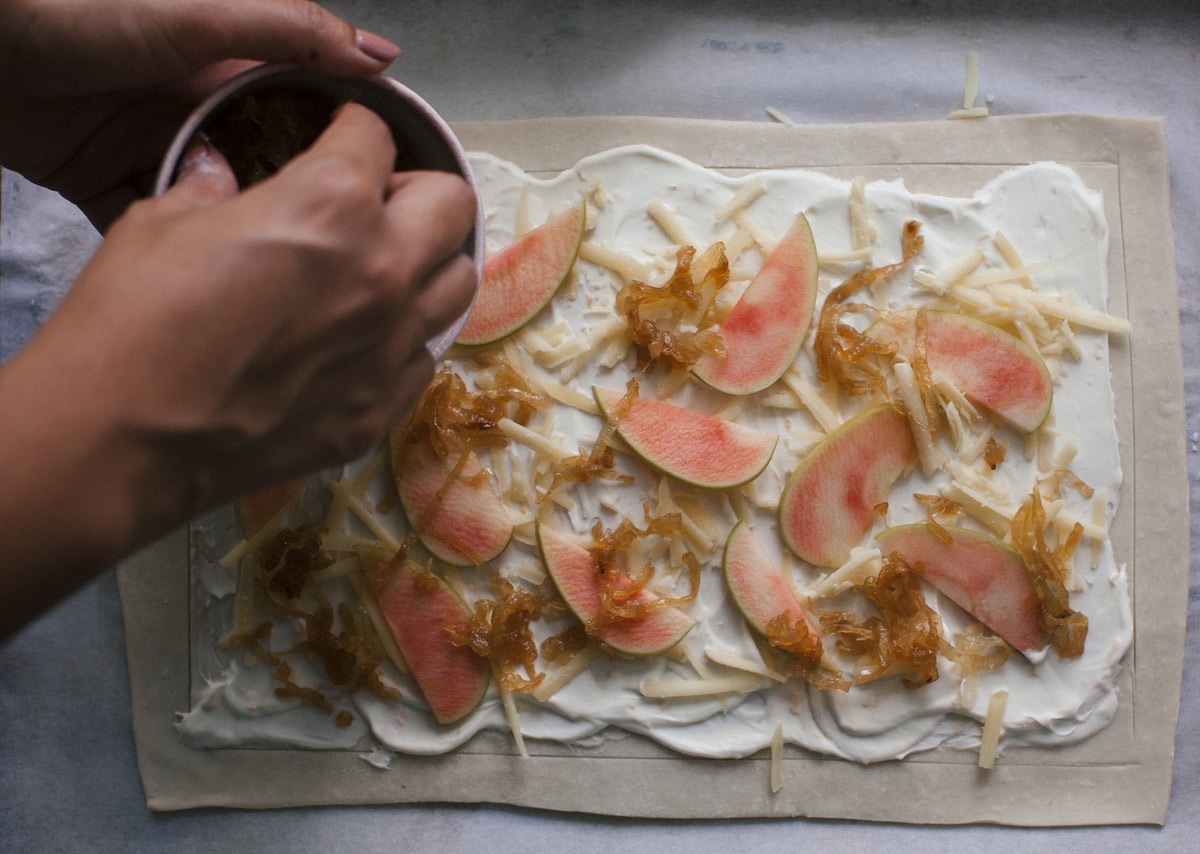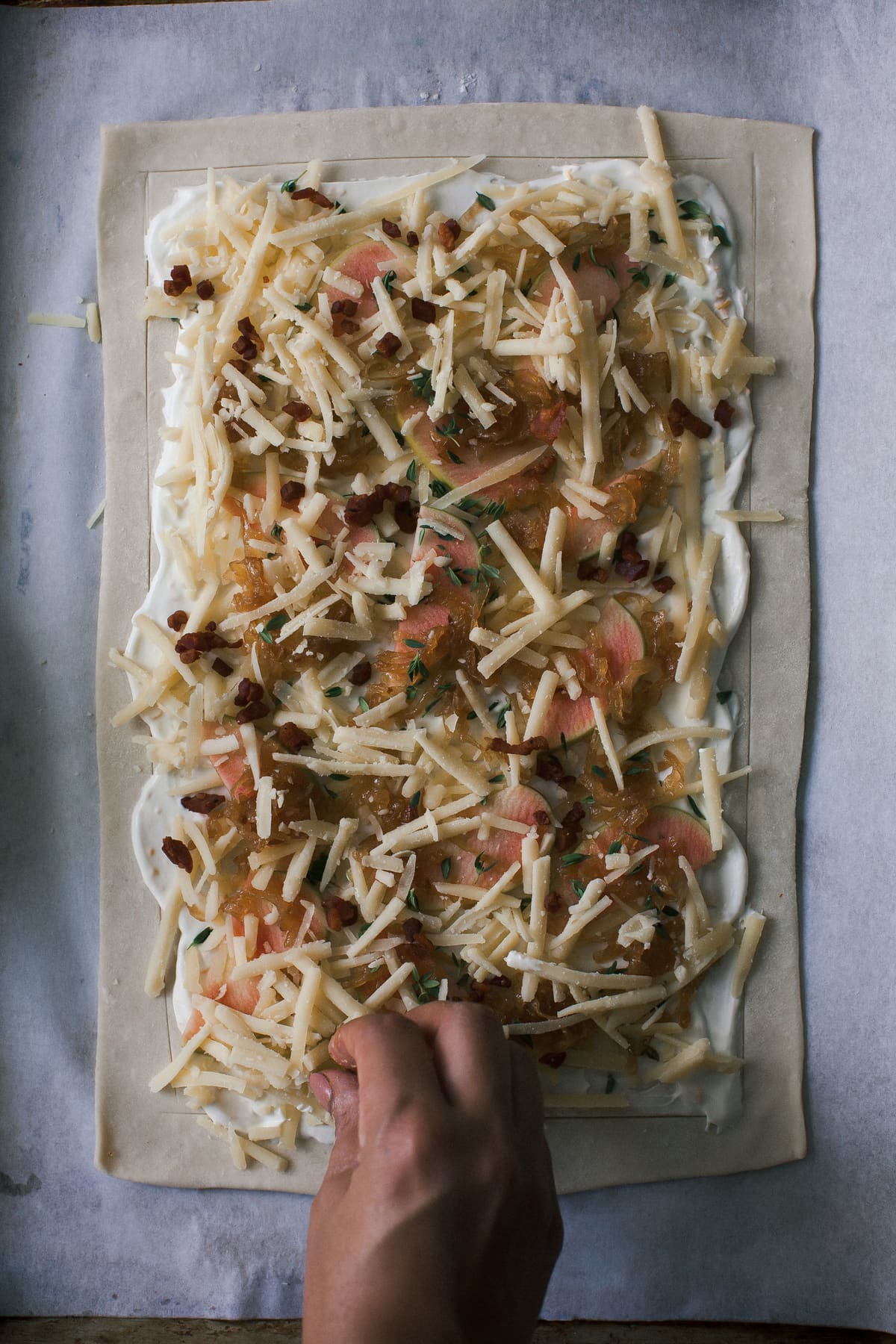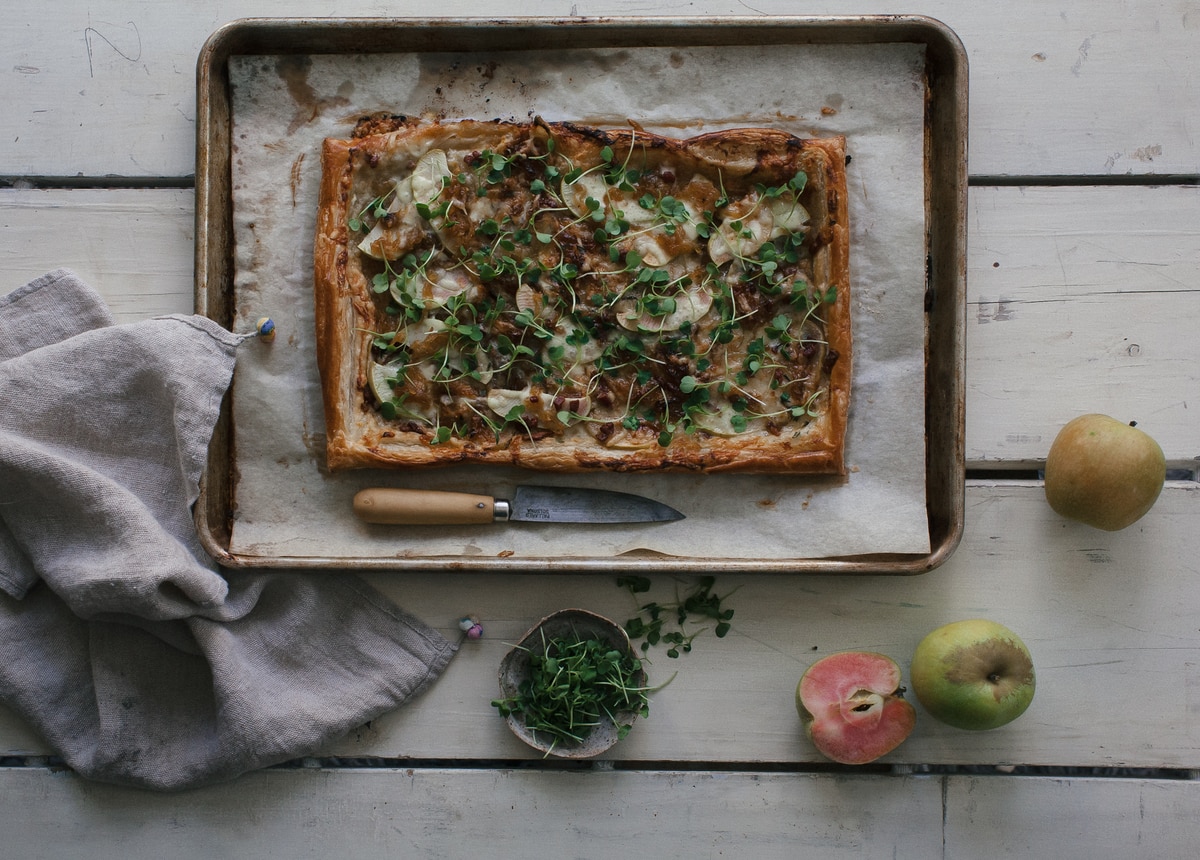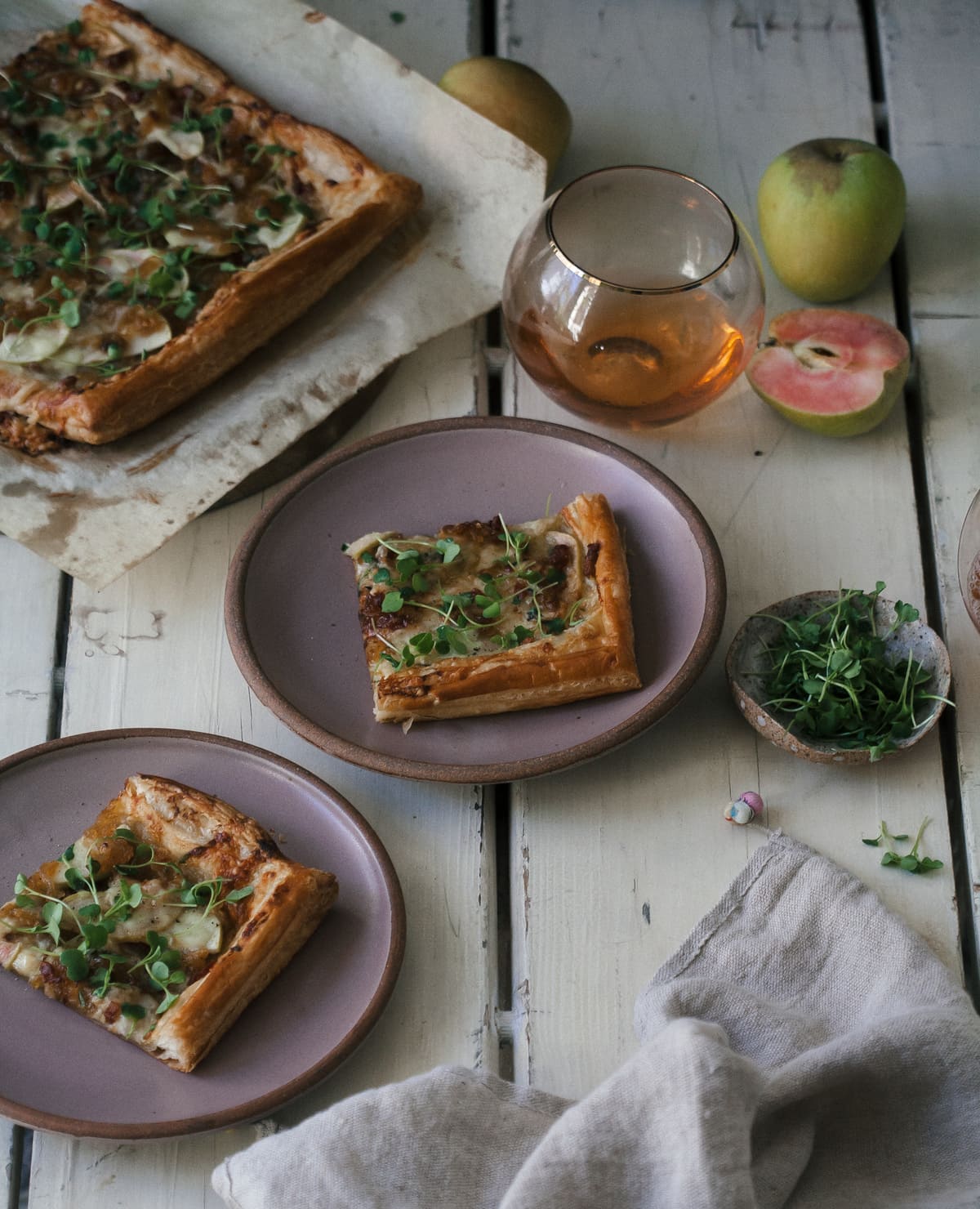 If you tried this Fancy Apple Gruyere Tart Recipe or any other recipe on my website, please leave a 🌟 star rating and let me know how it went in the 📝 comments below. Thanks for visiting!
Fancy Apple Gruyere Tart with Caramelized Onions and Pancetta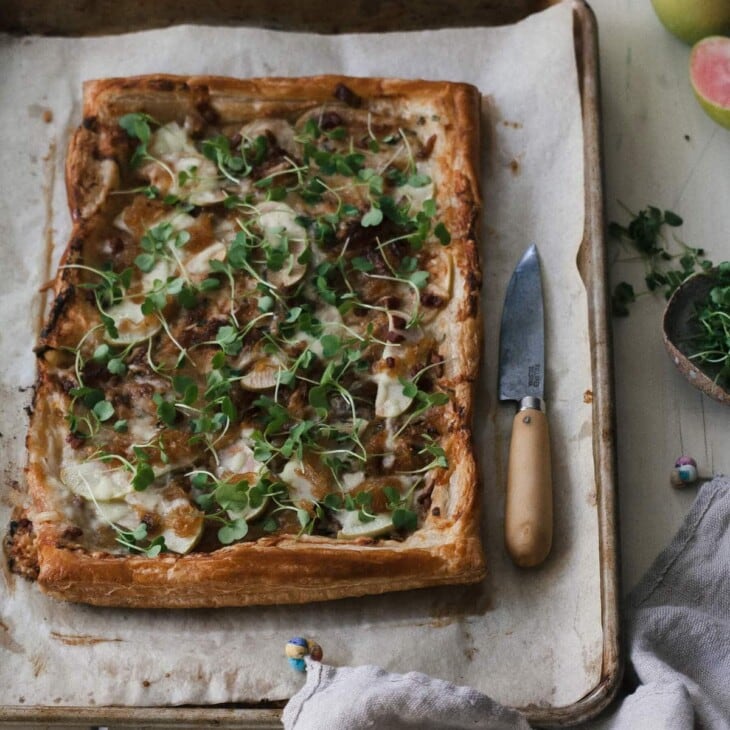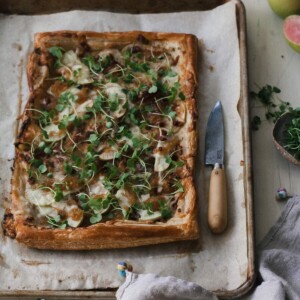 Elevate your tart game with our Fancy Apple Gruyère Tart – a recipe that blends elegance with coziness!
Ingredients
1

yellow onion

,

sliced (or you can use store-bought caramelized onions or onion jam)

2

ounces

pancetta

,

cooked until crispy

Flour

,

for rolling out the puff pastry

1

sheet of frozen puff pastry

,

defrosted in the fridge

1/4

cup

creme fraiche

1

teaspoon

orange zest

1/2

apple

,

I used fancy pearl apples but honey crisp, gala or pink lady would be great, cut into sliced

3

sprigs of thyme

,

leaves removed

3/4

cup

shredded Gruyere cheese

1

beaten large egg

,

for egg wash

1/2

cup

arugula microgreens or just regular arugula

,

for topping

1

teaspoon

olive oil

Salt
Instructions
Do a bit of prep by caramelizing the onions, in a small skillet over medium-low heat, stirring regularly, about 30 minutes. You could also buy caramelized onions or onion jam.

Cook up the pancetta in a small skillet until crispy and evenly browned. Transfer to a paper towel to drain.

Preheat oven to 400 degrees F. Lightly flour your work surface. Unfold the puff pastry (mine was a rectangle, yours might be a circle!) and roll it out with a rolling pin until it's a bit thinner in height. Transfer it to a parchment-lined baking sheet.

Using a knife, score a 1/2-inch perimeter onto the puff pastry, all the way around. Poke a bunch of holes in the center, too.

Add the creme fraiche mixture to the center and smother all around until there's an even layer.

Add the apple slices, caramelized onions, thyme leaves, Gruyere and pancetta. Brush the edges with the egg wash.

Transfer the tart to the freezer for 5 minutes. Preheat the oven to 400 degrees F. Bake for 15 to 20 minutes, until the edges are golden brown.

While the tart is in the oven, toss the arugula with a teaspoon of olive oil and a few pinches of salt. Top the tart with the arugula once it comes out of the oven. Slice up and serve!
Nutrition
Serving:
3
g
|
Calories:
769
kcal
|
Carbohydrates:
46
g
|
Protein:
21
g
|
Fat:
56
g
|
Saturated Fat:
19
g
|
Polyunsaturated Fat:
6
g
|
Monounsaturated Fat:
27
g
|
Trans Fat:
0.03
g
|
Cholesterol:
115
mg
|
Sodium:
594
mg
|
Potassium:
264
mg
|
Fiber:
3
g
|
Sugar:
6
g
|
Vitamin A:
666
IU
|
Vitamin C:
7
mg
|
Calcium:
391
mg
|
Iron:
3
mg
Nutrition information is automatically calculated, so should only be used as an approximation.