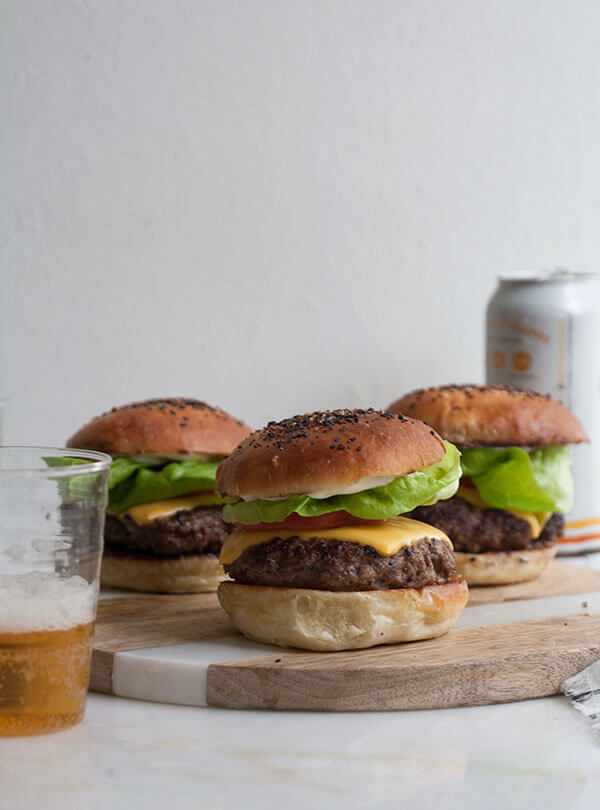 Remember last week when I made homemade cream cheese and I told you to save that whey?!? Yeah! I put it in hamburger buns. Yass! And since I think I'm particularly clever, I wanted to tie it back to a bagel by adding the "everything" mixture to the top of the burger bun.
Well, I'm pretty happy. I currently feeling myself. I'm patting myself on the back. Skipping in the street. I think I'm smart, but mainly I'm just stoked about making another delicious thing that involves carbs.
If you've never made hamburger buns, you're in for a lil' treat because not only are they super fun to make, they're not too, too difficult either.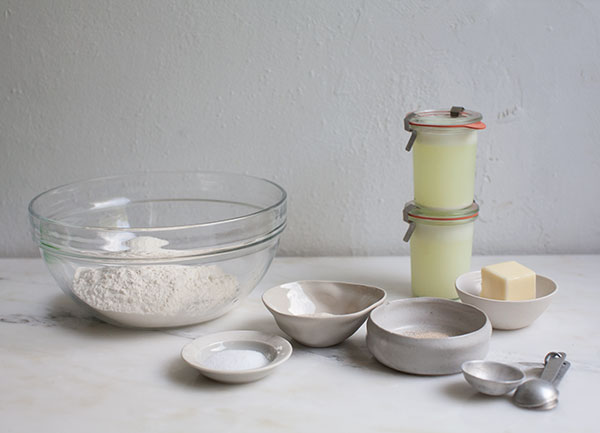 These buns were tweaked from King Arthur's Flour, which in my opinion, has the best burger bun recipe out there. The whey gives these a softer texture but not so soft that it feels like cheap, store-bought white bread. It's sort of in between of what you would get if you used half water and half milk.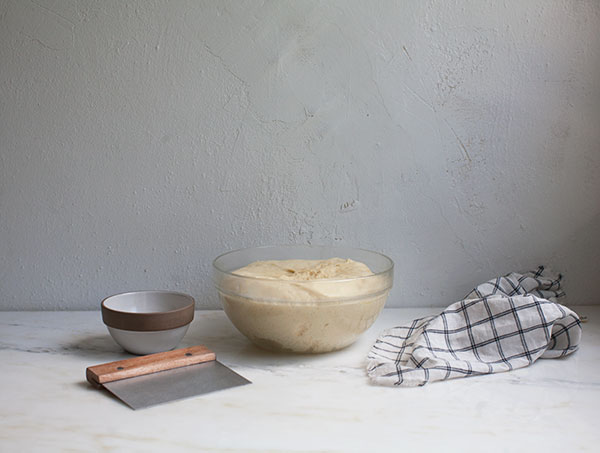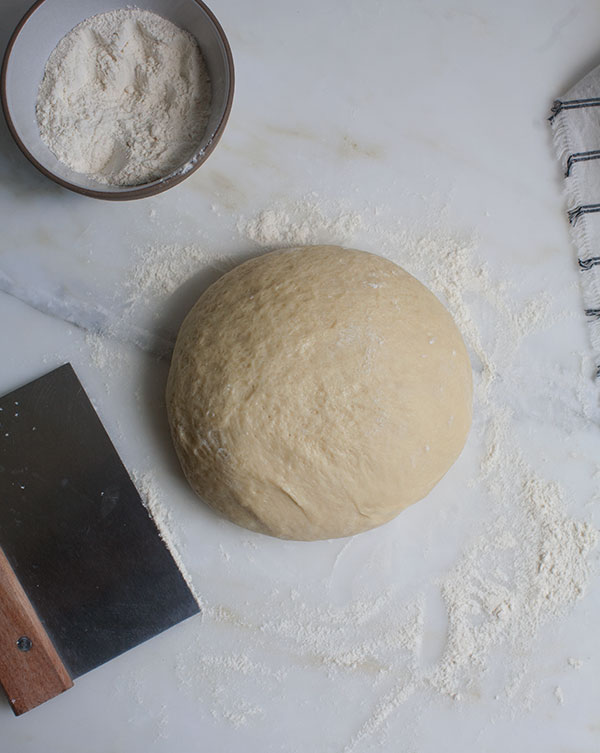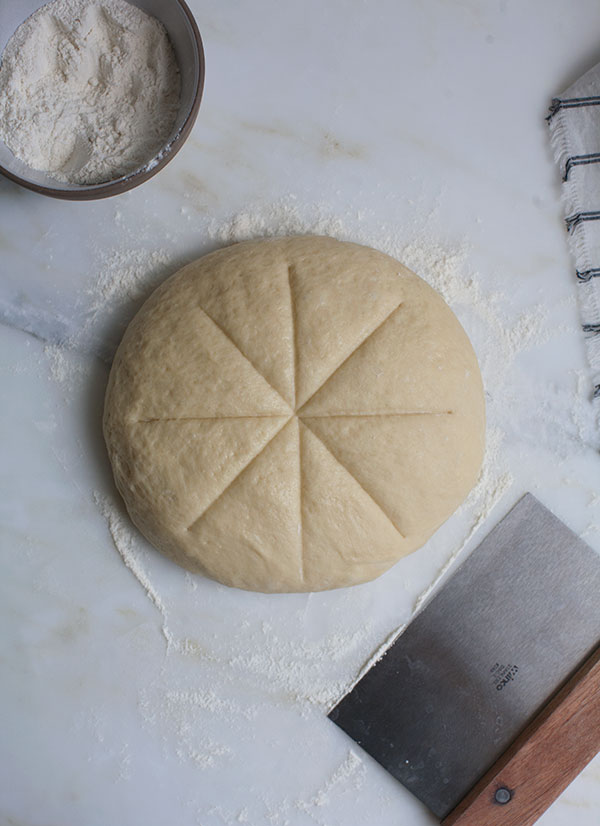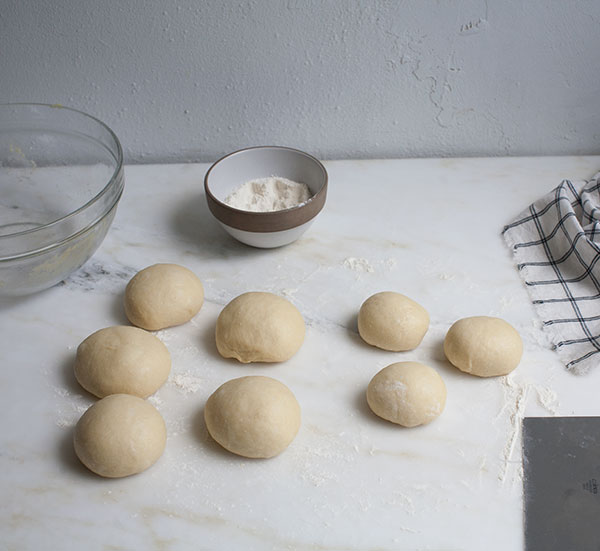 If you don't have whey because you didn't make the cream cheese, no biggie! Just use water.
Bread-making can be a bit intimidating. What's good about this recipe is everything is added to bowl and just mixed until slightly sticky. You can knead it by hand or in a stand-up mixer. After that there's a rise. And then a second one.
And then it'll look like this: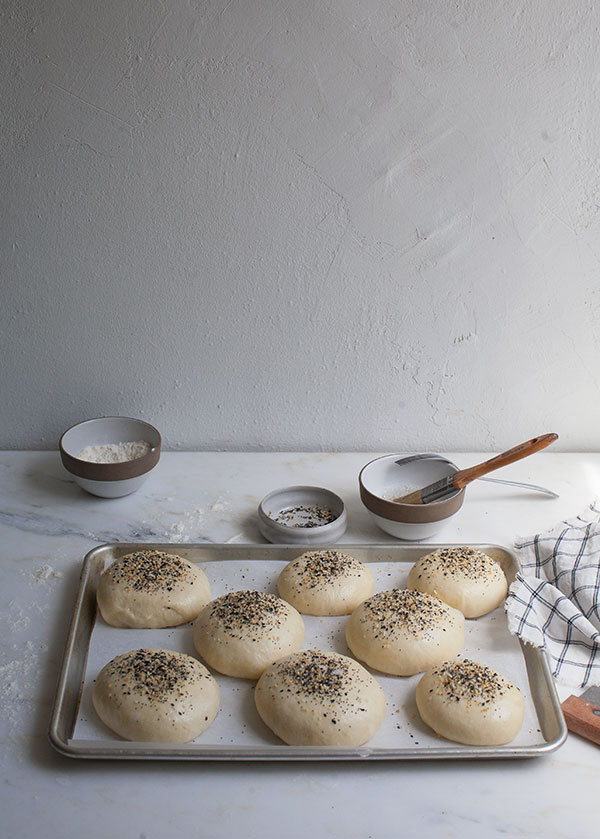 Bowchicabowow.
The dough is divided into 8. I lost my scale so I couldn't get all psycho with it and measure out all of them in equal pieces. You can though!
The best part about these buns and making your own is the freshness. And the topping. Everything should be on everything because it seriously goes with everything.
It makes complete sense that it should be on top of hamburger buns. I mean, the garlic and onion flakes work wonderfully with the melty cheese and meat.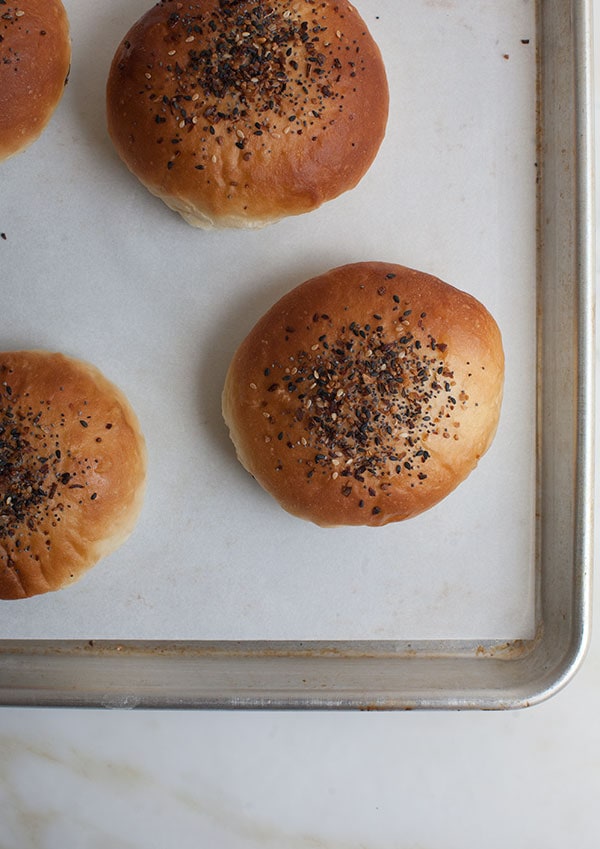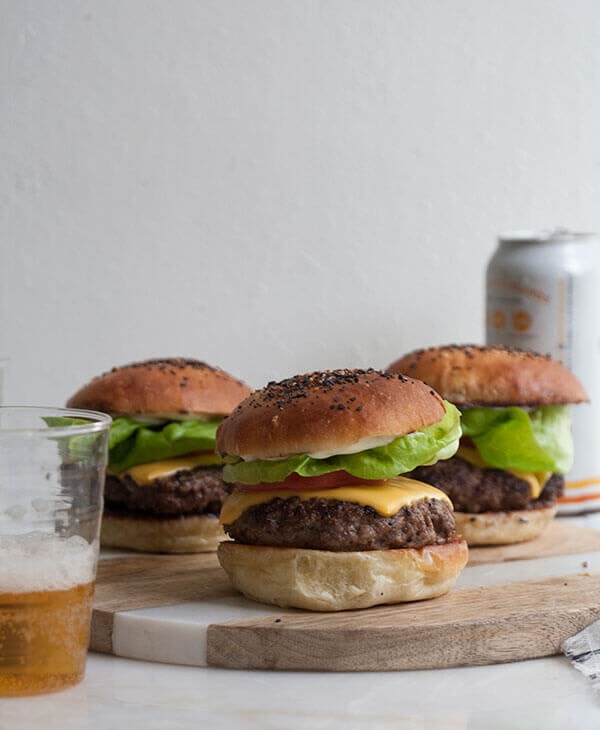 Print Recipe
'Everything' Hamburger Buns
Serving Size: 8 hamburger buns
Ingredients
Dough:
3/4 cups whey or water
1 large egg separated
1 large egg
2 tablespoons unsalted butter cubed and at room temperature
3 1/2 cups plus 2 tablespoons all-purpose flour
1/4 cup white granulated sugar
1 1/4 teaspoons salt
1 tablespoon instant yeast
Everything Topping:
1 teaspoon poppy seeds
1 teaspoon white sesame seeds
1 teaspoon black sesame seeds
1 teaspoon garlic flakes
1 teaspoon onion flakes
1/4 teaspoon large-flaked sea salt such as Maldon
Instructions
In a small saucepan, add the whey or water and heat to lukewarm (115F). Separate one of the eggs and place the egg white in a small bowl and transfer to the fridge (we're gonna use this at the end of the recipe). Add the egg yolk to the bowl of a stand-up mixer, with the dough hook attachment, or a large bowl, along with the lukewarm whey or milk, whole egg, cubed butter, flour, sugar, salt and yeast. Mix all of the ingredients. If using a mixer, mix on low for 5 to 6 minutes, until dough is slightly sticky. If mixing by hand, lightly flour work surface and knead for 10 to 12 minutes.

Lightly spray cooking spray inside of a clean large bowl. Transfer the dough to the bowl and cover and allow to rise in a warm part of your home for 1 to 2 hours, until it's nearly doubled in size.

When risen, lightly punch down the dough and pour out onto a lightly floured work surface. Shape the dough into a circle and divide it into 8 pieces. I found it easiest to cut it like I would a pie. Shape each piece of dough into a round ball. I also found that any imperfections in the circle were more noticeable once they had their second rise, so don't feel shy to really make perfect circles by pulling the dough and wrapping it around itself.

Transfer the dough balls to a parchment-lined baking sheet. Using the bottom of a small bowl or glass, press the dough so it flattens to about 3-inches across. Cover the buns and let rise for about an hour, until noticeably puffier. (Maybe I let mine rise for a bit too long. Guess what? All was ok!)

Preheat the oven to 375 degrees F. Remove the bowl of egg white from the fridge and pour in two tablespoons of water. Whisk together until frothy. In a small bowl, combine the everything topping ingredients. Brush the tops of the buns with the frothy egg white mixture and sprinkle atop the everything mixture. Transfer to the oven to bake for 8 to 12 minutes, until the buns are golden brown. (If you're using water, you'll find that you may need more baking time, maybe closer to 15 minutes?) Remove the buns from the oven and cool on a rack.