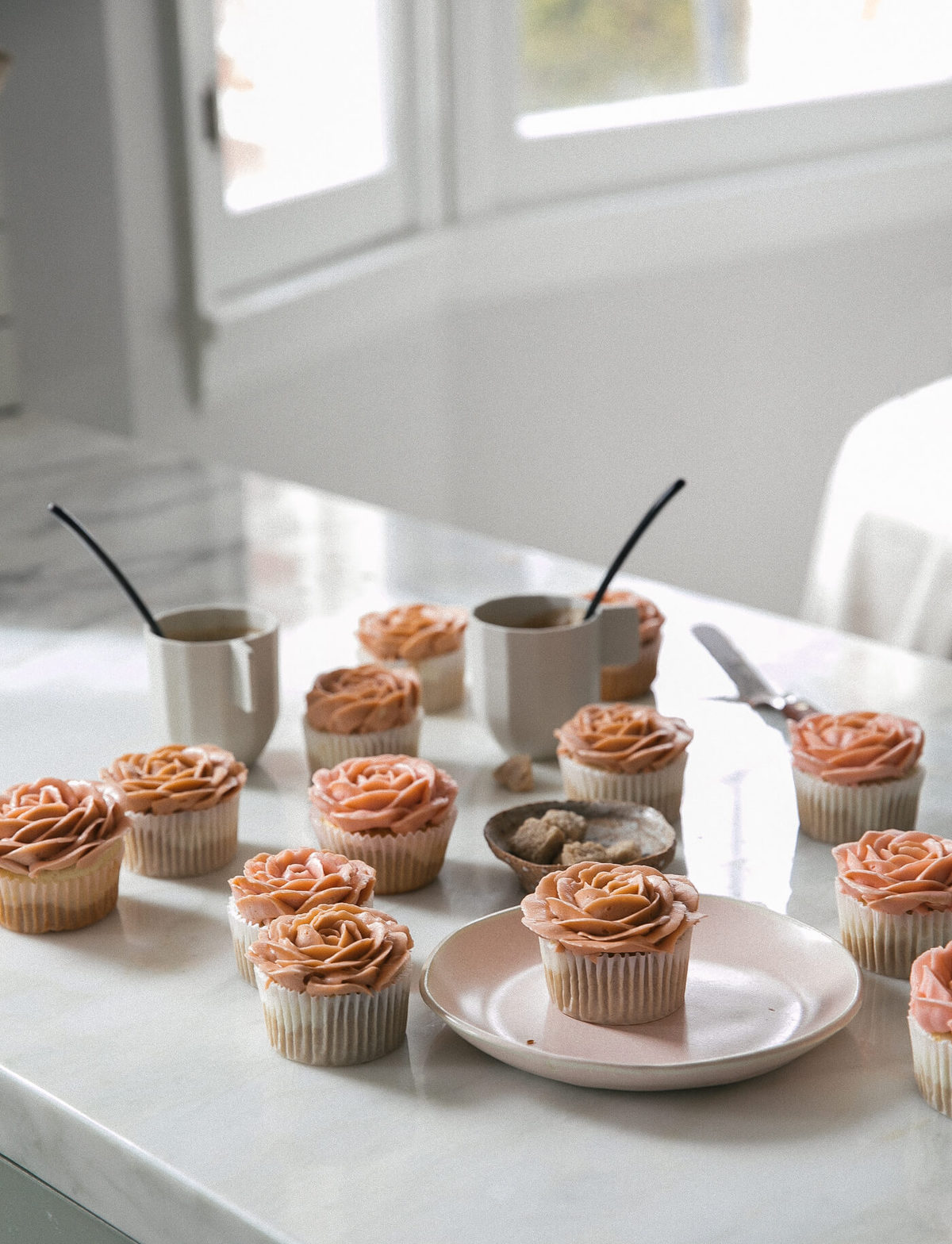 I learned a lot of lessons from making these cupcakes. The number one thing: if you're a creative person, surround yourself with people who will be brutal with you. It's important.
After attempting to make buttercream roses last year and getting super frustrated, I gave up. But last month, I decided to do my research, get the right piping tip (hello Wilton #104 is your friend) and try again. I piped out one "rose" and I thought it looked pretty good. I texted it to Billy and asked him how it looked. I was assuming he was gonna go, "GREAT! YOU'RE SO TALENTED!" Instead, this man goes, "these look like foreskins."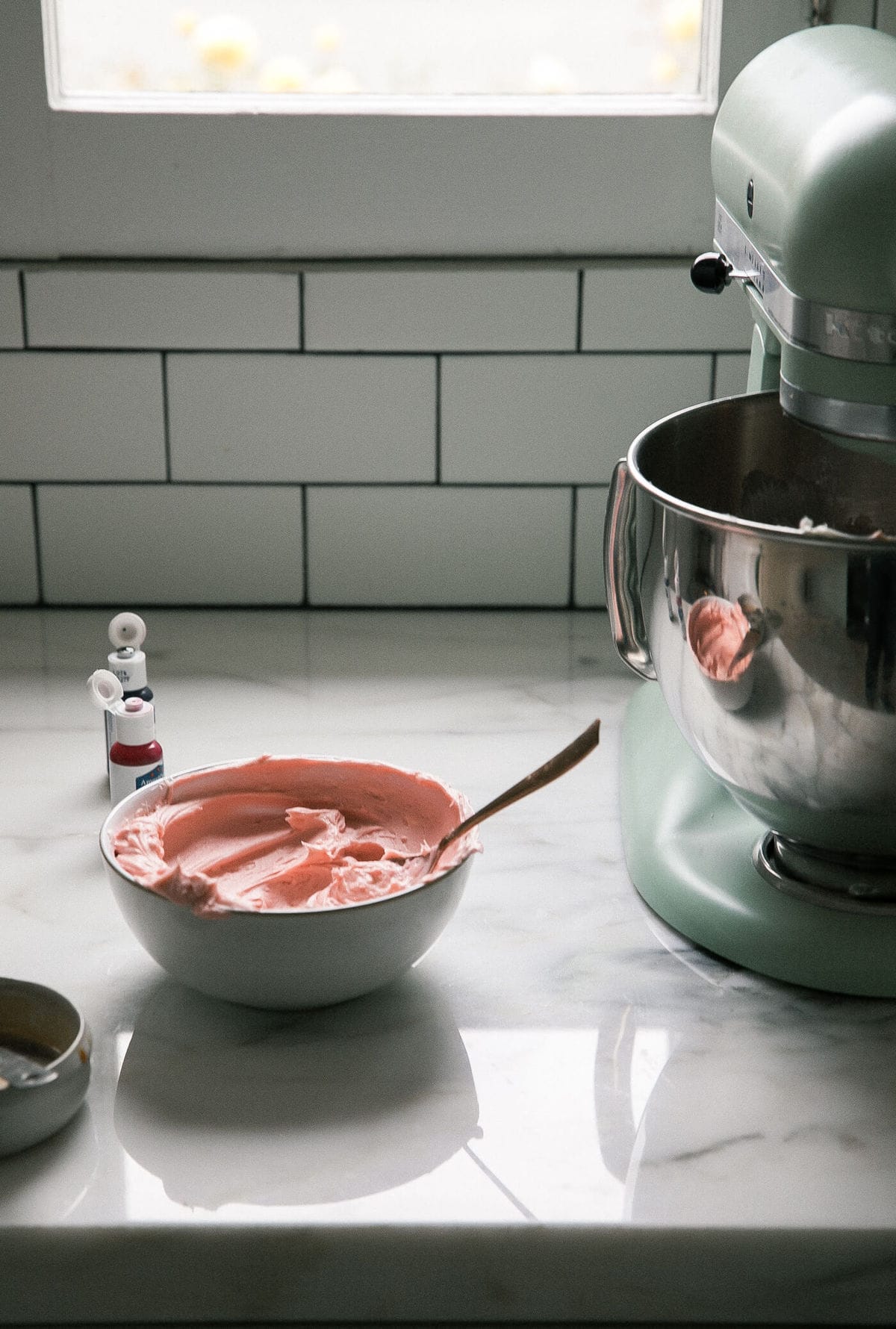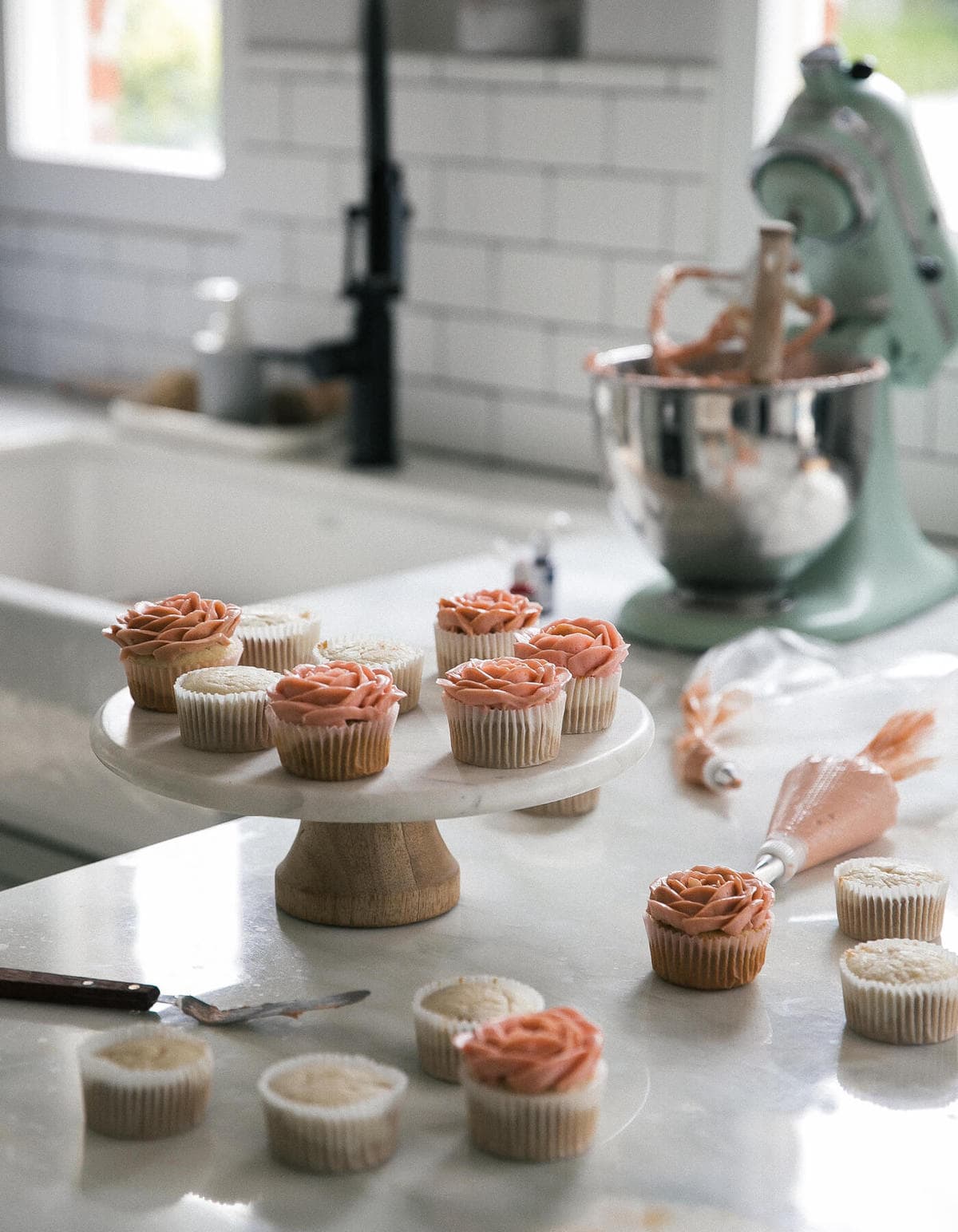 UMM OK! THANKS!
But the more I looked at them, the more I agreed. The more I was thankful to my friend for telling me the truth before I put a whole dozen of foreskin-looking cupcakes out into the blogsphere. He saved me, you know? Very grateful.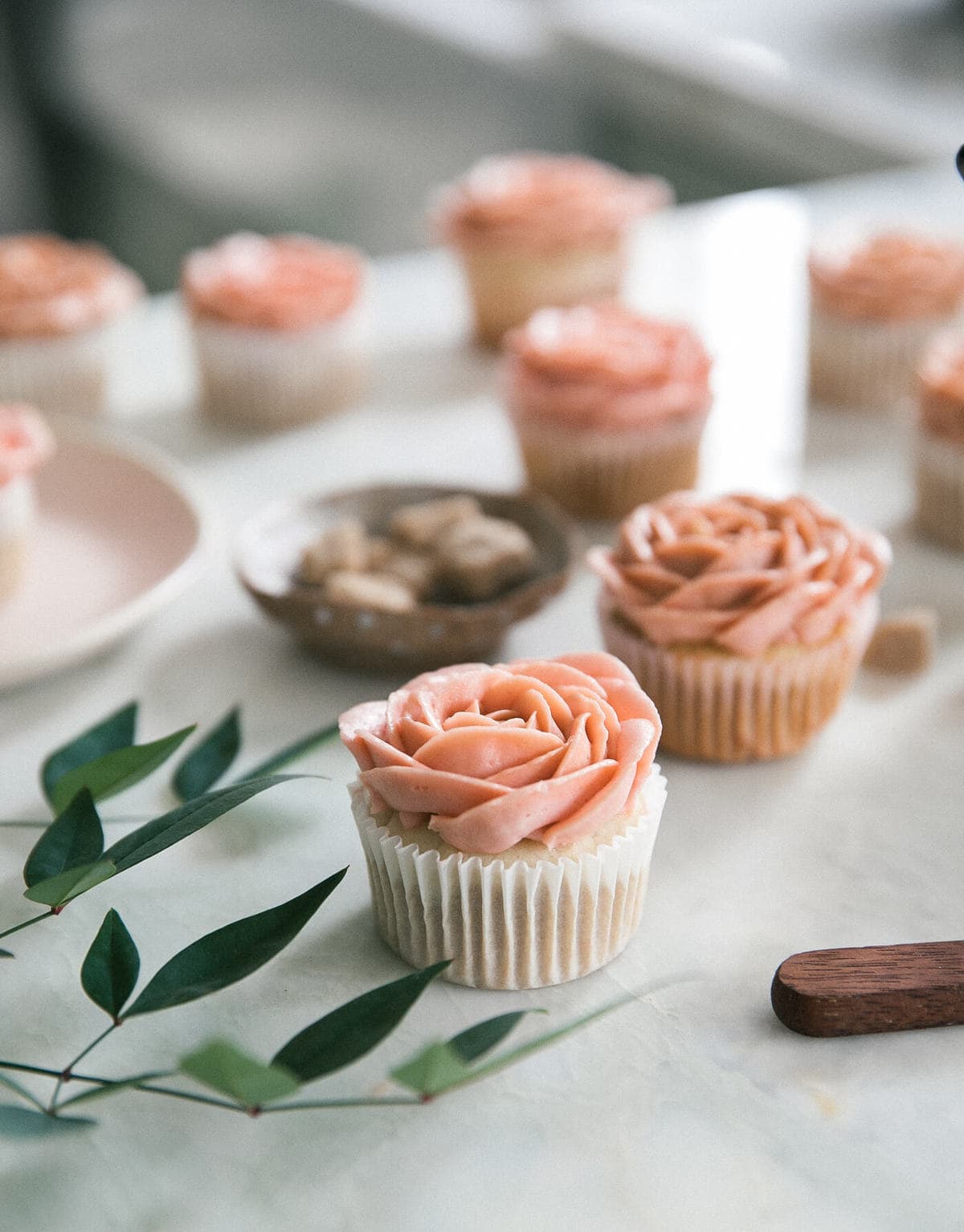 I learned what I was doing wrong. I was facing the #104 tip's larger side to the sky versus to the floor. It's super important and will completely change the look of the petals. You want those sort of lacy petals and the thinner side facing the sky will give you that.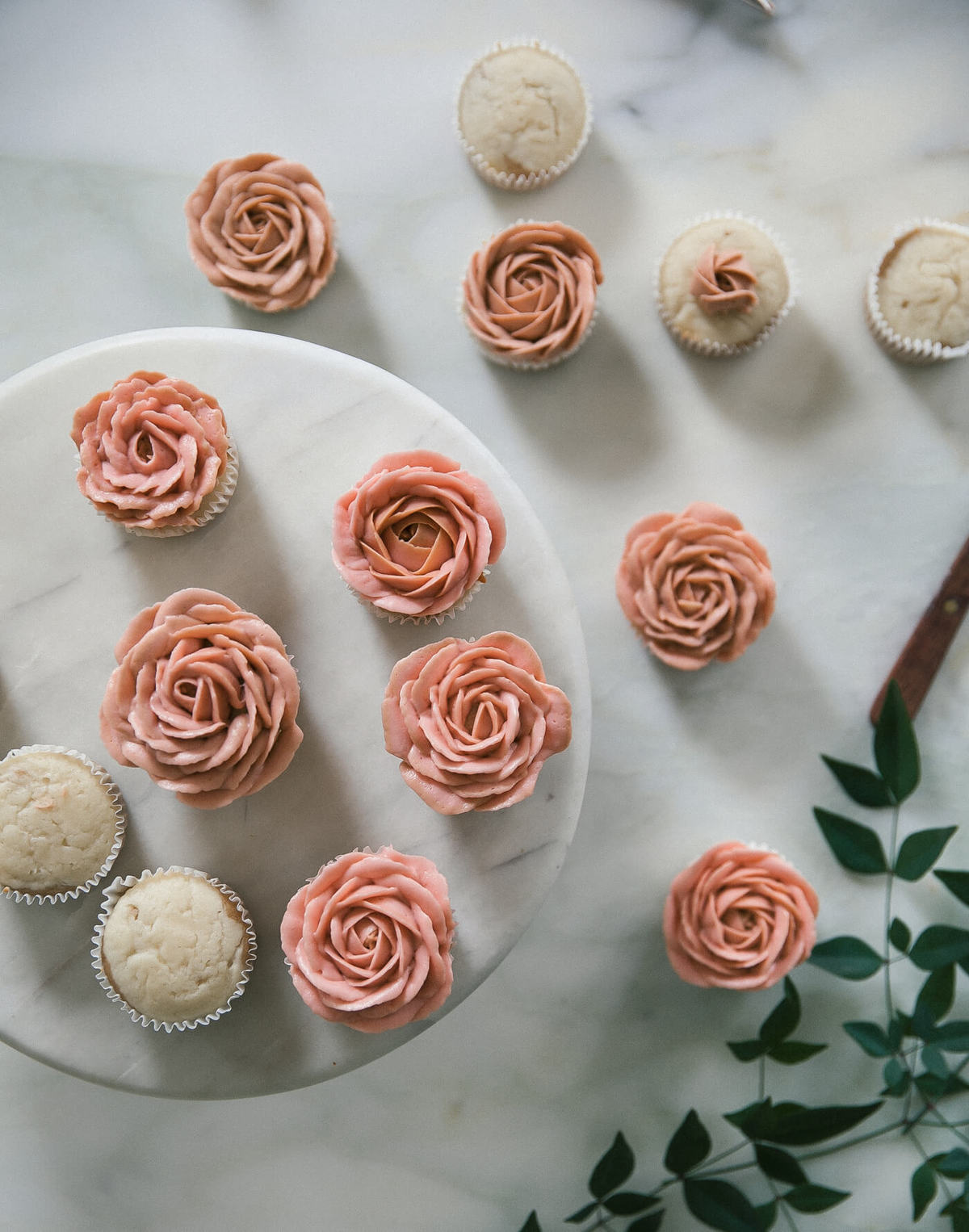 It's a simple change that transformed them from foreskin to petals!! AMAZING!
The cupcakes themselves taste like fluffy, clouds of espresso. I used my new Nespresso machine (more on that soon!). It's so beautiful and looks gorgeous in the new kitchen. But feel free to head to your local coffee shop and buy a double shot of espresso. We use it in the cupcake batter and the frosting itself.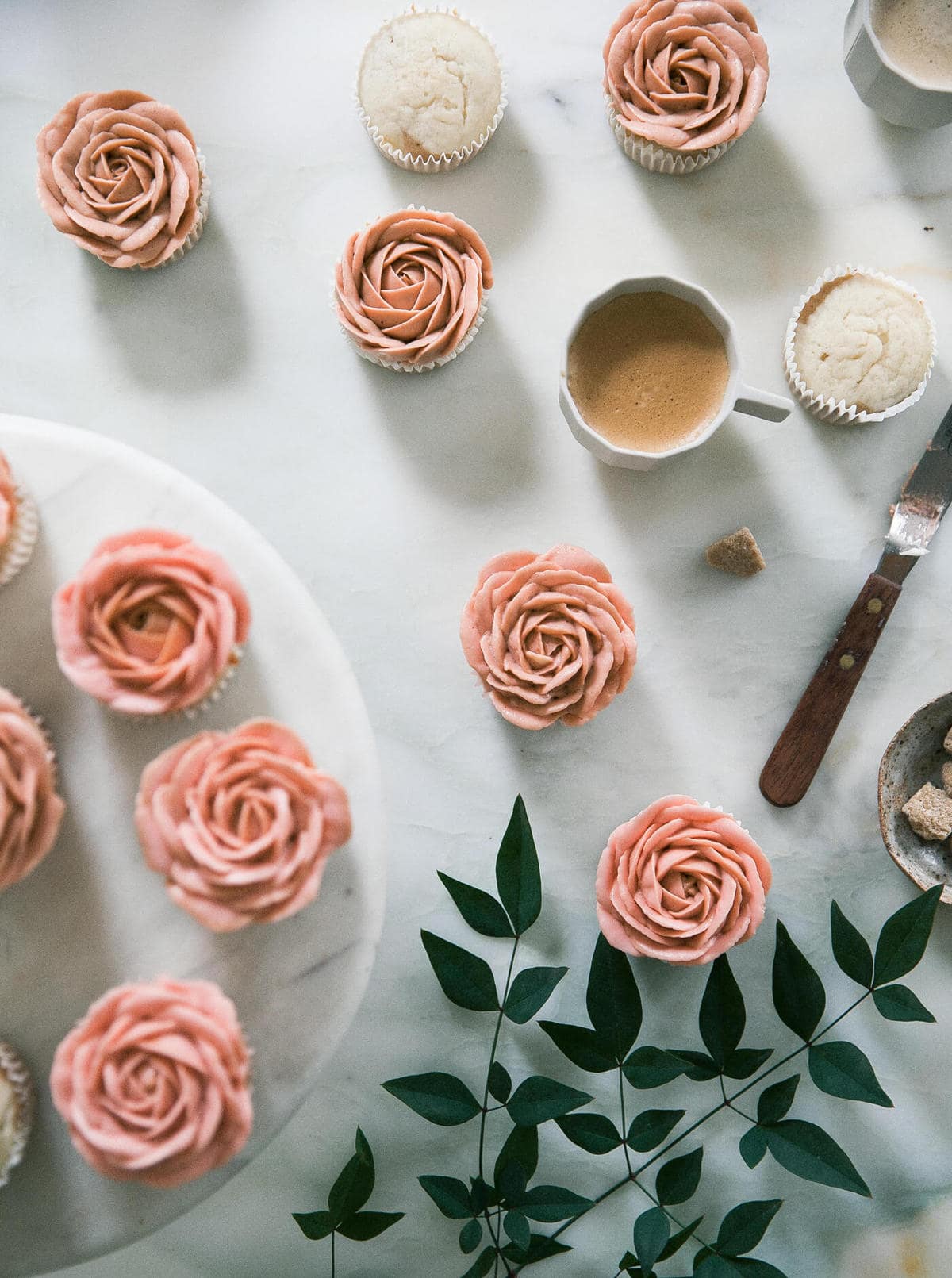 I've finally decided that I love white cakes that have butter and oil. All butter cakes can sometimes be a bit too dry. And all oil cakes are always missing that butter flavor. So, here we are, with one of my favorite white cakes. It has both: butter and oil. Not too heavy, not too oil, not too dry. Just right.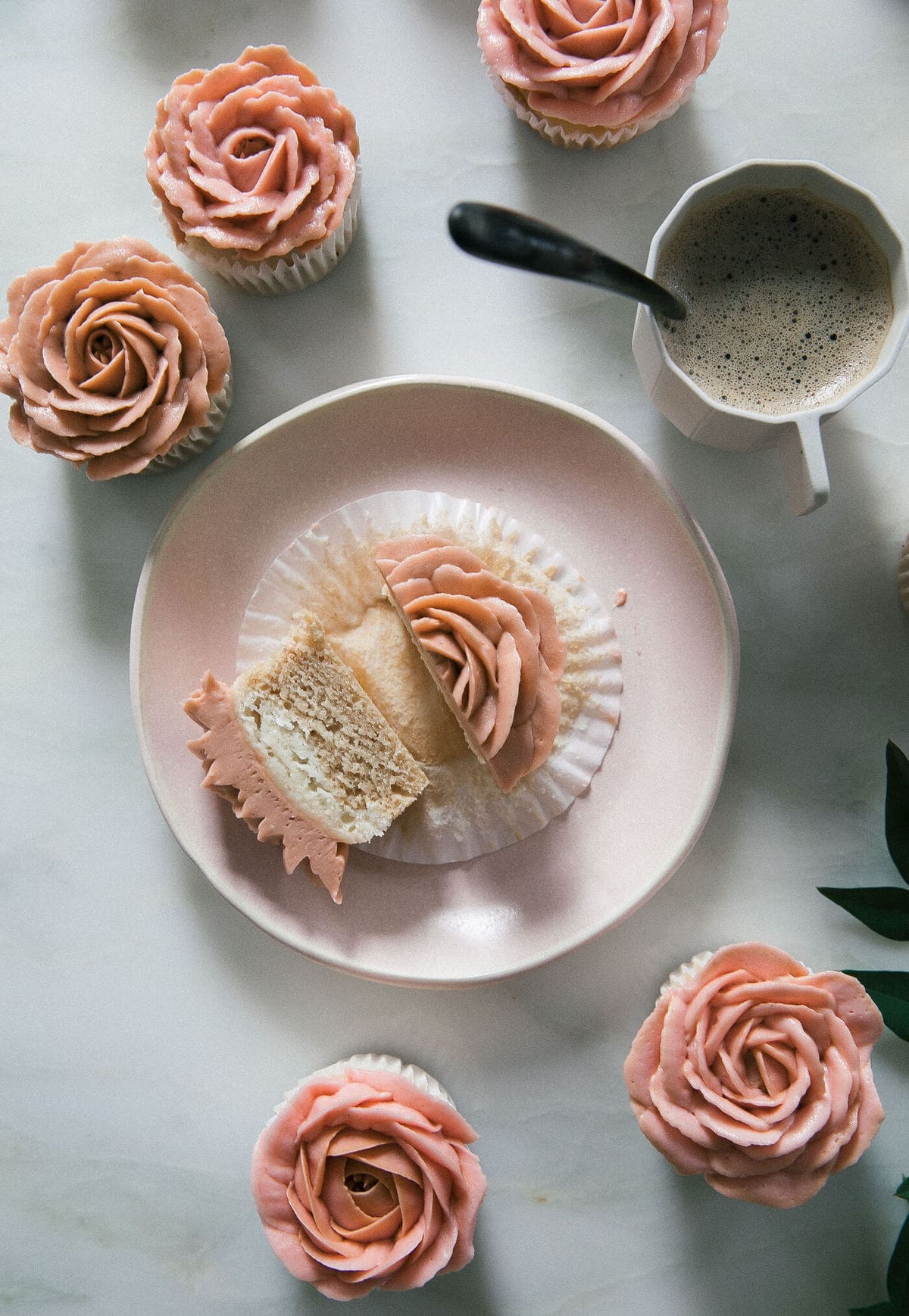 These cupcakes act like a cappuccino. The espresso batter is at the bottom of the cupcake and the top is "foam."
You may think we have to make two batters but I would never do that to us. We make one batter, divide it into two and fold espresso into one of the bowls. The two different kinds of batter is layered and that's it!
The buttercream is rose-colored but tastes like espresso. It's glorious.
If you need some more tutorial help re: the buttercream flowers, this Youtube video is super helpful. Here are the supplies I used:
Wilton #104 Tip
Sturdy Piping Bags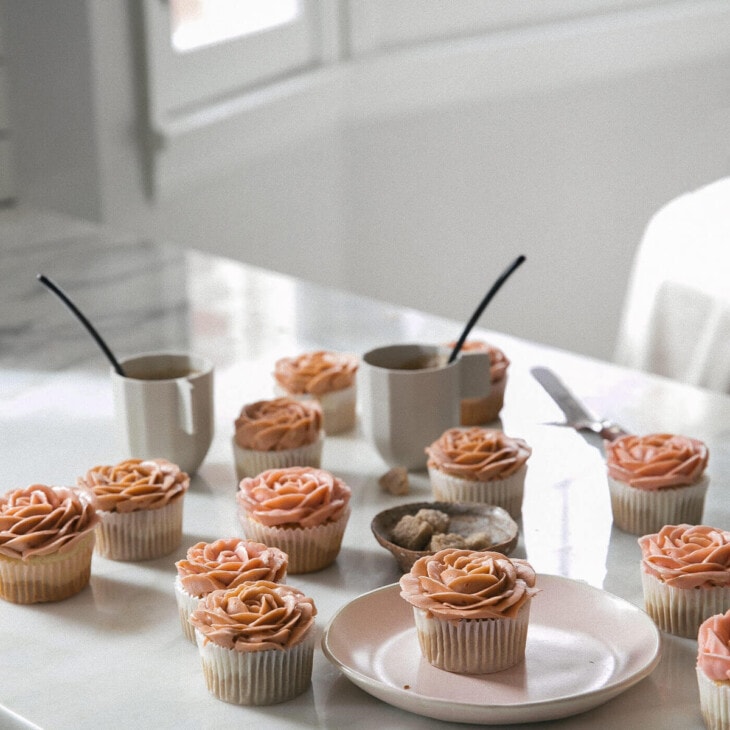 Print Recipe
Cappuccino-Flavored Rose Cupcakes
Ingredients
Cappuccino Cupcakes:
2 1/4

cup

all-purpose flour

1

tablespoon

baking powder

1/2

teaspoon

salt

1

cup

buttermilk

4

large egg whites

at room temperature

1

teaspoon

vanilla extract

1/2

cup

unsalted butter

at room temperature

2

tablespoons

vegetable oil

1

cup

white granulated sugar

3

tablespoons

espresso

at room temperature
Cappuccino Buttercream:
1 1/2

cups

unsalted butter

at room temperature

4

cups

powdered sugar

Pinch

of salt

1

teaspoon

vanilla extract

1

tablespoon

espresso

at room temperature

1

drops red food coloring gel

if you're using regular food coloring, you may need to use more than one drop
Instructions
To Make the Cupcakes:
Line 18 cupcake tins with liners. Preheat oven to 350 degrees F.

In a large bowl, whisk together the flour, baking powder and salt. In a large measuring cup, measure out the buttermilk and whisk in the egg whites and vanilla extract.

In the bowl of a stand-up mixer, add the butter, oil and sugar. Beat until light and fluffy about 2 minutes.

Alternating between the buttermilk mixture and the dry mix, add them to the butter mixture, until combined.

Remove 1 1/2 cups of batter and pour that into medium bowl and set aside (this is going to be the vanilla flavored). To the batter in the stand-up mixer, pour in the espresso and mix until just combined, about 15 seconds.

Add two tablespoons of the espresso-flavored cake batter to each of the cupcake liners. And then top each cupcake with a tablespoon of the vanilla-flavored batter. Using a teaspoon, smooth out any messy cupcakes. If they're a little messy, it's totally fine—they bake up kind of marbled-looking and it's great.

Transfer to the oven to bake 18 to 20 minutes, until a skewer inserted into the center comes out clean.
To Make the Cappuccino Buttercream:
To the bowl of a stand-up mixer, with the paddle attachment, add the butter, sifted powdered sugar and pinch of salt. Cover the stand-up mixer with a clean kitchen towel and start the mixer. This prevents a bunch of powdered sugar from flying everywhere. Beat until combined, about 1 minute.

Pour in the vanilla extract and espresso; beat until combined, about 30 seconds. Add the food coloring and adjust to your liking. If you want it more blush rose, add a teeny bit of brown coloring gel.
To Decorate the Cupcakes:
When the cupcakes are completely cool, decorate them how you like. I obviously did roses, but you don't have to do that! Get creative. Or make it simple.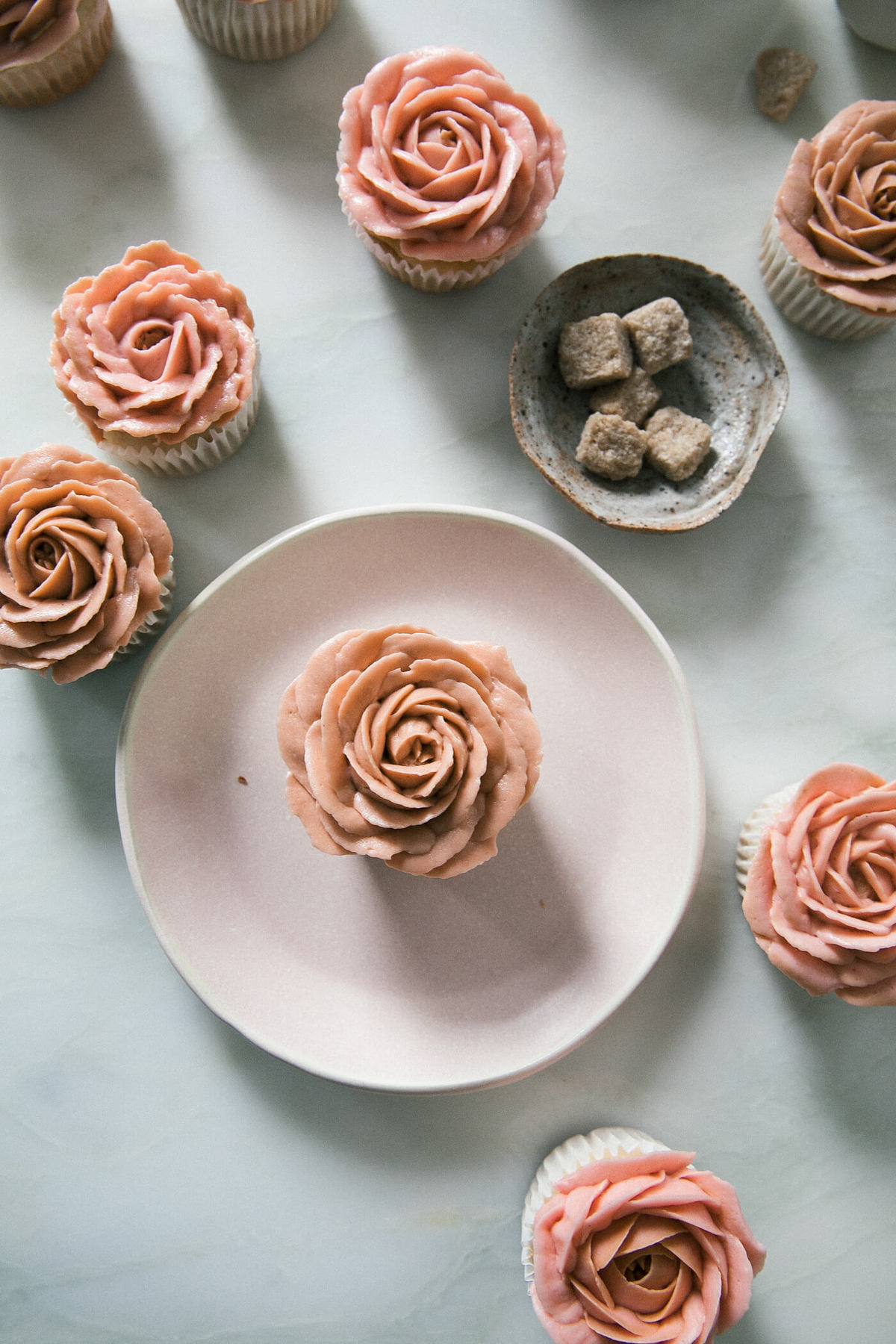 And here is the foreskin-looking like cupcake by popular demand!