Blackberry Pie Bar Milkshakes
12
Jun 17, 2015, Updated Feb 23, 2019
Disclosure: This post may contain affiliate links, which means I may earn a commission if you click on the link and make a purchase.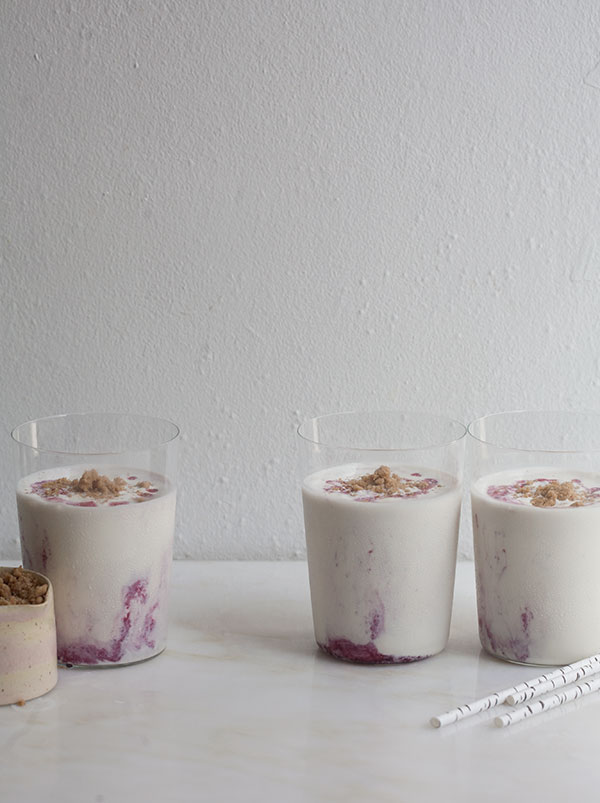 Ice cream was one of the first non-baby food items I ever ate. I know this only because there are tons of pictures of baby Adrianna with ice cream all over my face. I must've been 3 months old? Is that even ok? Probably not but it was the 80s and my parents were too young to care. I totally survived but it left me with a huge love for ice cream. My dad is to blame, obviously.
It's no secret that I love pairing summer fruit with spices like cinnamon, cardamom and ground ginger. Those warm, fall-ish spices are so glorious with fresh fruit. Today I teamed up with McCormick Gourmet to bring you these Blackberry Pie Bar Milkshakes. The ground ginger works gloriously with the fresh blackberries.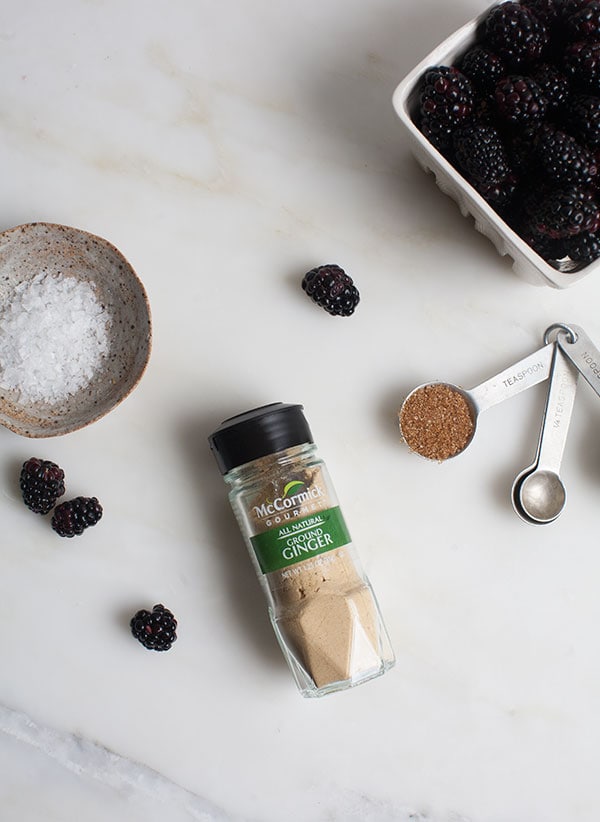 And can we speak about pie bars for a quick moment? I've always loved a good pie bar. I was looking through the recipe index a few days ago and was sort of appalled that not one recipe for a pie bar lives in the archives. We will change this! Change is coming! I'm thinking something peach-y and creamy…and maybe something else.
In the meantime, we have milkshakes! Let's make a syrup and a crumble and pair it with milk and ice cream. This milkshake is something I want to drink, guiltless, on a stoop while I watch people walk by. I think of myself in a place like New York or something. There's something sort of magical and gross all at the same time about New York in the summer. It's muggy and balmy but everyone is outdoors and I love that so much. I love New York in the summer.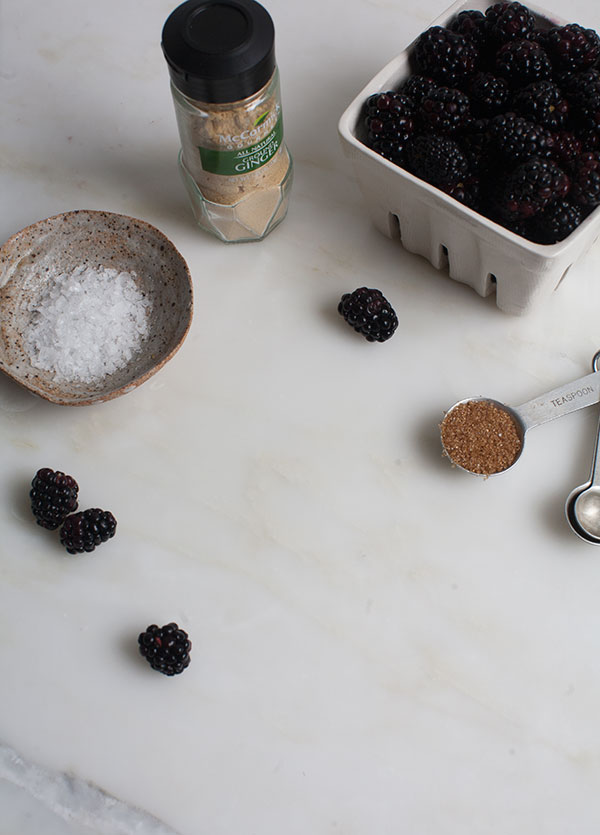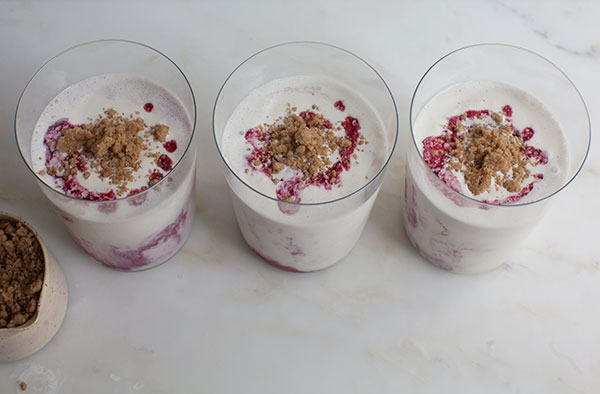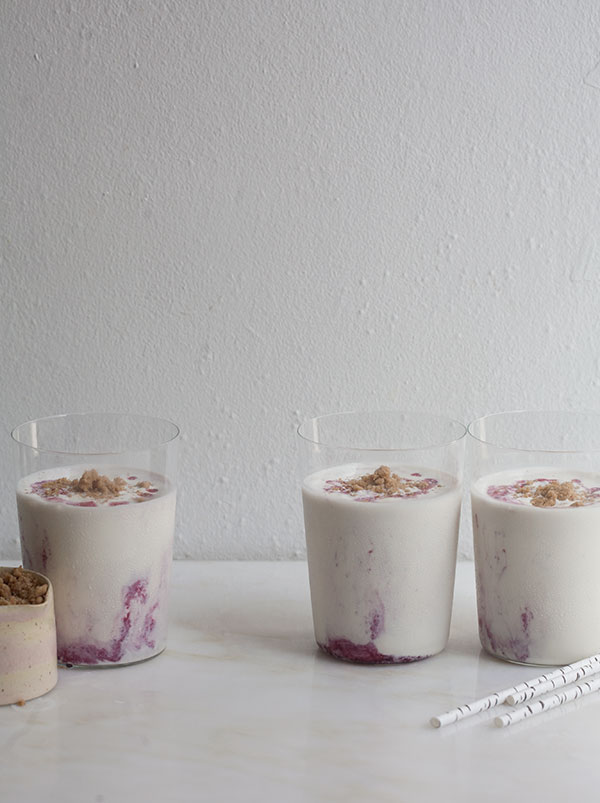 Milkshakes are peaceful and nostalgic and glorious and indulgent. If they're not indulgent then it's called a smoothie and you can drink it for breakfast! Remember these pieces of wisdom.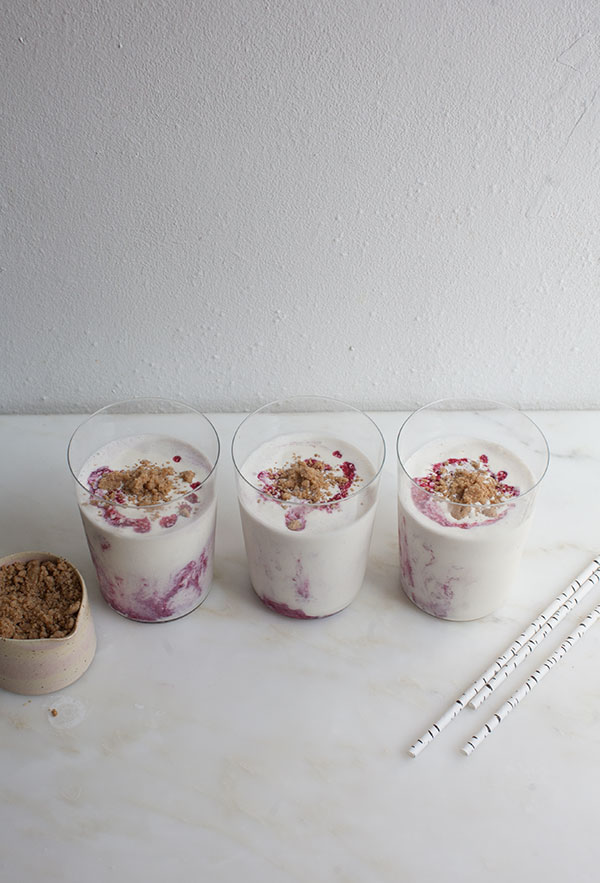 Blackberry Pie Bar Milkshakes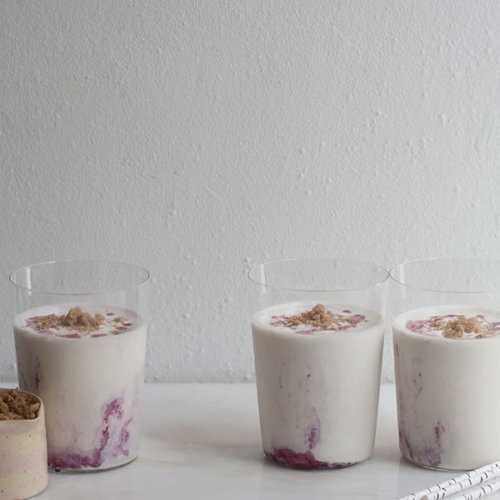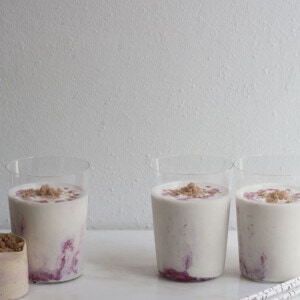 Ingredients
Syrup:
3/4

cup

blackberries

1/4

cup

,

plus 2 tablespoons, water 

1/4

cup

granulated sugar

1/4

teaspoon

McCormick Gourmet ground ginger 

Pinch

of salt 
Crumble: 
1/4

cup

all-purpose flour 

2

tablespoons

brown sugar 

1/4

teaspoon

baking powder 

Pinch

of McCormick Gourmet ground ginger

Pinch

of McCormick Gourmet ground cinnamon

Pinch

of salt 

2

tablespoons

very cold unsalted butter

,

cut into cubes
Milkshakes: 
1 1/2

cups

almond milk

1

quart

vanilla ice cream 
Instructions
To a small saucepan, set over medium-low heat, mix together the blackberries, water, sugar, ginger and salt. Cover the pan and cook until the blackberries have softened and have begun to release some of their juices, about 5 to 7 minutes. Using a fork, mash the blackberries (be careful—it can get messy!). Run the syrup through a sieve (you should end up with about 3 tablespoons of syrup left). Set aside to cool. 

Preheat the oven to 350 degrees F. Line a baking sheet with parchment. In a small bowl, whisk together the all-purpose flour, brown sugar, baking powder, ginger, cinnamon and salt. Mix the cubed cold butter into the flour mixture, until it resembles the size of large peas. Spread the crumble onto the baking sheet and bake for about 8 minutes, until lightly golden brown. Remove and allow to cool completely on the baking sheet. 

To a blender, add the almond milk and ice cream. (Depending on how big your blender is, you may need to do this in batches.) Pulse for about 5 seconds. Seriously you don't want it too runny! I have a Vitamix and just did like little pulses until the ice cream was broken up a bit. 

To assemble: Fill each of the cups about 1/4 of the way. Drizzle in a teaspoon or two of syrup. Pour in more of the vanilla milkshake. And then drizzle more syrup in. Top with the last bit of the milkshake and pour in a final drizzle of syrup; finish the milkshakes with a handful of the crumble topping. 
Nutrition
Nutrition information is automatically calculated, so should only be used as an approximation.
(This post is sponsored by McCormick Gourmet. Thanks for supporting the sponsors that keep A Cozy Kitchen cozy.)