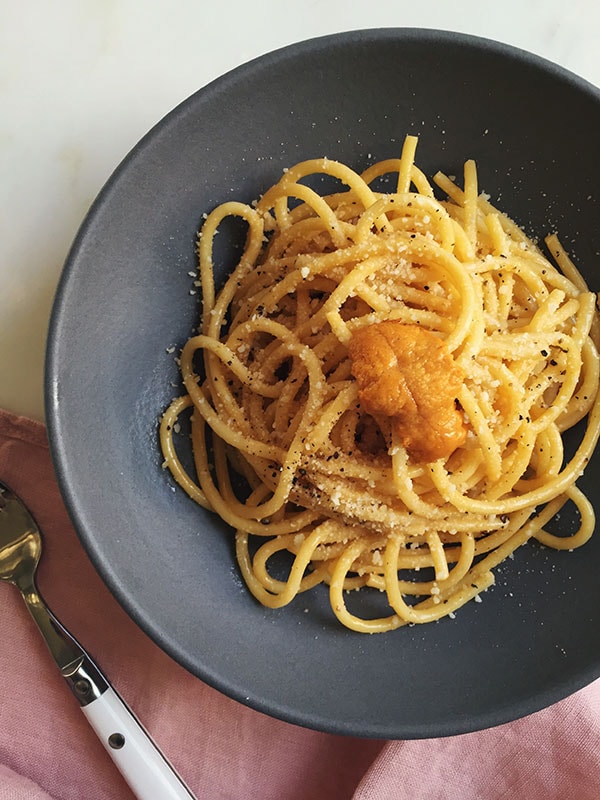 When I was a kid I loved pasta night because it meant that I could take a raw piece of pasta and act like it was a cigarette.
I liked doing this with other things like straws, Fun Dip and Pocky. Even to this day, that is one of the first things I think of when I remove raw pasta from its container…me fake-smoking.
Anyway, pasta for Valentine's Day is a gigantic no-brainer because it's the easiest thing to throw together. While bolognese takes about an hour to simmer, this sauce takes minutes. This sauce, if anything, almost goes too fast so you'll need to prep all of your ingredients before you get started.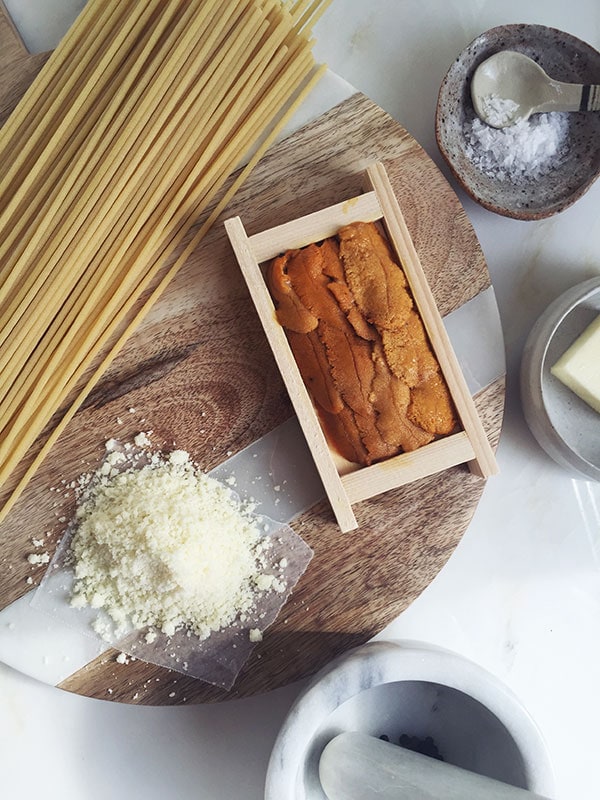 Have you had sea urchin before? It tastes like a fresh breath of ocean air. It's briny and creamy and really delicious. It took me a while to actually fall in love with it. The texture might not be your thing at first but after a few go's, it definitely grows on you.
And the good news is that if the texture isn't your thing, then you don't really have to deal with it in this sauce because the uni is combined, in a food processor, with pasta water.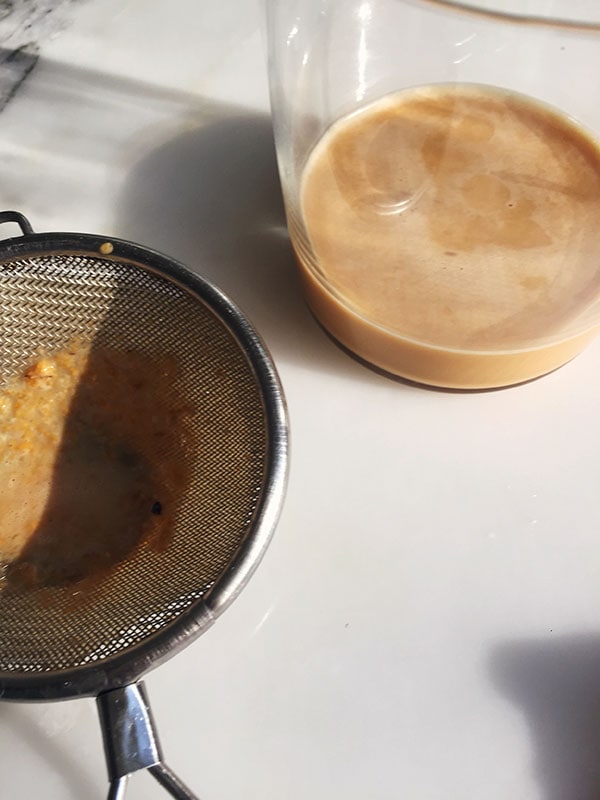 The pasta water and uni are blended together to make this beautiful orange-hued mixture that is then strained.
The pasta comes together a little bit differently than traditional cacio e pepe: it begins with butter and water melting together and becoming one. The sea urchin sauce is slowly incorporated and then the pasta is tossed. The cheese comes at the very end because it was making the sauce super clumpy and I was not feeling it!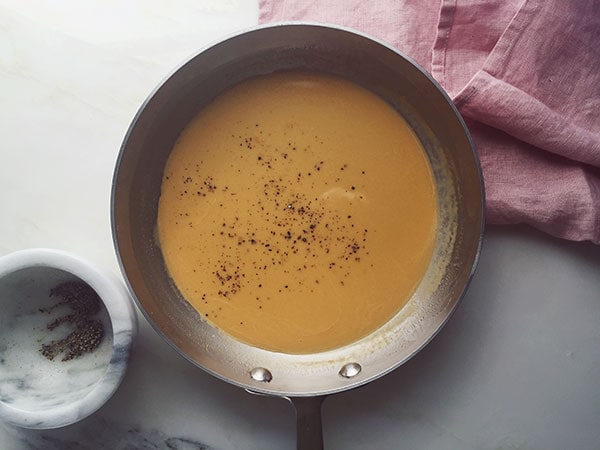 Now, what kind of sea urchin to buy and where from!
Since we're cooking with this sea urchin, you'll want to look for GRADE B. It's not perfect in appearance, though the flavor was fresh and tasty. GRADE A is what you'd find at a high-end sushi restaurant, but there's no need for that in this application
The box you see pictured of Grade B uni was $10. Not bad at all.
If you live in Los Angeles, you can special order it from McCall's Fish and Meats in Los Feliz.
If you don't live in Los Angeles, you can usually call up most fish markets and request it. Or you can head to an Asian market and they'll most likely have it at a pretty fair price.
Happy Love Day. I'll be back next week with non-couple-y recipes. xoxo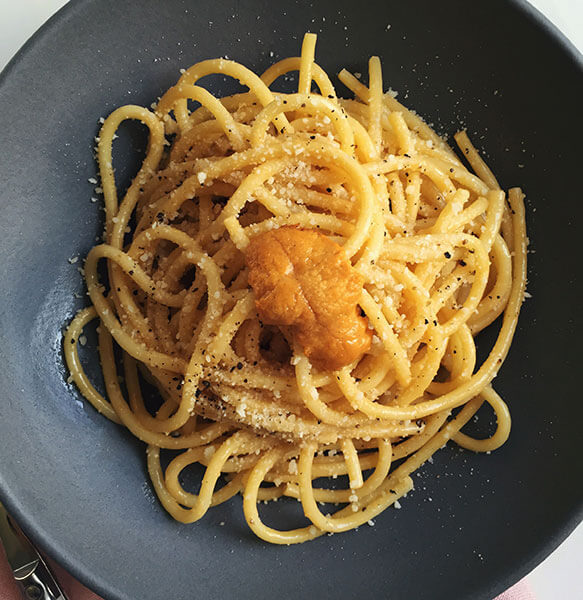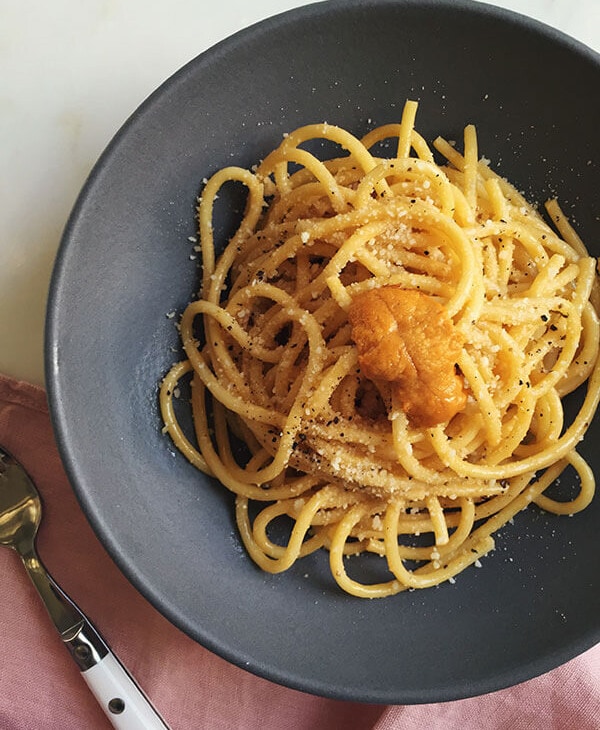 Print Recipe
Uni Cacio e Pepe
Ingredients
6

ounces

spaghetti or bucatini

1/2

cup

reserved pasta water

divided

5

ounces

fresh sea urchin roe

3

tablespoons

unsalted butter

room temperature

Salt

1/2

teaspoon

freshly ground pepper

plus more for garnish

1/4

cup

finely grated Pecorino Romano
Instructions
Begin by placing a colander and measuring cup in your sink.

Bring a medium pot filled with salted water to a boil. Add the pasta and cook until al dente, per the package's instructions (mine told me about 9 minutes). Pour some of the pasta water into the measuring cup (about 1/2 cup) and drain the pasta in your colander. Immediately transfer the measuring cup to the freezer so the water can chill until it's room temperature. The pasta water doesn't need to be cold, we just don't want it scalding hot when we add it to the food processor, along with the uni. Place the pasta back in the empty pot (with the heat turned off) and cover, just so it stays warm while you prepare the rest of the dish.

To a food processor, add the uni. Be sure to reserve a piece or two as garnish. Pour in 1/4 cup of room temperature or warm pasta water to the food processor and pulse until smooth. Pour the uni sauce through a sieve and discard any bits. Set aside.

To a medium skillet, set over low heat, add 1 tablespoon of pasta water. Heat the pasta water until a wisp of steam rises from the top, about 30 seconds. Next, add the butter and constantly move the pan until the butter completely incorporates into the water. Turn off the heat and slowly begin to add the reserved uni sauce, one tablespoon at a time, only adding more until the tablespoon added prior is completely incorporated. Repeat the adding of the uni sauce until you've worked your way through all of it.

Add a few pinches of salt and about 1/2 teaspoon of freshly ground pepper. Give it a taste and adjust the salt and pepper content to your liking. Add the pasta and toss until thoroughly coated. It shouldn't be too too saucy. Divide the pasta amongst bowls, top with a generous handful of Pecorino Romano, more black pepper and a piece of uni. Serve immediately.
Notes
This dish goes quickly, so this is one of those instances when I recommend getting all of your ingredients prepped and the table set!