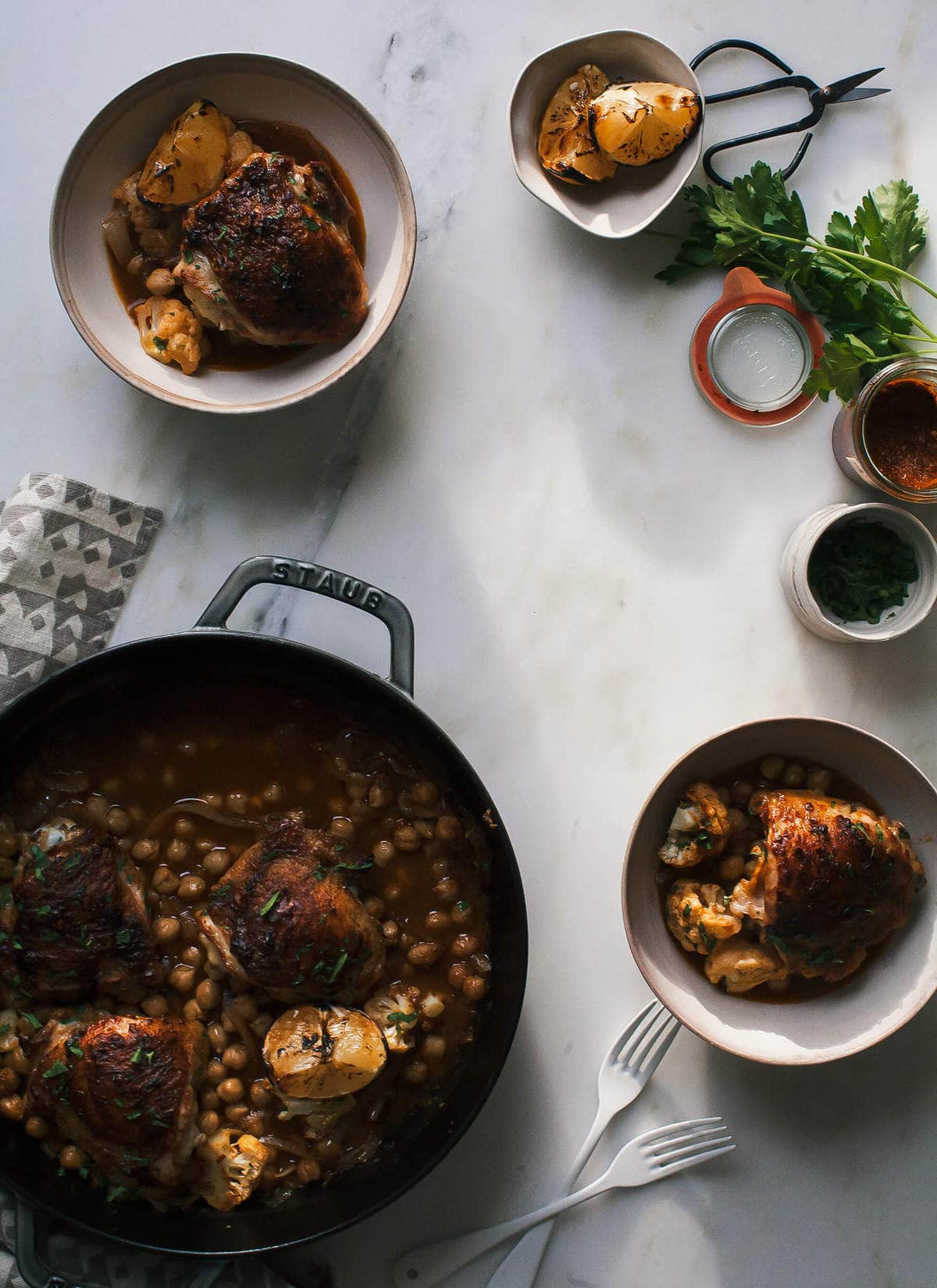 This week has been weird and foggy…and rainy! I feel like I've been yawning the entire time and haven't had that gusto that everyone seems to be having except me. GOALS! RESOLUTIONS! BE THE BEST YOU! I've been more like:
1. Maybe Steve Avery really did to it?
2. Leonardo DiCaprio is gonna win an Oscar and he grunted the entire time. (A must see!)
3. I really want pizza.
4. I really want a milkshake.
5. I bet there's someone on Pinterest that has made a pizza milkshake. Barf.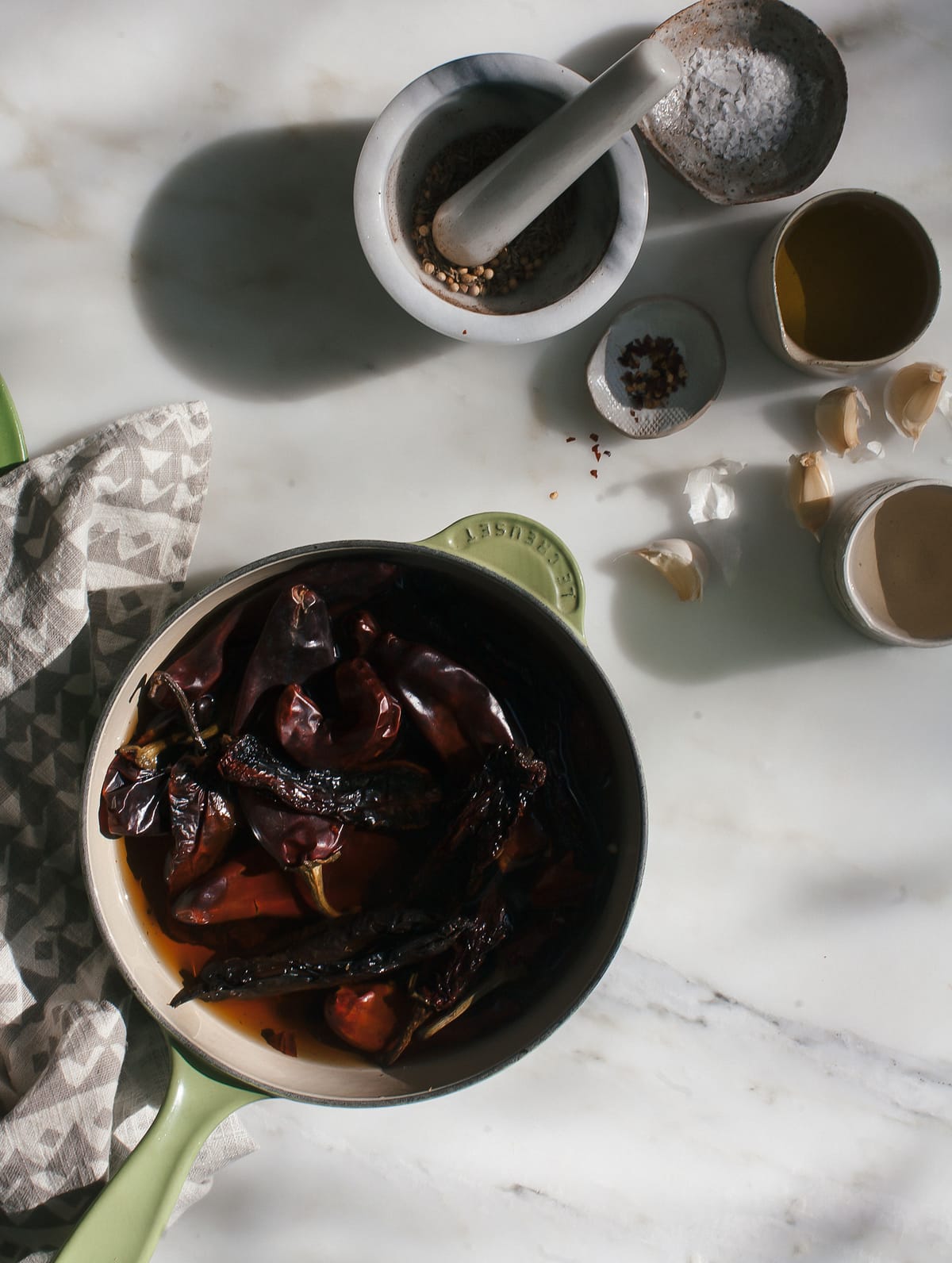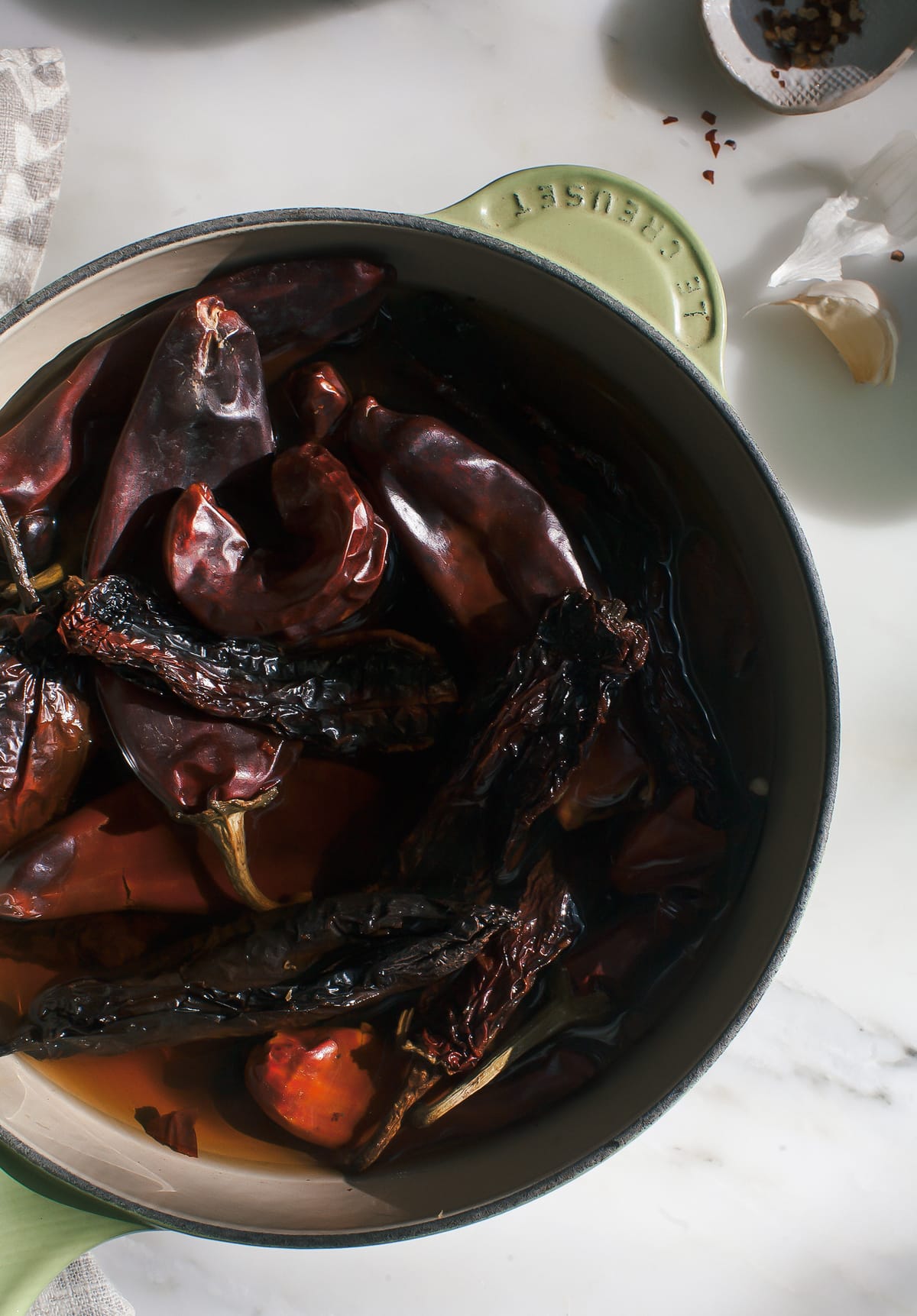 I decided I needed to put some music on and make something classy: HARISSA.
I can't think of anything more classy than homemade condiments, you know?
Josh is also on this cleanse-thingy with me and he made harissa the other day, adapted from his boss, Chef Jeremy Fox. You might've seen it in this month's Bon Appetit. He has a whole section of healthy sorta dishes and they all look amazing. I used the general guidelines but changed a few things because I can never ever follow a recipe to save my life.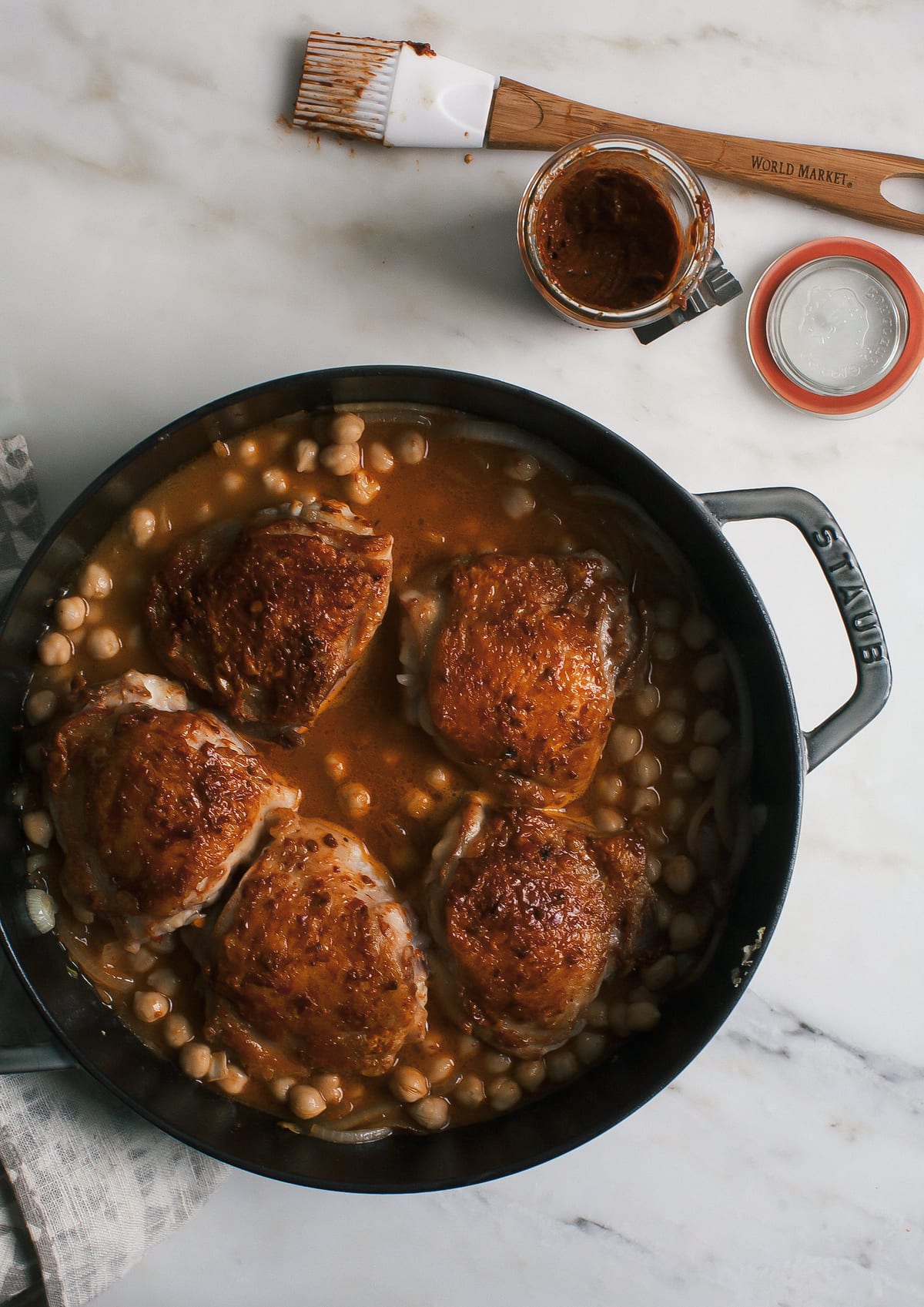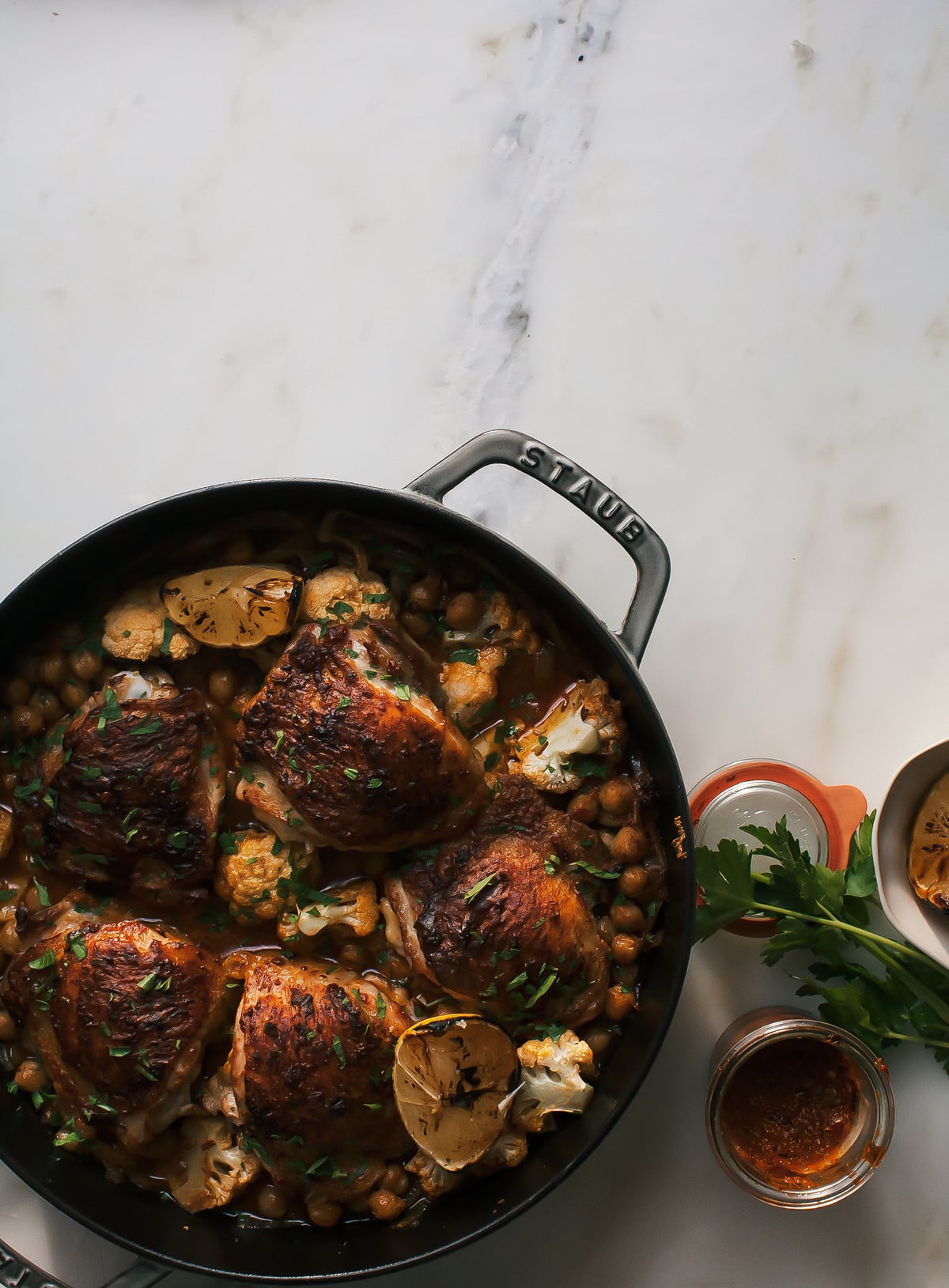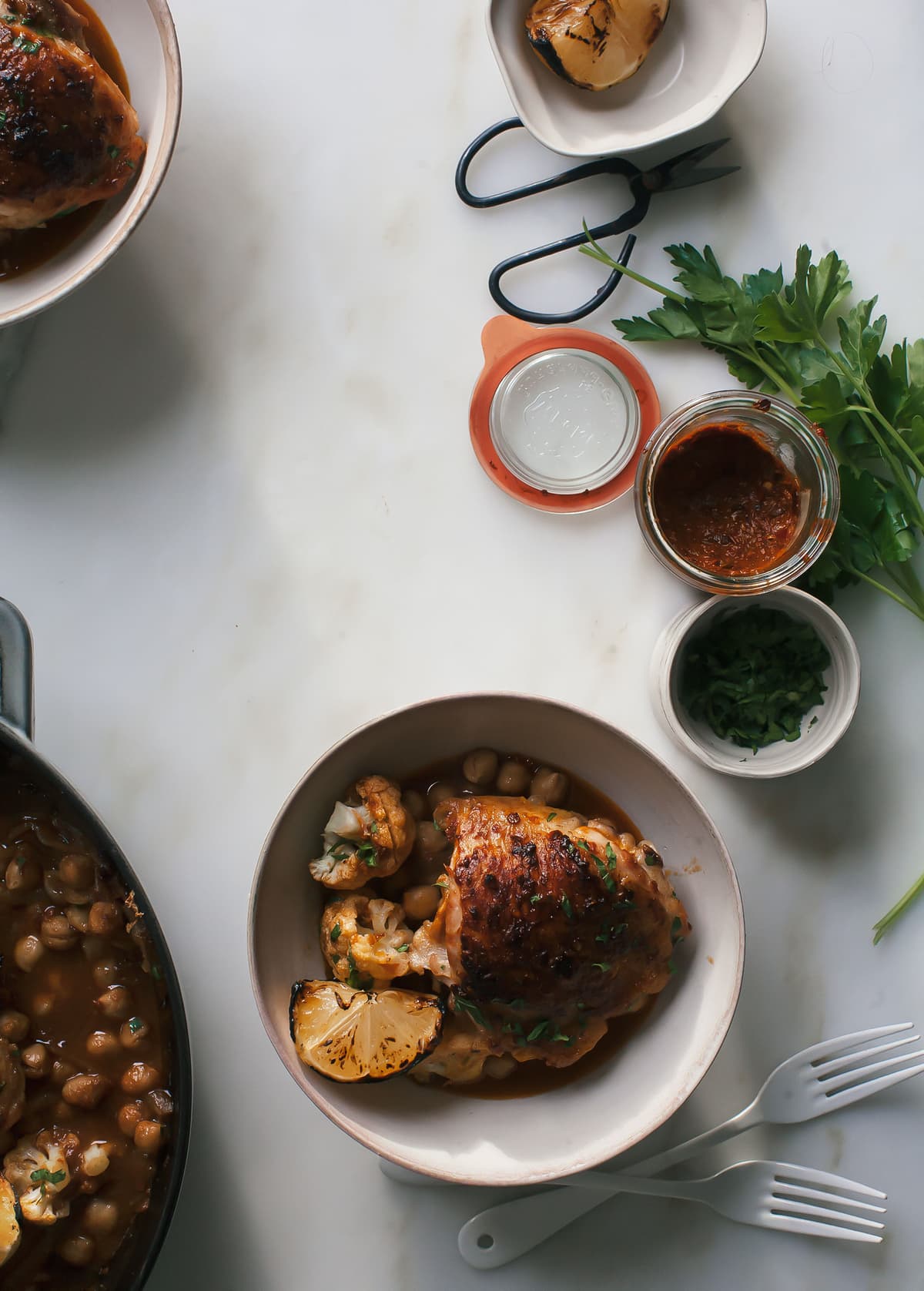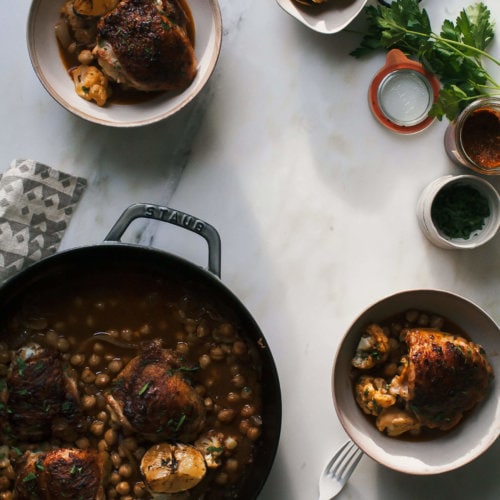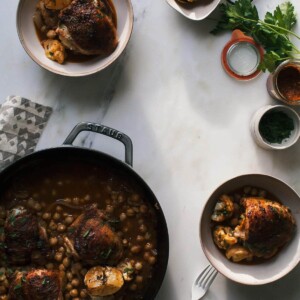 Serving Size:
1
cup harissa
Ingredients
8

large dried guajillo chiles

8

medium dried pasilla chile peppers

,

see note!

2

teaspoons

cumin seeds

1

teaspoon

coriander seeds

1

teaspoon

celery seeds

3

garlic cloves

1

shallot

,

peeled

1/3

cup

,

plus 1 tablespoon, olive oil

1

tablespoon

champagne vinegar

1

teaspoon

salt
Directions
In a medium pot, bring water to a boil. Add the dried guajillo and ancho chile peppers, turn off the heat and cover. Allow to sit until softened, about 40 to 45 minutes. Drain. Remove the stems and seeds from the chiles and cut them into 1-inch pieces.

In a mortar and pestle (alternatively, you can use a food processor), add the cumin seeds, coriander seeds and celery seeds. Twist and grind the mortar until the mixture has reached a spice blend. Transfer to a blender, along with the garlic and shallot. Pulse until finely chopped. Add the chiles and pulse until chopped. With the blender running, pour in the oil and vinegar until just incorporated (the harissa should be the texture of a paste vs. a smooth puree). Transfer to an airtight container. Mixture will last up to 5 days in the fridge.
Notes
*I used pasilla but you could also use dried ancho chiles.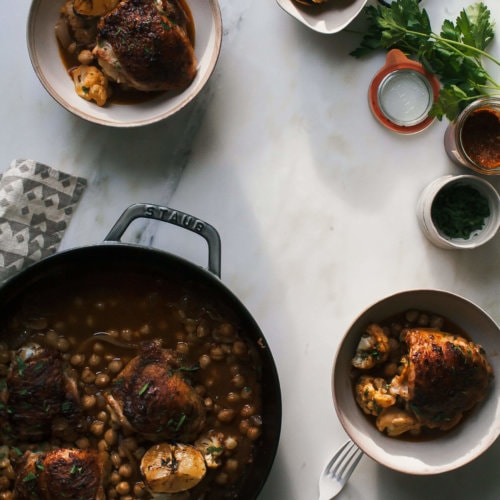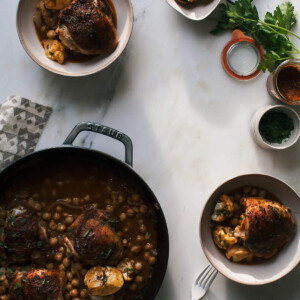 Ingredients
1 1/2

pound

bone-in chicken thighs

,

(about 6)

Salt

Freshly ground pepper

3

tablespoon

olive oil

2

shallots

,

(or 1 yellow onion), peeled and sliced

3

cloves

garlic

1/2

cup

homemade or store-bought harissa paste

,

plus to brush on top

1 1/2

cups

chicken broth

2

(14-ounce) cans of chickpeas

1

head of cauliflower

,

cut into florets

1

lemon,

,

grilled

Italian parsley,

,

for garnish
Directions
Preheat oven to 400 degrees F.

Sprinkle chicken with salt on both sides. In a large pan or Dutch oven, heat the olive oil over medium-high heat. When hot, add the chicken, skin-side down, and cook until golden brown, about 5 to 6 minutes. Flip and cook on opposite side for about 3 minutes. Remove chicken and set aside in bowl.

Turn the heat down to medium-low. If the chicken let out a bunch of fat, discard, leaving only about two teaspoons of oil. Add the onions and cook for about 3 minutes, next add the garlic and cook until fragrant. Add the harissa paste, broth, chickpeas and nestle the chicken atop. Brush the tops of the chicken thighs with harissa. Place in oven to cook, uncovered, for about 20 minutes. At the 20 minute mark, add the cauliflower all around (you may need to move the chicken around to fit all the cauliflower) and transfer back to the oven. Cook for an additional 15 minutes. Garnish with lemon wedges and Italian parsley.
Nutrition Facts
Roasted Harissa Chicken with Chickpeas & Cauliflower
Amount Per Serving (4 g)
Calories 0
* Percent Daily Values are based on a 2000 calorie diet.