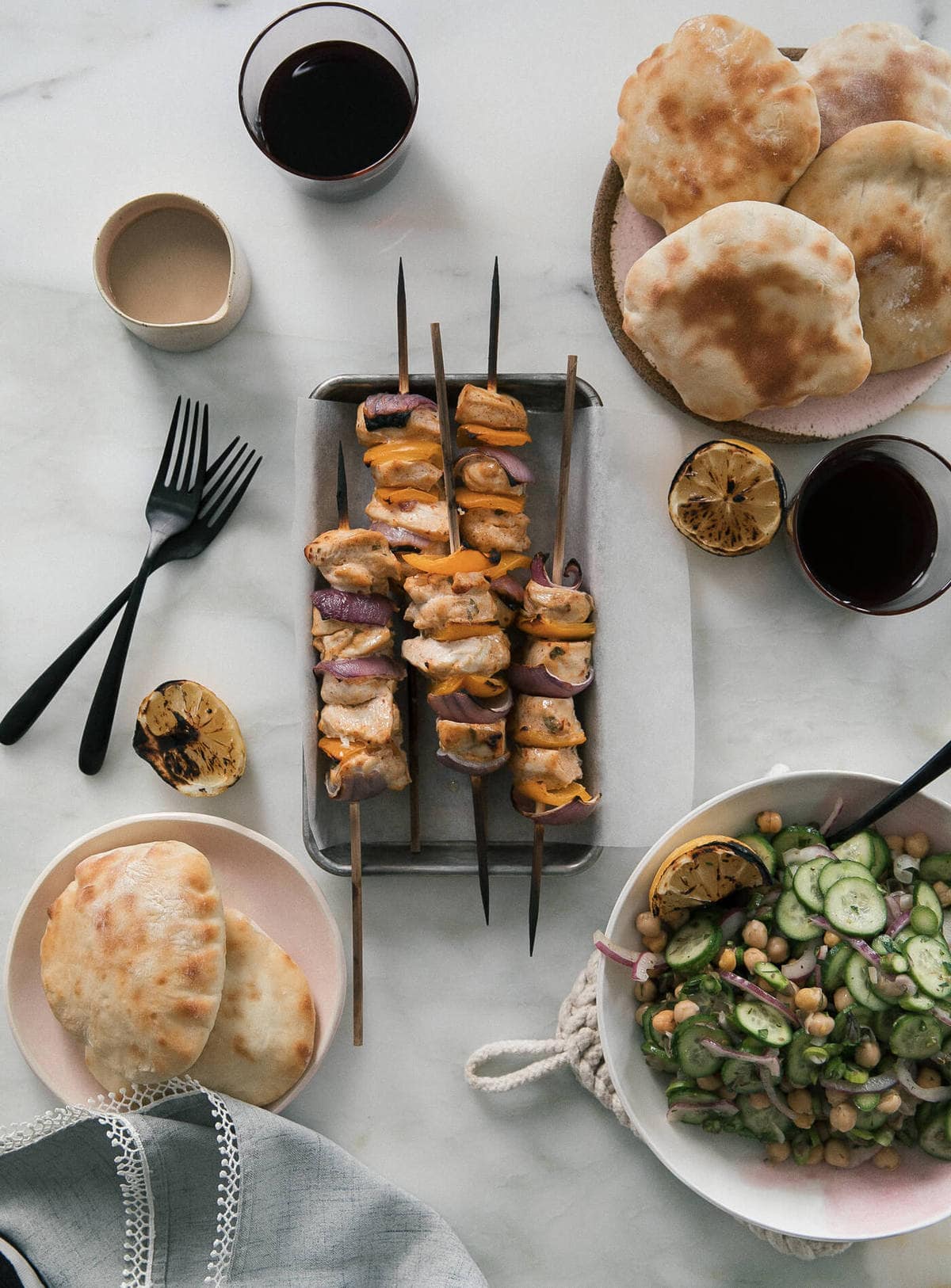 April is the month I've vowed to get my shit together. Every single day I have a different task assigned. I've scheduled a day to go through all of my clothes, props, old bills, etc. I want to purge! And tomorrow, is going to be a very fun go-to-the-accountant-day. Tax season is here—FUN! Honestly, I have a feeling it's not gonna be that bad. But I do have a drink and dinner scheduled with friends so I'm hoping it'll help A LOT.
I'm also trying to get things prepped in the morning for dinner at night. A lot of times people are like, "what do you make for dinner?" And I'm going to be 100% honest, I don't always have the best answer. Sometimes it's cereal, a salad I throw together, scrambled eggs, take-out. But I've made these about three times since I photographed them for the blog. They are so good and easy to put together.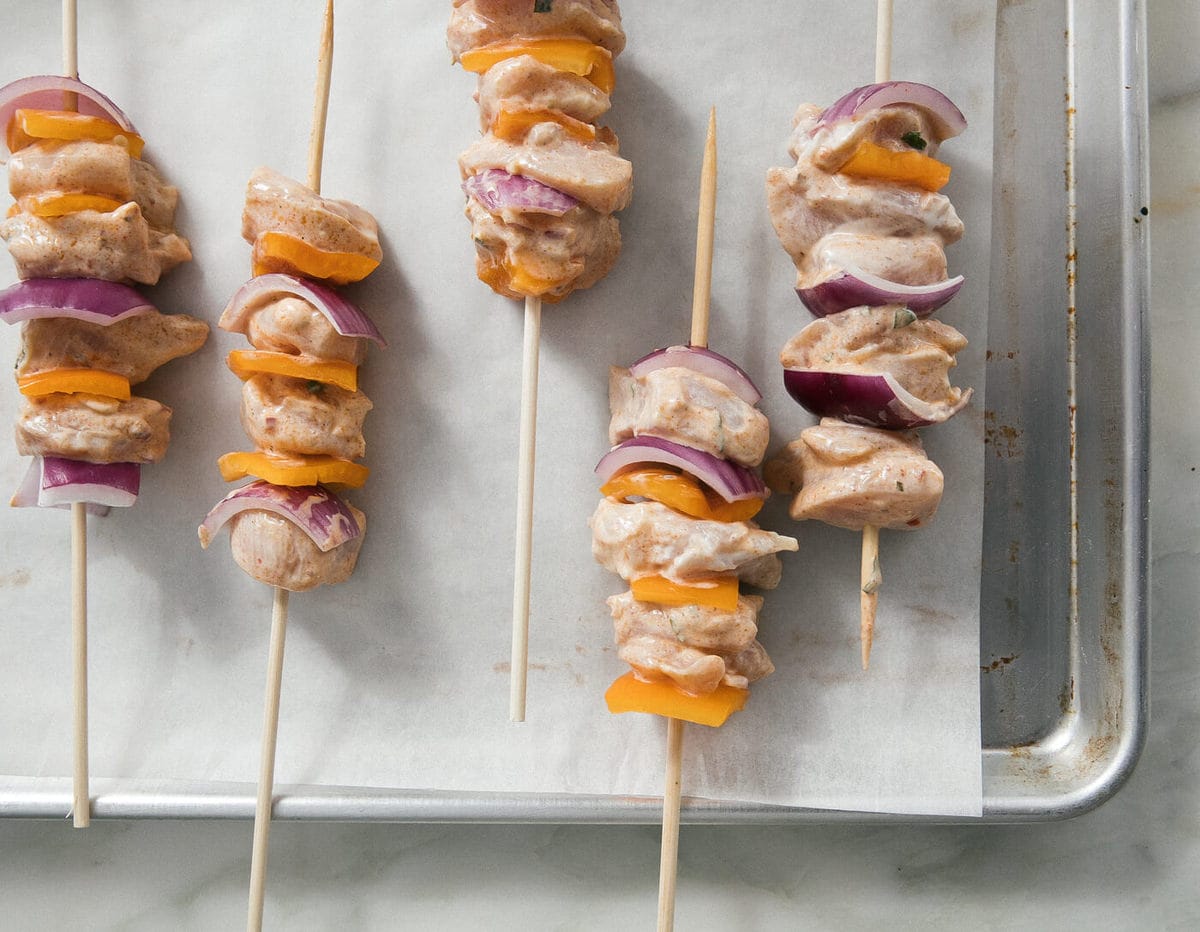 This recipe comes from my friend Molly Yeh's new book YOGURT. Yes she wrote a whole book about yogurt and it's amazing. It's a cute short stacks book and I just love it.
I also used her pita recipe and it was the fluffiest most delicious pita ever. I made little sandwiches with it. The past few times I've made the chicken, I've left out the pita because I try to not eat too many carbs at night. So I just paired it with a salad and bam! So good.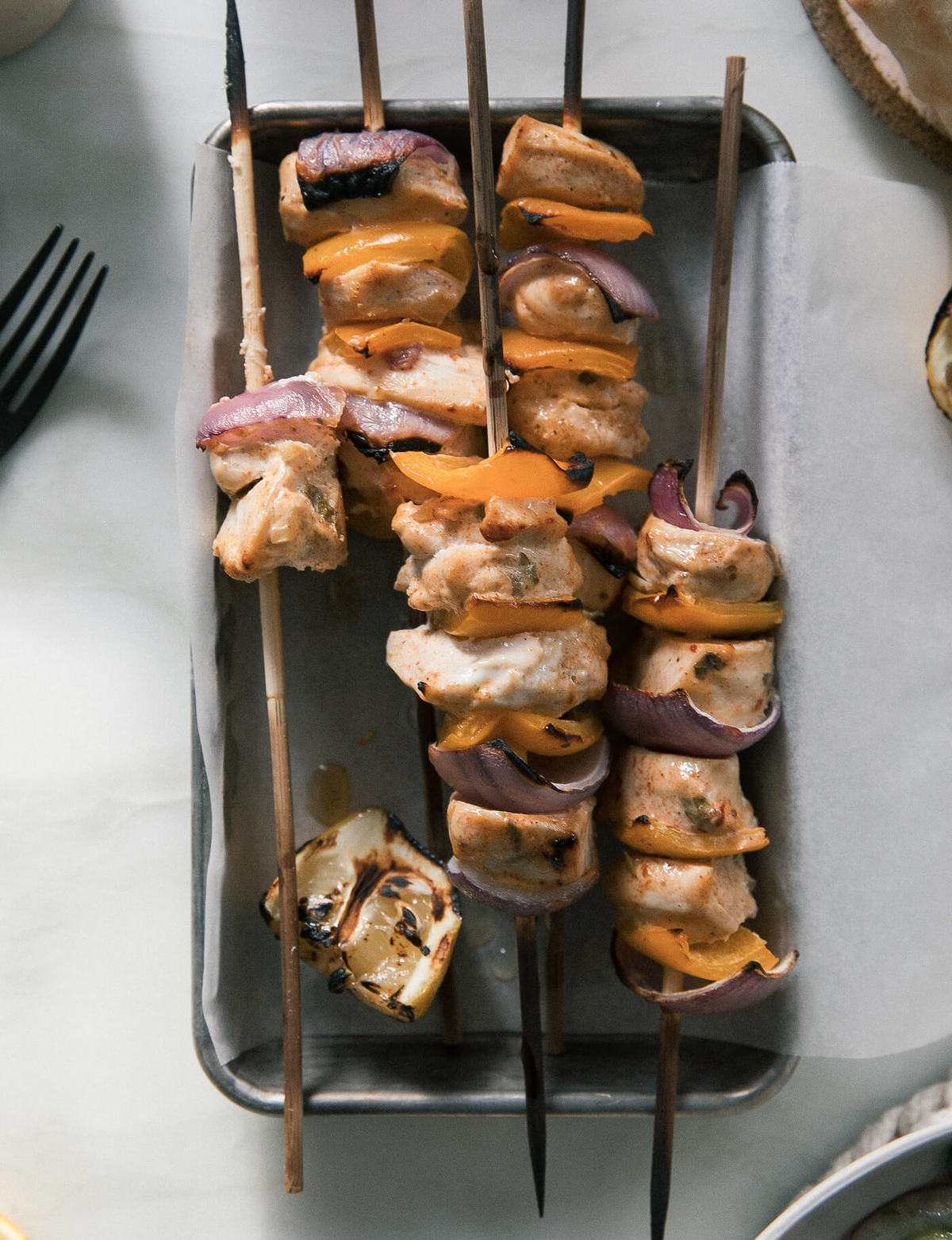 The chicken chills out in a bowl in the fridge with a yogurt marinade filled with a bunch of delicious things like red onion, seasoning, lemon juice and more. When you're ready, you can grill them OR you can do like I did and just bake 'em on a baking sheet in the oven.
You won't get that beautiful sear or char like from a pan or grill but the oven is pretty hands off (ideal for me) so I went that route.
It's the perfect weeknight meal.
Here's a link to Molly's new book and her blog!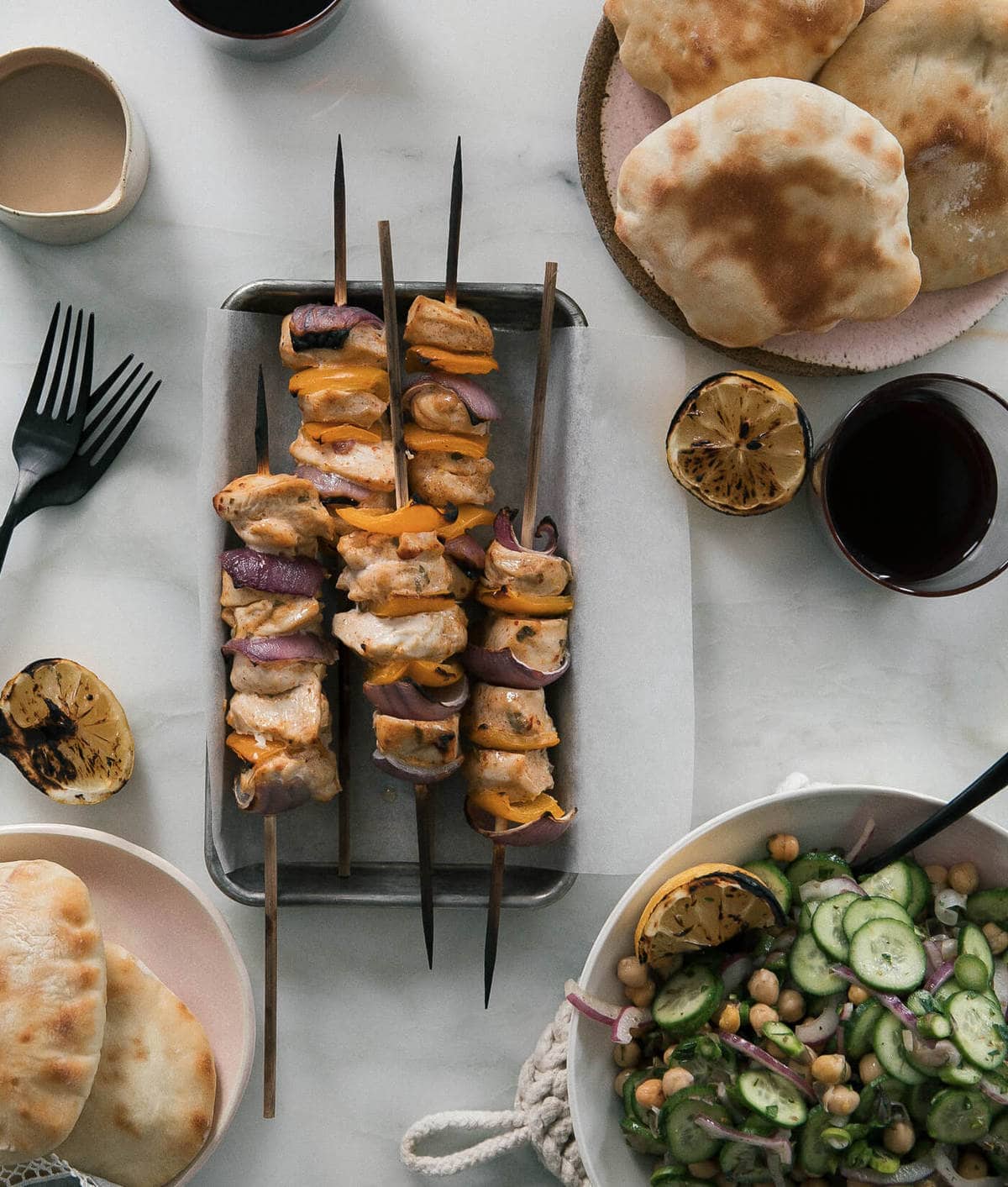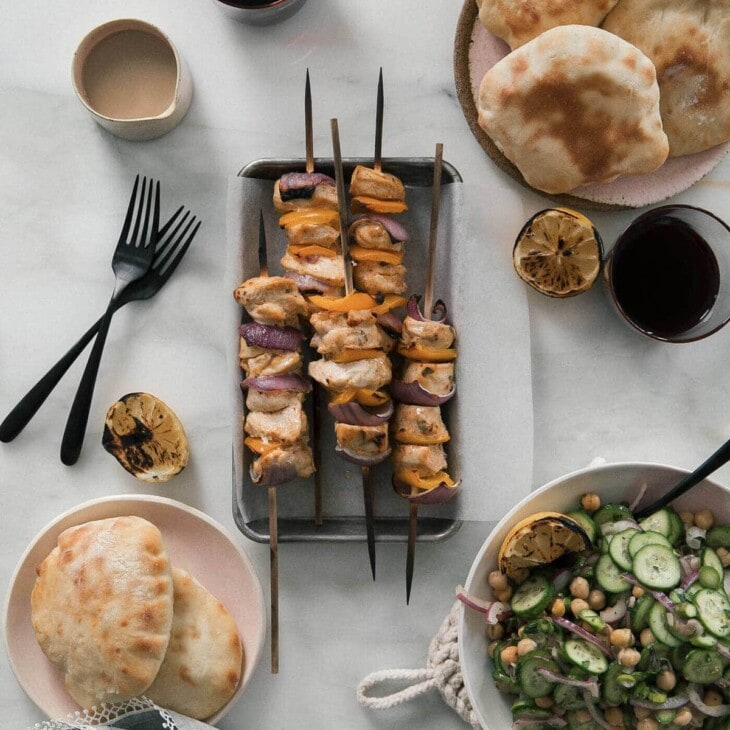 Print Recipe
Yogurt-Marinated Ras al Hanout Chicken Skewers
Ingredients
1 1/2

cups

plain whole-milk yogurt

1

tablespoon

kosher salt

1

tablespoon

ras al hanout

1

tablespoon

sugar

1

tablespoon

harissa

1/4

cup

extra-virgin olive oil

1/2

red onion

finely chopped

4

garlic cloves

smahsed

3/4

cup

fresh mint leaves

finely chopped

1

lemon

halved

Freshly ground black pepper

2

pounds

boneless skinless chicken breasts

cut into 1 to 2-inch cubes

1

bell pepper and 1/2 red onion

chopped into 1 to 2 -inch pieces, to add to the skewers (optional)
Instructions
In a large bowl, combine the yogurt, salt, ras al hanout, sugar, harissa, oil, onion, garlic, mint, juice from half of the lemon and about 12 turns of pepper (about 1/2 teaspoon). Fold in the chicken to evenly coat the cubes, then cover and let marinate in the refrigerator for 3 hours or overnight. Soak 8 wooden skewers, adding bell pepper and onion (if using) in between the pieces.
For grill or grill pan cooking instructions:
Heat a grill or grill pan over medium-high heat. Cook the skewers, turning them occasionally, until they're deeply browned on all sides and cooked through.
For oven cooking instructions:
Preheat oven to 350 degrees F. Line a baking sheet with parchment or foil. Cook the skewers for about 20 minutes, until cooked all the way through. Rotate them at the 10 minute mark for even baking.

Squeeze with the juice from the remaining lemon half. Serve with rice or salad or in pita.