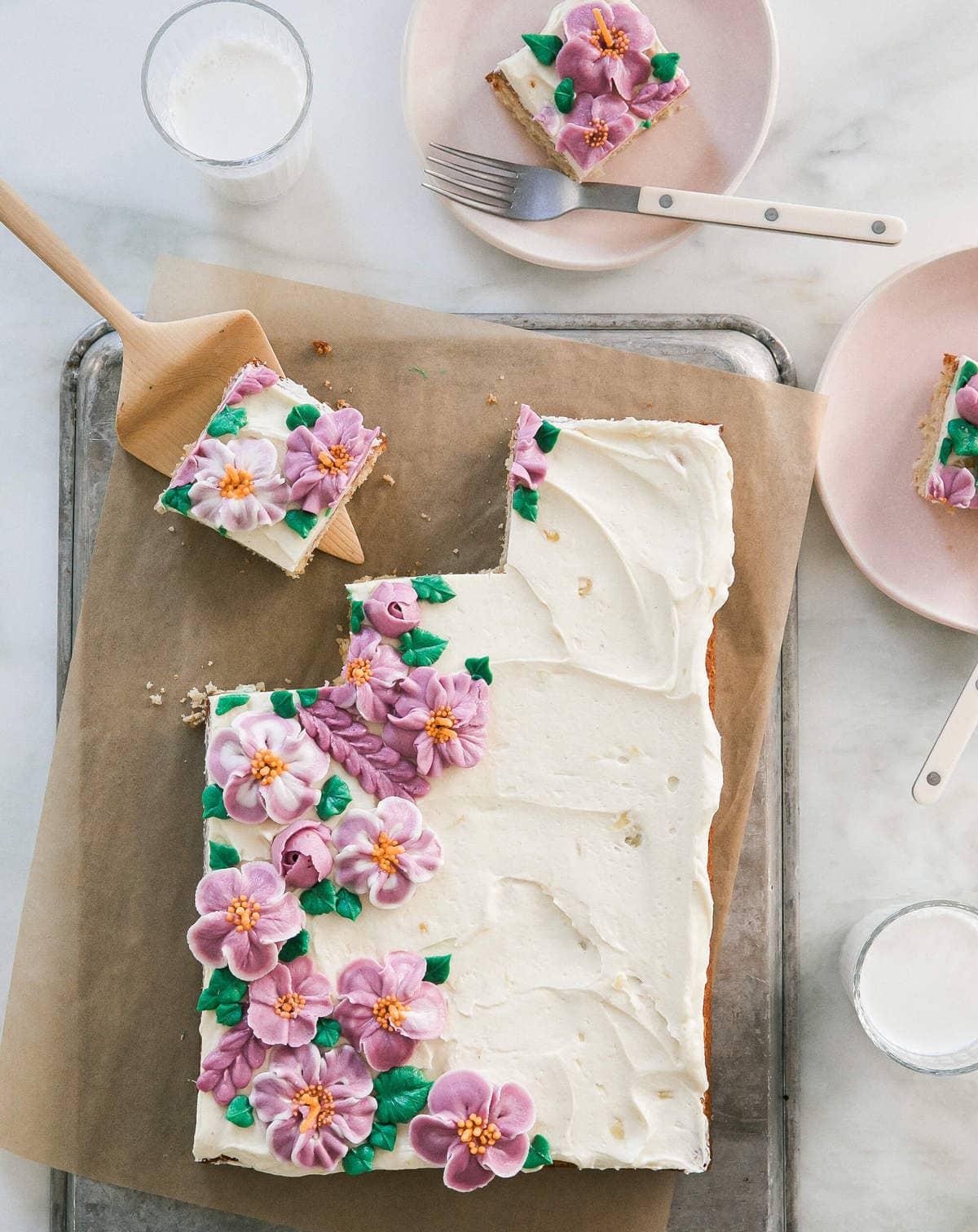 I've made this Piña Colada Cake exactly 10 times. Haha. Whenever I think I know what I'm doing, cakes love to come out of the oven all messed up and tasting mediocre; they laugh in my face and humble me right to the ground.
All that testing was worth it because we now have a delicious cake that will remind you exactly of a piña colada. It has a balance of flavors of equal parts pineapple, coconut and rum. It's only slightly boozy-tasting.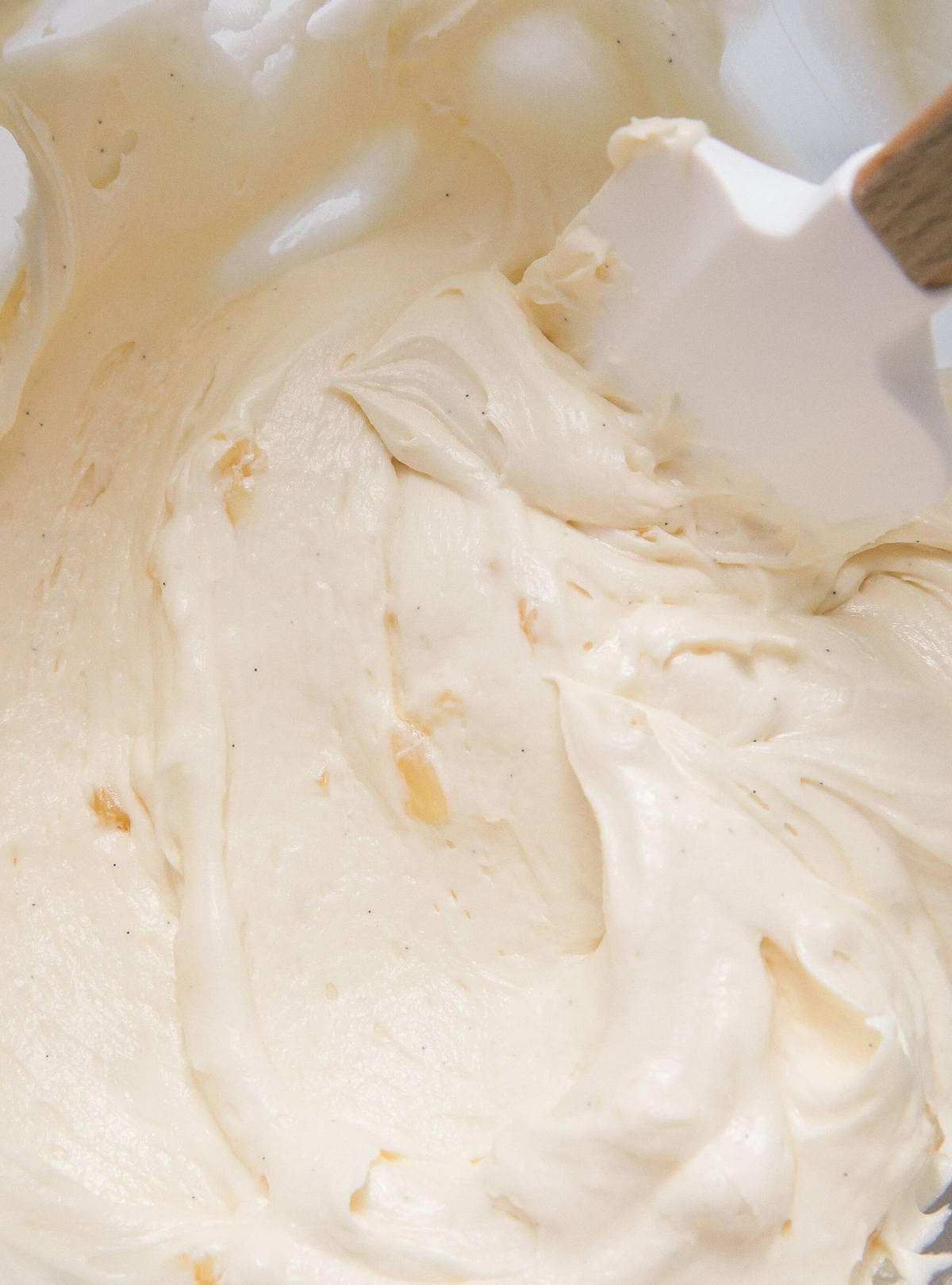 When I was making this cake, it reminded me of Hawaii. And yeah, a lot of that has to do with how many frozen piña coladas I consumed before noon when I visited.
I've only been once—last year for the first time—and it truly is one of the most beautiful places I've been to. There's a vibe in Hawaii, I can't explain it. But I think whenever I go to lands where the indigenous culture is so alive and celebrated, it gives the place a magical vibe. I feel similarly when I visit New Mexico.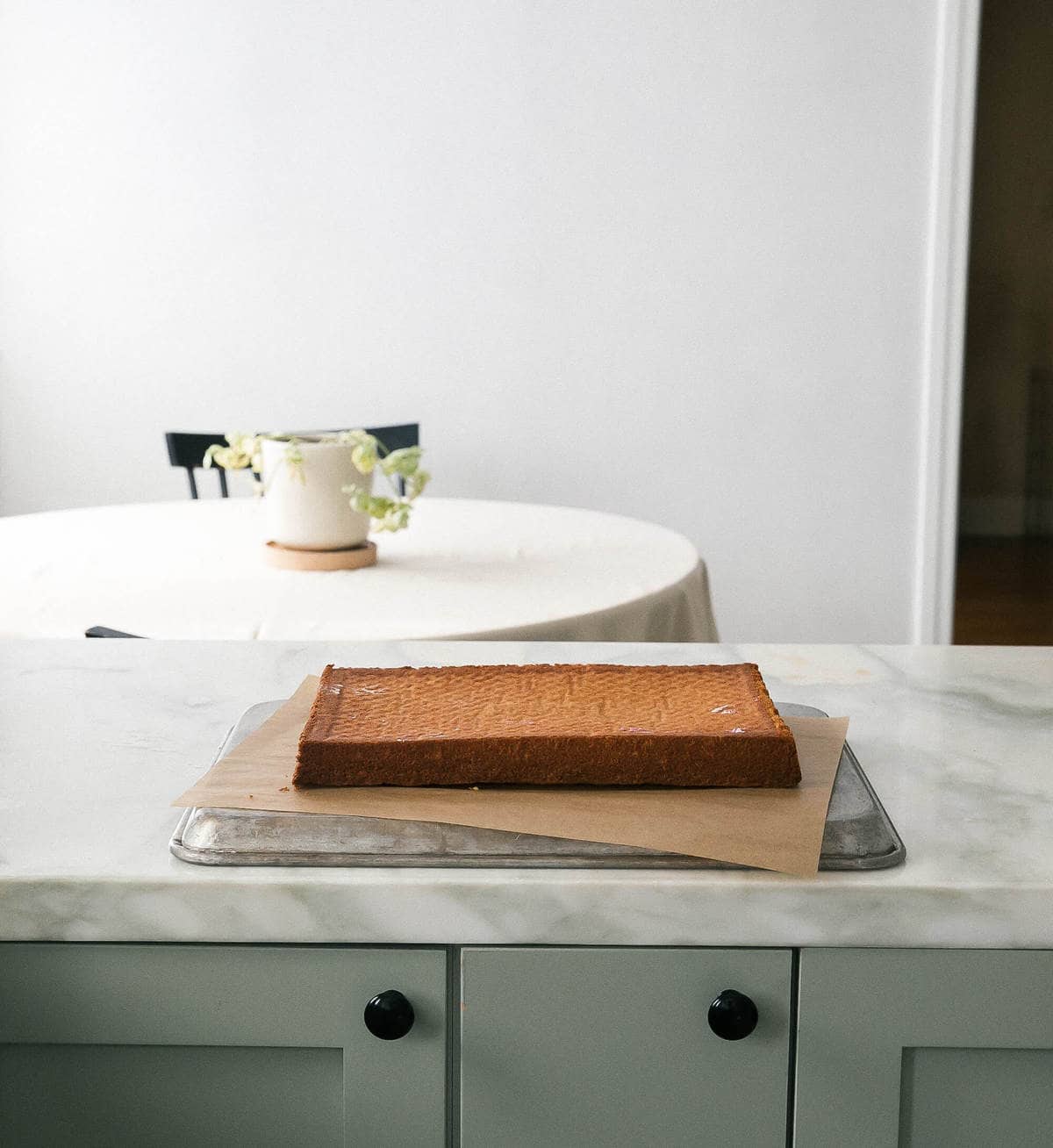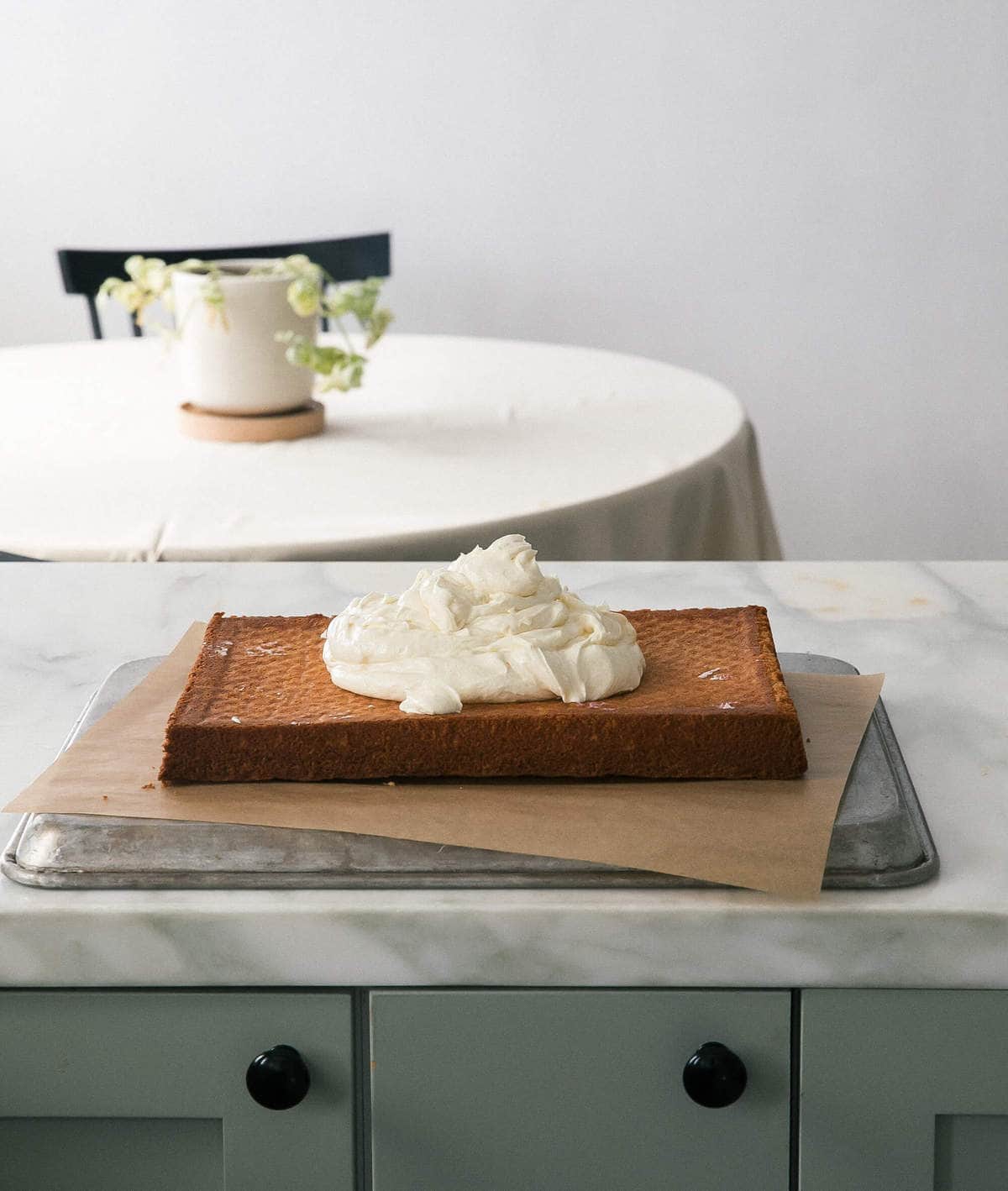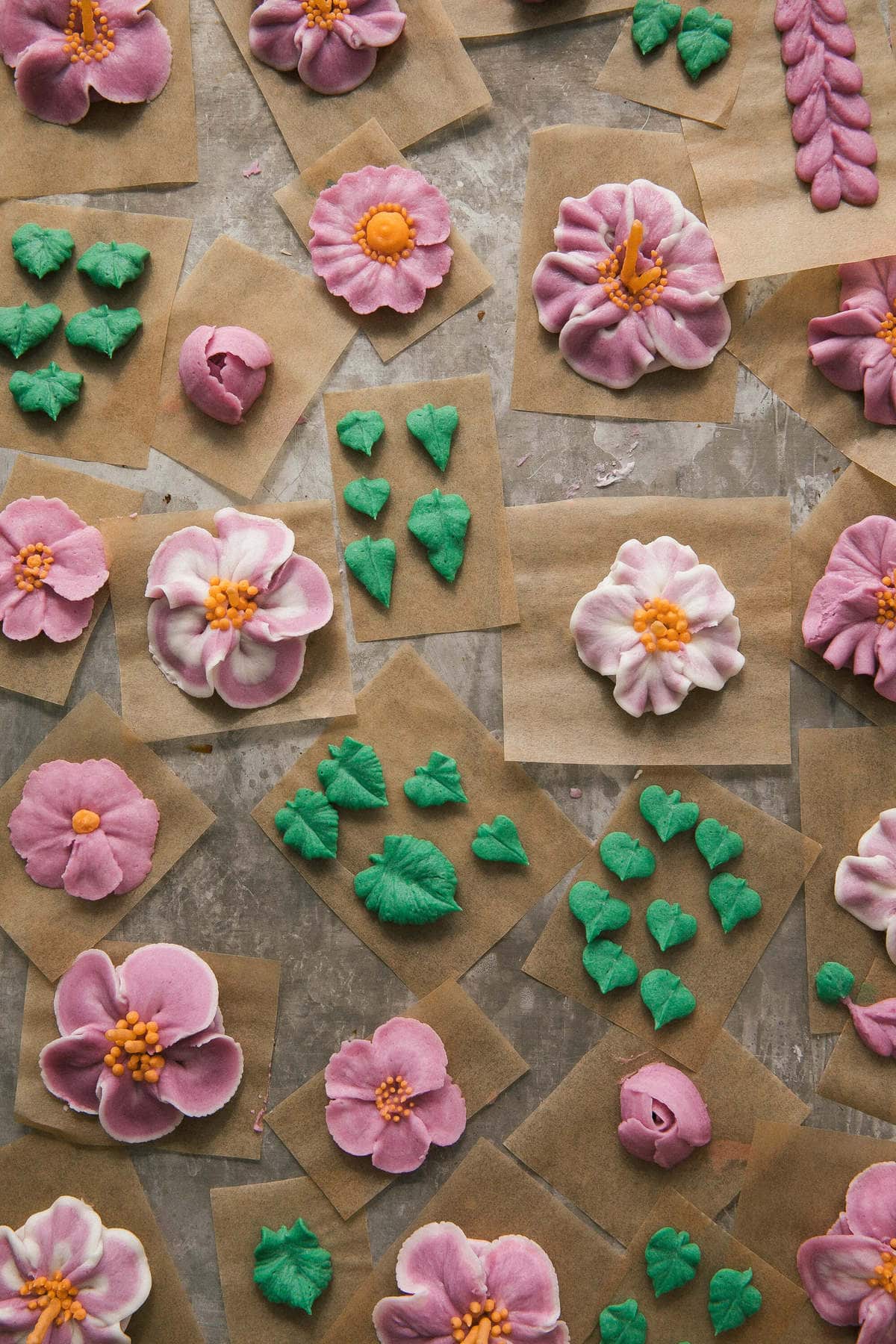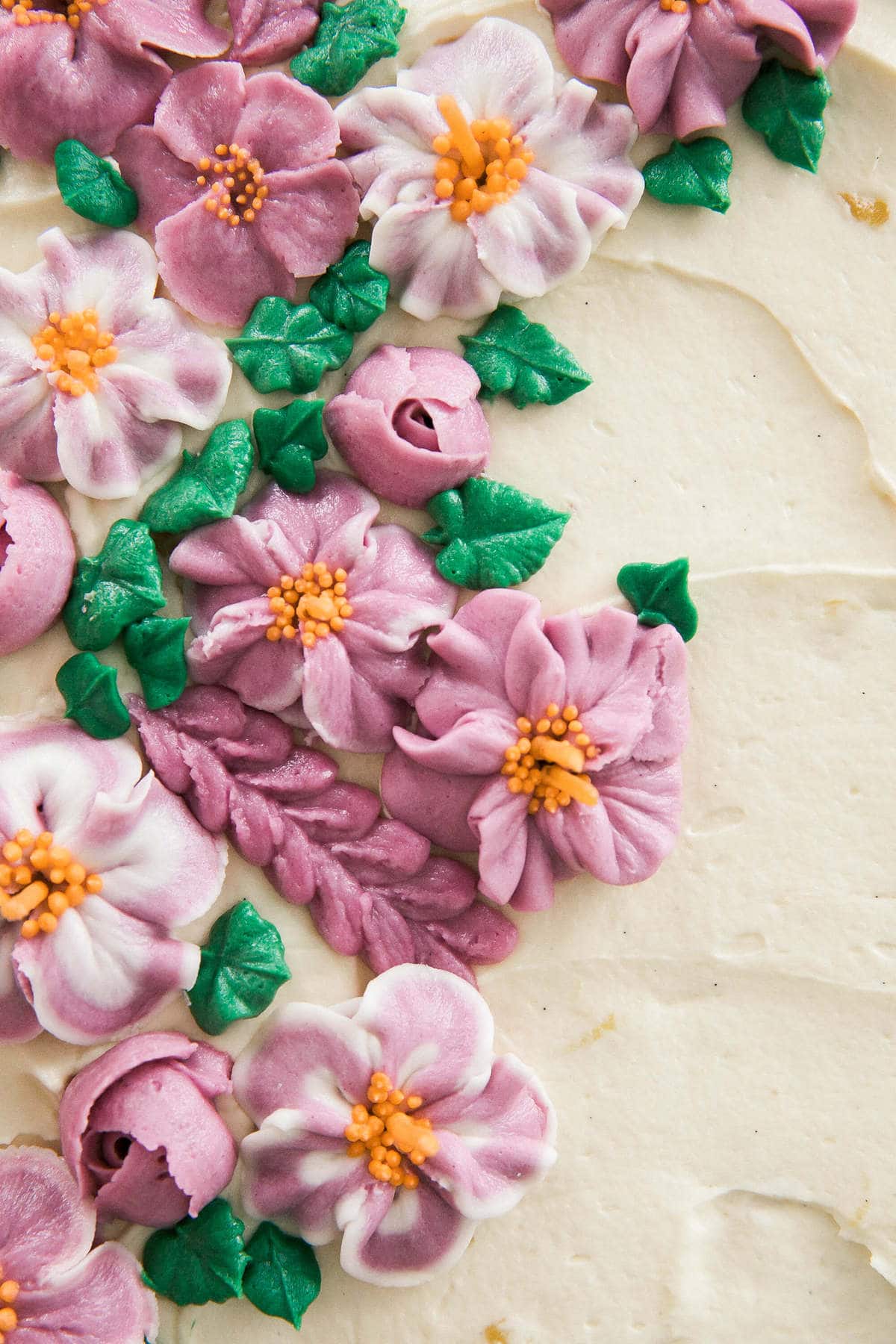 The Reason I Love Sheet Cakes!
I love a sheet cake, always. Their ease is always welcomed. Of course, I tried to make it all Hawaii-like with hibiscus flowers and tropical vibes. This is so unneeded.
The frosting is almost as good as the cake. I added some fresh pineapple into the frosting, along with some vanilla paste, coconut extract (very optional) and rum. It was SO good.
If you make this cake, lemme know in the comments below! And while I think this cake is for sure an amazing summer recipe, it's good for winter, too. You know, for when you want to get rid of those cold-time blues. The tropical flavors will take you to a warm tropical place in no time!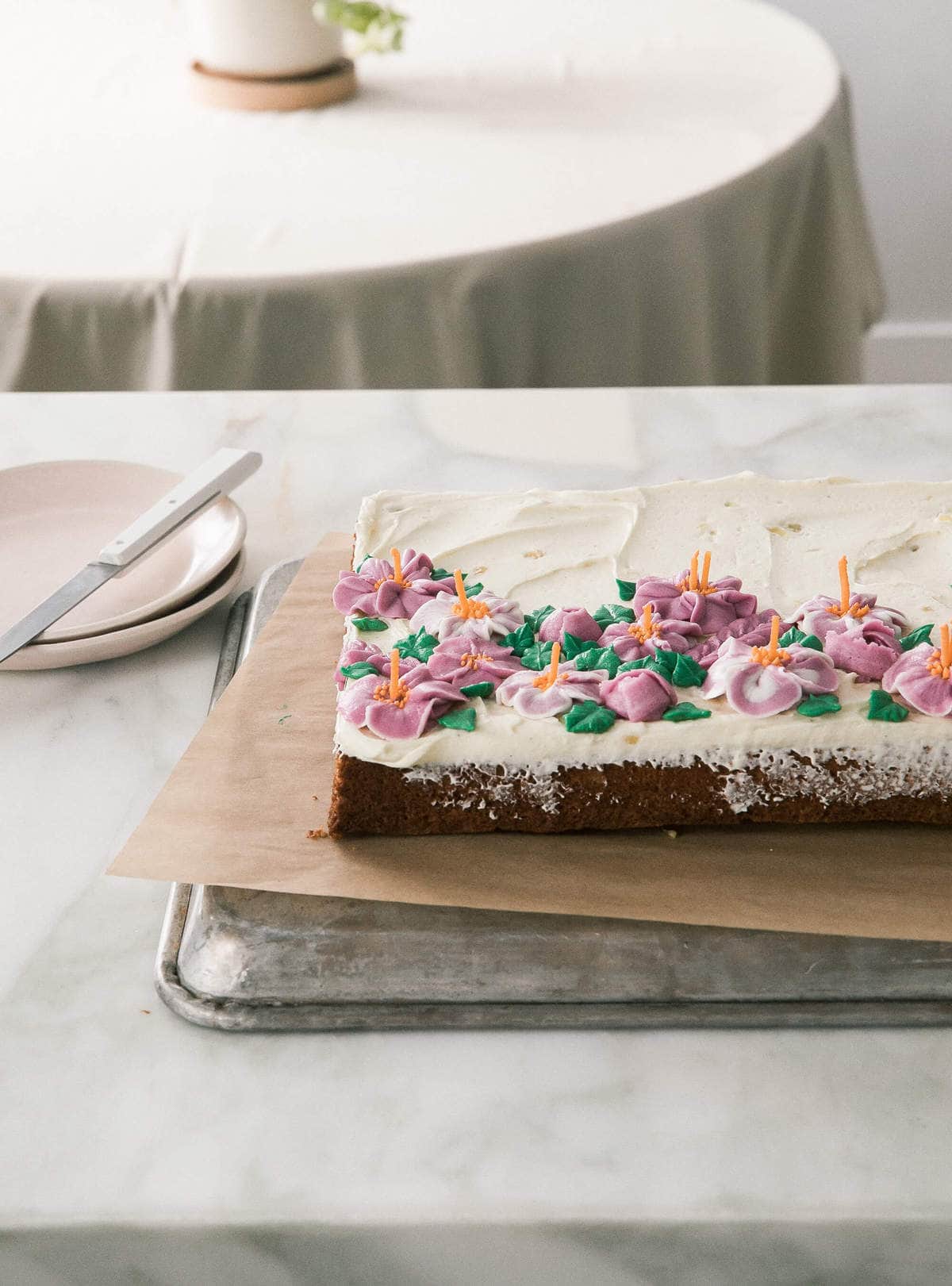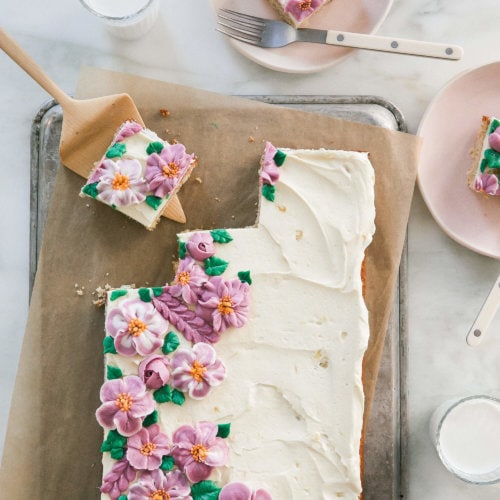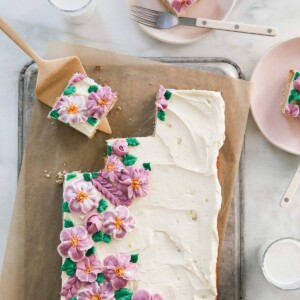 Piña colada cake tastes like the perfect combination of rum, coconut and pineapple. It's like your frozen drink in cake version. Topped with a boozy frosting that is so delicious.
Ingredients
Piña Colada Cake:
2 1/2

cups

all-purpose flour

2

teaspoons

baking powder

1

teaspoon

kosher salt

1/2

cup

unsalted butter

,

at room temperature

1

cup

white granulated sugar

1

cup

dark brown sugar

2

tablespoons

dark rum

1/2

cup

vegetable oil

3

large

eggs

1/2

cup

buttermilk

,

shaken

1/2

cup

shredded sweetened coconut
Rum Pineapple Frosting:
1

cup

unsalted butter

,

at room temperature

3

cups

powdered sugar

1

tablespoon

heavy cream or milk

1

tablespoon

dark rum

1

teaspoon

vanilla extract or vanilla paste

Pinch

kosher salt

1

slice

canned or fresh pineapple

,

cut into a rough dice
Directions
To Make the Cake:
Preheat oven to 350 degrees F. Grease a 9x13-inch baking pan. I also like to line my baking pan with a parchment just to make sure nothing sticks.

In a medium bowl, whisk together the flour, baking powder and salt. Set the dry mixture aside.

In the bowl of a stand-up mixer, with the paddle attachment, add the butter, white sugar, brown sugar and rum; beat until nice and fluffy, about 2 to 3 minutes. Pour in the oil and eggs. Beat until combined.

Alternating between the buttermilk and the dry mix, add them to the butter mixture, until just combined. Lastly, add the shredded coconut and mix until distributed throughout the batter.

Pour the batter into the prepared cake pan and spread the batter out until it reaches the edges. Transfer to the oven to bake for 35 to 40 minutes, or until a skewer inserted into the center comes out clean.

Allow to cool in the pan for about 5 to 10 minutes and then transfer to a cooling rack to cool before adding the frosting.
To Make the Frosting:
To a stand-up mixer (or alternatively you can do this in a large bowl with an electric mixer), add the butter. Beat the butter until smooth. And then add in the sifted powdered sugar, heavy cream or milk, rum and pinch of salt. Beat for about 2 minutes until the frosting is nice and fluffy. I find that heavy cream and beating the frosting is what really makes the frosting THAT much better. Lastly, add the diced pineapple and give it a mix one last time.
To Assemble the Cake:
Pour all of the frosting on the cooled sheet cake and spread it around, creating cute swoops as you go. Top it with whatever you like! I piped out buttercream hibiscus flowers, see below for notes! Cake will stay moist for about 2 days when wrapped properly.
Nutrition Facts
Piña Colada Cake
Amount Per Serving
Calories 298
* Percent Daily Values are based on a 2000 calorie diet.
For another tropical cake, click here for this Lemon Coconut Cake!