One of my favorite childhood memories is a summer I spent on the coast of Spain. When we arrived to the small port town, we met up with my dad's first cousin (and her family) who had recently moved there. It was 10pm, way past all of the kids' bedtimes, BUT IT WAS TIME FOR DINNER.
The restaurant was in a quinta, unsuspecting and hidden from the street; when we entered, it was a full-blown party. Twinkling lights were hung above families and friends around large tables, talking, telling stories, laughing. In the center of each table were huge paella pans filled with perfectly cooked Valencia rice, a medley of freshly caught seafood. And sangria, lots and lots of sangria. Even as a teenager, I knew at the time, as we were eating and laughing, that it was an experience that I would one day be nostalgic about.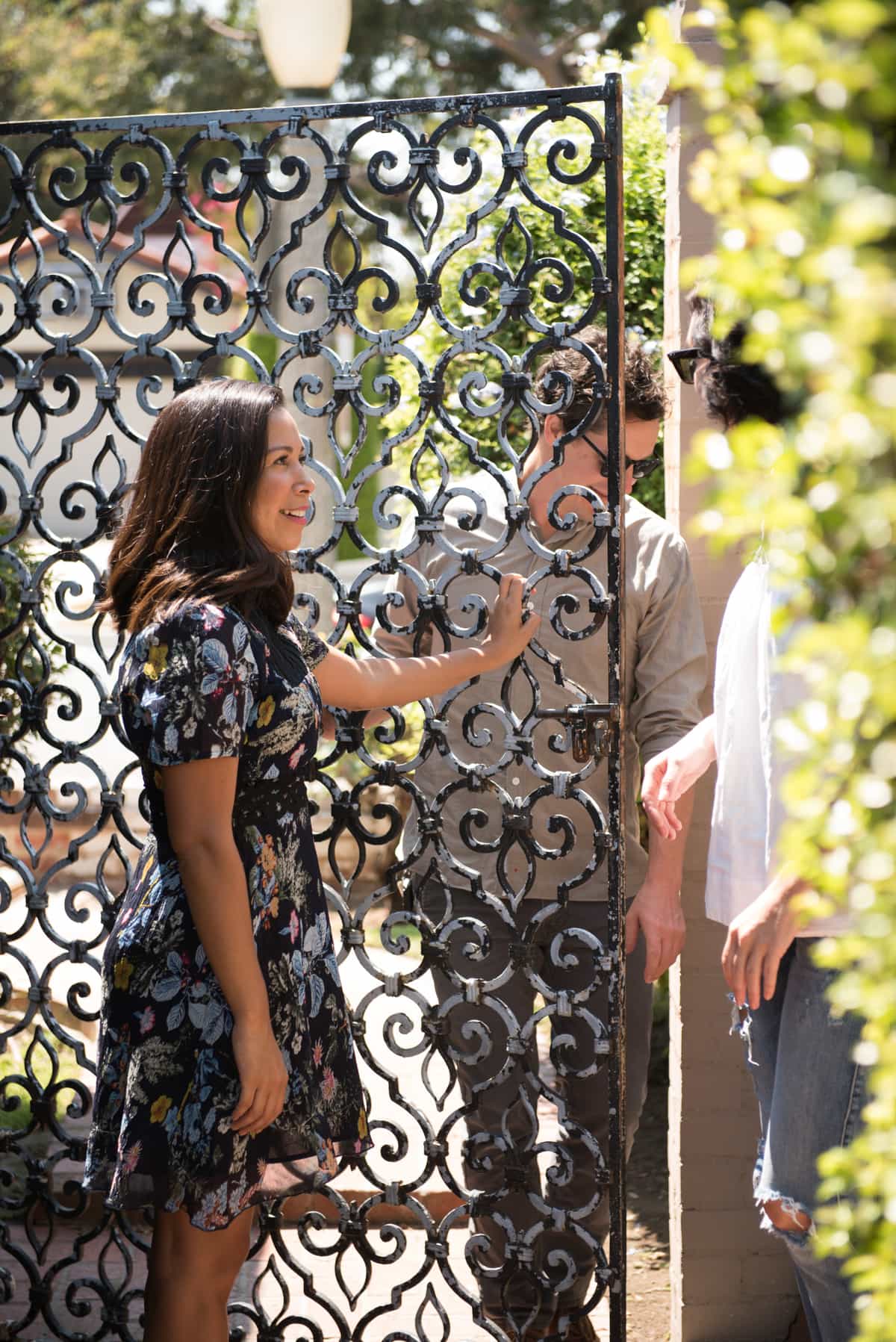 For this post, I teamed up with one of my favorite stores of all time, Anthropologie. It's no secret that the majority of things I buy for this here blog are from Anthro, so I was SO excited to be able to do this with them.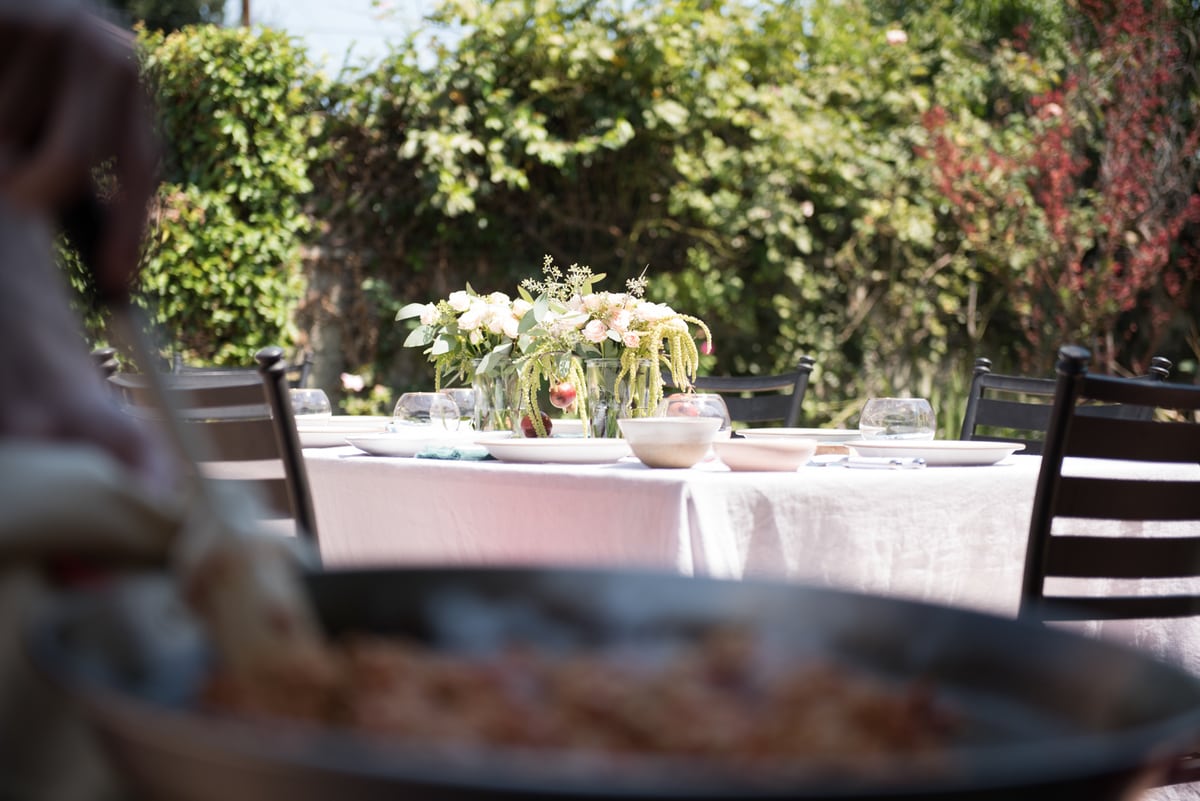 A few weeks before the shoot, I tested the paella and it totally took me back to childhood because this was the dish my parents always made on Sundays, when special people were coming over.
There are a few things that I think are super important when making paella:
1. The type of rice is mucho importante. I like using Valencia rice (you can find it online or at Whole Foods); if you can't find it, then Arborio (risotto rice) is the next best thing.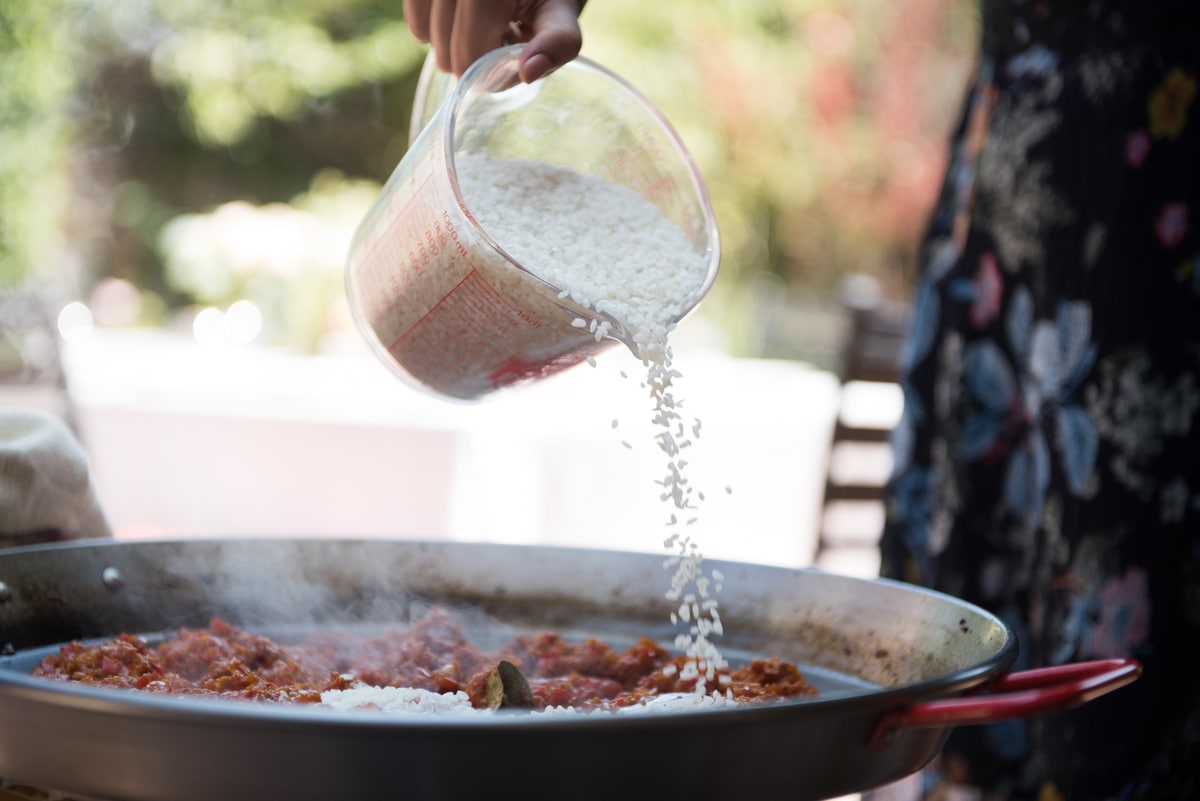 2. Caramelizing the sofrito. The depth of flavor lives in the sofrito. Some recipes will tell you to cook it for like 10 minutes. That's fine but I think it should go way longer. Some people actually cook it the day before for a few hours and then use it the day of to save some time. I like a happy medium, so I cook mine until it's super soft and caramelized, about 35 minutes total.
This isn't a dish you should rush. It's the quintessential Sunday meal. Set some appetizers and cook this thing slowly.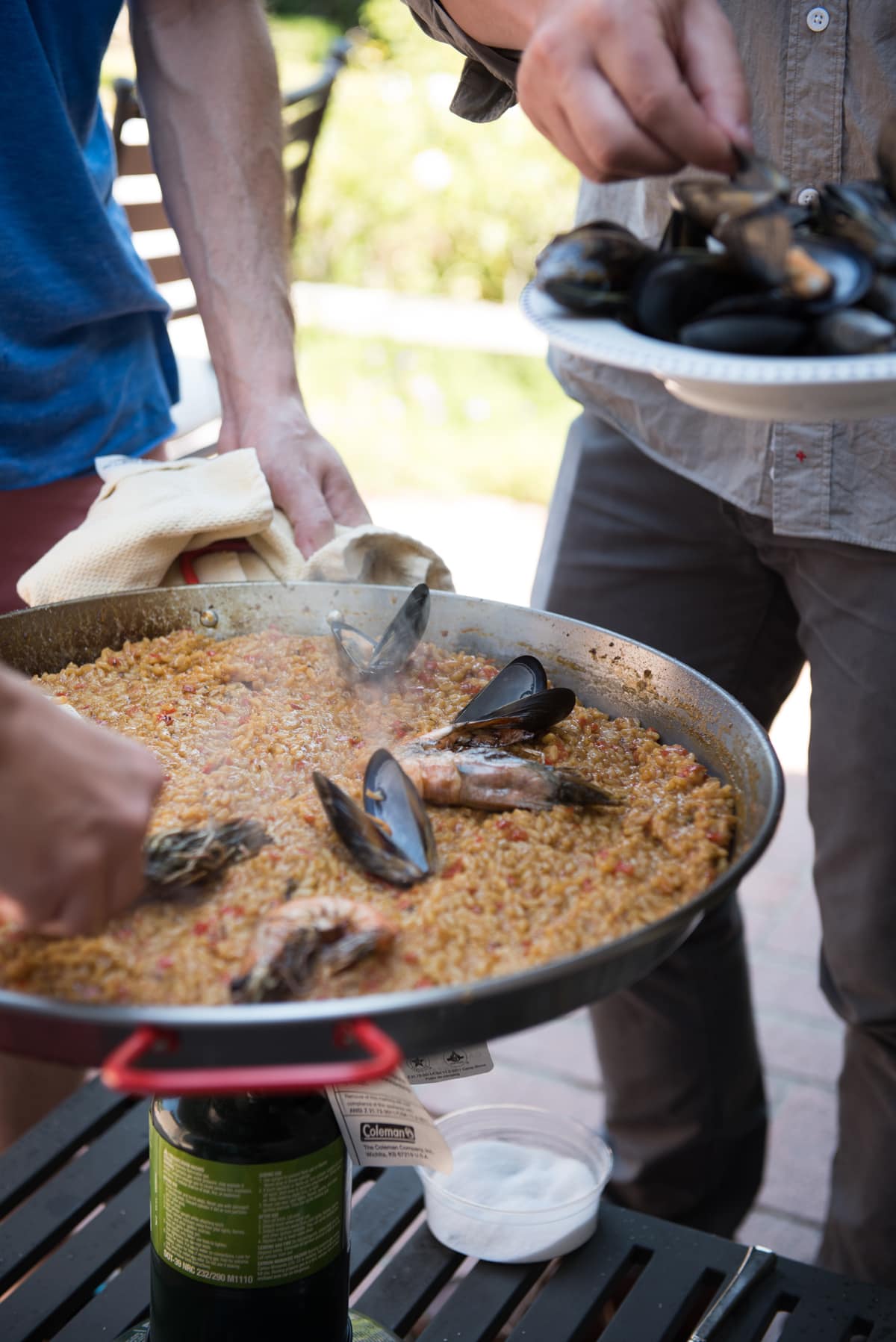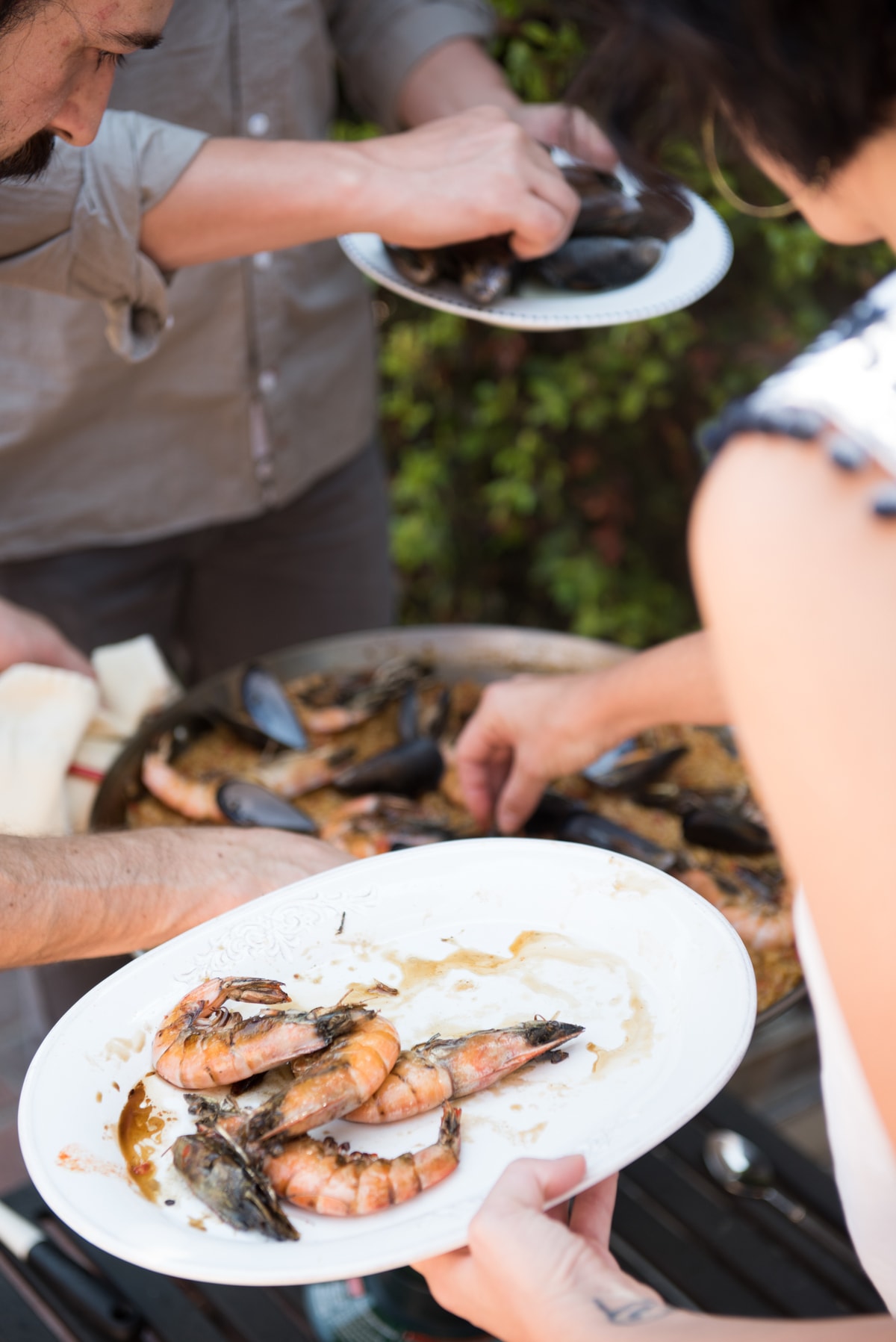 3. The broth that you cook the rice in needs to be flavored. Whether this is fish stock, chicken stock, or as I did, mussel broth. Ideally it's not just water. That leads to a super bland paella. I actually stirred the saffron into the mussel broth, along with some garlic cloves to make it super flavorful.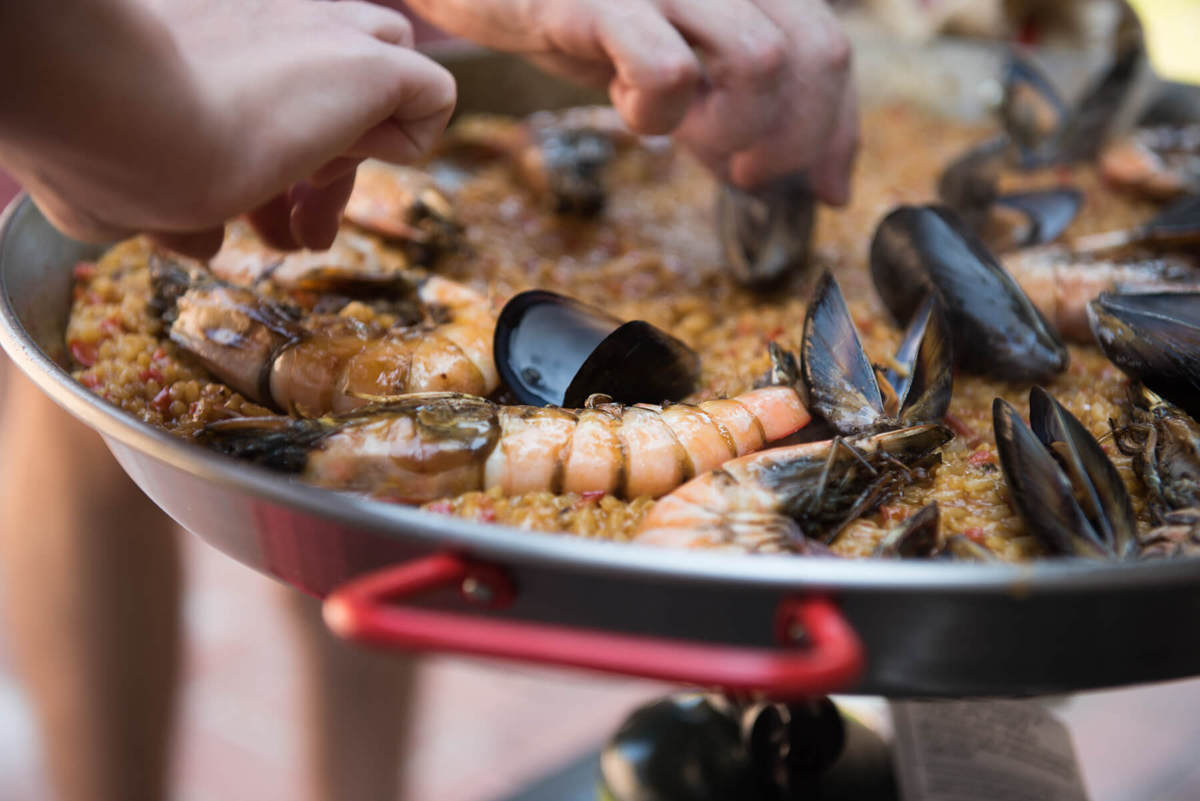 4. Fill it with all the delicious things. I went the pretty simple and cost-effective way: just shrimp and mussels. But you could add everything from chorizo to rabbit to lamb to chicken to even more seafood.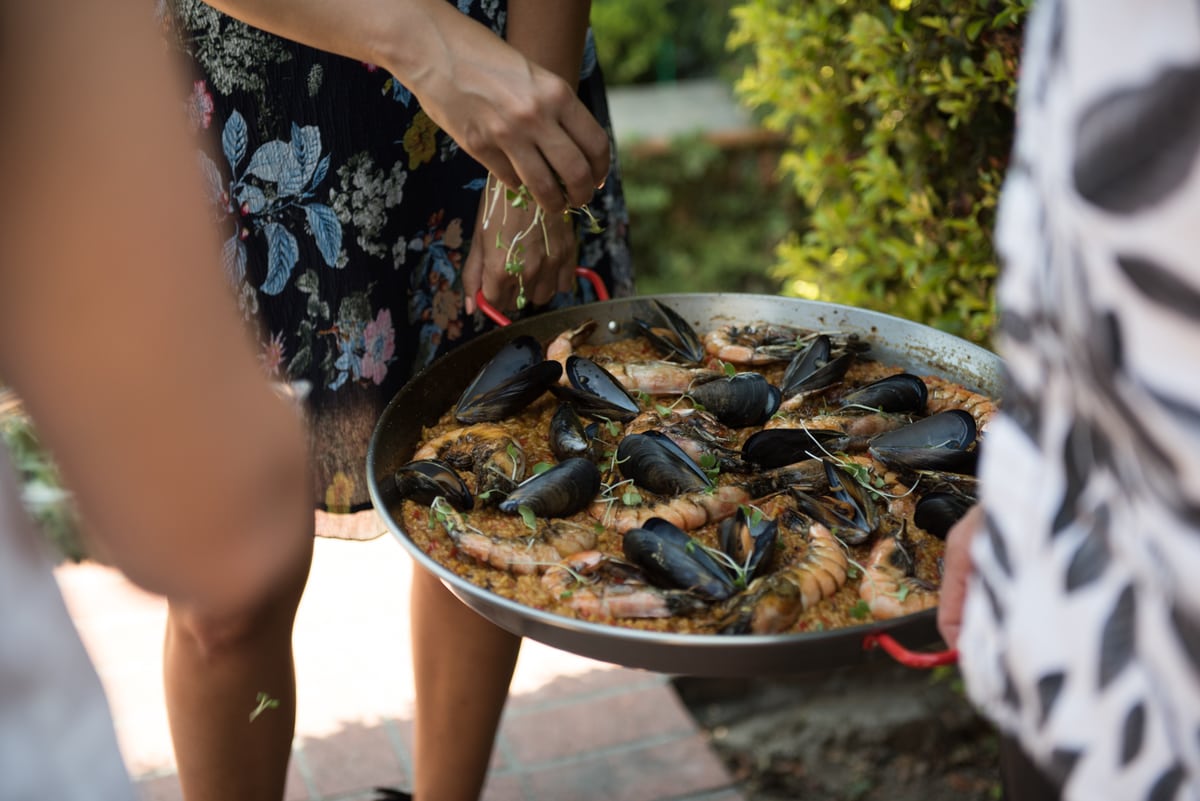 It was on the warmer side, seeing as it's summer and all so everyone was really excited about this Pet-Nat Rosé Sangria filled with peaches and strawberries and limes.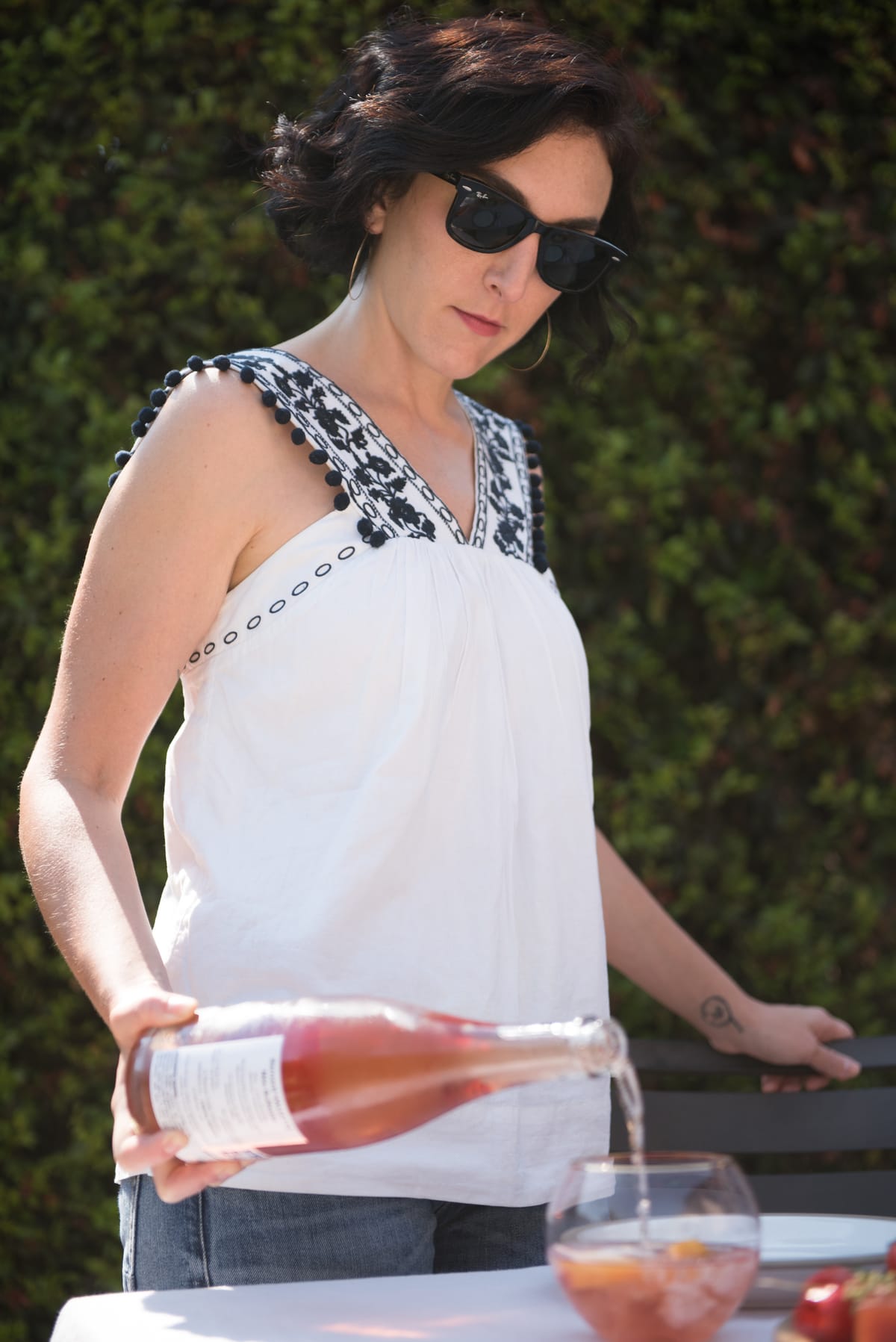 The base was a really nice rosé and Grand Marnier and then we added a liberal splash of pet-nat—it was SO delicious.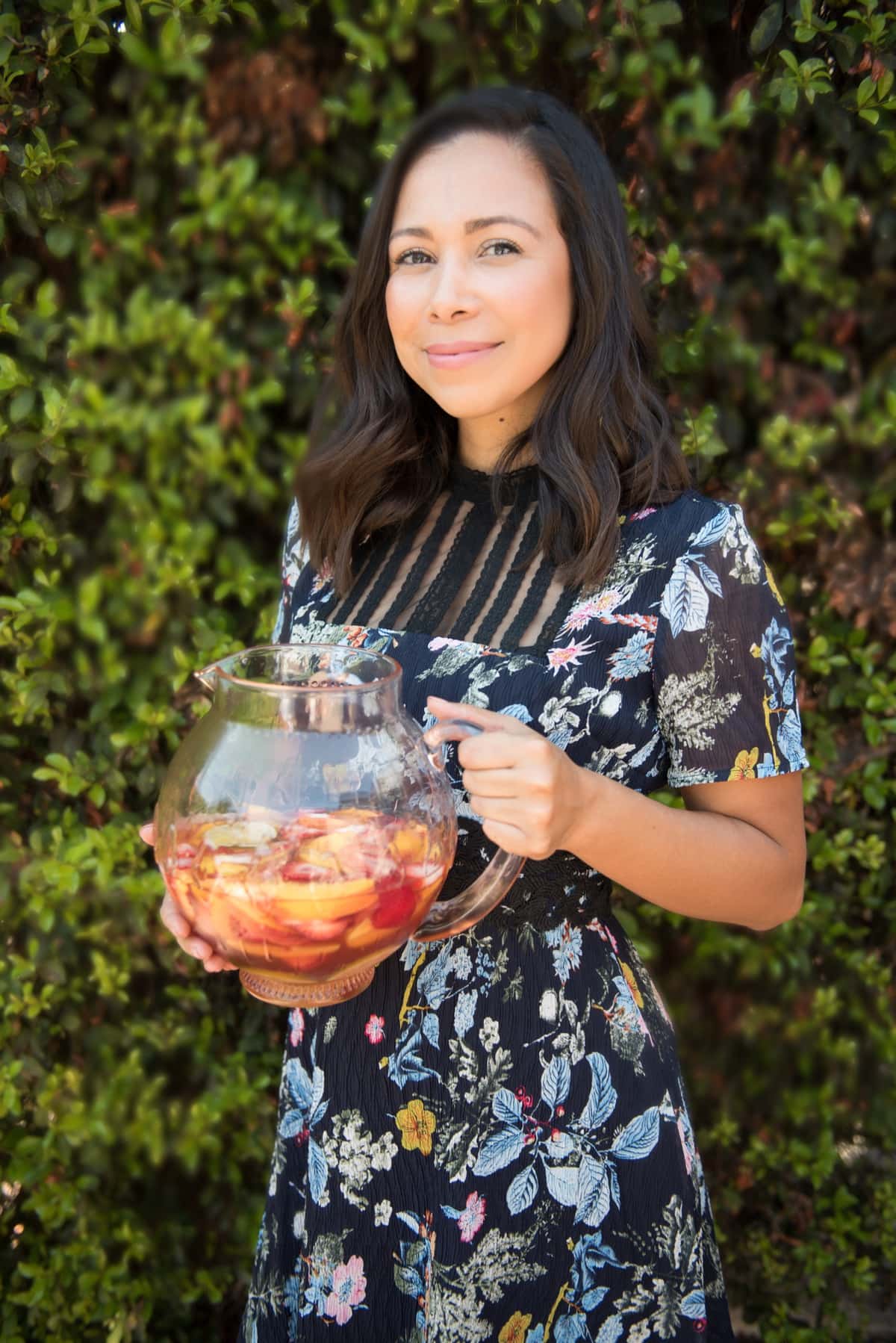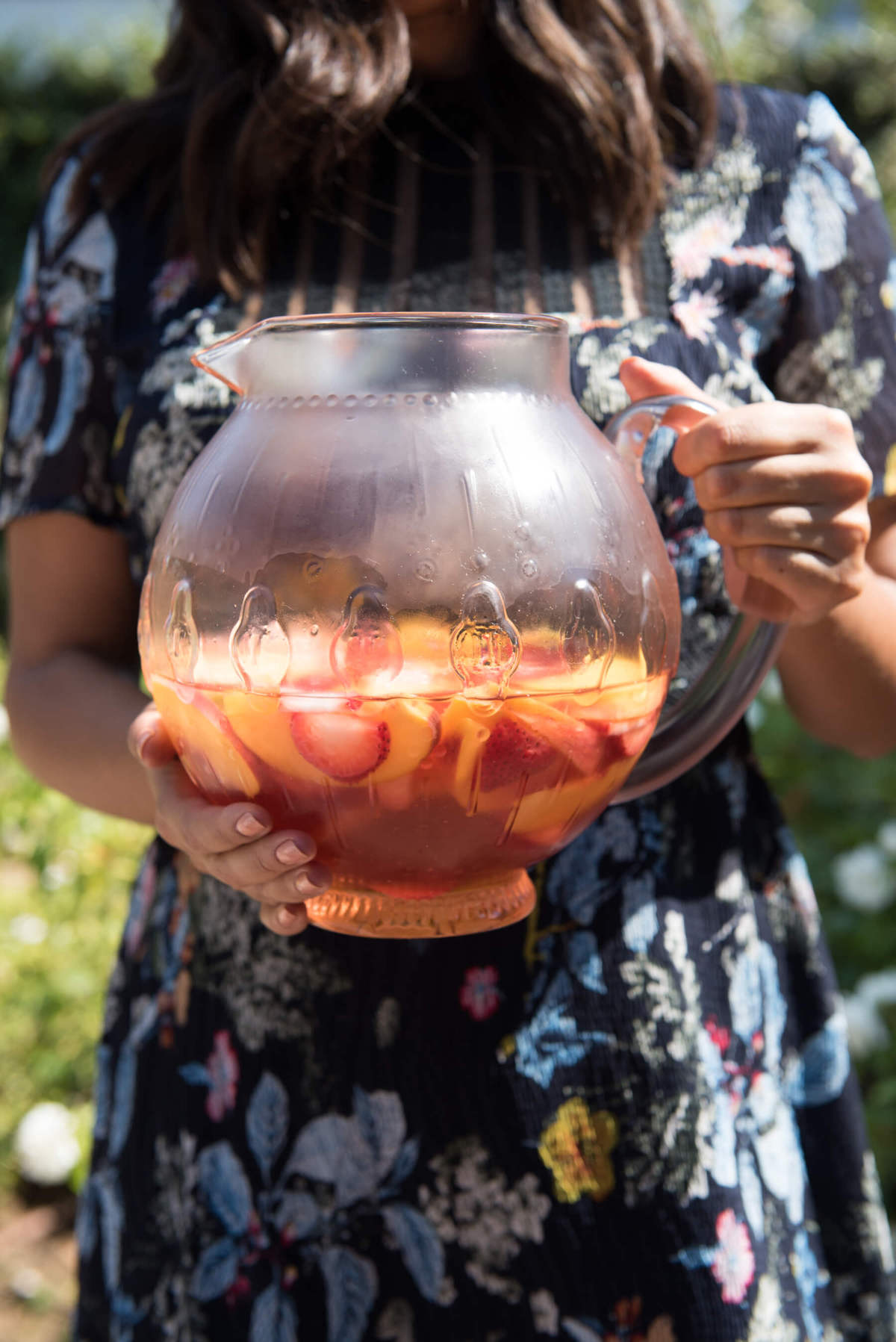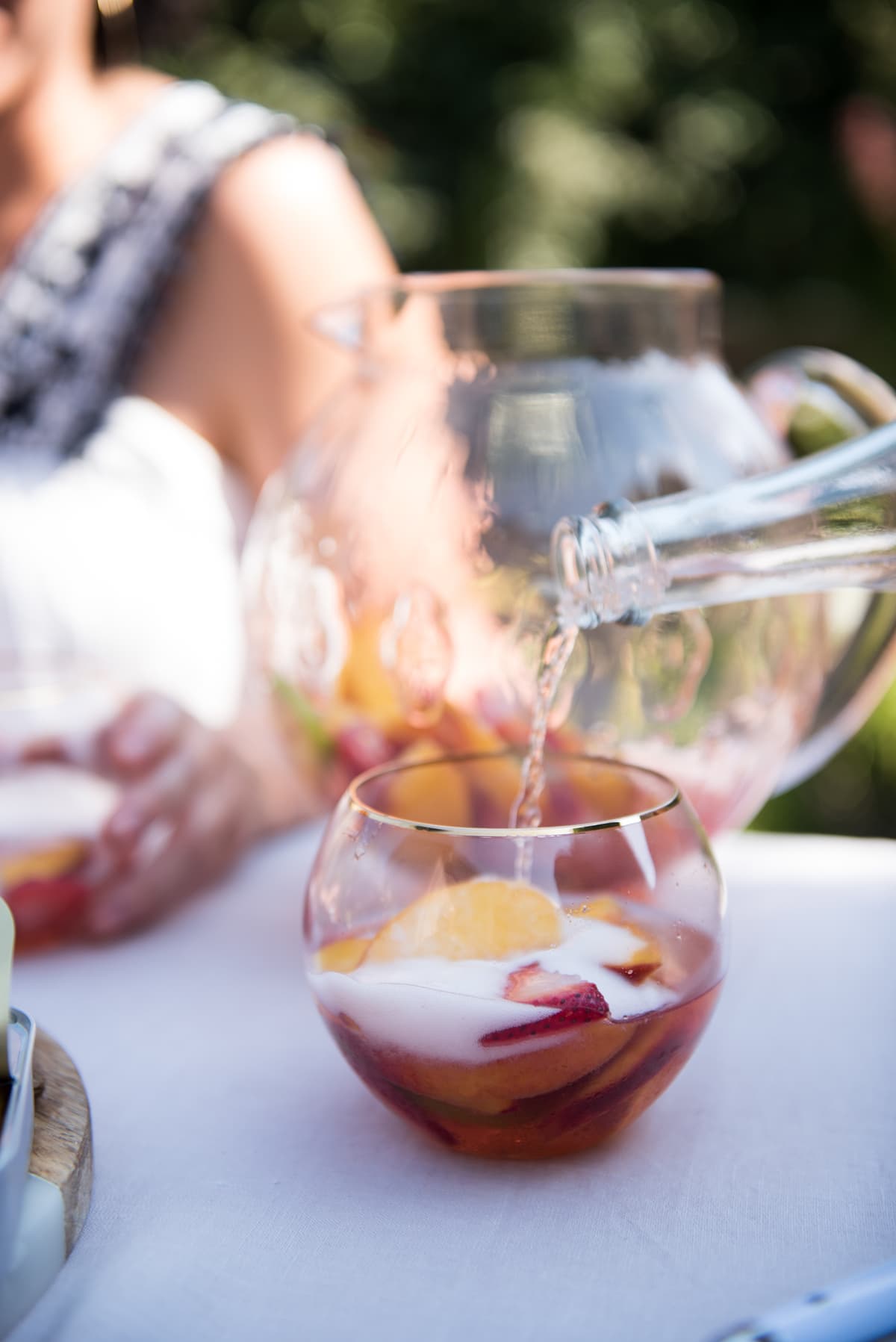 My current obsession is the color combination of dark green and blush pink. I'm going through a redesign of this lil' site and I have my eyes on that combo. It's so pretty and elegant.
The napkins are these beautiful dark green linen set and I love it paired with splashes of blush pink (from the glasses and pitcher) and the neutral grey platter that the leeks are on.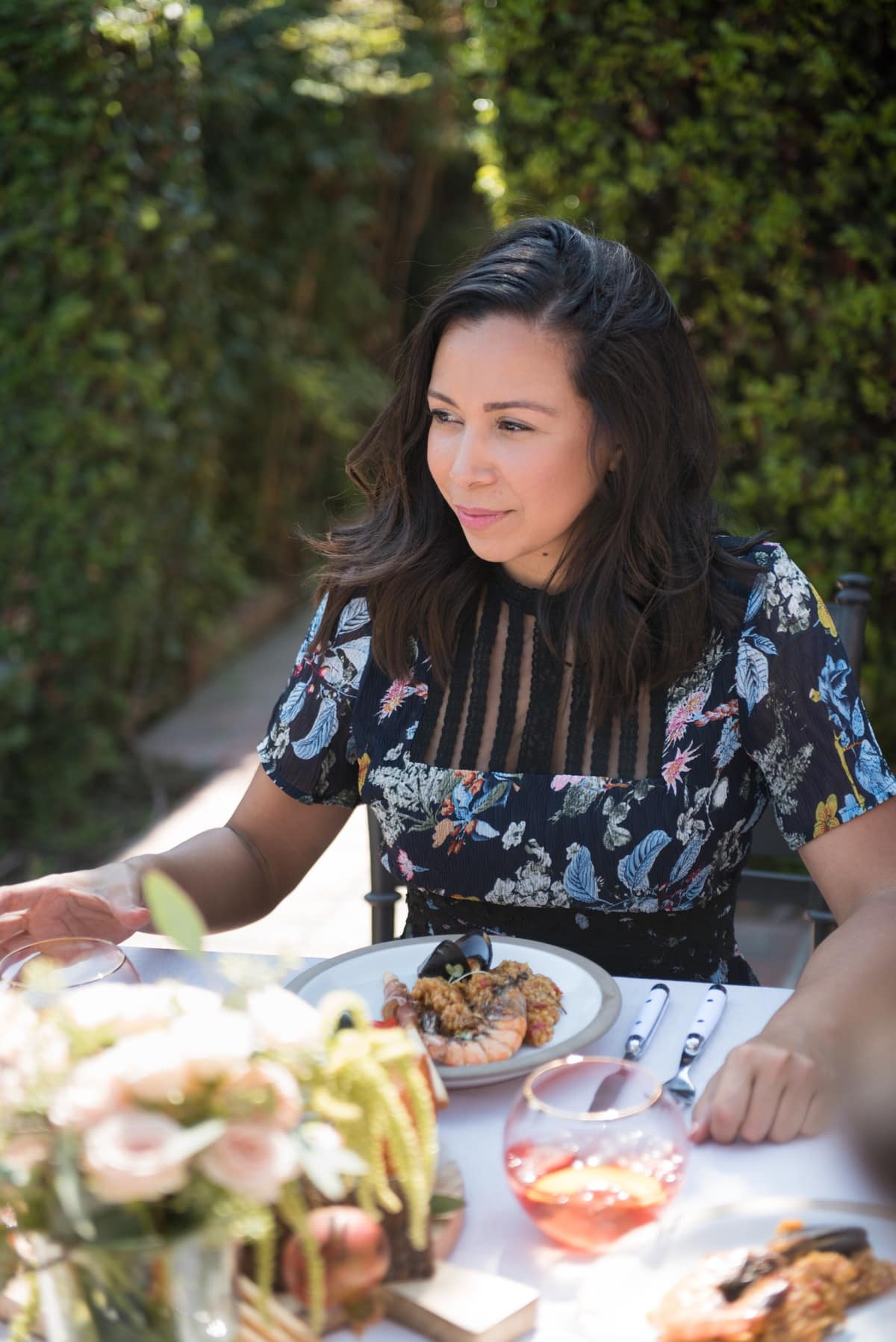 I used that same color palette in the flowers, too, which I put together the day of. I love the pomegranates on their vine. It's like a little foreshawdowing of fall, which I obviously can't wait to arrive BECAUSE BREEZES AND SCARVES.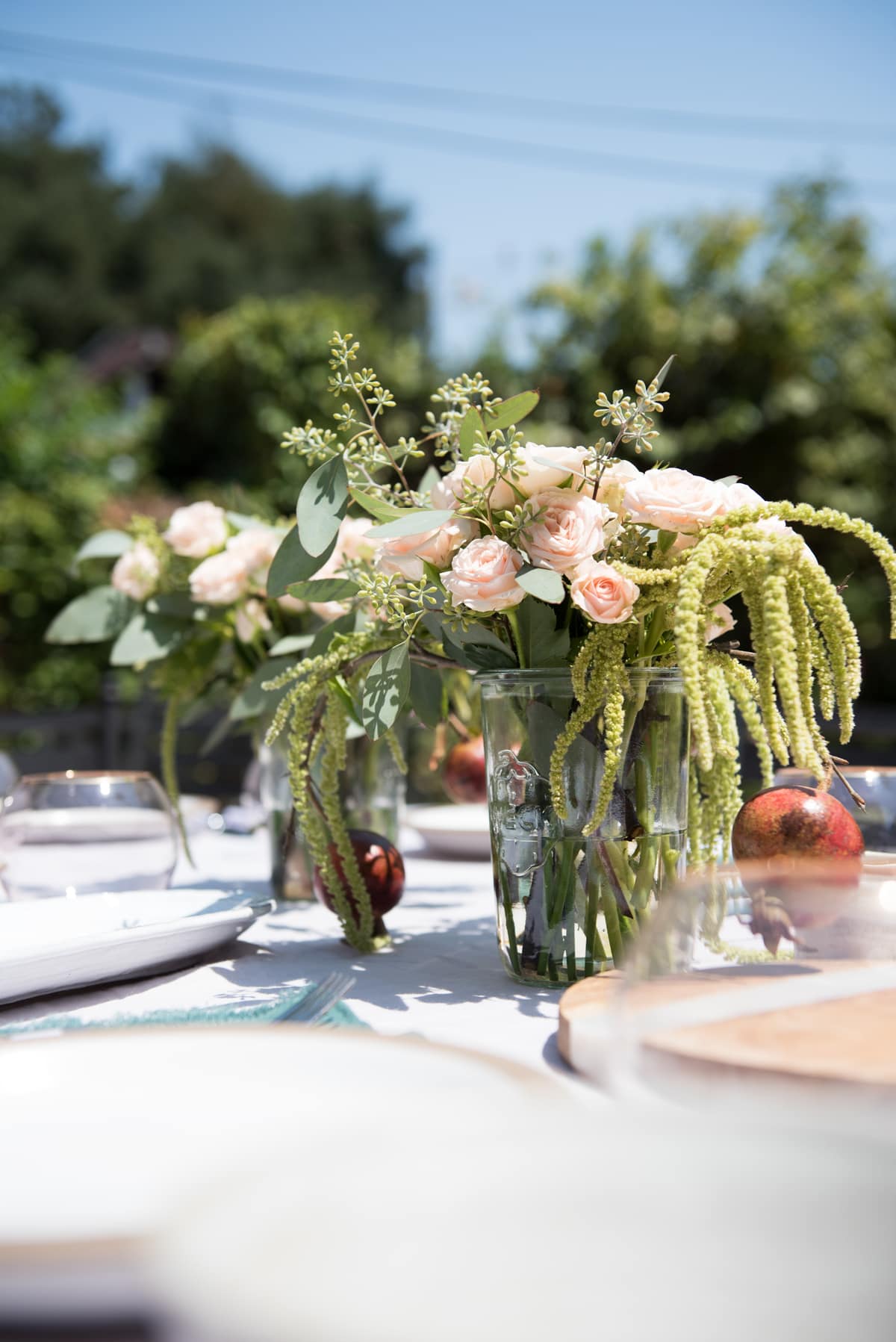 For a paella party, I figured we'd need more stuff than just carbs so I went for braised leeks topped with romesco. I could put this sauce on EVERYTHING. It's so flavorful and nutty and smoke-y. It also takes like 5 minutes; you just throw everything in a blender or food processor, blitz and go.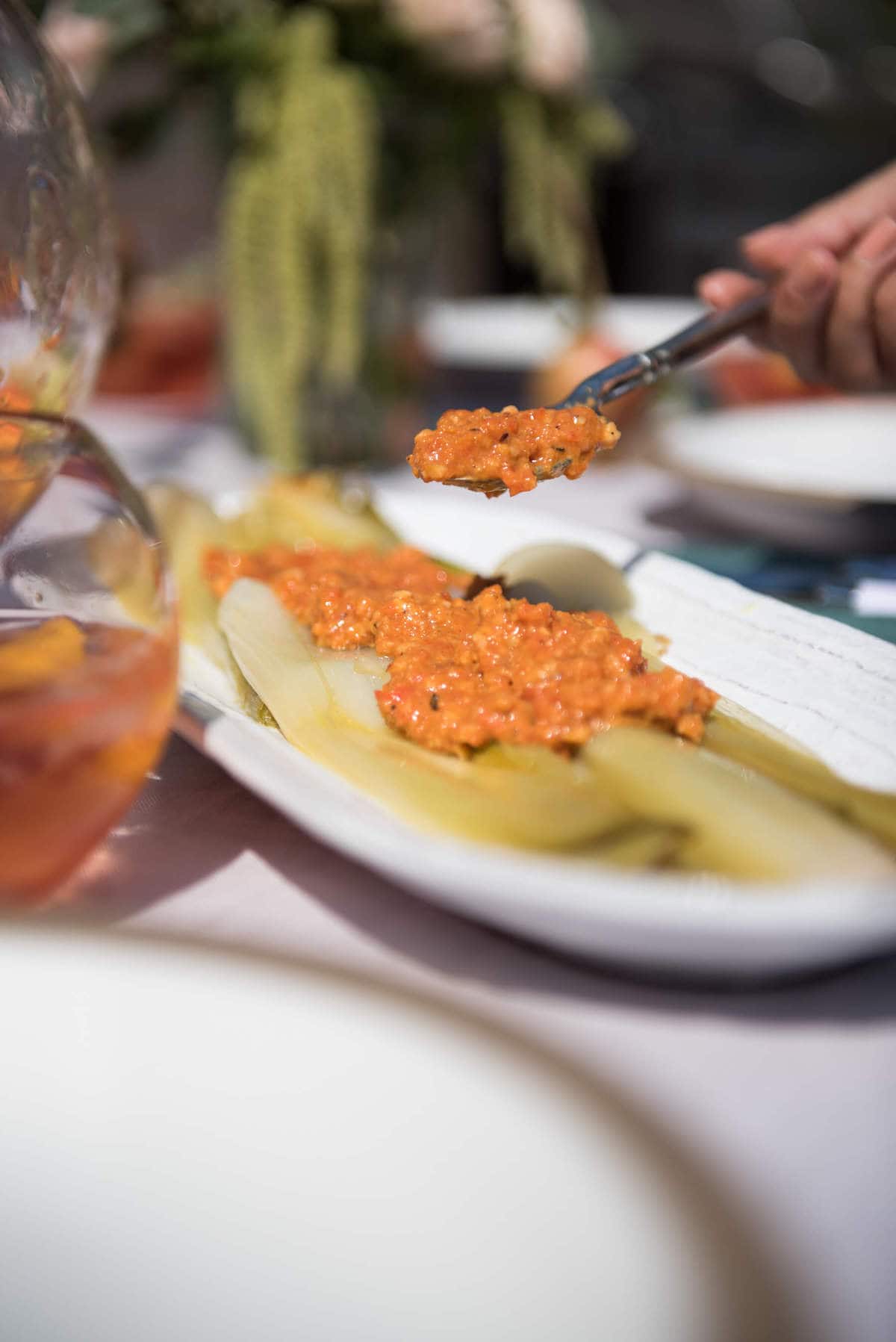 Parties like this take a bit of planning so I made this the day before.
I also went and gathered all these delicious things for a Spanish cheese plate. To build it, there were a few Spanish cheeses, marcona almonds, anchovies in a spicy oil (SO GOOD!), castelvetrano olives, peppadew peppers and bread sticks wrapped in meat!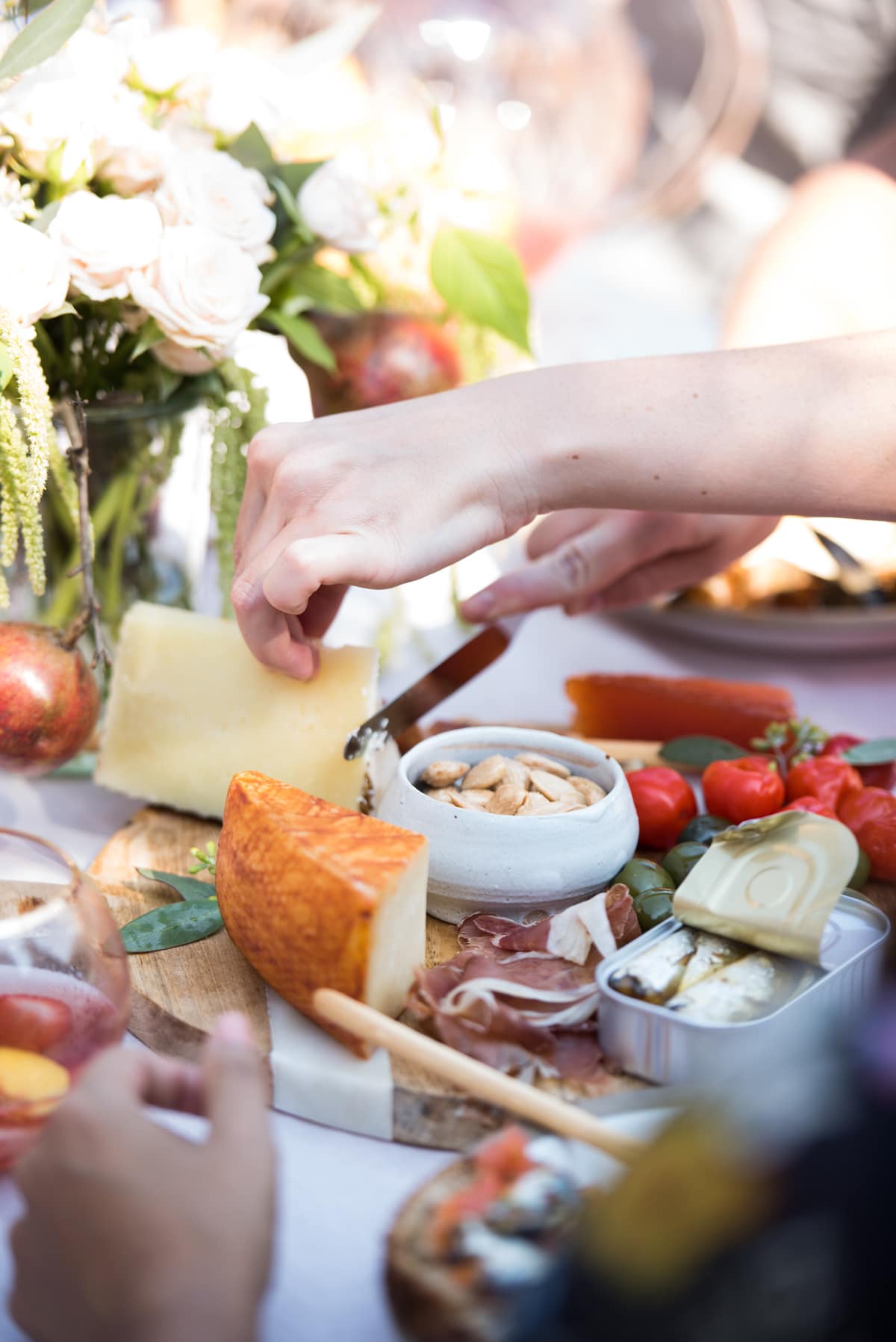 I firmly believe that if you're going to spend a good amount of time on the main dish then the rest of the things you serve need to be really easy.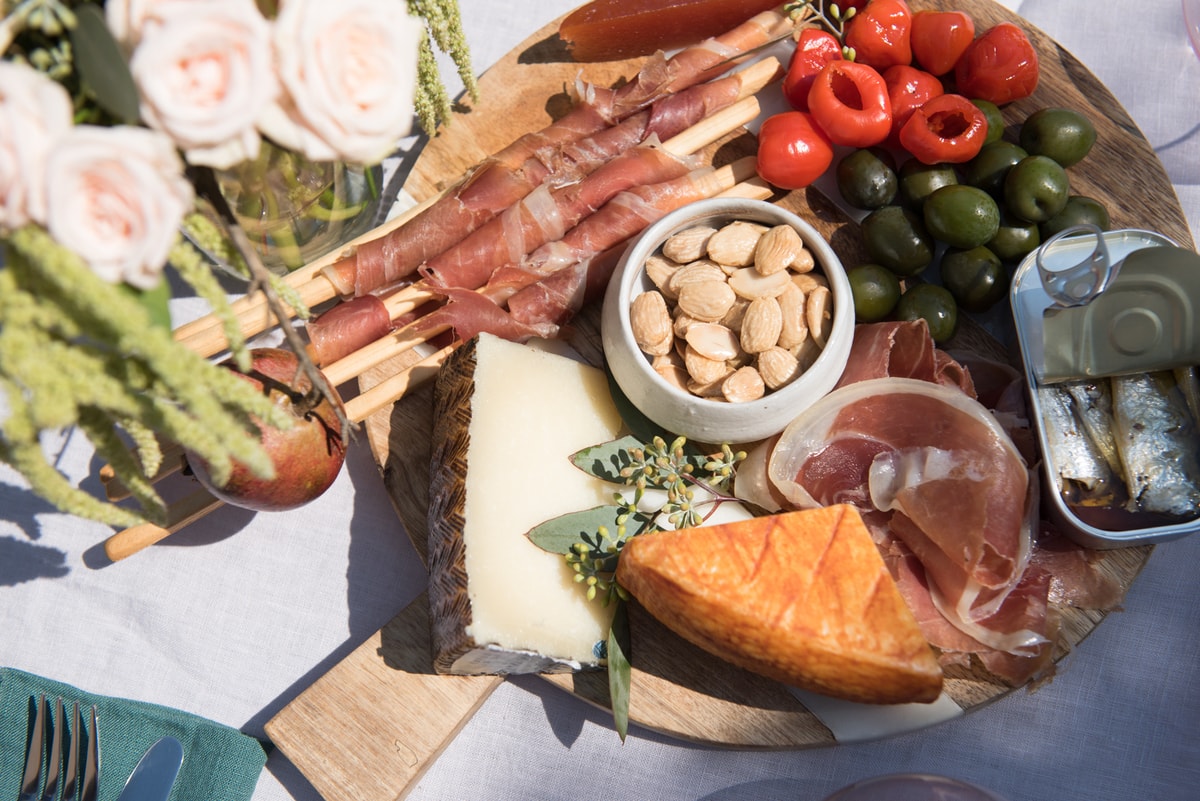 The other thing I made was an Heirloom Pan con Tomate (I'll be sharing the recipe next week!) but it's SO simple and so good. Just some grated tomatoes that are seasoned and piled on good bread with olive oil and anchovies or sardines (very optional).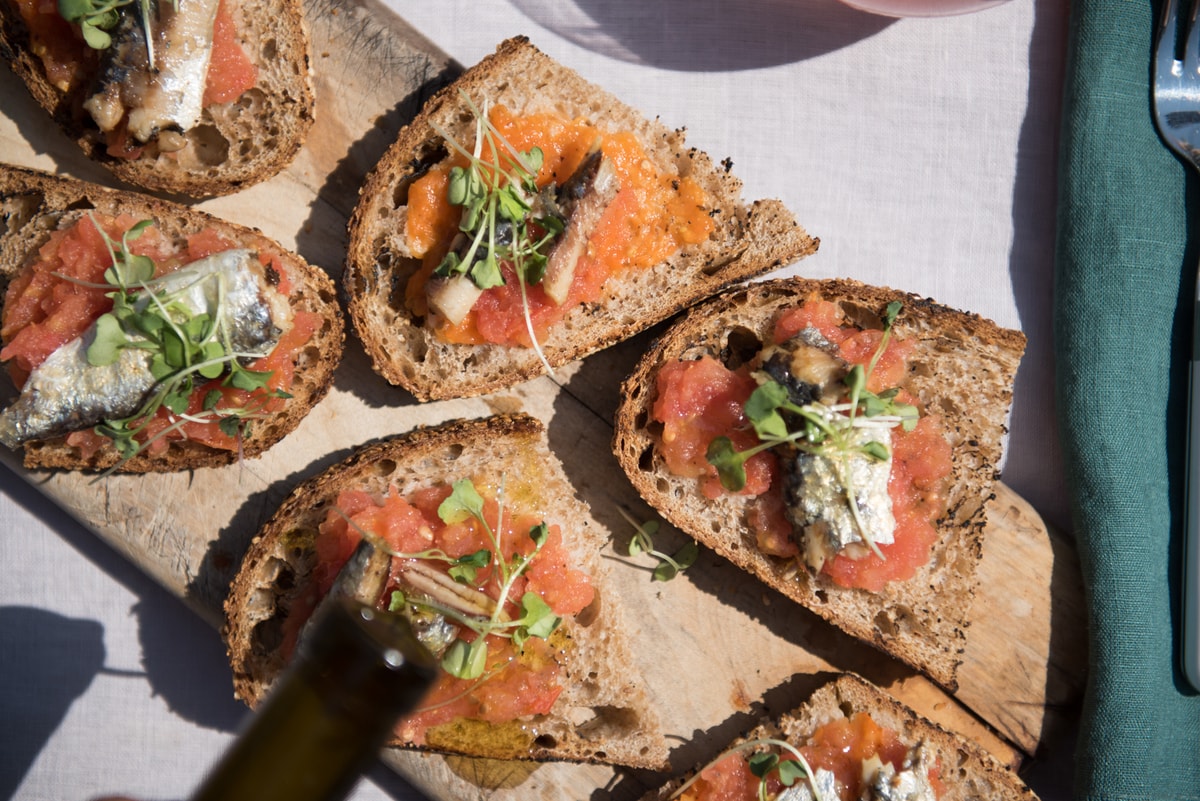 And DESSERT! Crema de Catalan, which they actually serve all over South America, too. I served 'em in cute Anthro latte cups. The difference between crema de catalan and crème brulee is there's no baking them in a water bath (hooray!). And it's more like a pudding than a crème brulee, which is more like a stiff custard.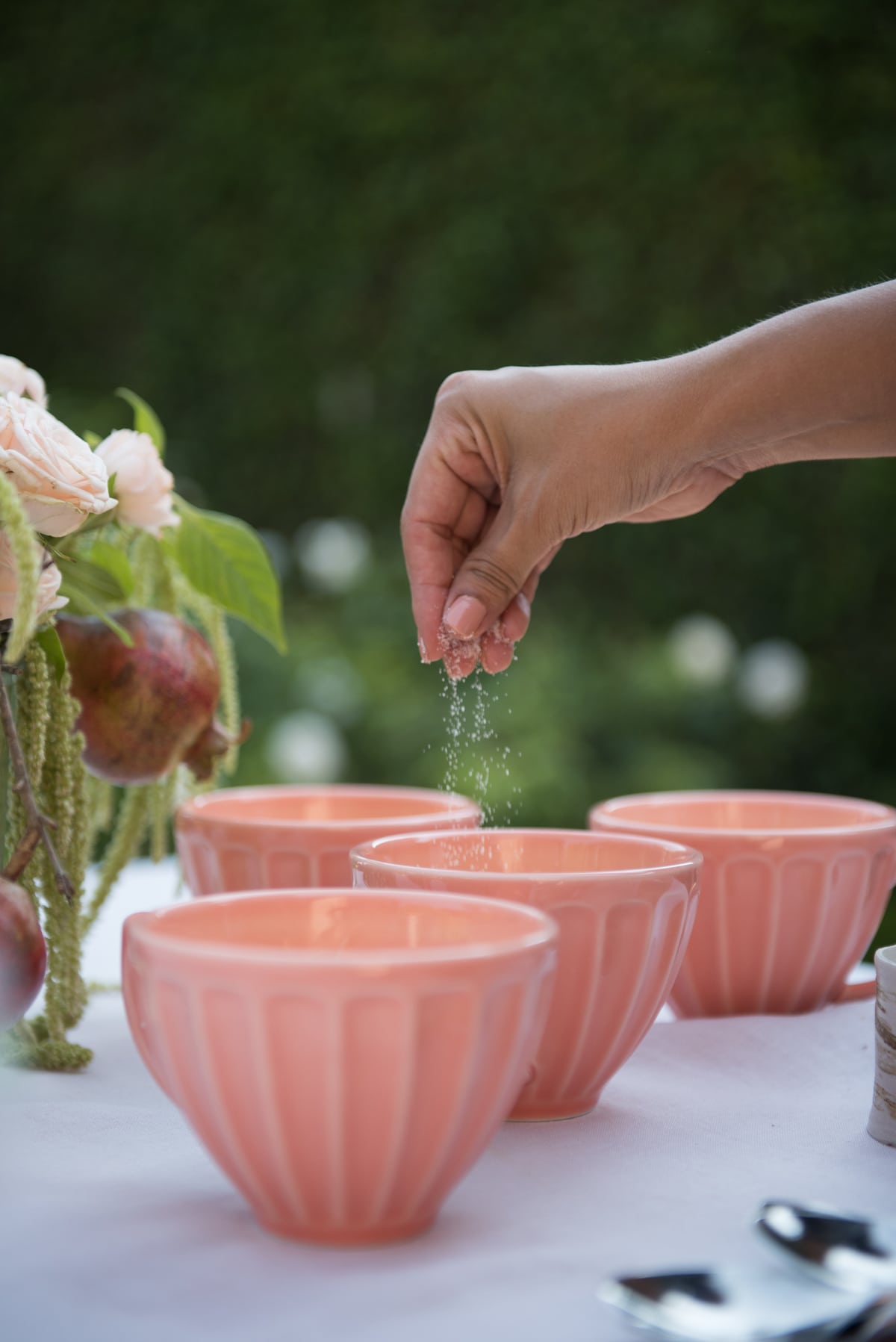 The crispy sugared top is so good with the silky smooth chilled pudding. I made this the day before, too because the day of I wanted to be able to hang out with my friends and take photos on my phone (obviously).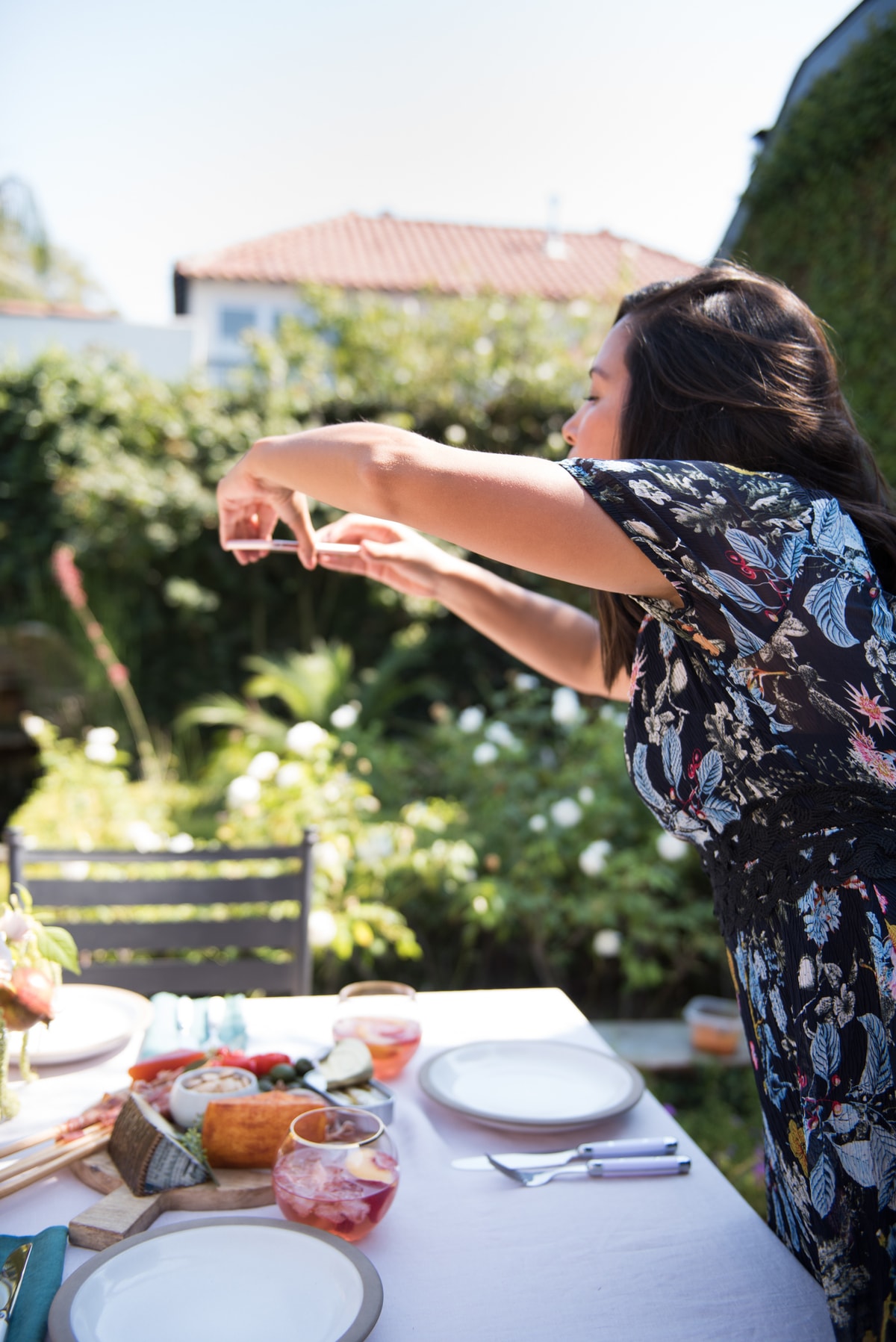 Hope you loved the paella party! Below you can find links to all the products, including the dress, and a few recipes. ALSO, if you see above we used (inexpensive) camping gear to make the paella pan outside. I've included some tips and links below on what you'll need.
xoxo
Adrianna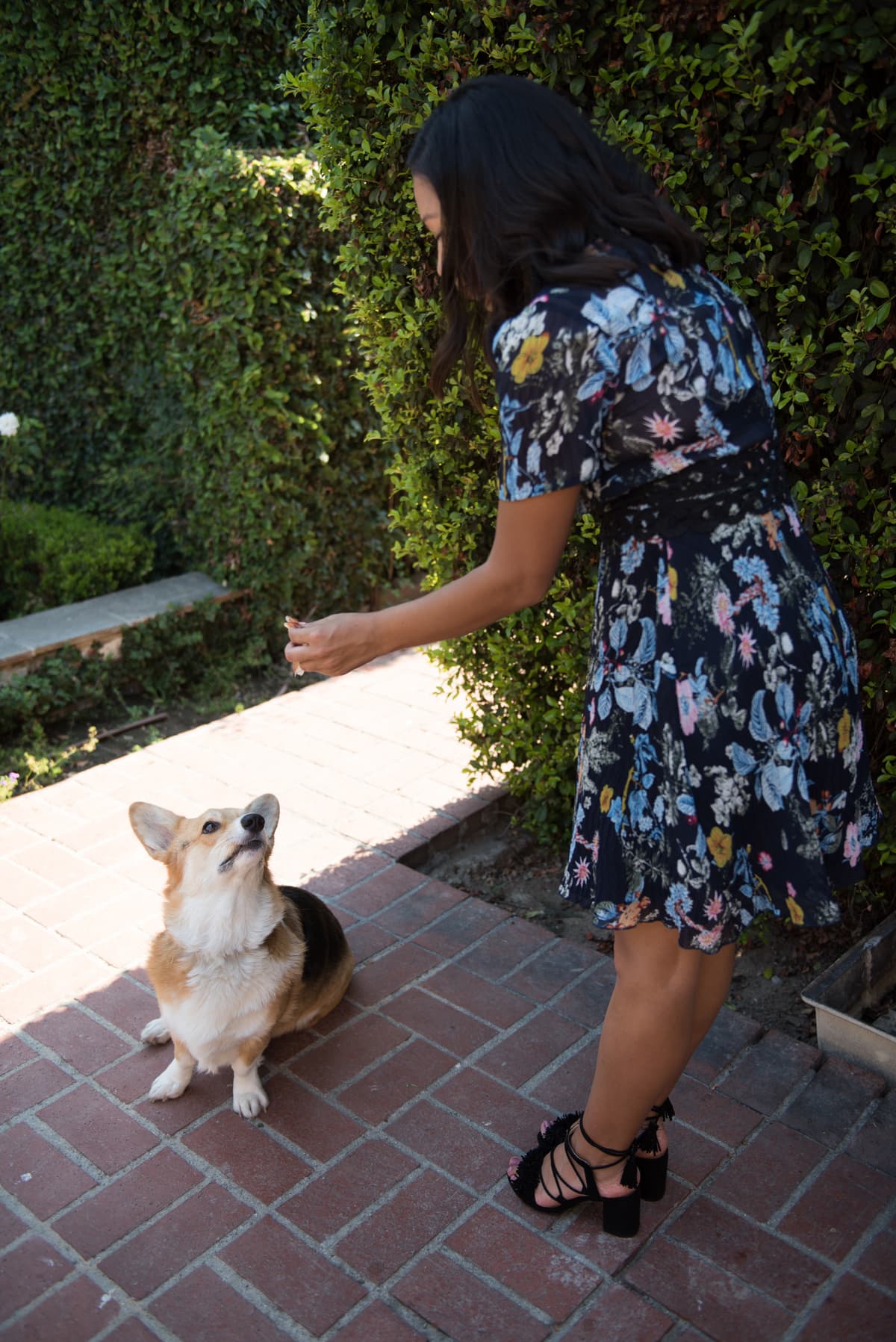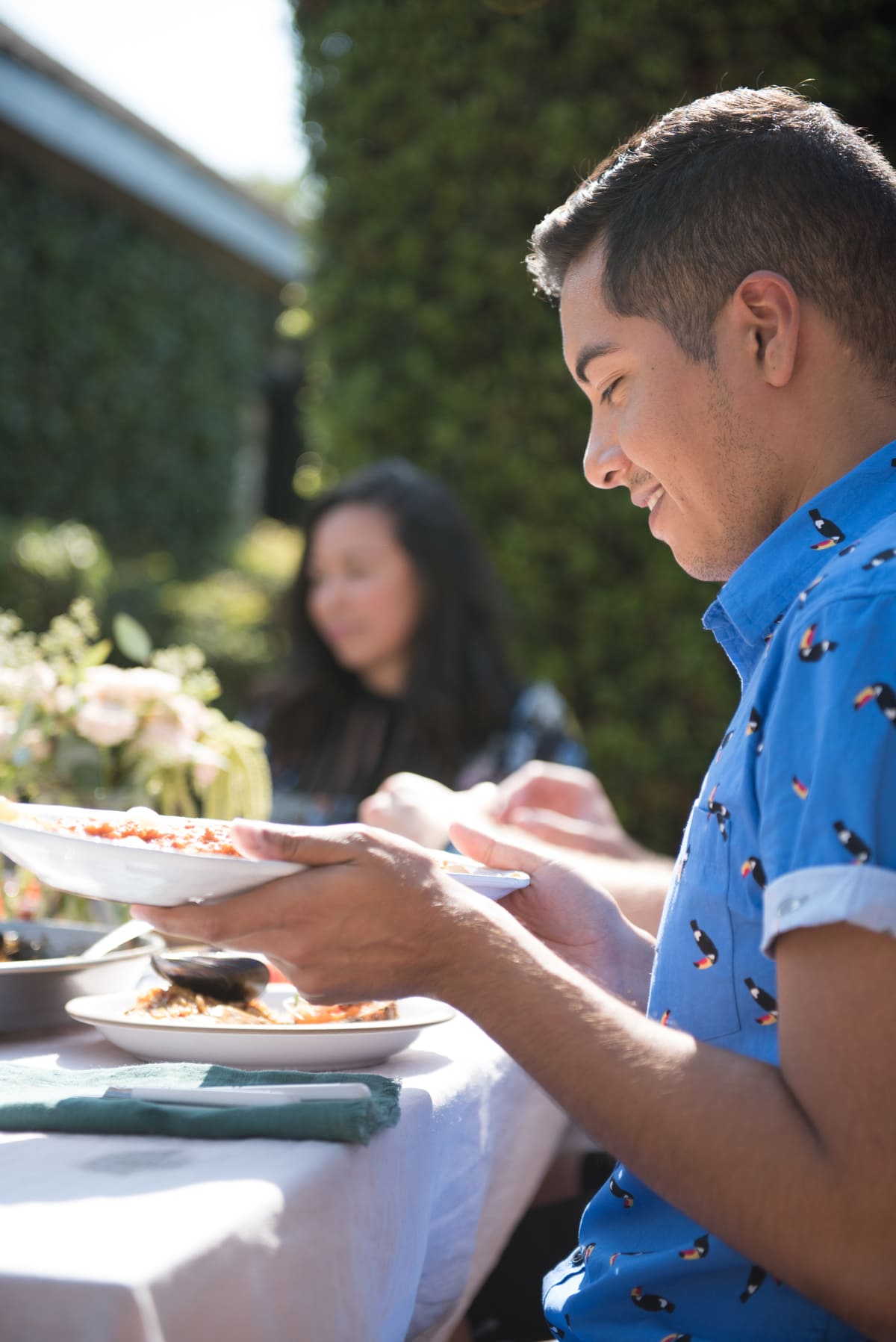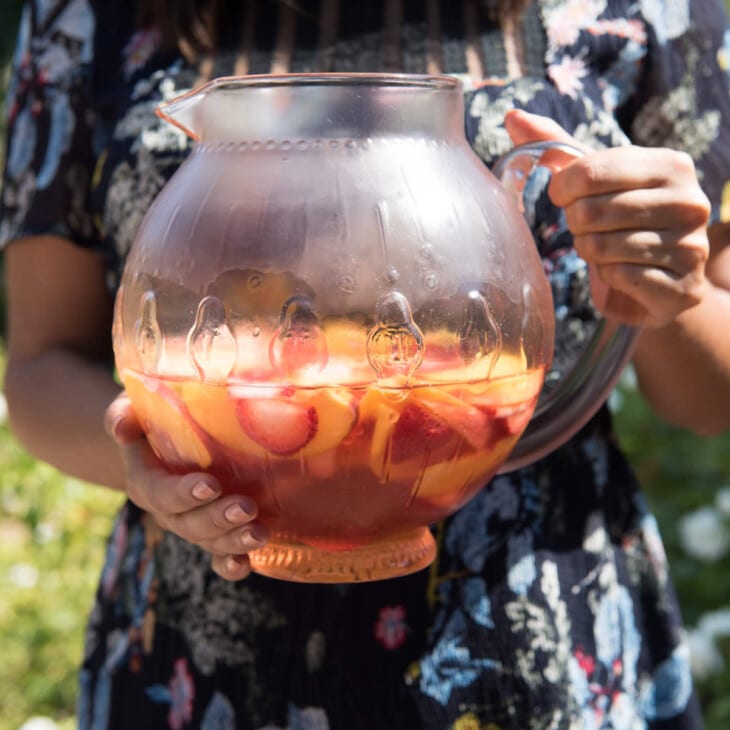 Print Recipe
Pet-Nat Sangria
Ingredients
1

(500ml) rosé wine (not sparkling) 

1/3

cup

Grand Marnier

(or you can also use Triple Sec)

2

yellow peaches

firm but ripe, sliced 

1/2

pint

of strawberries

sliced 

1

lime, thinly sliced

1

(500ml) Pet-Nat Rosé (this will be sparkling), chilled 
Instructions
In a large pitcher, combine the rosé wine, Grand Marnier, peaches, strawberries and lime. Transfer to the fridge to marinate for at least 2 hours. To serve, pour the sangria base into a glass and top with the pet-nat rosé.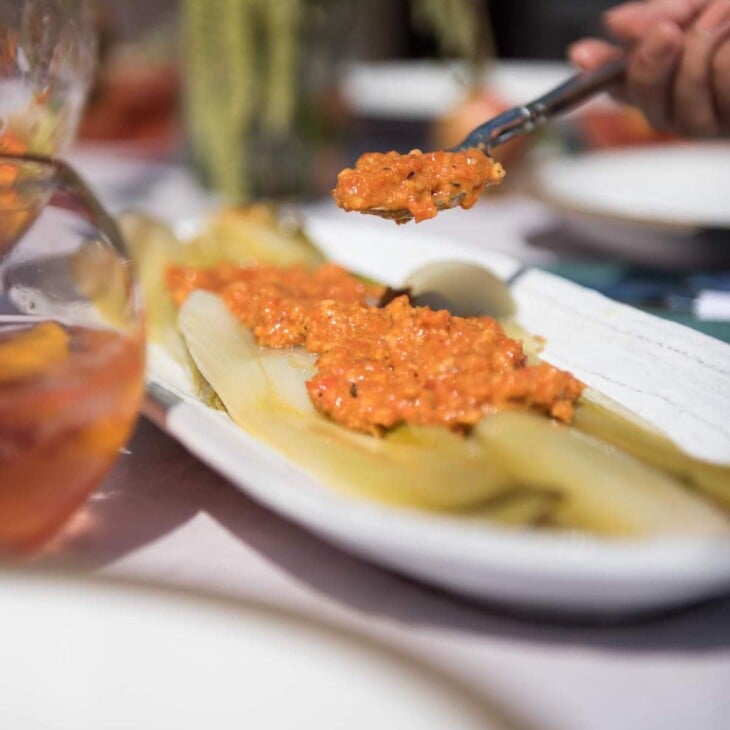 Print Recipe
Buttery Leeks with Romesco
Serving Size:
cup romesco sauce
Ingredients
2

medium red bell peppers

1

large tomato

5

garlic cloves

peeled and smashed

1/4

cup

almonds

1/4

cup

hazelnuts

1/4

cup

olive oil

2

tablespoons

sherry vinegar

2

teaspoons

smoked sweet paprika

1 1/2

teaspoon

salt

2

tablespoons

unsalted butter

4 to 5

leeks, trimmed and cut lengthwise
Instructions
Over an open flame (like a grill) or the grates of your gas stove, place the red peppers atop, rotating them every minute or so until charred on all sides. Repeat this with the tomato. Immediately transfer them to a Ziplock-bag and close; this will allow them to steam for 1 to 2 minutes. Transfer them to a cutting board and scrape the skins off using a knife. Discard the burnt skins. Chop up the red bell peppers, discarding the seeds and stem, and tomato and transfer to a blender or food processor, along with the garlic, almonds, hazelnuts, olive oil, sherry vinegar, paprika and salt.

In a sauté pan, set over medium heat, add a few tablespoons of butter. When the butter is melted, add the leeks, cut side down, and cook for about 2 to 3 minutes, until golden brown. Flip and cook on opposite side for an additional 2 to 3 minutes. Transfer to oven and braise for about 15 minutes. Serve room temperature with a few tablespoons of romesco spooned on top.
Notes
You won't use the whole batch on the leeks so be sure to save the rest in an air-tight container. Keeps well in the fridge for up to two weeks.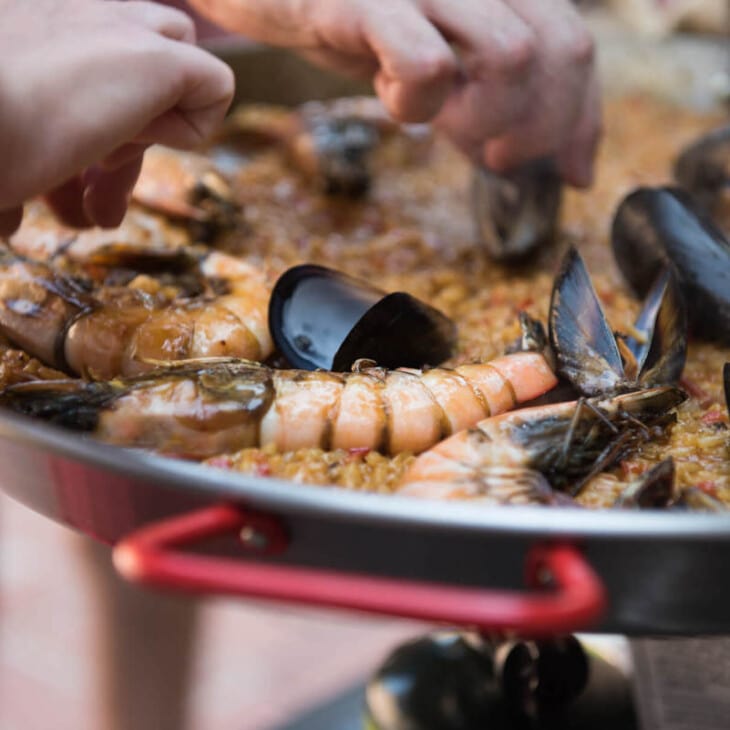 Print Recipe
Cozy Paella
Ingredients
Mussels/Broth for Paella:
30

mussels

about 1 1/4 pounds

5

cups

cold water

1 1/2

cups

white wine

4

cloves

of garlic

peeled

2

pinches

of saffron
Paella:
Olive oil

2

pounds

of head-on shrimp or large shrimp

shells on are fine

2

yellow onions

peeled and finely diced

2

red bell peppers

peeled and finely diced

4

garlic cloves

peeled and minced

5

vine-ripe tomatoes

finely diced (core removed and discarded

2

tablespoons

tomato paste

2

tablespoons

sweet paprika

2

teaspoons

ground cumin

4

dried bay leaves

1

tablespoon

salt

and then the rest to taste

4

cups

Valencia rice or Arborio rice

see note below

6

cups

broths of mussels broth

see above

2 to 4

cups

of chicken stock

I used store-bought
Instructions
To clean mussels and make the broth for the paella: add them to a bowl of cold water. Mix in about 2 teaspoons of flour. (Eyeball this measurement!) The mussels will gorge on the flour a bit and release any sandy bits. To a pot, set over high heat, add 5 cups of cold water, along with white wine and garlic. When the water reaches a simmer, add the mussels and cover pot; cook for 2 to 5 minutes, until mussels are opened. Discard any mussels that haven't opened—these are bad!

Remember that we're not throwing out the broth—that's the good stuff. Remove the mussels using a slotted spoon and add them to a bowl. Transfer them to the fridge. Run the broth through a strainer and mix in the saffron. You should end up with about 6 cups of broth. Set aside.

Place the paella pan over medium-high heat. Add about 3 tablespoons of olive oil. When the oil is hot, add the shrimp and cook for 2 to 4 minutes, flipping them halfway through. This will them about 3/4 of the way and and give the pan a super savory flavor. Remove the shrimp from the pan and set aside.

Add about 1/4 cup of oil and when hot, add the onions and red bell peppers. Cook until very softened, stirring often, about 15 minutes. Add more a teaspoon or two of more oil is it starts to stick to the bottom of the pan. Mix in the minced garlic and cook for an additional 5 minutes. Next, mix in the tomatoes, tomato paste, paprika, cumin, bay leaves and salt. Cook until the tomatoes have released and cooked out all the water, about 15 to 20 minutes, stirring very often. You can adjust the heat as needed. During this period I turned the heat down to medium.

Next, pour in the rice and mix and toast and mix and toast, about 5 minutes. Pour in about 2 cups of broth (you can eyeball this measurement). Bring the heat up to medium-high (the liquid should eventually come to a simmer), and cook the paella, stirring frequently. Give the paella a taste and add salt (I added a few more tablespoons—it's a lot of rice!). When the liquid is mostly absorbed, repeat this 4 to 5 more times, adding 2 cups of broth at a time until the rice is mostly cooked.

When the rice is pretty much done, pour in an additional 1 cup of broth and smooth out the top. Adjust the salt to taste. Keep cooking (this will create a crust on the bottom) until the broth is mostly absorbed (I like my paella with a bit of liquid in it) and add the mussels and shrimp to the top of the paella. Allow to stand for about 5 to 10 minutes. Sprinkle with minced Italian parsley or in my case, micrograms.

There will be leftovers and they'll be SO good. You can heat it up in the microwave or over the stove-top.
Table products used:
Glenna Grey Platter
Alisanne Linen Set
Gilded Rim Stemless Glasses
Granada Pitcher
Farfara Dress
Latte Mug Set
Paella Pan and Cooking Set-up:
Paella Pan
Coleman Cooking Single Stove-Set Up
(This was the BEST most cost-effective option. And one tank will be plenty!)
All photos by Moriah Ziman
(This post is sponsored by Anthropologie. Thanks for supporting the sponsors that keep A Cozy Kitchen cozy.)