Lomo Saltado is a Peruvian stir-fry that was influenced by the Cantonese-Chinese community that migrated to Peru. This Chifa dish consists of beef tossed in a sauce made up of simmered tomatoes, red onion, soy sauce and ginger. Serve it over rice for a delicious dinner.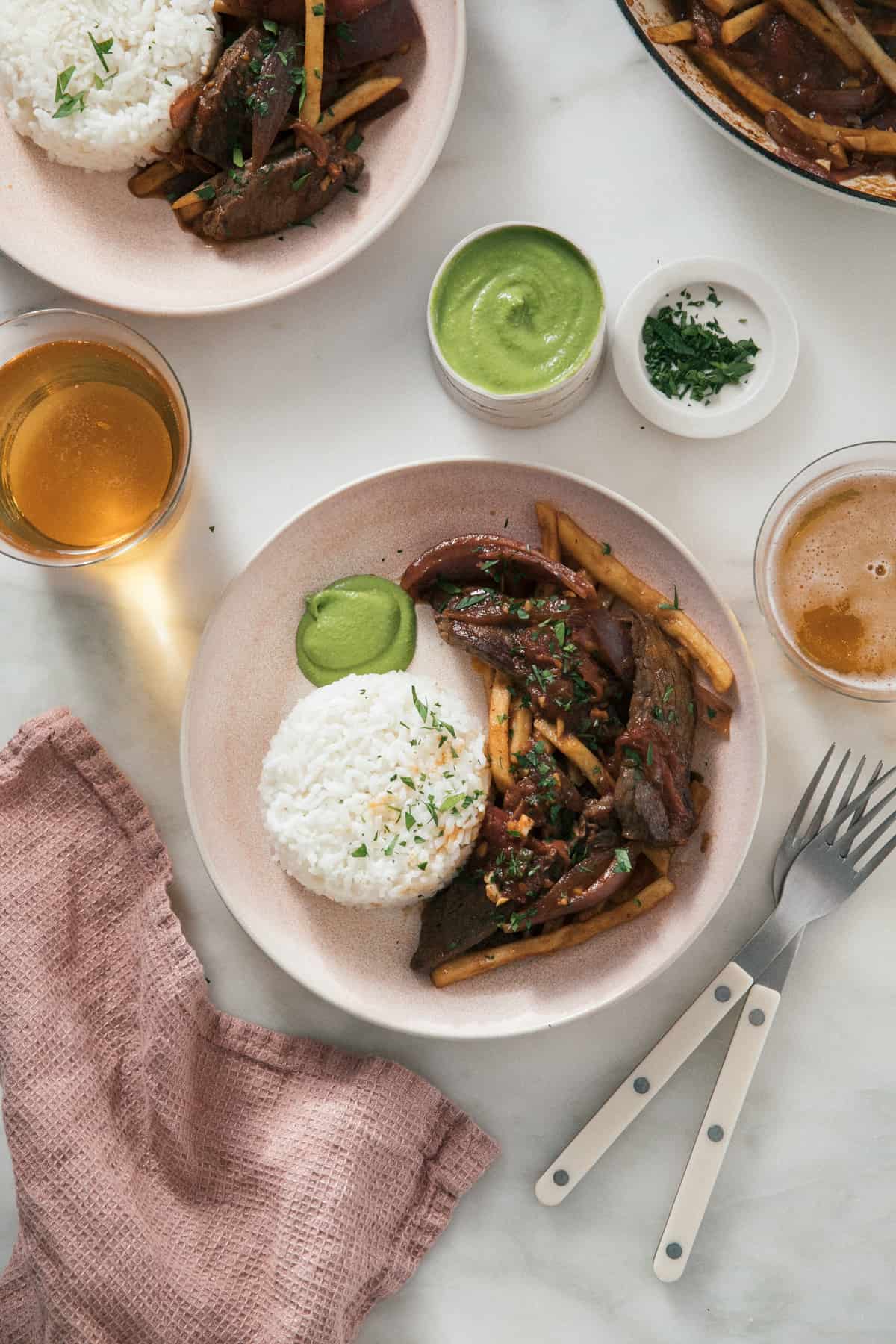 Here's another recipe straight from my mama's brain. It was one of my favorites growing up.
That's kinda weird and unexpected, right? A lot of people are surprised to learn that Peru has a large Asian community. As a result, this Asian presence–over generations and generations–has had a huge influence on "traditional" Peruvian cuisine, basically making it into what it is today. This particular dish was derived from a Cantonese stir-fry. The potatoes make it unique to Peru, along with the spices and thick sauce.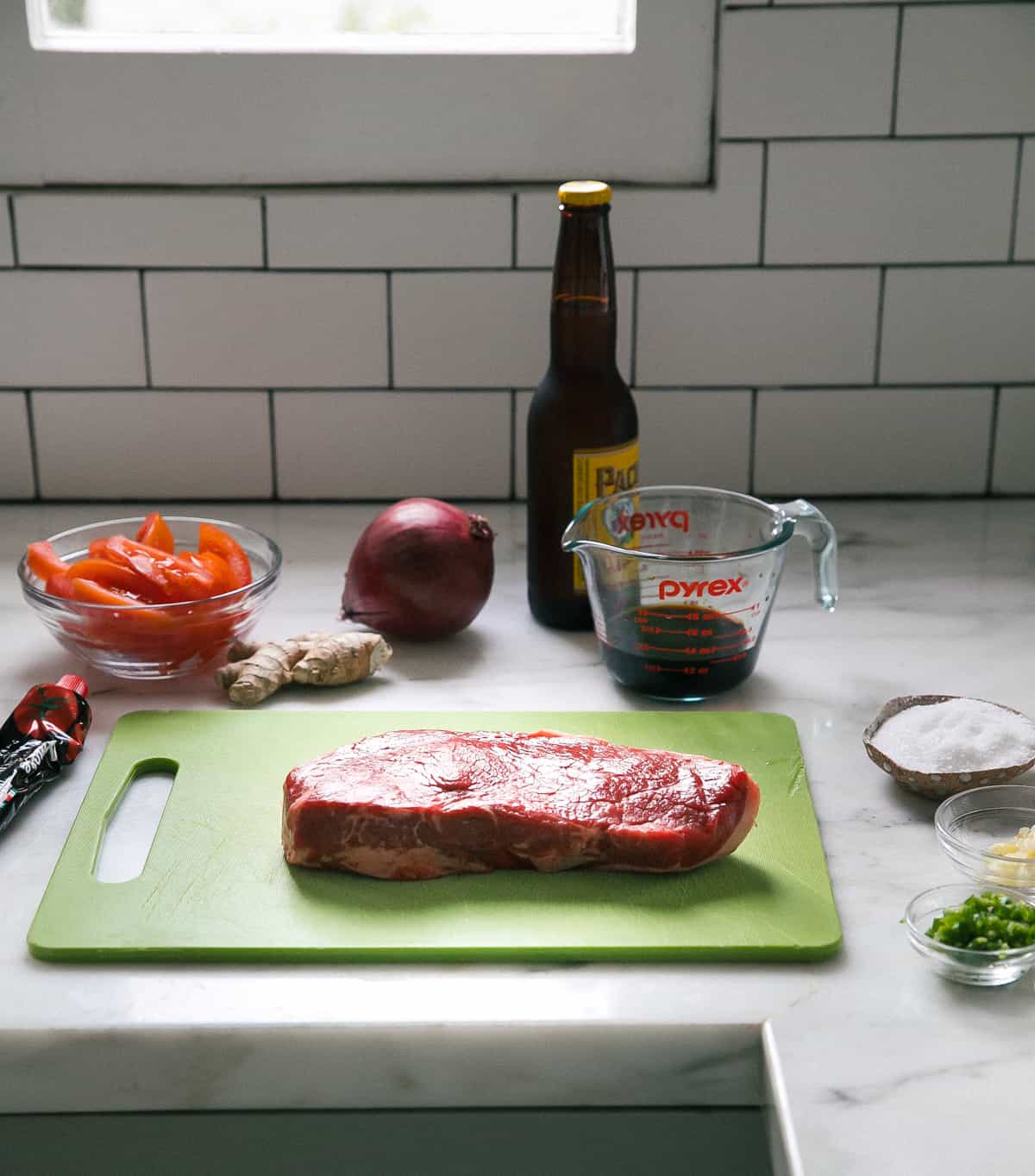 What is Lomo Saltado?
Lomo Saltado is the national dish of Peru. It's most easily described as a stir-fry; a latin stir-fry! This Lomo Saltado recipe includes strips of beef, red onion, tomatoes, French fries, ginger simmered in a sauce flavored with soy sauce, beer and ginger.
What is Chifa?
Chifa is a type of cuisine in Peru that was created and influenced by the Chinese population living in Peru. This cuisine often times combines ingredients and dishes from Chinese and Cantonese backgrounds and fuses them with indigenous Peruvian ingredients such as aji amarillos (spicy yellow peppers) and Andean potatoes.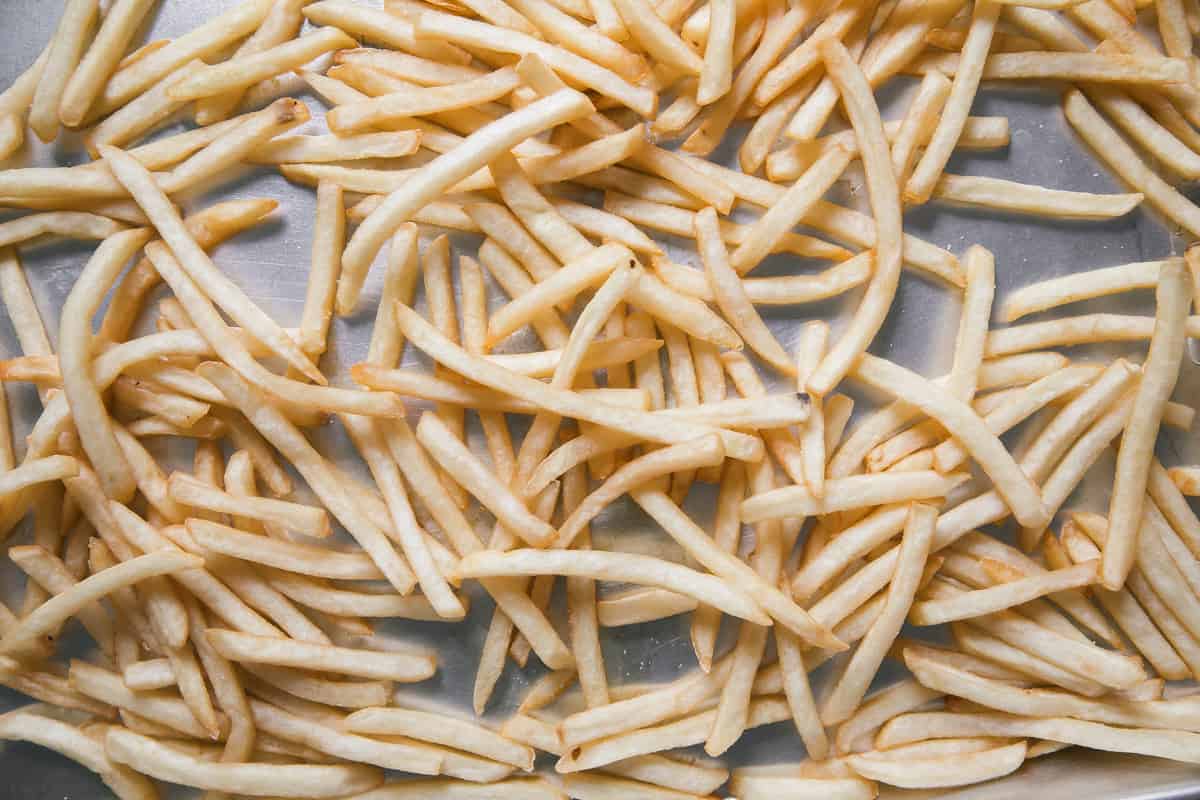 What Cut of Beef Should Be Used?
My favorite cut of meat for this Lomo Saltado recipe is sirloin. I then cut this sirloin into 1/2-inch thick strips. I've been to fancier Peruvian restaurants and they've used tenderloin. As a result, let me tell you, it's delicious! Recently I've been on a kick of using grass-fed beef (it's what I used pictured) and it is AMAZING.
Lomo Saltado Ingredients
French fries. Potato is prevalent in so many Peruvian recipes, including this one! I choose to fast food-buy my French fries. This saves on clean-up, heating up oil. AND, we all know baked potatoes aren't as good as fried ones.
Beef. I like using grass-fed, organic sirloin.
Red onion. I like to cut it into quarters or eighths.
Roma tomatoes. This will contribute to its sauciness.
Serrano Peppers. Traditionally, aji amarillos are used, but since they're difficult to find in the U.S., I use serrano peppers. Feel free to use a teaspoon or two of aji amarillo paste, if you have it.
Fresh ginger. I like to mince up some ginger.
Garlic. I like to measure garlic with my heart. I use an ample amount because FLAVOR.
Soy Sauce. This gives it a delicious savory flavor.
Beer (or Beef Broth). Pick your flavor. I like to deglaze the pan with a bit of lager beer. If you want to skip the beer, you can use beef broth in its place.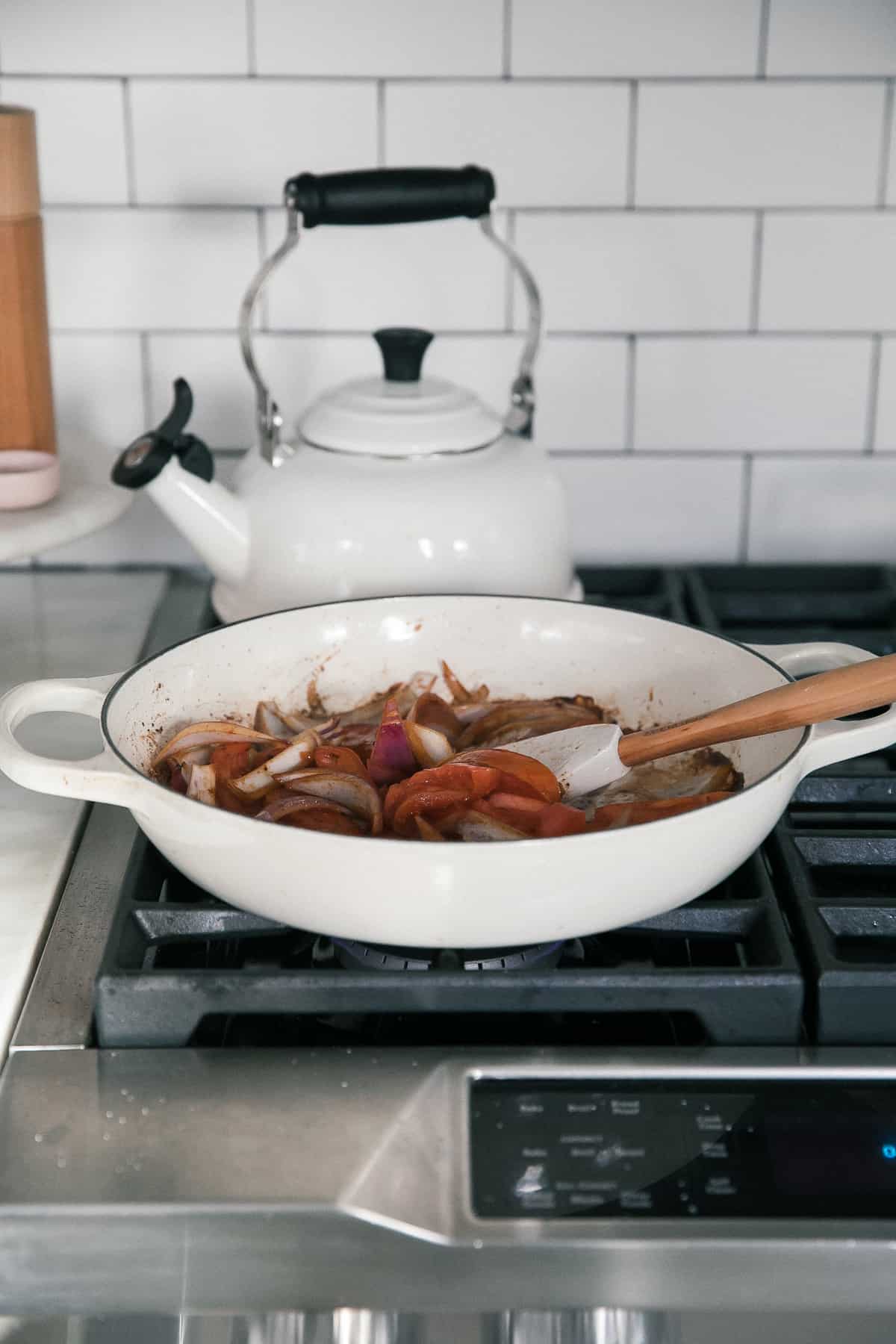 How to Make Lomo Saltado
Get the fries. Here's the truth–because frying can be a pain–I go to McDonald's and buy French fries from the drive-thru. My parents figured out to do this after years of frying their own potatoes.
Salt and prep the strips of meat. Trim off any fat.
Sear the meat. Until it's browned on both sides. And then remove it and set it aside.
Cook the onions and tomatoes. I like to cook them just until slightly softened. As a result, this will extract some of their juices and thicken the sauce.
Add the diced pepper, garlic, spices, tomato paste and soy sauce.
Deglaze the pan. And pour in the beer and scrape the bottom of the pan with a spoon. As a result, the little bits of beef will go into the sauce, which will translate into flavor. Salt to taste.
Mix in the beef and fried potatoes. And then toss everything together. In addition, I plate it with rice and top with Italian parsley.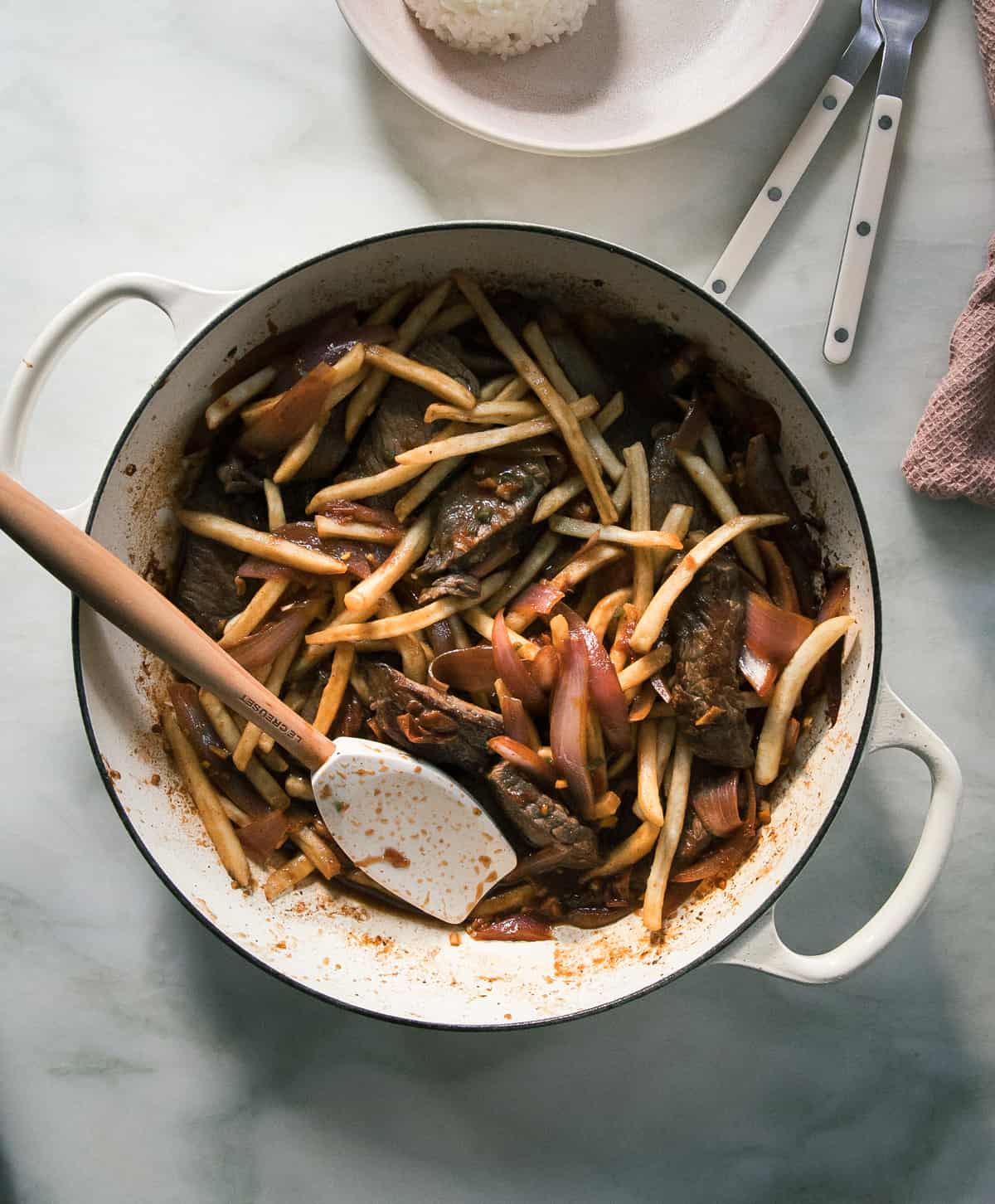 I always drink it with either an inca kola or a super cold beer. And I love serving it with Aji Verde (Peruvian Green Sauce).
I hope you love this Lomo Saltado! And then, if you make it, let me know on Instagram!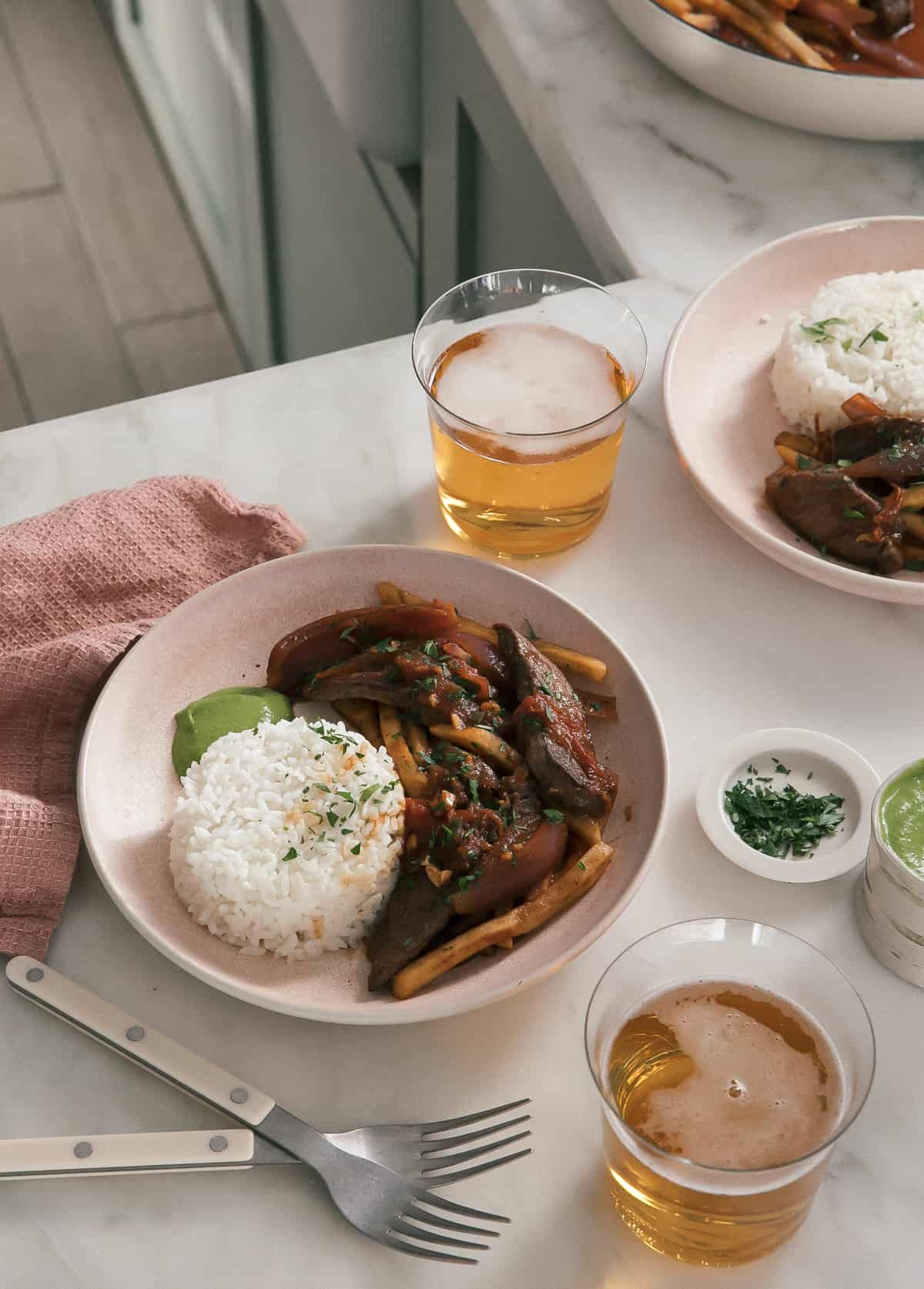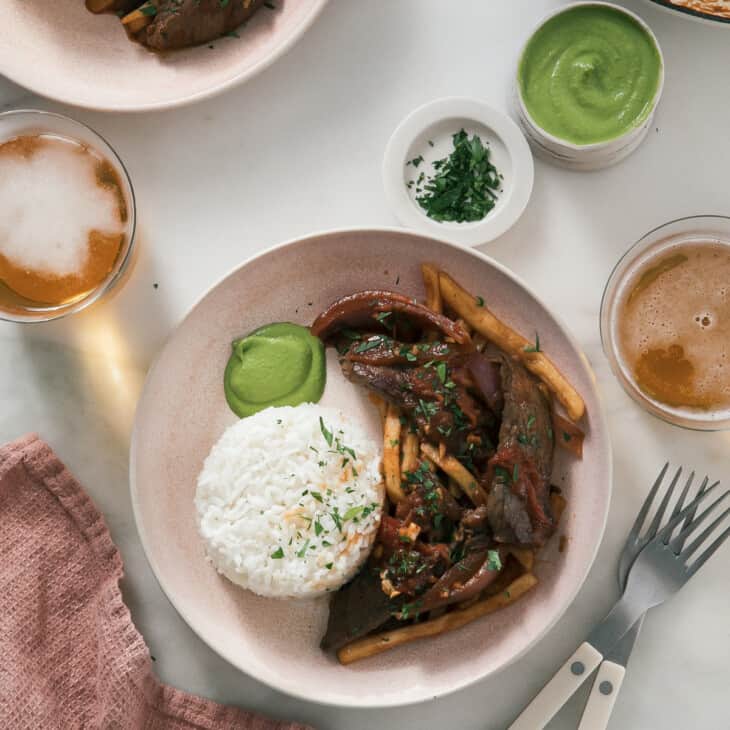 Print Recipe
Lomo Saltado Recipe
Lomo Saltado is a Peruvian stir-fry that was influenced by the Cantonese-Chinese community that migrated to Peru. The beef is tossed and cooked in tomatoes, red onion, soy sauce and ginger. Serve it over rice for a delicious dinner.
Ingredients
Lomo Saltado:
2

cups

French fries

(from a fast food place OR from frozen, see below for directions)

2

tablespoons

neutral oil

(I used avocado oil)

1

pound

sirloin

cut into 1/4-inch strips

Kosher Salt

1

red onion (white or yellow onion will work fine too)

peeled and quartered

2

roma tomatoes

core removed and cut into quarters

2

serrano pepper

de-seeded and minced

3

garlic cloves

peeled and minced

1-inch

knob

ginger

peeled and finely grated

1

teaspoon

ground cumin

1

tablespoon

tomato paste

1/3

cup

soy sauce

1/3

cup

beer

(or beef broth)

Handful of Italian parsley leaves

minced, as garnish
Instructions
To Cook the Lomo Saltado:
*French Fry Instructions: I used French fries I bought from McDonalds. I needed about 1 order of large French fries for this recipe. I preheated an oven to 200 degrees F and put them on a baking sheet in an even layer so they'd stay warm while I made the rest of the dish.

Slice the sirloin into 1/2-inch thick strips. Trim off any thick fat caps, if they exist. Season both sides of the meat with a liberal amount of salt.

In a large skillet, set over medium-high heat, add the neutral oil. Add the meat to the oil and cook on first side for 1-2 minutes, until browned. Flip and cook on opposite side for an additional minute or so. Remove the meat from the pan and set aside.

Add an additional tablespoon of oil, if needed (I didn't need any) and toss in the onions and tomatoes. Cook until slightly translucent, about 5 minutes. Throw in the diced pepper, garlic, cumin, tomato paste and soy sauce. Pour in the beer and deglaze the pan, using a spoon. Cook mixture for an additional 5 to 7 minutes, until the alcohol is cooked out of the beer and the sauce has thickened. Give it a taste and adjust the salt. I didn't need any because of the type of soy sauce I used.

Add in the cooked beef strips and French fries, and toss together. Serve atop steamed rice and garnish with minced Italian parsley.
Notes
Substitutions: 
French Fries: 
I like buying French fries from McDonald's for this recipe. They're delicious. You can also use store-bought frozen French fries.
Aji Amarillos: 
If you have aji amarillo (whether frozen or in paste form), use it! This recipe calls for a serrano pepper because aji amarillo can be tough to find. I would use 1 whole aji amarillo OR 2 teaspoons of the paste (or more to taste). 
Equipment/Ingredients:
Le Creuset Braiser | Tongs | Baking Sheet | Cutting Boards | Aji Amarillo Paste| 
Nutrition
Calories:
183
kcal
(9%)
|
Carbohydrates:
4
g
(1%)
|
Protein:
27
g
(54%)
|
Fat:
5
g
(8%)
|
Saturated Fat:
2
g
(13%)
|
Cholesterol:
69
mg
(23%)
|
Sodium:
910
mg
(40%)
|
Potassium:
560
mg
(16%)
|
Fiber:
1
g
(4%)
|
Sugar:
2
g
(2%)
|
Vitamin A:
347
IU
(7%)
|
Vitamin C:
7
mg
(8%)
|
Calcium:
46
mg
(5%)
|
Iron:
3
mg
(17%)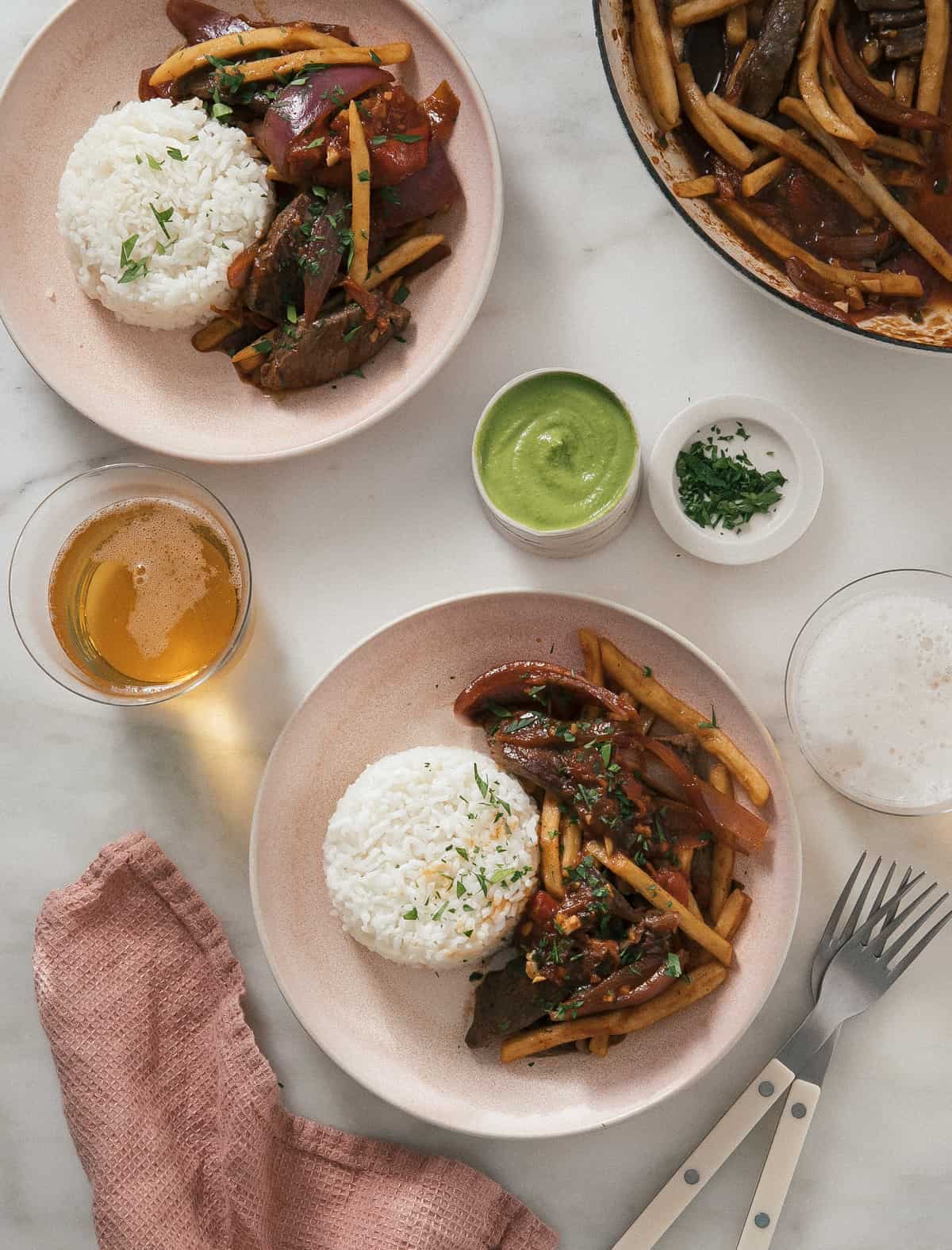 If you're looking for more Peruvian-inspired recipes? Here are some of my other favorites: