Horchata is a rice-based drink from Mexico. While horchata is not traditionally dairy-free this horchata recipe is dairy-free! This recipe has has rice, toasted almonds, brown sugar and vanilla! And if you want to take this horchata to the next level, make my Horchata Coffee!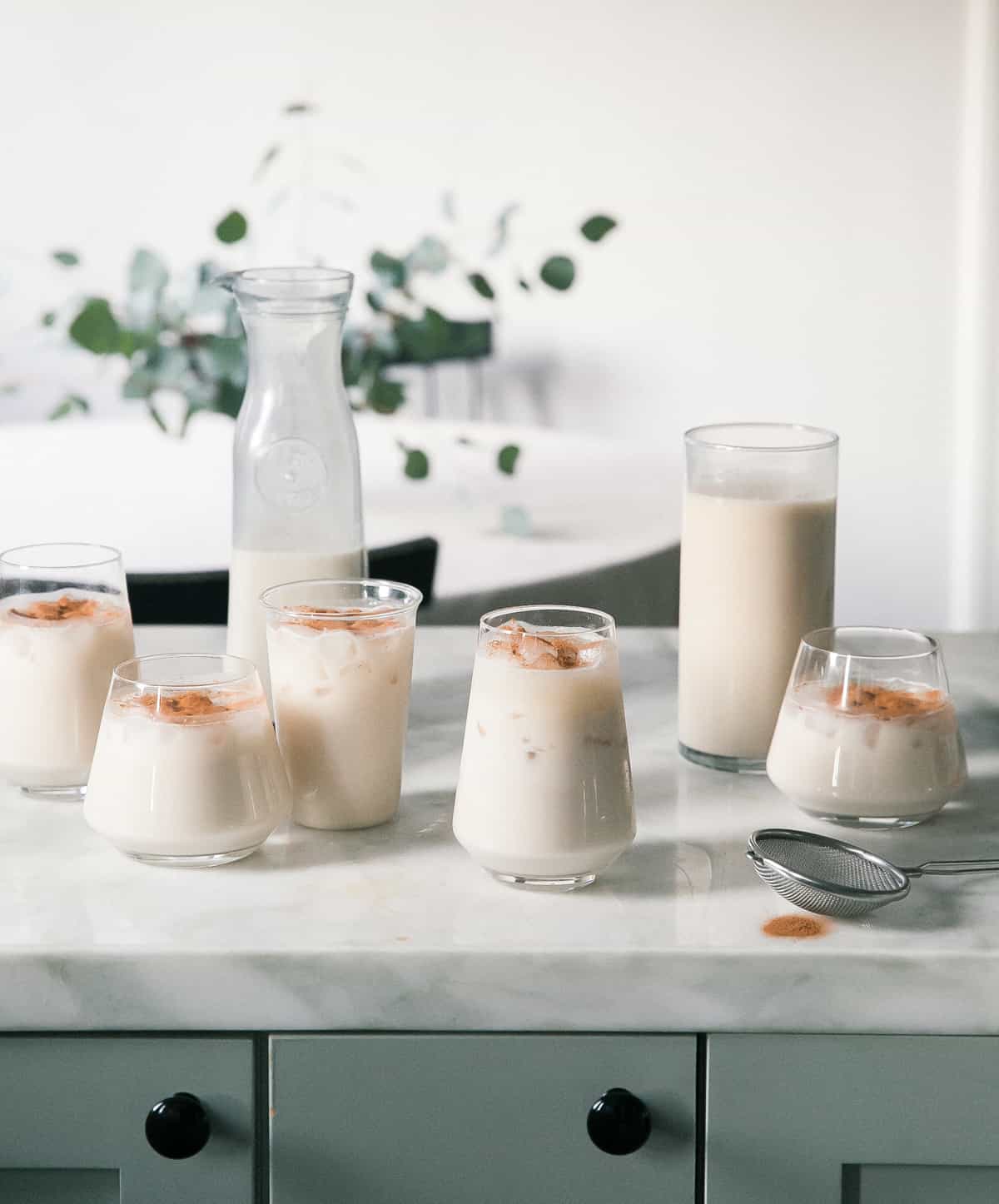 The First Time I had Horchata
When I first moved to Los Angeles, I'm not gonna lie, I wasn't super familiar with different types of Mexican food. Living in South Florida, the food that was there was mostly from the Caribbean and South America. But luckily, Instagram showed me the way. I quickly learned the difference of Mexican food from Jalisco, Sonora, Colima and Mexico City.
One drink that has quickly won my heart is agua de horchata. I love making homemade drinks. My all-time favorites are iced pumpkin spice lattes, iced matcha lattes and coquito
Ingredients for Horchata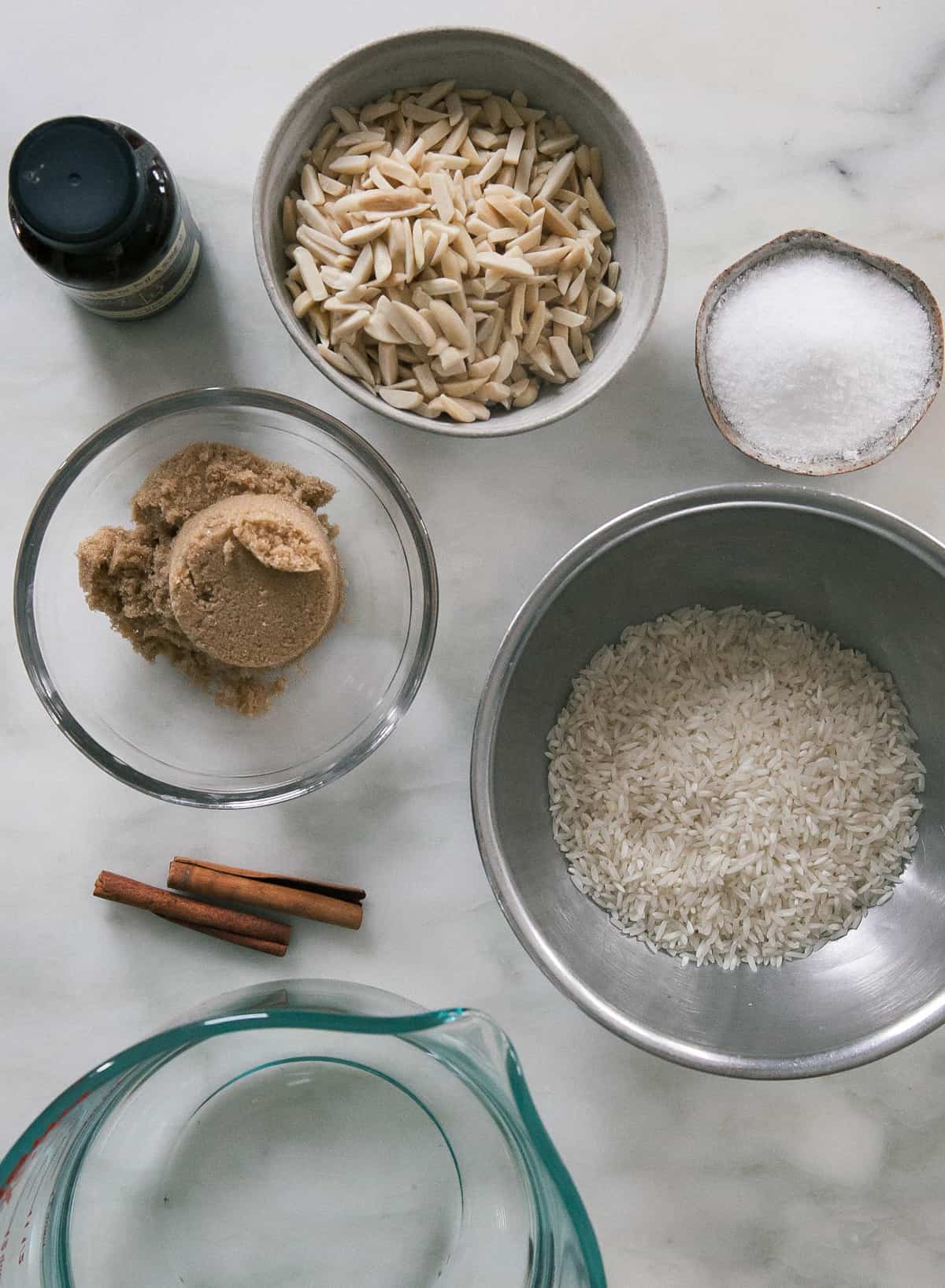 Rice – white rice works best for this recipe. I like to use medium-grain rice.
Almonds – You can use crushed almonds, whole almonds (that you chop) or slivered almonds.
Brown sugar – I love using brown sugar vs. white sugar because the caramelization adds a depth of flavor that is very delicious.
Cinnamon sticks – These give a delicious flavor of cinnamon without the chalkiness of the dried spice.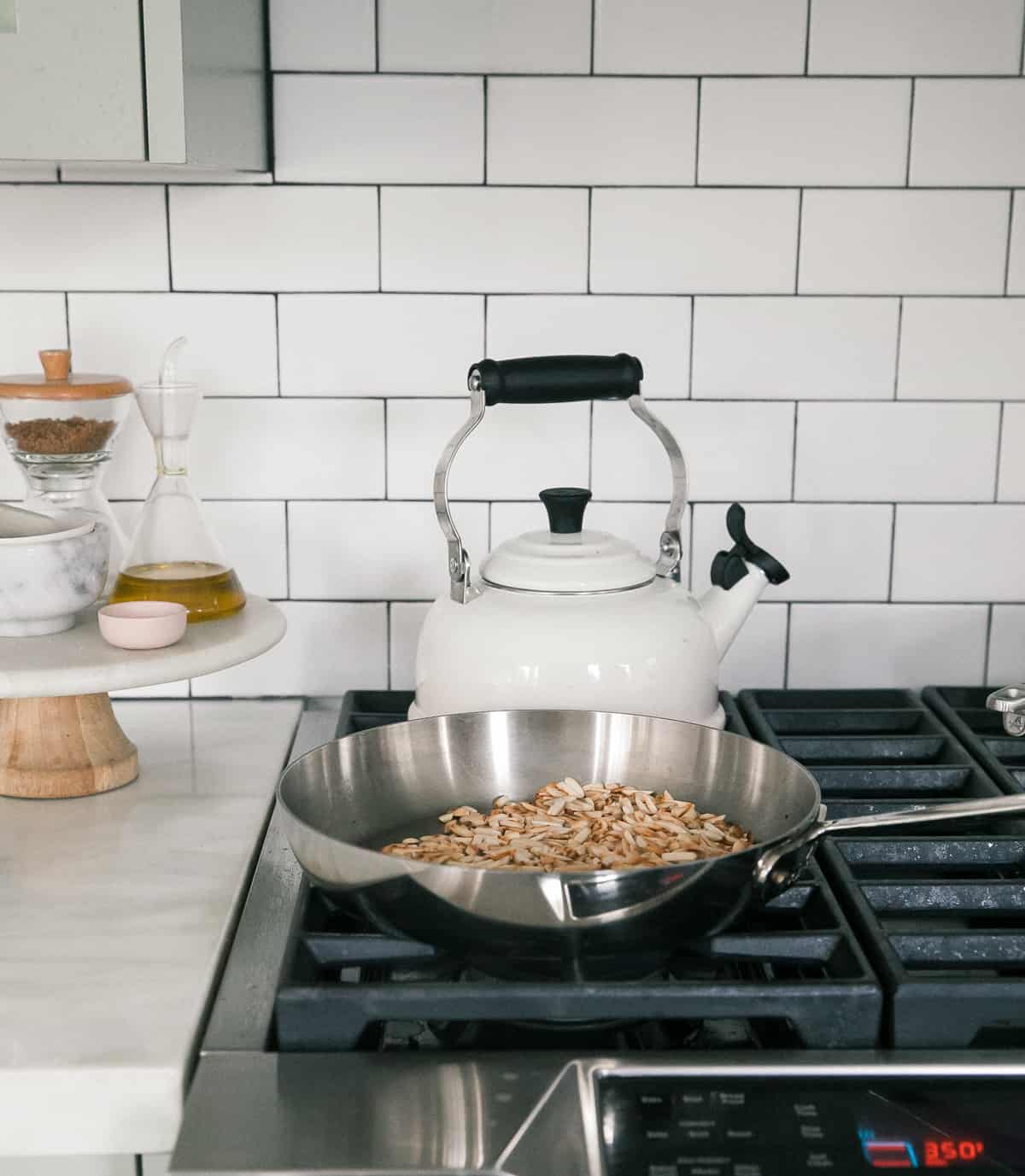 Where is Horchata from?
Horchata is made in Central America, Spain and Mexico. All of these countries make versions that are slightly different from the other. The one we're making mostly resembles the Mexican version but even within Mexico it can vary.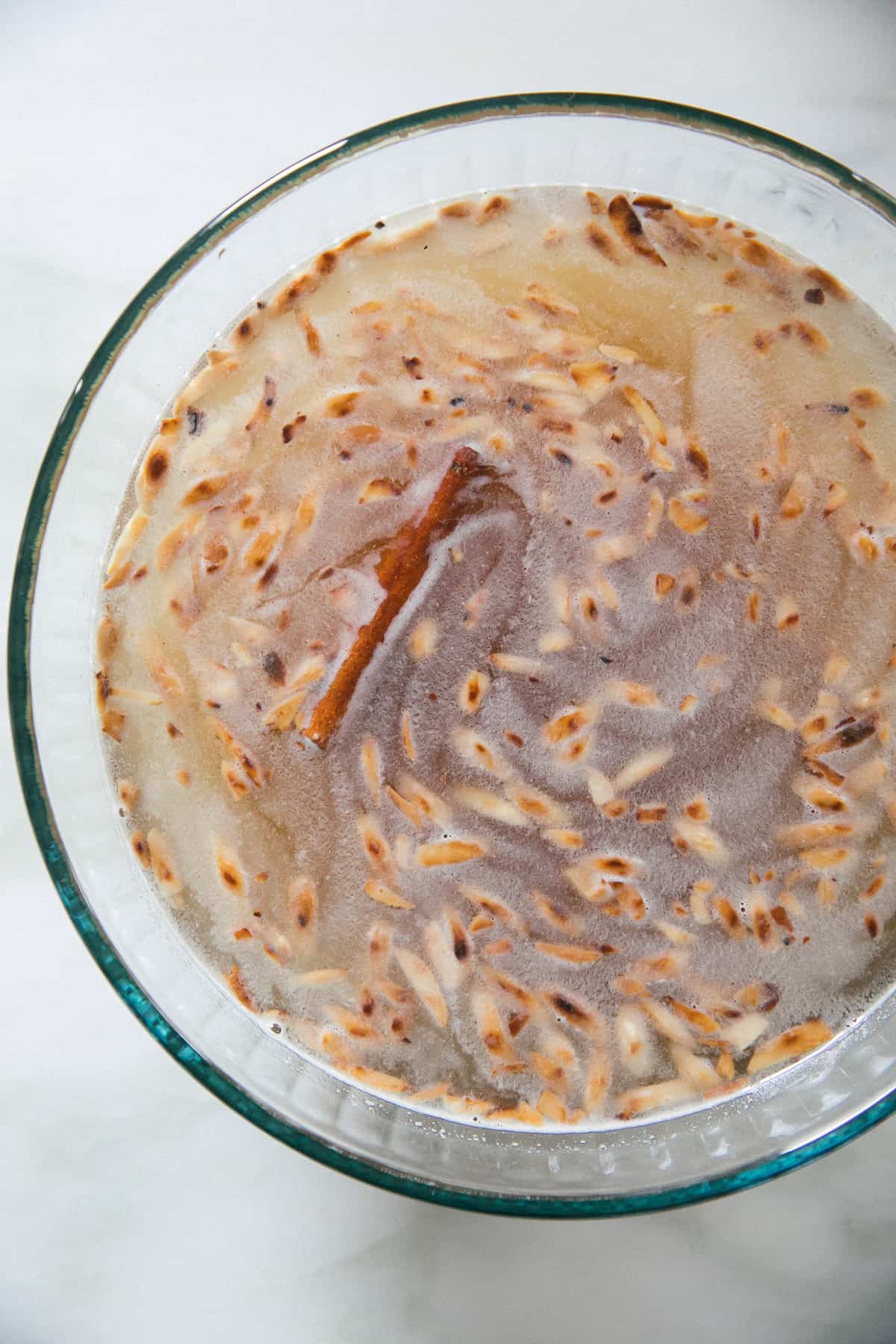 What is Horchata?
While versions vary, Horchata in Mexico is always a rice-based drink. This version you see here consists of rice, toasted almonds, cinnamon sticks, brown sugar, salt and a bit of vanilla, All of these ingredients are soaked in water for about 4 hours or overnight. This softens all of the ingredients and then when it's blended, it all marries together. Run it through a strainer and you have a delicious aqua fresca.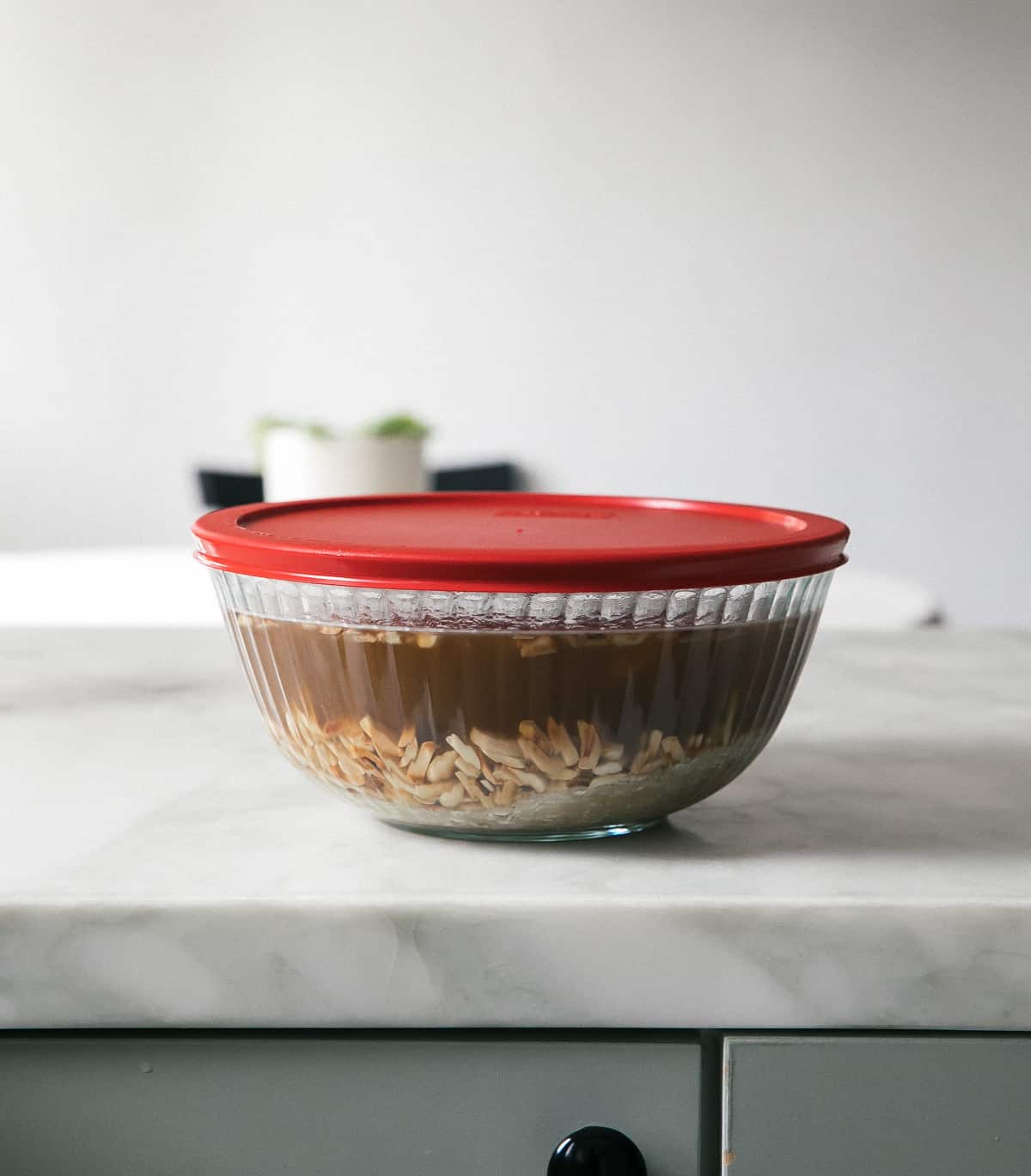 How to Make Horchata
Toast the almonds. Horchata ingredients are simple. This step is my favorite. Remember, we're only toasting a small amount of the almonds. As a result, it'll add the absolute best amount of toasty flavor. Pour them to a large bowl.
And then add in the rest of the almonds, rice, cinnamon sticks, vanilla and salt.
Pour in the filtered water.
Allow everything to soak for at least 4 hours. I soaked mine for about 6 hours. If you want to store it overnight, I would cover the mixture and stick it in the fridge.
Pour the mixture into the blender. I had to do this in two batches since my blender wasn't big enough.
Place a sieve over a bowl and pour it the horchata through it. As a result, it will eliminate a good amount of the pulp.
*Options* I wanted it silky smooth so I passed it through a nut bag. This step is optional.
You could also nestle two sheets of cheese cloth on a sieve and pour it through there.
Add ice cubes to glasses.
Pour the horchata in the glasses and top with a bit of cinnamon.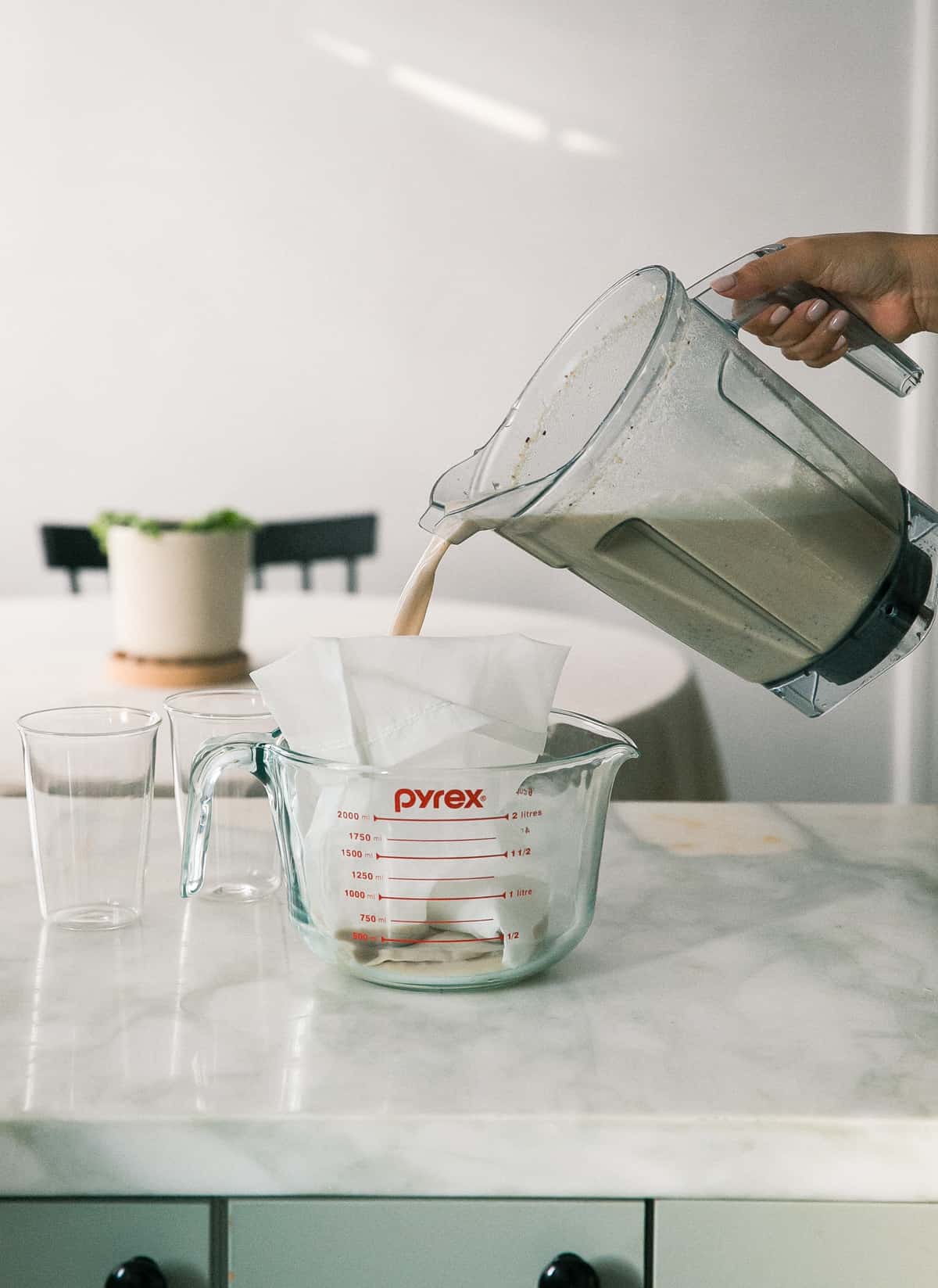 recipe faqs
Is horchata Mexican or Spanish?

Horchata originated in Spain but the one that most of us are familiar with is the Mexican-style horchata. The one pictured here is for a Mexican horchata.
What does horchata taste like?

The flavor is warm, rich and refreshing all at the same time.
Does horchata have dairy?

The answer isn't a total simple one. There are recipes that include dairy (mainly evaporated milk and/or sweetened condensed milk. This recipe for horchata drink is totally dairy-free.
Is horchata usually alcoholic?

Typically horchata isn't alcoholic. But if you want to, feel free to add a shot of rum, kahlua or Bailey's Irish Cream. I think all of those would be delicious additions.
Can I use sweetened condensed milk?

Sure, some people love adding sweetened condensed milk to the horchata mixture, instead of sugar. I would say if you include it, be sure to skip the sugar in the recipe.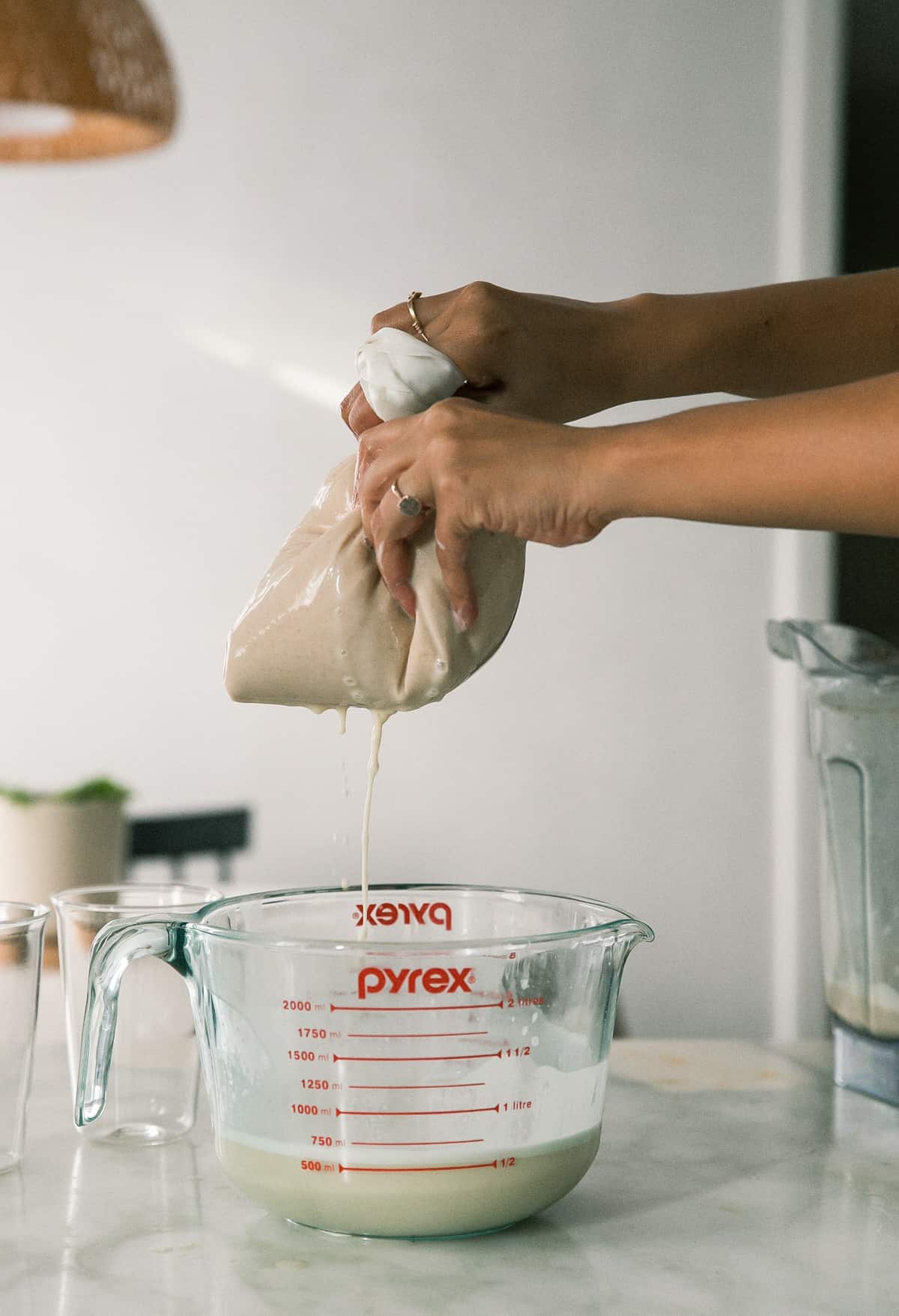 What to Serve with Horchata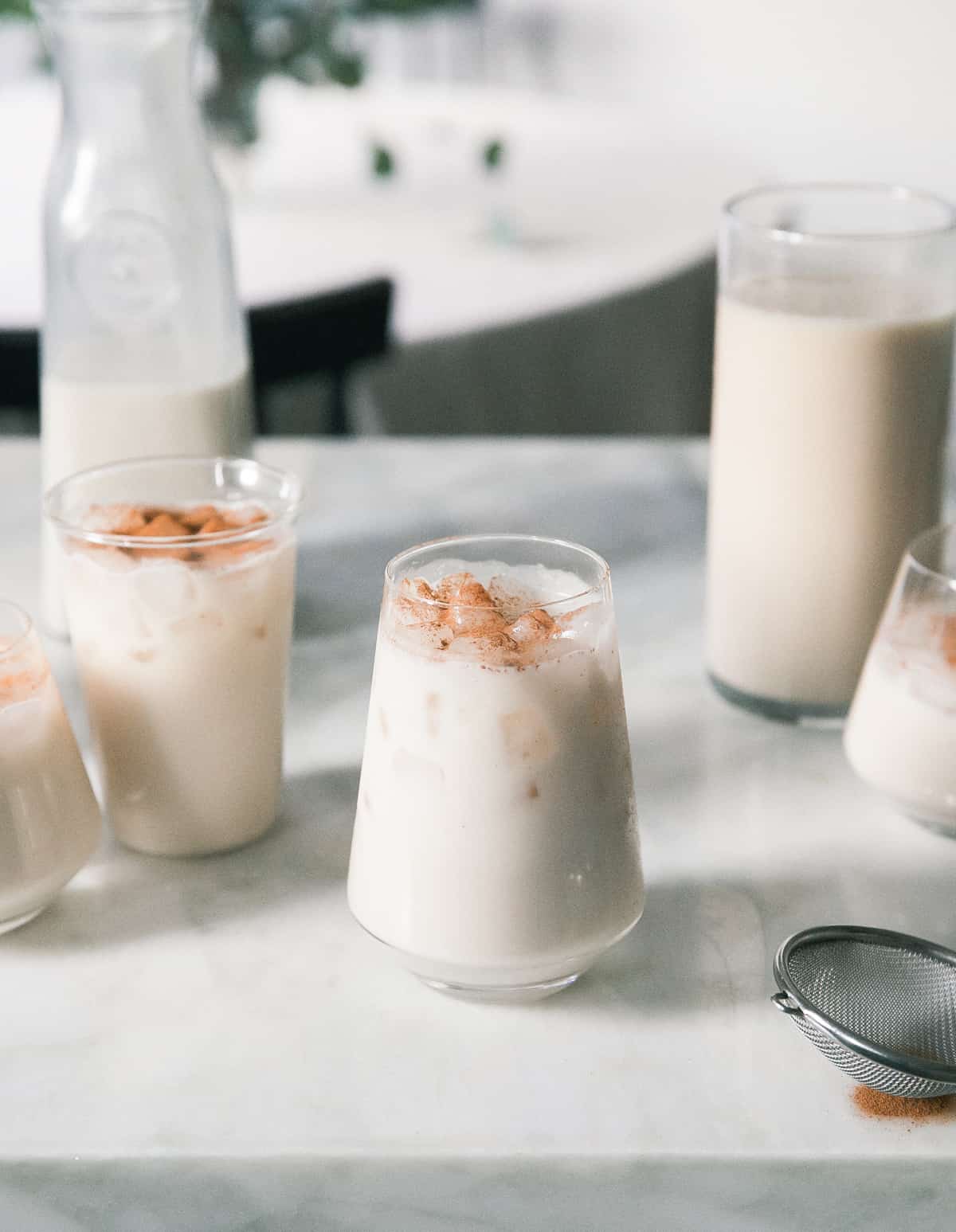 If you tried this Horchata recipe or any other recipe on my website, please leave a 🌟 star rating and let me know how it went in the 📝 comments below. Thanks for visiting!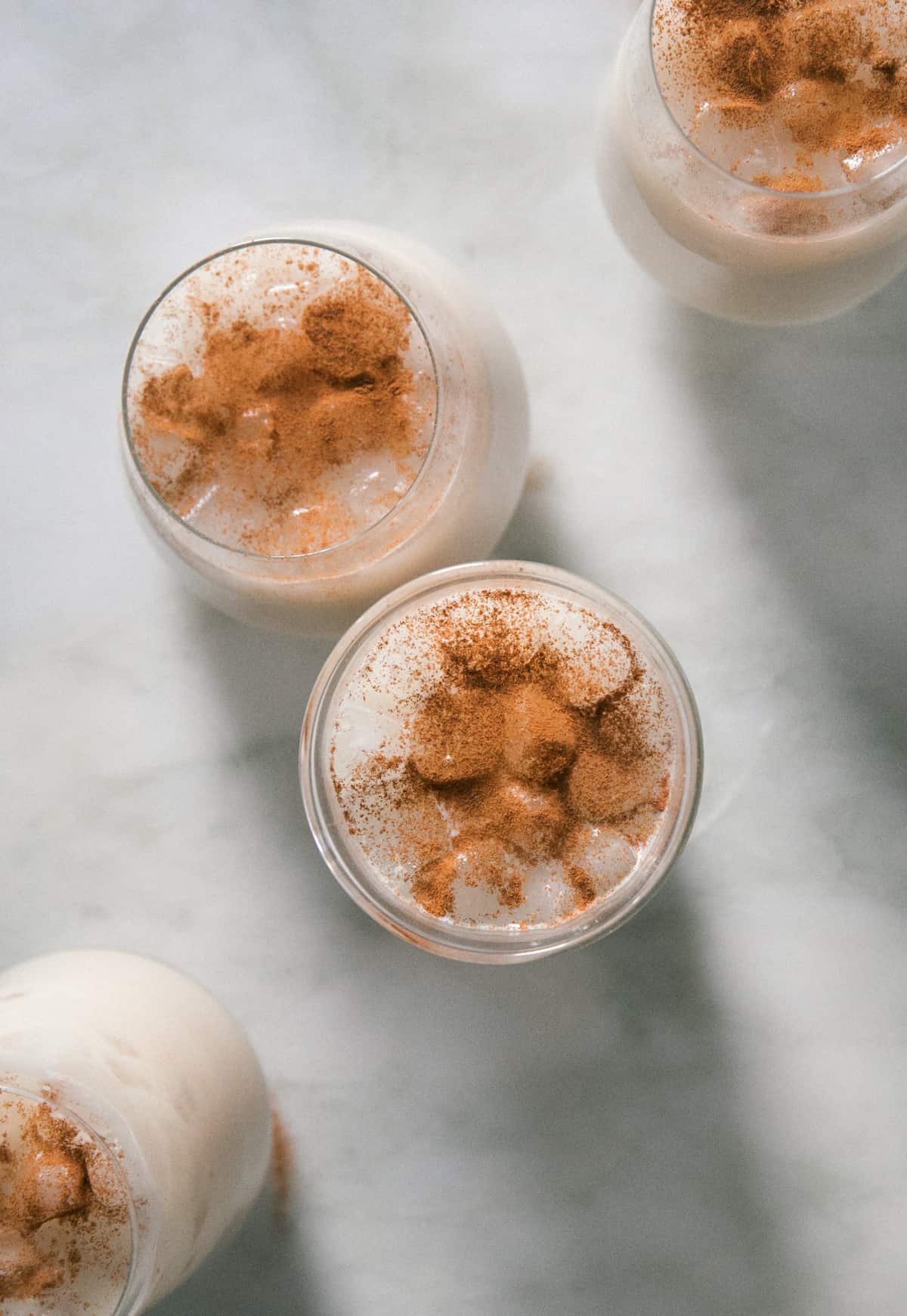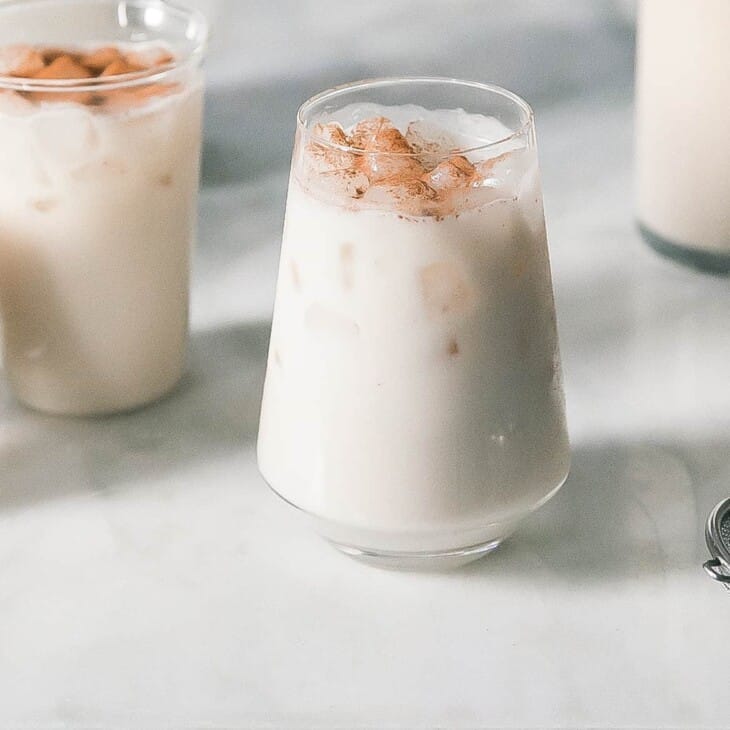 Print Recipe
Horchata Recipe
Horchata is a rice-based drink from Mexico. While horchata is not traditionally dairy-free this recipe is dairy-free! This recipe has has rice, toasted almonds, brown sugar and vanilla!  
Ingredients
1 1/2

cups

(6.5 ounces) blanched almonds

divided

2 1/2

cups

(17.5 ounces) uncooked white rice

3

whole

cinnamon sticks

1

cup

brown sugar

2

teaspoons

vanilla extract

(or 1/2 teaspoon vanilla paste)

1/4

teaspoon

kosher salt

10

cups

filtered water
Instructions
In a medium skillet, set over medium-low heat, add 1/4 cup blanched almonds. Toast the almonds until medium golden brown, about 3-5 minutes, tossing them every so often.

Transfer the toasted almonds and untoasted almonds to a large bowl. Pour in the white rice, cinnamon sticks, browns sugar, vanilla extract, salt and filtered water. Mix everything up until combined and cover the bowl. Let sit at room temperature for 5 hours. Or overnight in the fridge.

Depending on the size of your blender, you may need to do this in batches. Transfer the horchata mix (including the cinnamon sticks) to your blender (adding what will fit, giving room at the top for blending). Blend for about 1 minute, until the horchata turns cloudy and white. Pour through a mesh strainer into a bowl to catch the majority of the nut pulp.

Place a nut bag in the center of a bowl and pour the once-strained mixture into the nut bag. This will eliminate the majority of the grit from the horchata and make it silky smooth. Gently squeeze the nut bag so the horchata runs out.

Continue this process until you work with the rest of horchata mixture. Serve over ice and top with a dusting of ground cinnamon
Notes
Alternative Straining Methods: 
I passed the horchata through a medium mesh strainer. And then poured it through a nut bag. If you don't have a nut bag, you can simply use a fine-mesh strainer. OR you could use place a few layers of cheese cloth nestled in a medium-mesh strainer. 
To Store: 
This horchata will keep in the fridge for up to 1 week. Just be sure to stir it vigorously before serving. 
Equipment
1 large pitcher or measuring cup
Nutrition
Calories:
108
kcal
(5%)
|
Carbohydrates:
27
g
(9%)
|
Protein:
1
g
(2%)
|
Fat:
1
g
(2%)
|
Saturated Fat:
1
g
(6%)
|
Sodium:
96
mg
(4%)
|
Potassium:
37
mg
(1%)
|
Fiber:
1
g
(4%)
|
Sugar:
27
g
(30%)
|
Calcium:
36
mg
(4%)
|
Iron:
1
mg
(6%)